Tutorial: Save your PowerPoint as a Video
May 8, 2013
It's time to share your presentation! Whether you're delivering a business proposal to a client, an academic presentation to your professor, or even showing a personal photo slide to your grandmother, you have to ensure that your visuals can be clearly seen by your audience.
The majority of the time, your audience won't be Internet savvy. Saving your PowerPoint as a video is an effective and easy way to ensure that your presentation remains intact and your audience sees exactly what you want them to see. This type of file is accepted by most computers and can be saved to multiple devices such as a CD or DVD, USB flashdrive, or you can even upload it to a website like Youtube.com or Facebook. In addition, you don't have to worry about what version of PowerPoint your audience has, missing fonts, etc.
Here are some steps on how to save your PowerPoint presentation as a video. Scroll down to find out how to save PowerPoint for Mac as a video.
How to save PowerPoint 2013 as a movie file:
–   Select File >> Export >> Create a Video
–   Modify the setting to your required specifications:
–   Video file size (large, medium, small)
–   Preserve or discard "Recorded Timings" and "Narrations"
–   Slide duration
–   Click the "Create Video" button:Select file format: WMV or MPEG-4
–   Wait until PowerPoint is finished working (view the status in the bottom bar)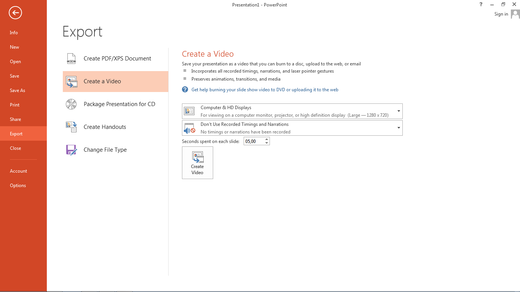 How to save PowerPoint 2010 as a video file:
–   Select File >> Save & Send >> Create a Video
–   Modify the video quality by clicking the Computer & HD Displays arrow.
–   Click "Create Video."
TIPS :
–   Both PowerPoint 2013 and 2010 have the option to include or remove "Timings and Narrations," which you have set on your presentation.
–   By PowerPoint default, each slide will be shown for five seconds before changing to the next slide. Modify the value to suit your needs.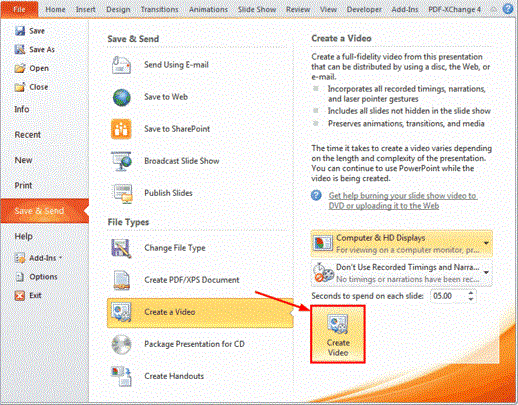 How to save PowerPoint 2007 as a video:
PowerPoint 2007 doesn't have the capability to convert a PowerPoint presentation directly to a movie file. If you have PowerPoint 2013, you have the option to open your PowerPoint 2007 file using PowerPoint 2013 and save it directly.
If you don't have a copy of PowerPoint 2013 or 2010, you can apply the following tips. It's a bit more work, but it's worth it!
–   Save your file as a jpg.
–   Import the images to Windows Movie Maker and render to create a video.
(Optional) If you have Narration on your PowerPoint and you want the audio file, save the PowerPoint presentation as a web page.  Find output as a .wav file and import it to Windows Movie Maker as an audio file.
How to convert PowerPoint for Mac 2008 & 2011 to a QuickTime movie file:
–   Select  File >> Save as Movie
–  Leave all options as automatic, or
–  Modify the Movie Option setting by clicking the "Movie Options" button at the bottom of the "Save As" sheet:
–  Size
–  Smooth Playback
–  Quality
–  Slide Transitions: Follow "Slide Show Settings" or "None"
–  Configure the duration of each slide shown in the movie
–  Select "Background Soundtrack" to add background music to the movie (Animation Effects are not included in your QuickTime movie)
–  Choose the "Loop Movie," "Show Movie Player Controls," and "Credits" tab if you need them.
–  Click the OK button to dismiss the Movie Options dialog.
–  Click Save button to start converting