When you woke up this morning, were you excited about going to work? I was, and I really want to make sure that everybody working for 24Slides feels the same way, at least on average.
One of the keys to that, is to have a sense of purpose in what you do, to be able to see the impact of the effort you put into your work. And that impact has to go way beyond your own self interest.
In my case, I have not had that sense of purpose until I turned 30. Before that, I just wanted to make a living for myself, pursuing "the good life". I just dreamed of having enough financially, of being able  travel, and of having the freedom to structure my own day. Now it's different. I wake up, more or less everyday, excited. Because my "why" — the purpose of 24Slides — is now much bigger than my own self-interest.
This why is instilled in our motto as a company: "Making the world smaller, one slide at a time"
We make the world smaller by bridging the gap between talents in emerging countries and potential customers in developed countries
The gap: the outsourcing dilemma
..
If you have ever outsourced something, you have probably also experienced that the freelancer or company you hired did not deliver what you expected. When you go to UpWork and hire a freelancer, more often than not, you find yourself needing to spend a lot of time briefing and giving feedback that you could have otherwise avoided. Or perhaps the project got delayed, or you didn't get the level quality you expected. That is "the gap": the gap between expectations and reality, the gap between your ideas and their implementation.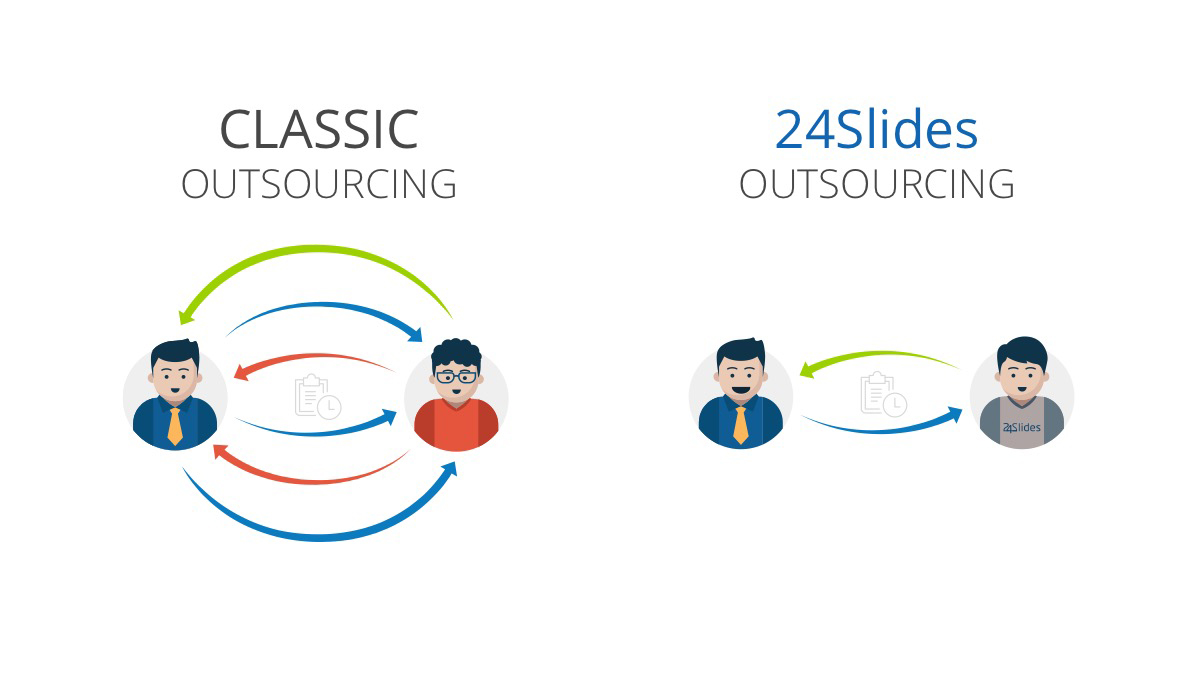 This is a common problem with outsourcing to someone with a different cultural background than yours, because more often than not, the gap tends to surface because of cultural differences and language barriers. And instead of wanting to bridge that gap between talents in emerging countries and developed countries, you drop the idea of outsourcing altogether.
And that is exactly what we want to solve. Our primary way of doing that is through producing high quality slides, but we believe, that by setting a good example to those in our industry, we can influence others to do the same and encourage more and more companies to bridge that gap.
How do you bridge the gap?
Throughout the years, I have learned that there are 3 things that will help bridge the gap in outsourcing:
1. Education
2. Technology
3. Processes
..
Imagine hiring Putu, a fresh design graduate from Indonesia. You give Putu your e-mail address, and from then on you can start sending him tasks. Cultural differences can manifest in different ways. Putu might have a different understanding of how strict a deadline is, or Putu might have his own take on "good" design that differs from yours. He might have a different notion of the value of your time, the value of his time, what you will use his design for — the list goes on. The point is, these differences are roadblocks to an otherwise smooth process. Your time and money are wasted. Putu's effort and talent are not put to good use.
Education
..
Now, take Putu through a training program where he could learn about your standards when it comes to deadlines, time and the different areas mentioned previously. Take Putu through an intensive design course where he could learn about what, in your perspective, is considered "good design". Putu can now produce high quality design. Putu can now use his passion and his skills to produce high quality design to an audience beyond the borders of his own country.
Technology
..
Now, give Putu a platform where he can manage his work and you can follow his progress. You can communicate with him, set a deadline, give feedback and vice versa. Everything is in one place. Putu now communicates consistently and very precisely. He creates twice the value.
Processes
..
Now, apply fixed processes to Putu's work. Putu now allots time to do revisions, communicate with customers, and he now has a checklist of typical mistakes or feedback from customers that he runs through before sending the final work.
He now keeps his deadlines, communicates perfectly and produces high quality design. He creates 5x more value than before.
Education, technology and processes are what we need to really utilize the talents in the emerging markets.
..
We are a part of an enormous shift in the market where the number of internet users is estimated to increase from 3 billion to 5 billion people in the next 5 years. To put things in perspective, the number of internet users went from 400.000 in 1994 to 3 billion in 2015. Imagine the amount of talent exponential development opens doors to.
We consider ourselves experts in bridging the gap — thus raising the value of talents in emerging markets. We just happen to be designing slides. And we just happen to be world class at it. It is in that way that we are making the world smaller, one slide at a time.
---
..
By working us, you become a part of a bigger movement. You are giving talented designers from Indonesia a chance to make a living out of their passion.
Click here to get in touch with us or click here to see what we can do for you.