This is the 3rd post in my 30 days of honest writing challenge.
Really understanding what people want is not an easy task when it comes to design and style. We all have different tastes, and when you add cultural differences to the equation it becomes even harder. The perception of "what looks good" varies across the globe. Not a little, but a lot. Our most difficult job is to read the minds of our customers. The problem is that if we get it wrong the first time and the project is postponed, most people don't have the patience to give it another try. Even if it has been a good investment, it is less likely they will come back after 'an average experience'. On the second order 50% of the communication has been eliminated because we have a style reference from the first presentation.  But it doesn't matter. The first order, like first impressions, is the most important one.  And it's the biggest challenge we currently have – nailing it the first time!

I have been involved with a lot of projects myself, and sometimes I'm just watching on the sidelines. Since 2009, I've been working with presentations, and I can see when and why things go wrong. In 99% of the cases it's in the dialogue before we start the work. I've been banging my head against the wall to find a good solution for this.  
This is my first attempt to solve it.
Meet Richard, the new Operations Manager
We need a person who can be dedicated 100% to this part of the process. It's Richard, a native from American who's lived in Indonesia for 4 years. A dream-combination as he understands both worlds.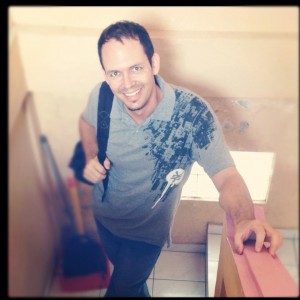 Richard's finest job will be to improve how we interact and communicate with our customers. Our designers are super talented, perhaps some of the best Asia has to offer. Taking full advantage of their skills requires that we become masters of understanding what our customers are asking for, the first time. Not an easy task, but with great determination one that can be achieved. Richard will be involved with most projects we do, either on the sidelines or as the main contact, and I expect a lot of new ideas coming out of this.
One of the things that I don't find very convenient is that fact that 80% of the communication is written. It's ineffective, and leads to a lot of misunderstandings because we are talking about design. It might work great for returning customers as we have learned their style over time, but not for people coming in the first time. That initial communication needs to be verbal. A conference call with screen sharing in an ideal world. More than 60% of our first-time customers become repeat customers. Of course I want to see that number closer to 100%, and the fine tuning of our service is critical to achieve that.
My dream
I dream about services where you can tap into the talent that exists in less-developed countries WITHOUT the extra communication cost. This is the main challenge. It's why people give up when they try to outsource development or support to India for example. It takes too much time and energy to communicate about the things that need to get done, so the easier solution is to have it done in-house or bring in a freelancer that speaks the same language. This is where the biggest growth potential is. It's minimizing, then eliminating the extra communication cost. Here is how I imagine the first-time customer experience within 2-3 months on 24Slides:
You find 24Slides for the first time and want to leave an order. There is always someone on the live chat if you have any questions.
When you go to the order page you'll watch a video explaining how to make a good briefing. In the browser you can choose to record your voice and/or screen to explain what you want. You leave your order, e.g. 10 slides in total. The estimated price for that is $150 for a complete redesign.
45 minutes after you have left your order the phone is ringing. It's Novika from 24Slides. She wants to go through the slides and has a few questions to make sure she understands exactly what you want. She is asking anything you might not have mentioned in your briefing. The call doesn't take more than 10 minutes. You were a bit surprised that she called, but happy since there were definitely some things you hadn't thought about mentioning when you left the order.
Right after the call. Your order is approved and you'll get an email with the estimated time that the first draft will be ready.
The next day you'll receive an email saying that the first draft is ready for your review. You click on the link in the email that takes you directly to the slides that you can preview. It puts a smile on your face. Thinking how much time and energy this has saved you. You discover a few things you'd like to change, so you leave a comment under three of the slides and click "send review".
A couple of hours later the revisions are made. You're happy. You'll come back for more and will definitely share the experience with friends and colleagues.
It's very likely that the average customer experience now is similar to the above scenario. But what makes the biggest difference is step 3, the call. The voice of someone from 24Slides, and the fact that you can talk about your order. It's a funny thing, because most people are scared of calls with people they don't know, myself included. It's so much easier to send an email, but so much more ineffective.
Have you tried outsourcing something here or elsewhere? Share your experience in the comments below. And feel free to leave your opinion to the post above.