This is a question we get a lot once our customers have used us to get their presentation designed. The short answer is: yes – we do all sort of design work, we just have an expertise within presentation design.
We don't consider ourselves as 'presentation designers', but rather designers with a special expertise and brand in the area of presentations. Besides Microsoft PowerPoint, we work in same  applications as any other designer; Adobe illustrator, Adobe Photoshop, Coreldraw etc.
But if you are wondering if we can do what you are thinking about, then we've create a list of the typical things we do besides designing PowerPoint slides:
Icons / Illustrations
This area is something we are really familiar with since we have a lot of people asking for that in their presentations. We have actually supplied icons for the the biggest search engine on the web, so we are very fast in this area. But icons and illustrations are used for many other things. It could be on your website, brochures, flyers, or any merchandise.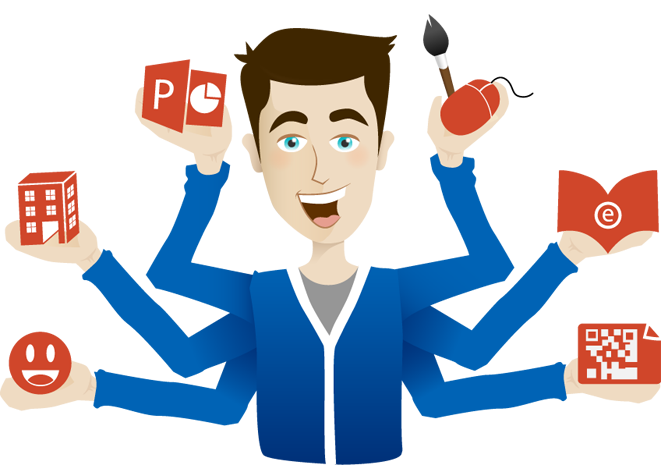 Web design
Yes, that's right we do website design as well. We are trying to limit us to basic websites or maybe landing pages that has to stay within the same style as the rest of the website / brand. In fact, we have some web agency customers that do the development and use us as their design agency. So we now have a couple of designer who are almost only doing web design. It's definitely not unknown territory.
Logos
This is most often linked to when we do web design, then people ask for a logo as well. This is another type of design skill, but we have those detailed oriented folks as well. It's the same people that are doing icons and illustrations. We'd like to call them the perfectionist, as you have to have a lot of patience when doing this 🙂
Ebook design
This is kind of niche, but it seems like a growing market. At least we get more and more requests about this. It's also fairly simple, though a bit time-consuming, to do as you send a word document and briefly describe the style you like. Usually people have a few ebooks they already like, and we can use that as a reference. It could also be a printed book, we just don't do the printing of it. But we can set it up in the right format so it's ready for printing. If you want to see an example, we have an ebook on How to design better presentations.
Basic programming
This is a natural extension of the web design. This is still a bit new for us, but so far it's working out. We are doing simple websites development in wordpress. The beauty of this, is that the designer and the developer are sitting together and collaborate until it's 100% done. But we don't do any ecommerce or more advanced programming. So if you have a simple thing you need developed let us know. What is simple then? That's a hard question. We'll have to see.