Do you think doing business internationally is easy? It might seem like it since a lot of countries have opened their borders for international trade. The phenomenon of globalization is making it even simpler.
However, there is one thing that, even today, will always cause challenges: CULTURE.
Culture has a huge impact on mutual understanding and the way people behave, work, buy and sell. It means that economic development, demographic behavior, and general business policies around the world are dependent on culture. Here at 24Slides, we experience this every single day!
Let's use a general example: body language. Whereas most of us use body language as means to express ourselves, what could be communicating something neutral in one country may be regarded as disrespectful or a form of aggression in another.
For example, Italians use their arms freely. Others, like the Japanese, are more reserved, and it is considered impolite to gesture with broad movements of the arms.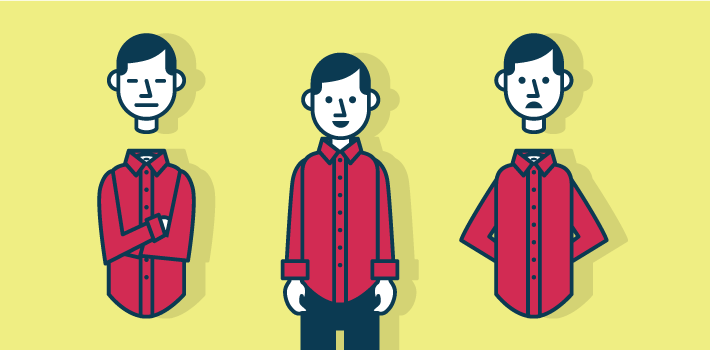 See more examples here: www.nacada.ksu.edu/body-speaks
At 24slides, cross-border communication is something we are all dealing with on a daily basis.
From our experience, we can see that culture is definitely influencing internal communication. We have offices in both Copenhagen, Denmark and Malang, Indonesia, and we have employees from Indonesia, Denmark, Norway, Sweden and Poland. This cultural mix creates obvious challenges.
Our mission here at 24slides, is '' Making the world smaller through slides''. This broad goal is to provide mutual growth, and improve the communication process. This can only be done by bridging the gap between two very different cultures.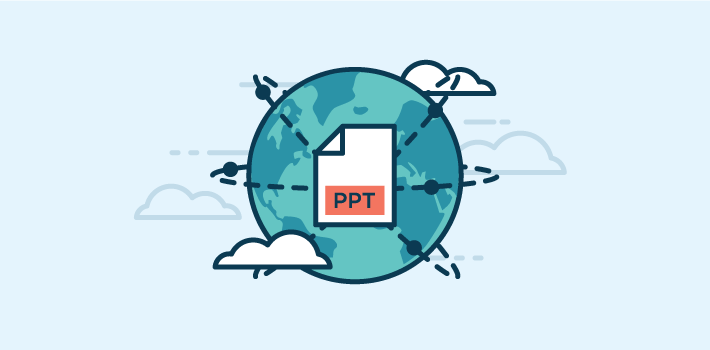 Daily life at 24Slides is based on online communication and this is a challenge. Our experience proves that communication is one of the most important functions to master not only internally, which is the focus of this blog post, but also externally, as we have customers around the world.
Below, you can find some tools on how we handle the communication process at 24Slides:
4 tools to collaborate with people online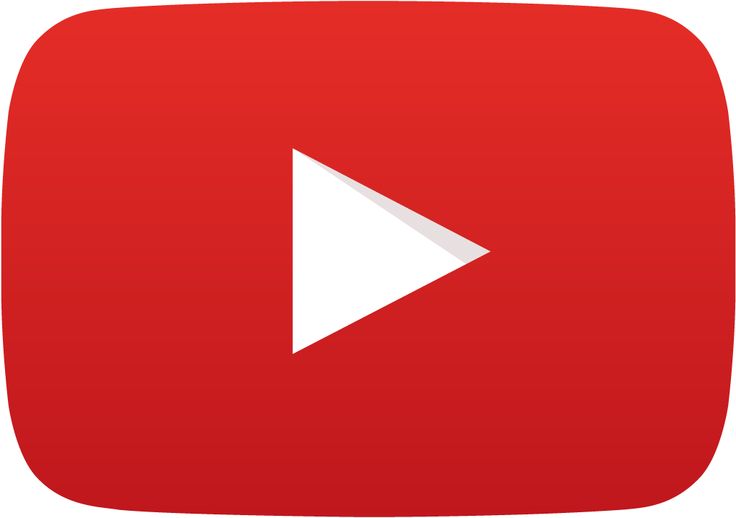 The most famous researcher of cross-cultural groups and organizations, Geert Hofstede (1991), created a model showing cultural differences among nations.
As we are an international company, we tried to apply the model and see if we could find a reflection in ''real life''.
We explored how cultural differences are influencing the internal communication between the offices in Copenhagen and Malang.
After this experiment, we can only conclude that culture matters. And finding a balance is key to succeeding in cross-cultural communication.
Hofstede's model is based on 6 cultural dimensions– each reflecting how a society emphasizes a certain cultural trait.
The dimensions are: Power Distance, Individualism, Masculinity, Uncertainty Avoidance, Long-term orientation and Indulgence. A society can score from 0 to 100 in each dimension, 100 being the highest.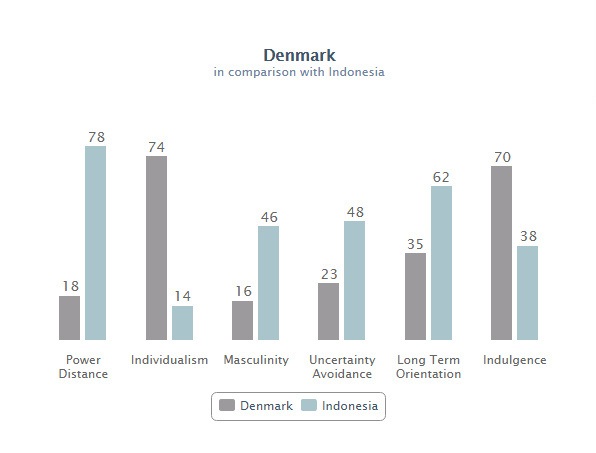 Looking at the graph and seeing the cultural differences between Denmark and Indonesia, it seems like there are huge gaps to hurdle. Yet, take a look as well below to see how we are dealing with those at 24Slides by exploring 4 out of 6 of these dimensions:
1. Power distance at 24Slides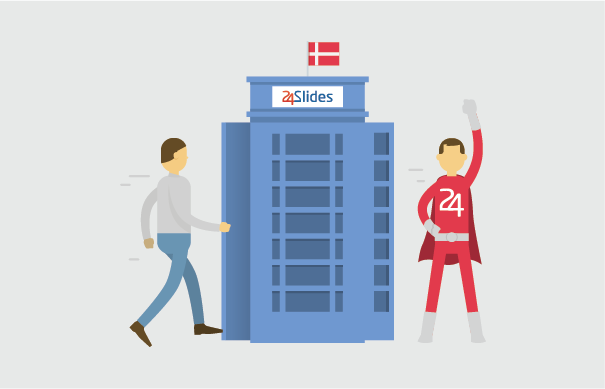 Hofstede describes Power Distance as the emphasis put on hierarchy, and distribution of power in an organization.
For us at 24Slides, it reflects equality within our organization and the boss-employee relation.
According to Hofstede, '' In Denmark there is no boss''- Danes do not lead, they coach.
But the system that works in Scandinavia will not necessarily be appropriate in some Asian countries; the team working from Indonesia has defined their own working frame where they feel secure and confident while performing tasks. In Malang, everyone has clearly defined positions and responsibilities.

Thea (Customer Support Manager at 24Slides, Copenhagen):  "A big part of my job is communicating with the designers in Malang, and I have experienced the focus on hierarchy – one example is how in Malang, every employee has assigned clear roles and tasks. This implies that if I have a question about the design process, I have to address the Project Manager, and not the designer who created the slides.  I have noticed that my 'Scandinavian approach', where I want to ultimately leave the decision for the designer, and just suggest an overall idea, is often confusing and not well received by my Indonesian colleagues. They prefer a more direct and precise briefing, with clear instructions.  Luckily, the learning curve was steep, as they gave me very clear feedback from the very beginning. "

Sartika ( Secretary at 24Slides, Malang):  " The language we are using with the DK team and  customers is English. The Project Managers, fluent in English, serve as a bridge between the designers and the customers as well as the team in DK. They control the entire process by making sure that the efforts that designers do are in accordance to customers' expectations. The hierarchy at work is to structure and divide the work load and responsibilities."
2. Individualism vs. collectivism at 24Slides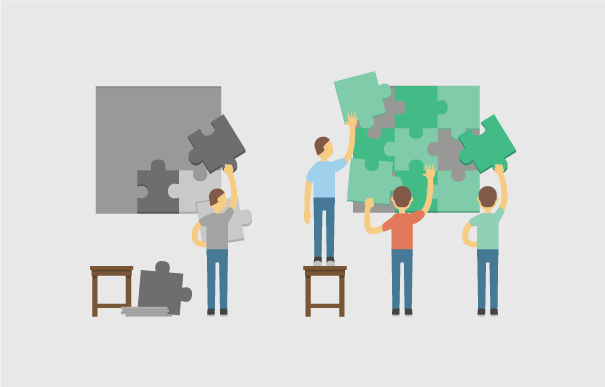 Hofstede's theory shows that Danes are individualistic, so establishing a company in Indonesia- a collectivistic country, can in theory, be hard to manage.
Usually, Danes act independently and communicate in a ''straight-forward'' manner with each other. This is not the style in Indonesia, which can cause problems, as the Danish may come across as rude and impolite.
For the designers, the social framework is an important value. Collaboration and cooperation play a huge role in how they work.  Organizing different social activities enables employees to socialize and strengthen the value of collectivism.

Thea:" Every time the team gets a big project, they step away from their desks, and start discussing in teams how to approach the task at hand. This collaboration ensures the creativity is kept high, and that we can continue to deliver high standards and inspiring designs."

Sartika:" The 24Slides team in Indonesia upholds family values. They serve as the foundation of how each team member interacts with colleagues. Inevitably, we grow to care about each other. How is that reflected at work? Even when we have many deadlines to meet, the Project Managers are concerned about the designers' ability to handle them."
3. Uncertainty Avoidance at 24 Slides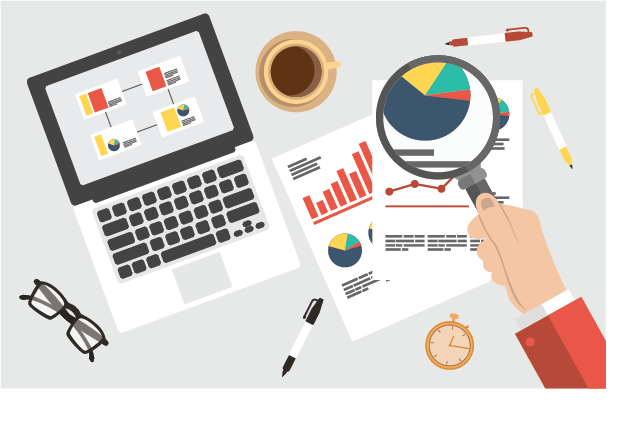 Hofstede's Uncertainty Avoidance dimension implies how a society feels about ambiguity, sudden changes and unexpected events.
Based on Hofstede's research, Indonesia is highly avoidant to uncertainty. This suggests that maintaining workplace harmony is vital. No one wants to be the deliverer of bad or negative news or feedback.
On the contrary, Danish score low in uncertainty avoidance. This implies there is sort of informality in the working environment and little set structure. It finds a reflection in our office in Copenhagen internally.
However, our communication with our Indonesian office and customers is very structured. We have a platform for tasks and project management as well as for communication.

Thea: " A big part of work at 24Slides is evaluating the feedback we get from our customers, and discussing how we can change our processes and eliminate the small mistakes we sometimes do. This is a challenging process, as I tend to be very direct in my communication, and I sometimes see that my Indonesian colleagues interpret it  as strong criticism, which it is not I have to be very aware of the way I am communicating, and make sure that my words come across as I mean them– constructive, and not misinterpreted. The way we solve this, is by Skype calls, and 'face-to-face' communication. A positive tone and a smile go a long way!"

Sartika:" Organizing information and relaying these to the appropriate team members without any misunderstanding is an ongoing effort. As of October 2015, we have e-mail, gtalk, Podio, Slack and WhatsApp to manage our communication. Once we're in the process of working on something, it seems the only thing that matters is getting the job done. This includes relaying the correct messages to the ones supposed to work on it, and delivering it on time.  It's also important to make the details visible to the entire team and ensure that the next person handling the project will be getting complete and accurate information."
4. Indulgence reflected at 24Slides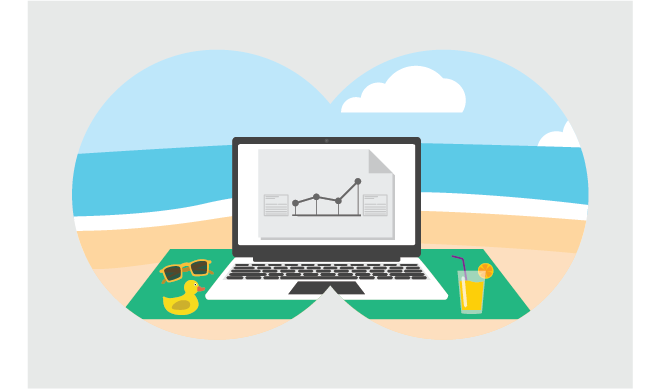 Hofstede's indulgence dimension is essentially a measure of happiness; whether or not simple joys are met.
Denmark scores high on this dimension, implying that Danes love to enjoy and have fun.
Indonesia, on the other hand, has a tendency towards cynicism and pessimism, and enjoying leisure time is somewhat not socially accepted. (Mr. Hofstede, are you sure about that?)
At 24Slides, we organize various social and leisure activities to break the everyday routine. The designers enjoy PlaySaturdays and other social activities.  And we've seen how these benefit the company in many ways – for example in terms of increased productivity and creativity.

Thea: " Play Saturdays are a big part of the company, and the activities the Indonesian team plans seem so fun I actually envy them! I think it reflects that they like to arrange fun activities together in their spare-time, and care for each other. Also, I think it shows that they are making that extra effort to create a fun, exciting and creative workplace."

Sartika: " Once a month, we visit a recreational place (e.g. park or beach) or share dinner together. We value these moments. These are the times when we make a conscious decision to be together on that event as a team. We often select a venue which will enable us to do something together or sit together."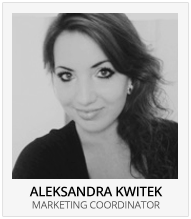 This article is written by Aleksandra Kwitek, Marketing Coordinator at 24Slides, Copenhagen. You can catch Aleksandra at aleksandra@24slides.com
In collaboration with Thea Lango (Customer Support at 24Slides, Copenhagen), Sartika (Secretary at 24Slides, Malang), and Cathy Recto (Content Manager at Philippines)
Sources: