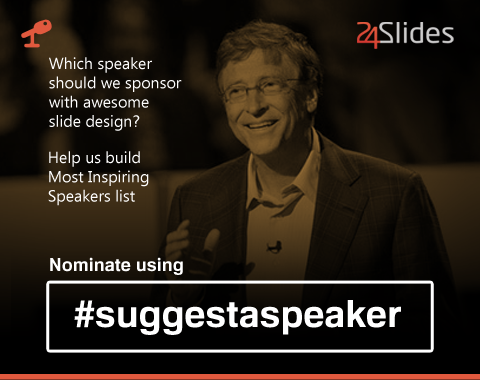 We have just been blown away by the kind of speakers we have been suggested for our #suggestaspeaker campaign! They come from all over the globe and from all walks of life– the US, Denmark, India, Spain, Syria and the Netherlands. They are businessmen, human rights warriors, sustainability ambassadors, scientists, innovators and life changing speakers. Some have amazing life stories. Some are infecting people with their energy and inspiration. Some encourage hundreds by finding the right words. Some motivate people by their actions.
Check out the suggested speakers on our Twitter list named Very Inspiring Speakers. Please note that not all of the suggested speakers are present on twitter, so the list is longer. We are retreating ourselves to process the list and contact the chosen people. Watch out for the first interview coming out very soon!
Keep sharing awesome people with us by using #suggestaspeaker hashtag.
Remember, any person that has inspired you lately can be suggested as an Inspiring Speaker. It can be your colleague, partner, boss, someone you met at a conference, listened to on Youtube, etc.
Let's be contagious with excitement and encouragement!
Let's keep in touch!