The 10 Most Influential Presentations Ever Given
Influential presentations make an impact – on an individual, on an audience, on a global scale. Styles, voices, and content might vary, but the inspirational nature of the presentations are the same. They all introduce something influential. An idea to change an attitude. An organization to change lives. A product to change the world.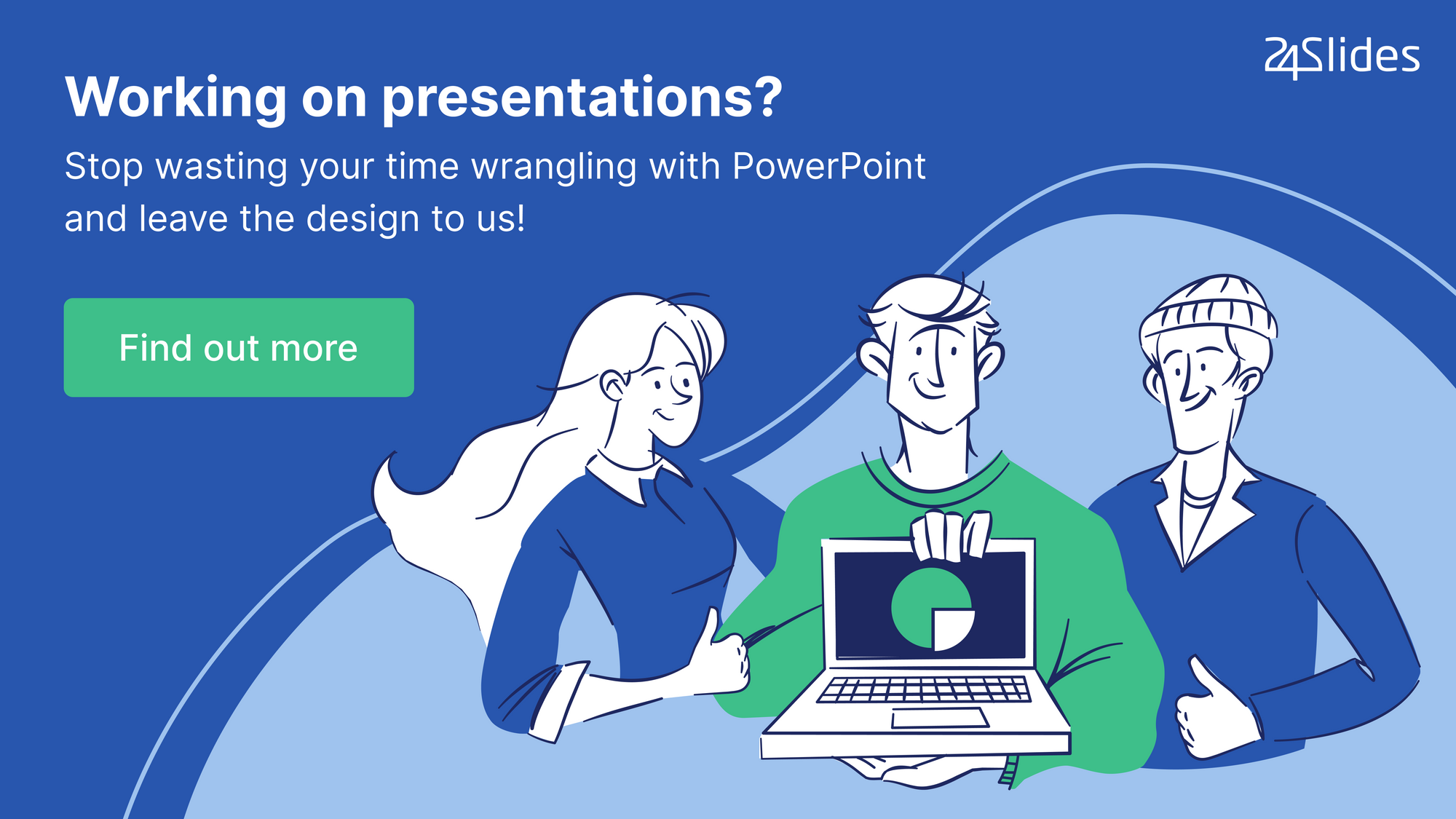 What makes a presentation influential?
The 6 Principles of Influence provides guidelines that you can indeed learn and follow to create a successful presentation. Various other theories also outline a formula. The most powerful presentations, however, are simply inspired. They capture the audience, whether through great presenters or great ideas –usually both. Read ahead for some of our all time favourites.
Sheryl Sandburg – Why We Have Too Few Women Leaders
Many of the most influential presentations of all time are TED talks. The central principle, "ideas worth spreading," inspires every word and every speaker. They are extremely popular and free to watch online, meaning the concepts resonate with billions of people worldwide. We've created a quick guide on how to use TED talks presentations when building your next presentation.
Over seven million people have viewed this particular presentation by Sheryl Sandburg. It addresses the big issue of the small percentage of women leaders in business and other professions. That's seven million people inspired by the endorsement of female empowerment – seven million people being influenced by a single presentation.
Eric Schmidt – How Google Works
How Google Works from Eric Schmidt
"How Google Works" is a favorite presentation on the popular platform, SlideShare. Its influence comes from its creator, Eric Schmidt, former CEO and Executive Chairman at Google. Honest advice from a top company leader has inspired millions of business people, especially those beginning their own start-up.
It demonstrates the potential of PowerPoint presentations – even without a live speaker. Its simple yet engaging nature reveals some of the best and most creative methods of presenting: short pieces of text, a comic book story, and colorful illustrations.
Steve Jobs – Introducing the Macintosh
One of the most influential presentations of all time famously revealed the breakthrough invention of Steve Jobs, when he introduced the Macintosh in 1984. It was the first personal computer product of Apple and would go on to prove the potential of PCs and encourage the promising results of the company.
The presentation itself was also inspiring. Steve Jobs had gambled with his career for this creation. After years of hard work, he was finally instigating the huge step forwards into the modern technological era – and he presented it all in an original and engaging manner.
Steve Jobs – Introducing the iPhone
Jump forward 23 years, and Steve Jobs continues to influence modern technology with the introduction of the iPhone in 2007. This presentation revealed one of the most influential products of all time. It redefined the way we communicate in daily life. It also established Apple as the leading company of modern technology and secured Steve Job's reputation as a top CEO of all time.
In this famous keynote speech, Jobs declared a futuristic vision that seemed farfetched to many – a handheld computer to fit in your pocket. Yet with the unveiling of the iPhone 7 less than a decade later, this vision has proved entirely possible. He hooks his audience, not only through an incredible product but also through a visually engaging and captivating style.
Tony Robbins – The Power of Beliefs
In "The Power of Beliefs," Robbins uses the single simple tool of a whiteboard and pen. He primarily captivates listeners through body language; using active gestures and confident speech.
As with Ted talks, Robbins has popularized motivational presentations. No longer limited to business people and professionals, everybody can value his advice and apply it to an aspect of their life. He has created various influential presentations, but his innovative presentational style is the most influential of all.
Dan Pink – The Puzzle of Motivation
Dan Pinks' presentation, "The Puzzle of Motivation," is within the top ten most viewed Ted talks. By reaching 18 million people, he has inspired change in business minds all over the world. His fresh ideas can influence the whole structure of a company, including incentives and the motivation of employees.
Through a refusal to conform to traditional reward systems, he instead endorses a new emphasis on intrinsic motivation. By listening to the personal stories of employees, businesses can succeed through individual incentives from within – ultimately benefiting everybody.
Gavin McMahon – 22 Rules to Phenomenal Storytelling
Pixar's 22 Rules to Phenomenal Storytelling from Gavin McMahon
The most influential presentations not only inspire the business minds of people but the creative and playful mind too. Pixar's presentation, "22 Rules to Phenomenal Storytelling", appeals to both. Differing text styles and cheerful illustrations encapsulate a unique and memorable personality.
This presentation promises inspiration in writers and creatives world-wide. It provides valuable and applicable advice from Pixar itself – probably the most successful storytelling company of all time.
Scott Harrison – Charity: Water Presentation
What could be more influential than introducing a whole new attitude and approach to charity? This is exactly what Scott Harrison does when promoting his organization, Charity: Water. Through an emotional and honest speech, he inspires empathy and generosity in his audience.
He creates a presentation to inspire change using strong visuals, shocking images, and heart-wrenching videos. Such influential speeches have worked – since 2007, Harrison has helped raise over $100 million for Charity: Water.
Empowered Presentations – Smoke, a Convenient Truth
SMOKE – The Convenient Truth [1st place Worlds Best Presentation Contest] by Empowered Presentations from Empowered Presentations
"Smoke, a Convenient Truth" has a simple style, with a passionate purpose and active message. In 2010, it became first place winner of the World's Best Presentation Contest. Like all the best presentations, this PowerPoint told a story. It also kept one idea to each slide and used powerful visuals.
Highlighting real yet mind-blowing statistics about the health dangers of smoking, it forcefully criticizes the cigarette industry. The message reached millions of people, supporting anti-smoking campaigns throughout the world.
Amy Tan – Where Does Creativity Hide?
Amy Tan's style is similar to other great speakers as she utilizes strong images, humor and a storytelling voice. However, this presentation is unique as, rather than presenting us with a whole and complete idea, she inspires questions into the mind of her audience. Following her personal story, we are drawn into a broad and influential question: what is creativity? And how can I access it within myself? Sometimes the most influential presentations pose a question, not an answer.
Go ahead and take inspiration from this list of successful presenters. Learn through example and create your own influence through the power of presentations.