10 of the Best Productivity Tools for Working in PowerPoint
PowerPoint is a fantastic tool for making visual content, from presentations to infographics to even videos. However, getting good results can be pretty time-consuming. In order to make the most out of your time, here you'll find 10 PowerPoint productivity tools that will make your working process easier!
PowerPoint is an amazing tool that can improve your team's productivity on its own. By using a visual aid to communicate, you can better showcase your goals and objectives, display your performance evaluation, and overall get everyone on the same page with less effort.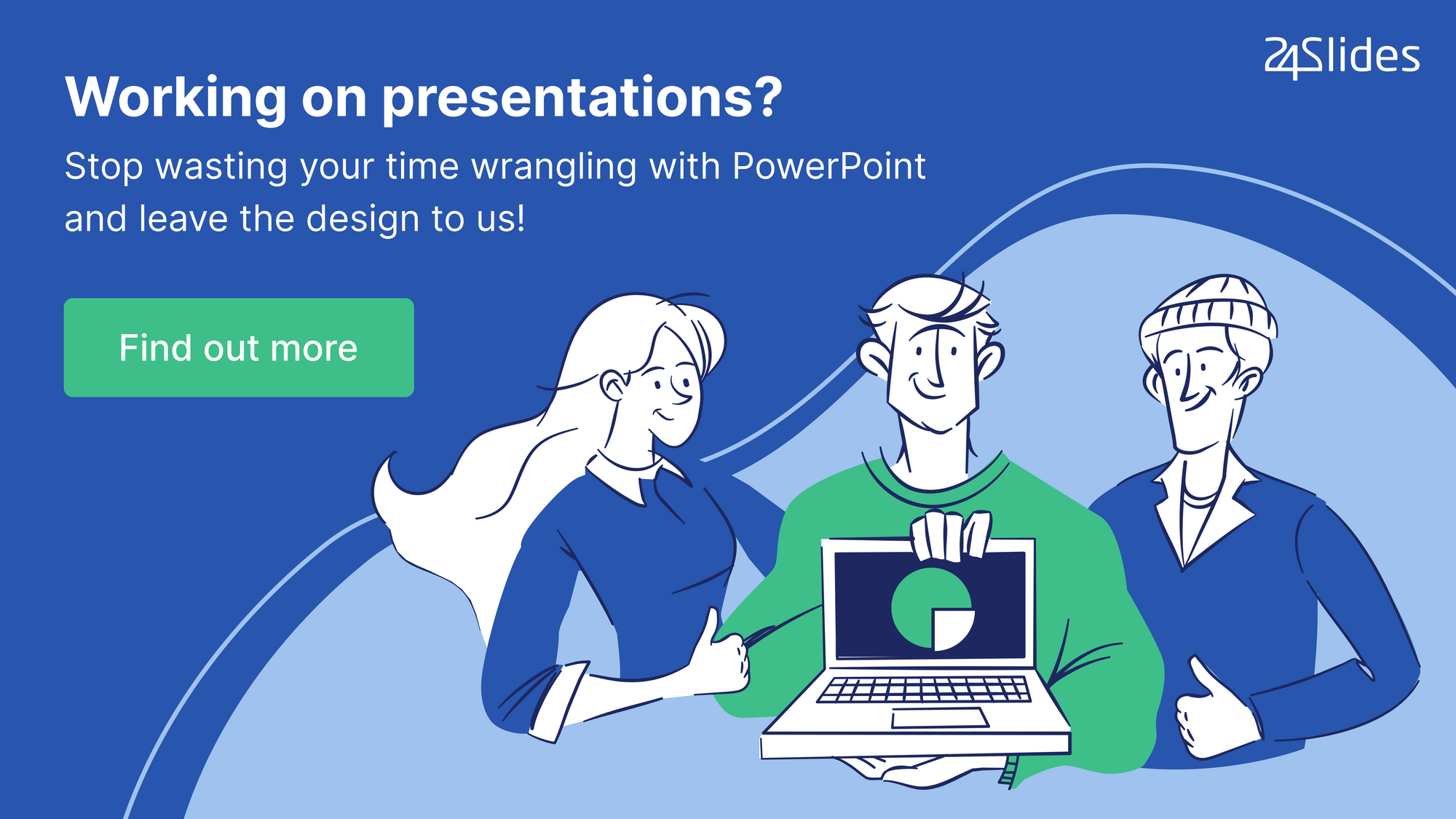 However, working on making the PowerPoint presentation on itself can be quite a time-consuming task. Looking for images, editing icons, formatting… all those things take time and effort, and our professional PowerPoint designers know that very well. That's when add-ins come into play!
24Slides designers work on over 17,500 slides per month, and here you'll find the exact tools they use to achieve it! These are both free and paid productivity tools for PowerPoint that professional presentation designers recommend for becoming more efficient and maximizing the time spent on your slides while still getting amazing results.

PowerPoint Design Productivity Tools
If you're someone who works with PowerPoint constantly, you might know how much time it can take to find the correct picture for your slide. This PowerPoint add-in will help you improve your productivity by minimizing the time spent looking for online images!
It gives you instant access to free professional stock photos that you can add to your presentation with just a click. You can also save your favorites and filter pictures by color. In short, an amazing tool to create great slides and backgrounds.
I never get tired of talking about PowerPointLabs. That's how good it is! This incredible free PowerPoint tool will do wonders for your productivity by minimizing the time and effort put into designing your slides.
PowerPointLabs offer a wide array of design options. For example, the positions lab will help you distribute the elements within your slide evenly. And the Sync option will allow you to copy certain features of a component (like color, size, or position) so you can replicate it later with cero effort. It also has terrific options for animations, zoom, and highlights that will make your presentation more engaging and appealing. And this is just scratching the tip of the iceberg of all it offers!
You can learn more about PowerPointLabs add-in and how to use it here.
BrightCarbon has created an outstanding PowerPoint tool that will help you with your productivity when creating presentation slides. And the best thing, it's completely free! It gives you extra features and excellent shortcuts that will make your work process more manageable.
If you're a fan of working with animations into your slides, then this is the tool for you! It'll help you make your animations more precise. Plus, its "Align/Join Motion Paths" allows you to create a continuous path of movement for your presentation's elements.
It's perfect for those using PowerPoint to make videos or simply to get a more seamless transition from slide to slide. It's an incredibly effective tool to make your presentation look more professional!
Power-User is a great, versatile tool to add graphs, diagrams, and maps into your documents. So if you're looking for ways to showcase your data in a visually compelling way, then this is the productivity tool for you.
Just like Pexels, Icons by Noun Project will help you save time in your presentation by giving you instant access to a direct library of visual elements. In this case, icons! The Noun Project offers an incredible collection of over 1 million icons you can use for free.
This free PowerPoint productivity tool will help you save time and add all the icons you want into your presentation slides. You can also easily edit their shape and color!
Finally, another one of my personal favorites! ToDo List Pro is the ultimate free productivity tool for PowerPoint for people who work on presentations constantly. It integrates a task list into your document that automatically saves itself.
This way, the next time you open your document, you can see what's next in your to-do list. It's the perfect tool for people who constantly work in presentations through several days.
PowerPoint Automation Productivity Tools
Creating a presentation is hard work, but so it is to get all your documents on brand and aligned!  Many of our customers share with us that, on top of our design presentation services, they also use productivity tools they use for small edits and to automate workflows.
To make sure that companies minimize the time they spent on presentations and can focus on the most valuable work, it is key to empower employees to do as much of the simple stuff as fast as possible while having access to professional design help for the rest.
This allows companies to do a one-time investment on a master template, knowing that they can easily apply it to all their future projects with minimal effort. These PowerPoint productivity tools will help you spend as little time as possible creating all the presentations you need.
When we interviewed professional PowerPoint designers, Ampler was the add-in that was mentioned the most. And no wonder why! It's an amazing PowerPoint tool that will help you boost your productivity by reducing routine tasks and helping you organize your workspace better.
It allows you to create a library of commonly used slide templates and elements to maximize your efficiency. It also has a wide array of shortcuts, and it even helps you scan for any formatting inconsistencies to make sure your slides are perfectly clean and professional.
Ampler prices start at $15 per month.

While Templafy is not a PowerPoint add-in, it's still a fantastic productivity tool for businesses that's worth mentioning! Templafy is an online platform that allows you to create document libraries and edit them easily. This is perfect for those who are having problems with standardizing all their documents and presentations to a single design style and to better comply with the company's standards.
It has incredibly efficient, fill-in-the-blanks options that will make your document production more automatized. It also includes analytics so employees can see how well their documents are performing.
You can request Templafy prices here.
Finally, there's ToolsToo. Just like many others in this list, ToolsToo is a great PowerPoint tool that will allow you to boost your productivity with its over 85 new features for designing slides. It enables you to replicate different elements' and slides' formats to make the most out of your time. Its shapes toolbox will give you absolute control over your slide design and give you way more design options than the simple PowerPoint default suite.

Want to really save time and still get fantastic PowerPoint slides?
There you have it! 10 excellent PowerPoint extra tools that will boost your productivity and help you save time and effort when working on your presentations.
However, while these will definitely help you save some time, only practice makes perfect. Take into consideration that the more you experiment with PowerPoint design and the more time you spend learning to make the most out of these tools, the easier it'll become over time.
If you genuinely want to save time and effort, you might want to consider professional PowerPoint design. You won't only be able to save time but rather forget about PowerPoint presentations forever. You can sit back and relax and trust that the professional will come up with an outstanding result without zero effort on your part.
24Slides PowerPoint designers have experience working with some of the biggest companies worldwide and are absolute experts at making your message and your brand pop up through your slides!