10 PowerPoint Productivity Tips to Design Presentations
Presentations are a must-have for almost every important meeting. Project updates, sales pitches, client approvals… but creating a good set of slides takes time. It's not just the content part that you need to take care of but also the visual aspect of your presentation.
To speed up the process, here are 10 PowerPoint productivity tips to help you (and your team) get your presentations done faster - and without sacrificing quality.

How to Boost Your PowerPoint Productivity to Meet Tight Deadlines

If you landed in this post, there's a PowerPoint presentation (or multiple ones) that you need to finish soon. Let's tackle this situation with the following time-saving PowerPoint tips:
PowerPoint Productivity Tip #1: Repurpose Old Slides

When the clock is ticking against you, repurposing an old deck is one of the quickest ways to have a fresh presentation on time and on-brand.
Revise your marketing and sales collateral and look for a previous deck with a similar topic to the one you're about to present. There you'll have not only fully-branded slides but also images, icons, and even data that could help you enrich and put together your new presentation faster.
PowerPoint Productivity Tip #2: Pick a Ready-to-go PowerPoint Template

But what if your business hasn't worked with branded presentations before? Well, you still have other alternatives. There are thousands of online sites where you can find pre-designed slides for project reports, sales presentations, pitch decks, and more.

For instance, the Templates by 24Slides site has incredible PowerPoint templates for corporate and creative presentations. From timelines and roadmaps to data-driven charts and progress bars to PPT icons and backgrounds (Yes, you can get all that in PowerPoint) Thousands of PowerPoint resources in one place, for free.
PowerPoint Productivity Tip #3: Use PowerPoint Add-ins

Another way to work faster on PowerPoint and elevate the quality of your presentation is using PowerPoint add-ins. They are extra features you can install in PowerPoint to perform specific actions. For example, searching for stock images and icons, aligning the elements of your slides, creating cool transitions, working with animations, and so much more.
Since PowerPoint add-ins are meant to help presenters complete tasks in a couple of clicks, there's no steep learning curve or any required design training to use them correctly.

If you want to start now, here's a hand-picked list of the best free and paid PowerPoint add-ins to increase your productivity.
PowerPoint Productivity Tip #4: Explore the Design ideas tool

"Design Ideas" is a feature in PowerPoint that helps you create visually appealing slides in a matter of seconds.
To activate it, go to your "Home" tab and click on "Design Ideas" at the end of the ribbon. A lateral column will appear with creative options for arranging your slides' elements and creating new designs.

I recommend you use this powerful PowerPoint tool once you have all the presentation content (text, images, charts) in place because it generates designs according to what's on your slides.
PowerPoint Productivity Tip #5: Outsource your Presentation Design

The easiest and fastest way to design a PowerPoint presentation is not to do it yourself.
Let me break it down real quick. Just like there are specialists in video editing or product photography, there are expert PowerPoint designers that can get you results like these: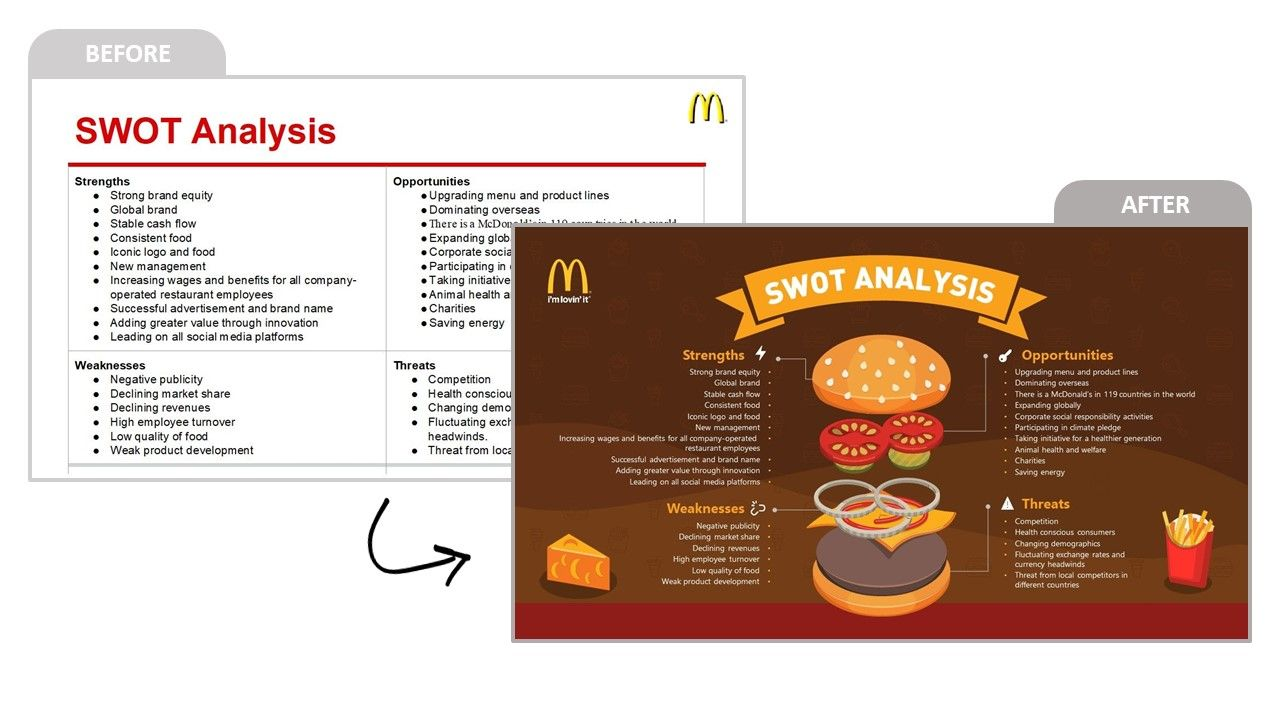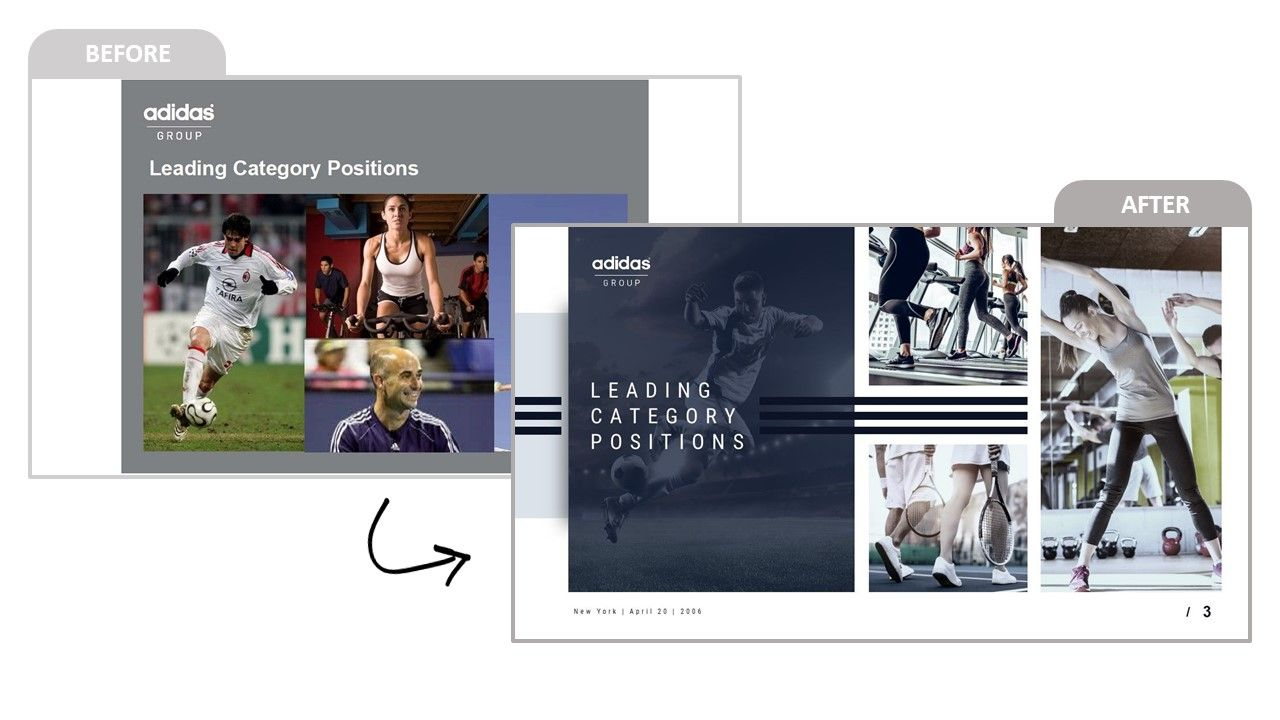 Why spend your day in PowerPoint when you can leave it to the experts (and focus on more important tasks)?
If this sounds like a perfect idea, outsourcing your presentation design is the option you're looking for.
At 24Slides, our designers have experience creating impactful work for thousands of professionals who need help with their PowerPoints. In fact, the slides you've seen above are real examples of what they can do for you. And the best part is that you can get your brand-new slides in 24 hours.
How to Boost Your Team's Productivity in PowerPoint for Future Presentations

We've covered the quickest ways to get your presentations done. But if you have a flexible deadline or more slides to deliver in the future, here are some things you and your team can implement to avoid working against the clock.
PowerPoint Productivity Tip #6: Build a library of brand-approved assets

Do you want stakeholders to remember your company after every meeting? Give your team the resources to integrate your brand identity into their presentations.
You can start by making an audit of your marketing and sales collateral and pick the ones you consider to represent your brand the best. Building a library or repository of brand-approved templates will save your team HOURS of work and ensure a consistent, professional look for all your communications.

PowerPoint Productivity Tip #7: Utilize Master Slides

When talking about productivity in PowerPoint, Master slides are probably one of the best PowerPoint features you'll find. Some people mistake them for templates, but they're more than that.
Let's say you want your logo on every slide. Instead of copy-pasting your image 20 or 50 times, you just go to the "View" tab > "Slide Master" option and place your watermark logo in the first slide. Then, all the slides that you create will automatically have your logo on them. And you can do the same to apply your brand colors, set up your font types, create data visualization charts, etc.

In short, master slides help you standardize the design of your presentations. If this is the first time you read about them, it might take you a couple of tries to master this art. But you can always check out our guide on how to create and use master slides. It will change the way you work in PowerPoint forever.
PowerPoint Productivity Tip #8: Find Design Inspiration Sites

Considering that your presentations' design always takes some hours, it'd pay off to put together design references before starting. This way, you can set a clear vision of the look you want for your slides and optimize the time you spend on them.
Luckily, there are plenty of online sites that showcase creative work from all over the world. And you don't have to restrict yourself to PowerPoint examples. You can find design inspiration in banners, typographies, web designs, color palettes, etc.

Here's a curated list of design inspiration sites you can visit whenever you or your team feel stuck when working on new slides.
PowerPoint Productivity Tip #9: Learn some PowerPoint Shortcuts

I know what you're thinking. Keyboard shortcuts are not the most exciting thing, that's true. But they come in handy when working with large presentations. For example, did you know that you can check the spelling of your whole deck with F7? Or that you can easily duplicate slides and shapes with Ctrl + D?
There are many shortcuts like these that help you work faster in PowerPoint. But you don't have to learn them all. Only the ones that you'll need when designing your slides. That's why I've compiled the top 20 PowerPoint keyboard shortcuts every presenter should know. It includes basic and advanced commands to use before and during a presentation.
PowerPoint Productivity Tip #10: Get a dedicated team of presentation designers

When PowerPoint design is not one of your team's core skills, coming up with professional-looking slides can be a challenge.
According to our survey, the average executive spends around 4 hours a week designing a presentation. That might not sound much, but when you do the math, it translates into roughly 188 hours a year. And that's not even their main job!
If your company works with presentations constantly, it might make more sense to have a team of presentation designers.
At 24Slides, we support businesses with a dedicated team trained in their branding. This means every time they send a PowerPoint project, we already know which fonts, images, and colors to apply. We also provide overnight turnarounds to all their presentations and other features that ensure seamless integration into their workflow. That's how employees from leading companies receive impactful decks that are a big win for their teams - with no hassle of designing one.

And there you have it! I hope you give these PowerPoint productivity tips a try because making presentations shouldn't take your or your team's whole day. Especially when there are smart ways to deliver time back to your people.