6 PowerPoint Secrets from Profesional Presentation Designers
If you have an upcoming presentation and you're worried about your slide design, then this is the article for you! Some of the very best designers here at 24Slides have shared their best PowerPoint secrets for creating extraordinary presentations.
Your slide design can make or break your presentation. Slides are pretty much your introduction card to your audience, and a good design will help you look more professional and put together. It can make your brand stand out from the crowd and reassure that your audience will remember your presentation long after it is over.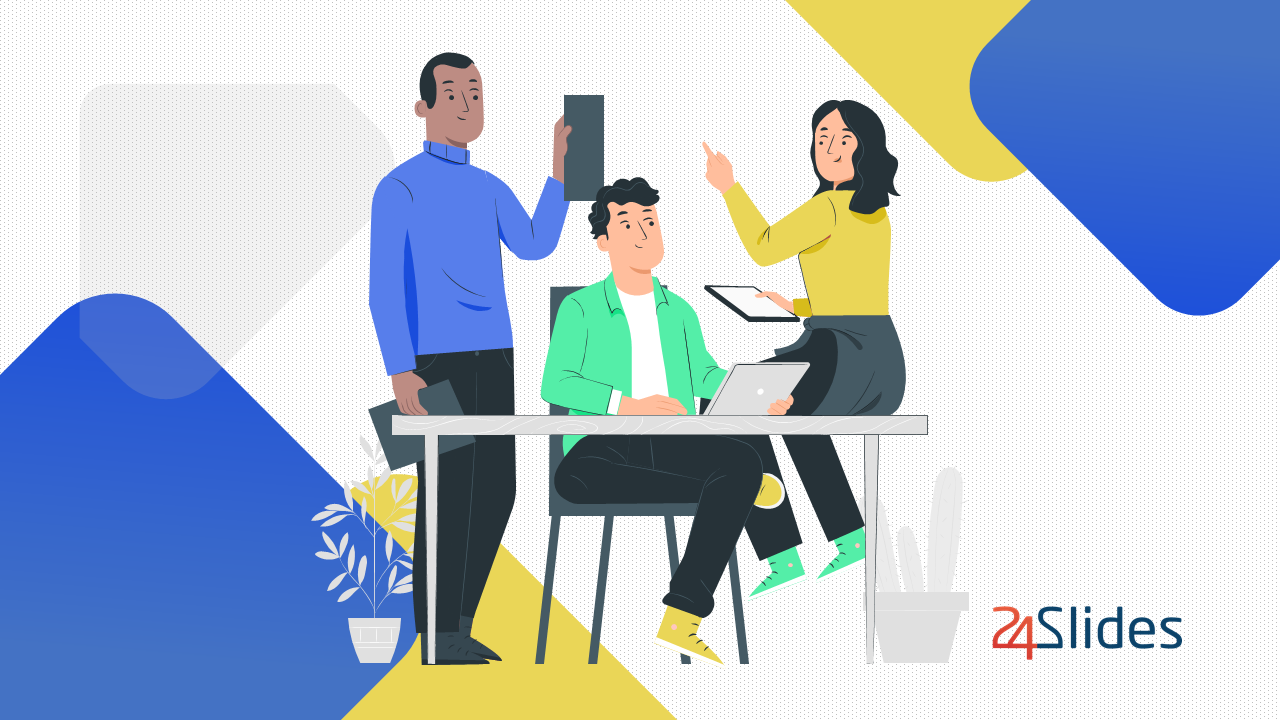 24Slides is a Denmark-based company with offices in Indonesia, Peru, and Ukraine. Our designers are the absolute best at what they do. These secrets are the reason why so many of the biggest companies worldwide choose 24Slides to outsource their presentations!

Top 6 PowerPoint Secrets to improve your presentation design process
PowerPoint Secret #1: Know what you're going for
When talking to 24Slides designers, all of them told me the exact same thing: know what you're going for!
24Slides designers take the client's needs very seriously, so they invest extra time learning about the request and the company's brand. This is a key part, as it'll make the whole visual process easier and more efficient.

Even if you're working on a presentation for yourself, this can be a valuable process! Ask yourself what you want to accomplish with this presentation and what are the critical aspects of it. What do you want to convey to your audience above everything else? What do you want your brand to be associated with?
For example, if you want to convey professionalism and trustworthiness, you may want to add to your slide design more neutral colors, like blue and grey, and a clean slide layout. If you wish to showcase creativity, you might want to try a brighter, more colorful palette!

PowerPoint Secret #2: Creativity is Key!
The design process is all about creativity. And, of course, creativity needs to be fueled! That's why looking for inspiration is such an essential part of the design process.
Even the most experienced designers need to look for inspiration. From color palettes to presentation layout, looking at what has worked for others can help you find out something that works for you too.
Check out our free Templates bank to get inspiration for slide design and layout.

Moodboards are fantastic design tools that many of our professional designers here at 24Slides use. They allow you to put into a single document all your references so you can have a sneak peek of how it'll all look together.
If you have never worked with a mood board before, don't worry! You can use our free Moodboard template to compile all your presentation design references.
Inspiration can be all around you, from movies to video games to art! Read more about the best sites to find design inspiration online here.
PowerPoint Secret #3: Equipment!
One of the best things about PowerPoint is that you don't need any sort of special software or a particularly potent PC. Contrary to other design software, PowerPoint is very readily available!
However, some minimum investments can make your life easier. Starting with a good computer mouse! If you're working on a laptop, a touchpad will not be enough if you want to make the most of your time when working on a presentation's design.
PowerPoint Secret #4: Work with the basics
Don't try to run before you can walk! Learning the basics might be a little bit tedious, but it's definitely worth it. Something all our designers agree on is that learning the basics is a must.
Features like merge shapes and color options are features you're going to use frequently in every single slide.

Learning how to work with the layout of your slides is one of the most important skills to have when working with presentations. Luckily, PowerPoint has all the basics covered! Features like Alignment, Arrange, Adjust will help you work more effectively in your slide layout.  

Learn how to work with negative space to make simple but effective presentations.
Looking at other presentations examples is the perfect way to improve your layout skills! Noticing the elements that work well together is a simple and straightforward way to learn how to make your slide's layout look better for beginners and pros alike.
PowerPoint Secret #5: Use the most out of PowerPoint features
The key to great presentation design is effectiveness! That's why when asked about their PowerPoint secrets, all of our designers gave tricks and tips to make your work easier and faster.

Shortcuts are a must when it comes to making your design process faster. Another excellent feature that PowerPoint offers is the ability to customize your tool ribbon, so you can make sure you've all that you need at hand reach.  
The selection pane window is also great for working on your slide's layout, especially when you have lots of elements throughout your slides!

PowerPoint Secret #6: PowerPoint plugins
Finally, the last trick is to use PowerPoint add-ins! Many people are completely unaware of how much of a game-changer a good PowerPoint plug-in can be.
PowerPoint add-ins are installable components that can give an extra boost to your design features. One of the all-time favorites here at 24Slides is the Ampler plug-in!
Hopefully, these PowerPoint secrets our designers have shared will make your design process easier and more effective.
Tired of working with presentations? Leave it to us!
As with pretty much everything else, presentation design is all about practice. There's a learning curve, but if you manage to learn the basics, your presentations will definitely reflect the improvement!
However, design is not for everyone. If you cannot invest the time and effort presentation design requires, you can always leave them at the hands of the experts!
Our professional presentation designers here at 24Slides are the best at what they do. They will make sure your slides go from plain to an absolute masterpiece. The best thing is that you can just relax, sit back, and leave it all in our hands.