7 Ways to Effectively Inject Humor into your Presentations
Adding humor is a powerful technique that can either be effective or lethal for your presentation. When used correctly, it can increase rapport and interest from your audience. But when done poorly, it can make you appear unprofessional or trying a bit too hard.
Here are 7 quick tips of how to inject humor into your presentations:
#1: Use humor, not jokes.
Jokes are for professional comediennes; Humor can be shared by anyone. That's because humor is all around us. This includes self-deprecating humor or when you tell funny incidents about your life or yourself. This type of humor is both easy and beneficial for you as the speaker because it involves sharing something within your comfort zone while you're perceived as more secure, confident and likable.
Another type of humor is observational humor wherein you notice something about your audience they don't realize or haven't thought about, yet they can easily relate to. Your audience will love being included and it shows you're paying attention to them.
#2: Know your audience.
Humor is often a double-edged sword; what can be funny for one might be offensive to another. So knowing your audience beforehand is critical. Aside from cultural differences, differences between generations, professions and regions can spell the difference between your humor being funny or cruel.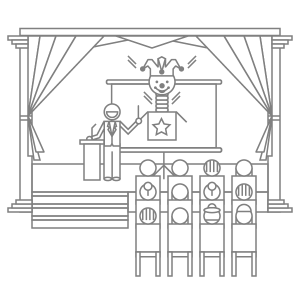 #3: Practice, practice, practice.
Most humor isn't about the actual words you used but the way they're used. Practice your stories or one liner several times using various delivery methods to gain feedback on how others would react.
Here, timing is likewise crucial. Timing refers not just to when you deliver your punch line or insert your humor but also spacing out your humor. Starting your presentation with humor can warm them up, injecting it in the middle can sustain their interest and ending your presentation with it can have them leaving with a warm feeling.
#4: Keep a humor file.
It may surprise you that some of the best comics who seem so spontaneous in making people laugh also rely on a "humor databank" they keep. Start noting your funny life experiences. You never know when you can use them appropriately during any of your presentations.
Aside from looking at your own experience, have stock remarks prepared beforehand for hypothetical situations such as technical malfunctions while presenting. Even as unexpected events arise, they can make you appear you're in control, sharp, cool and confident.
Again, you have to practice these so that your timing will be spontaneous and your witty statements will appear naturally effortless.
#5: Have a point.
Don't infuse humor just for the sake of making people laugh or breaking the ice. The best humor during presentations is one that can be linked to your presentation to increase the impact of your message. In fact, many presenters use humor to emphasize the seriousness of the next point they're about to make.
#6: Keep humor fresh.
One of the most embarrassing moments you can have when using humor is telling a story that's already been heard by most of the audience, making your humor dry,  corny and obsolete. When you've already used the same humor for years, it's best to retire them. Keep your humor database fresh and updated with the times.
#7: Enjoy yourself.
Last but not least, just act your natural self and have a good time. It's a painful thing to see a presenter not even enjoying the funny story he is imparting. Enthusiasm is highly contagious. If your audience sees you being light-hearted and warm, they will be too.
Once you've mastered the art of injecting humor effectively into your presentations, not only will you have your audience laughing and interested, you can also leave the room with a big smile on your face.
What other useful techniques have you tried to make humor effective while presenting? Let us know through your comments below.