Best 10+ May PowerPoint Templates for Amazing Presentations
May is already here and so is the monthly recap of the best PowerPoint templates our designers have created for you. The world is adapting to new ways of working and you're just in time to hone your virtual communication skills. This article comes with great visual aids to get your point across in any setting.
You'll find business presentation templates to analyze your customer journey, marketing strategy, and feasibility of projects. If your company advocates for the environment, use our Green PowerPoint templates for topics like recycling, nutrition, and organic food. There are also educational templates with incredible designs to engage adults and children alike. And finally, I've included some very imaginative presentation templates you'll discover at the end of the list.
Remember our designers work their magic on all types of presentations and you can find hundreds of free PowerPoint templates in our site Templates by 24Slides. Now, let's see which slides made the cut this month.
Business Free PowerPoint Templates
All businesses value professionals with the ability to identify high-impact problems and generate quick and effective solutions. However, you can't jump into this process without analyzing your business activities first. For that reason, here are 5 free templates to help you deliver the results of your analyses in a clear, organized manner.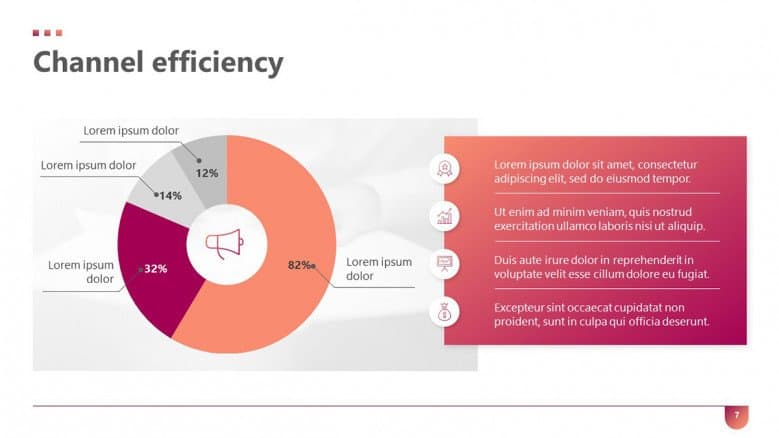 Make sure your team puts your client at the center of your business strategy. A customer journey map will help you visualize the experience of your client with your brand. But once you analyze all that information you will gain a better understanding of your client's needs. And this template has modern-looking slides to showcase your findings. You'll get charts to measure your channels' efficiency and customer satisfaction. There are also slides to cover how your customer interacts in social media and a timeline to display your action plan. At the end, this presentation will become a powerful resource for your team to create customer-centered solutions.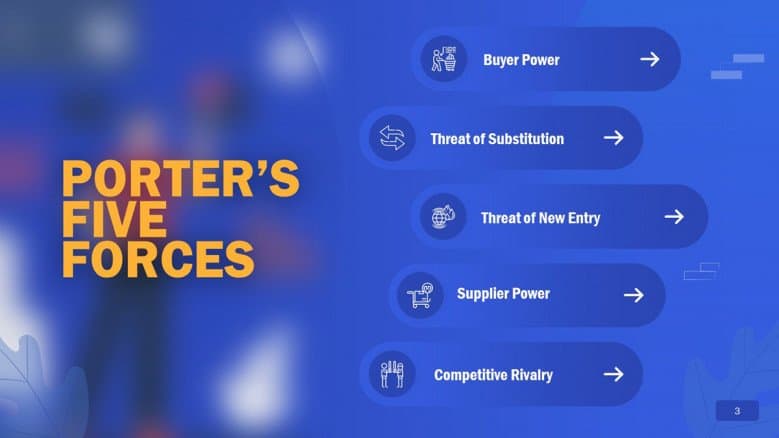 There are thousands of Porter's Five Forces templates out there but what makes this one stand out is its playful style. Just look at the slide above! We know professional presentations do not equal boring templates, so the Porter's Five Forces PowerPoint slides give you electric blue backgrounds, vector illustrations, business icons, and other visual features. Use these slides to analyze the competitive forces of your industry and protect your firm's position in the market.
A Cost-Benefit analysis is an effective way to assess projects and calculate the profits each one drives to the company. What sets the CBA apart from other tools is that you work with monetary terms right from the start, so it is easier to compare options objectively. In that sense, the Cost-Benefit Analysis is ideal for managers and project leaders that look for a financial tool to support their initiatives. This corporate template comes with a table chart, bar charts, diagrams, and more to thoroughly cover the process of your analysis.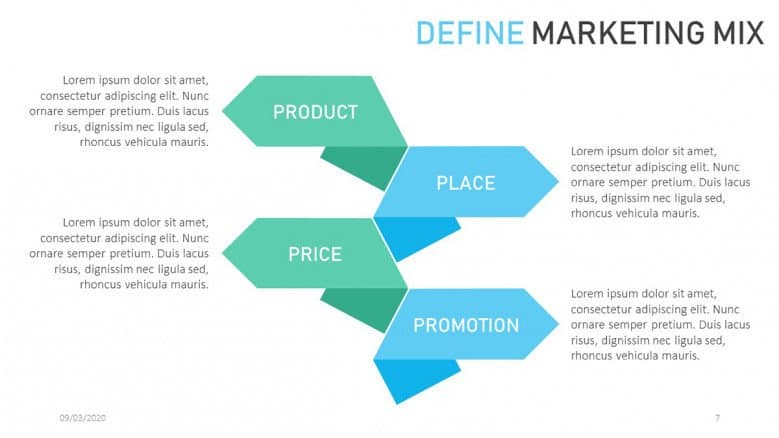 We know creating a Marketing plan involves a lot of research and analysis. There are multiple variables a marketer needs to consider. So, our designers included diagrams to make it easier for you to present all the information of your marketing initiatives. Here you will be able to define your target customer, conduct a market analysis, establish your marketing mix, and so much more. All of this in a clean and well-organized layout that elevates any corporate presentation.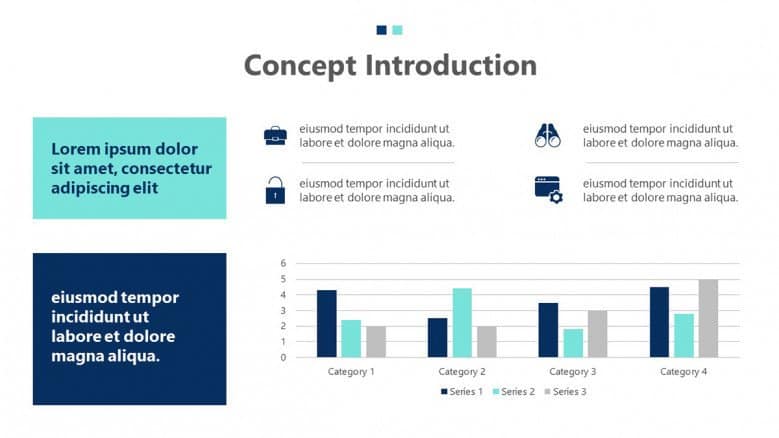 Pitching a project idea is easier when you have results to back you up. And Proof of Concept is a great way to obtain them. What is this about? Simply put, the goal is to test your initiatives at a small scale so you can prove the feasibility of your project ideas. Whether you want to start a project in the company or a new business, you need resources. And the Proof of Concept PowerPoint template will help you create a winning pitch deck. Ready to bring your ideas to reality?
Best Education PowerPoint Templates in May 2020
This month our designers also worked on top-notch educational PowerPoint templates. You will notice each slide was carefully crafted to wow people of all ages. Use these May templates to share your knowledge in virtual sessions or to create digital resources. With such impactful layouts, all eyes will be exactly where you want them to.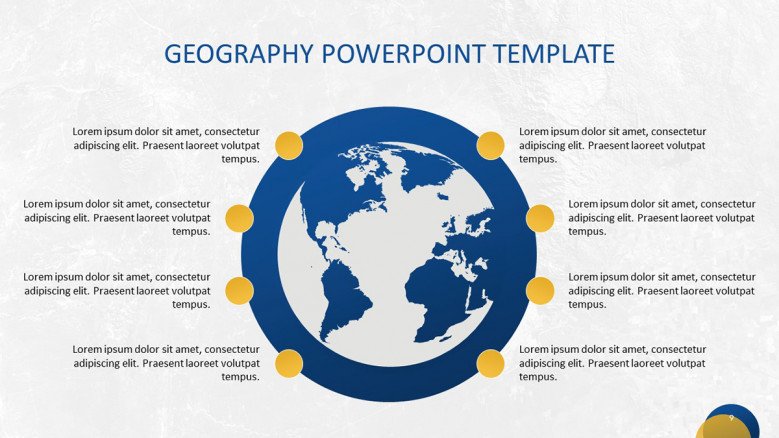 Geography studies the Earth and its features, but also the interactions of humans between them and the environment. Use this PowerPoint template to show how Geography encompasses both natural and social sciences. It includes a four-step roadmap, a circular diagram, icons, and global maps to complement key points with visual examples. Learning doesn't have to be boring, and this creative template will help you deliver a fun Geography session.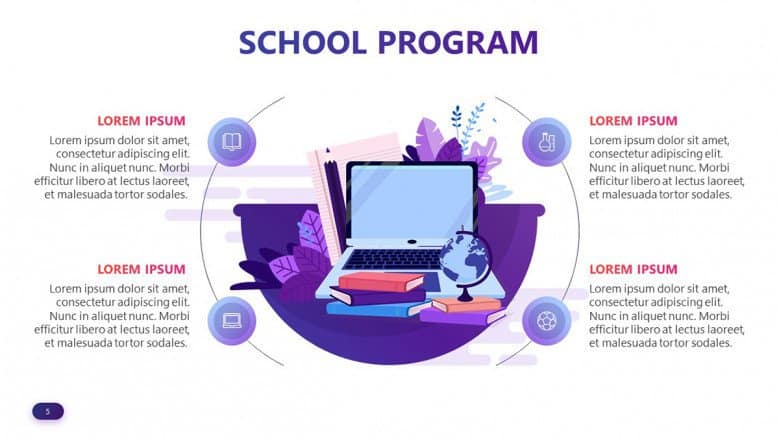 Our playful templates are the best for educational presentations. You'll get colorful slides with illustrations that catch your audience's attention from start to finish. Showcase every detail of your academic program in the School Themed PowerPoint Template. Here you can present your team, talk about education fees, display data, describe school subjects, and more. 10 impressive slides to show how you'll make your students' learning experience one to remember!
Green PowerPoint Templates
We commonly associate green with nature, the environment, and a healthy lifestyle. Our team took this as inspiration and created beautiful templates for topics such as recycling, organic food, and nutrition. And the best part is that you can easily adapt the graphic elements and text according to what your presentation needs. The natural and fresh look of our green PowerPoint templates hit the spot all the time.
Nowadays, consumers want a healthy lifestyle, and this implies adopting new habits such as exercising regularly and keeping a healthy diet. Here is where organic food stores appear as an excellent option in the market. Use this food-themed PowerPoint template to present your business idea to investors in the food industry. Or even better, if you already have an organic food store, showcase the freshness of your products across these slides. You'll get a beautiful green-and-white template with organic shapes, food icons, and more.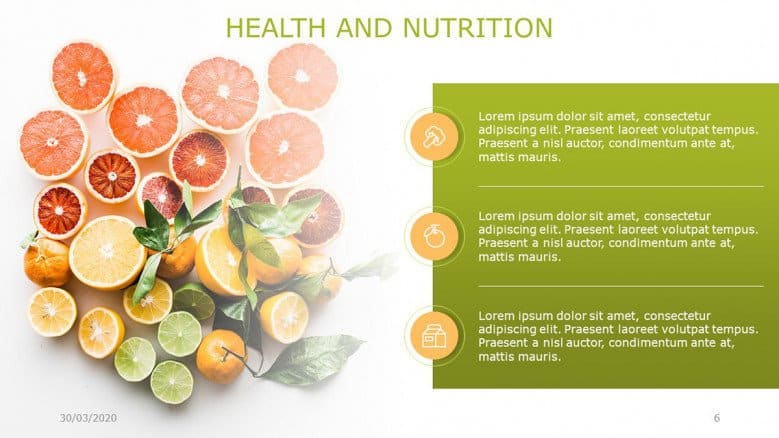 Anyone who has been on a diet before will confirm the journey to a balanced lifestyle is not easy. You need to be consistent and patient to get the desired results. Nutrition and health professionals can use the Nutrition PowerPoint template to accompany their patients in this process. It comes with creative diagrams to explain nutrition facts and images of fruits and vegetables to display their health benefits. There is also a 5-stage roadmap that works perfectly to describe a healthy diet. As you can see, this green template has everything to help you keep people informed about their dietary plan and introduce them to healthy food options.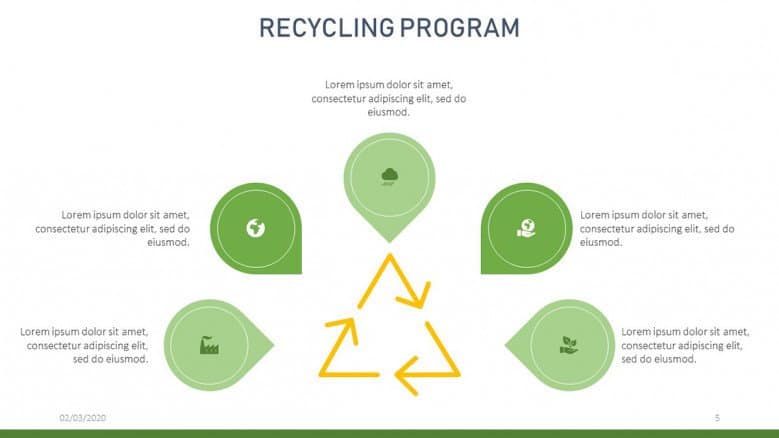 "One man's trash is another man's treasure" is a popular expression but the recycling industry truly took it word for word. And here I bring you the perfect PowerPoint template to encourage companies and communities to join your recycling program. In this green-and-white template, you will be able to explain the recycling process in easy-to-read diagrams. There are also slides to describe which recyclable materials your program works with. And let's not forget about numbers! You will find charts to make your program results available to all potential participants. Encourage more people to go green with a professional-looking presentation.
Other Cool Presentation Themes for May
Our designers are great at creating corporate PowerPoint presentations with business model diagrams and charts. But every month they also let their creativity run wild and surprise us with other cool presentation themes. Looking for unique slides? And I mean, really one-of-a-kind slides that make you say "wow"? Check these out:
Yes, you read that right. This is a PowerPoint template inspired by the popular science-fiction saga. It includes a team slide, a four-column slide, a circle chart, an organizational chart… just like in a regular business presentation. But here's the twist: everything is Star Wars themed! So, if your business is part of a creative industry, this is the perfect template to engage with your audience. You'll also find little avatars of stormtroopers, Chewbacca, Darth Vader, and R2D2 to enhance your content.
We can't deny Star Wars is a favorite in the house, so here's another template for fans of the saga. It comes with a gallery slide, a product description slide, a space-themed dashboard, and even the Millennium Falcon is in here. Who said you can't have fun with a PowerPoint presentation? Use this Star Wars template for a creative session or to wow everyone in your next PowerPoint party. May the force be with you!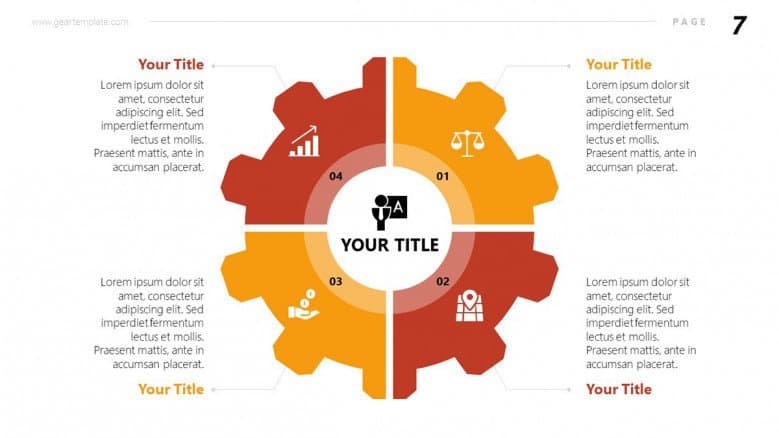 Finally, a set of gears to add dynamism to your PowerPoint presentation. Sure, timelines and icons are great visual aids, but Gear diagrams are at a whole new level. Right from the start, gear shapes evoke movement and connection which make them perfect to showcase processes. You can also group elements and ideas. The entire template keeps a clean and simple style that works for corporate and creative presentations alike. Our gear shapes for PowerPoint include a gear 6-step diagram, a gear puzzle diagram, and gear matrix, and much more.
ALL these easy-to-edit templates are available for free in our template library. But if your schedule doesn't allow you to create the striking slide deck you need; we can help you with that. Don't drown in charts, shapes, and layouts, let our designers do what they are the best at: top-notch PowerPoint presentations. Ready to have a full custom-made presentation? Talk with our team here. And if you're not 100% convinced yet, you can try us out for $1.
See you next month with new professional PowerPoint templates to keep sharing your best ideas!