The 6 Best PowerPoint Templates In February 2019
Our in-house designers have been very busy last month thanks to an influx of orders, but they still managed to find the time to design some new templates for you! Without further ado, here are the 6 best PowerPoint templates in February 2019.
The real estate industry continues to be one of the most profitable industries today. Realtors compete with each other and vie to sell people's homes and real estate properties.
The good news is you can use this free PowerPoint template pack to sell your services to homeowners. It will help you convince them that there's no better realtor in the market than you or the company you work for. Use these slides to demonstrate why it's better to use an agent rather than try to sell the house on their own. In short, sell homeowners on the benefits of using your services!
Once you finally convince homeowners to use your services, then it's time to turn the charm up by another notch – it's time to go and sell the property to potential buyers. Now, the best way to go about selling a house is by giving buyers a tour around the property, but a PowerPoint presentation shouldn't hurt.
The truth is a professional presentation can work wonders for your cause. Show potential buyers that you've done your homework and you've taken the time to prepare a professional presentation especially for them.
Check out some of the slides included in this 10-slide template pack:
Purchasing Process Slide
Use this slide to simplify the complex process of transferring property from the seller to the buyer. This slide splits the entire process into distinct phases so both parties know exactly what to expect.
Yearly Market Trends Slide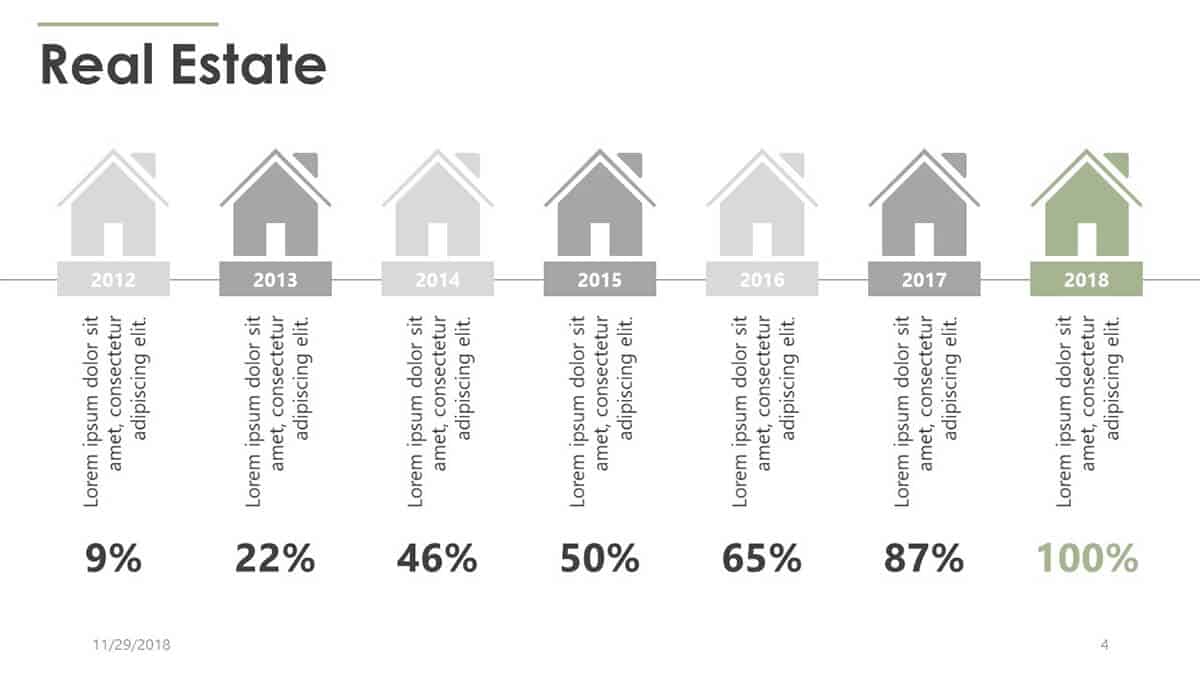 The real estate market has thankfully recovered from the 2008 crash when housing prices plummeted to new lows. However, some homeowners are still hesitant about selling their properties, wondering if they're selling at the right time.
With this slide, you can show the yearly trend in real estate prices in your city or state, so you can convince sellers there's no better time to sell than now. If you're presenting to buyers, use this slide to persuade them that their dream home is now within arm's reach.
Yearly Sale Reports Slide
This slide will work best if you're trying to sell your realtor services to homeowners. Show them your track record over the past few years. Indicate how many properties have been sold every year (you can also customize the slide to present your monthly sales data) and the average home price. Make homeowners feel confident about using your services.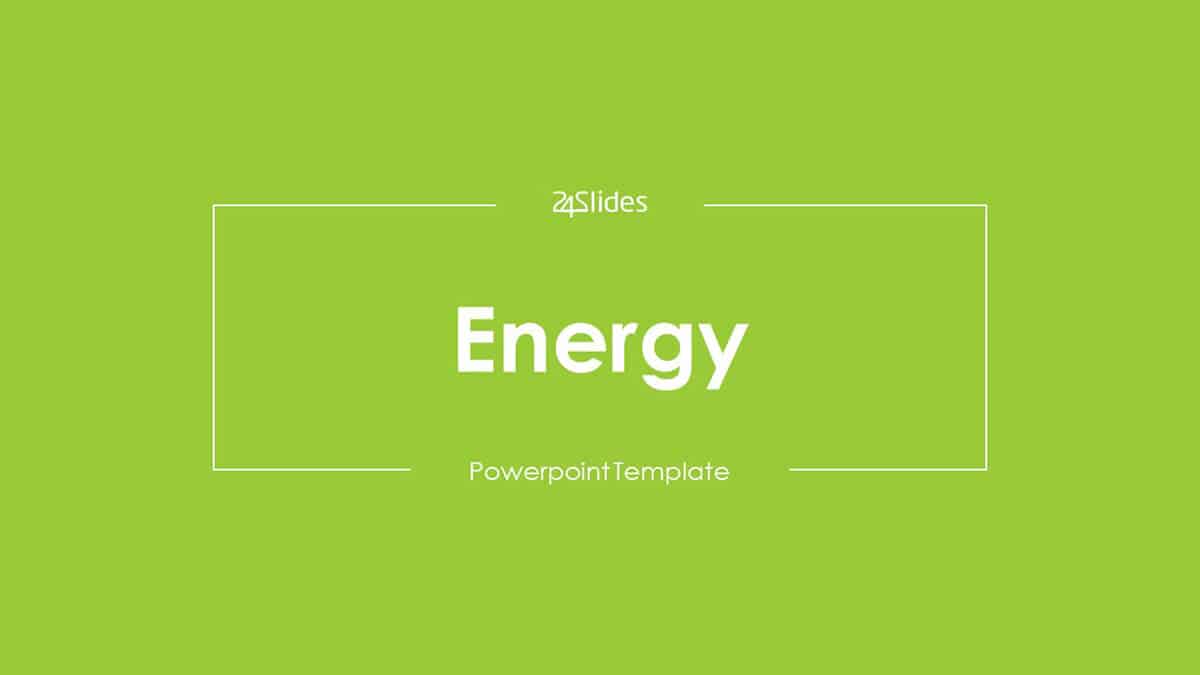 Life without energy or power is pretty unimaginable. We're all used to all the conveniences that the energy industry gives us. For instance, can you imagine not being able to watch your favorite shows on television or your iPad? Or how about not having the energy to power all your appliances at home or even your vehicles? It sounds pretty bleak, doesn't it? It's like living back in prehistoric times!
If you're trying to make your case and stress the importance of the energy industry, then you need to use this free template. Here are some slides included in this 10-slide template pack:
Energy Sources Slide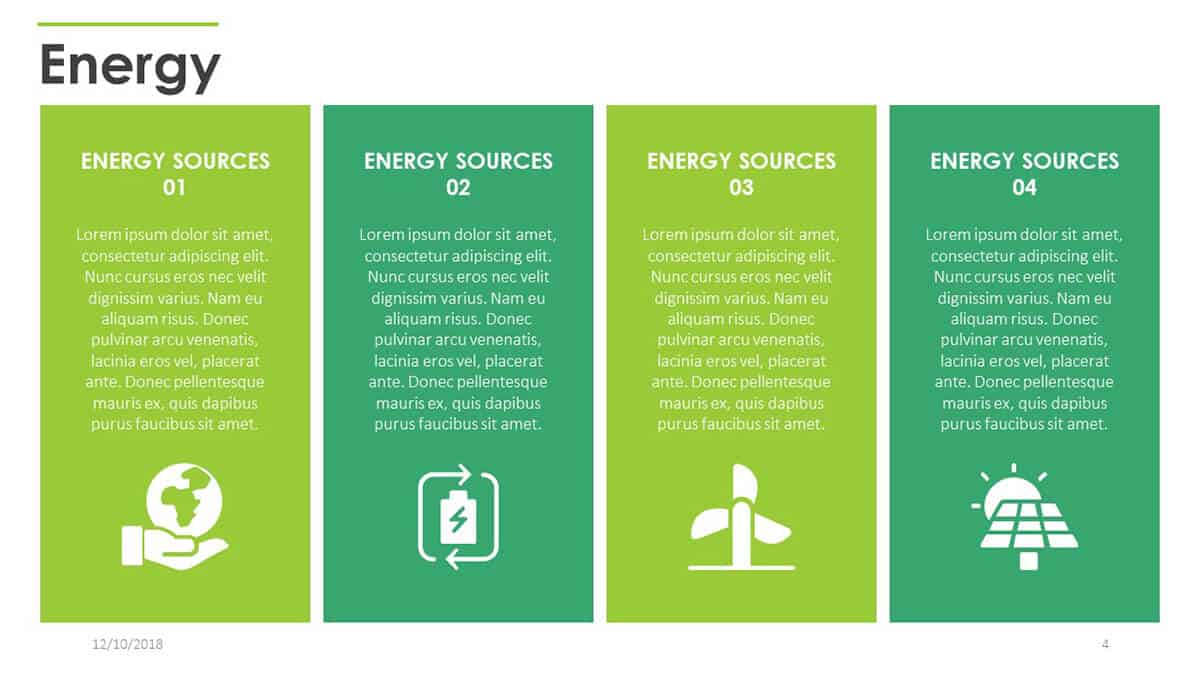 Use this slide to present the different energy sources. For example, you can categorize your sources into renewable and non-renewable energy sources. Non-renewable energy sources have a finite supply and include coal, natural gas, and crude oil.
Renewable sources, on the other hand, are called as such because they continually regenerate. They also have very minimal impact on the environment. Renewable energy includes solar energy, wind energy, and geothermal energy.
Statistics Slide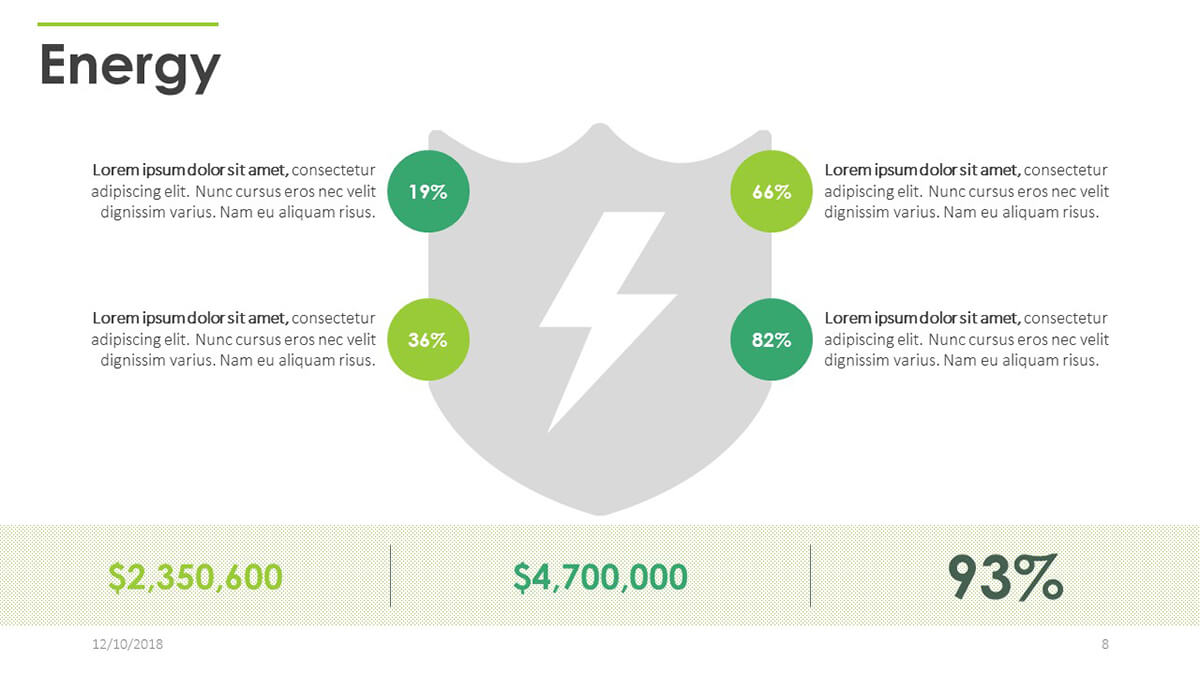 Use this slide to present your energy data and statistics. For example, you can break down the percentage of your energy sources. Say, for instance, 39% of the energy your company provides is renewable (solar), 21% is from windmills, and 40% is from fossil fuel. You can also include information about your efficiency rating and even your development budget for next year.
Technical Details Slide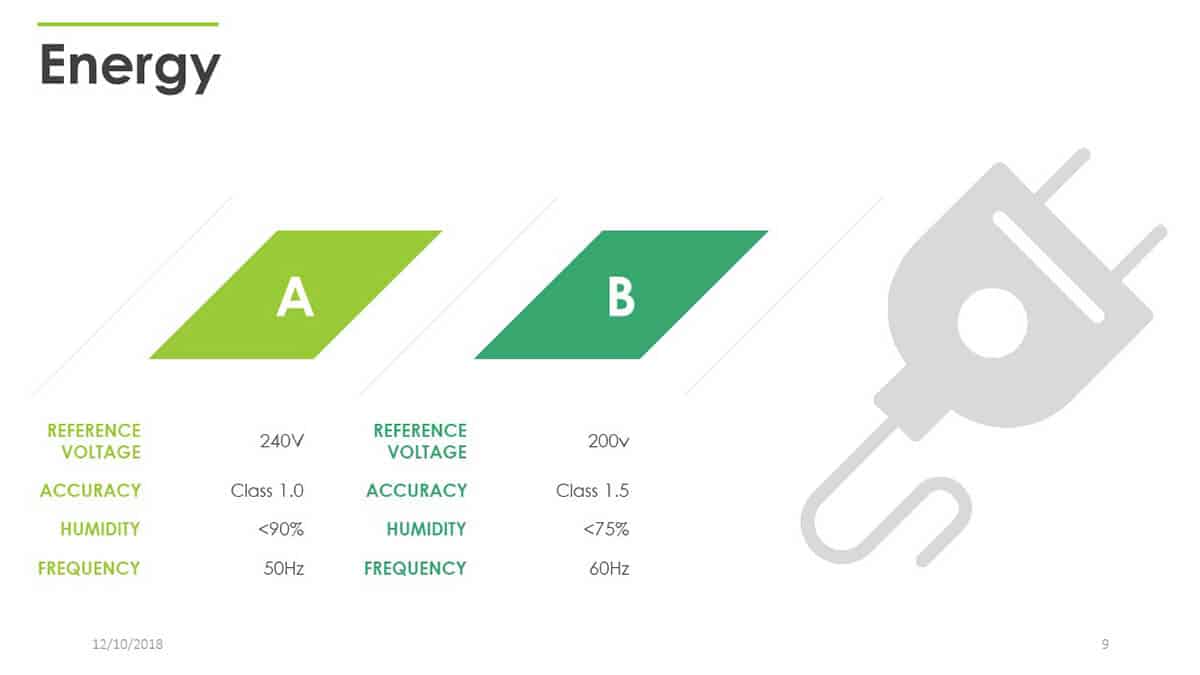 The energy industry can get pretty technical. So, we've made this slide to help you present all those technical details in a concise and easily understood manner. Simply plug in the details you want to share with your audience, and your job is done!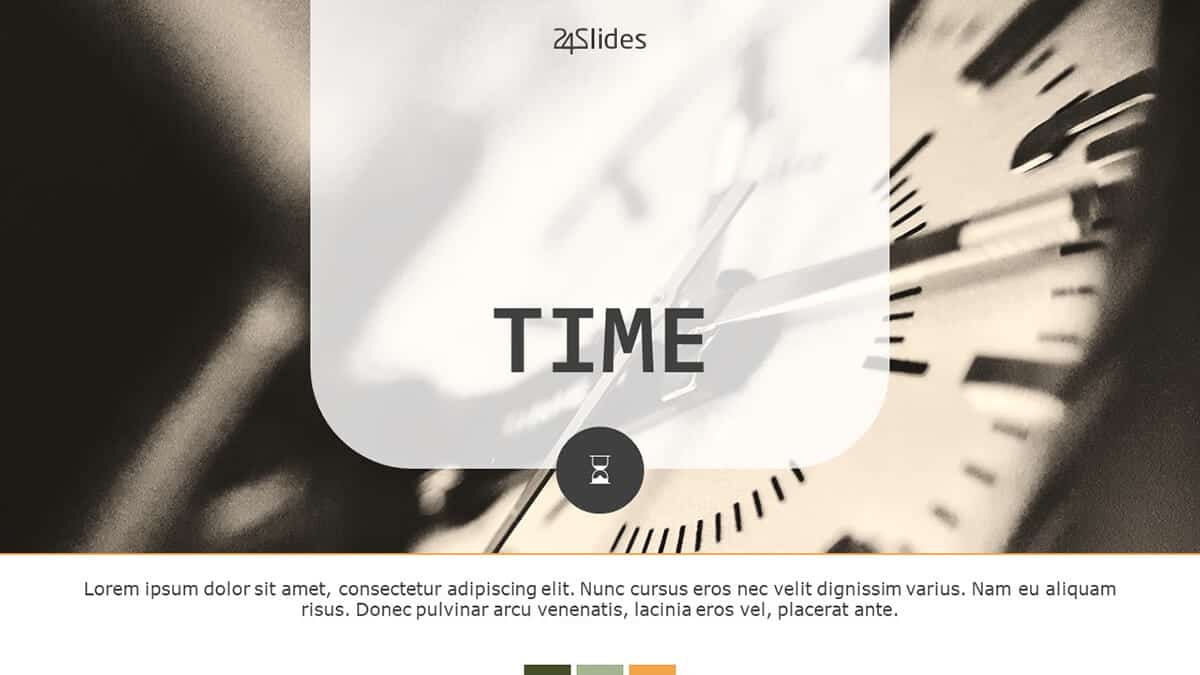 If there's one thing we can't turn back, it's time. We've only got a finite supply of time – even our time on this earth is limited. So, knowing how to manage time and use it wisely is a skill all of us need to figure out sooner rather than later. The good news is  presenting time breakdown is now a very simple process thanks to this 10-slide PowerPoint template. Check out some of the slides included in this template:
Hour Breakdown Slide
Knowing how you're going to spend each and every waking hour of the day is a great way to optimize your time. It will add structure to your day and will help keep you in line. Now all you need is the discipline to stick to the hourly breakdown.
Time Allocation Slide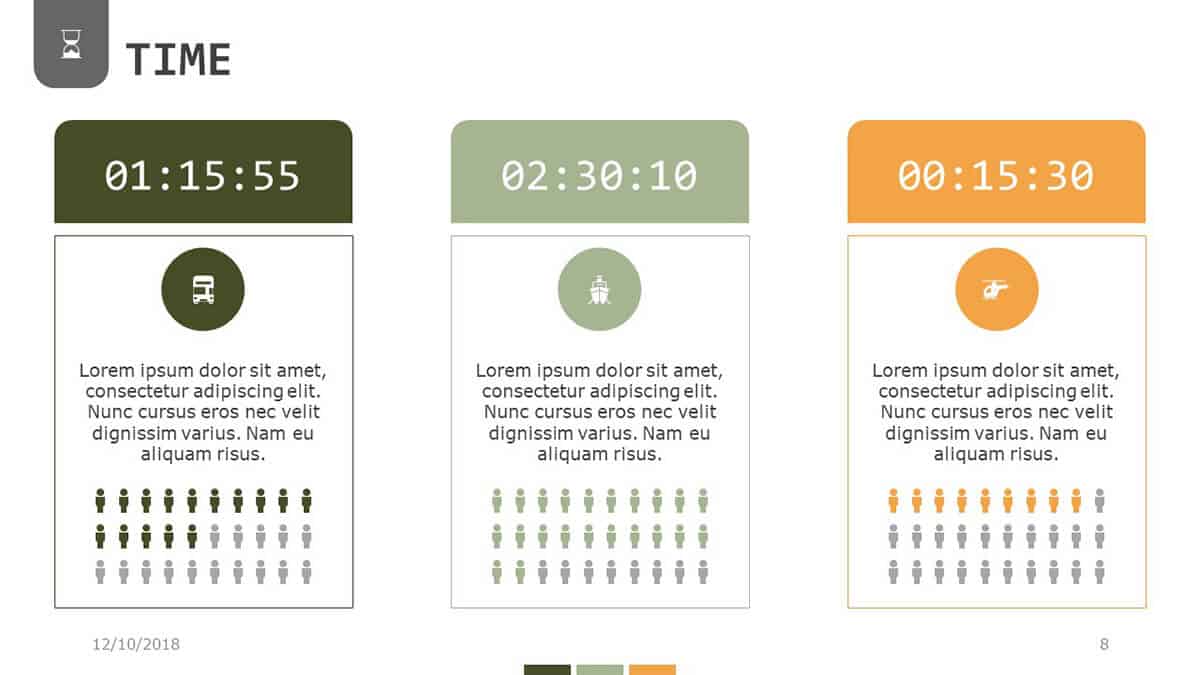 This slide will help you figure out which tasks or activities are the most time-consuming. If you're presenting a breakdown of your team's tasks, you can determine which of these correlate to an increase in profit, or some other benchmark you want to track.
Time Efficiency Slide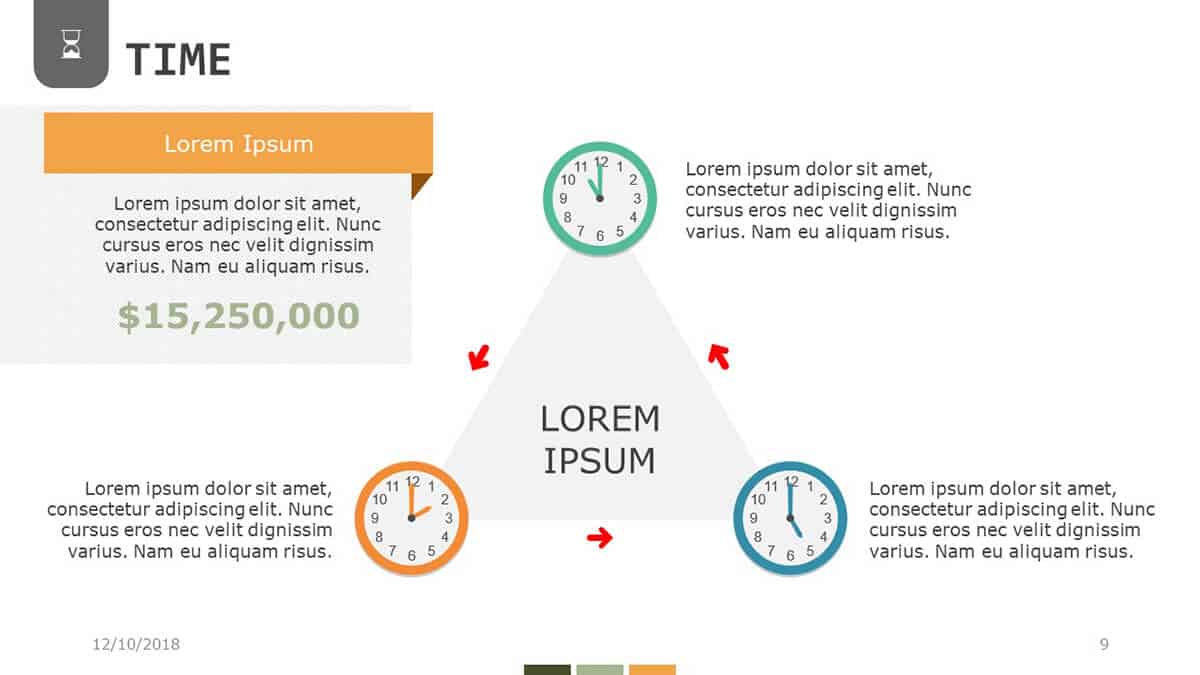 Many people complain that there are only 24 hours in a day. However, when push comes to shove, I'm pretty sure that even if there are 48 hours in a single day, people will still find it lacking. So, the solution really isn't to increase the number of hours, but to maximize our efficiency throughout the day. Use this presentation slide to show how you can improve your efficiency and be your most productive self!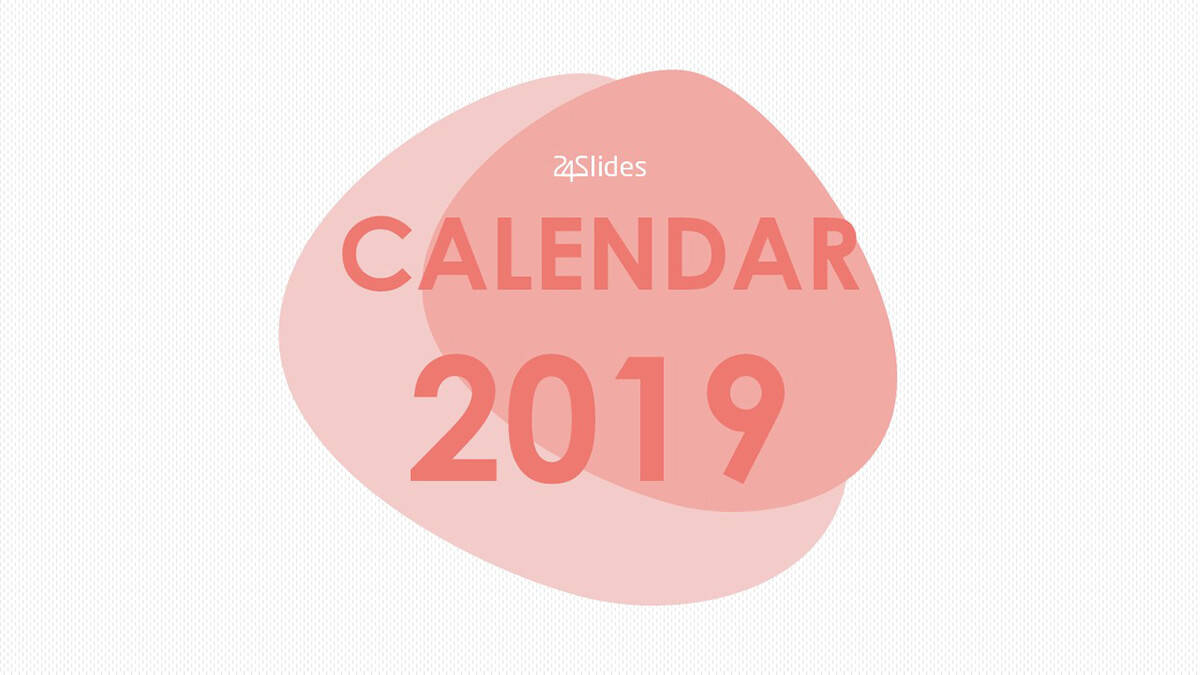 I've featured the first 2019 calendar in January's top free PowerPoint templates, but this latest calendar template takes it up by a notch. The good thing is you can't go wrong with either calendar! With that said, here are some of the slides included in this 13-slide PPT template:
Regular Calendar Month With Comments Slide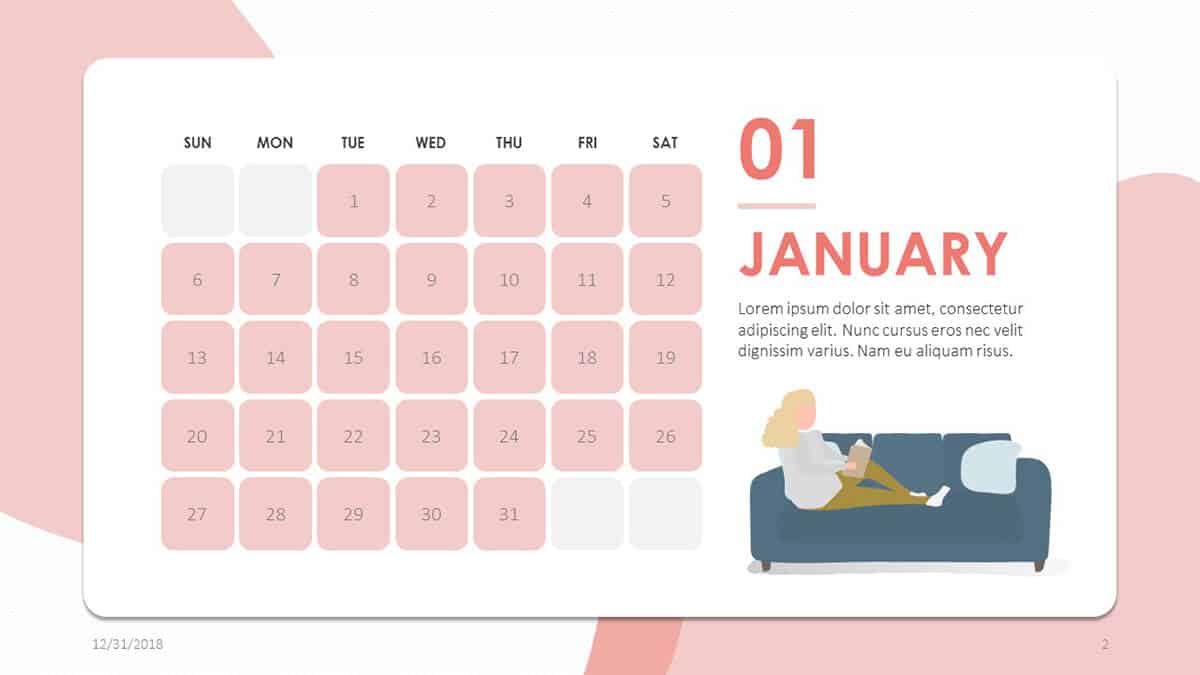 This is probably one of the most commonly used designs we see on calendar templates. You can show all the days of the month, you can add some comments, and you've even got space for some cool graphics. Best of all, this design is highly customizable too, so feel free to move around the various elements as you see fit.
Two Months Compact View Slide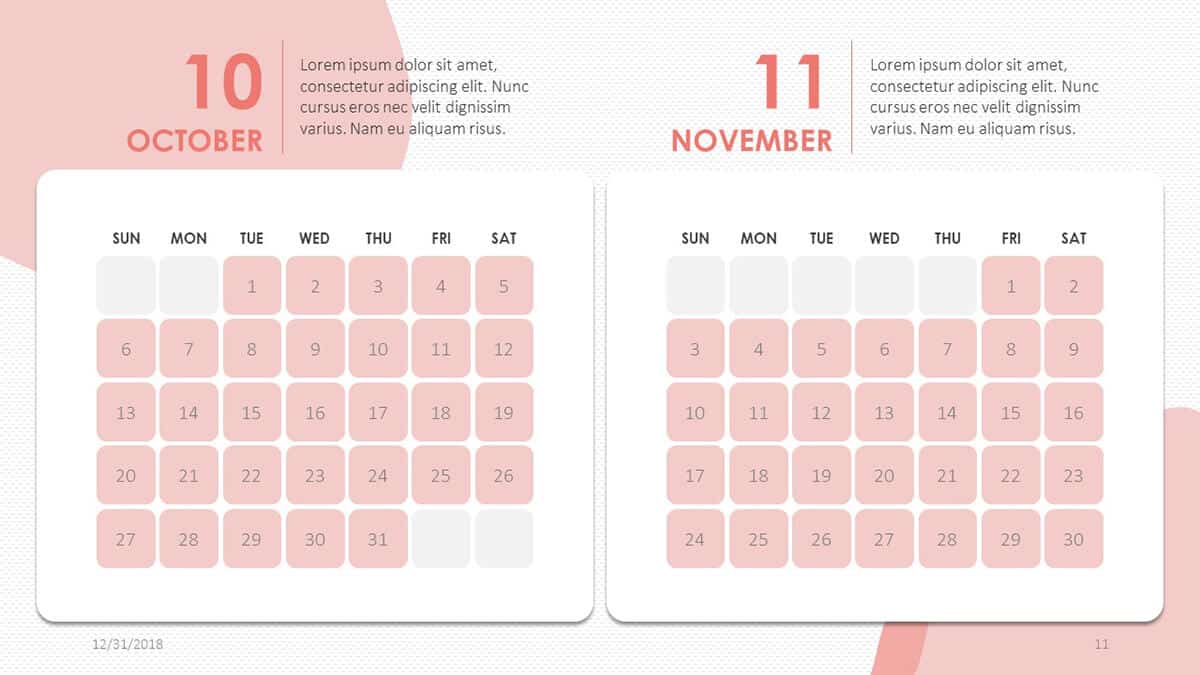 If you don't have much going on a monthly basis, and you don't want to scroll through each month on your presentation, then you can use this slide instead. This will help you save time and your audience can easily spot the most important dates on the slide. Simply highlight the relevant dates, and explain it to your audience.
Two-Weeks Row Slide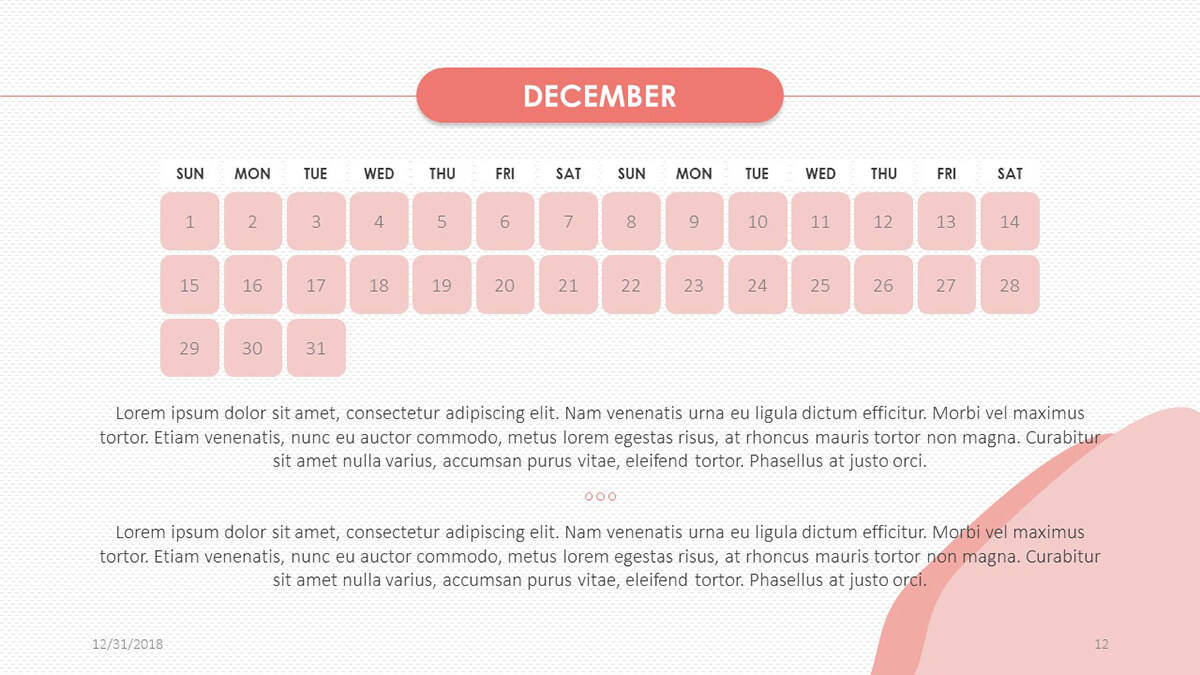 If you need to add more than the usual comments and description to your calendar, then you may want to consider using this slide instead. Like the slide title suggests, each row has two weeks on it (instead of the usual one row per week). So, you get to save some space and you now have the opportunity to insert other elements in the slide.
There are plenty of reasons why people use timelines in their presentations. It's because it's usually graphic in nature, and thus is very easy to understand. Creating timelines on PowerPoint is easy as well, so there's really no reason why you shouldn't include one in your presentation (if it makes sense for your topic).
If you've already got a go-to timeline template, you should definitely add this new 10-slide template to your list. It's free and it's certainly eye-catching! Here are some slides included in this template pack:
Time Allocation Slide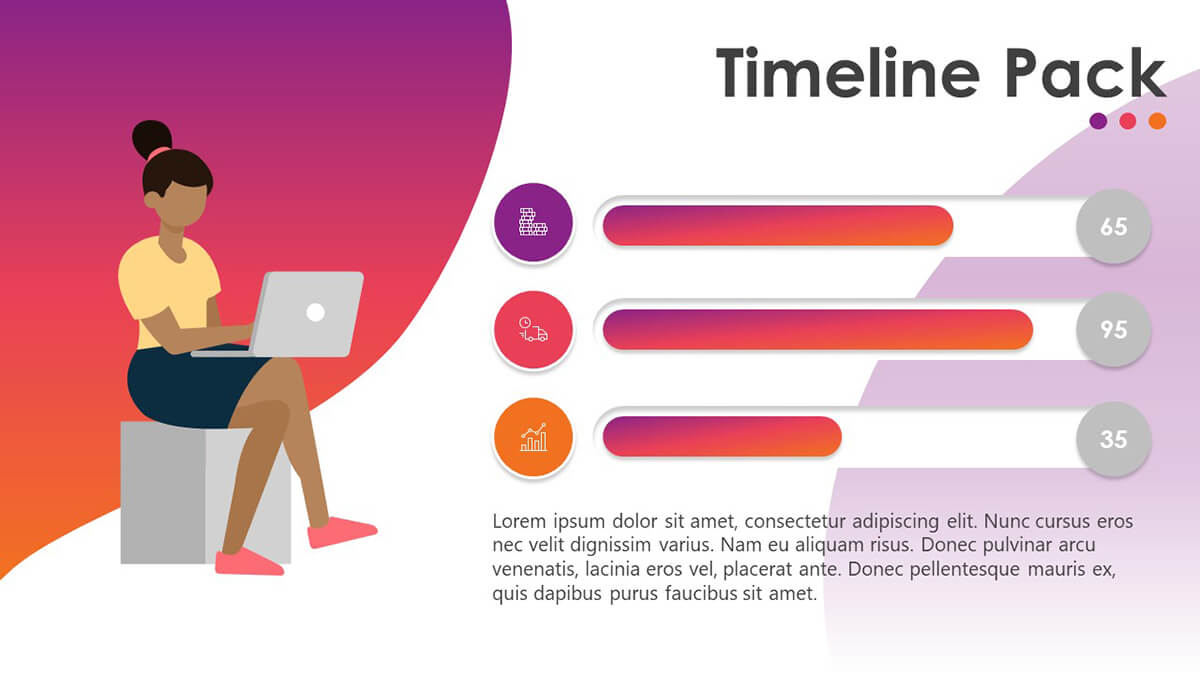 Let your team know which tasks they should focus on so you can meet your targets and your goals. You can use this slide to breakdown your daily tasks, weekly tasks, or monthly tasks. Identify the tasks everyone should focus on, so you're all on the same page.
Gantt Chart Slide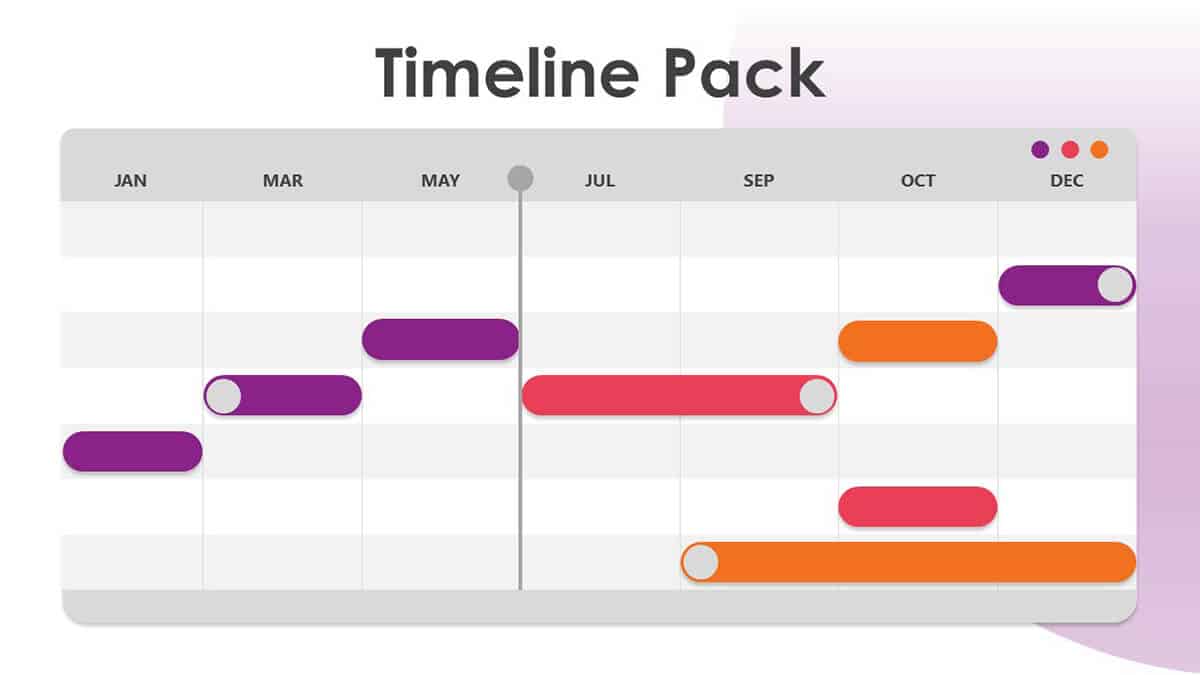 Gantt charts are great for planning your projects. If your project has a fixed deadline, then you need to plan and schedule all your tasks so you don't miss the big day. If there are any overlapping tasks, it will be visible in the chart. It will help ensure you don't miss out on simultaneous tasks to avoid any unnecessary delays. This Gantt chart slide will help your audience understand how you intend to go about accomplishing your big project.
Timeline With Comments Slide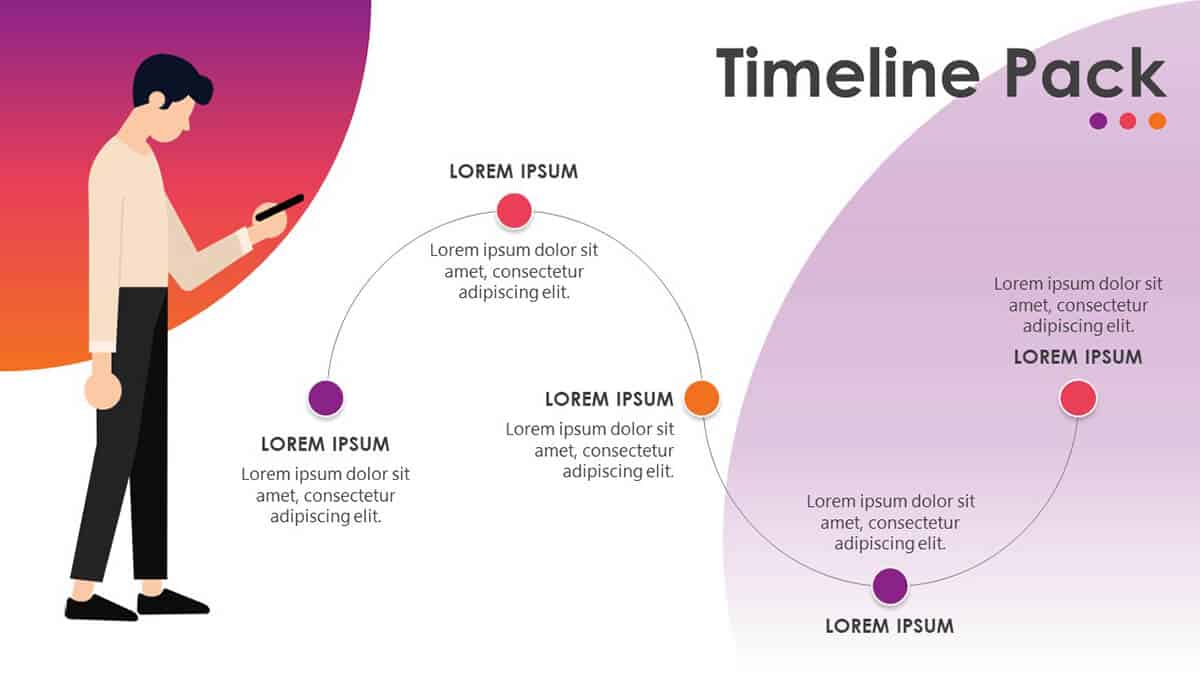 In some cases, icons may be enough to convey your project tasks or milestones. However, in some cases, you may need to also add a short comment as to what each point in the timeline means. Use this slide if you've only got a few points you want to highlight in your timeline. Of course, you can easily edit this slide if you need to add a few more milestones for your presentation.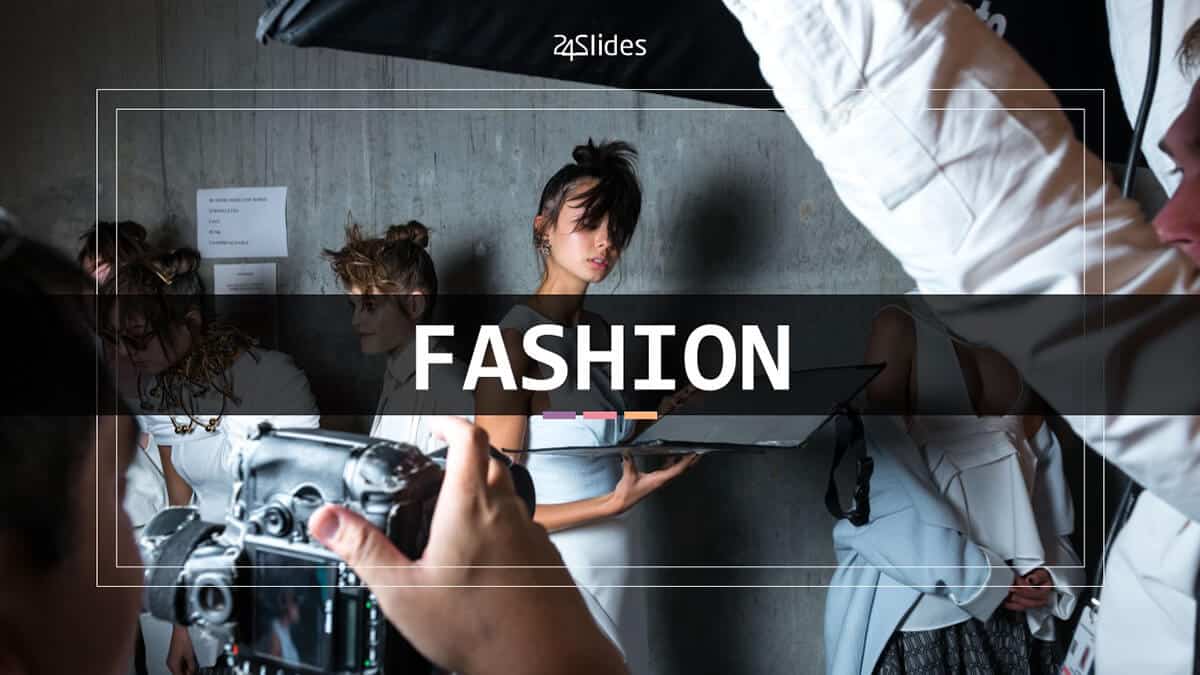 The fashion industry is one of the most profitable industries in the world. After all, everyone needs to be clothed, and different seasons and locations dictate the trends for what is considered fashionable or not. There is a huge demand for clothing materials, and fashion designers are always coming up with new ways to make their patrons and loyal customers stand out from the crowd.
For your fashion-related presentations, you should definitely check out this PPT template if you don't want to waste countless hours trying to design the perfect look for your slides.
This 10-slide template pack has been designed by our talented team of presentation designers, so you know your PowerPoint presentation is in good hands. You'd simply need to swap out the placeholder content with your original content, and you're ready to begin your presentation!
Here are some of the slides included in this free template pack:
Yearly Trend Slide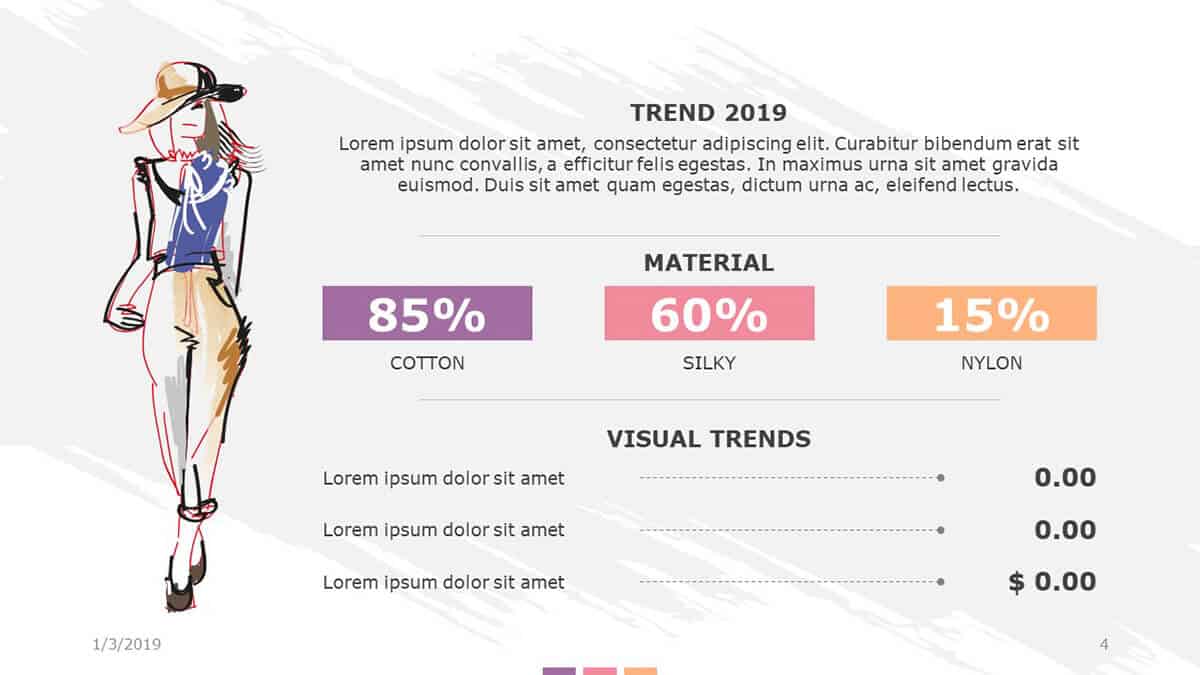 The fashion industry is always changing. What's hot today may be outdated by next week or even tomorrow. If you want to inform your audience what the latest trend is for this year, then you need to use this slide. You can give a breakdown of why a particular style is trending right now, so people can decide whether to follow the trend or maybe wait for the next one instead.
Past Timeline Slide
It's true that fashion trends come and go. But what some people don't know is that fashion trends are often recycled. For instance, denim jackets seem to be popular right now, but did you know they were huge back in the 1990s? The same thing goes for round glasses and denim skirts! Use this slide to showcase the top trends in years past and see if you can predict when they're going to make a comeback!
Comparison Slide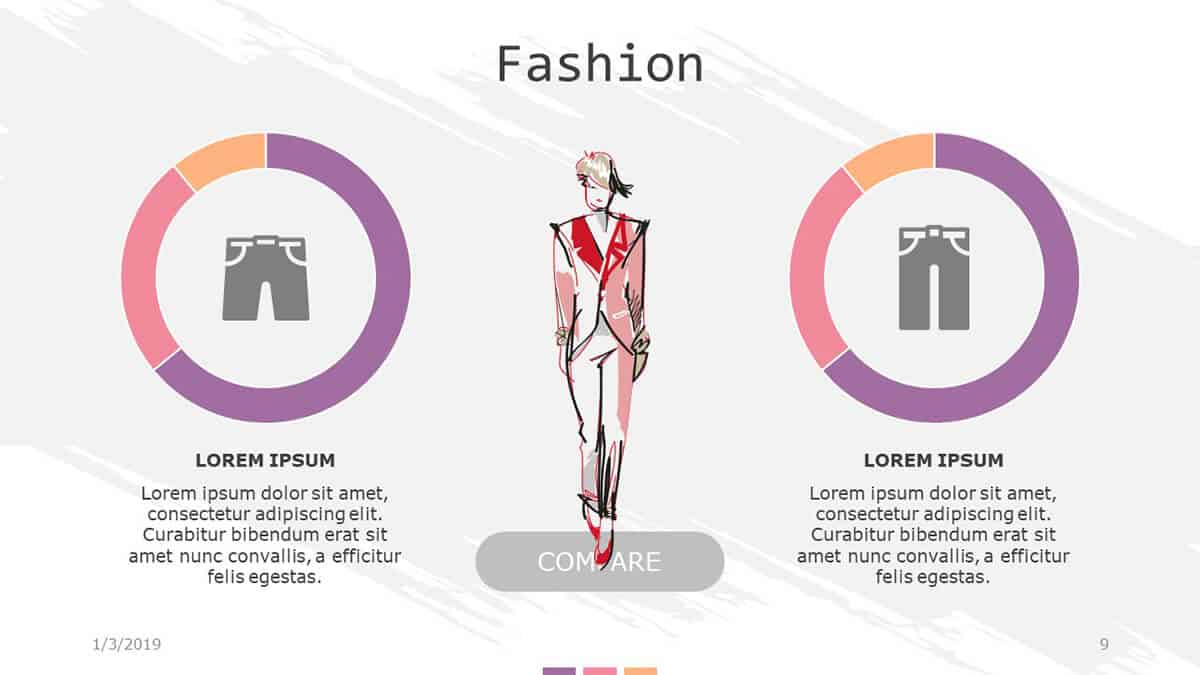 This comparison slide is going to be useful if you need to show your audience why one type of clothing is better than another one. Replace the placeholder icons with images from your clothing line and highlight the pros (and maybe even cons) of each one. Investors love comparison slides because they can easily see if they've made the right choice investing in your fashion company or not. Likewise, if you're presenting to potential investors, then you can impress them with your take on what's hot and what's not in the fashion world.
Final Words
Stop obsessing over every single detail of your PowerPoint presentation. Start downloading the best PowerPoint templates in February 2019 and save yourself the headache of designing slides from scratch.