15 Fun and Colorful Free PowerPoint Templates
Sometimes you just want to have a colorful slideshow. Whether it's because the subject calls for it, or it complements your personality perfectly, a colorful PowerPoint presentation may be exactly what you need. Now, designing fun-looking slides isn't exactly easy. Depending on your design skills, it can take you anywhere from a few hours to a few days. I'm sure you'd rather spend your time doing something else! So, with that in mind, here are 15 fun and colorful free PowerPoint templates you can download right this very moment. And if you'd prefer just letting the graphic design pros do you presentation, just head over to 24Slides to find out more about our presentation services!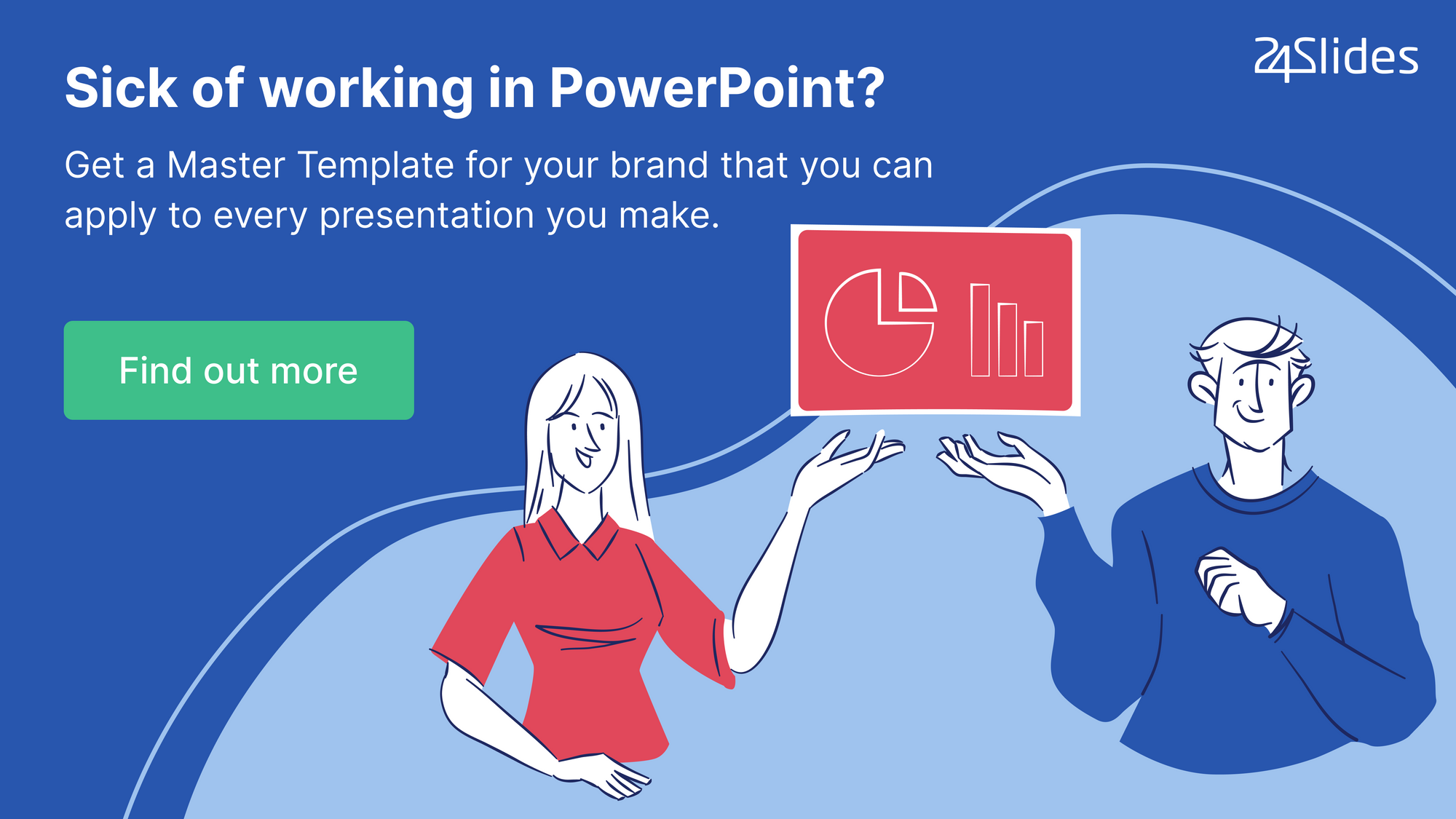 When you need to present data that's cyclical in nature, then you should check out this 10-slide template pack from 24Slides, a team of over 120 presentation design experts. You can use it to share a Venn diagram, a checklist of tasks, a process flow, and so much more! Our designers chose shades of green, yellow, red, gray, and orange to make the slides come to life.
Check out this screen grab from our Behance profile: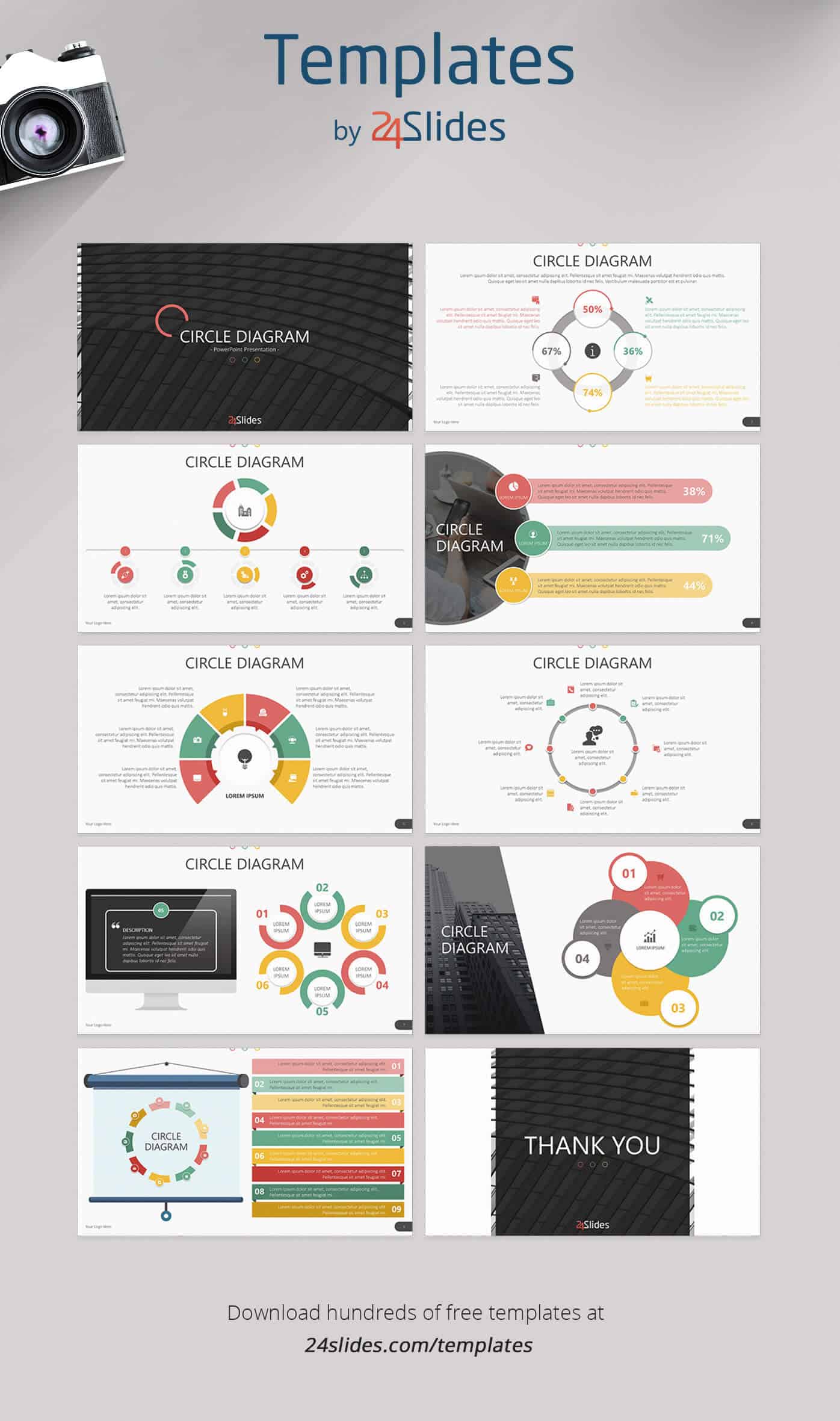 As you can see, the slides are highly visual, thus you can easily explain your diagrams to your audience. You can also quickly add a short description on the slides. So, it's even easier for your audience to understand what you're trying to convey.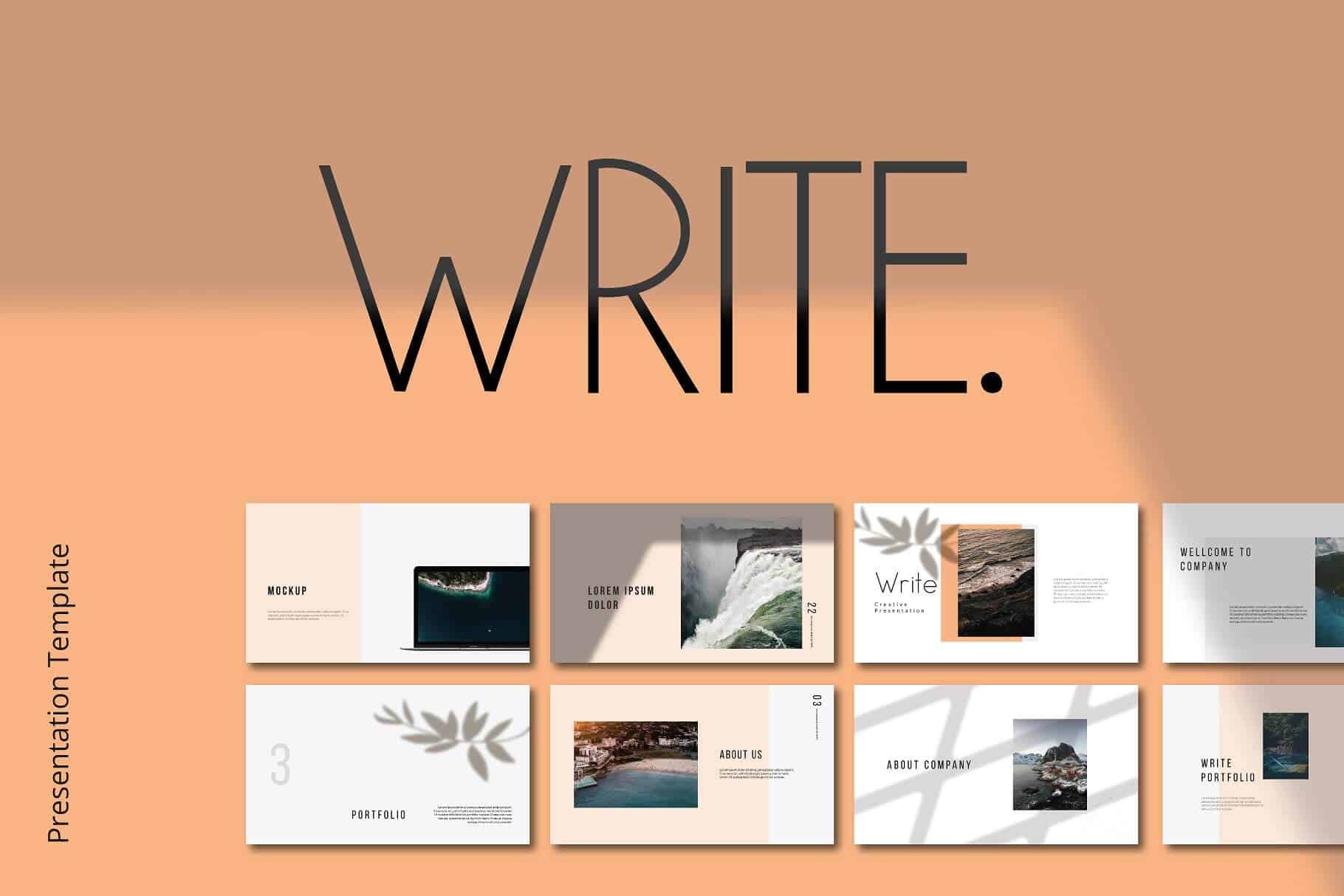 While this template is named Write, it's not limited to writers who are trying to present their writing services to potential clients. You can easily customize the slides and use it for your academic, creative, and even business presentations. The color palette used is neutral and the abundance of white space lends an elegance to the slides.
To download the free version of Write, you'll need to put in your name and email address in the download form. Note that the free version has most of the placeholder images removed, but you can easily rectify this by adding your own. If you want to purchase the full version, you'll need to shell out $15 for the standard license.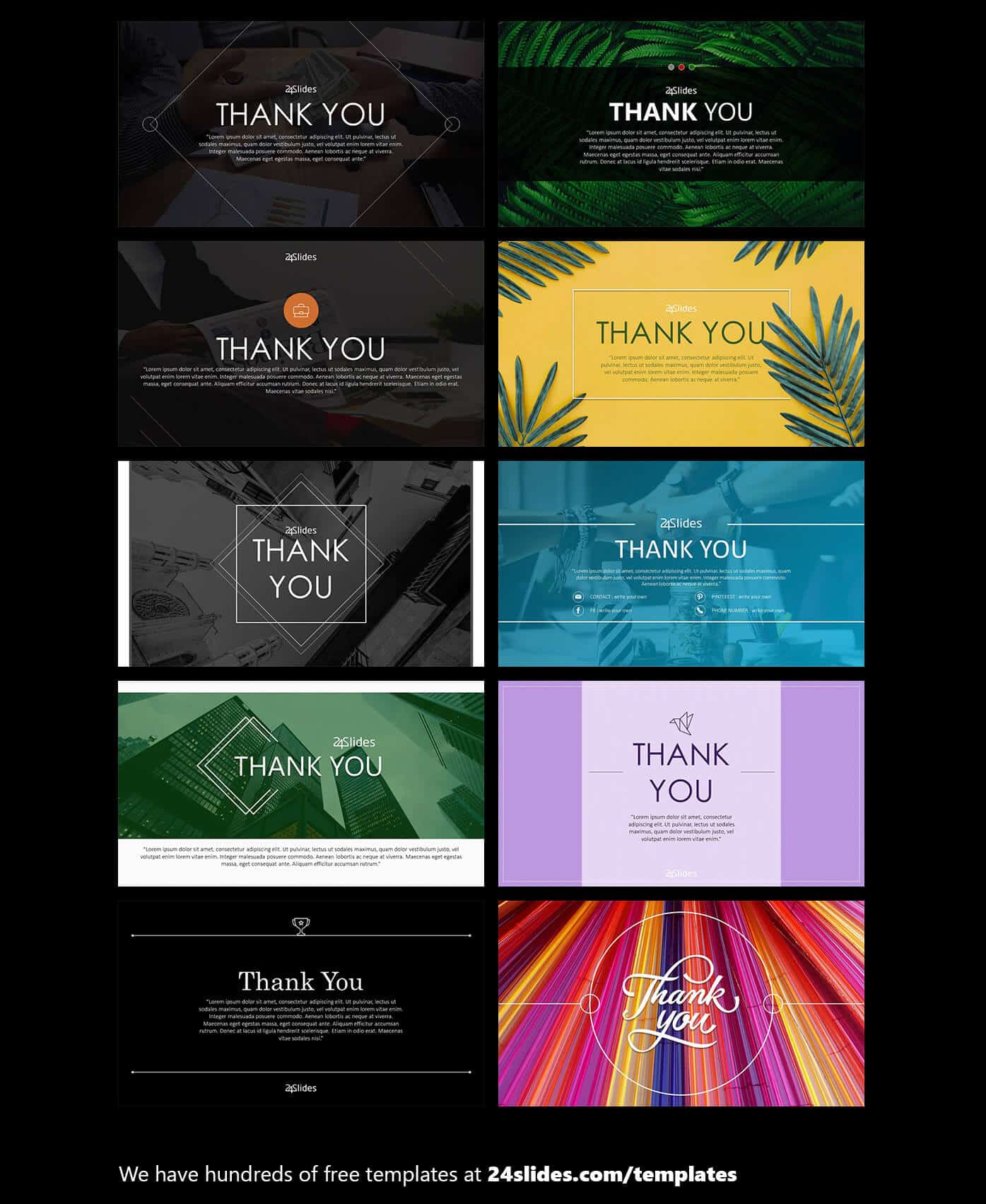 Not everyone's a fan of adding thank you slides to presentations. Some presenters recommend foregoing the thank you slide in favor of a call to action slide. However, in certain presentations, a thank you slide will be expected. Otherwise, you risk coming off as being rude to your audience. So, if you don't want to be perceived as rude, then feel free to download this 10-slide template pack.
As you can see, it's got a variety of colors used, so you can select one that's similar to your overall color theme. Or if you can't find one that you can use, check out this easy guide to template editing to quickly customize the template for your specific presentation needs.
If you want to know how to end your presentation with impact, you should go check out this article.
If you're doing a presentation on topics related to plants, fruits, trees, and gardening in general, then this free template from Slides Carnival may come in handy. This 28-slide template pack includes some text slides, image slides, column slides, tables, graphs, and maps. Plus, the author has even added a couple of slides full of icons and emojis you can use in your presentation!
If you're a Google Slides user, you can also download that particular version for free. Check out some of the slides included in this template pack:
There are so many possible uses for this template pack. You can use it to present your corporate organization chart, project milestones, and most profitable products. You can also use it to showcase your biggest achievements over the past decade. Or simplify even the most complex production processes, and so much more! No matter your industry, you'll find a good slide that you can use for your presentation.
Here's a screenshot of some of the colorful slides included in this template: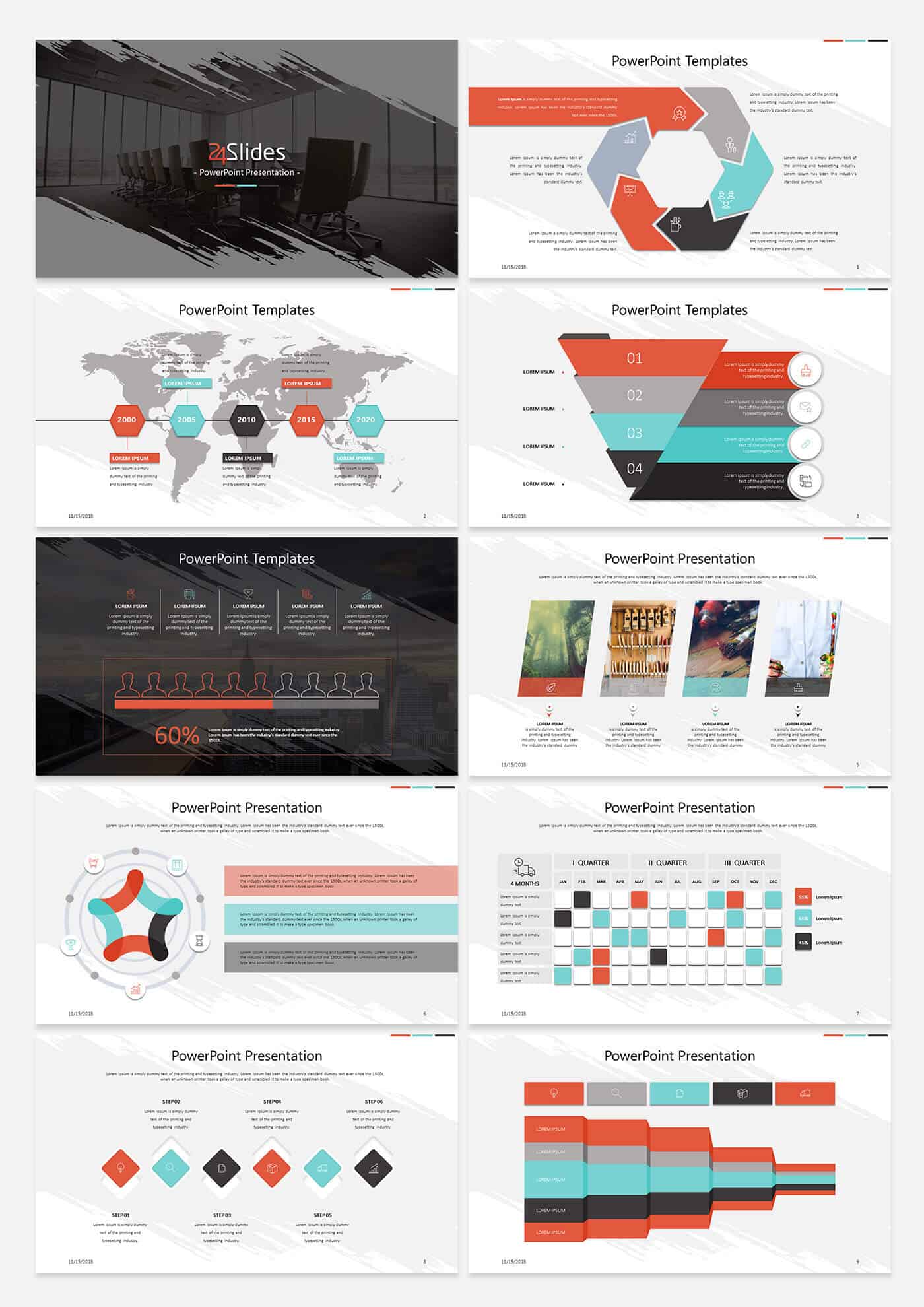 As you can see in the image above, some of the slides include 3D-looking graphics. If you want to impress your audience even more, I recommend adding a few animations to your slides just to make the graphics come alive.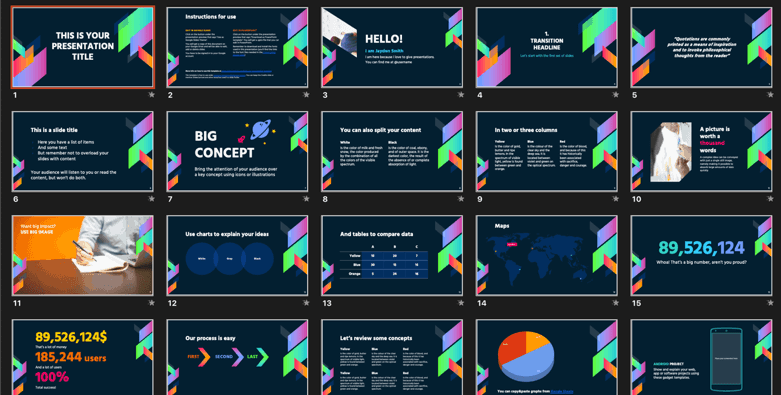 If you want to go for a modern, and at the same time, youthful look for your presentation, then you should definitely check out this breathtaking free template pack from our friends at Slides Carnival. As you can see in the screenshot above, the dark background makes the brightly-colored geometric shapes pop!
You can use this 25-slide template for all sorts of presentations – even corporate ones. If you want to make the shapes match your company's colors, you can go into the slide master and do the changes from there. Check out this tutorial on how to edit a master slide.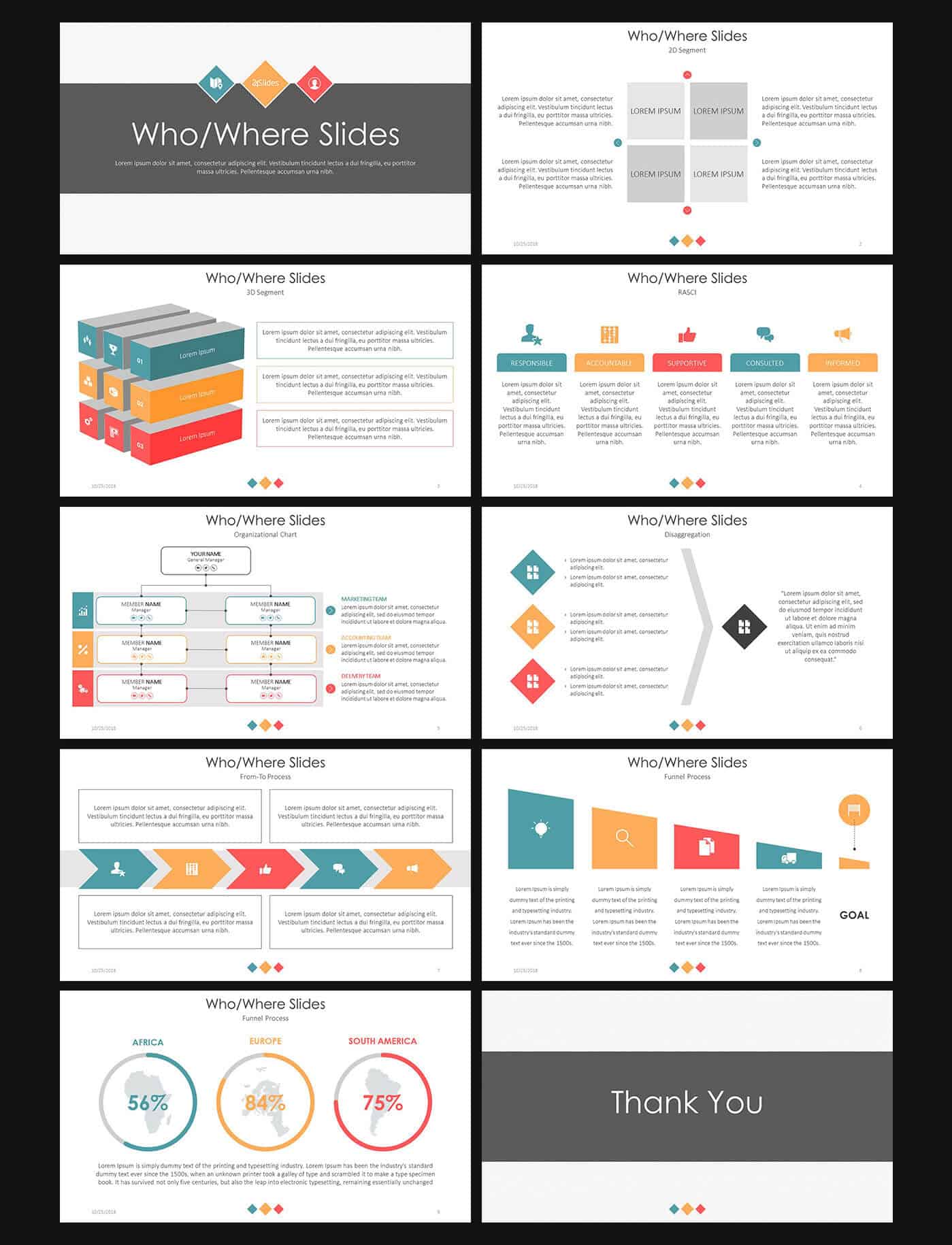 Running an organization is hard. But with clearly defined roles and responsibilities, the road to success becomes a whole lot easier. You can use this colorful template pack to onboard new employees or even when re-training old staff.
Slides include 2D segment, 3D segment, RASCI, organizational chart, disaggregation, from-to process, and funnel process slides. These slides will help ensure everyone is on the same page, so neither time nor money is wasted on various inefficiencies. Remember, productivity is an important key to organizational success. Make sure everyone on your team knows their jobs and responsibilities well.
If you're trying to go for a clean and modern look for your presentation, then check out Bubbler PPT template from Showeet. The entire template package includes 26 slides – 3 of which are credits and copyrights slide.
The author(s) have made this template as easy to use as possible. It comes complete with text, image and graphics placeholders, so you know exactly where to drag and drop your content. There's even a built-in custom color palette included in the pack. If you don't like the color theme used, feel free to change it to something that suits your taste.
You can choose to download the template in either 4:3 or 16:9 aspect ratio. This is what my 16:9 downloaded copy looks like: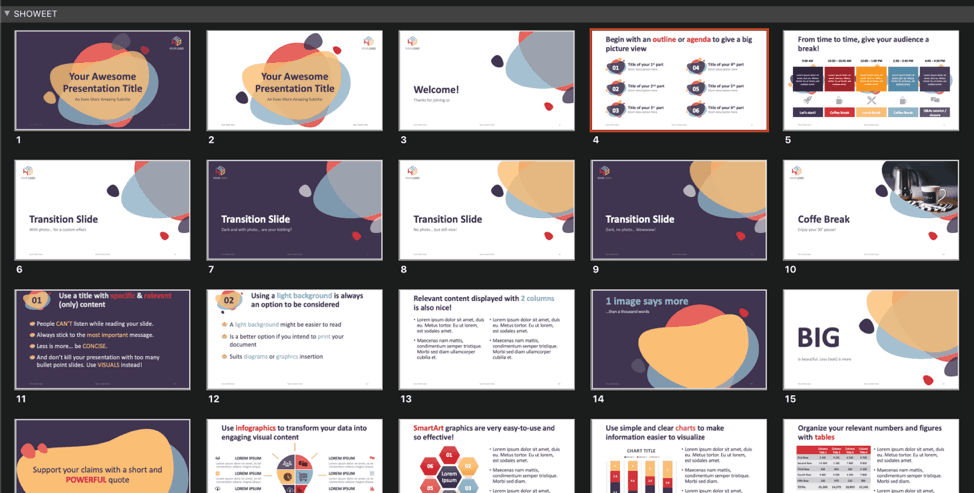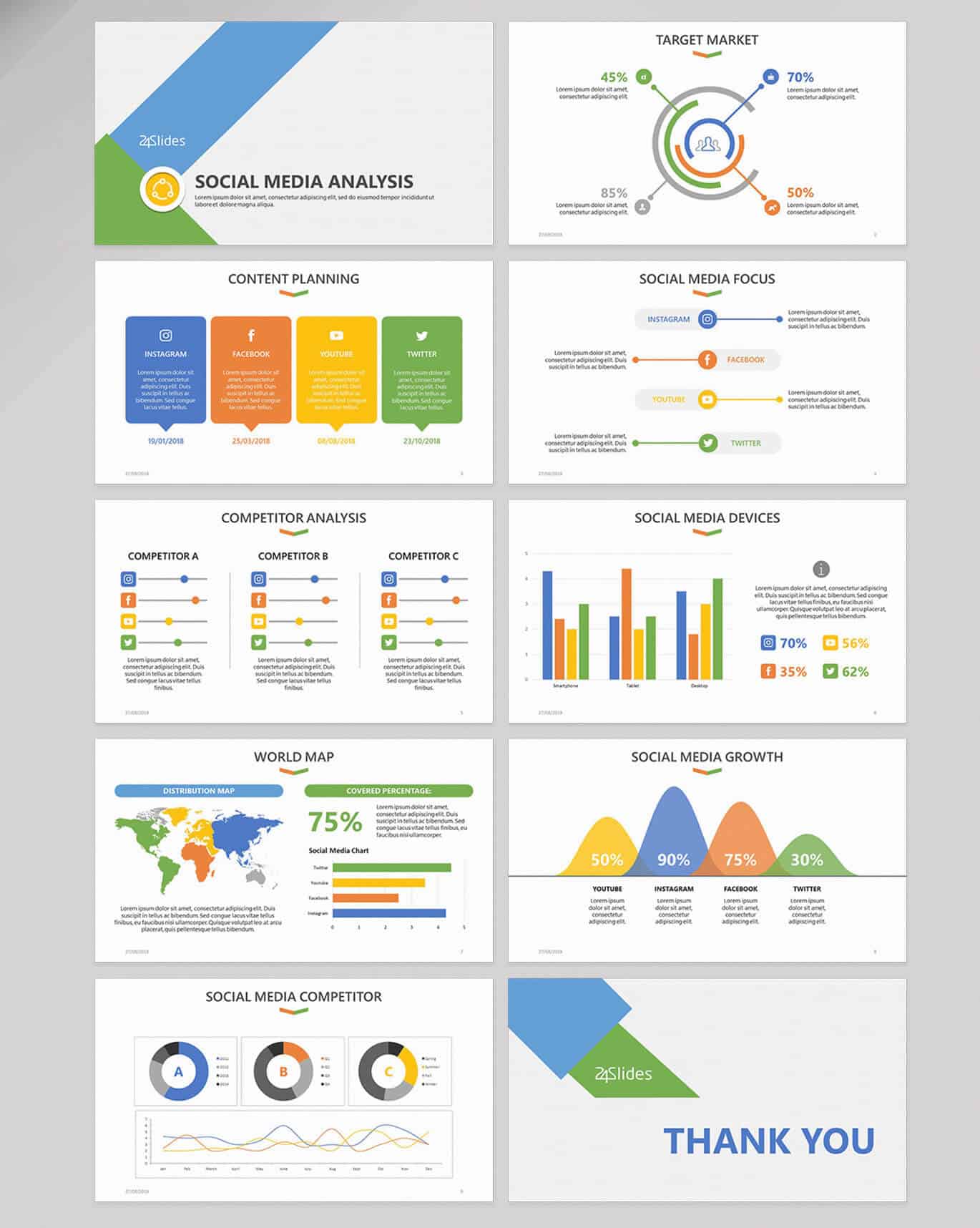 Social media is one of the quickest ways to get the word out about your brand or business. It's a highly visual medium. Thus, if you're presenting something that's related to social media, then you need to use the right template. This is where this professionally-designed 10-slide template comes in.
Our designers have picked shades of blue, orange, yellow and green to make your data stand out. It's also got all the relevant slides you need. Use it to present your target market, content planning strategy, social media traffic and growth, competitor analysis, and so much more!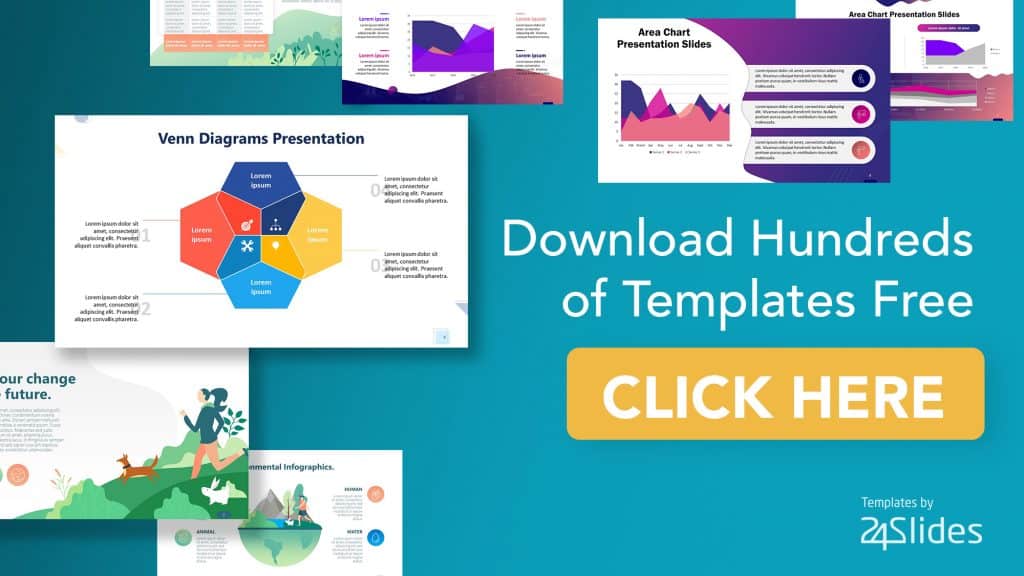 This 8-slide PowerPoint template pack is brought to you by SlideModel. You can use this for a variety of business presentations. From business proposals to progress reports – and anything that's best presented using infographics – this is the template for you. Now you can present complicated data and simplify it for your audience.
If you want to download a free copy of this template, you'll need to create an account over at SlideModel. Here's a screenshot of some of the slides included in this template pack to help you decide if it's worth signing up an account for or not: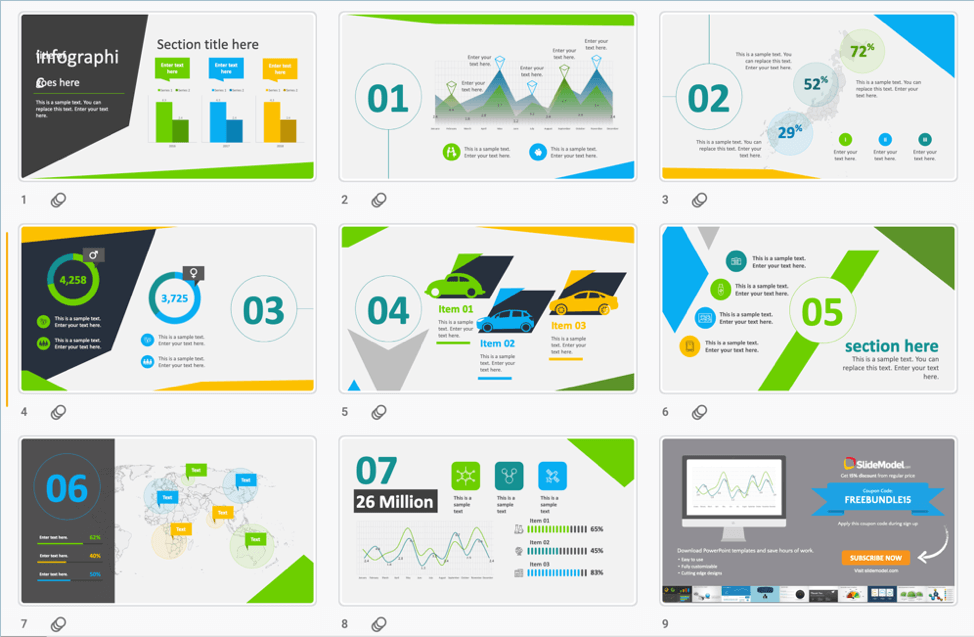 Corporate presentations need not be boring. Take a look at this colorful free PowerPoint template pack from 24Slides. I don't mean to toot our own horn, but wouldn't you agree when I say the slides below look easy on the eyes?
The light and pastel color theme may not appeal to more 'masculine' presenters. However, if you're representing an organization run by a female majority, or your audience is comprised of women, then why not give this template pack a try?
It has all the slides you need for the usual corporate presentation. It's got an agenda slide, a meet the team slide, some graphs and charts, and so much more! It's also extremely easy to edit just like all the other free template packs in the 24Slides Template Hub.
Here are some of the slides included in this 14-slide template pack: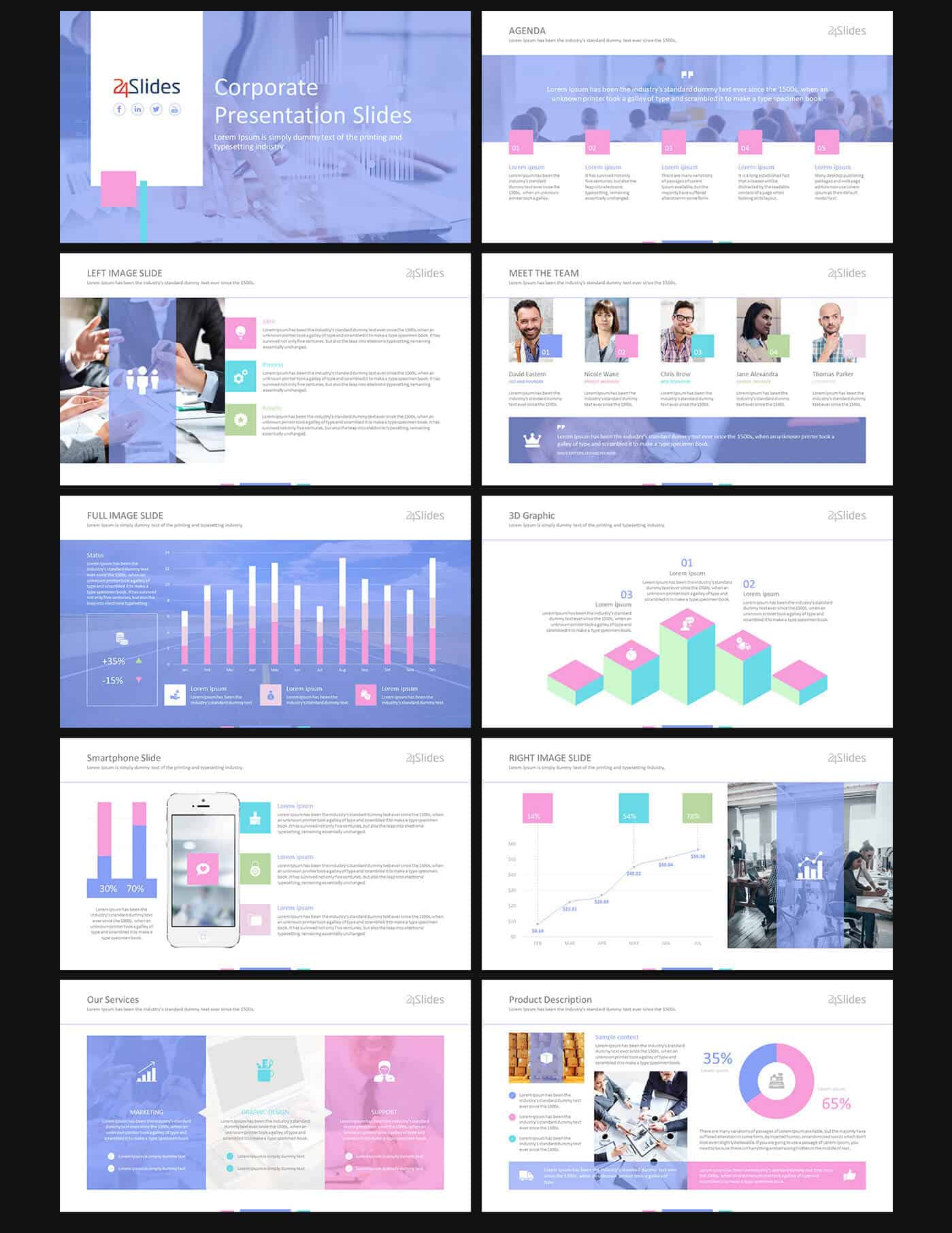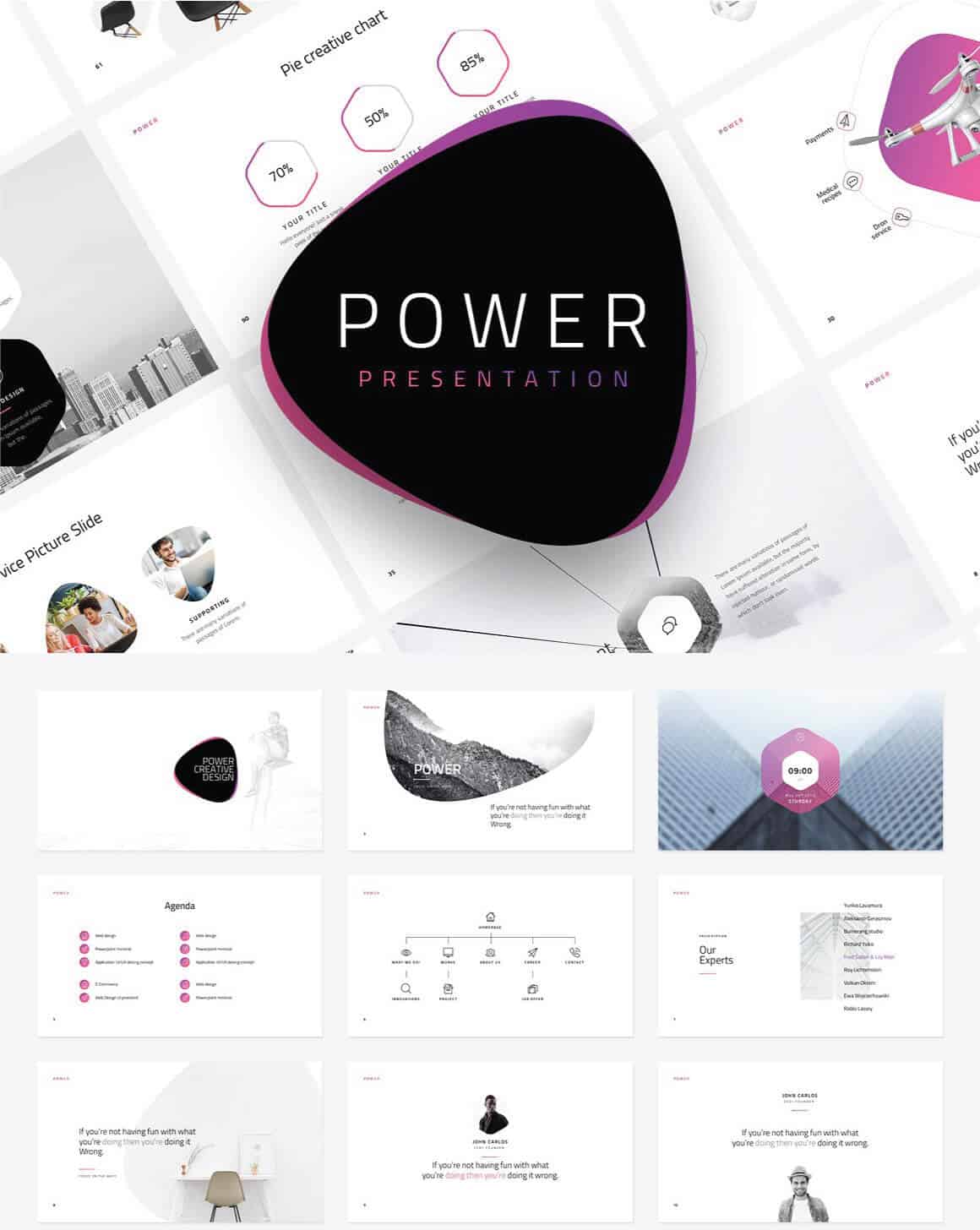 Don't be fooled by the screenshot above – it only shows a few slides on there. But truthfully, this is one of the most massive free PPT templates I've ever come across. It has over 120 unique slides, 800+ font icons, dynamic animations, resizable vectors, device mockups, icons, tons of layouts, and so much more – all for free! You can even drag and drop your own content onto the slides, so you get to save even more time when creating your presentation slides.
There are so many different ways you can use this full HD and print-ready template pack from Dublin Design. It's not only colorful, it's also got tons of white space on all the slides!
Of course, you don't need to use all 120+ slides in your presentation. You want to keep your presentation as short and as succinct as possible. So, choose only the most relevant slides that will actually fit the message you want to convey to your audience.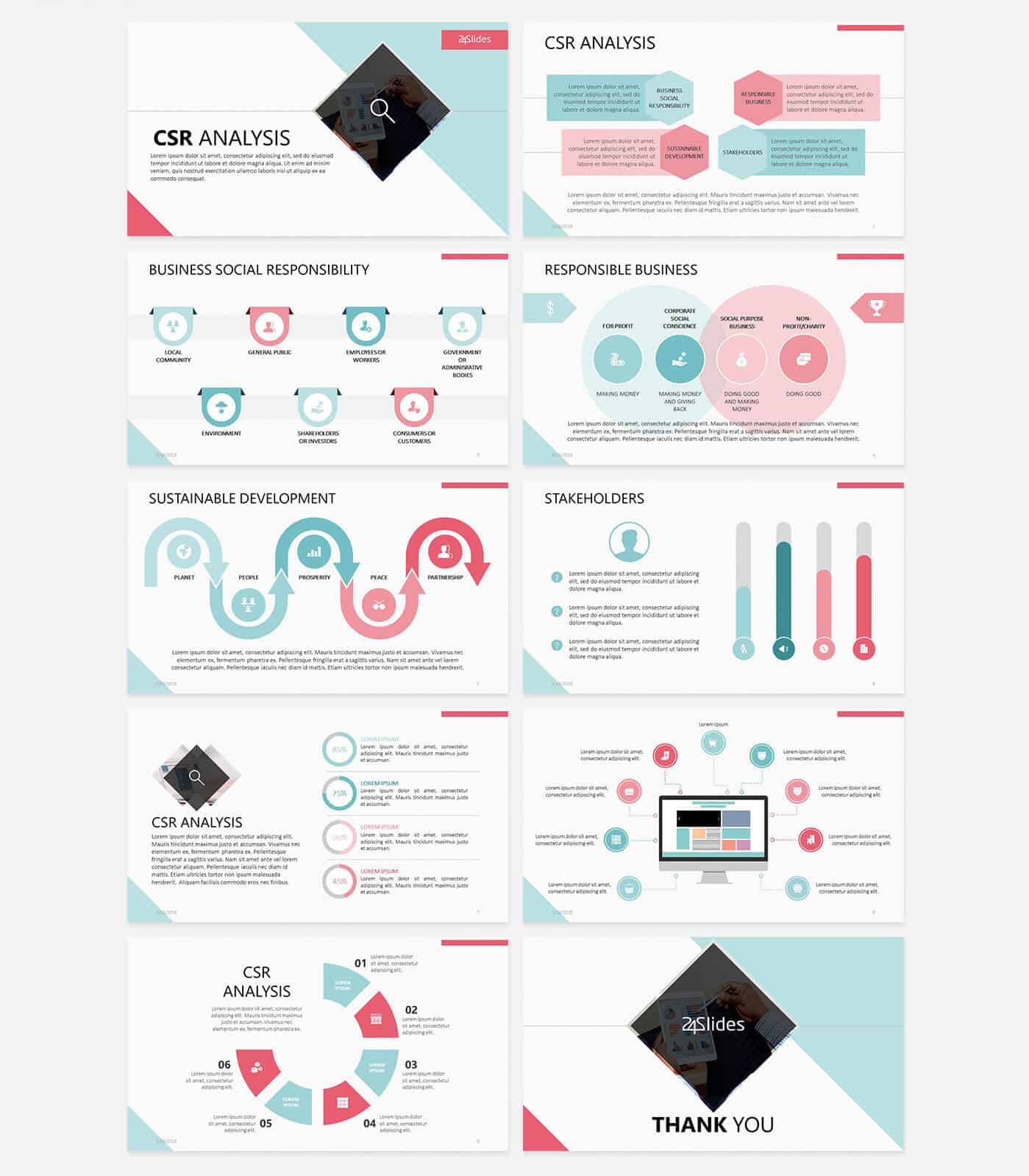 Plenty of companies are starting to realize the benefits of practicing CSR or corporate social responsibility. In layman's terms, CSR refers to companies and organizations 'giving back' to the environment and the community. Sure, they may need to spend more money for non-operations-related expenses. But with more and more people choosing to only do business with 'responsible' companies, they can easily recoup any potential losses. In short, the rewards more than outweigh the risks.
Use this 10-slide template pack to share the results of your CSR analysis with your stakeholders. Explain that it's not all about profit. You also have responsibilities in many different sectors. This includes the local community, the general public, employees, the government, and so much more.
The good thing is you simply have to swap out the placeholders with your own content. You can easily finish your presentation slides in under an hour!
This 25-slide template pack from Showeet was designed by highly creative designers! It's not named Origami for nothing – they've actually included free origami graphics and pictures on every slide. Plus, there's even a bonus slide with nothing but origami on it.
There's a variety of colorful slides to choose from. From the title slides to the agenda slide, transition slides, image and text slides, SmartArt graphics, tables and charts, everything is ready for you to drag and drop your content in.
This template pack is great for those who work in creative industries. You can use this to showcase your design portfolio and your skills. Here's a screenshot of some of the fun-looking slides included in this template pack: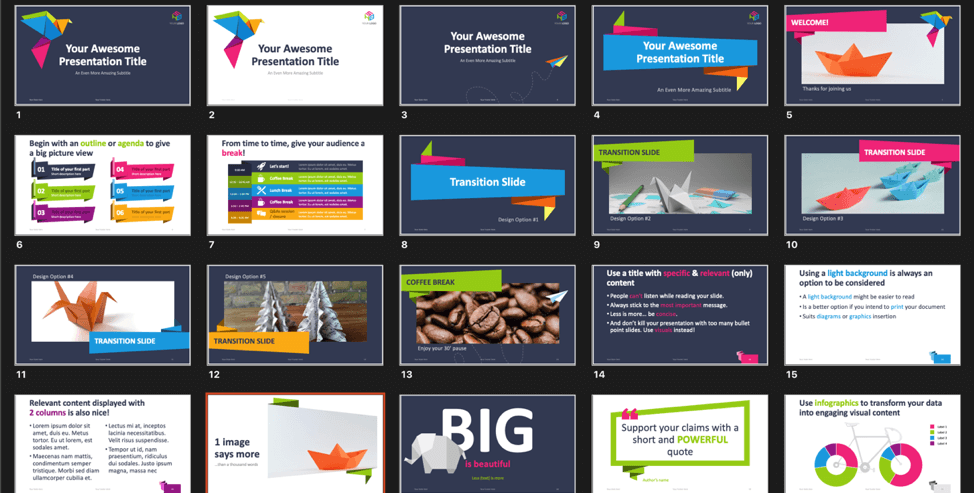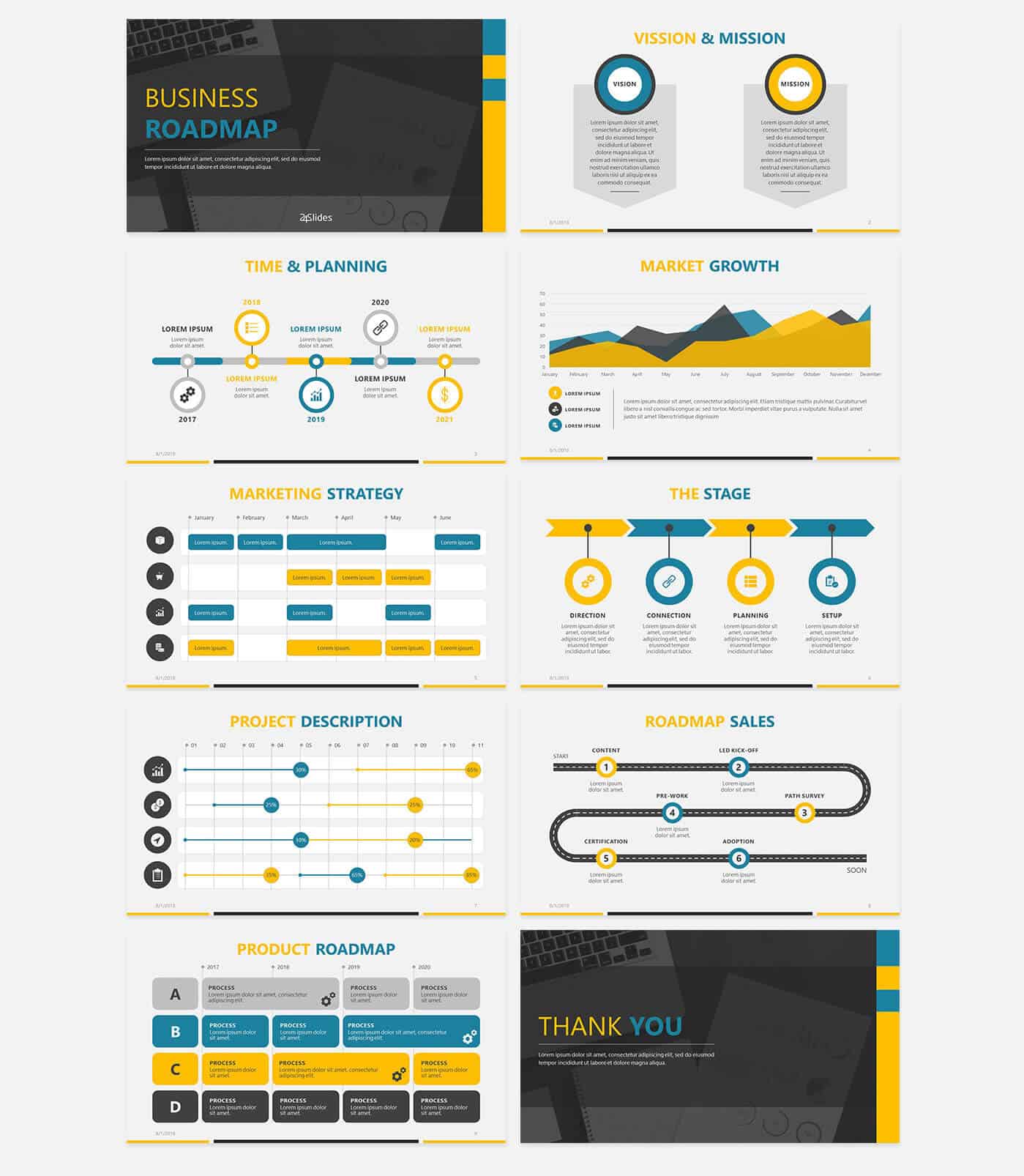 This 10-slide template pack from 24Slides uses a combination of yellow and blue to make your slides come alive. And when presenting roadmaps, it's necessary to focus on the most important objectives so you can reach your target.
We recognize the importance of a business roadmap. This is why our designers have made this slide as visually attractive as possible. Diagrams are aplenty to help you relay complex ideas and make it easy enough for everyone to follow. We've included a vision and mission slide to get everyone on the same page. Then you can use any of the included slides with diagrams to help you outline your plans, predict market growth, marketing strategy, and more.

Conclusion
All the fun and colorful free PowerPoint templates I've included in this article are meant to supplement your presentation. They're not meant to be the star of your show – you are. However, colorful slides are more likely to get people to pay attention to your presentation. So, choose from any (or all) of the templates and use these to deliver a presentation your audience isn't likely to forget anytime soon! If you're interested in a customer presentation, 24Slides provides custom presentation design services for you and your team.