Corporate Identity: Why is Branding Important in a Presentation?
When talking about corporate identity and branding, most people think about logos and color schemes. Brand identity is commonly reflected in aspects like website design, merchandise, advertisement, and so on. However, many people waste an outstanding opportunity for your brand image to shine: your sales presentations! Presentations are, in many ways, an introduction card for your company to your potential clients. And branding can become a critical factor in making your business presentations more memorable and effective.
Here you'll learn why branding is so important in a business presentation and how you can make your presentation reflect your brand more effectively.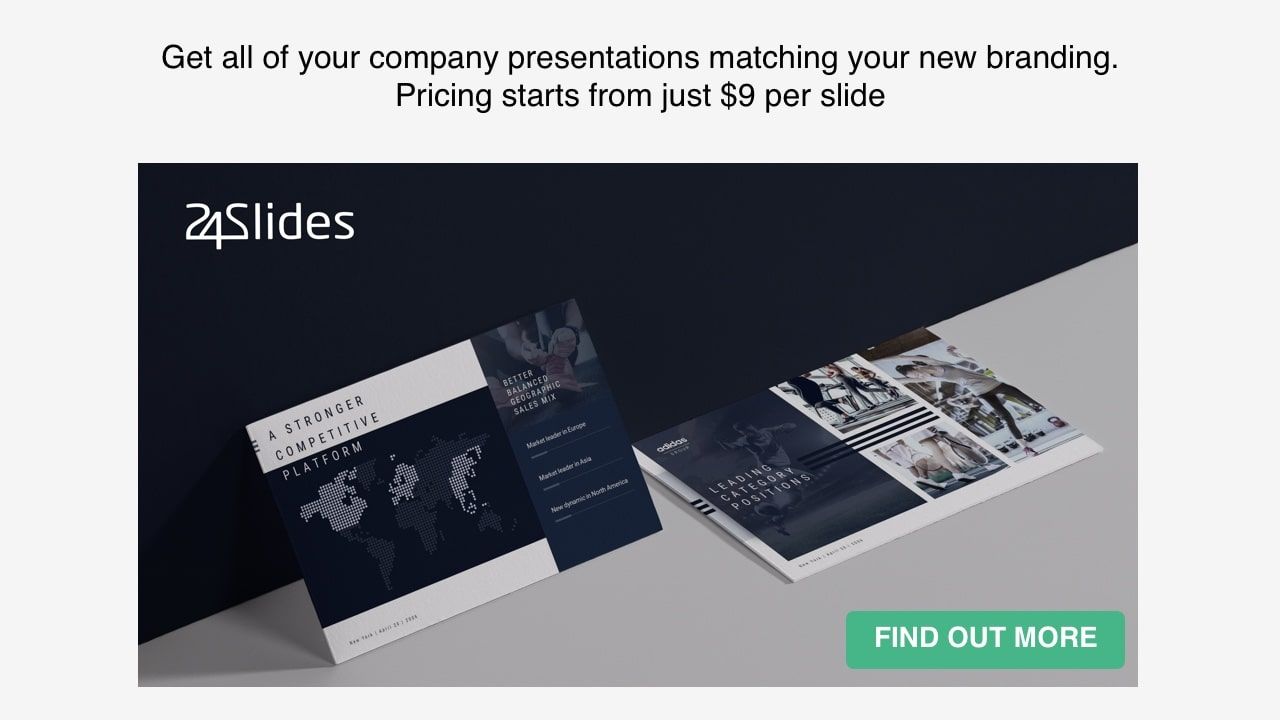 What is brand identity?
Brand identity is the ensemble of visual elements that are strategically chosen to represent your brand. It's all the design elements that will bring your brand to life, the visual aspect of what your potential customers will recognize when thinking about your brand. Brand identity is the collection of visual tools you use to position yourself in the mind of potential customers.
Your brand identity will define how potential customers see when they approach you for the first time. From your website to your merchandise, packaging, advertisements, and so on. All these need to be in line to showcase a cohesive image of your brand that's easily recognizable at first glance.
To make sure your brand identity is consistent throughout the different aspects of your business, working on your brand guidelines is a must. These are the set of design rules all your visual brand components should follow. Things like your logo, the color scheme, the fonts you'll use... All come into play when working on your brand identity.

Why is corporate identity so important?
Good branding can give your business a voice and a recognizable identity, making it more easily identifiable among competitors. When it's well done, it can even help you create an emotional bond with your clients, as it can reflect the values and vision of your business.
Branding is the marketing practice of shaping your brand. A well-done brand identity should reflect and feed the brand image you want your company to have. For example, it's no coincidence that so many brands whose products are related to eco-friendly or nature-related products use earthy and green colors. It's a way of reflecting the value they stand for. It's an effective way to convey to the public what kind of product they are and what to expect from them.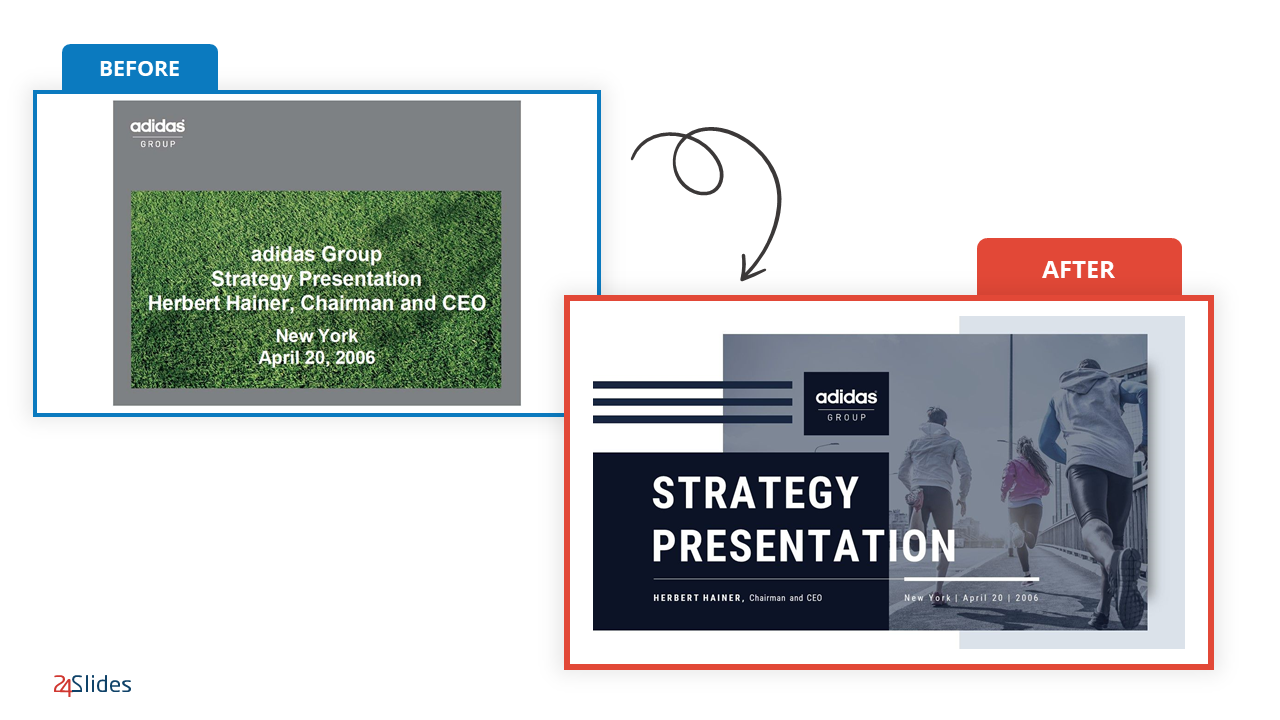 Top 5 reasons why your branding can play a huge role in a business presentation
When thinking about all the aspects that require a branding process, presentations are not usually what you think about. However, presentations play a key role in businesses of all kinds.
Sales presentations, especially, can hugely benefit from being on-brand. These kinds of presentations are the first chance you get to impress your potential clients and make sure they remember you after it's over. And of course, in order to remember you, they need to be able to identify your brand!
In the end, presentations are a fantastic promotional opportunity, and branding can make them even more effective!

#1. It can help you look more professional
First things first! It's pretty evident that an on-brand presentation can help you look more put together. Presentations are no one's favorite task, and many people leave them for the last minute.
Branding can take your presentation to an entirely new level. It'll help you showcase how committed and detailed-oriented you are. Investing time and effort into your brand cohesiveness and how it's reflected in every aspect of your business helps you show you're not playing! And, it enables you to show how much you believe in the brand too.

#2. It will help you showcase your business values
Many businesses commit the critical mistake of keeping their presentations too "generic."  In truth, a presentation is an outstanding opportunity to show your potential customers all of your brand personality!
Bright colors and dynamic illustrations can help you showcase that your brand is all about fun and creativity. A sober and clean minimalistic style can allow you to display professionalism and sobriety.
Ask yourself, what do you want your audience to think of when they hear your brand name? What values and ideas would you like to be connected to your brand? What's your brand voice? You'll be surprised at how well your presentation design can help you subtly reflect these ideas and values to your audience.

#3. It can make your presentation more memorable
When talking about your presentations, your imagination is the limit. Presentations are a white canvas for you to make the most of. And this includes branding! Working on your presentation design is an excellent way to make sure it stays focused on your product. Adding your business topic is perfect for creating a genuinely unique presentation that no one will forget anytime soon.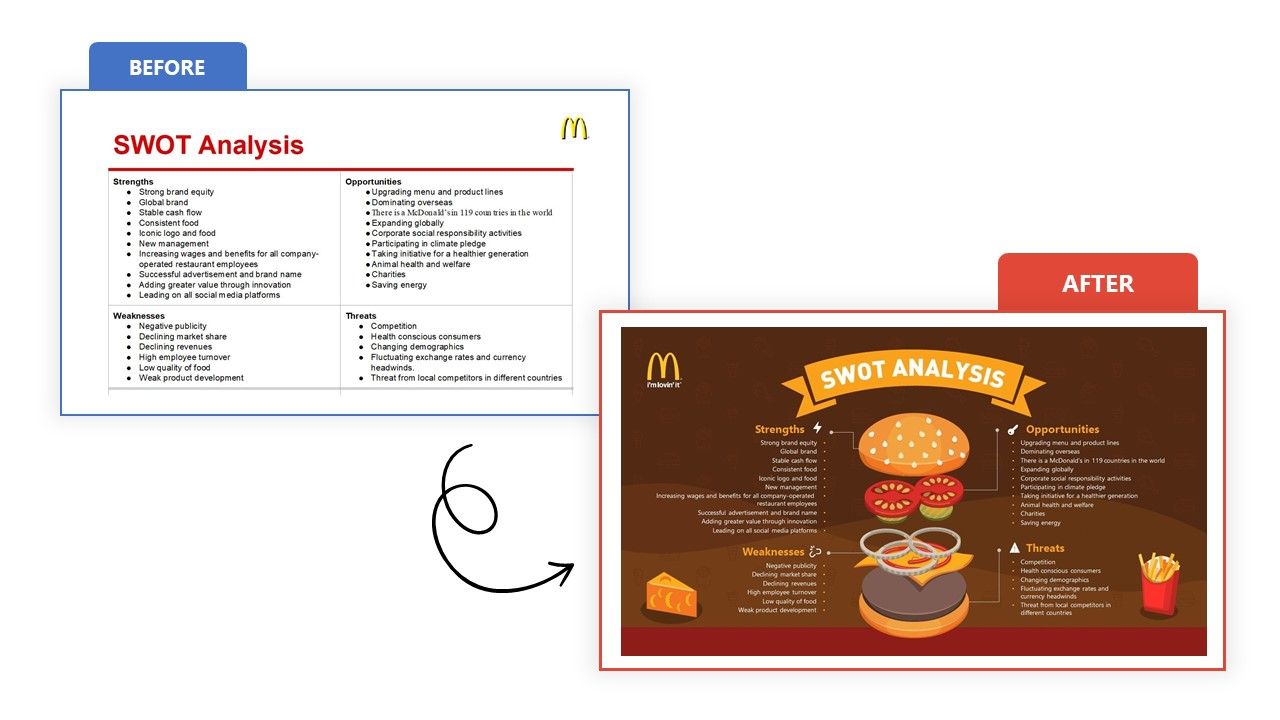 But even if you chose to reflect branding in your presentation in a more subtle way, it's still a key factor. It'll also make your brand easier to identify and refer to. After the presentation is over, your customers will be able to identify your color scheme or your logo easily and talk to other people about it.  Branding is a huge aspect of making a presentation stand out from the crowd.
Don't believe it? Check out these professionally branded presentation examples. You'll clearly see how much of a difference working on your brand identity through your presentations can actually make!

#4. Improves brand consistency thought platforms
Overall, using branding in your presentations helps you go the extra mile. People can many times underestimate how important is visual consistency in a business. But it plays a huge role in allowing potential customers to identify your brand from the very first glance.
Think about it this way: you'll probably never confuse Apple's logo, right? Even if this is an extreme example, branding is a must step to take in order to make your business recognizable in your field. And keeping it consistent and cohesive through different platforms is the only way to work your way through!

#5. Distinguishes you from the competition!
Finally, incorporating branding into your presentations is important in order to distinguish yourself from the competition. Whatever business you're working on, chances are there are probably someone out there offering something similar. Branding helps you put your personal stamp on the product or service you're offering and make it your own. It's an effective way to really showcase your product value and what distinguishes your brand from the rest.

How to reflect your branding in your presentations
The easiest way to incorporate brand identity into your business presentations is to follow your brand visual playbook. This means, for example, creating presentations that follow your color scheme. Luckily, PowerPoint allows you to create customizable color palettes. This means you will always have your brand colors right at hand!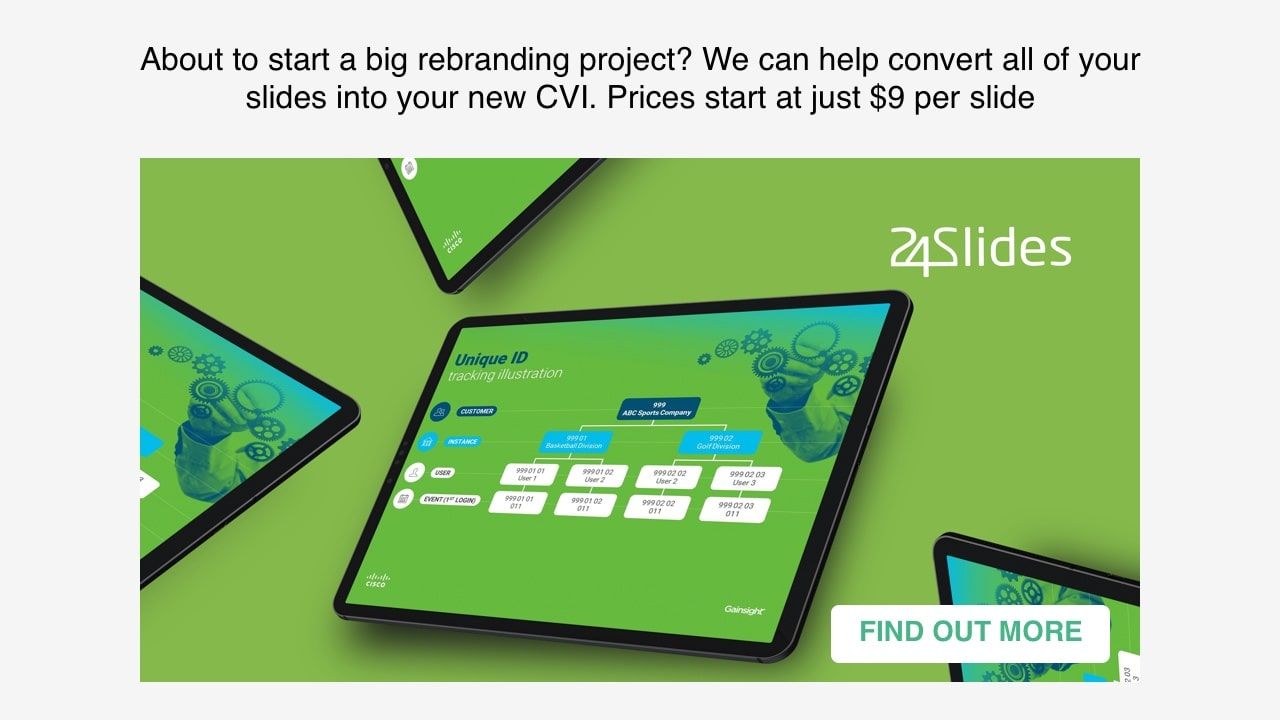 Anything that you've added to your visual brand guidelines should be applied to your presentations too. Even typography! It might sound silly, but having all your visual aids share the same graphic design elements will make your whole brand look more cohesive and put together. The human brain is a master of finding similarities, and you can be sure that even subconsciously, your audience will catch your brand consistencies better than you would think.
If you want to go the extra mile, you should also pick a design style or graphic theme. This means defining what kind of images you're going to use. Will your pictures share the same filter? Are you going to use illustrations instead of photos? In what style will these illustrations be drawn? The more uniform these elements are, the more polished and professional your presentation will look.
You can even customize your slides' layout to follow certain guidelines! Using Master Slides is a great way to make sure that your presentation stays cohesive from start to finish. Professional presentation design services like 24Slides can help you design the perfect master template for your brand. This way, you'll always have a presentation that follows your brand guidelines just a click away!