18 Free Digital and Mobile Technology PowerPoint Templates (+Icons)!
Technology has taken the business world by storm. Whether you work at providing digital services and products, or simply use them to boost your own industry, technology plays a huge role in all kind of companies nowadays. And, as in any other industry, presentations are a must! Maybe you're trying to pitch a new tech service to a potential client. Or to fundraise the development of a new mobile app. Or get your team on board with new technological development to improve your production process. Whichever the case, these digital and mobile technology PowerPoint templates will help you convey your ideas in the best possible way. And, as always, you'll also find free technology icons for you to customize any PowerPoint presentation.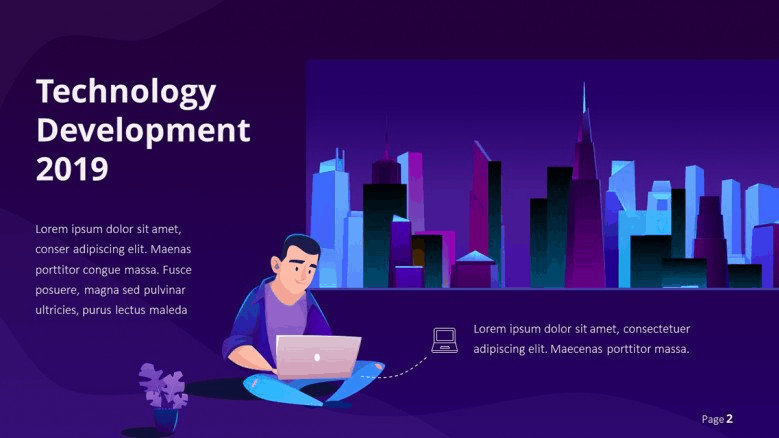 The modern world has entered an era of digital transformation. More and more businesses are jumping in the technology bandwagon, and there's more and more demand for new technological and digital products in the business world. But, as technology is usually revolutionary, it can be a hard sell. It can be difficult to explain to a potential customer why they need to use your new digital service when they've done it their own way for a long time. It can be difficult to get your team on board when they've already gotten used to working a certain way, even if new technology can make their job easier and increase their productivity.
These free technology PowerPoint templates will help you convey all your ideas easily and clearly without losing the focus of what's more important: technology! Whether you're working on a digital technology presentation, looking for a unique mobile PowerPoint template to showcase your app design, or maybe just searching for some technology icons to customize your presentation, you'll find something for you on this list!
General Technology PowerPoint Templates
Working on a technology presentation? These free templates will fit almost pretty much kind of projects related to technology in your business!
This general technology PowerPoint template is perfect for anyone working on this topic. Its slides feature all kinds of visuals that will make any digital technology PowerPoint presentation pop. It also includes several data-based slides. Its map, charts, and graphs will help you showcase all the numbers to back up your case in a visually engaging way.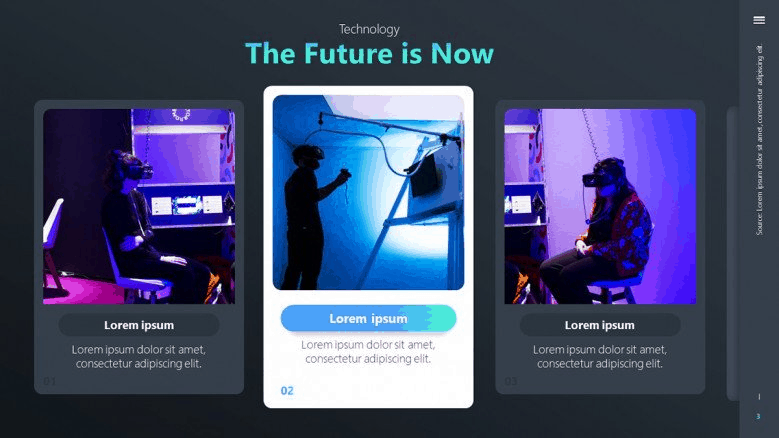 Dark backgrounds are an amazing option for making a unique presentation and to direct your audience's focus towards specific points. This free technology PowerPoint template is a perfect example of this. It slides has everything you might need to showcase your product or service performance. Show your audience all they have to gain by using it with this user-based digital PowerPoint template.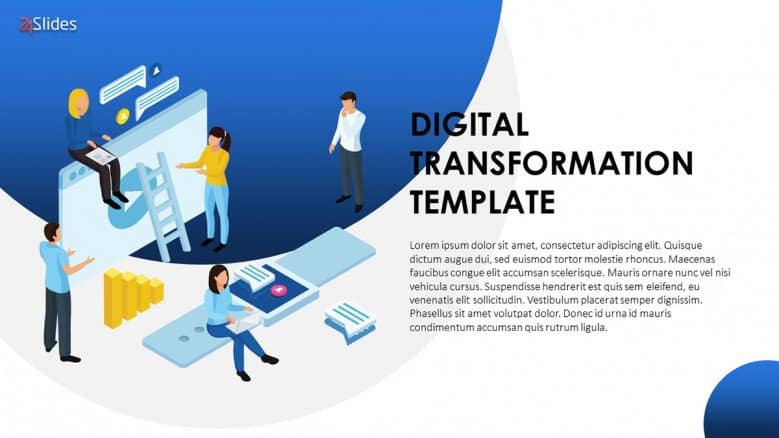 The blue and yellow color scheme of this presentation will help you convey both playfulness and professionalism! Pushing people towards new technology is no easy task. But this Digital Transformation PowerPoint template will help you show your audience all its benefits and ease their fears. Compare and contrast your product with others, show its development process, and highlight its main features with this free technology PowerPoint template.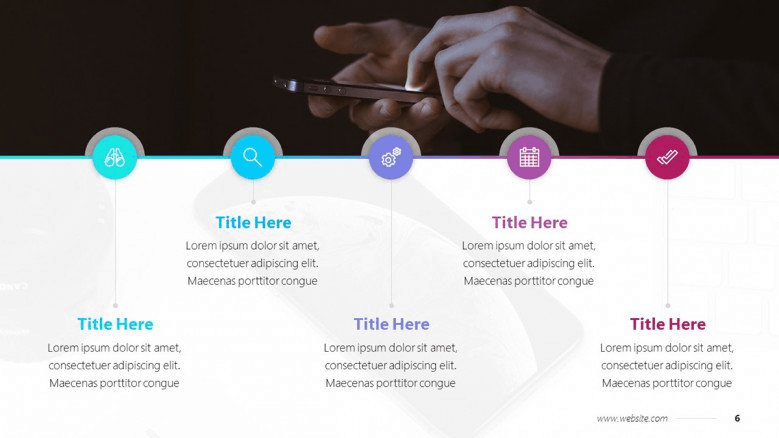 Roadmaps and timelines are one of the most useful visual tools for a presentation. They allow conveying tons of information in chronological order while still keeping it visually engaging and easy to understand. So if you're working on a technology presentation, why not use a technology-themed design on your roadmap? This technology PowerPoint template offers several options for free roadmaps with pictures and icons on the technology theme.
Mobile Business PowerPoint Templates
Smartphones and apps are one of the biggest technological transformations of the 21st century. Nowadays, everyone has a smartphone and is constantly trying new apps. If this is a topic relevant for your business, and you're looking for a presentation on mobile technology, or maybe a PowerPoint to showcase your app design, check out these free templates!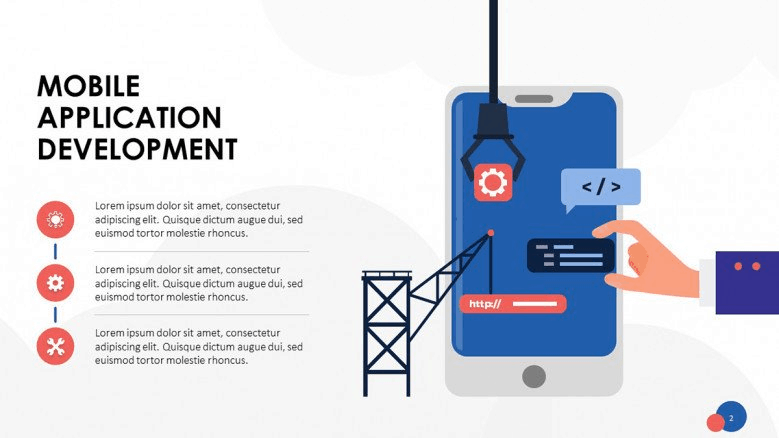 Apps are completely changing the way we interact with the world. From learning a new language to checking stock market data, there's an app for everything! In a business, an app can offer you a completely new way to interact with your customers. This mobile app PowerPoint template will allow you to show your app development process, it's design, testing, and much more!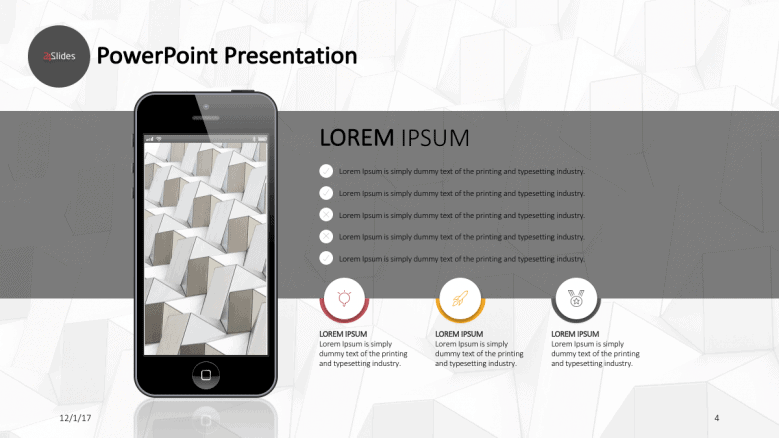 Use this mobile app PowerPoint template to get your business to new heights! Its sober black-and-white design will help you convey professionalism in your presentation for potential investors and customers. Its slides with maps and graphs will help you show your target areas and the impact you're having (or you expect to have) with your app.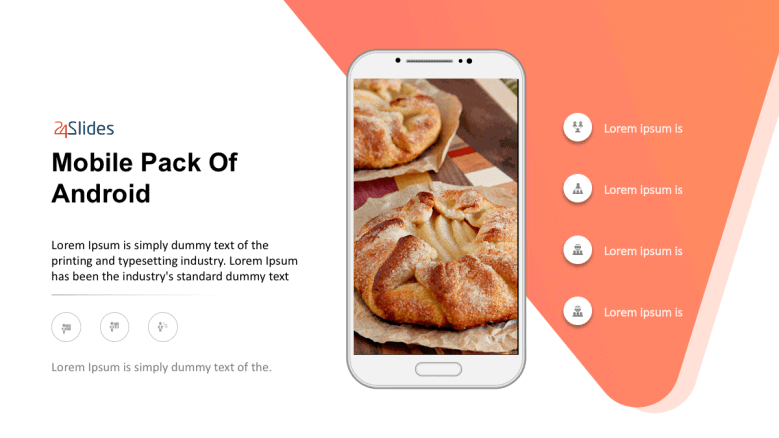 If you're just looking for a slide or two about mobile apps to add to your overall presentation, then this mobile app PowerPoint templates mini pack is for you! It offers 3 different designs with the mobile app theme to add to your technology presentation.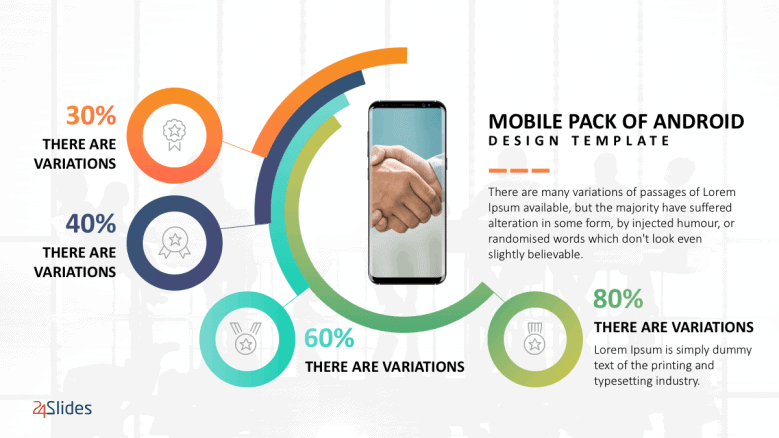 If you're not feeling the design options above, don't worry! Here's another mobile app PowerPoint template mini pack. These 3 slides are all about bright designs and catching your audience's attention from the get-go. And, just as the ones above, they're easy to edit so they can fit into your presentation seamlessly.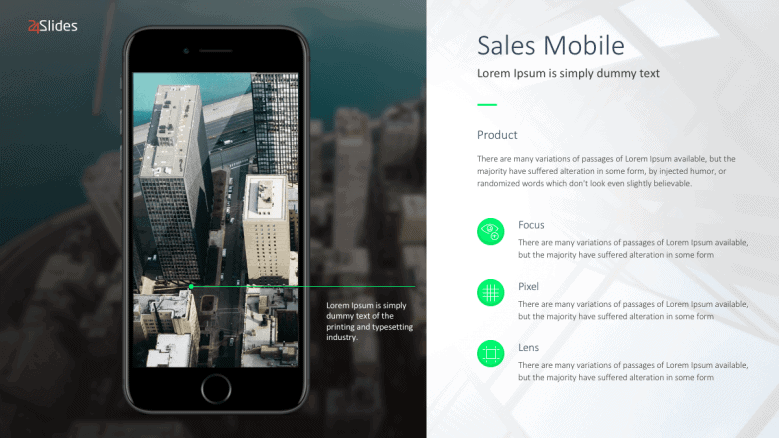 Finally, this mobile app PowerPoint template mini pack has a more minimalist and business-like design. If your business has a mobile app (or is planning to have one), these slides will help you include the topic in your presentation while still looking professional. The mobile mock-ups will help you give the audience a real look of what you envision your app to look like.
More Technology Businesses PowerPoint Templates
The more your presentation design reflects your product, the better! Even if it is focused on more business-like topics, like sales or revenue, adding your product's theme to it will help make it look more appealing and personalized. General technology PowerPoint templates are great, but the templates in this section will definitely make your presentation one of a kind.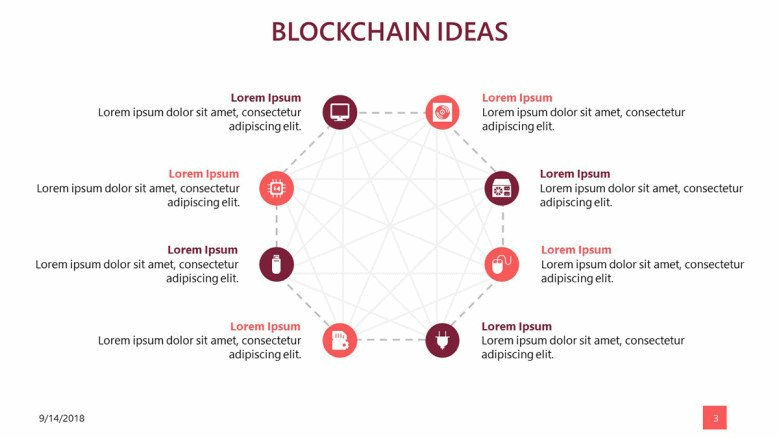 Cryptocurrency might be one of the most innovative ways technology has evolved in the last years. It has changed the world economy and opened possibilities for all kinds of new businesses. But is definitely not easy to explain! Use this Blockchain technology PowerPoint template to present all your information in the clearest, most straightforward way possible.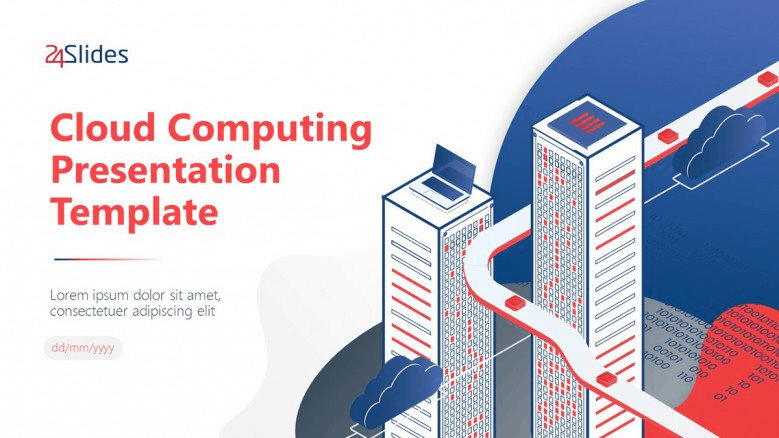 Cloud computing is certainly another revolutionary technology that has offered a whole new array of possibilities. It enables businesses to access technology and software that they would otherwise be unable to get. If you work in cloud computing services business or are pitching for your company to start using new cloud computing technology, then this template is definitely for you.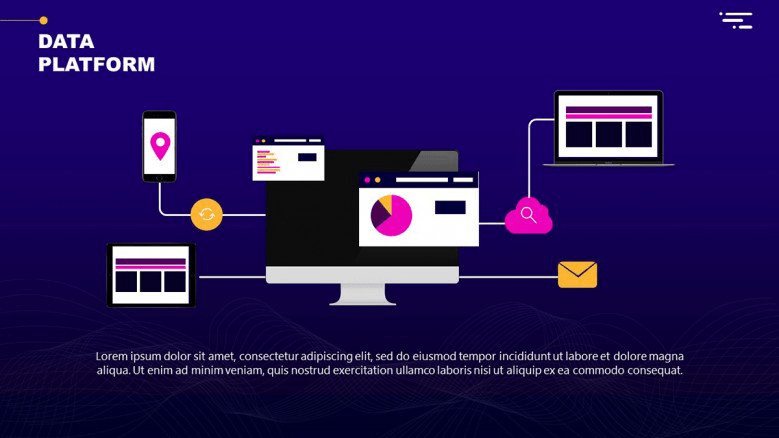 Technology is so important nowadays than IT can become the backbone of the whole business! Use this visually stunning presentation to offer a look into security options, or new information technology developments. Its bright colors and dark background will make all your information more eye-catching and memorable.
For those thinking about offering a new product or service, this technology PowerPoint template is for you. It'll help you offer a complete overview of your product and business, from your team all the way to your price list. Its playful design and illustrations will allow you to show your brand's personality while still conveying professionalism.
Many technology experts agree that smart cities are the future we're headed to. They'll collect data from its users in order to use its resources as efficiently as possible, and create the best possible life for all living in them. This technology PowerPoint template is really one of a kind, and its amazing visuals and icons will help you convey all information about smart cities as clearly as possible.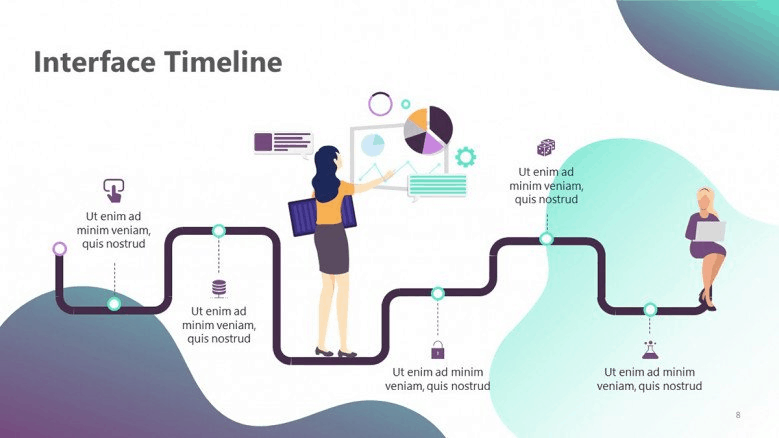 In order to build a relationship with your customers and make them care about your brand, interaction is the key! Apps, social media, and interactive products are all amazing ways to connect with your audience. So if you're working on improving your interactions through technology, download this free PowerPoint template!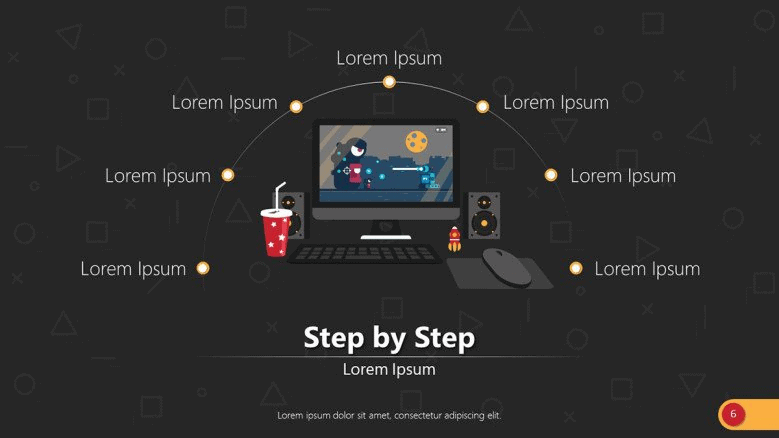 And talking about interactive products, what more interactive than videogames? The video game industry has grown and developed so much in the last decades. People of all ages and backgrounds are drawn together in their love for video games. This technology PowerPoint template is perfect for introducing a new product. And its playful design will surely convey the gaming experience to your audience.
Technology Icons PowerPoint Templates
Icons are an amazing tool to customize a presentation and make it look both unique and professional. And while they are many places online where to download icons, why not use ones that are already perfect for PowerPoint? In this section, you'll find amazing free technology icons specifically designed for PowerPoint, ready to use!
Make any presentation a technology-themed presentation with this free technology icons for PowerPoint. You just need to download the icon pack, and copy-paste whichever you like into your presentation!
This diamond-shaped icons concerning all kinds of technology-related topics are the perfect option for leveling up your presentation. As all presentations at Templates by 24Slides, these icons are easily editable, so you can change the color and their design to fit perfectly your own presentation slides.
Looking for More Technology PowerPoint Templates?
While these technology PowerPoint templates are great, there's nothing like a customized presentation. PowerPoint presentations are an amazing opportunity to convey your brand identity and values too! A good presentation design can help you look more professional, more playful and creative, and so on. And, a customized presentation will definitely be a telling sign of how much effort you put into your products and how trustworthy you are.
Our designers here at 24Slides will be happy to help you take your presentation from good to extraordinary in just 24 hours!