Holiday Special: Free Christmas PowerPoint Template
Who doesn't love Christmas? The food, the presents, the decorations… But it can still be a busy time of the year for businesses. Whether you need to share a new holiday campaign, or just want to wish your team a good holiday season, our free Christmas PowerPoint Template will make your presentation truly unique.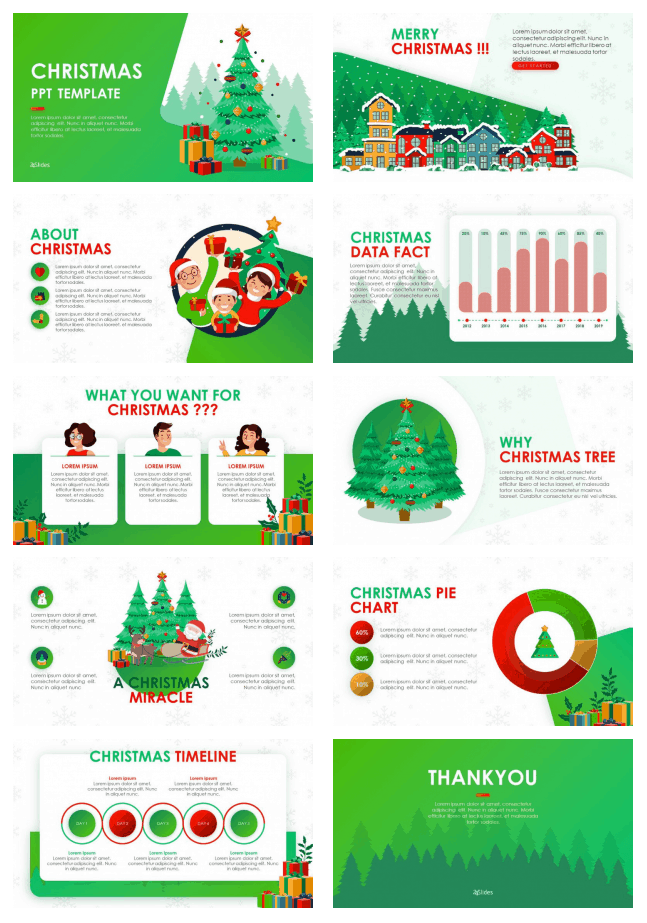 This PowerPoint template includes 10 slides with a playful Christmas design. It has a great red and green color palette so your audience won't forget the holiday theme. It also has amazing customized vector illustrations and icons, so the whole presentation looks unique and personalized. All this and its dynamic layout will help you catch your audience's eyes and make sure they're paying 100% of their attention to you.
Christmas is a time for joy and celebration. You can use this free PowerPoint template for finishing the year on a high note. December is a great opportunity to evaluate the performance of your team throughout the year and set new goals. Any experience, whether a fail or a success, offers the chance to learn and grow from it. So take a moment to look back and take what you can learn from 2019!
The Slides
Title slide. This type of slide is vital because they're a keynote setter for the rest of the presentation. This beautiful design with a Christmas tree will make sure your audience is invested in the presentation from the get-go.
Merry Christmas. This section slide is great for doing a quick introduction to your presentation. It has enough space for you to include some written content while still maintaining a themed design.
About Christmas. This bullet point slide is incredibly versatile. You can use it to describe your product or your business strategy for the holiday season. You can use it to highlight essential aspects of your presentation, or as an agenda. Your pick!
Bar graph. This kind of graph is the best to compare measurable data of different categories. Whether it's used for comparing your sales month after month or setting new goals, it will offer the information to your audience in a clear, concise way.
Team slide. This slide is great to show different players inside your business process. You can use it to show different market segments or your team members. Any way you decide to use it, I'll certainly make your content pop.
Christmas tree. Another versatile section slide. This slide gives you the opportunity to add some written content between all the other graphs and diagrams to make your presentation more complete.
Christmas miracle. This 4-section slide can be used for anything you need it to. If you're doing your holiday season marketing strategy, for example, a SWOT analysis would fit perfectly here!
Pie chart. This is another all-time favorite for data representation. If you have some percentage that you want to show your audience, this is the slide for you!
Timeline. When talking about business, it's important that every step of the process is crystal clear to all your collaborators. This slide's playful layout will help you showcase it while still being fun and appealing.
Thank you slide. End your presentation with an impact. Use this slide to add contact information or a conclusion for your team.
As always, how you use this Christmas PowerPoint template depends completely on you and your imagination!
Edit this Christmas PowerPoint Template
All 24Slides templates are easily editable. You can customize each slide to make it more to your taste. Add and delete slides to fit your needs and your presentation better. You can also change the color palette, fonts, text size, backgrounds, and so on. Don't be afraid to experiment!
If you need any help editing, you can check out our easy guide to template editing.
If you want to do a holiday-themed presentation, but you're not really feeling this Christmas PowerPoint template, there's also a New Year one. End your year on a high note with any of these great free presentations templates.