20+ Free Creative PowerPoint Templates For Your Next Presentation
Designing presentation slides on your own is not an easy task. If you're new to the presentation world, it may take you anywhere from several hours to a few days to come up with a design you'll be proud of. If you don't have time to mess with all that, here's some good news for you. The 20+ free creative PowerPoint templates I've listed in this article will help you get your presenting (or public speaking) career off to a good start!
Creative 30 Slide Mega Pack PowerPoint Template (31 slides)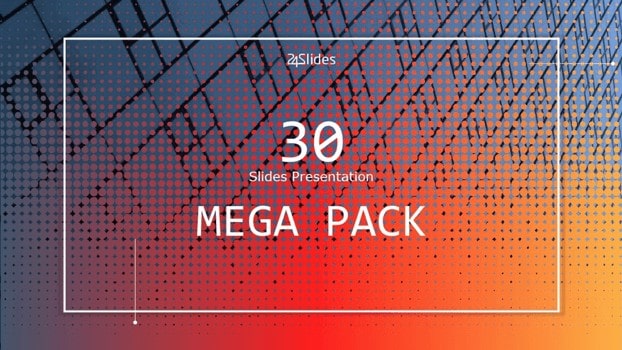 This template pack is at the top of our list because it's one of our most creative and stylish templates to date. Plus, it's massive with 30 slides included! You don't need to use every single slide in your presentation. But feel free to pick out the most relevant slides for your needs. It features various charts, timelines, tables, and diagrams which you can use in a variety of presentations. Editing the slides to suit your color scheme should be a breeze. Simply follow the steps outlined in this tutorial.
Playful Budget PowerPoint Template (10 slides)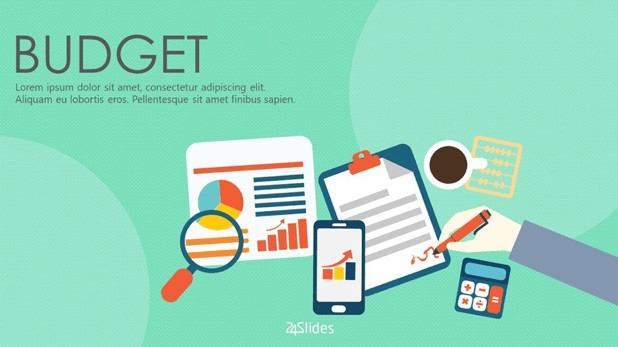 Budgets are necessary for a business to succeed. A good rule of thumb to manage your finances successfully is to make sure there's more money coming in than going out. Unfortunately, this is easier said than done as you never know when your income is going to be greater than your expenses!
So, you need to have a workable budget in place to make sure your business stays afloat even during rough stretches. This template pack will help you present your budget to stakeholders. Show them what they want to see – that you know how to handle finances and can competently manage the business.
Ultimate SWOT Analysis Pack (6 slides)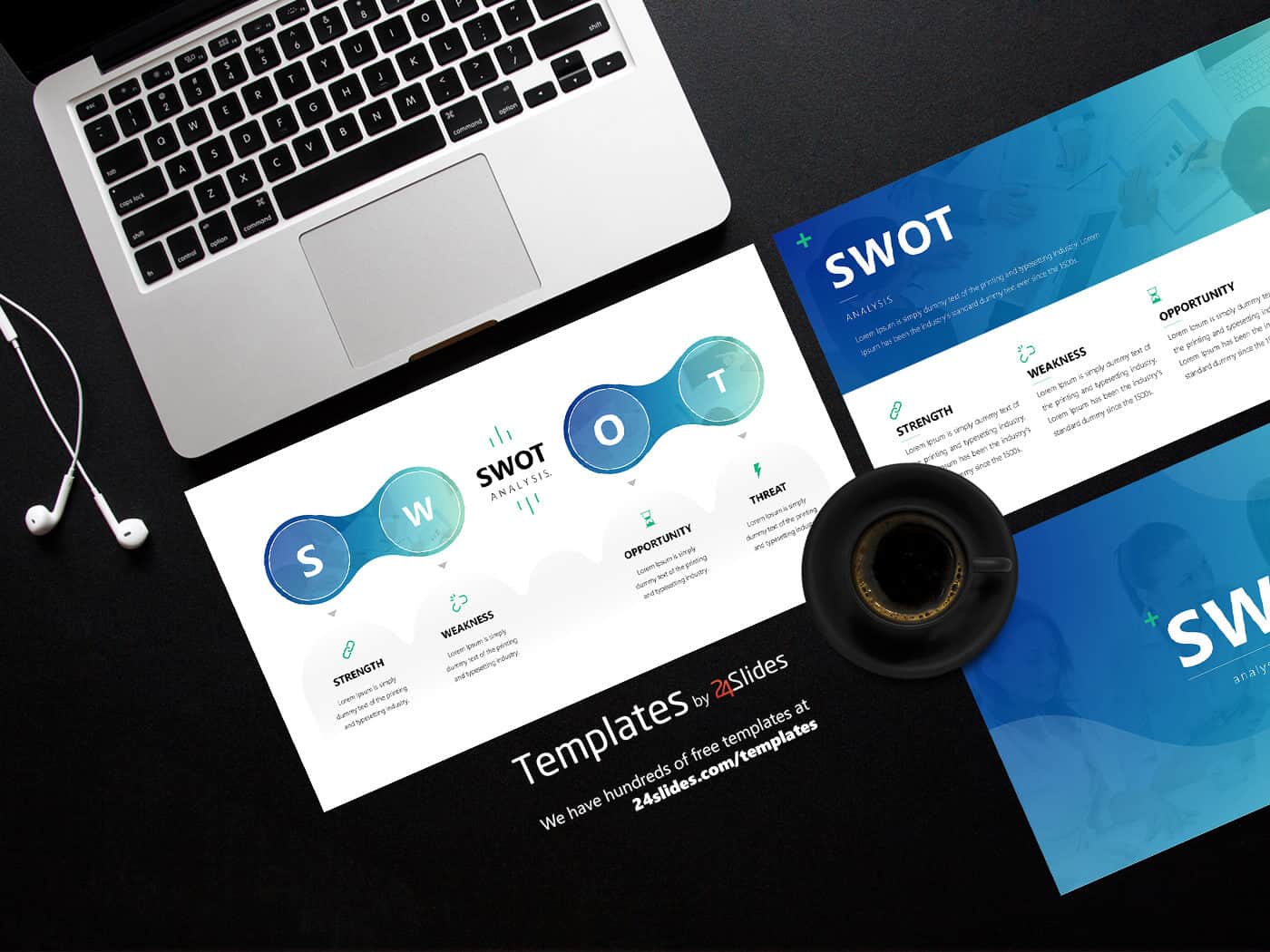 Doing a SWOT analysis isn't exactly a walk in the park. You have to do some serious brainstorming alone – or with some colleagues – if you want your brand to succeed. You can identify your strengths and weaknesses relatively quickly. But identifying opportunities and threats may take some time since these are external factors.
Fortunately, you don't need to spend a single minute more than necessary on designing the SWOT slides for your presentation! Download this 6-slide template pack, replace the placeholder text with your own, apply a couple of animations if you like, and voila! You're done!
Soft Consulting Template Pack (10 slides)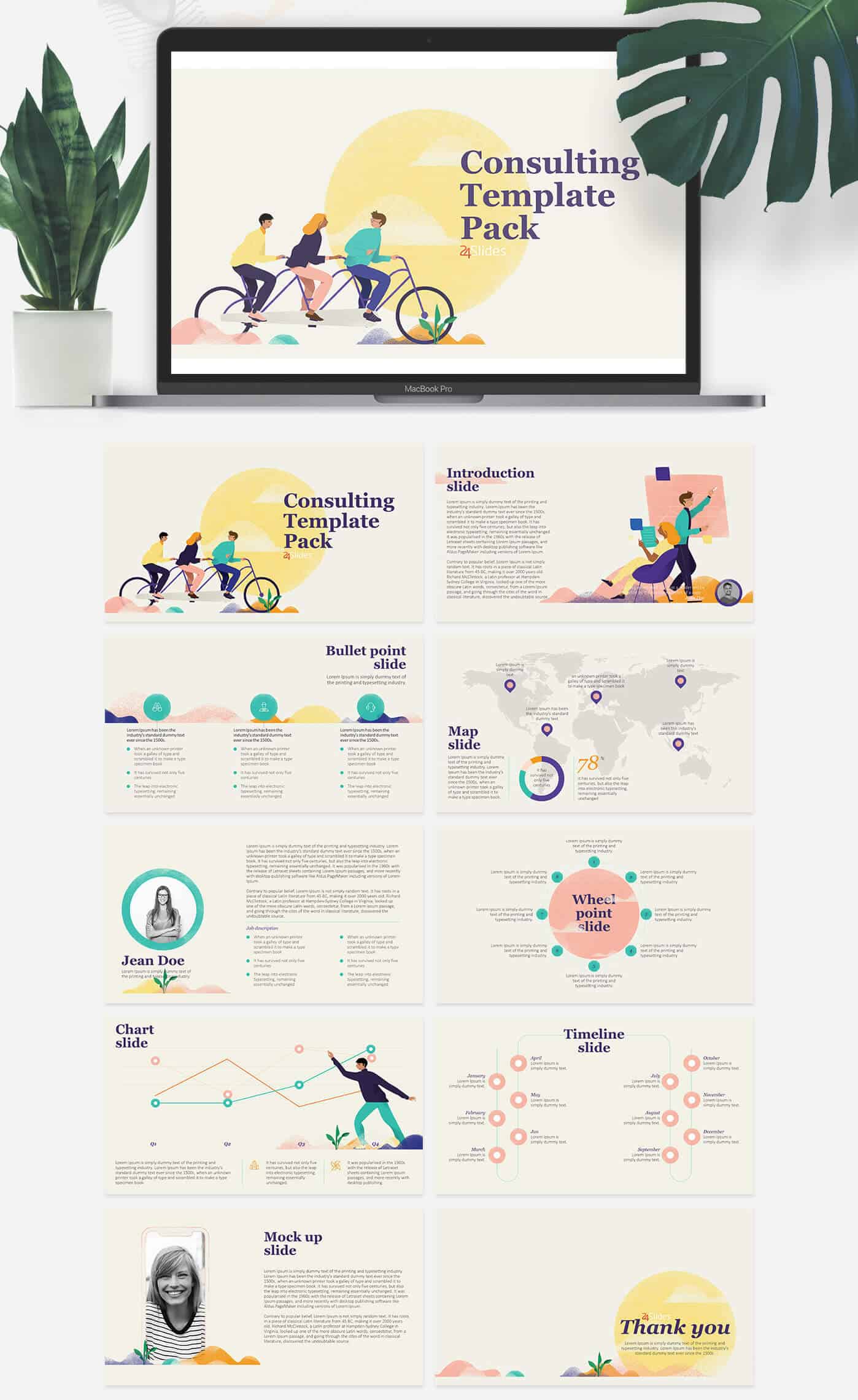 Who said you need neon colors to make your presentation 'pop'? As you can see in the screenshot above, pastel colors can do the job just as well! This free creative PowerPoint template looks easy on the eyes and the color theme makes the content stand out on the slides.
The graphics and visuals that our designers have picked will create a warm, positive experience for your viewers. This will encourage them to sit back, relax, and pay attention to your presentation!
Timeline Pictures Template (11 slides)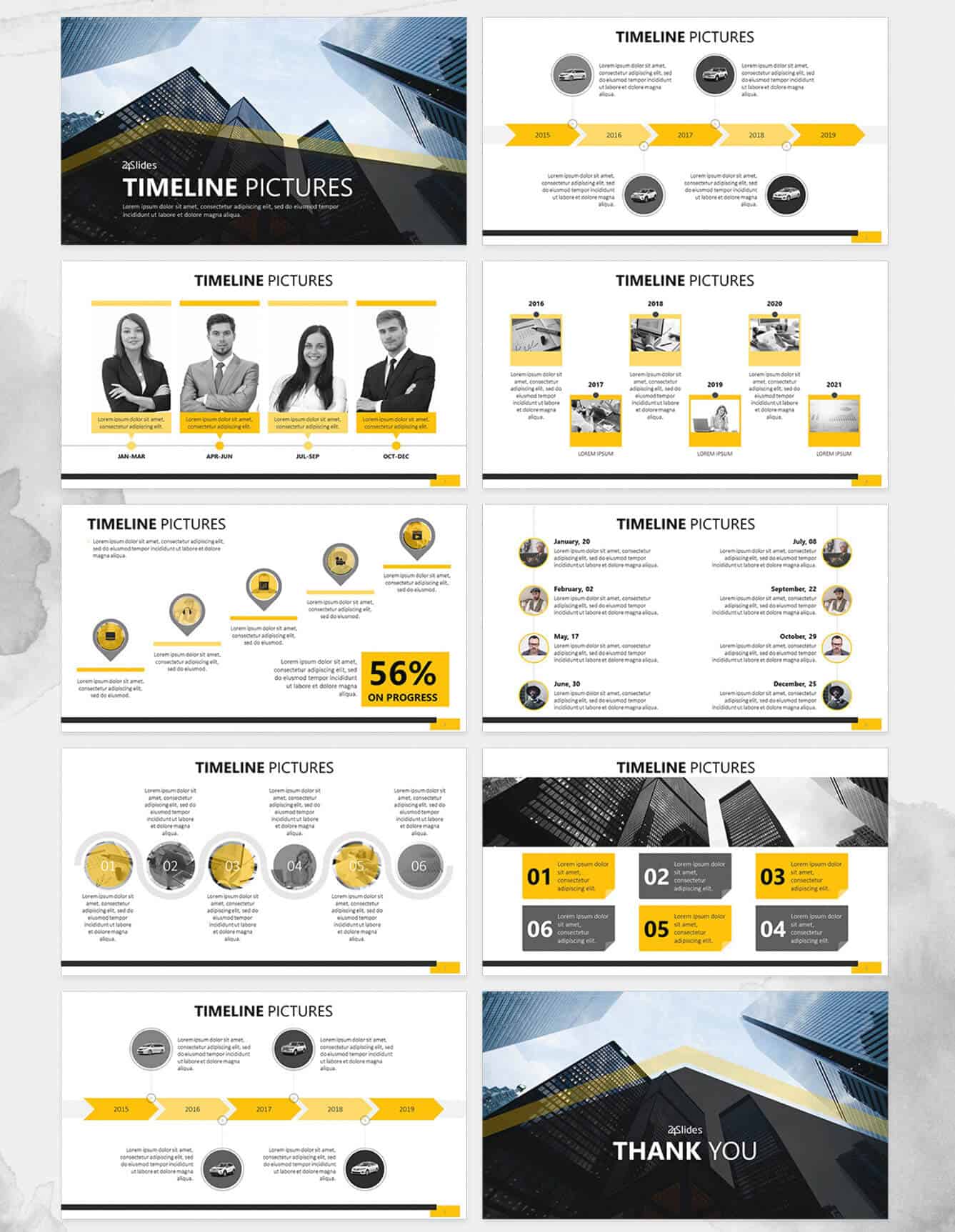 Many presentations use timelines. Some use it to paint a chronological picture of a past event, while others use it to outline a chain of events that will happen in the future. Instead of using bullet points, you can use timelines to show how certain tasks were – or will be – accomplished.
Whatever your reasons for using a timeline may be, you will surely find this template pack useful. Our presentation designers saw to it that the slides will capture people's attention. All you have to do is replace the pictures in the timeline graphics. Oh, and don't forget to edit the placeholder text, too.
Project Planning Creative Template (11 slides)
'Creative' and 'project planning' aren't words you normally hear together. Usually, when someone says 'project planning,' they usually refer to something serious, a.k.a. boring. Well, if you want to steer clear of the stereotype and impress your colleagues with an amazing presentation, download this free template right away!
Complex projects can now be simplified and easily understood by even the non-project management crowd. Use this free creative PowerPoint template pack to outline your project strategy, present your financial data and budget spending, showcase your case studies, and more!
Competitor Analysis PowerPoint Template (9 slides)
One of the smartest moves you can make for your online business is to do a thorough competitor analysis. Why? Because knowing what your competition is up to will help you figure out how you can make your brand stand out from everybody else. Fill a void in the market, so to speak.
You can target new demographics or launch new products based on the outcome of your analysis. Your stakeholders (including your bosses) would love to know how you can bring more business to the table. This template pack will help you do just that!
You can identify and rank your top competitors, pinpoint where their traffic is coming from, and even do a backlink analysis. Finally, you can present your recommendations on how your brand can become the top dog in your niche!
Playful Scrum Process PowerPoint Template (10 slides)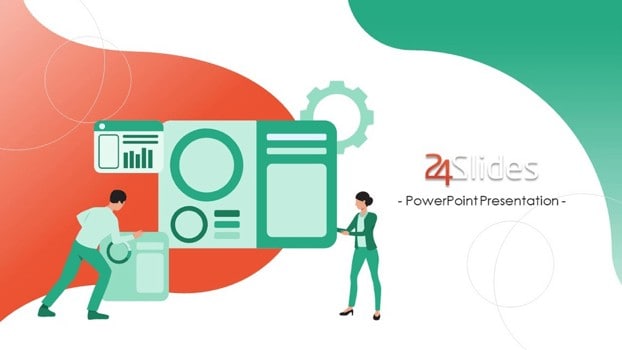 Scrum is getting quite popular nowadays. It's very useful in fields like web design and software development. Teams don't even need to be working in the same physical location – they can be anywhere in the world and the scrum framework can still be implemented.
So, if you need to persuade your team or stakeholders on why you should use scrum in your workflow, then this template pack will help you out. Make sure everyone on your team is on the same page, so you can work towards the same goals and achieve it within the shortest amount of time possible!
CSR Analysis PowerPoint Template (10 slides)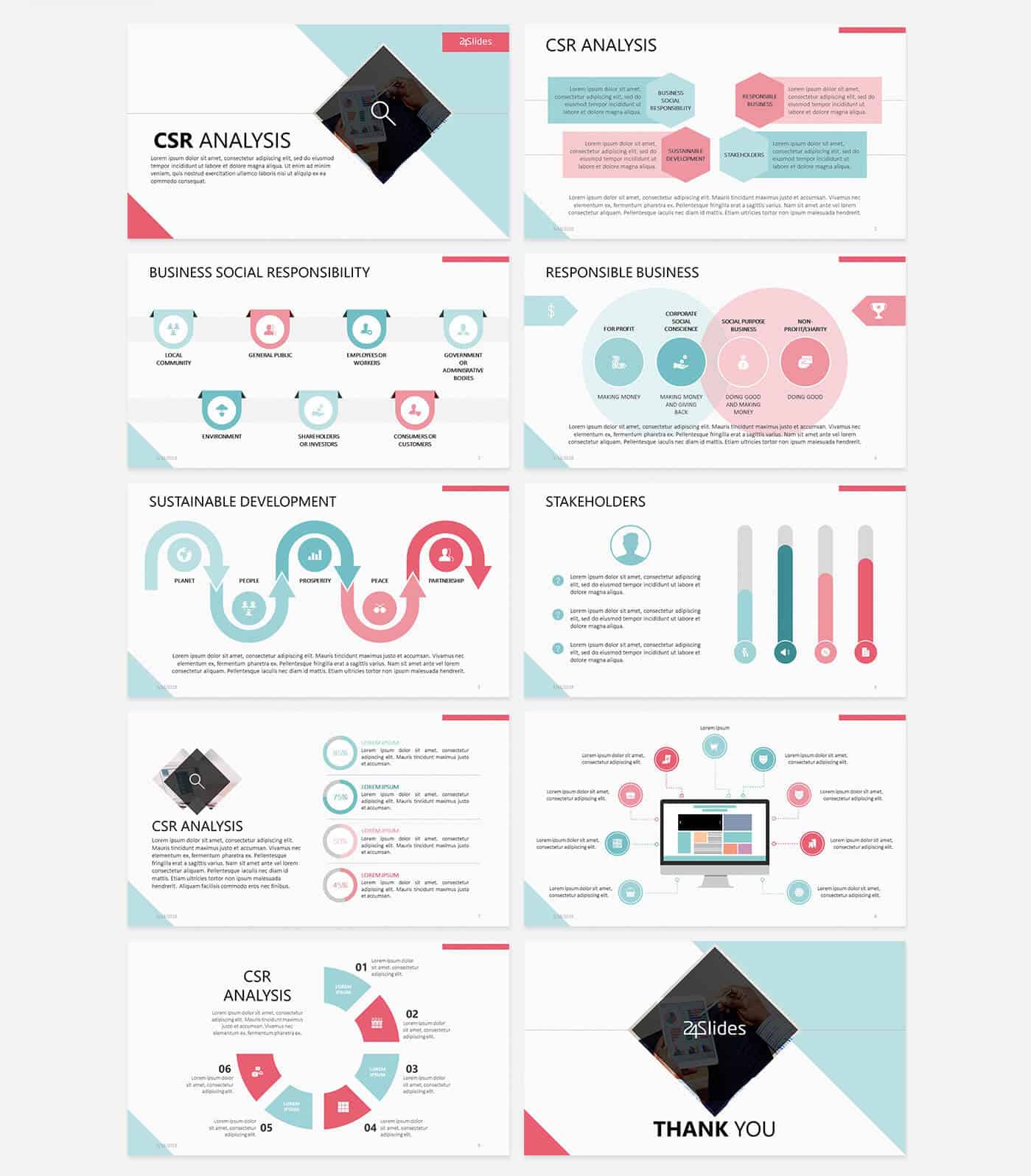 Corporate social responsibility or CSR is gaining traction in a lot of companies nowadays. CSR benefits not just the direct recipients of a company's goodwill, but it also boosts public image and brand awareness. You get positive media and social media coverage which helps you gain more followers and, ultimately, paying customers.
Use this free and highly creative template pack to present the key aspects and benefits of implementing charitable activities. Convince the bean counters that your plan is sustainable, and the business isn't going to go under anytime soon. All the slides included in this template pack will help you persuade everyone on your team that CSR is the right step towards growth and success.
Thank You Slides PowerPoint Template (10 slides)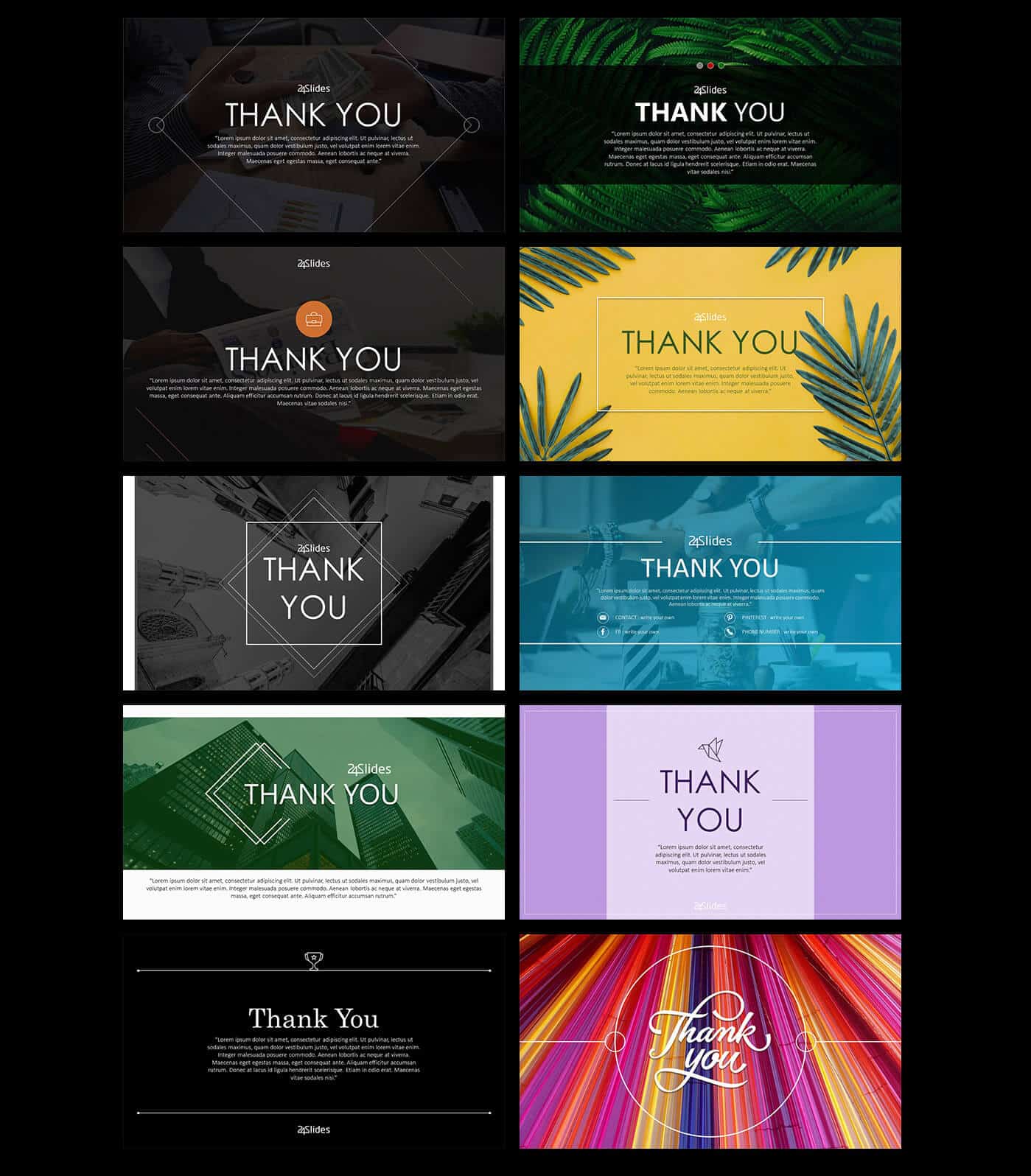 Let people know how much you appreciate their time by adding a 'thank you' slide to your presentation. Just like any other presenter, you want to leave a positive impression on your audience. One of the best ways to do this is by showing a 'thank you' slide on the screen while you bid them adieu, or remind them to follow your call to action right away.
You can pick from any of the slides and use it as it is, or you can change the color theme to make it match with the rest of your slides. Some slides also have some placeholder text – use these to add some quotes that will sum up your presentation message.
Halloween PowerPoint Template (16 slides)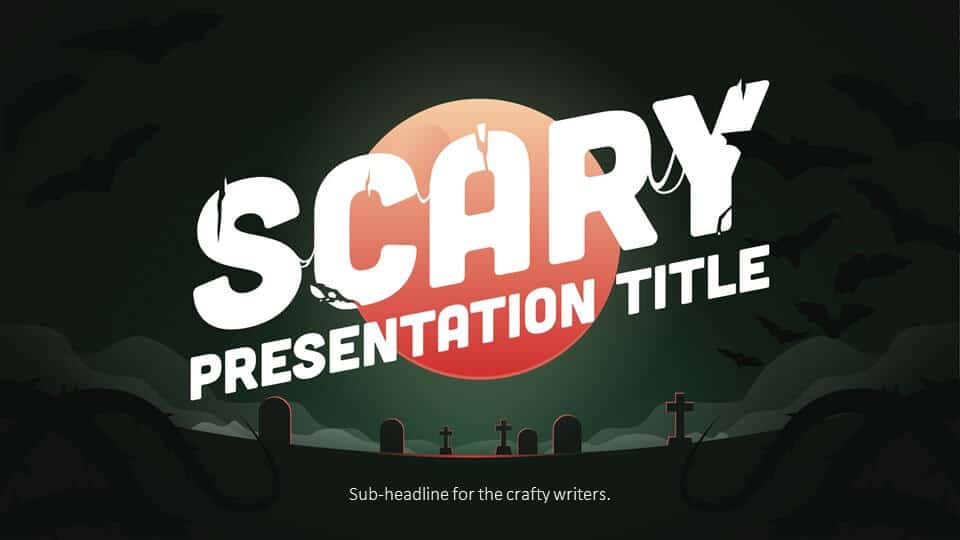 Halloween isn't just for kids and trick-or-treating in the neighborhood. It's also for presenters like you! Now giving presentations during Halloween need not be such a chore anymore.
Use this template pack to spice up your presentation and amaze (or spook!) your audience. Impress them with your creative slideshow and, of course, your subject matter expertise. Whether you're using this template pack for academic, business, or corporate presentations, your audience will enjoy the visual treat you'll serve up before them!
Product Hunt Pitch Deck Template (24 slides)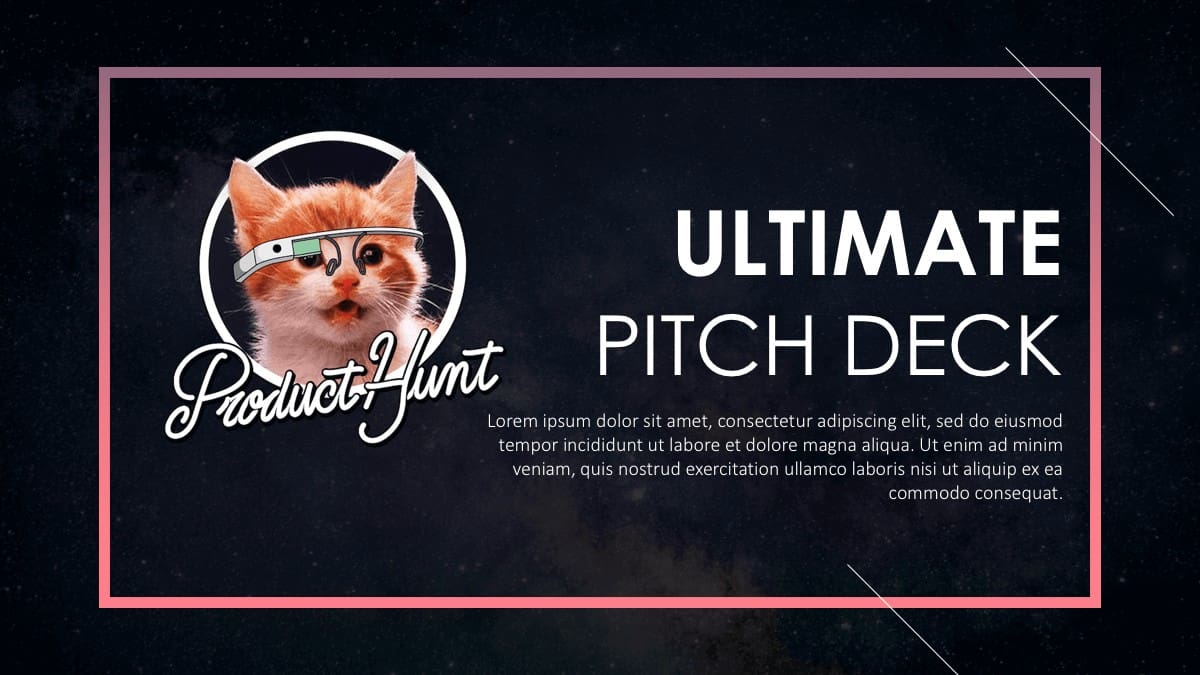 Pitching your startup sounds fun, doesn't it? Well, not really. It's hard work trying to get investors to share your passion, or at least care enough about your product or service. The sad truth is that many startups don't get to see a single dollar from investors. So, they make do with whatever meager resources they have – which usually isn't much.
Increase your chances of getting funded by investors by using this free, data-driven PowerPoint template pack in your next pitch. It's got all the slides you need for a successful presentation. Now, you can spend more time practicing your elevator pitch and perfecting your actual presentation!
Dark Themed 30 Slide Template Pack (30 slides)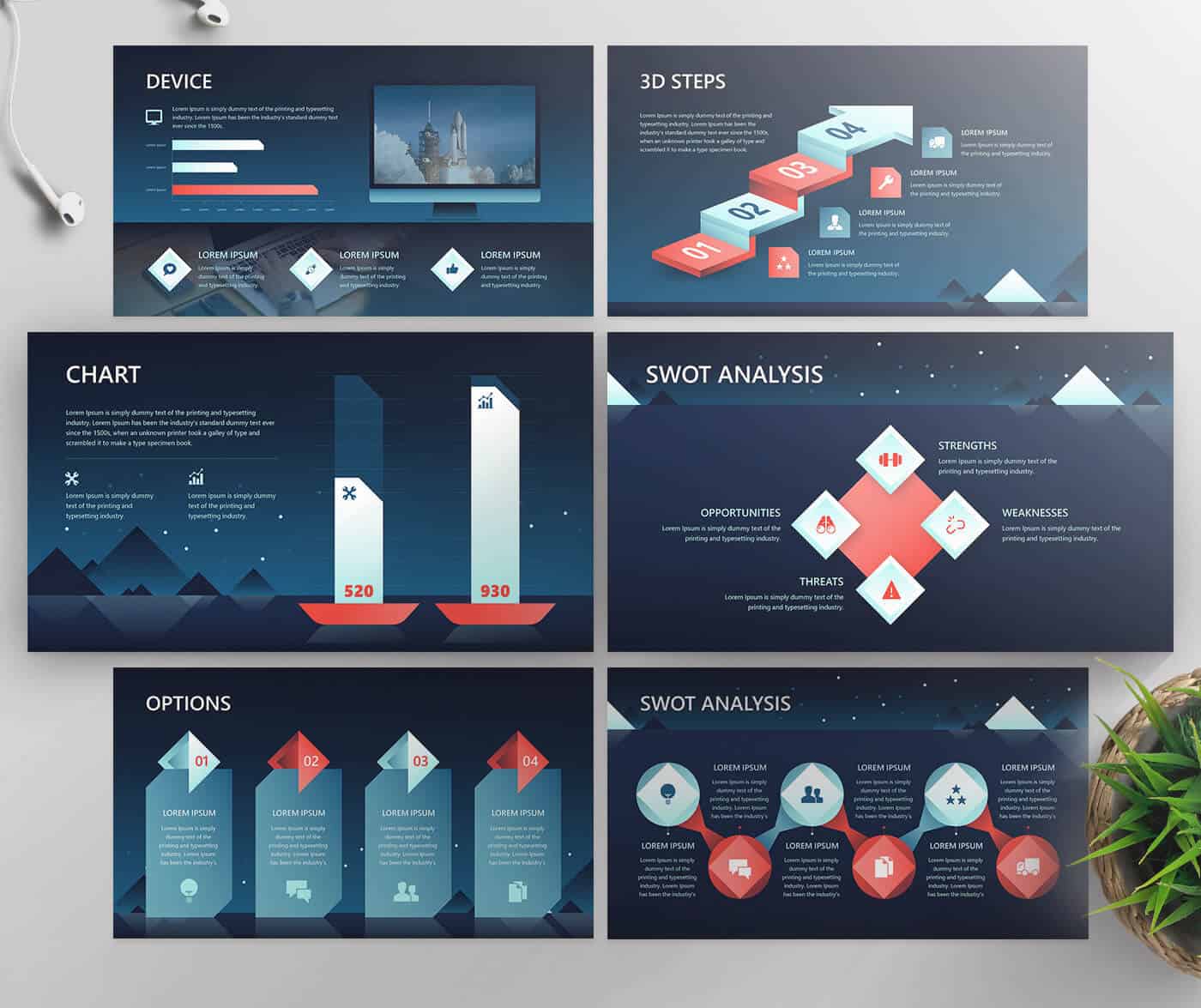 Templates with dark backgrounds generally look great in dark auditoriums because they make the foreground pop out from the slides. This template pack is no exception. As you can see in the screenshot, the background provides a nice contrast which makes the text and graphics easy to read.
If there's one thing audiences love, it's the smart use of charts and diagrams. Creating those from scratch can take forever, but not if you use this template pack. Each slide in this pack includes a chart, diagram or graphic which you can edit to suit your presentation needs.
HR Presentation Slide Templates (10 slides)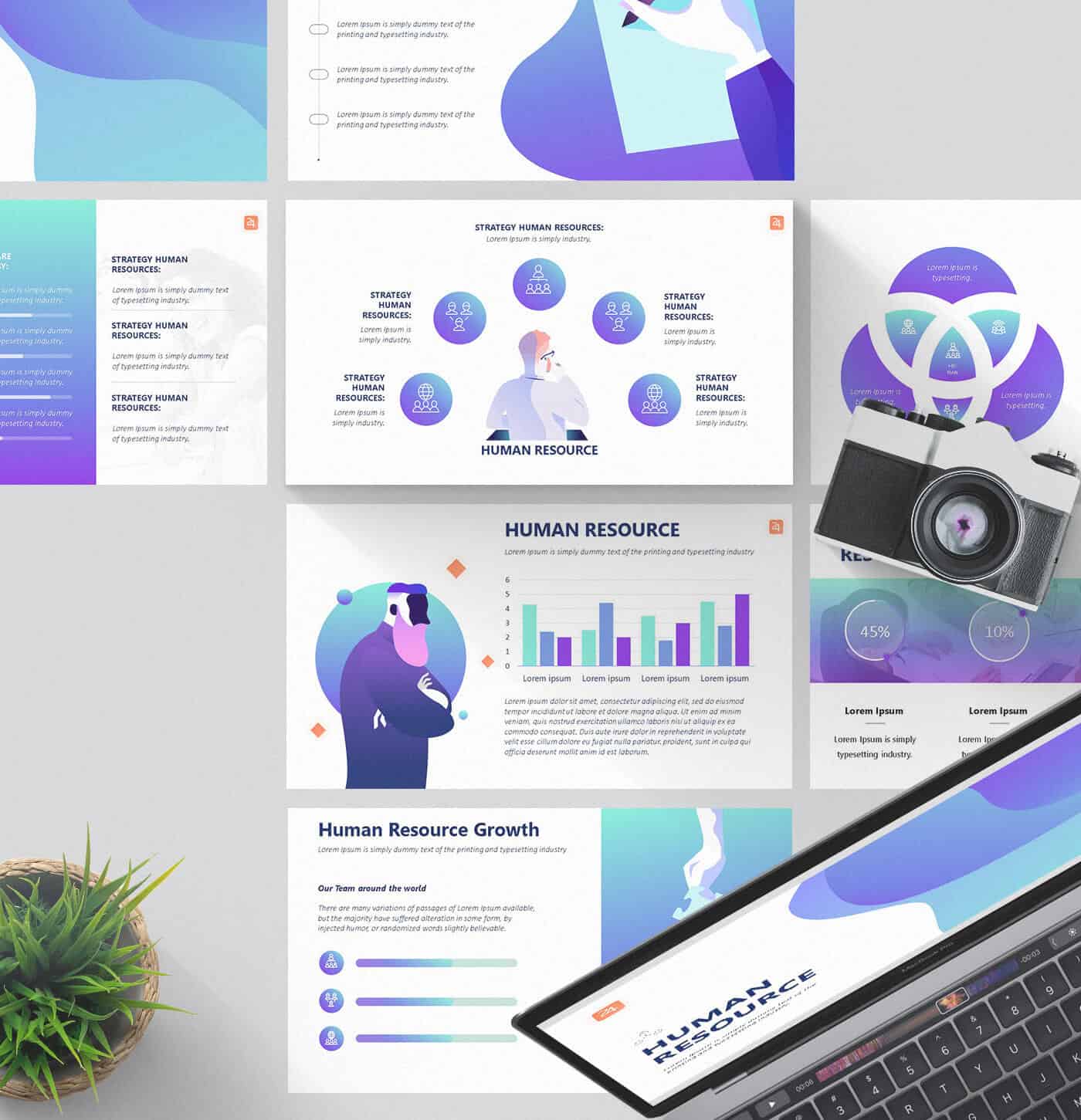 Robots haven't overtaken yet, thankfully. And human workers are still crucial to a company's success. Without a team of highly qualified and skilled personnel, a business can quickly go under.
This is where human resources or HR comes in. They are responsible for making sure the right people are hired and compensated properly. This template pack can be used by HR's of all levels, but it is especially helpful to HR's of large organizations where there's a lot more data to work – and play – with.
Playful SWOT PowerPoint Template (10 slides)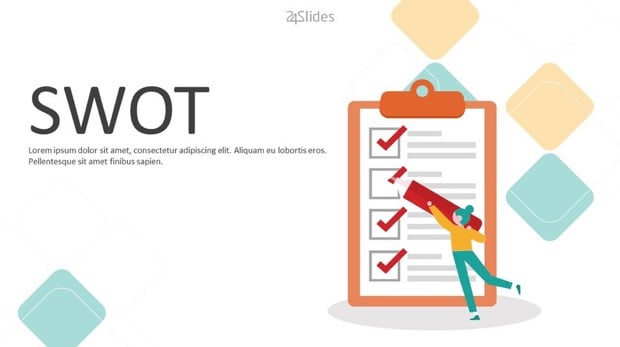 If you're looking to impress your audience with a creative-looking SWOT analysis, then this is the right template pack for you. The design looks clean and uncluttered thanks to the creamy-white background, and the playful color scheme.
There are a couple of SWOT overview slides you can choose from, as well as individual slides for each SWOT category. There's a slide solely for listing your strengths, another slide for your weakness, and two more for opportunities and threats.
Christmas PowerPoint Template (20 slides)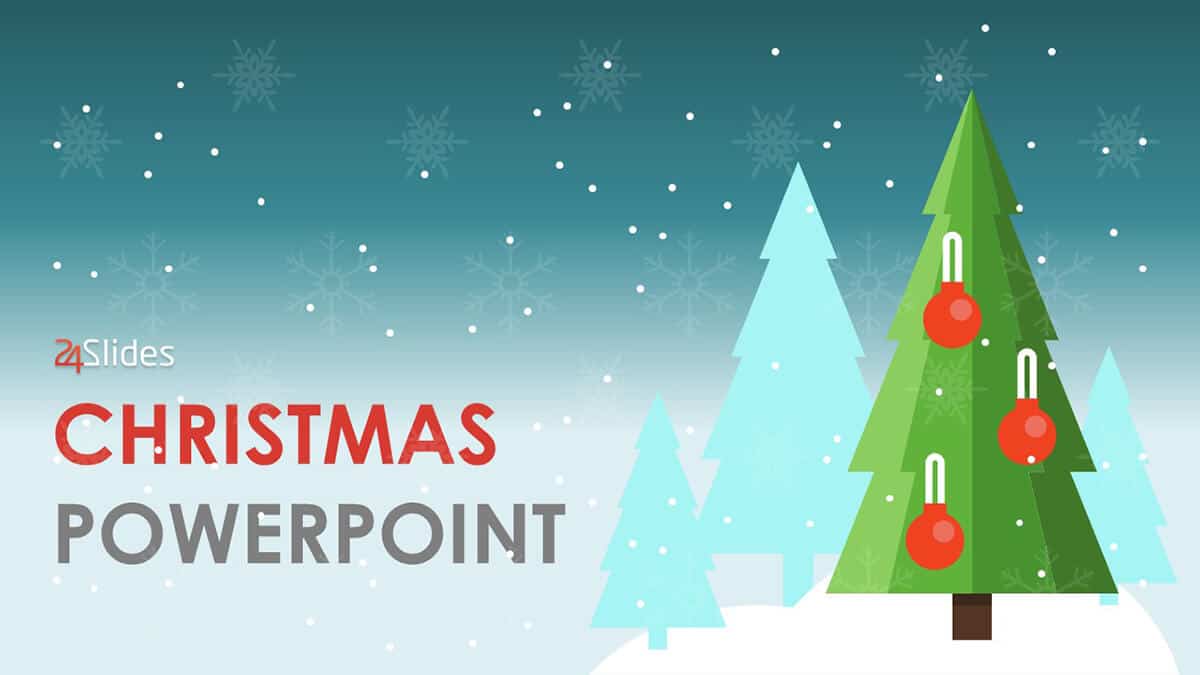 Bring on the holiday cheer and use this template pack in your year-end corporate meetings. Christmas is probably everyone's favorite time of year. Employees love it because there's always the possibility of getting a nice bonus or raise. So, use this template pack to outline the team's achievements over the past 12 months. Or use it to outline what's in store for the next year.
If you're transparent about how your business calculates bonuses, then some of the slides will help you present your criteria. People can view the top performing individuals or teams, as well as their reward for a job well done. This will help inspire others who didn't make the cut to do a better job next year!
Creative 2019 Calendar PowerPoint Template (13 slides)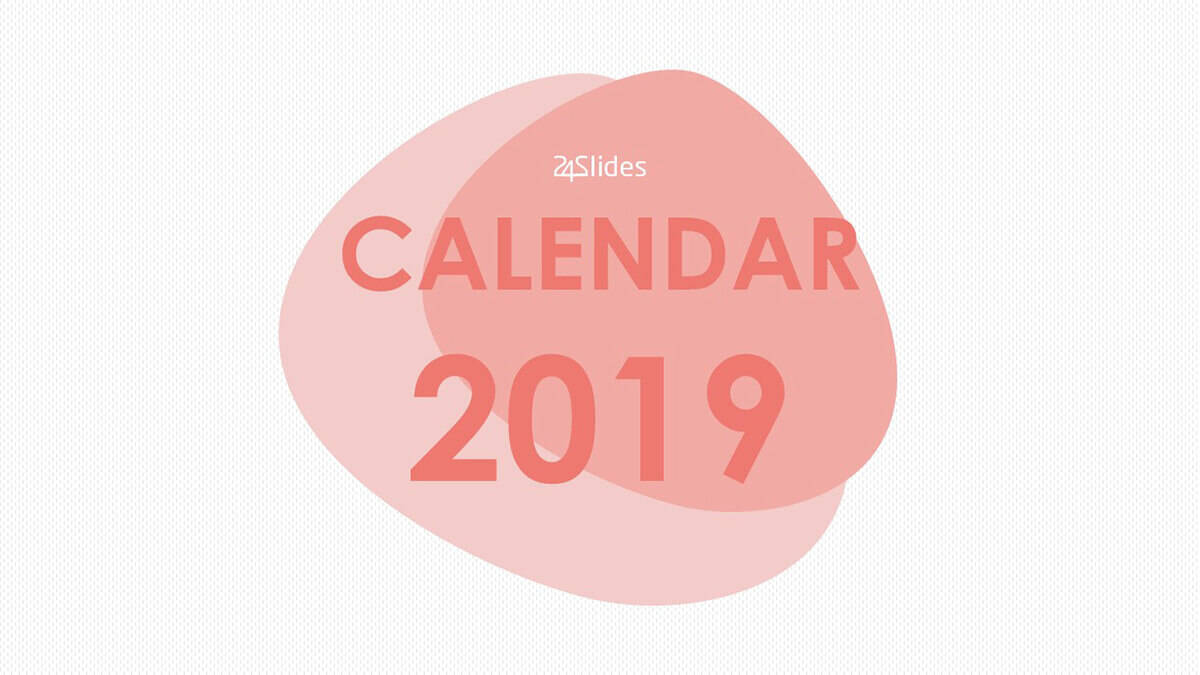 The second half of the year is almost upon us, but you can still make use of this creative PowerPoint template pack. Plan out how you can reach your goals for this year.
If you've already presented your plans in the beginning of the year, use this template pack to update your stakeholders on how your plan is holding up. What have you done so far? What milestones have been met? Have any tasks or projects been moved to a later date?
This template pack include slides which allows you to add calendar comments. If you don't have a lot of events happening in some of the months, you can use the slide called 'two months compact view calendar.'
Creative Timeline PowerPoint Template Pack (10 slides)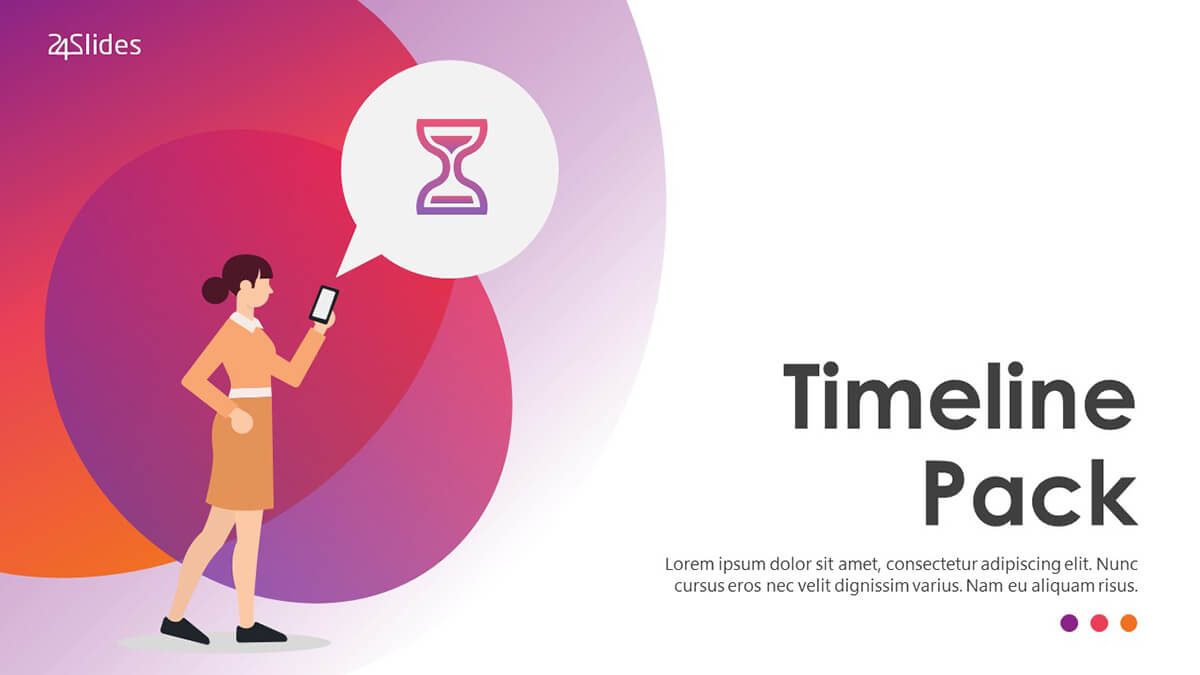 If you want colorful-looking timelines, then this template pack may be what you're looking for. You've got 8 different timeline slides to choose from, with each one showing a mix of eye-catching graphics and icons. This pack includes the following types of timelines: staircase timeline, quarterly timeline, Gantt chart, timeline with comments, curved timeline, linear timeline, time allocation slide, and a circular timeline slide.
PowerPoint Backgrounds Template (31 slides) Don't underestimate the power of a good background. It can bring to life even the dullest-looking elements on the foreground. In PowerPoint, you have plenty of background options to choose from: you can use a solid color fill, a gradient fill, a picture or texture fill, or a pattern fill.
You can adjust the transparency levels and brightness levels by experimenting with the formatting options. But you don't need to worry about all that. You can simply download this amazing 31-slide template pack and choose the background design that catches your attention!
Pie Chart PowerPoint Template (10 slides)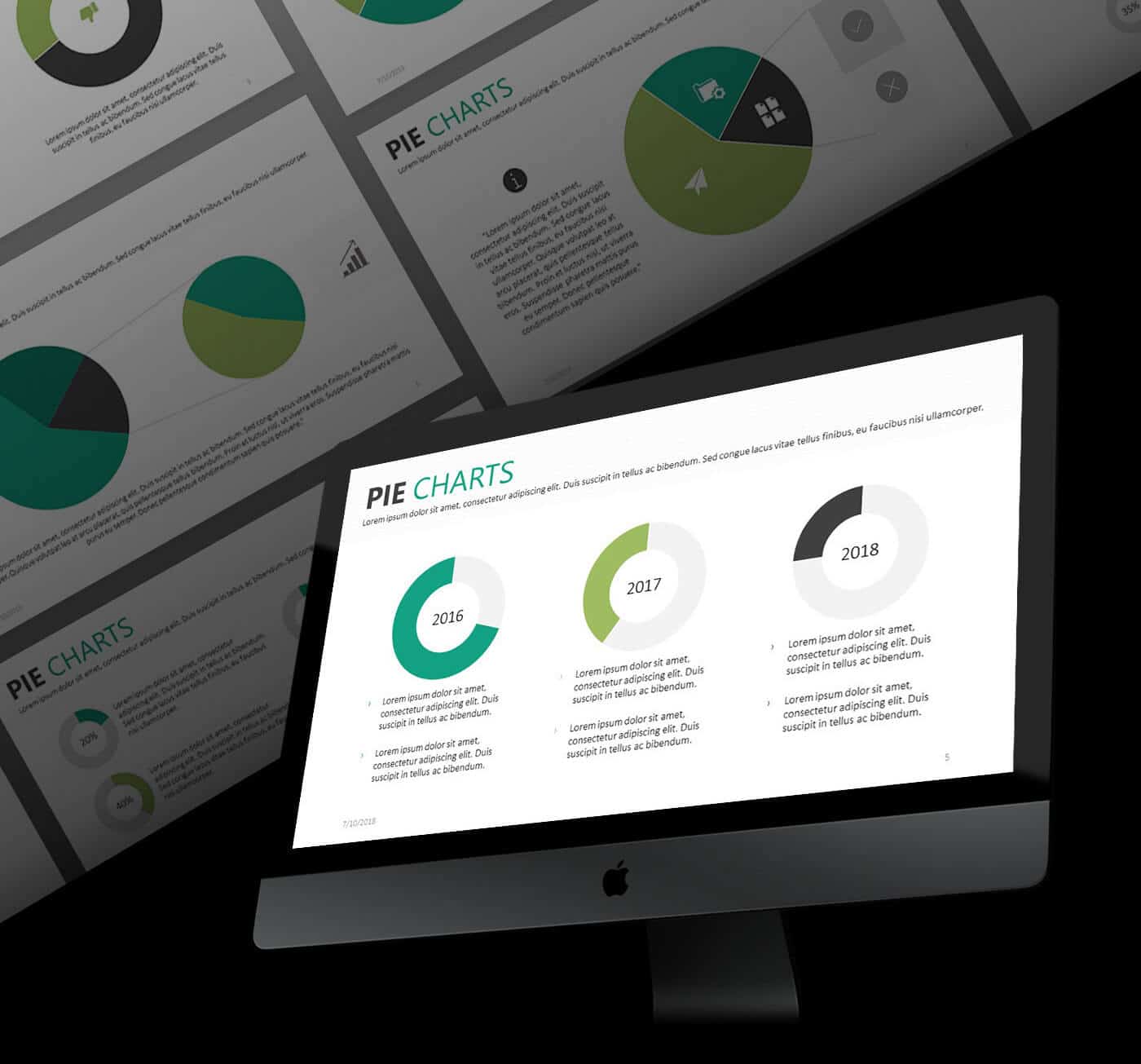 Need to compare relative sizes or display parts of a whole? Well, you can use pie charts for that, as long as you're comparing data for less than 6 categories. Any more than 6 and the pie chart becomes difficult to read because the pie 'slices' would be too small.
This template pack includes more than a basic pie chart. We've also included a doughnut chart so you can add more than a single data series. There's also a yearly performance slide and a world map pie chart slide that you can use for your presentation.
Data Driven Collection PowerPoint Template (10 slides)
Depending on the nature of your presentation and your audience, you may not want to show your raw data on your screen. Why? Because you can easily scare people away with numbers! So, if you don't want to do that, your best option is to use charts and diagrams to make your data look more friendly and less menacing.
This is where this 10-slide PPT template pack comes in. We've included stacked bar chart, 3d pie chart, horizontal histogram, treemap, waterfall chart, and radar chart in this pack. The slides are all designed with plenty of white space, so there's less clutter and people can focus on your content.
Playful Pitch Deck PowerPoint Template (10 slides)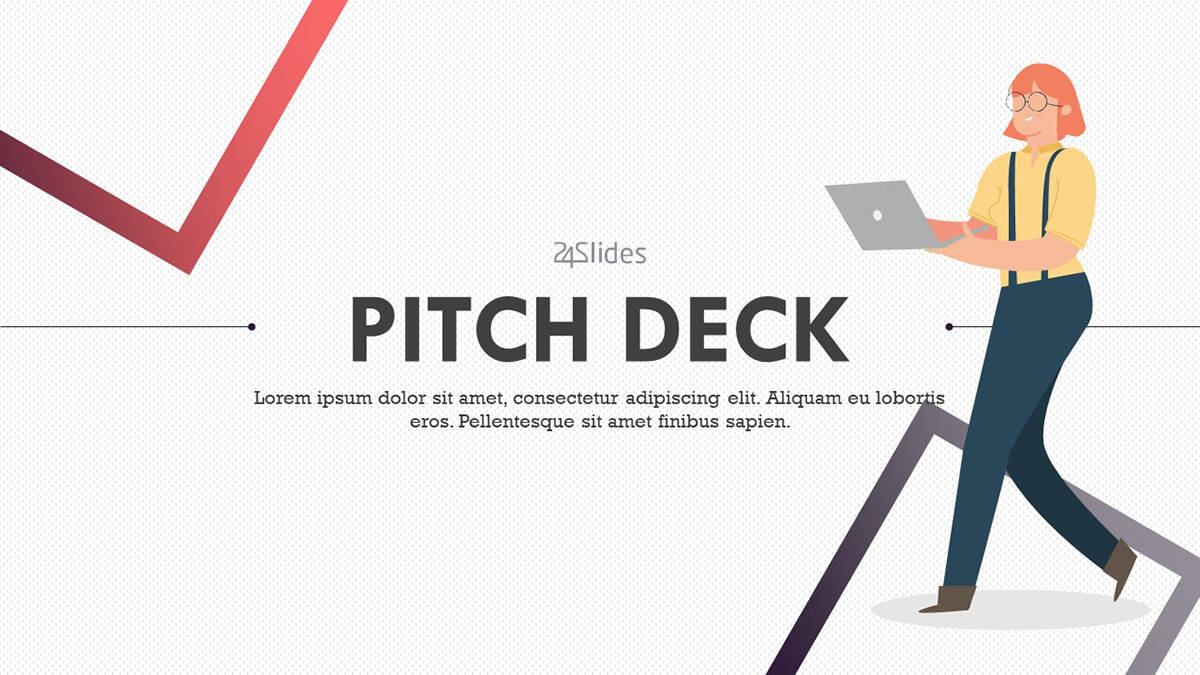 Increase your chances of pitching successfully to potential investors by downloading this PowerPoint template for pitch deck presentations. As you can see, this pack uses a playful theme, so if it's something that resonates with your brand, then you should definitely check this out!
Most investors are busy people, so you don't want to waste their time by going into minute details they don't need to know yet. We've included 10 slides in this pack. In most cases, this should be enough to get your point across and convince potential investors to schedule another meeting in the near future.
What's Your Favorite Free Creative PowerPoint Template?
Creativity is not something that comes naturally for many people. If you're one of the lucky ones, good for you! Otherwise, you can do what most other non-design-oriented presenters do – they use creative templates or they hire a professional presentation design company to make their slides for them!