Download These Free Minimalist PowerPoint Templates!
Some times less is more! Minimalism is a design style that is very popular nowadays, as it takes away all unnecessary elements to create a clean and sharp final product. If you're all about simplicity while still making an impact in your audience, you need to check out this free minimalist PowerPoint templates!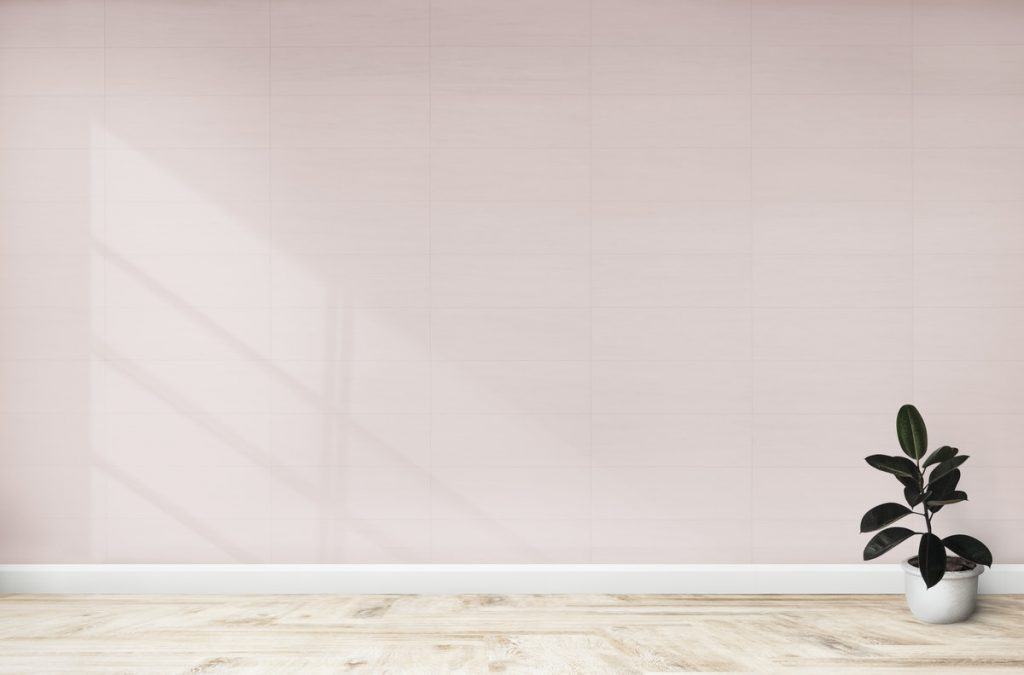 We've all encountered a design that should look nice in theory. But it ends up having too many elements and colors. It can even become tiring and distracting to your audience, as with more elements, it becomes difficult to define where your attention should go to. That's why minimalism is such a great option for PowerPoint presentations.
Minimalist designs might look simple, but they are definitely not lazy! This design style is all about reducing things to the bare minimum and using the negative space to make your actual information pop up even more. It's all about clean, professional, and functional designs!
Minimalist Business PowerPoint Templates
Minimalism is a great option for any business presentation. Its clean-cut designs will help you convey seriousness and professionalism without being boring. And a minimalist approach will also help you make sure that the focus of your audience is exactly where you want it to be. These free minimalist PowerPoint templates offer different tools that will help you take your business presentation to the next level!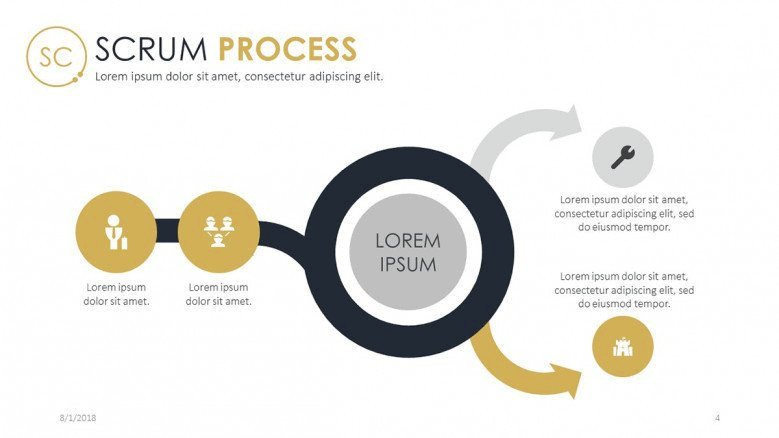 Scrum is a business framework for agile project management. Its objective is to enhance collaborative teamwork and address complex problems, improving production and development processes. But all this can be very hard to convey in a simple presentation. Thankfully, this minimalist free PowerPoint template has everything you need to showcase your scrum process, while still keeping it engaging and easy on the eyes.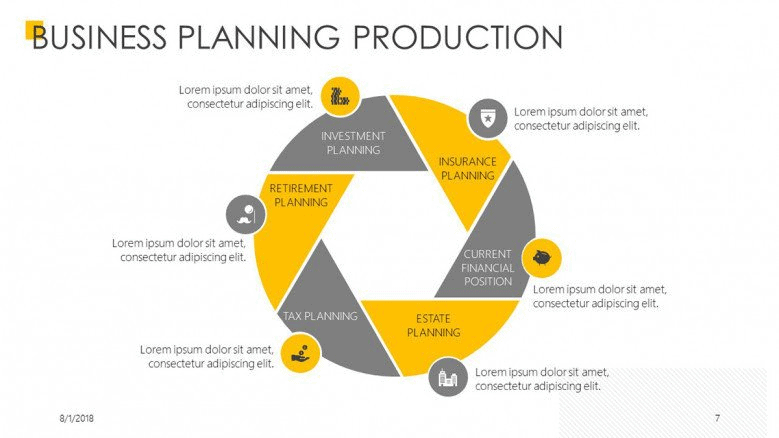 Planning in advance is what will give you advantages when working on your business. Whether it's for a new project, a new marketing strategy, or a small improvement, this PowerPoint presentation template will help you put it across as easily and directly as possible to your audience.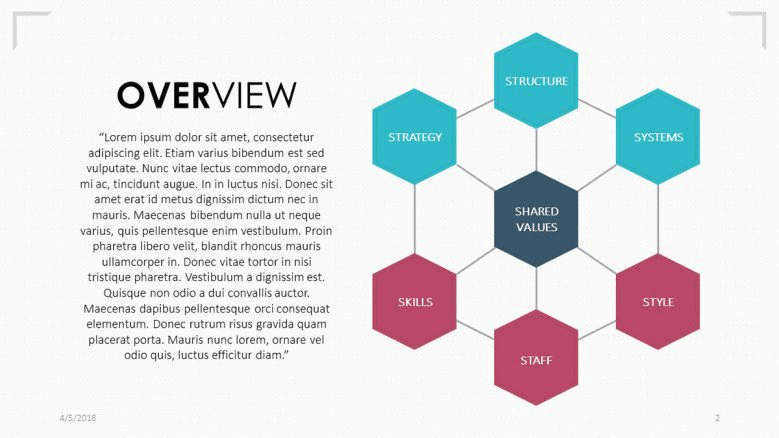 7-S model was invented by McKinsey in the 70s to explore how different elements of your company work together. It has proven itself an invaluable tool for organizations all around the globe. This minimalist PowerPoint template is designed to help you showcase all the elements in your 7-S framework. It not only includes a general overview slide but also slides for each of the 7 elements in your analysis.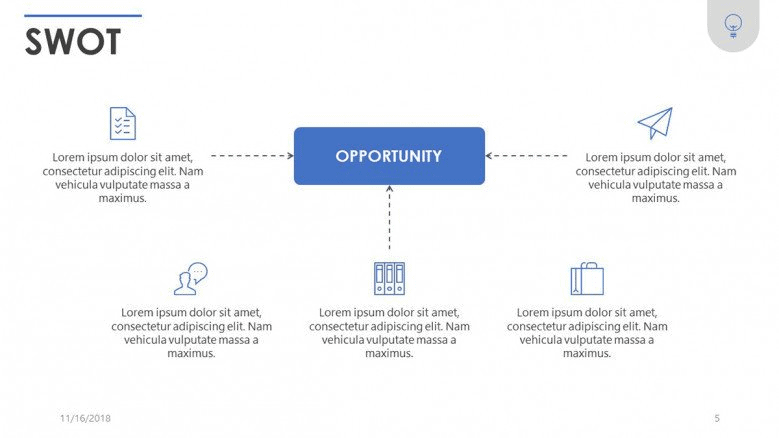 A SWOT analysis is one of the most classical and well know tools for businesses, and for a good reason! Knowing the Strengths, Weaknesses, Opportunities, and Threats of your company can help you get a better understanding of the market and where you stand on it. This minimalist PowerPoint template has an amazing overview slide for your SWOT analysis. But just as the 7-S framework, it also includes specific slides for each of your main points, so you can add as much detail as you wish.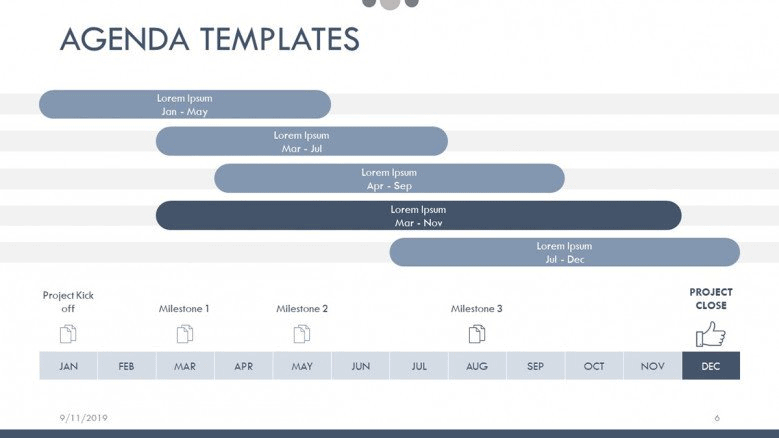 An agenda can help you get all your team on the same page, and become more organized and efficient. This minimalist PowerPoint template will help you convey your entire agenda in visually engaging ways without it being cramped or distracting. Its slides offer a wide array of designs so you can choose whichever fits better your needs.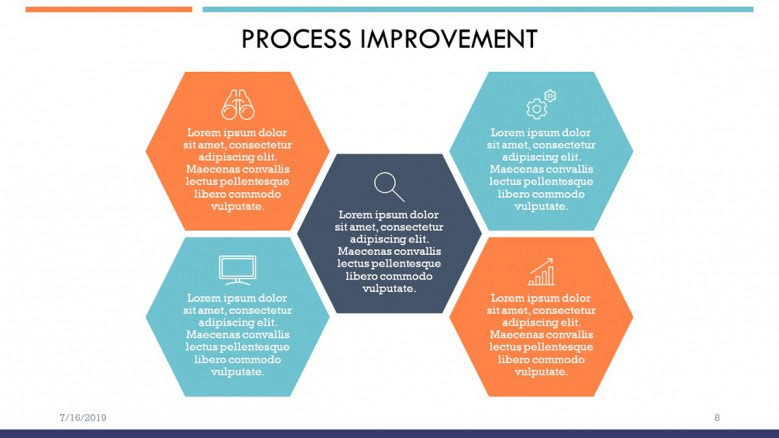 This is the perfect PowerPoint template to showcase your business' processes. Its bright colors are the perfect complement for a minimalist design, as they'll make more lively your slides while still keeping them simple and organized. Still, if you don't like it, you can always edit any template to fit your companies' brand identity.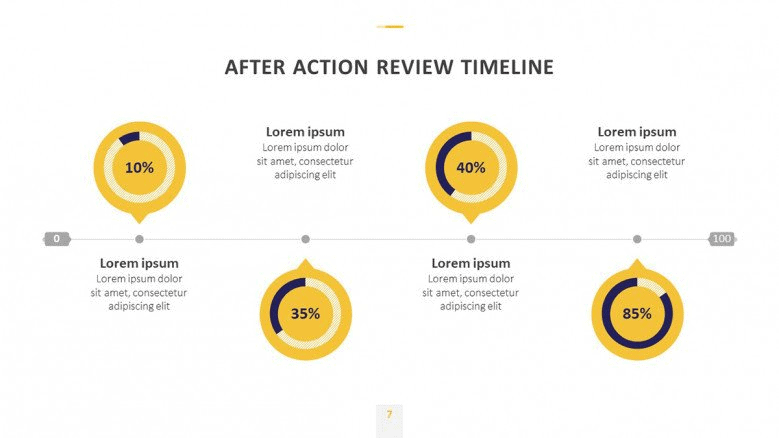 Examining your experiences after they've passed is an essential part of learning from them. Whether your tasks were successful or not, you can always learn and grow from the experience. This minimalist PowerPoint template will help you identify improvement possibilities. And it's yellow and blue design has the perfect combination for both catching your audience's attention and keeping it professional and clean.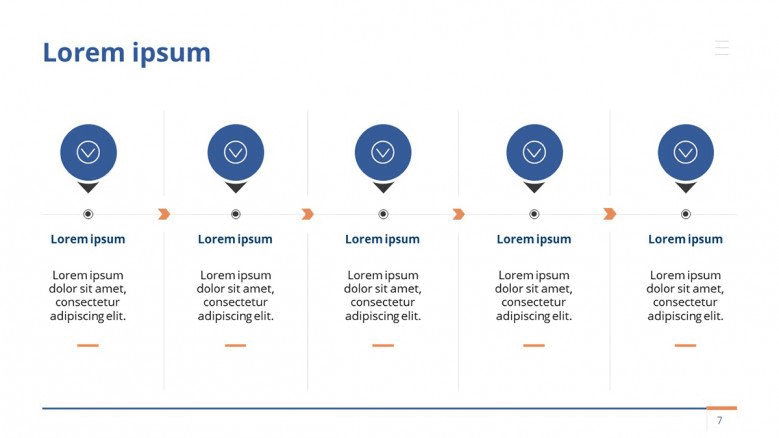 Executive summaries can be difficult to present in a minimalist fashion, as there's too much that needs to be said! However, your presentations can clearly benefit from this design. This minimalist PowerPoint presentation will help you keep your slides clean and sharp, and all your information easily accessible. Its slides are filled with icons that'll help you convey everything you need.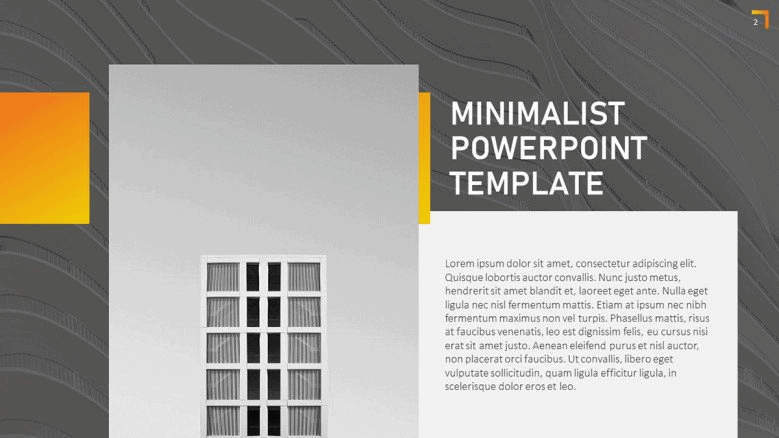 Simple doesn't have to mean boring! This minimalist PowerPoint template is perfect for a text-heavy presentation. It can be difficult to convey a minimalist style when you have many things to add. Thankfully, this template has everything you need to make your presentation a success. Its simple but eye-catching background will help your text look better in your slides.
Minimalist Charts and Graphs PowerPoint Templates
PowerPoint is an amazing tool for presenting data and cold hard numbers. Charts and graphs of all kinds can be used to make your data more engaging and to support your ideas. And, data can really benefit from a minimalistic design style. These white-background, minimalist PowerPoint templates will offer you a wide array of options for showcasing data in your presentation.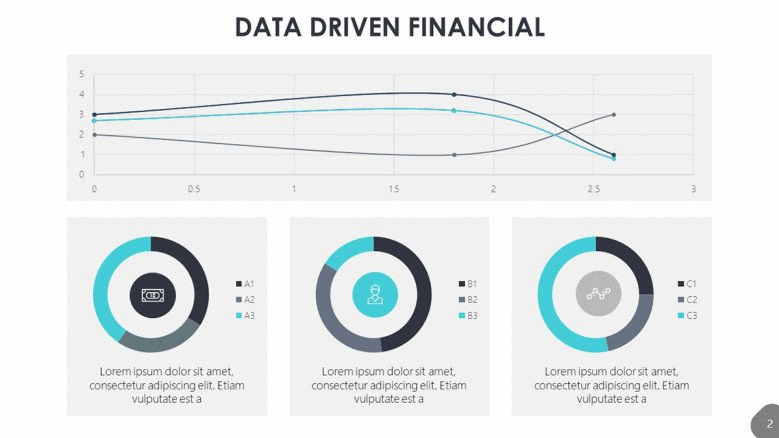 If you're looking for a data-based minimalist PowerPoint template, then this one is for you! It includes all kinds of graphs that will help you convey all your information. Circle graphs, maps, spider charts, bar graphs, line graphs, you name it! Showing so much information can be difficult to achieve without making the slide look cramped. But the minimalist design of this PowerPoint template surely achieves it!
Timelines are one of the most useful tools you'll find when talking about chronological information. The minimalist design of this timeline PowerPoint template is pictured-based. You'll be able to convey your company's image and values through telling images, while still keeping it sharp and clean. Here you'll find three different models of pictured-based timelines and an extra "company's services" section. It's the perfect minimalist PowerPoint template to show your company's story and overview. But its white background design is great for any kind of pictured-based timeline you're thinking of too!
Pie charts are a classic example of graphs that can make all the difference when presenting data. They are all about percentages, and in this free minimalist PowerPoint template, you'll find a wide array of options for that. You'll find circle donuts charts, along with slides with 2 and 3 circle graphs so you can showcase and compare different aspects of your business. You'll also find pie charts with different legend options, so you can add text to it too, without losing the minimalist and clean design.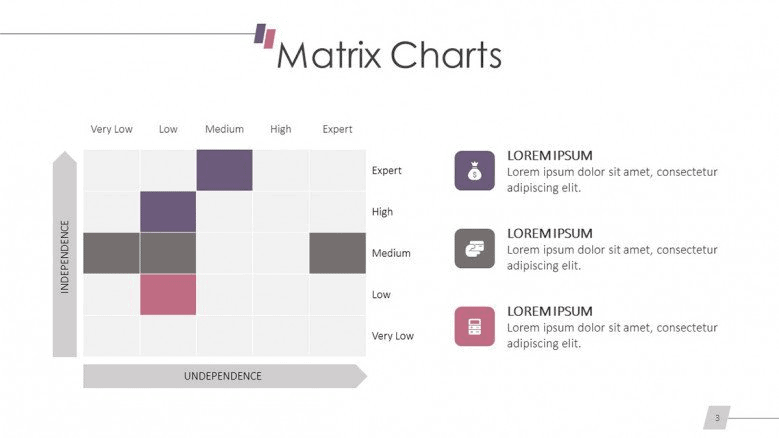 Matrix charts can be tricky to add to a minimalist PowerPoint presentation, as they usually offer a lot of information at the same time. However, here you'll find clean matrix chart designs that will fit perfectly into your theme. Download this free minimalist PowerPoint template to gain access to all 8 matrix chart designs. You can pick whichever fits better your needs, and add it seamlessly to your presentation!
Pyramid charts are a go-to visual aid for conveying organization and hierarchy. This PowerPoint template includes 8 minimalist designs of pyramid charts. All of them have a white-background, sober and straight-forward design that'll help your audience focus on the information you're presenting. It also includes slides with 2 and 3 pyramid charts in case you need to compare and contrast between different options during your presentation. Their design is clean and professional without being boring!
Looking for More Minimalist PowerPoint Templates?
If what you're looking for is not on this list, don't worry! You'll find hundreds of free PowerPoint templates you can download at the Templates by 24Slides platform. They're all ready to use and easily editable, so you can alter them as you see fit. You can even mix and match slides from different presentations. Your imagination is the limit!
However, if this is more work than what you're up for, 24Slides offers a custom PowerPoint presentation design service. Our designers will be happy to turn your slides into a masterpiece that reflects perfectly your company!