15 Free October PowerPoint Templates for Business
October is commonly associated with Halloween and the autumn season. But in the business world, October also means we enter the fourth and last quarter of the year. That's why our team of presentation designers has made 15 October PowerPoint templates that will help you dive into a successful Q4. This month, you'll be able to create impactful business presentations and employ the best graphs and charts for your reports. I've also included some product flyer templates for an October sale. And, at the end, you'll find incredible PowerPoint resources to transform boring slide decks into creative presentations.
If you want to download any of the following templates, just click on the image or search them up on Templates by 24Slides – where you can get tons of PowerPoint templates for free. Now, let's start with our October collection!
Best Business Presentation Templates for October
Just like a business card, a concise presentation can help you introduce your company to potential clients and investors. In the same way, you can use presentations internally, either to sell an idea to your boss or for training purposes. Check out these professional PowerPoint templates that will help you (and your business ideas!) stand out in front of any audience.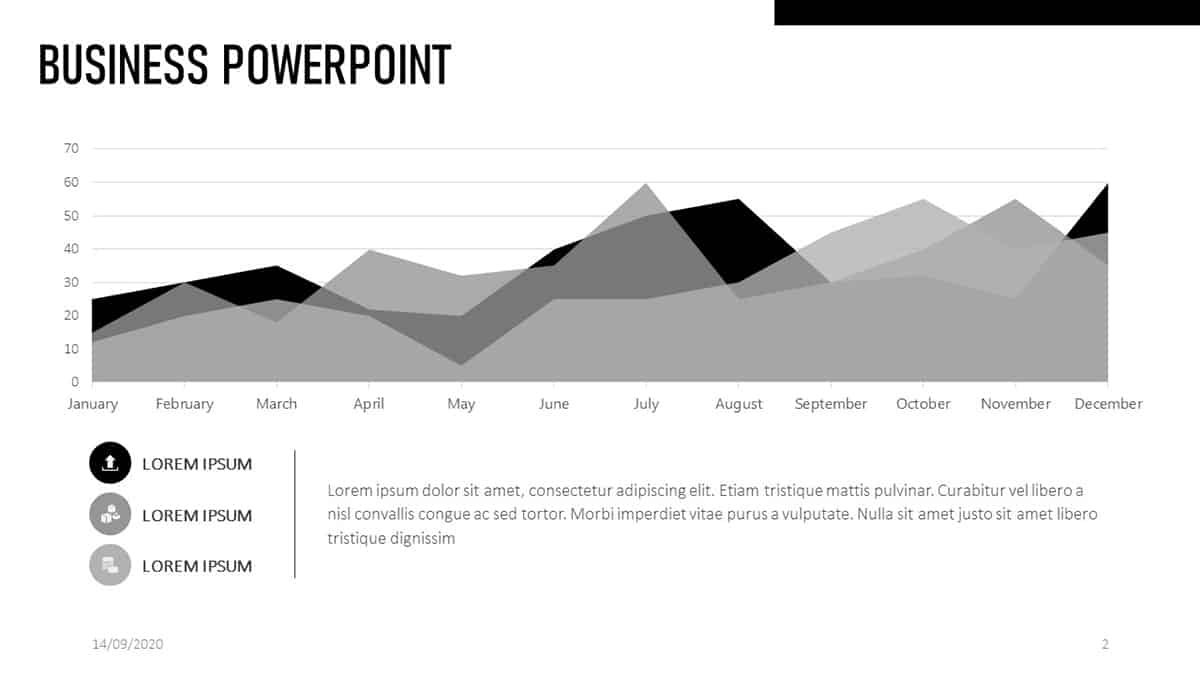 When it comes to business presentations, choosing the right colors can feel like a task in itself. But that won't be a problem with this black and white template. Forget about striking colors and stick to the minimalism and elegance of a grayscale. In this October PowerPoint template, you'll find an area chart, a pros and cons slide, a project roadmap, a five-level stairs diagram and more to showcase all about your business.
Sometimes your presentations showcase other businesses. For example, when you want to highlight good practices from leading companies or keep a close eye on them as competitors. If you're in the media and entertainment industry, then Netflix is an interesting topic to talk about. This October template allows you to analyze Netflix from different perspectives. You can explain their business model, the company history, or even create a whole presentation on the video streaming market.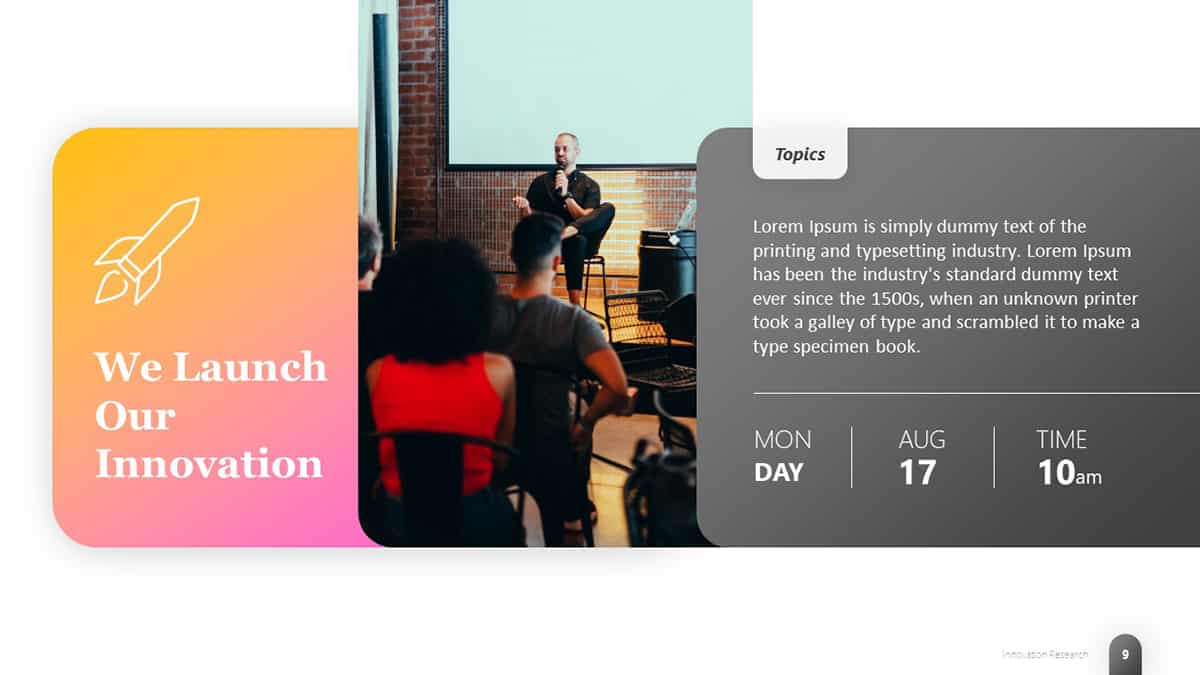 It's known that innovation in business leads to better products and processes, which can have a positive impact on profitability. In case your company is still new to this, this October PowerPoint template is perfect to create a presentation on innovation methodologies. And if you're already working on an innovative project, use this template to get the word out there and share the results.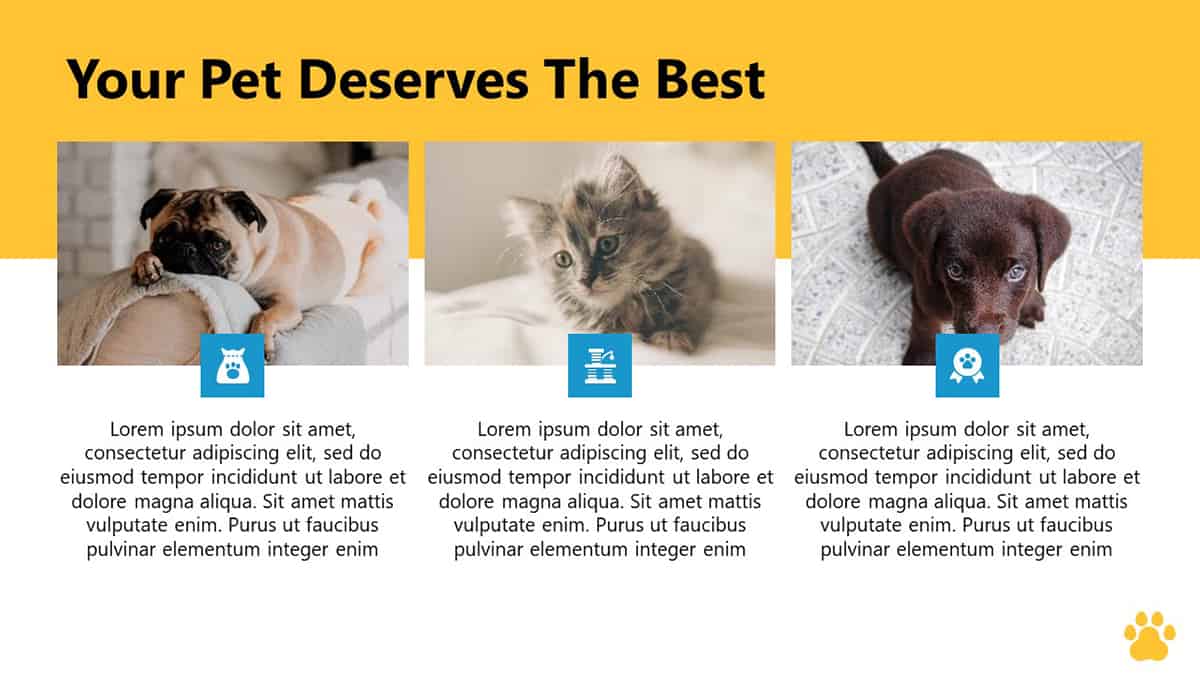 For professionals in the pet care industry, here's a template to create a marketing or business presentation that assures all eyes are on you. The best part is that you can insert images of multiple pet products like dog food, or cat toys. And also promote services such as delivery or pet grooming.
More Business PowerPoint Slides to Spice Up Your Presentation
You've already seen our first batch of business PowerPoint templates. And while they're all set to create well-rounded presentations, I want to show you other elements you can add to your deck. Here are corporate charts, diagrams, and checklists that will help you display your business' quarterly results in the best light possible.
Dashboards are incredible for data visualization! They help you get an overview of all your business indicators and read the status of your projects at one glance. The Business Dashboard templates feature multiple graphs and charts for all types of quantitative data. With these elements, you'll be able to create comprehensive admin dashboards, project dashboards, and even keep track of your international operations in a worldwide dashboard.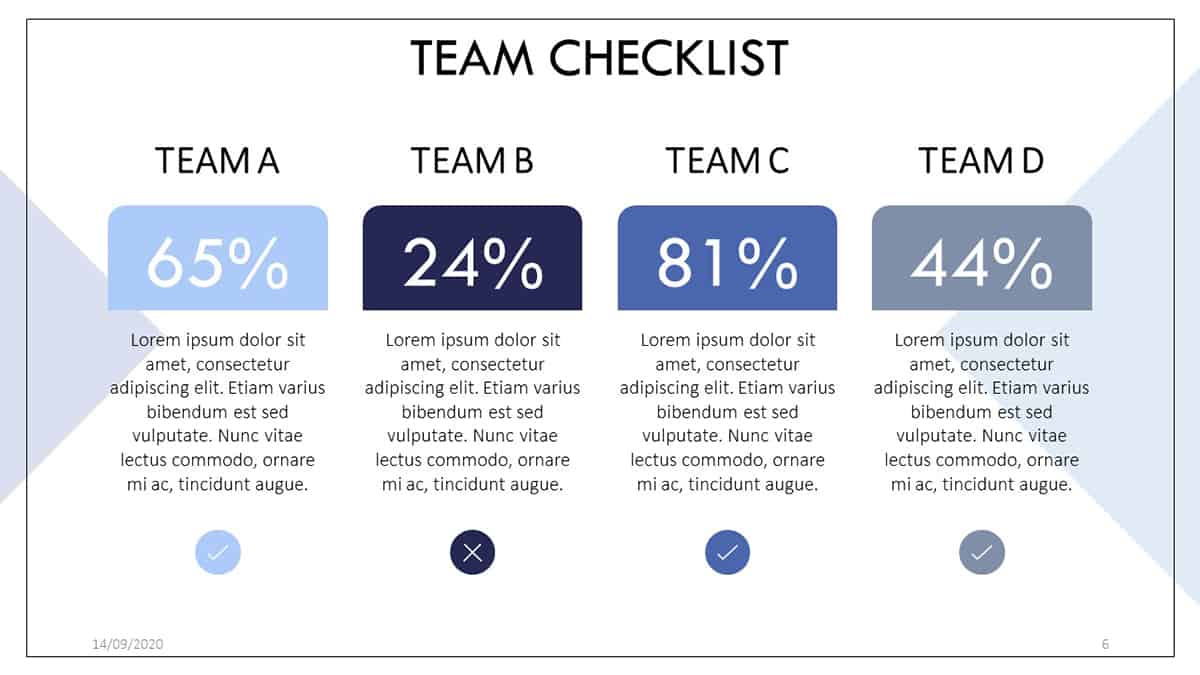 Checklists or to-do lists are effective tools that help you get the work done. But they're not only for personal use, checklists also work incredibly well to monitor and display your team's progress. Think about it, checklist slides that tell you which tasks your team has finished and how close they are to complete their goals. Plus, these slides are easy to customize and their corporate style makes them a great addition to any business presentation.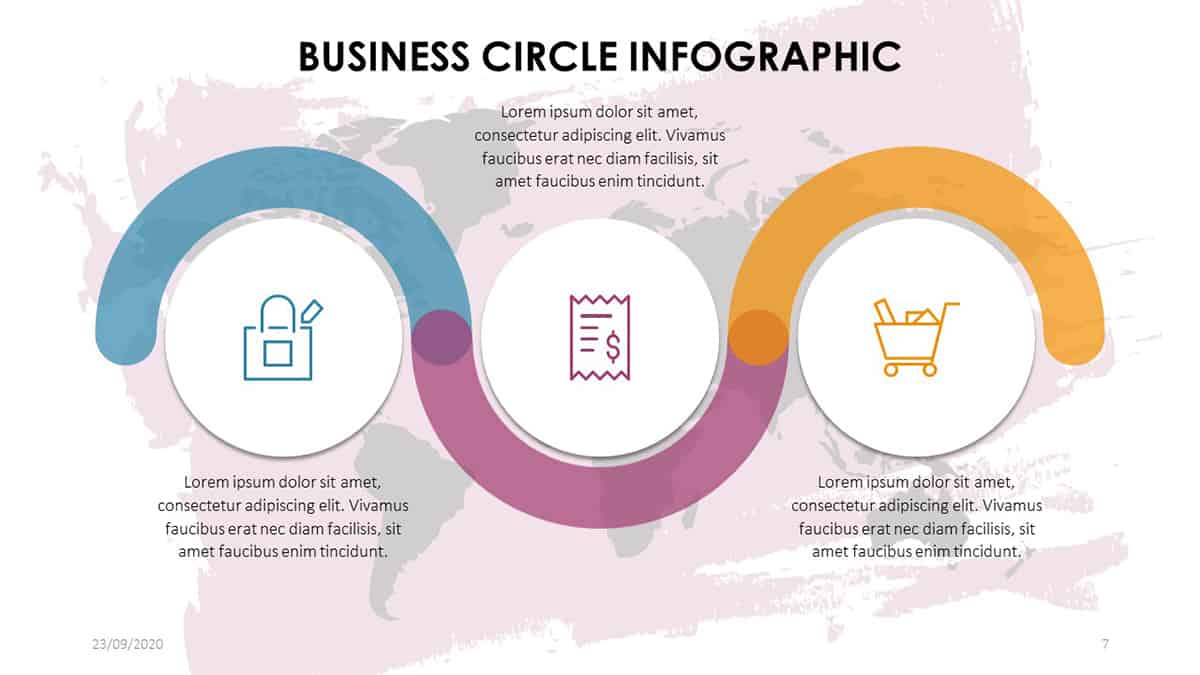 Another great way to upgrade your presentations is with circle diagrams. This October PowerPoint template offers elegant slides to showcase a process or sequence of events. For example, you can display your business plan step by step or group key ideas under a narrative. You'll find a cycle diagram, a 5-step circular diagram, a numbered list, and other unique circle infographics.
Corporate Templates for Report Presentations
Don't you hate when you send a report and after a week or two you realize that no one has read a single word? Don't think it's something personal against you, nowadays it's hard to engage with a written report. So, to make sure your ideas are received on the other end, create a report presentation instead!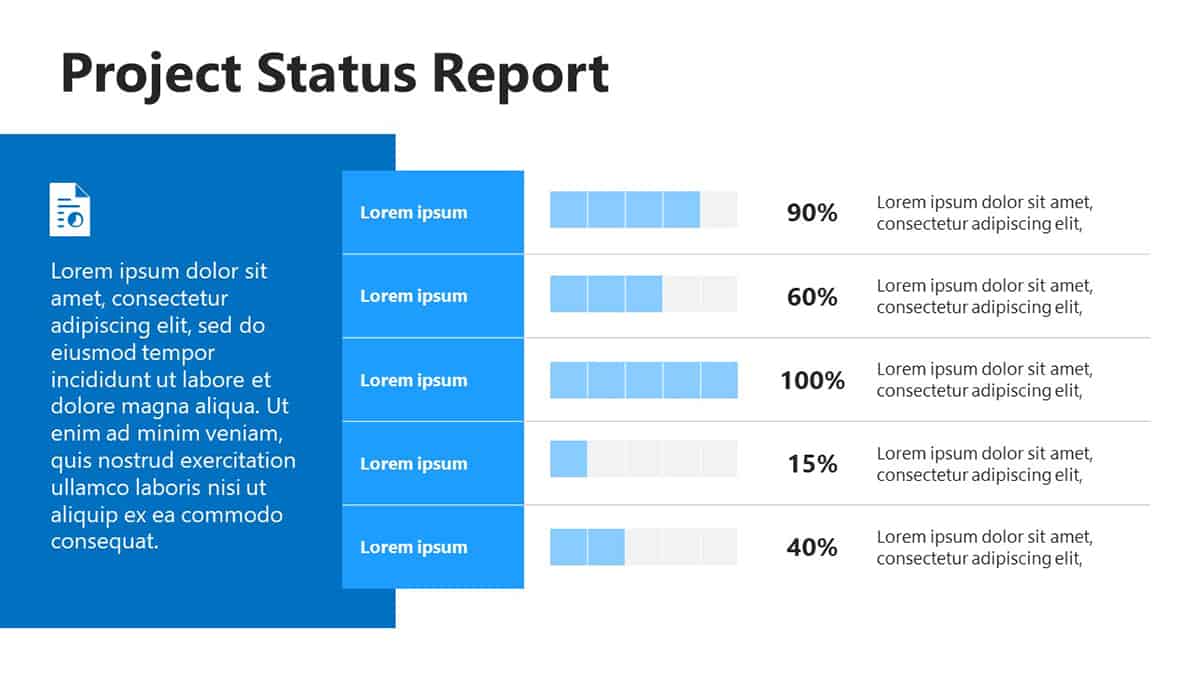 Your status report presentation can't look as if it were a Word document. For that reason, this blue template comes with charts and graphs to help you convey all the details in a visual way. I suggest that you open your presentation with a project status overview and then break down each section in the next slides. You'll find progress bars, tick and cross symbols, business icons, and more elements to create a great report presentation.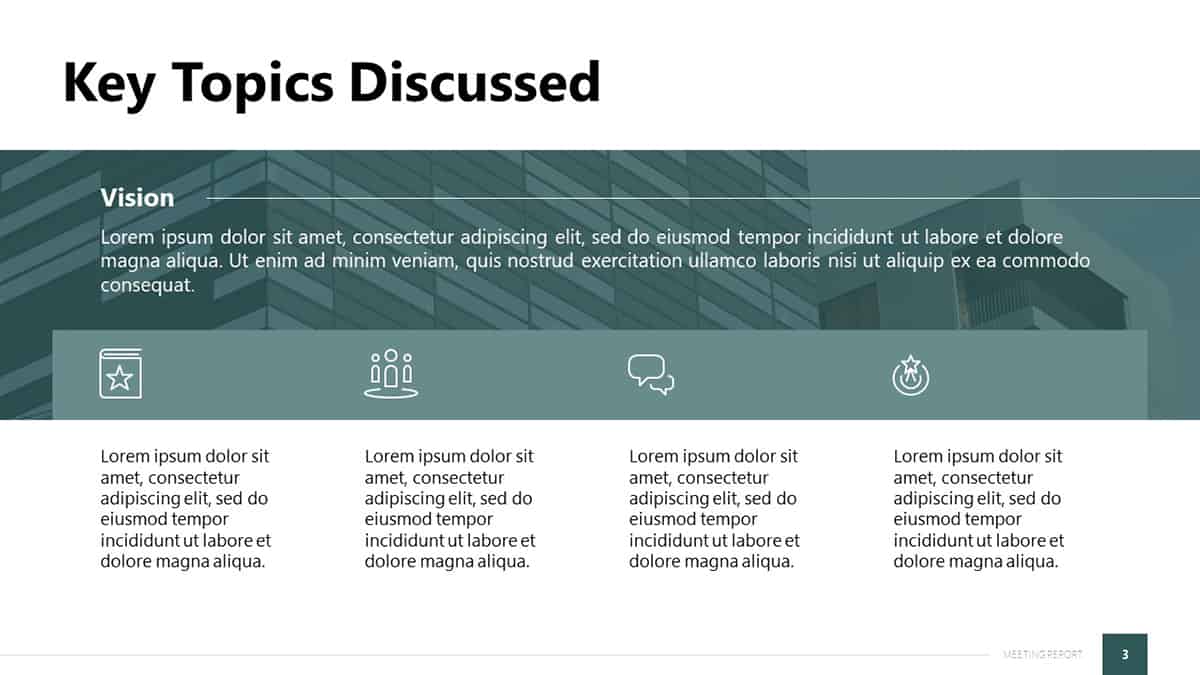 Meetings are business gatherings where different stakeholders come together to discuss a topic. Meetings can have different objectives but most of the time they're held to make a decision. For that reason, it's important to create a meeting report, so everyone involved can have a record of what was agreed on during the meeting. This corporate meeting report template helps you to cover it all from key ideas discussed to next steps. Don't forget to share it with all the meeting participants!
October Sale Flyer Templates
If you're planning to do an October sale, these templates will come in handy! I've picked the very best flyer templates so you can offer your products and services with eye-grabbing visuals. One more thing: Make sure to go through each template pack because they come with multiple flyers for different industries.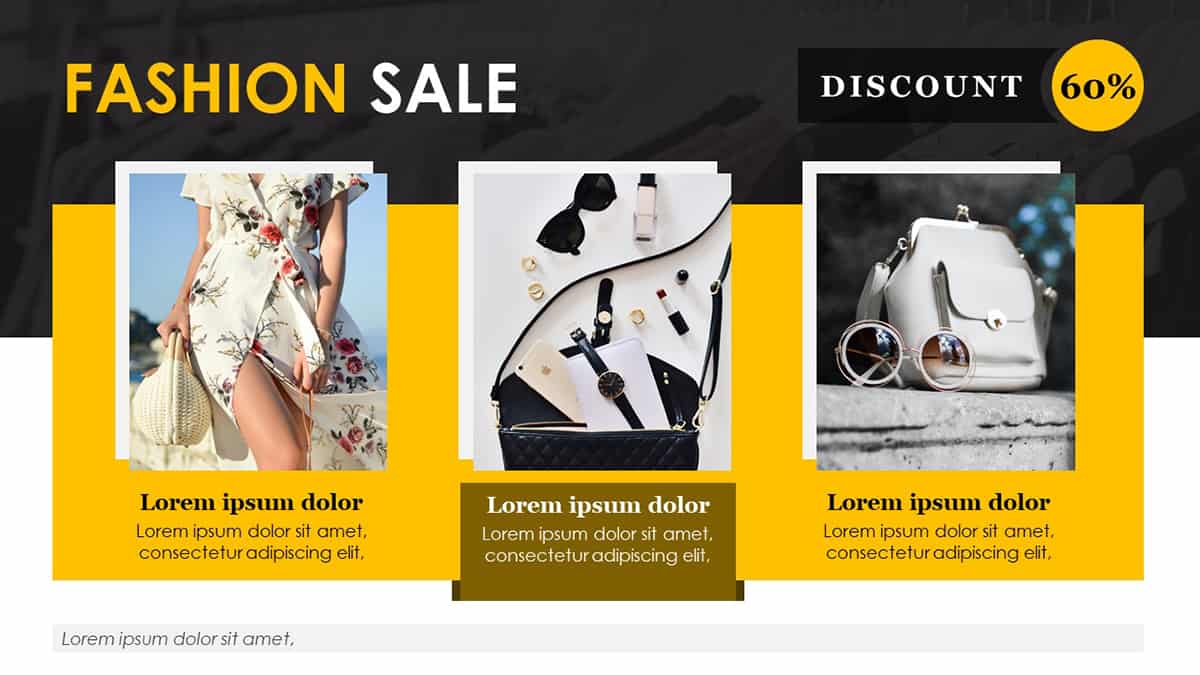 October, November, and December bring amazing opportunities to boost your sales. Let's remember that Black Friday, Cyber Monday, and the holiday season take place during the last months of the year. That's why our designers created these product flyer templates to help you promote your next sale. This template pack comes with flyers for fashion boutiques, clothing stores, bakeries, tech stores, and car dealerships. But if none of them suits your product offers, here's another bunch of promotional flyers for different businesses.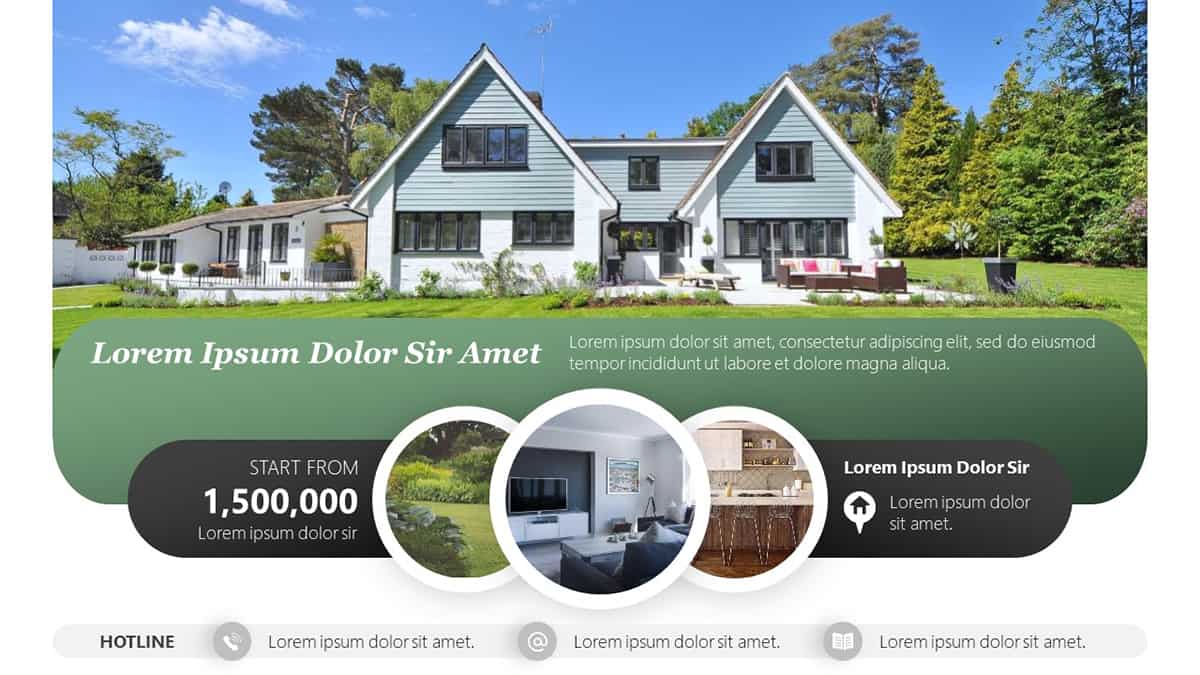 As a real estate agent, you're always looking for creative ways to showcase your property offers. Nowadays, it's not enough to post photos of a house online, you have to go the extra mile if you really want people to see them. And these templates will help you create amazing real estate flyers for your luxury homes, beach houses or apartments. Use them to catch the eye of potential buyers and secure a first visit.
Other PowerPoint Resources for Creative Presentations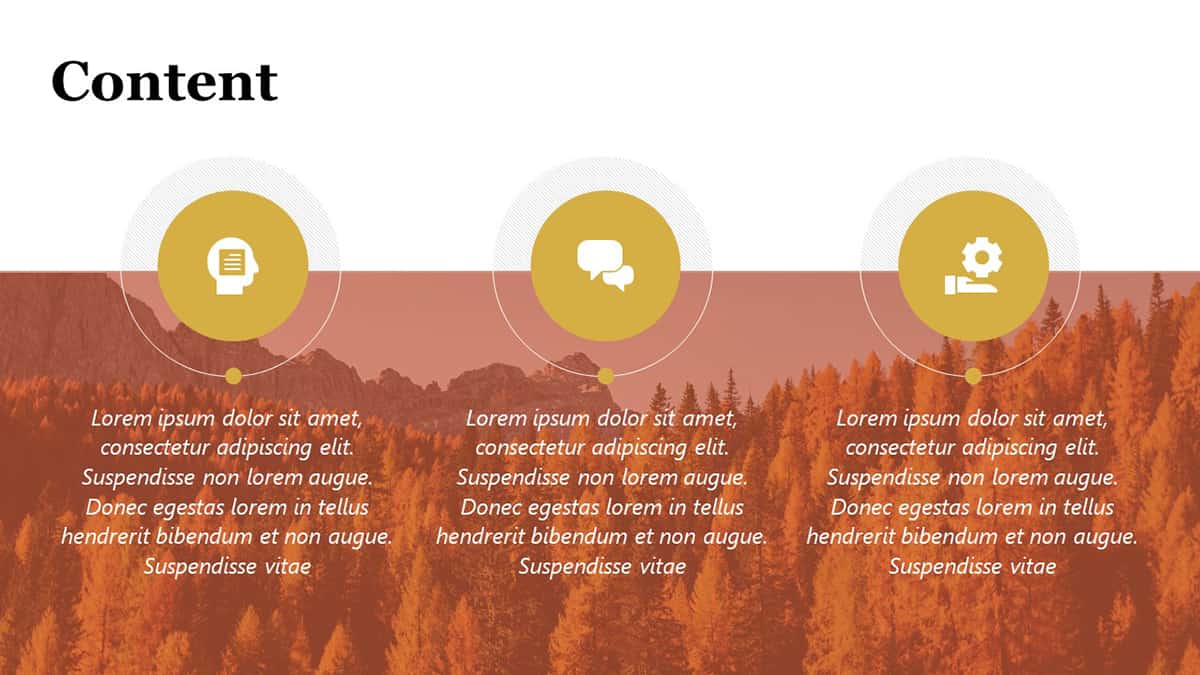 How about making a presentation that goes with the season? In a blue corporate world, these Fall PowerPoint slides will make you stand out from the crowd. Use them to incorporate warm colors into a previous slide deck. Or design a whole creative presentation with text, images, and data.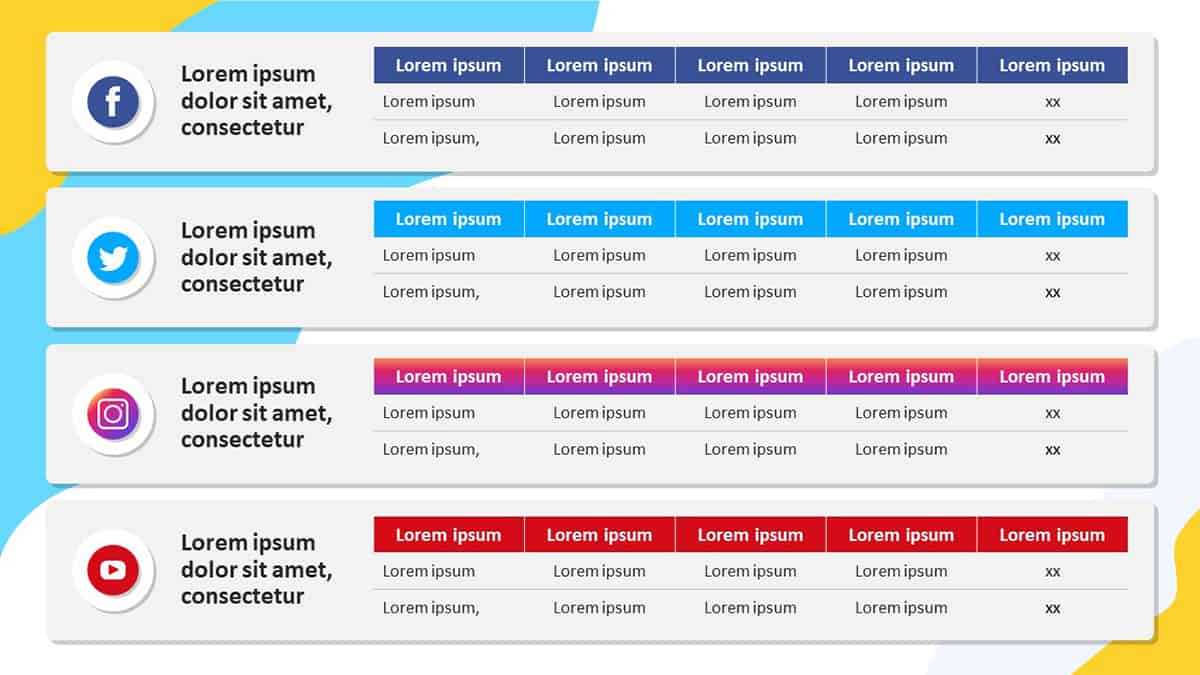 A social media calendar is a planning tool for marketers to know exactly what and when they should post content online. By using these templates, you'll be able to visualize your whole content strategy for a brand and, most importantly, present it to your manager for approval. You'll find monthly social media calendars, a weekly social media planner, and social media reports to manage all your digital campaigns from start to finish.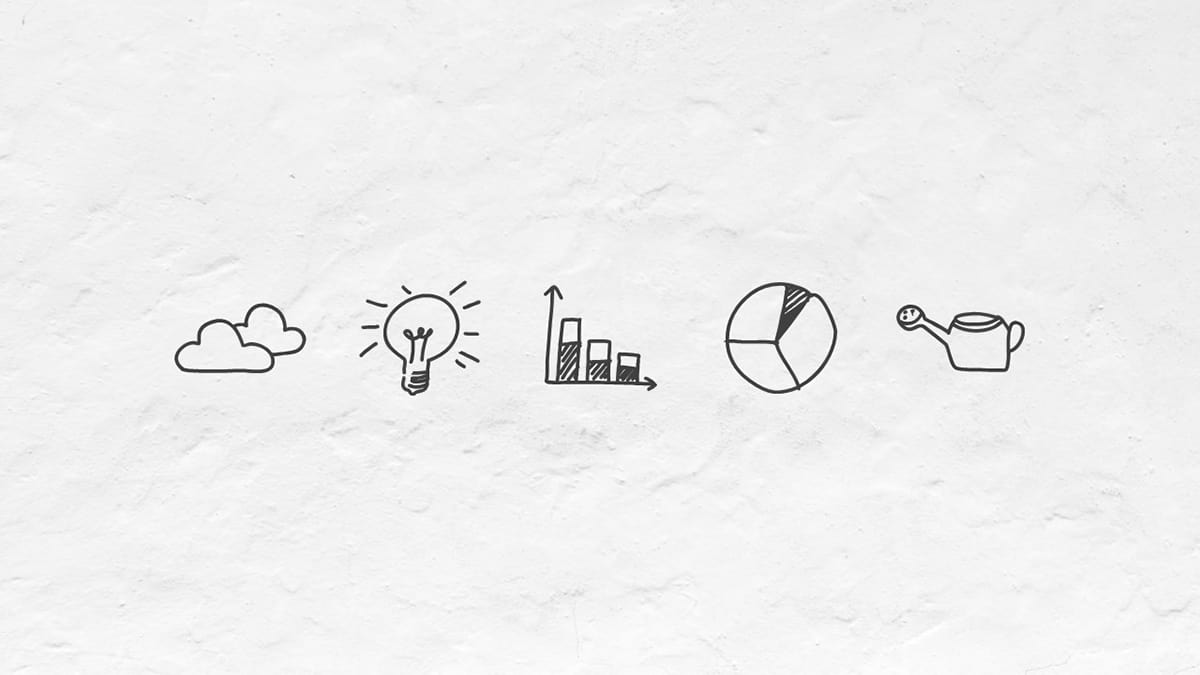 Have you seen these little doodles before? They're commonly associated with visual thinking, a technique that focuses on communicating concepts and ideas through images. And it's gaining momentum in the business world. Now, you can incorporate them into your presentations as icons and make your slides look engaging, and – why not? – on-trend.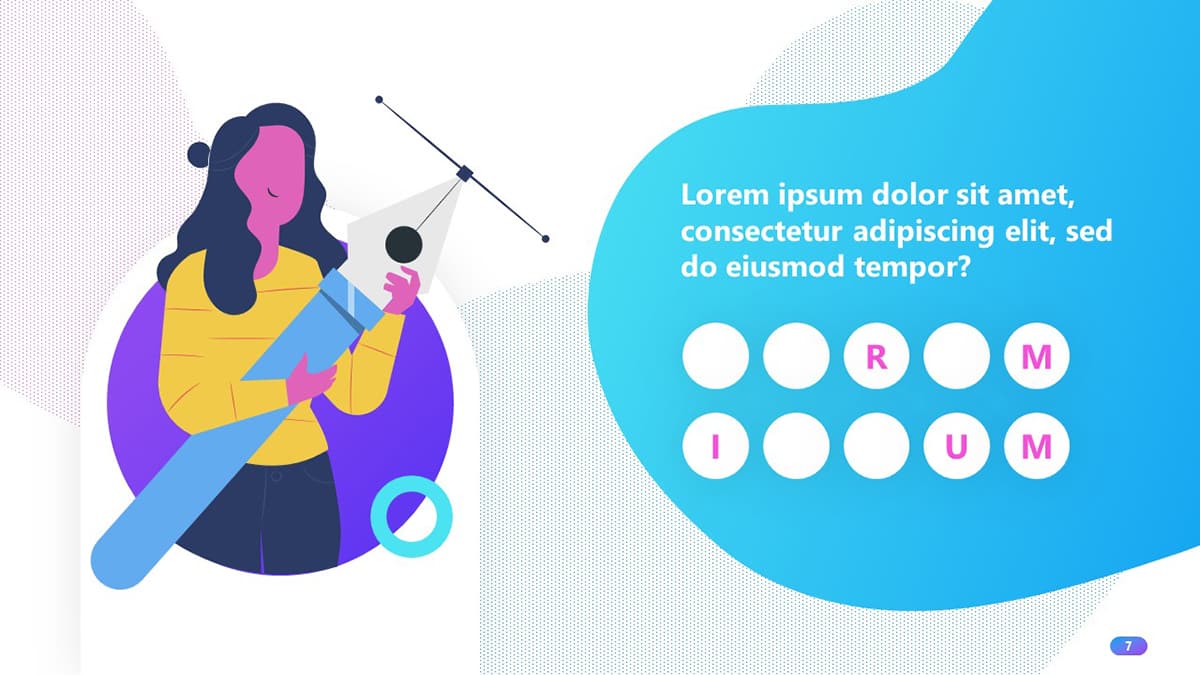 If you really want to connect with your audience, think about making questions during your talk. Or even better: insert them in your presentation! The Quiz PowerPoint template comes with creative slides to showcase all types of questions in the most ingenious ways possible. Add them in strategic parts of your PowerPoint presentation and get ready for an interactive session.
Get Your Own Customized Business Presentation
These last three months tend to be stressful for any organization. Every department needs to close on projects while still planning out for the next year. And, in these frenzy times, you can get stuck on tasks that are not necessarily part of your role. Like, designing presentations! And while I hope our October PowerPoint templates have helped you out, here's a better option: the 24Slides' custom presentation design service.
Get your hours back and check off all those really important things on your list, while we take care of your presentation's design. No more sleepless nights or extra hours because of a PowerPoint. You send us your slides and we deliver your new presentation in just 24 hours. Plus, if you need your team 100%  focused on their main tasks this last quarter (without anything design-related getting in their way), you might want to learn about our dedicated design teams.
Still unsure? If you made it this far, you're really interested in what we can do for you. So here's a great option to try us out: Send us your worst slide and we'll transform it for just $1. A cool and affordable way to experience our service and the benefits custom presentation design can bring to your business.