15+ Free Pink PowerPoint Templates
Pink is probably not the first color you think of when working on a presentation. But precisely because it's so rare, a pink presentation can help you catch your audience's eye and make yourself memorable long after it's over. If you want to make a presentation that really stands out, check out these free pink PowerPoint templates!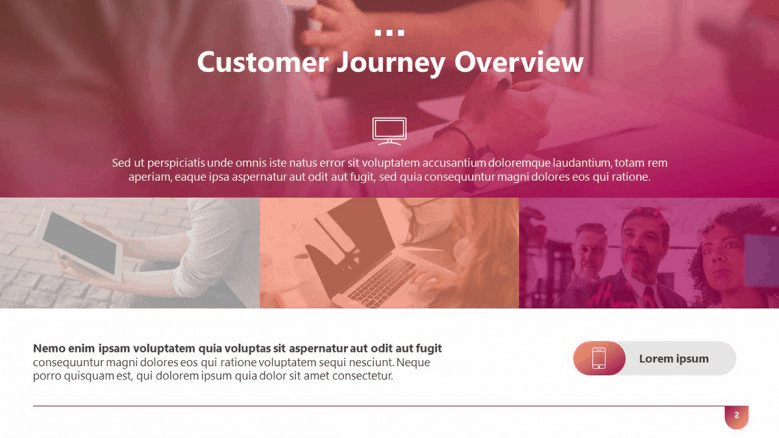 The color pink is usually associated with romance and softness. It has also been typically associated with all things "girly". But there's a lot of power in the color pink that very few people actually use. Pink has been proven to be a very calming color, especially more muted tones like salmon or rose. Using pink for your PowerPoint can help you convey kindness, tranquility, and trustworthiness, as well as giving a refreshing look to your presentation.
Pink can also convey creativity and vitality. Colors like hot pink and magenta transmit joyfulness and energy, things that can be very useful when making a presentation. Strong, vibrant pink tones are great for catching your audience's eye from the get-go, and they work wonders when paired with more muted colors, like navy. Using pink is an excellent option for creating a striking presentation!
So, are you up for using pink tones in your presentation? Take a look at this amazing list of pink PowerPoint templates to get inspired. You can also download then, completely free of charge. They are easy to edit, and you can start using them straight away!
Pink Business Resources PowerPoint Templates
Pink for a business presentation? Why not? Inject some energy into your presentation by using these bright designs. The pink PowerPoint templates that you'll find in this section are all business-oriented. From a professional pitch deck to marketing strategy and social media, these pink PowerPoint templates will definitely help you make an impression in your audience.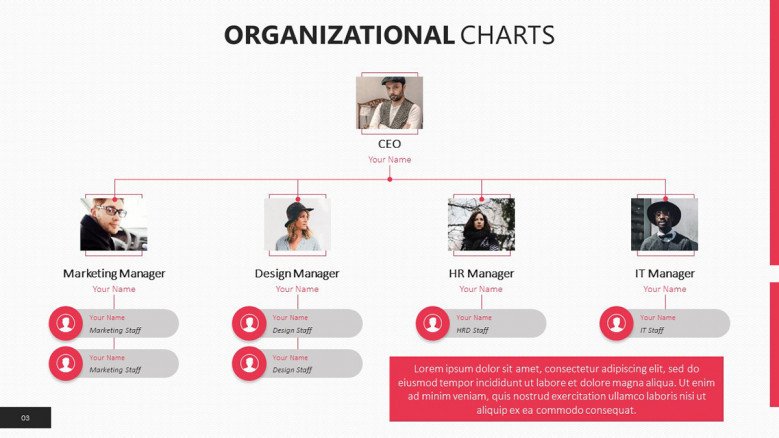 Showcase your business' organization with this free pink PowerPoint template. Its slides have everything you might need to show your audience all about how your business works and who are the main players within it. You can use it to show who's got the responsibility for which project or team, and how are the different teams and departments divided. Its reddish-pink design is perfect for catching your audience's attention while still keeping sober and professional.
Pitch Decks are an outstanding tool for businesses of all kinds. Whether you're trying to pitch your company to a potential investor or trying to gain a new client, a good pitch deck can make all the difference. And this free pink PowerPoint template will offer you all the tools you need to make a really outstanding one! This extra big slide pack includes 24 amazing designs for you to pour all your information into.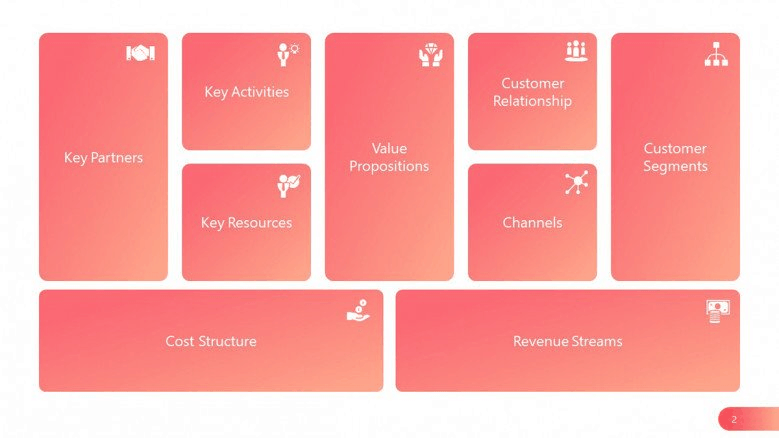 Ever since Alexander Osterwalder came up with it, the Business Model Canvas has been a popular tool used by companies all around the world. It allows you to get a complete overview of your business in just one page by dividing it into strategic building blocks. This pink PowerPoint template is perfect for introducing your team to this business management tool. It does not only offers a slide with the complete Business Model Canvas overview but also specific slides so you can take your audience point by point.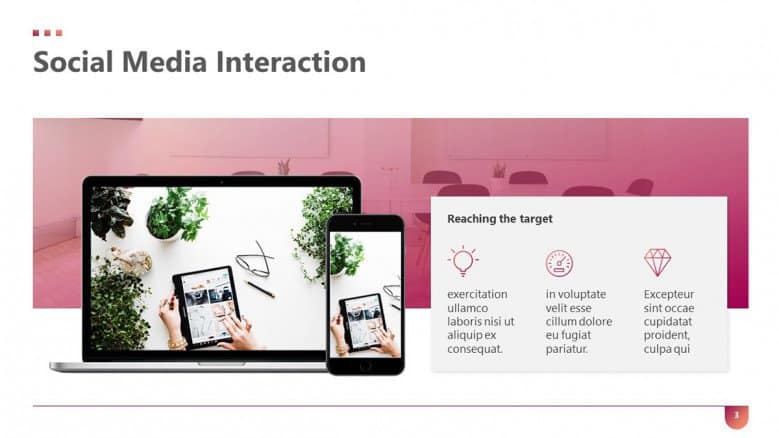 Focusing on your customers is a must when trying to start or grow a business. And in this pink PowerPoint template, you'll find all the slides you might need for this! From figuring out who your customers are to planning a strategy to get to them more efficiently, these slides will make sure you showcase your customers' complete journey. It also includes several types of charts and graphs so you can back up your strategy with some cold hard data. And its faded magenta color scheme and creative slide layouts will make sure that your presentation stays in your audience's mind long after the presentation is done.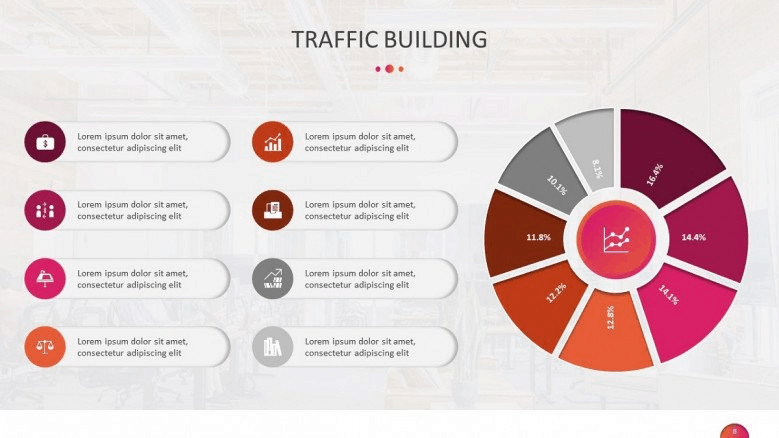 Marketing is an essential part of every business. This pink PowerPoint template will help you showcase your marketing strategy to your team and take your business to new heights. Trafic building, social media, optimization process, conversion analysis, website design… It really has everything you might need for a complete marketing strategy presentation! It's animated features and pink-and-orange color palette will help you convey all the creativity a good marketing strategy needs.
Instagram is definitely one of the most popular Social Media platforms right now, and as such, it offers unlimited possibilities for businesses trying to reach out to potential clients. Gain a dedicated audience, build up your brand image, and gain more leads by working on your Instagram marketing strategy! This free pink PowerPoint template is the perfect tool for getting your team on board with your plan. Instagram is above all a visual social media platform, and this PowerPoint presentation definitely reflects that! Its creative design follows the pink and purple color scheme of Instagram and it includes unique and eye-catching illustrations and icons.
Pink Data and Diagrams PowerPoint Templates
Adding data to your presentation is a must. However, it can become a tricky task to work in when trying to keep your audience engaged and focused. These 5 pink PowerPoint templates will help you grab your audience's attention from the get-go, and convey all the information you need. As always, you can use the complete presentation, handpick whichever slides you want to add to own, or even mix-and-match between different template packs!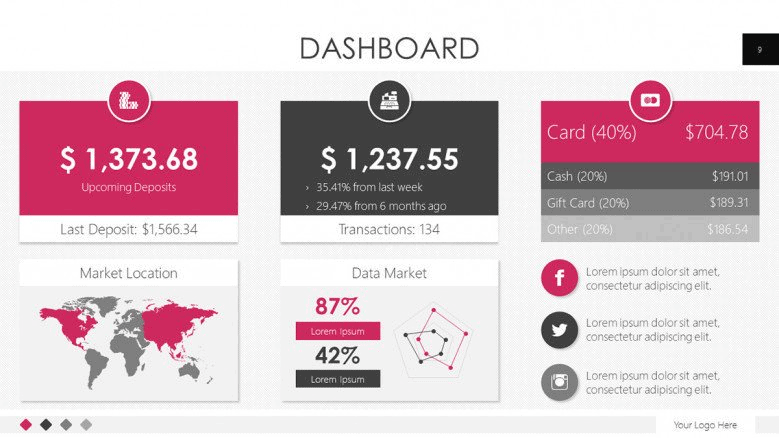 Presenting data in the simplest way possible while still being engaging is not easy. Luckily, this pink PowerPoint template offers you a whole array of slides that you may use for your presentation. These are all-purpose graphs and charts that will help you add data in a visually engaging way. You can edit the slides as much as you like but its hot pink design will definitely bring an extra something to your presentation!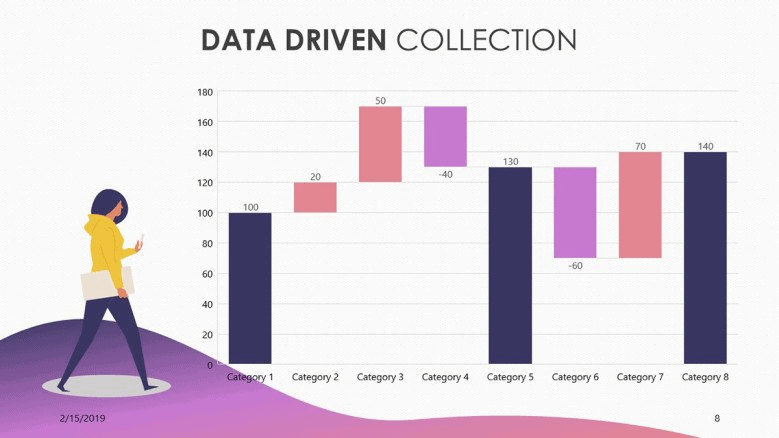 If the previous pink PowerPoint template was too sober and muted for your taste, then you will definitely want to check this one out! It takes a much more playful approach to data-driven slides. Its graphs and charts are accompanied by custom-made illustrations that will help you highlight your information while still keeping it professional. Its pink and purple color palette will also help you showcase your more creative side!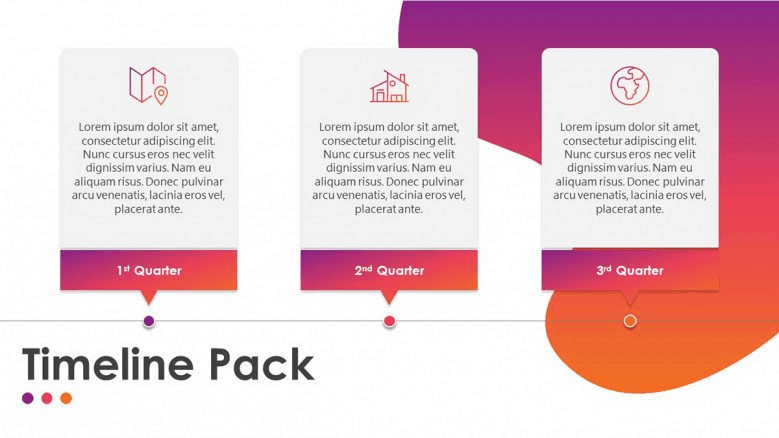 Timelines are the go-to designs for conveying chronological information. In this magenta-and-orange PowerPoint template, you'll find 8 different timeline designs you can add to your own presentation. Traditional timelines, Gantt charts, circular processes, this slide pack has everything you might need to convey the passing of time. Its bright color palette and unique designs will make sure that you get your audience's attention straight away.
Looking for a way to make your presentation more exciting? Check out these amazing triangle graphs. Adding these slides will definitely give your presentation a more polished and professional look. And it's hot pink color scheme will make it stand out from the rest. There's no wrong way to use these slides, so they're definitely worth taking a look at. Your imagination is the only limit!
Spider graphs (also called radar charts) are incredible tools for evaluating performance and comparing specific parameters. This pink PowerPoint template offers several different designs of spider graphs that you can add to your own presentations. Its slides have an amazing coral and grey design that will help your presentation stand out while still keeping it professional.
Pink Themed PowerPoint Templates
While not being focused on business or data, the pink PowerPoint templates in these sections still are worth a look! Share your events with a calendar, highlight your female collaborators, or dare to use a pastel design with these themed templates. Even if they're not exactly what you're looking for, they're still incredibly versatile and might surprise you!
While this pink PowerPoint template has been designed for 2019, it's still easily editable and will fit any year you have in mind. Share your upcoming events with your audience with these beautiful slides. Its custom illustrations and rose design are perfect for conveying peace and tranquility. It includes 4 different layouts so you can pick which style fits your needs the most.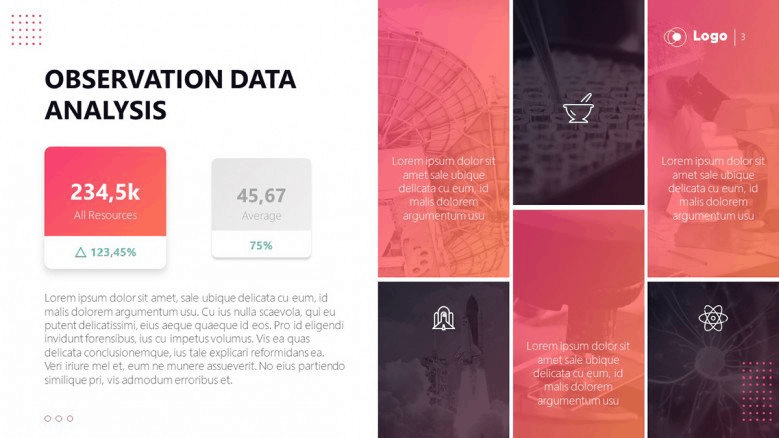 If you're looking for a way to showcase information of any kind, then this free pink PowerPoint template might be a good option for you. Its slides will fit any kind of research you are working on. If offers a wide array of slides layout design, so you can make sure your presentation is not boring. But they're also easily editable and with a standard design, so you can make them fit any topic with minimal effort. Customize the icons and images with a few clicks and you get a complete customized and professional-looking presentation!
Gender equality has become a big issue in the last years. Showcase how seriously you take this topic and highlight your female collaborators with this amazing pink PowerPoint template. It offers 3 different slides designs for you to use and add to your own presentations.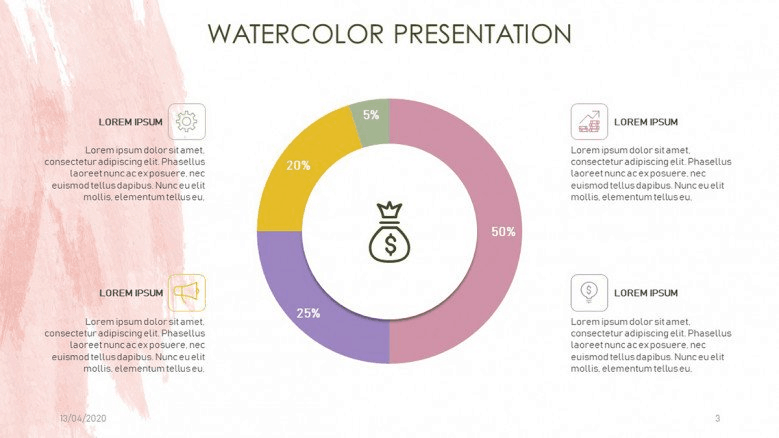 As it has been said, pink can help convey tranquility and trustworthiness. And this Watercolor PowerPoint template is the perfect example of this! Give your presentation a complete makeover with this template's pastel tones. It also includes several types of graphs and charts, so you can use it for pretty much anything!
Pink PowerPoint Icons Templates
Icons are one of the easiest ways to get your presentation to your next level! They are great for adding visual components and getting across information in very little space. Here you'll find some of the best pink PowerPoint icons templates 24Slides has to offer.
Working on a finance or budget presentation? Why not add some color and energy to it with these amazing pink PowerPoint icons? This template pack includes 10 icons, each in 3 different design styles, so you can pick whichever you like the most. Using these icons couldn't be easier: just download the pack, and you just need to copy and paste them into your own presentation.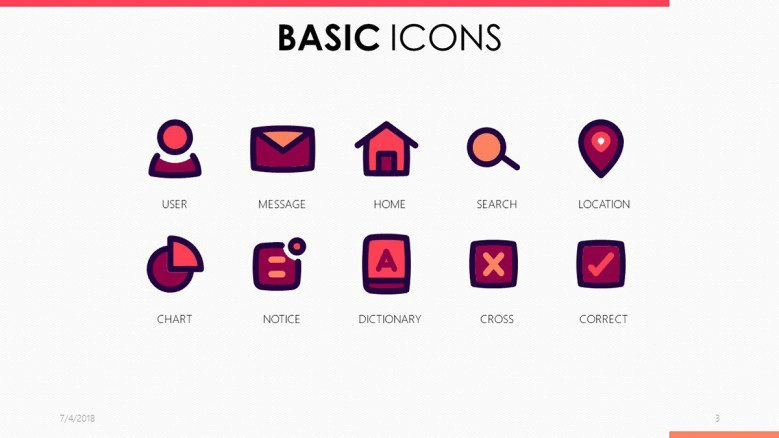 Any presentation can benefit from customized icons. This pink PowerPoint template offers a pack of 10 basic icons that can potentially fit pretty much any topic but will still make a difference in how your presentations look. Just like the previous one, you'll find these icons in 3 different styles.
Get Your Own Custom-made PowerPoint Presentations
If any of these pink PowerPoint templates caught your eye, you can download them and start using them straight away! However, if you haven't found out exactly what you needed for, don't worry! Our Templates platform offers hundreds of PowerPoint templates you can download completely for free. No tricks or delayed payments! You just need to register with your email, and you can download as many as you like.
Presentations are part of the image you present to your audience, and it can make or break a first impression. A good, professional-looking PowerPoint presentation can work wonders for showing your commitment to a project and your attention to detail.
24Slides offers a custom PowerPoint presentation design service that will definitely take your presentation to new heights. Our designers will work in whatever slides you upload and will give them a complete professional makeover to impress your audience. You can forget about making PowerPoint point presentations with the assurance of an outstanding final product!