The 8 Best Free PowerPoint Templates in April 2019
It's time to add more templates to your personal template collection. Last month, our brilliant in-house designers completed 8 top-notch templates. Have a read through this article and download the best free PowerPoint templates in April 2019.
Creative 2019 Timeline PowerPoint Template (10 slides)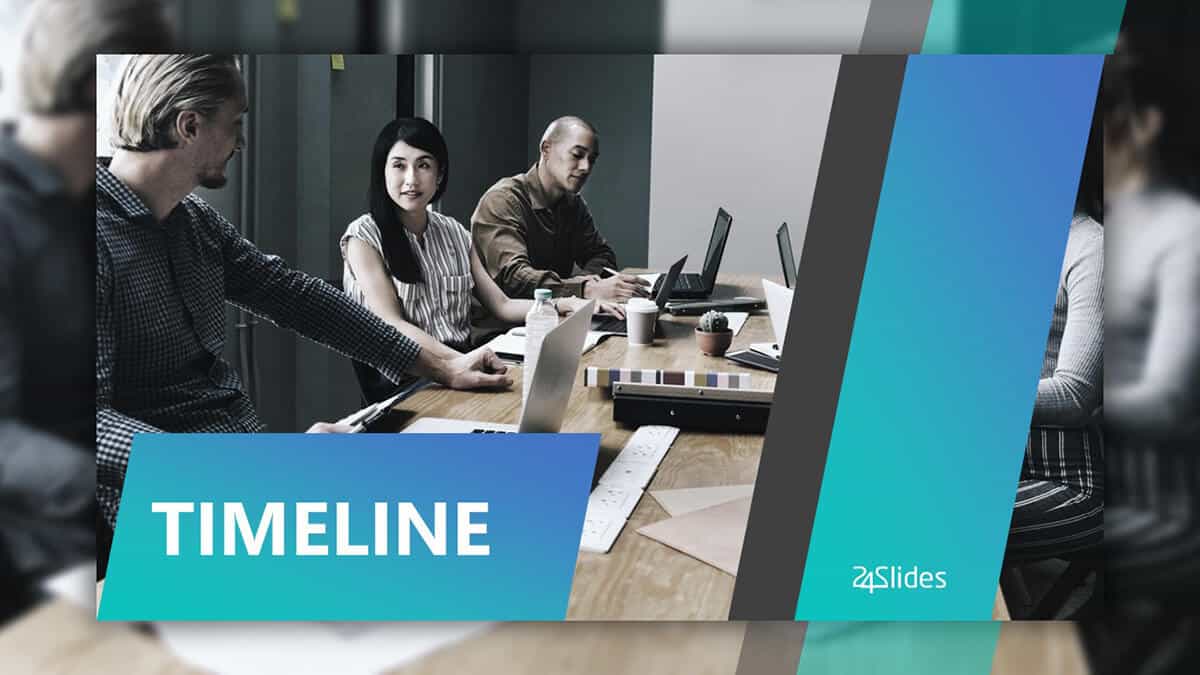 Creating a timeline may sound simple enough – just add a few dates and a description, and you're good to go. But is that really all there is to it? Unfortunately, no. Now, there are many different uses for timelines. Say, for instance, you're launching a new product line or a new project. You can plot out a timeline, so everyone's on the same page. People can see if the project is heading in the right direction or not, or if there's enough time to carry out the project and meet its targets.
We've published quite a number of free timeline templates in our Template Hub, but this is one of our most inspired and eye-catching designs so far. There are plenty of timeline designs to choose from in this pack. Take a look at some of its sample slides:
Chronological milestones with description slide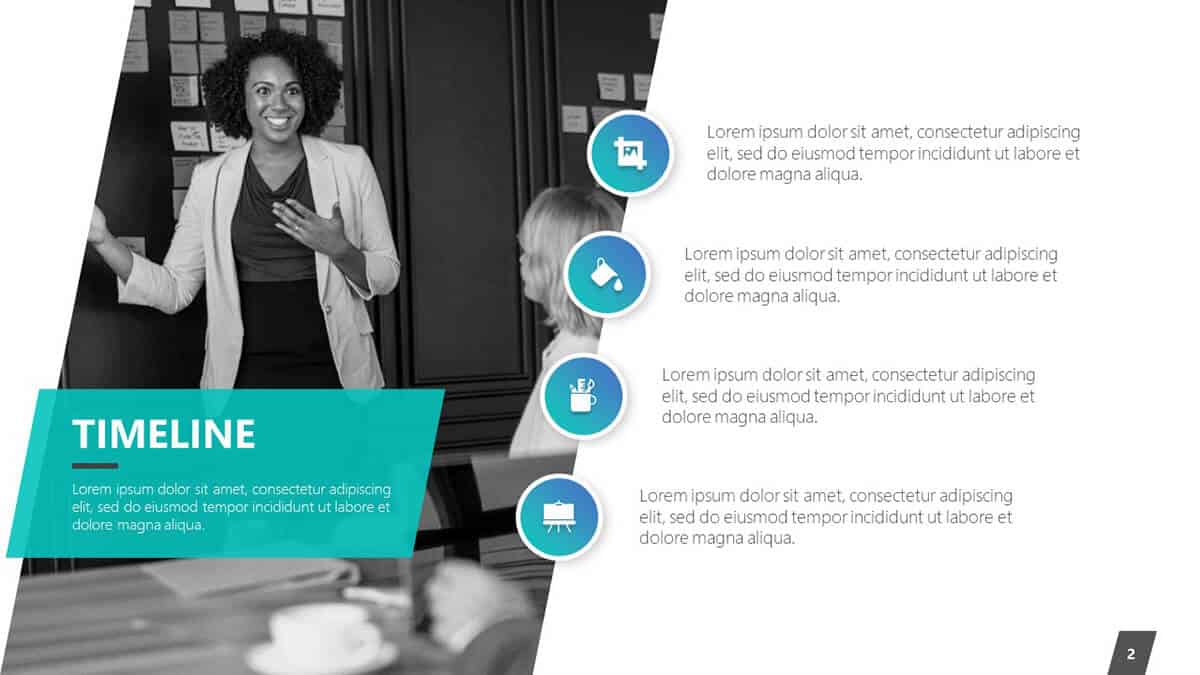 This is the most basic type of timeline you can share with your audience. Since it's linear, it's very easy to follow and understand. Start by describing the first milestone, then the next, until you get to the last one. If you need to add more dates or milestones to your timeline, just copy and paste a row and replace the content (i.e. icon and text) as needed.
Pyramid timelines slide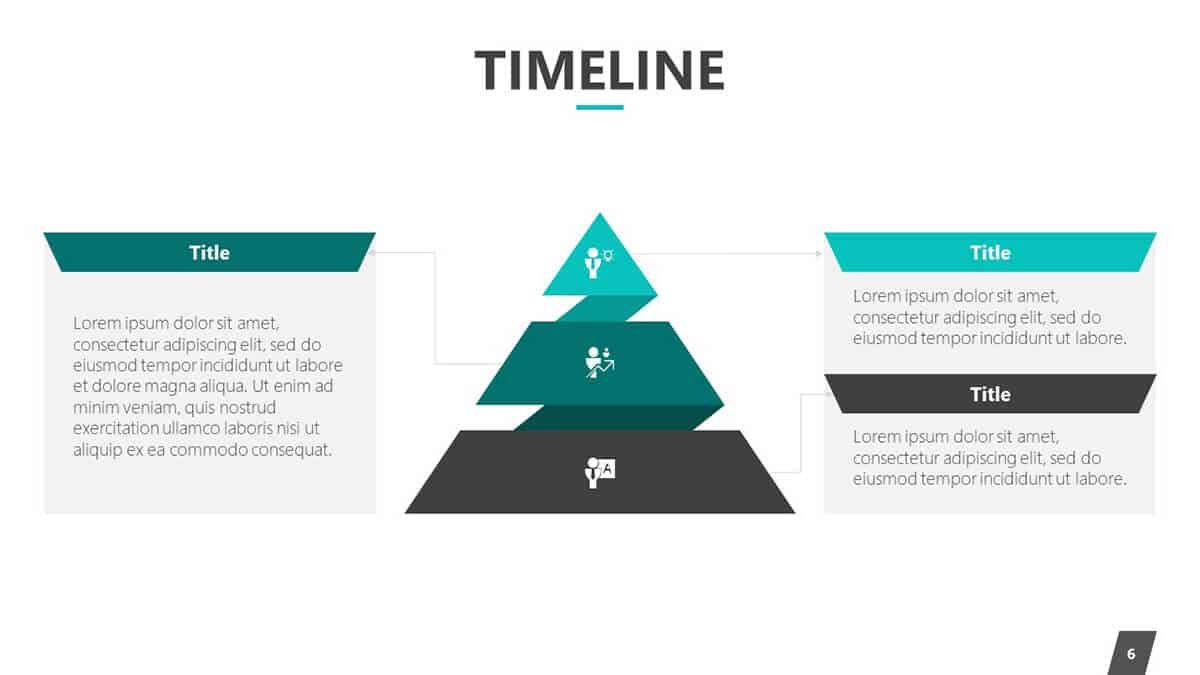 The pyramid base represents the first event in the timeline. Once the first milestone is achieved, it's time to work on the second layer. When the second event is finished, you can proceed to the top layer. There are only 3 layers on the pyramid. Feel free to scale it up and add more layers as you see fit.
Chart timeline slide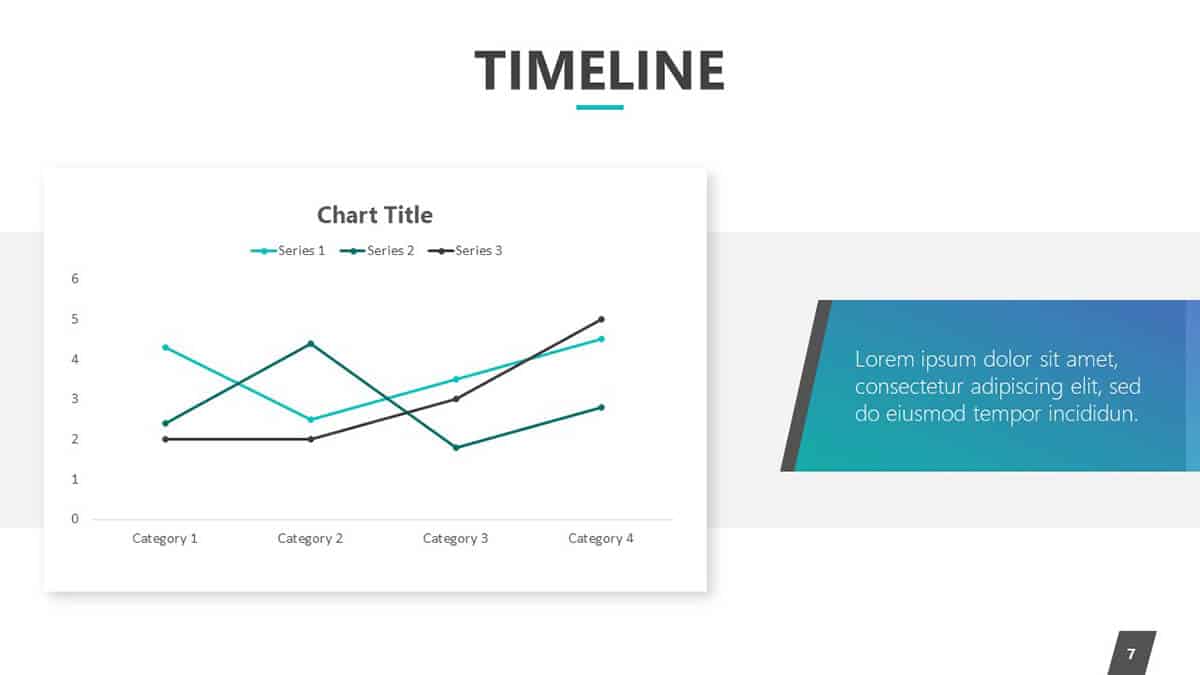 The chart type shown above is a line chart. You can set the X-axis (horizontal line) as time and Y-axis (vertical line) as some other metric you're tracking. For example, if you're tracking the price of your product over the last 5 years, the X-axis will be the years 2014 to 2019. The Y-axis will be the average product price each year. You can then plot it on the chart and present that to your audience.
Corporate Checklist PowerPoint Template (10 slides)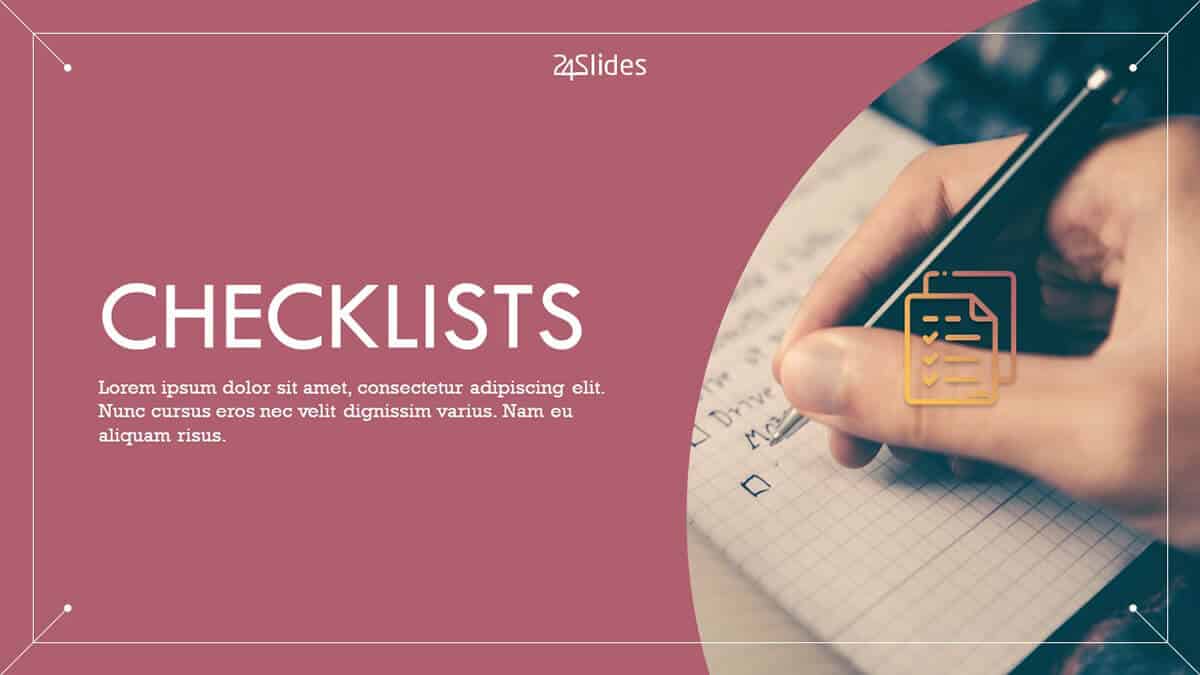 Checklists have been around for ages. They help simplify and organize our complicated lives. No matter what you do for a living, you could massively benefit from checklists. From a simple to-do list to a lengthy troubleshooting guide or standard operating procedure (SOP) document, checklists are there to make your life less cluttered.
We've featured other checklist PPT templates before, but I have to say this is one of our best-looking ones. You don't need to use all the 10 slides included in this template pack. You can pick one or two if these are enough to convey your message.
Let's take a peek at some of the slides included in this template pack:
Regular checklist slide
Use this slide if you want a straightforward manner of presenting your checklist items. It's sequential in nature, so you can just list down up to 6 different tasks or steps. If you're done with a particular task, make sure you use the check icon. Otherwise, use the X icon.
Comparison checklist slide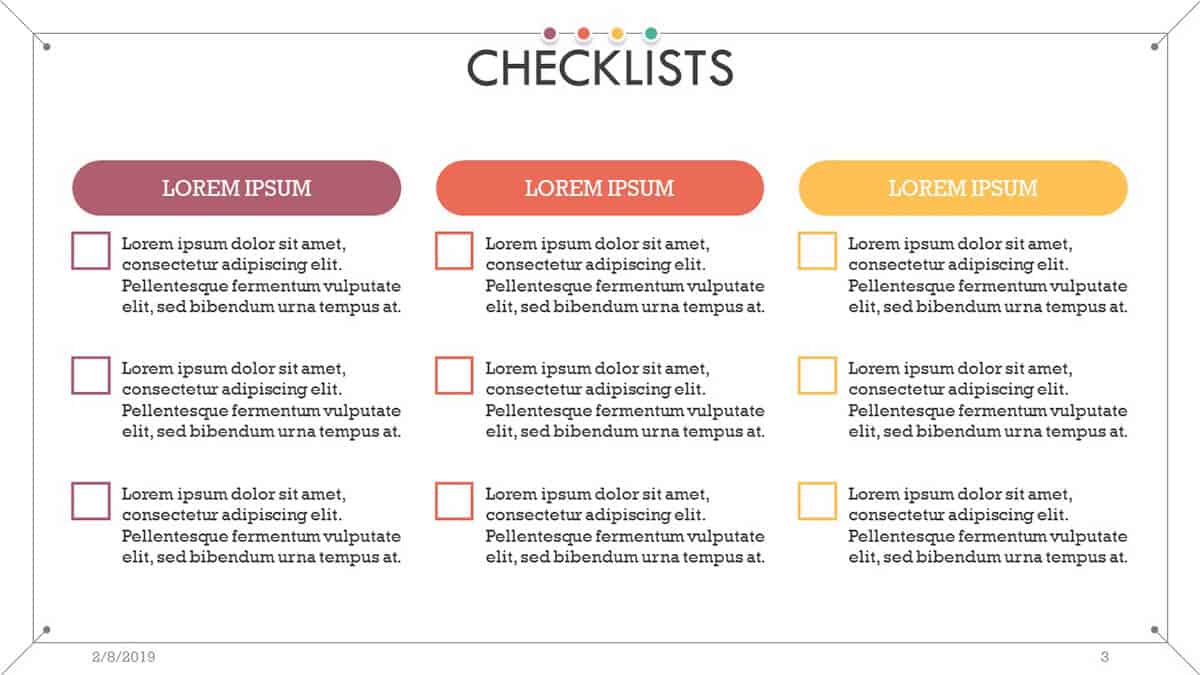 If you need to compare or contrast different lists, then use this particular slide. There are 3 columns on the template – feel free to remove or add more columns. You may also want to change the font color to indicate when a task is over and done with.
Pyramid checklist slide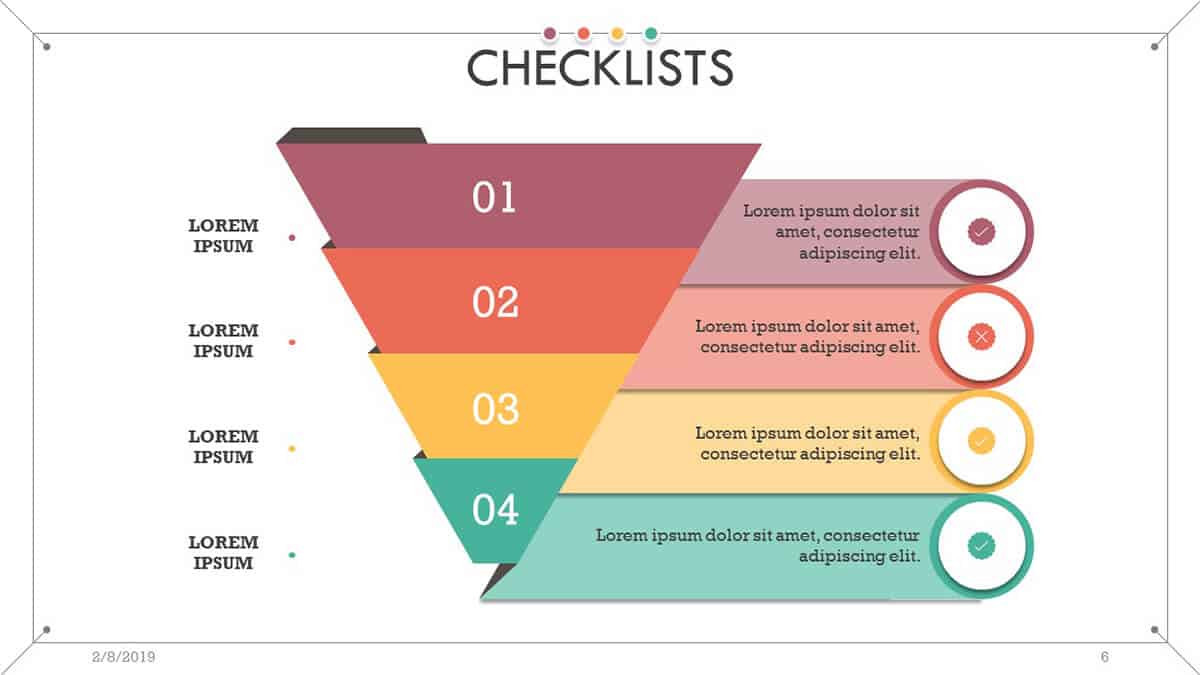 Here's a non-standard looking checklist slide you can use to impress your audience. The pyramid base or the first task is at the top; this is usually the easiest. As you go down the funnel, the more difficult the task gets. The ultimate goal would be to complete the checklist and reach the bottom of the funnel.
Planning Icons PowerPoint Template (3 slides)
Icons are universally-recognized space-saving wonders. You can fit so much information in a simple icon! Unlike the written word or spoken language, there's no language barrier when it comes to icons. Everyone knows what a good icon stands for.
For example, if you see the 'mail' icon on your phone, you know it stands for your messaging or email app. If you tap on the 'phone' icon on your screen, then you're going to open up your phone's dialer so you can make a call.
If you're in need of free icons for your presentation, then check out these free planning icons below. They come in a variety of colors and design: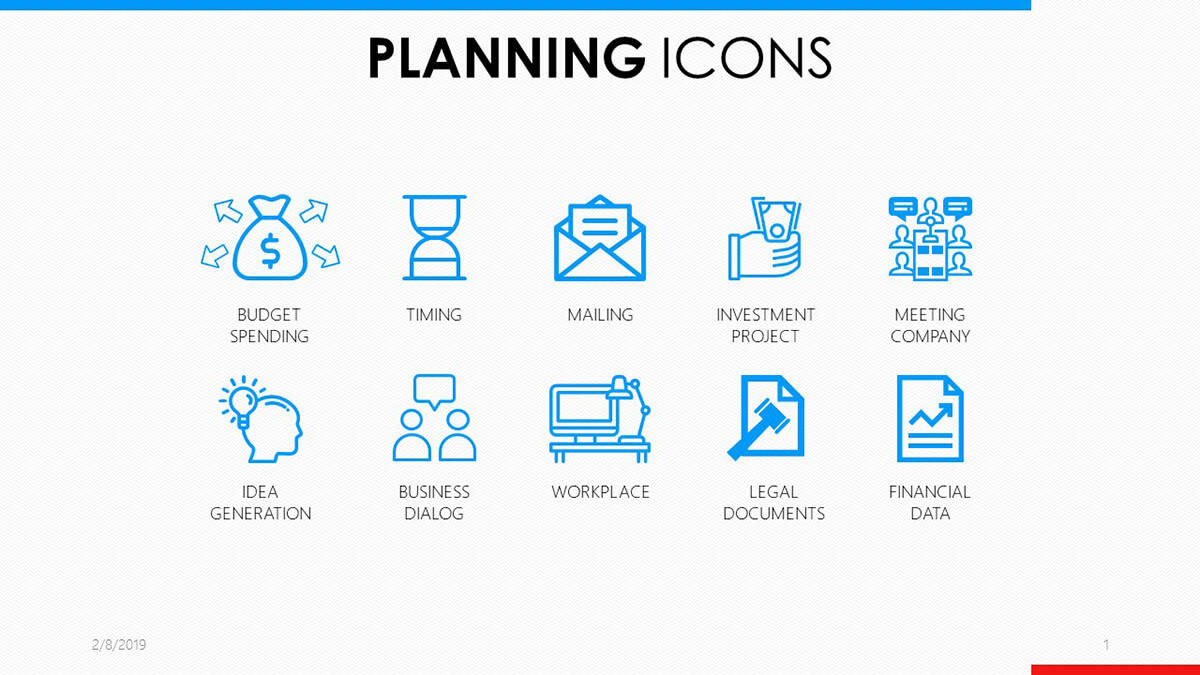 All these icons are in vector format, so you can quickly resize or scale them up without worrying about reduction in quality.
Project Timeline PowerPoint Template (10 slides)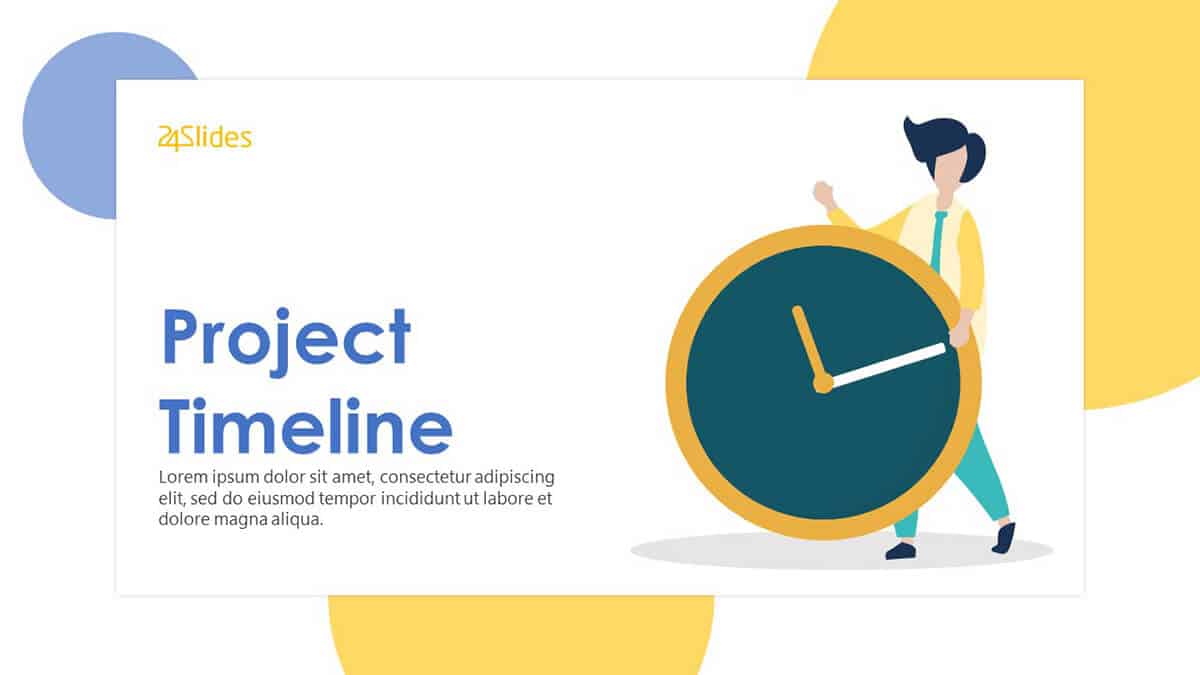 Every project – big or small – needs a timeline. It's a visual representation of a series of events, milestones or sub-tasks for your project. With a timeline, you can estimate how many resources you need to devote to a specific task. You can also provide a good estimate of how much time the entire project will take.
If you're trying to convince potential investors and your stakeholders on a new project's feasibility, then you should definitely include a timeline in your presentation. Use this 10-slide template pack to share the results of your thorough analysis. Check out some slides included in this template:
Horizontal timeline slide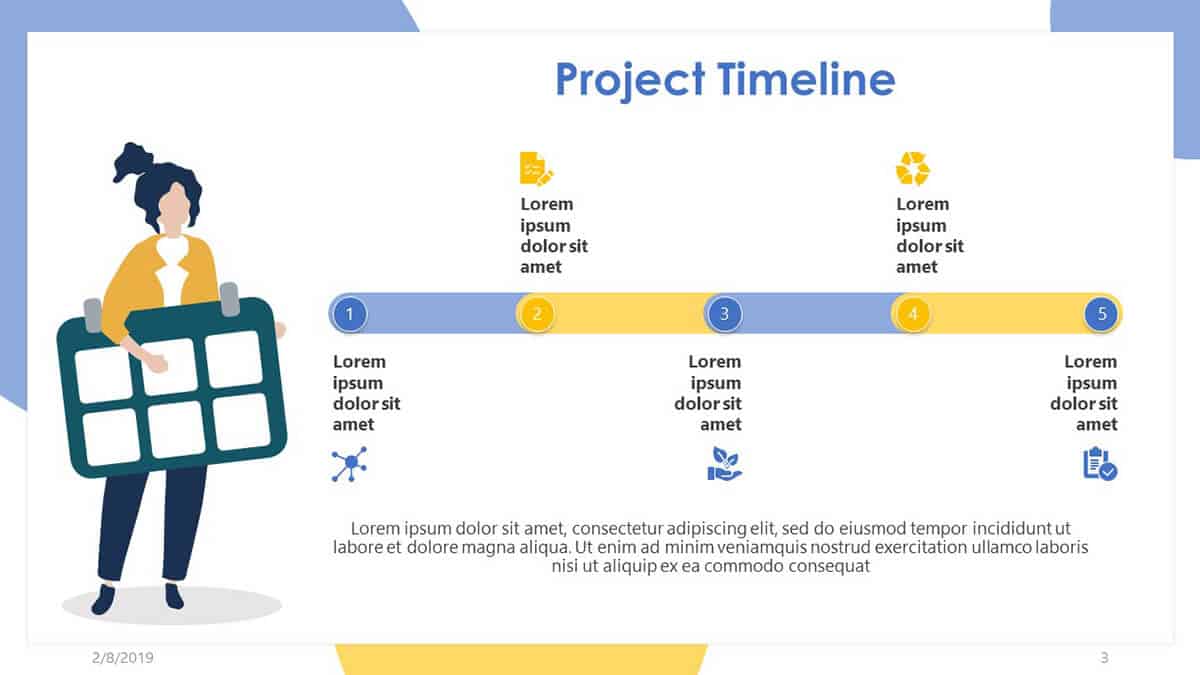 When you think of timelines, you probably imagine something that looks like this. This is because the horizontal timeline is the most common and most conventional-looking timeline. It's easy to read and understand – the first event starts from the left and the last event is on the right. Simple, right?
Gantt chart slide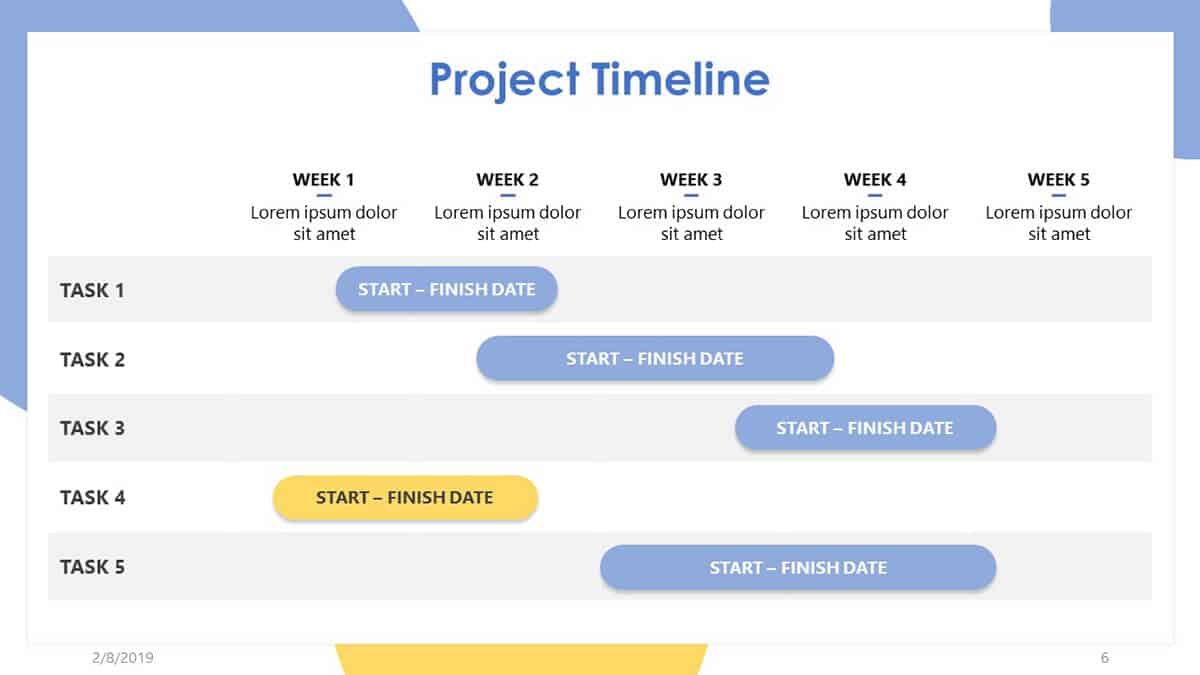 If you've got a weekly milestone for your project, then use this slide to present your Gantt chart. If you've got a monthly milestone, just edit the column title to represent your chosen months. The good thing about this slide is that your audience will see all your important project information in a single glance.
Annual timeline slide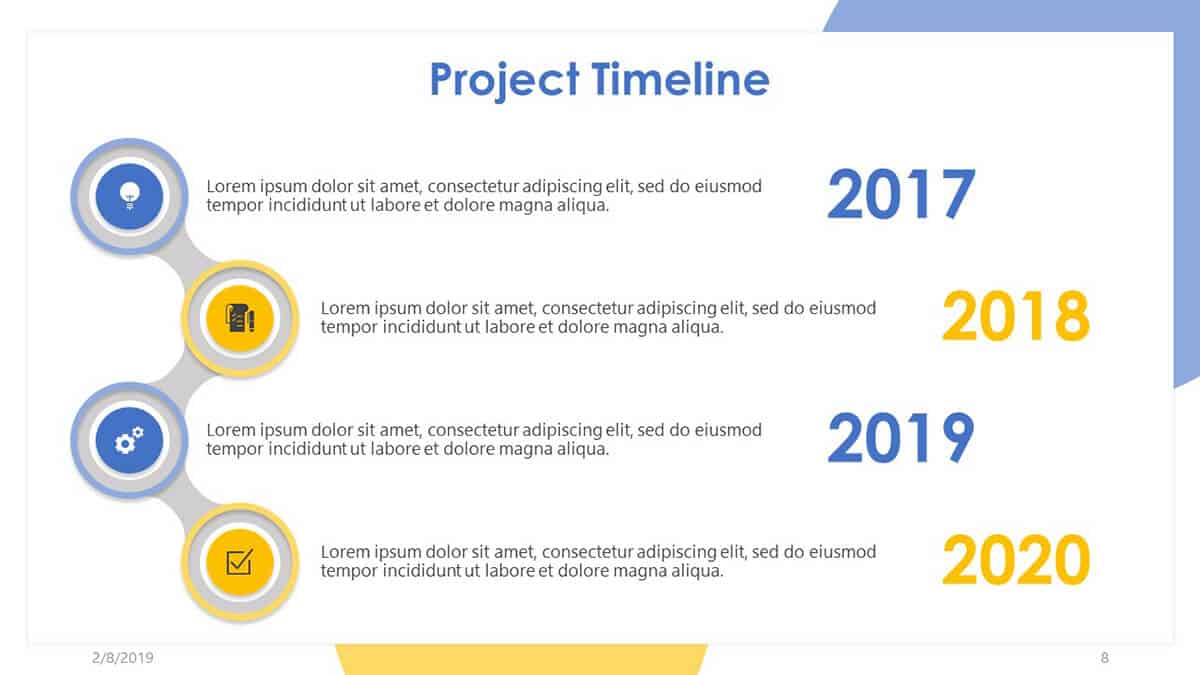 When you're dealing with weekly or monthly milestones, it's easy to miss the big picture. This is why if you're working on a long-term project, it's necessary to use a slide like this to show your progress or even your proposed goals over the years. In this case, you can present up to 4 years, but of course, you can easily edit the slide if you need to present more.
Pie Chart PowerPoint Template (10 slides)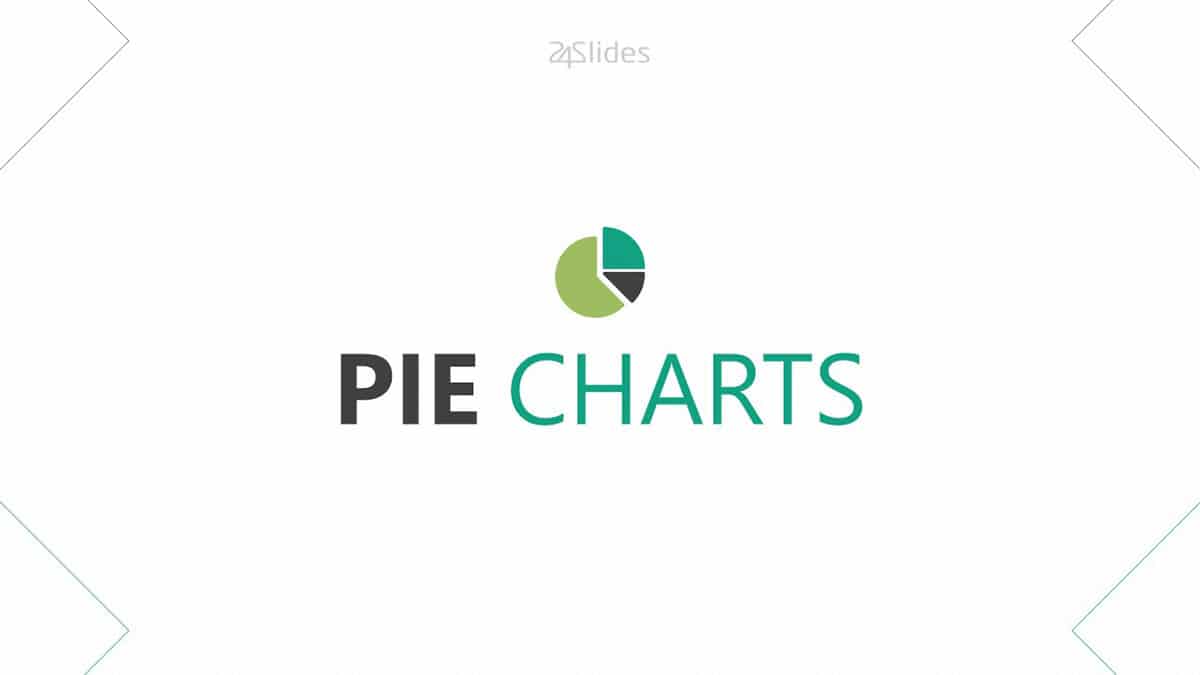 Pie charts or circle charts are simple enough to create on PowerPoint. Just go to Insert > Chart > Pie. And select whether you want 2-D Pie, 3-D Pie or Doughnut Chart. But if you don't want to bother with doing all that (and still worry about the design), then this template pack may be perfect for your needs.
But when exactly should you use this template? Well, if you want to show a percentage of something whole, this is what you use. Imagine a circle as having 100 equal parts. If you want to show ¼ of something, then you can use a different color on a quarter of the circle. This will show your audience that 25% of the circle refers to that particular metric you've measured.
Unfortunately, you can't use pie charts if you're trying to measure changes over time. In that case, you'd be better off with one of our bar chart templates. That being said, check out some of the slides included in this template pack:
Doughnut chart slide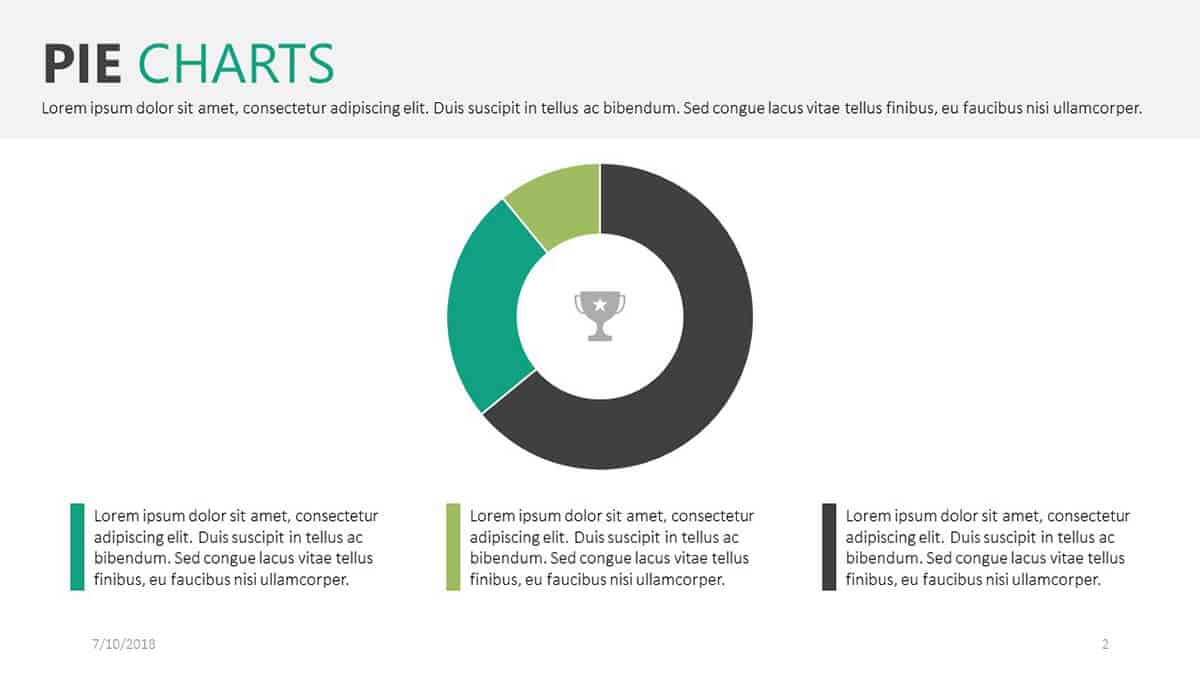 The doughnut chart looks like a pie chart, but there's a notable difference between the two. For one, there's a gaping hole in the middle of a doughnut chart just like in a real donut. With a regular pie chart, you can only show one data set. If you want to compare 2 or more data sets, then you'd need to use a doughnut chart. In the slide above, you can see there are 3 'slices' in the donut and each has its own label and description at the bottom.
Pie of pie chart slide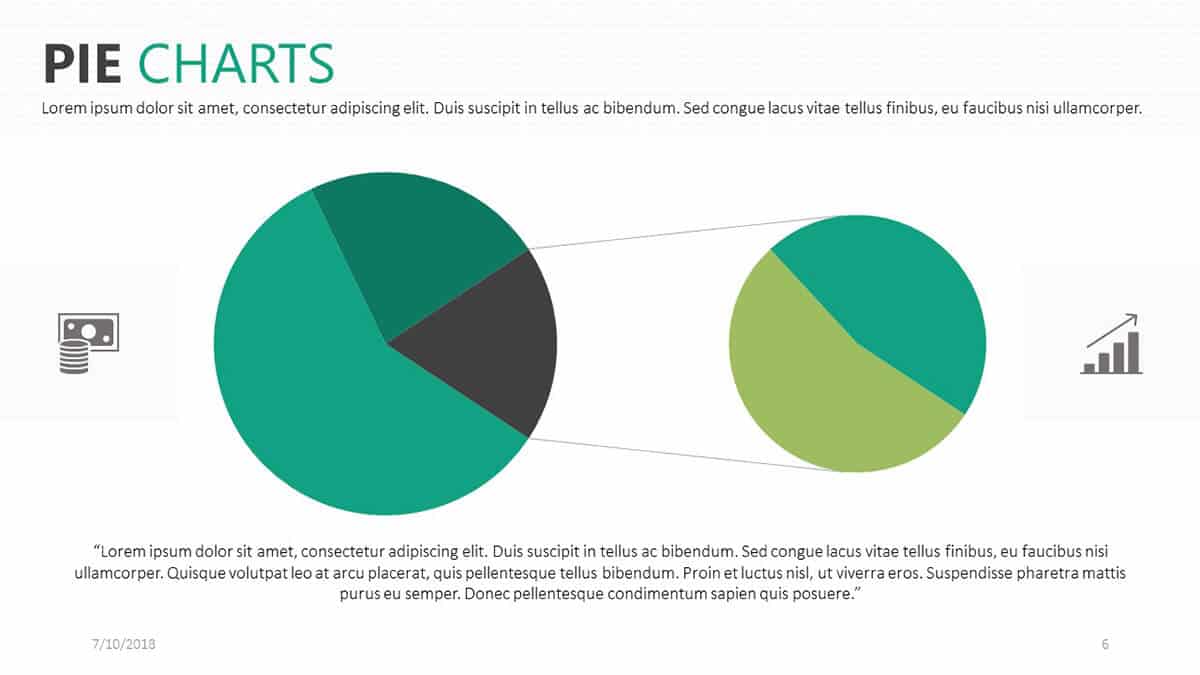 This type of pie chart is perfect for bringing attention to a certain part of the chart. Look at the slide above. The smaller pie (right) represents the black portion on the bigger pie (left). Instead of just going over the black portion, you can now go over and describe its two components as shown by the smaller pie chart.
Data Driven Collection PowerPoint Template (10 slides)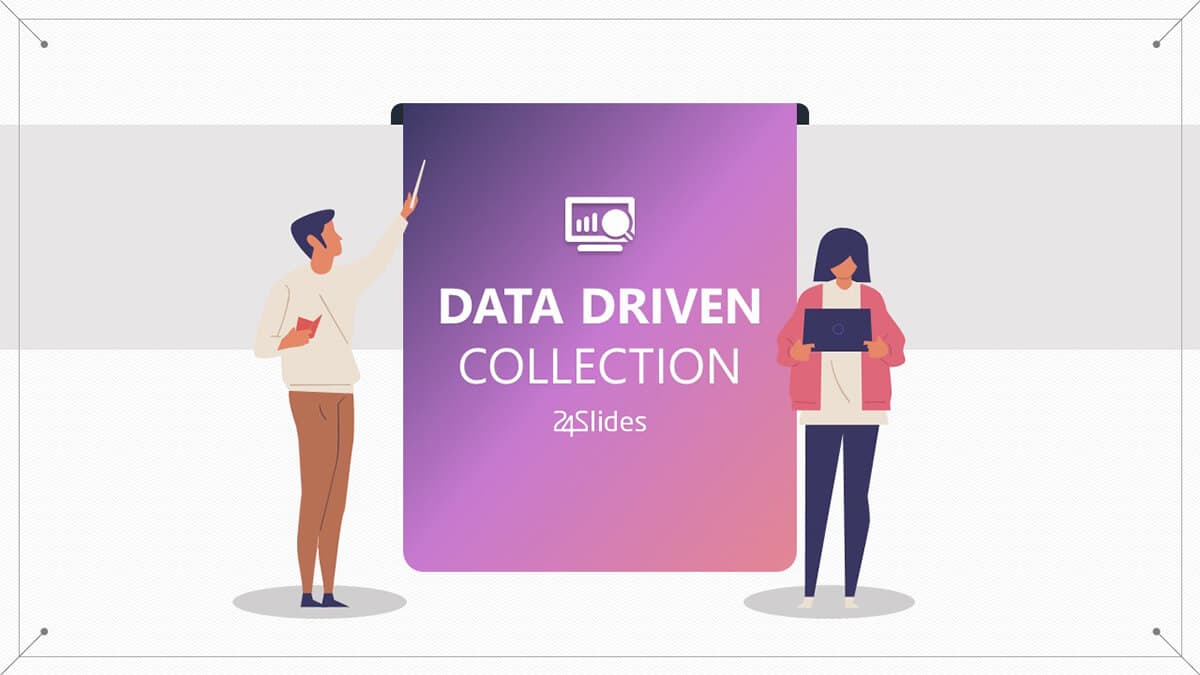 In the Internet age, data is everywhere. You can practically get (or buy) any kind of data you want. Do you want to collect your online subscriber's data? It's easy. You can install an analytics tool like Google Analytics on your website, and you'll know everything about your site visitors. Or how about your competitor's data? You can probably buy it online. Or perhaps you can download their reports from their site, if they've made it available to the public.
While getting information is relatively easier nowadays, the same can't be said for presenting the data you collect. However, with this 10-slide template pack, sharing your data with your audience becomes a whole lot easier. Here are some of the slides included in this template pack:
Stacked bar chart slide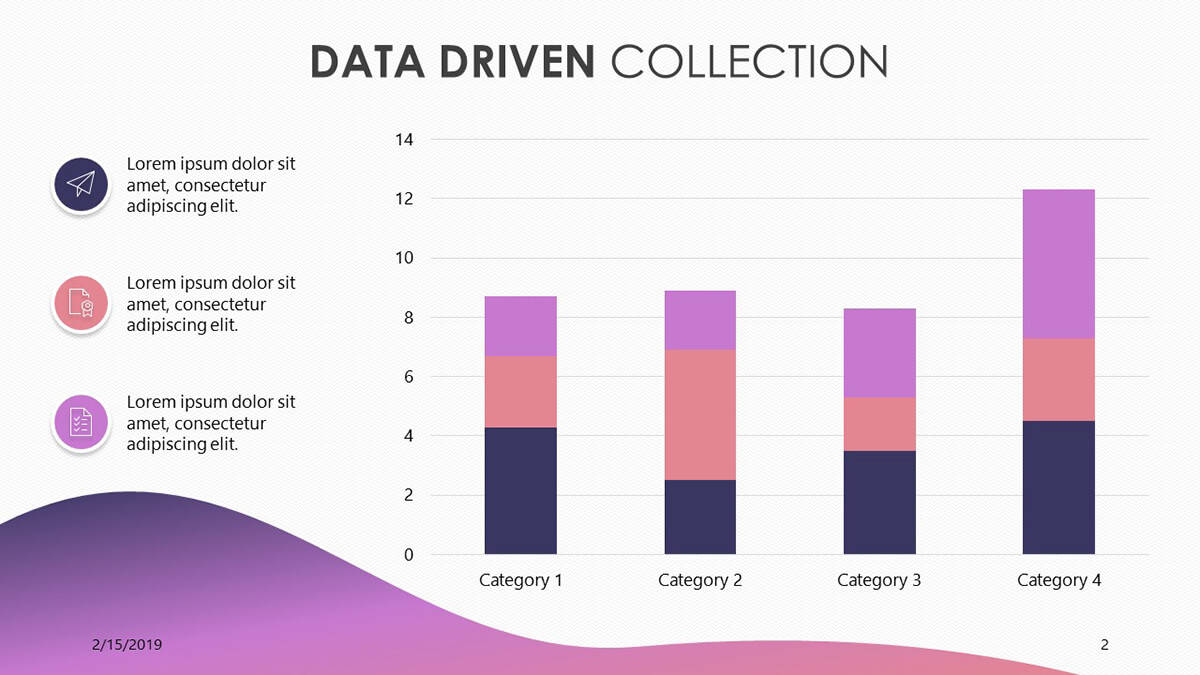 Stacked bar charts or stocked column charts are used to compare parts of a whole. In the sample slide, you can see there are 4 categories. Each category or column is marked in 3 different colors. These colors represent a different sub-category or data in each category.
Treemaps slide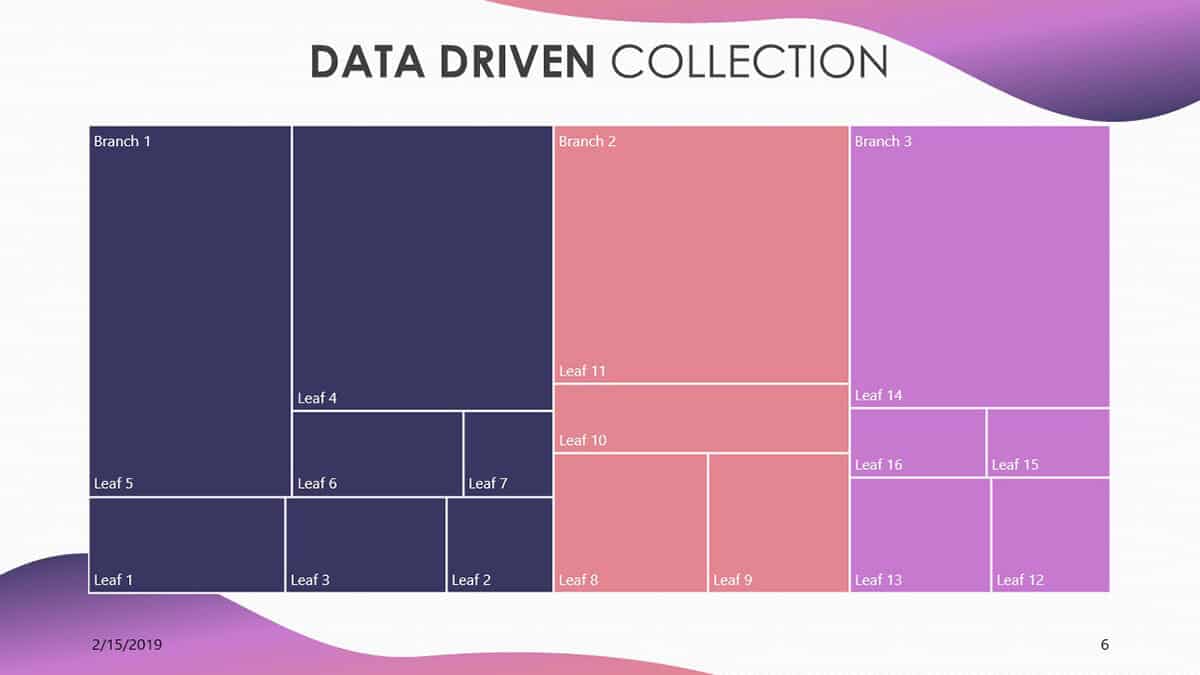 Treemaps are another way of presenting hierarchical data. It's great for showing the quantities or proportion of each category. The bigger the rectangle, the bigger the proportion for that category.
Playful Pitch Deck PowerPoint Template (10 slides)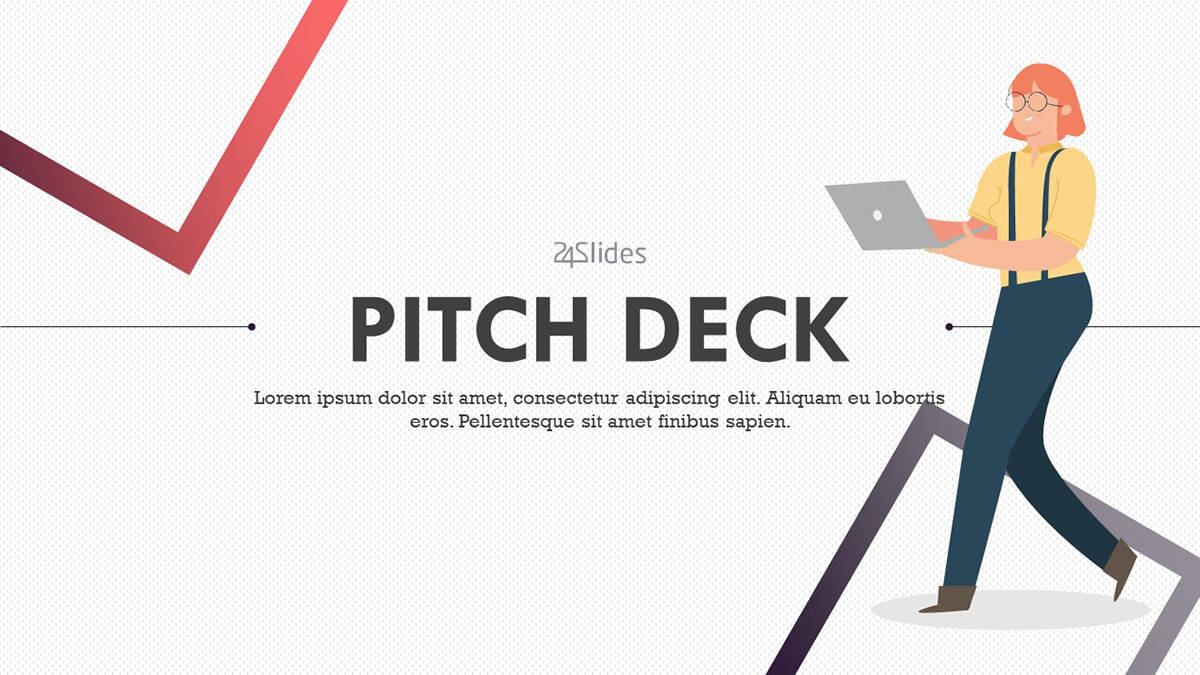 If you need a pitch deck that's got all the elements for your presentation's success, then look no further than this 10-slide template pack. You can go straight to proposing solutions, and making strong pitches to potential clients and investors. At the same time, you can focus on providing great value to your audience.
Here are some of the slides included in this template pack:
Increasing sales slide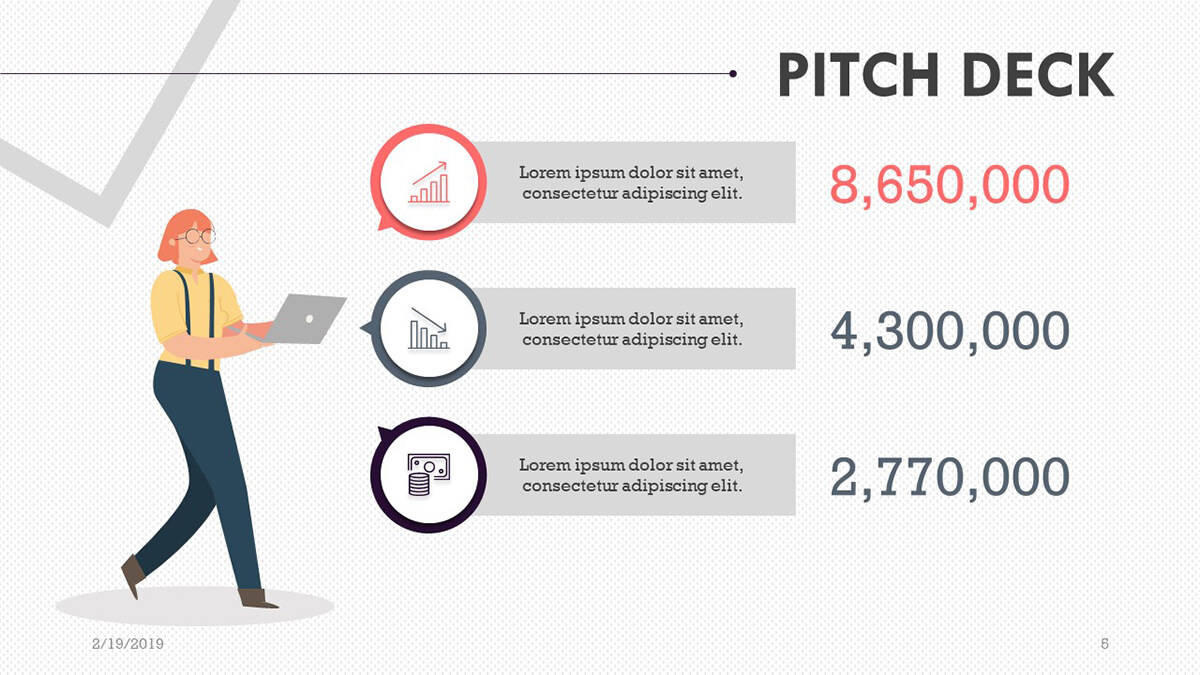 If you've got a solid track record in sales, then you better show those numbers off. What better way to convince potential investors and clients that you "walk the walk" and "talk the talk" than by showing them your numbers?
Puzzle pieces slide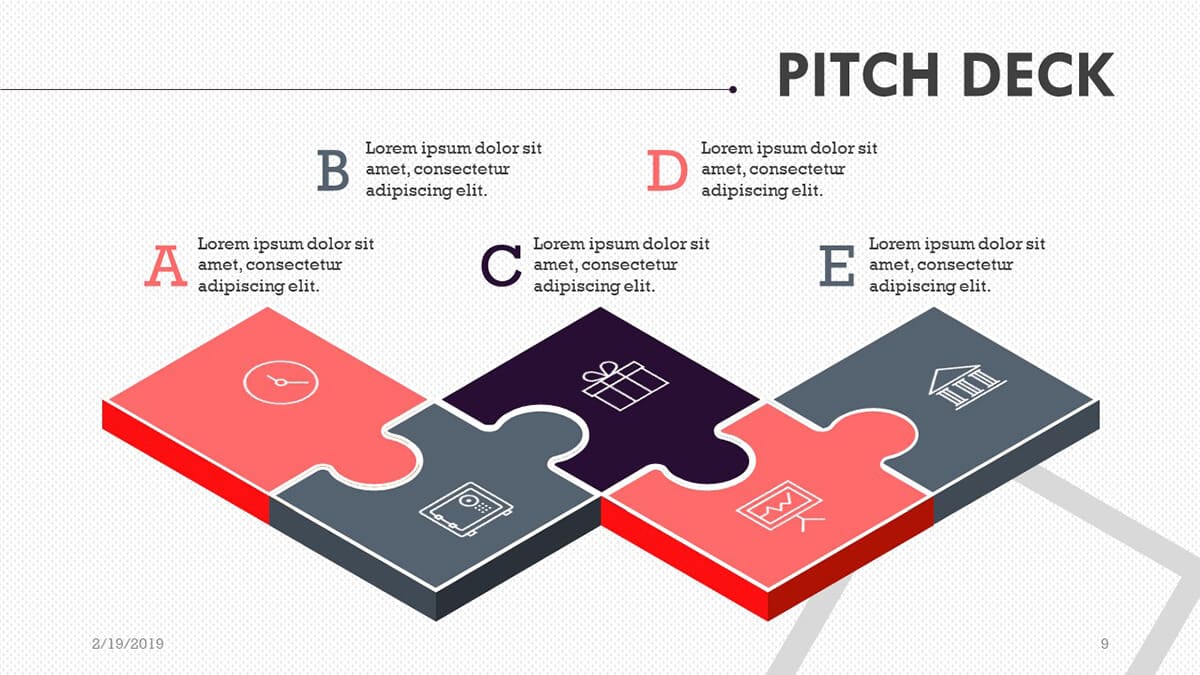 If there's one thing that will show your audience you're not doing a cookie-cutter presentation, it's this slide. Let them know you've done the research and you know exactly how you can help them. You're the missing puzzle piece to their eventual success!
PowerPoint Slides with Video Template (10 slides)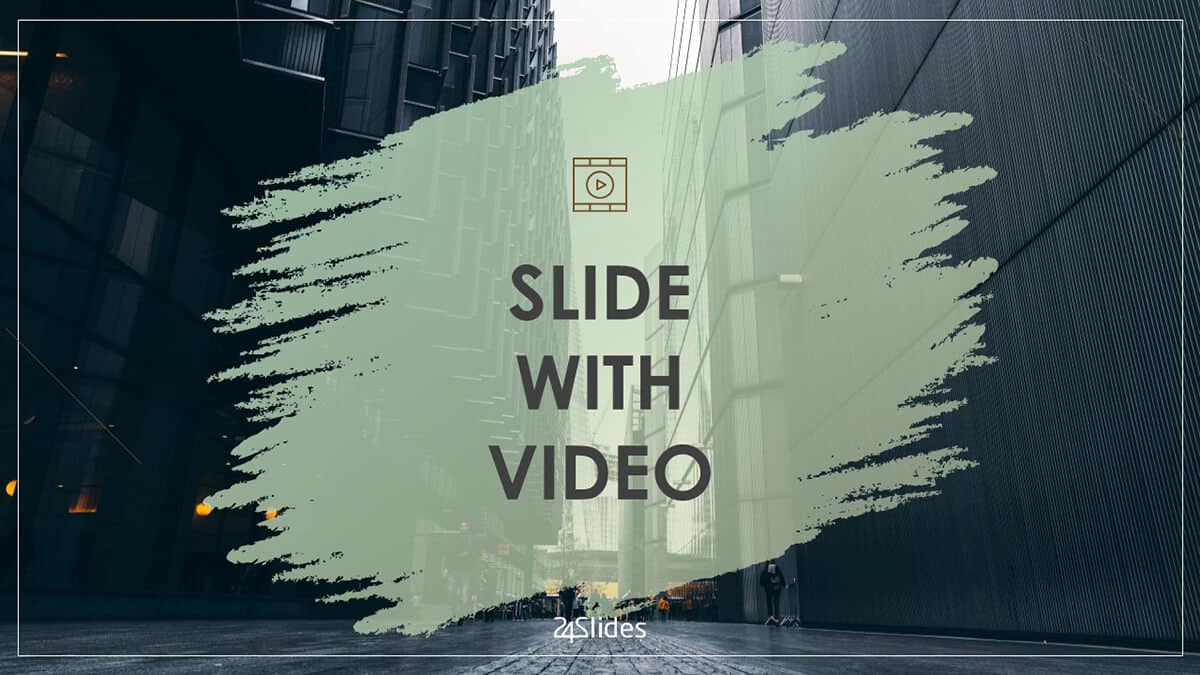 There's no denying the power of video. Just take a look at YouTube, the second largest search engine in the world. It's so much easier to consume information in video format than reading the same thing in article or infographic format.
If you're trying to explain something complex to your audience, and you've got the right video to help you do the job, then this is the template pack you should use. It's made with video presentations in mind, so adding your videos to the slides will be a breeze. Check out some slides included in this template pack:
Video dashboard slide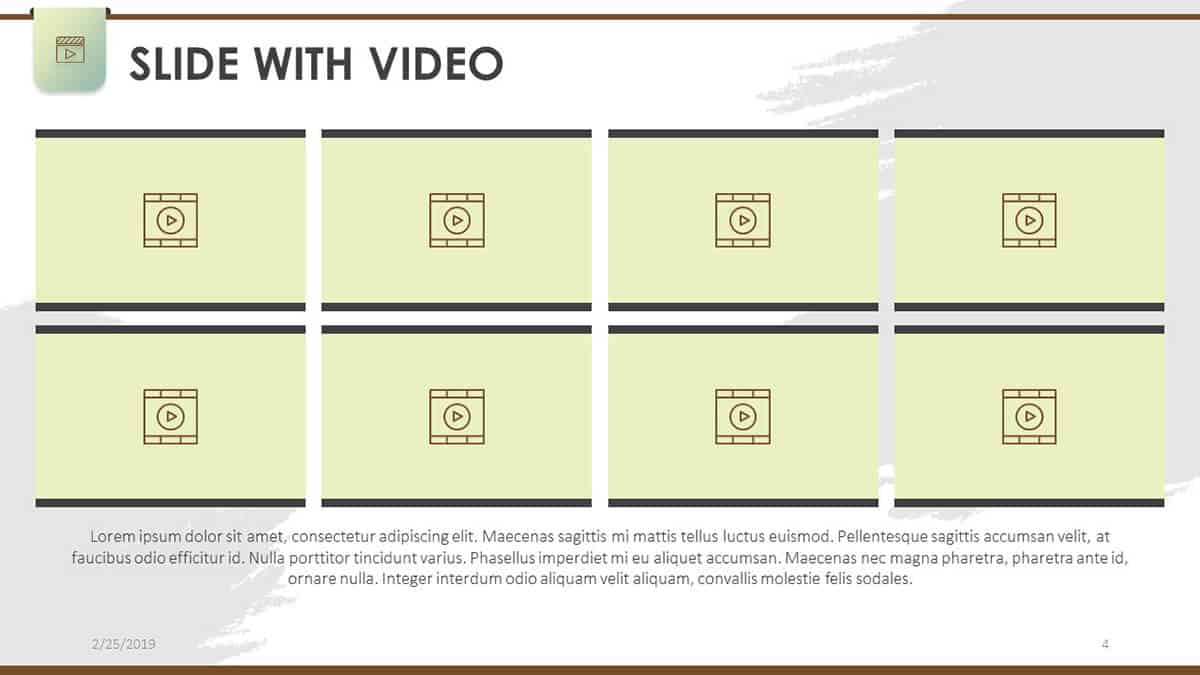 If you're sharing a lot of videos with your audience, then you may want to use this slide to give everyone a preview of what's to come. Make sure you use a nice thumbnail image for your videos, too!
Outline steps using videos slide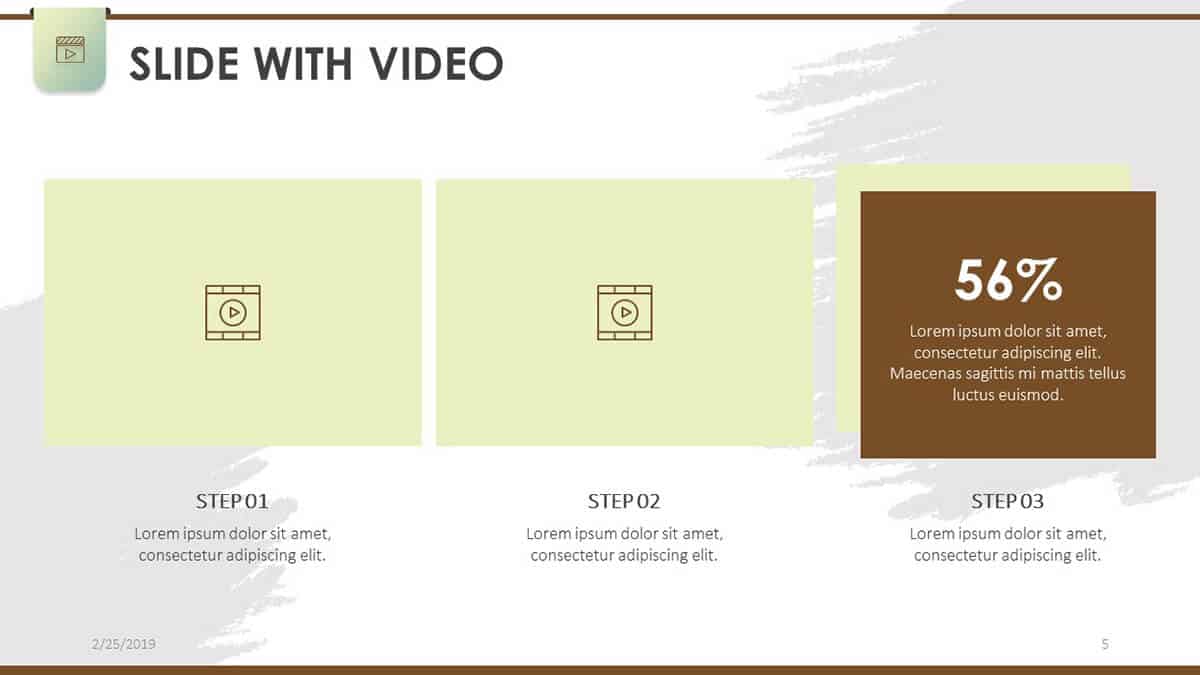 If you want to go through a couple of complicated steps and you don't think a verbal description is going to do it justice, then you may want to use this slide. This may look similar to the video dashboard slide, but this one clearly labels which videos belong to which step.
Video slide with description slide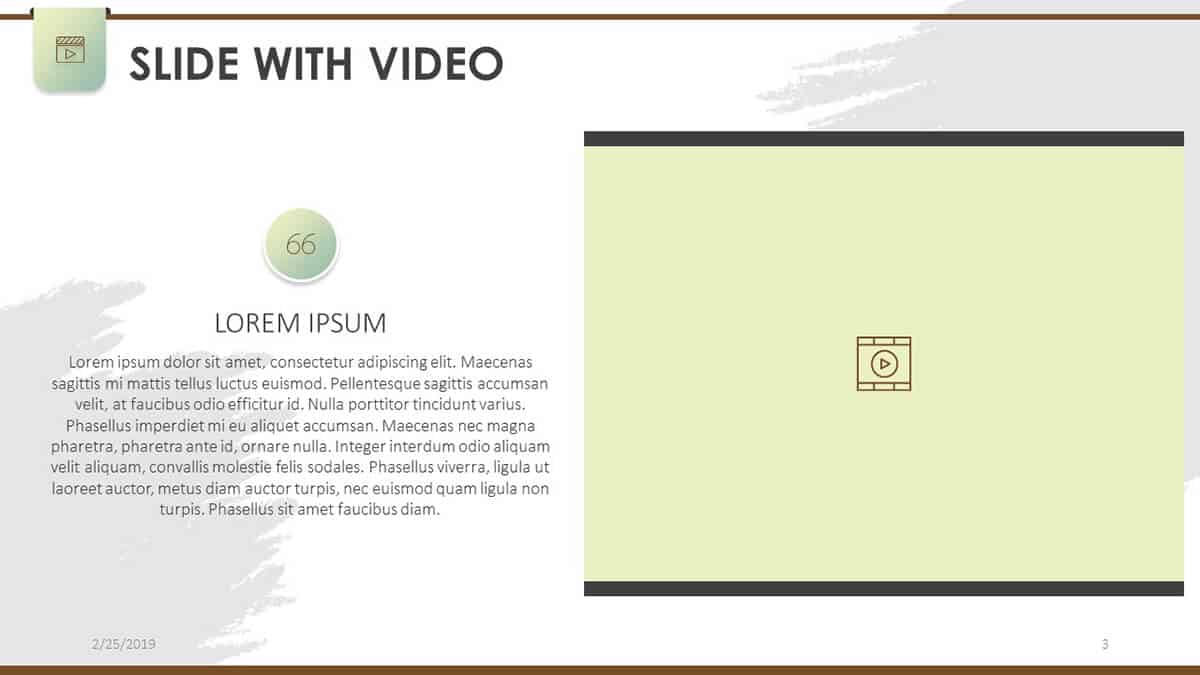 Use this slide to include a quick blurb about your video. Write something funny or helpful to break the ice, especially if your video is about something complex and technical.
Do you like any of the free PowerPoint templates in April 2019?
Download any or all of the free PowerPoint templates in April 2019. You simply need to create a free account, and you can start downloading right away. Don't forget to let your friends know all about these free templates, too!