The 6 Best Free PowerPoint Templates in June 2019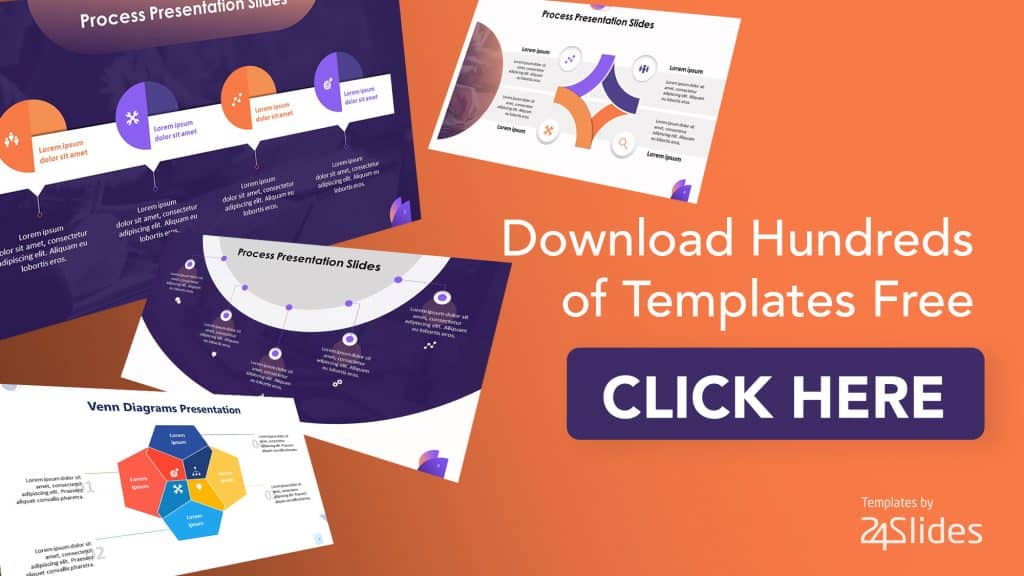 Time flies so fast – we're already halfway through the year! This time we're back with 6 free PowerPoint templates in June 2019. Here they are: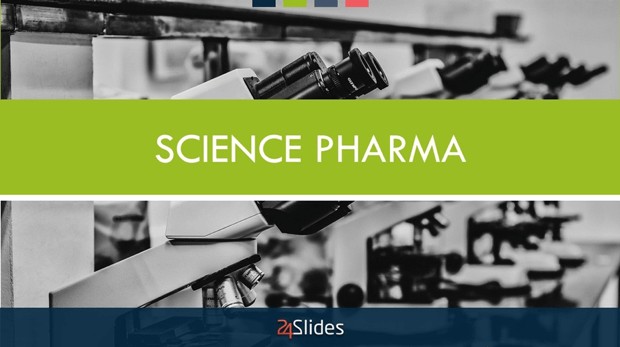 Pharmaceutical science isn't for the faint of heart. It's a combination of many scientific disciplines. You need to have good knowledge about various sciences like chemistry, biology, pharmacology, biochemistry, molecular biology, toxicology, biotechnology, and more.
That being said, if you need to do a presentation about this complex industry, it's best to download a free PowerPoint template like this one. We've included 10 slides in this template pack. In most cases, this should be enough. If not, you can always duplicate the slides and edit the information accordingly.
Here are some slides included in this template pack:
Industry components slide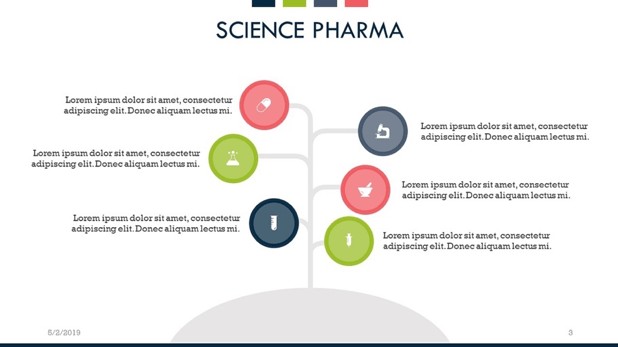 The pharmaceutical science industry is a huge, multi-billion dollar industry. There's a lot of components and 'moving parts' that make this giant industry what it is today. You can use this slide to give an overview of the different industry components. This includes big pharmaceutical manufacturers, specialty pharma firms, biotech companies, generic manufacturers, and science pharma service providers.
Quick statistics slide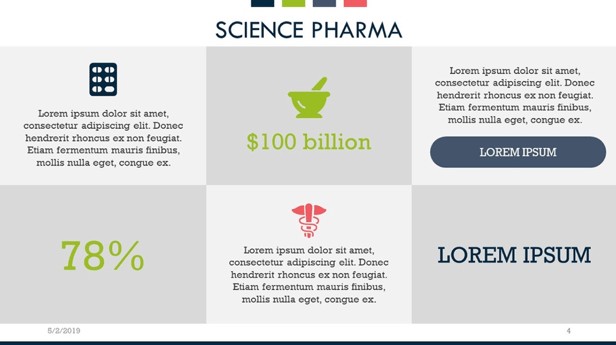 During your science pharma presentation, you'd most likely need to share some statistics with your audience. Whether it's about this year's profits, your competitor's success rates, or your drug's adoption rates, you can quickly customize this slide to display your key stats.
Progress track graphic slide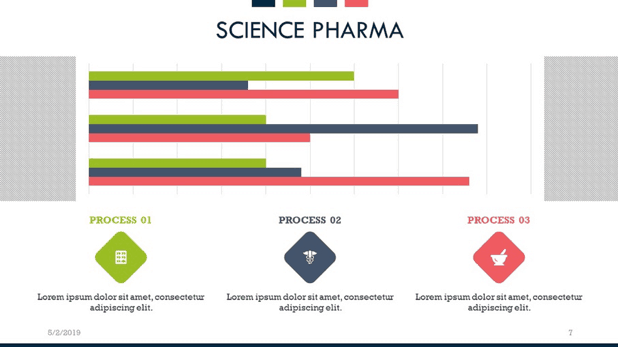 Bar graphs are great for tracking progress. You can use this slide to compare up to 3 different metrics or processes. For example, you can compare the progress of 3 different projects or stages of the same project. You can also track sales and profits from different marketing strategies. This slide is great for conveying technical details in an easy-to-understand graphic.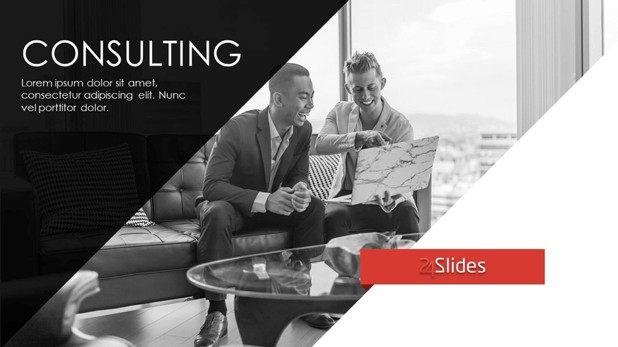 Pitching your services as a consultant can be profitable if you find the right clients. But how exactly do you go about looking for clients? Well, there are a lot of places you can look. But the gist of it is, it's going to take a lot of time, effort and creativity before you can even get past the gatekeepers.
Spend most of your time trying to figure out a way to get in front of decision-makers, and not designing your presentation slides. Let this free template pack handle the design end for you. All you need to do is just add in your details and you're ready to impress clients.
Here are some slides included in this template pack:
Improvement roadmap slide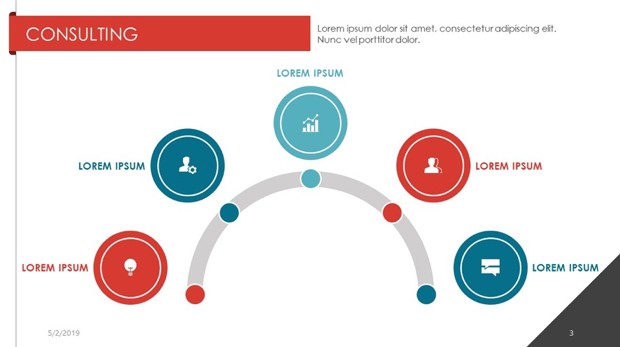 To use this slide, you need to research on how your skills can help improve a client's processes. Every business is different, so what you propose to Company A may not work for Company B. Now as you can see in the slide, the roadmap has 5 points. You can use this to present your idea, and how to implement and monitor it. Later on, you'll get feedback from the client, so you can optimize the whole process.
Venn diagram for optimization slide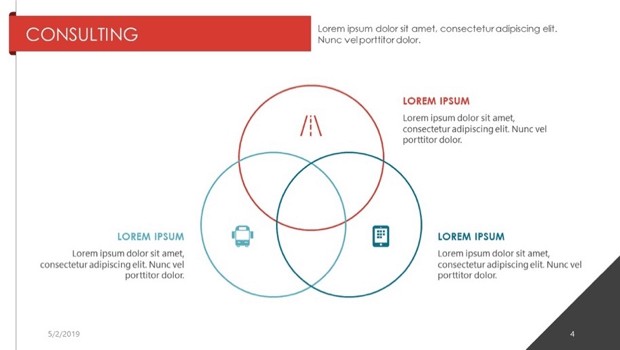 As a consultant, you bring a set of fresh eyes to the company. Your skillset and past work experience may help you see better how a project can be optimized. Use this slide to highlight how different departments or teams need to work together to improve product delivery. If you need to use more than 3 circles, feel free to edit and ungroup the graphic and edit it as necessary.
KPI summary slide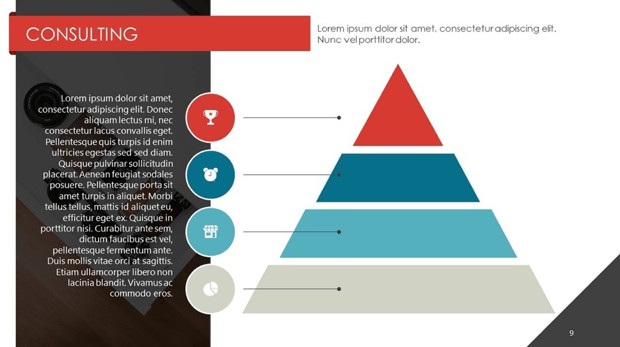 As a consultant, it's important to track metrics. It's solid proof that you're providing value and making a difference in the company. With that said, you can use this slide to show the improvements that have happened since bringing you on board. Or, if you're still in the pitching-your-consulting-business stage, use this slide to show the positive contributions you'll make to the client's KPI!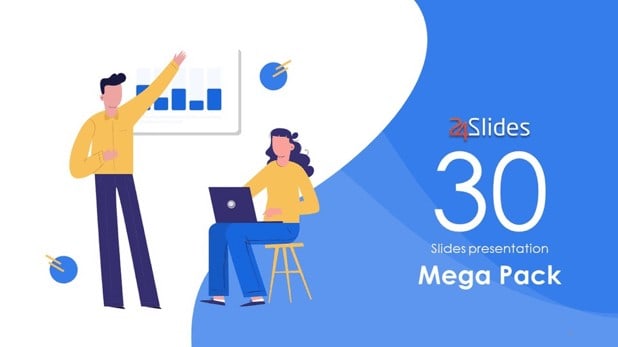 Sometimes you just want to get away from the usual corporate-looking PowerPoint templates. If you're feeling funky and you want something fun and playful for your next presentation, this is the template pack you're looking for!
With 29 slides to choose from, you can mix and match the slides to your heart's desire. This blue and yellow themed template will look good on any stage. Whether you're presenting in front of a small group or a few hundred people, these slides will surely capture everyone's attention!
Check out some slides included in this free mega template pack:
Pros and cons slide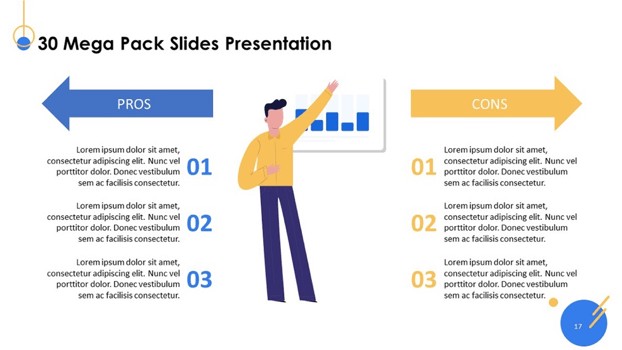 Part of the decision-making process is determining the pros and cons of each point. You can use a table or bullet points to present your list. Or you can simply use this free template and swap out the placeholder text with your content. You can add up to 3 points per column in the slide. But if you need to add more, you can duplicate the slide and just add the rest of the points in the next slide(s).
Playful timeline slide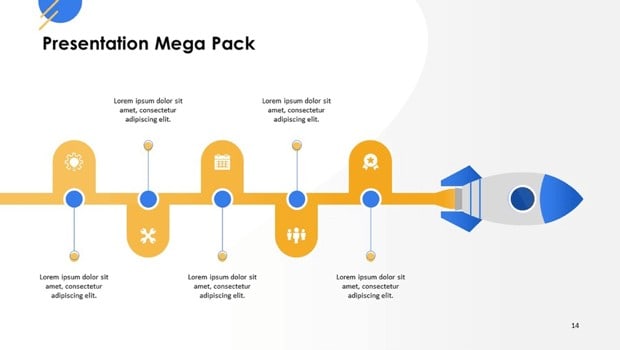 This is one unique-looking timeline. The rocket at the end of the timeline shows that after a certain period of time, you expect significant growth to happen. Use this slide to present your ideas and convince everyone just how bright the future is if your ideas are implemented!
Mobile maps slide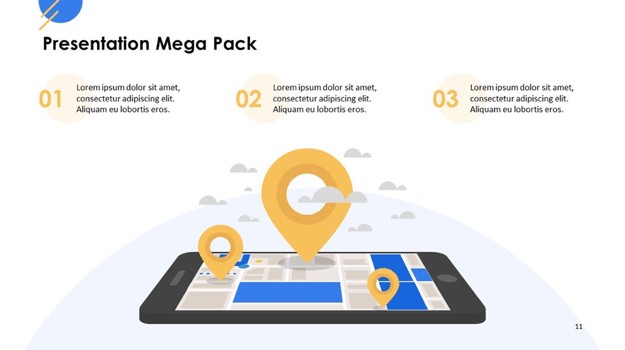 Pinpoint your store's location on the map. If you want a more precise map, you can replace the graphic with any of our free maps PowerPoint templates. However, if you just want to give a general overview of your branches or offices, then you can use the numbered list at the top to give a short summary about each location.
SWOT graphic slide
Presenting your SWOT analysis need not be complicated. You can use this slide to share an overview of your SWOT matrix. Write the main strengths, weaknesses, opportunities, and threats you were able to uncover. And then share it with your audience.
Growth slide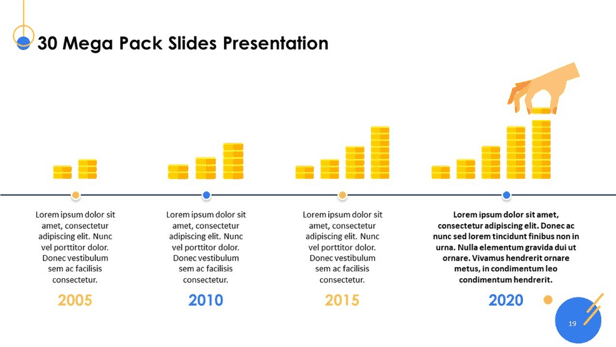 This slide is easy enough to understand. If you want to show just how much the company has grown over the years, this will help get your point across. As you can see in the slide, the business has started out small. But 15 years later, there's been significant growth and profits has skyrocketed. You can do the same – just replace the dates and add a short blurb for the significant milestones reached.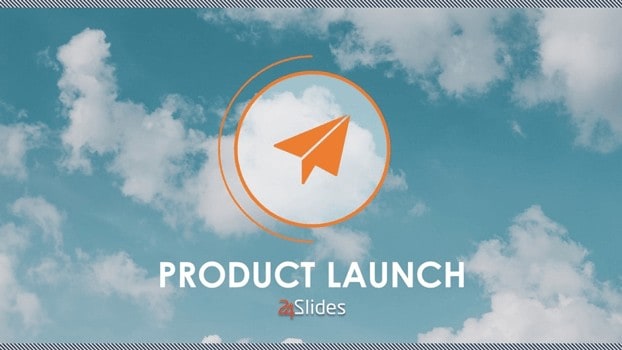 Ready to present your product to the world? Get your team and your stakeholders on board, so everyone's on the same page. Give everyone an overview of the product, so they can answer questions once the product's out. Share your ideas on how you can optimize the launch and maximize the probability of success.
Product launches require a lot of time and coordination. You shouldn't be spending any more time than you need to on designing your presentation slides! Use this free template pack and let it save you time, so you can make a lot of money!
Here are a few sample slides included in this pack:
Product launch plan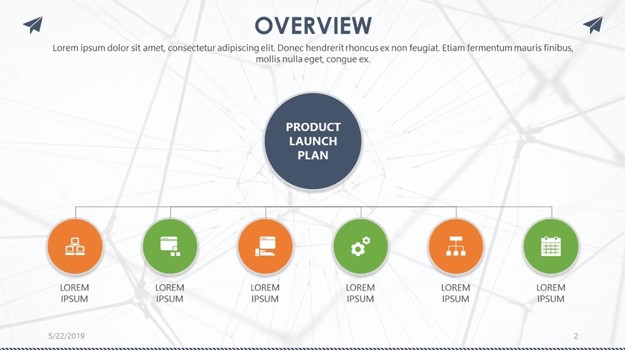 This slide will give everyone an idea of what to expect during the launch. You can use this to give an overview of your product launch plan. Or you can use this as a timeline so everyone knows the most important dates for the launch. To make the graphics come alive, I highly recommend you use the zoom and morph animations in PowerPoint.
Product launch checklist slide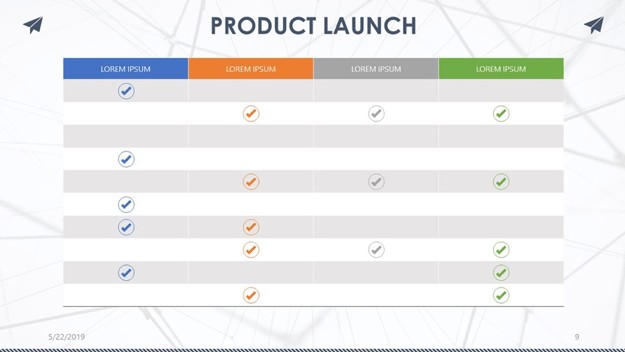 A checklist is essential to a product launch's success. Taking care of small details and tying up loose ends is key to a profitable launch. Use this slide to let everyone know their tasks and responsibilities. Each column can represent the person or department involved in a particular task. Don't forget to give everyone a copy of their responsibilities after the presentation!
Marketing analysis slide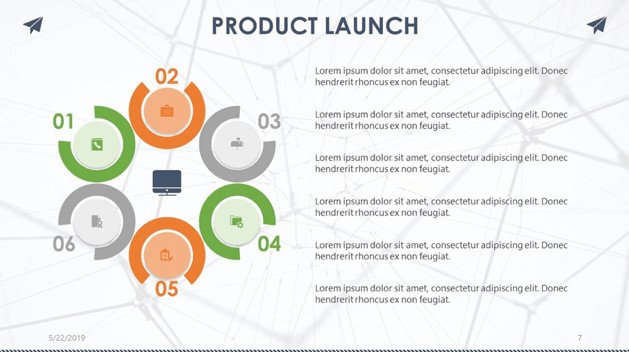 It's important to market and promote the product well before you launch it. You want people to be excited and to look forward to getting your product the moment you launch it. You don't want to do your launch and hear crickets, right? So, use this slide to let the marketing team know their role is very important! They need to find the right marketing channels to reach the target audience.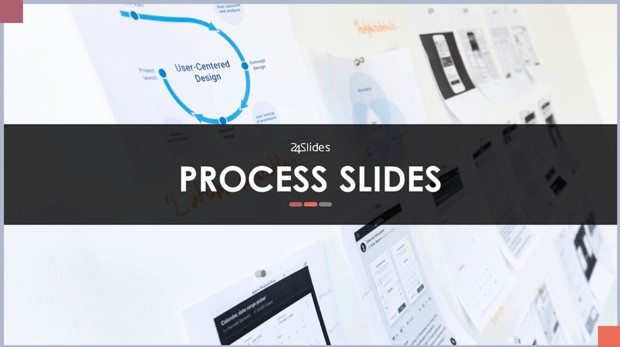 Businesses need efficient processes. Otherwise, you'll experience lots of problems in many different areas. For instance, if you don't have streamlined systems and processes in place, money and other resources may be wasted. You'll have problems meeting deadlines and fulfilling orders. Customers may complain about the lack of service.
If you're looking to fix all these problems and propose much better processes to your team, management, and other stakeholders, then this is the PPT template pack for you. Check out some slides included in this template:
Process steps slide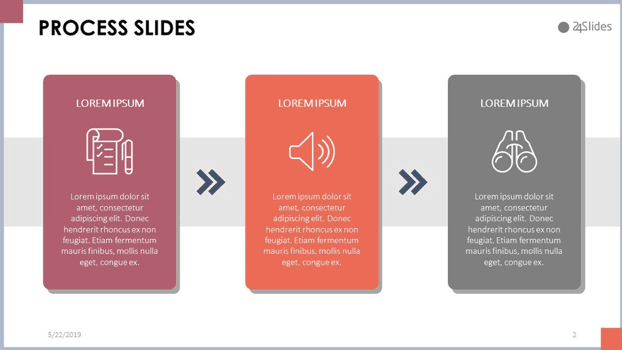 This slide will make it easy for you to communicate your proposed streamlined processes. You want everyone to be on the same page, so use the graphics and text on this slide to convey your ideas.
Process components graphic slide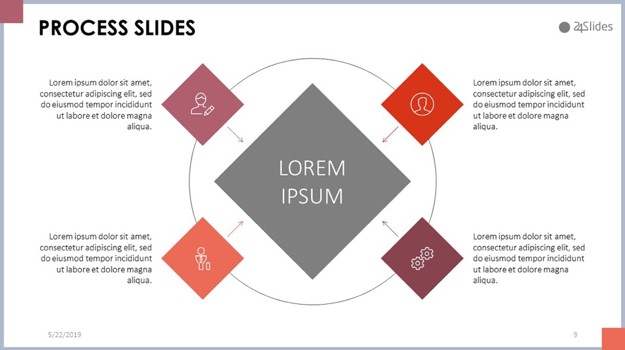 Use this slide if you want to show the different components that need to be carried out in order to achieve the main goal (center graphic). Make it easy for your audience to understand their roles or responsibilities in the improved process/system.
Process pyramid chart slide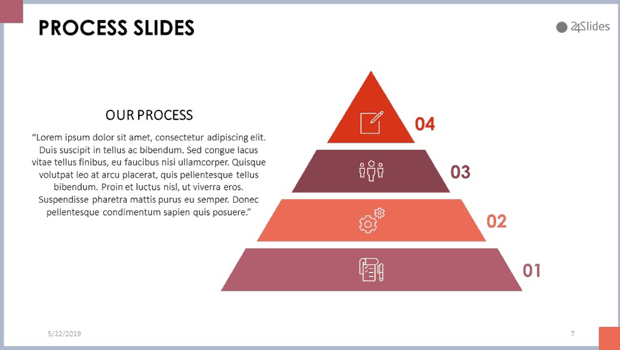 If you want to stress the importance of certain processes, this slide may come in handy. The way pyramids work is that each step needs to be completed first before you can go up. This lets everyone know they need to make sure the 'base' or step 1 is completed, before they can get to step 2. After completing step 2, they can move to step 3. Finally, once step 3 is done, step 4 is ready for the taking.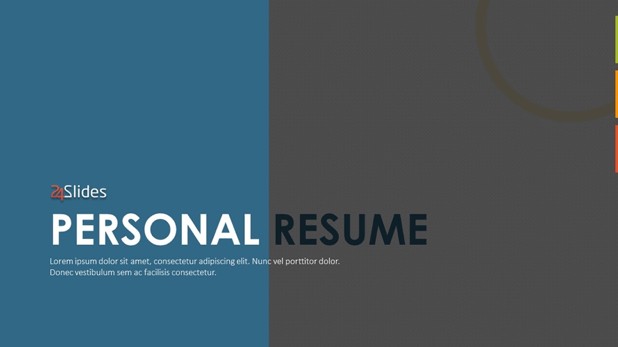 Here's the last free PowerPoint template in June 2019 – the Creative Personal Resume PowerPoint Template. Whether you're looking to jump ship or not, having an updated resume is always a good idea. You never know when opportunity may knock at your door, so it's best to be prepared. Not all employers will ask for a personal resume presentation. But if you're lucky enough to find yourself in this spot, then this free template pack will come in handy!
This template pack is professionally-designed, so you know you're going to stand out. Design should be the last thing on your mind, worry about the content you should be putting on the slides.
Before you use the slides, however, make sure you do your research on the company's culture. Some decision makers may appreciate a fun presentation, while others may prefer a more serious (i.e. conventional) one. Future employers and clients want to work with someone who's got an edge over the competition. So, think carefully about how you can add value to their business and make sure that's written clearly in the slides.
Here are some slides included in this template pack:
Personal resume slide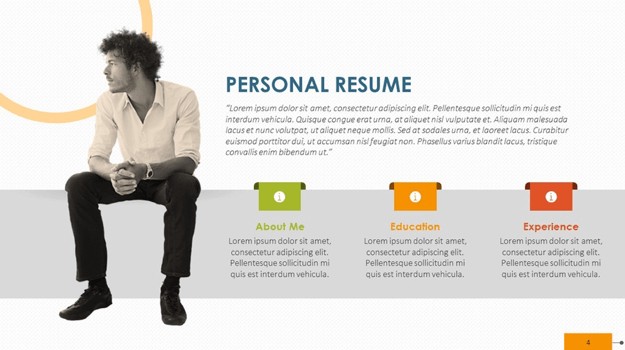 Use this slide to give employers a quick introduction about yourself. Add some personal anecdotes, but make sure it's relevant to the job you're applying for. Build rapport with your audience. Make them look forward to working with you in the very near future.
Skills and strengths slide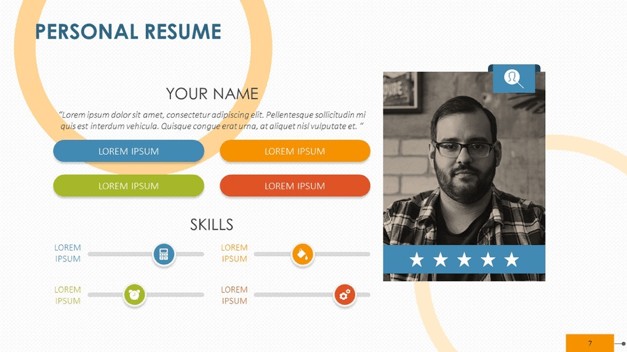 Don't just write down all your skills and strengths on this slide. Instead, cherry pick the ones that a potential employer may find valuable, and skip the rest. For example, if you're looking to get hired as an IT expert, then there's no need to mention that you are also an experienced mechanic or baker. Determine what skills the employer is looking for first. If you've got those, then mention that on the slides.
Experience map slide
Not everyone gets to see the world while making a living. If you're one of them lucky ones, then make sure you use this slide. Highlight on the map the places you've worked in and how long you've stayed there. If you're applying for a multinational company, then this may be the ace up your sleeve. Your international experience may give you an edge over other applicants, so use it to your advantage.
Which of these 6 free PowerPoint templates in June 2019 do you like best?
From pharmaceutical science presentations to job applications, this batch of free PowerPoint templates from 24Slides give tons of value to the PowerPoint community. So, what are you waiting for? Download all your favorite templates now!