The 14 Best Free PowerPoint Templates For January 2019
Let's start off the new year with a brand-new list of the best free PowerPoint templates for January 2019! From business to calendar to map templates, we've got a lot of free templates in store for you. Our talented in-house presentation designers had a lot of fun and came up with these templates especially for you!
Presenting budgets need not be boring. With the new Budget PPT Template, you've got the tools you need to make your number-crunching slides look so much more stylish. Even if you're presenting a budget deficit – one that's not going to make your stakeholder's happy – you can still impress them with visually stunning slides. Let's take a look at some of the slides included in this 10-slide template pack:
Expenses Breakdown Pie Chart Slide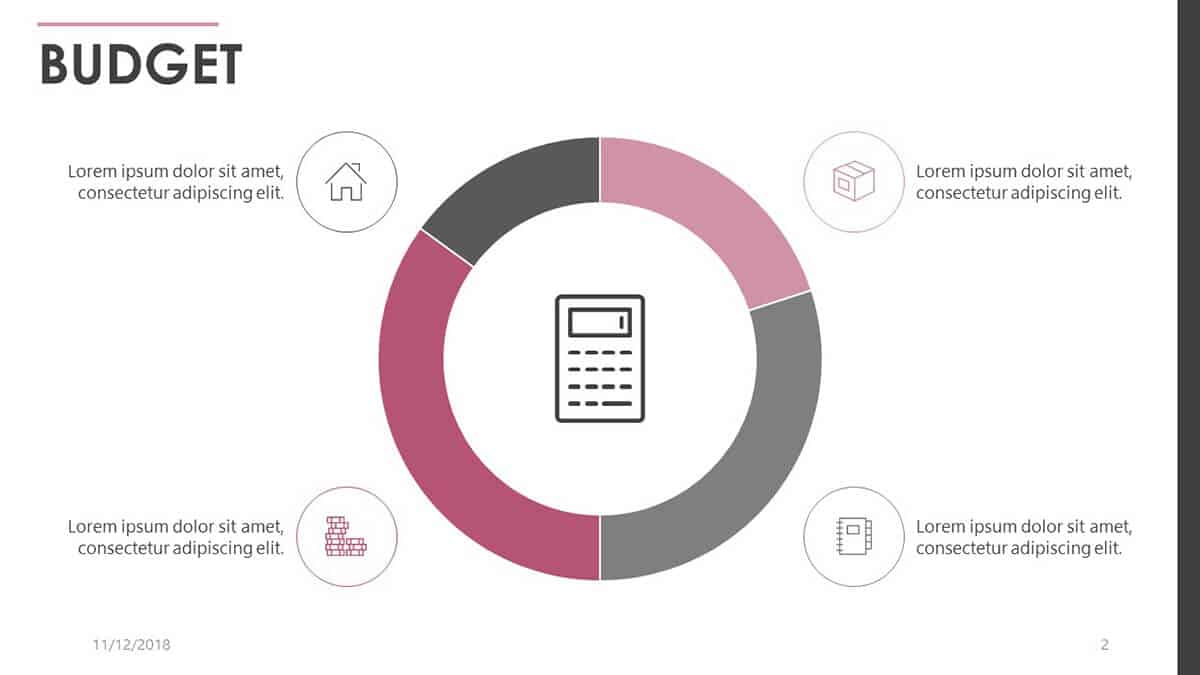 This slide will help you present the biggest expenses of your business or project in an easy to understand manner. Everyone will be able to see where the money has gone. Here's a pro tip: add percentages to the chart to make it easier to pinpoint which components need a budget reduction. The numbers will also help you figure out some possible saving opportunities.
Previous Spending and Saving Line Chart
Budgets are there for a reason. They're meant to be spent wisely, that is, you're supposed to spend money to achieve some specific goals. Budgets help you figure out if your business is moving in the right direction or not. With this PowerPoint slide, you'll be able to see just how well your budget has worked out in the past. Likewise, you can also determine what you need to do to further improve your cash flow for future business operations.
Presenting your copywriting services to potential clients is far from easy. Sure, you can impress them with a quick elevator pitch, enough to set up an appointment with them. This is where this template comes in – you can use this to level up in your meeting. Of course, you don't need to use all the slides in this 21-slide copywriting template pack. Just choose the most relevant ones to sell your services to potential clients. Here are some of the most useful slides included in this template pack:
Outline Your Writing Services Slide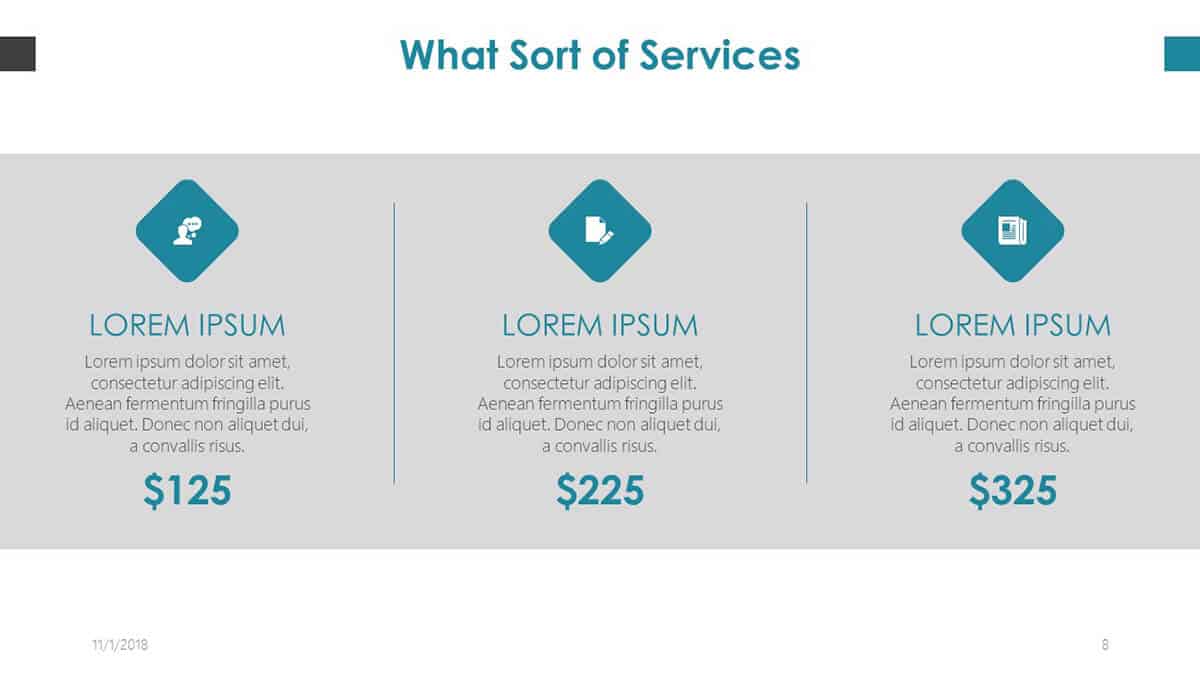 There are a ton of copywriters in the world. Use this slide to sell your skills to potential clients. Let them know what they're going to miss out if they don't use your service. You don't need to list down your rates on this slide if you don't want to box yourself into one rate for all your clients. Instead, you can tell them you can give them a quote based on their specific needs.
Copywriter Pitch Deck Slide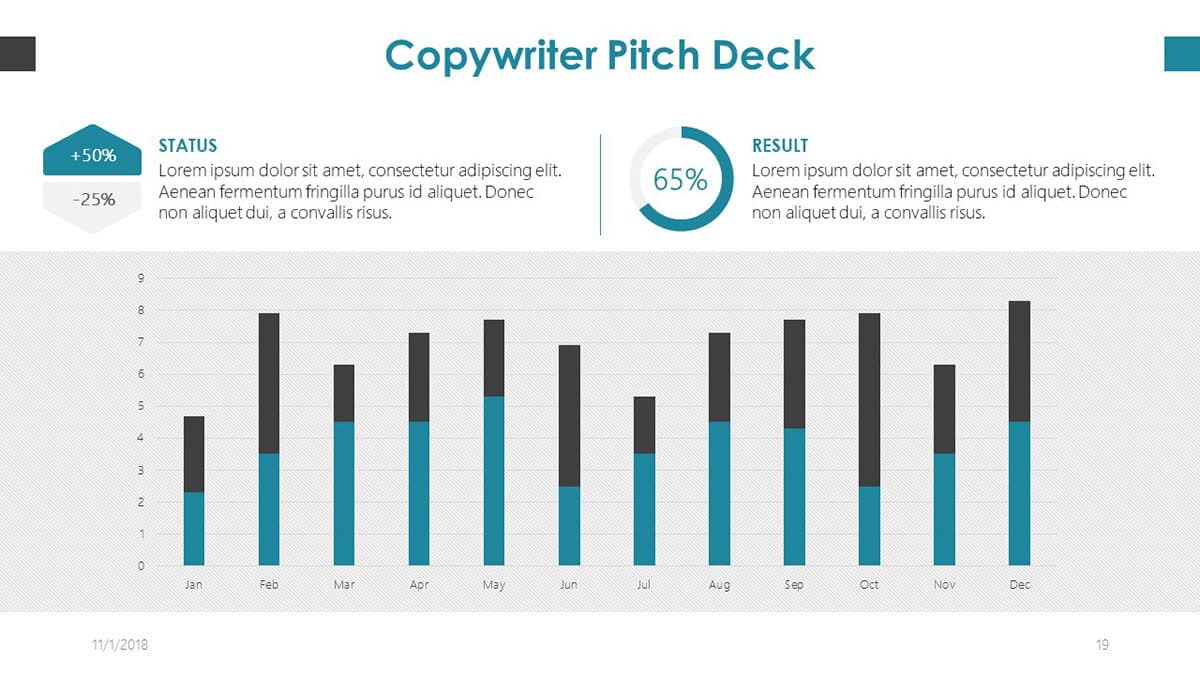 Talented copywriters have a very tangible and measurable effect on a company's bottom line. If you have clients you've successfully helped before, now's the time to let your audience know about it. Don't be shy – demonstrate your role in their success. If presented correctly, this slide alone has the power to convert your potential clients to paying clients!
Bitcoin, cryptocurrencies and the technology behind it – the blockchain – are often misunderstood. If you want to make your blockchain idea easily understood by potential investors, then this is the presentation template to use. Here's a sample slide included in this 10-slide template pack:
Blockchain Characteristics Slide
Presenting the foundation of your blockchain is important. Use this slide to describe the main characteristics of your blockchain and how your target audience can potentially use this technology to their advantage.
If you truly want to capture your audience's attention, then don't bore them with text-based presentations. Instead, use graphics, diagrams and data sheets to drive your message home. Here are a few a sample slides included in this 6-slide template:
Pie Chart With Comments Slide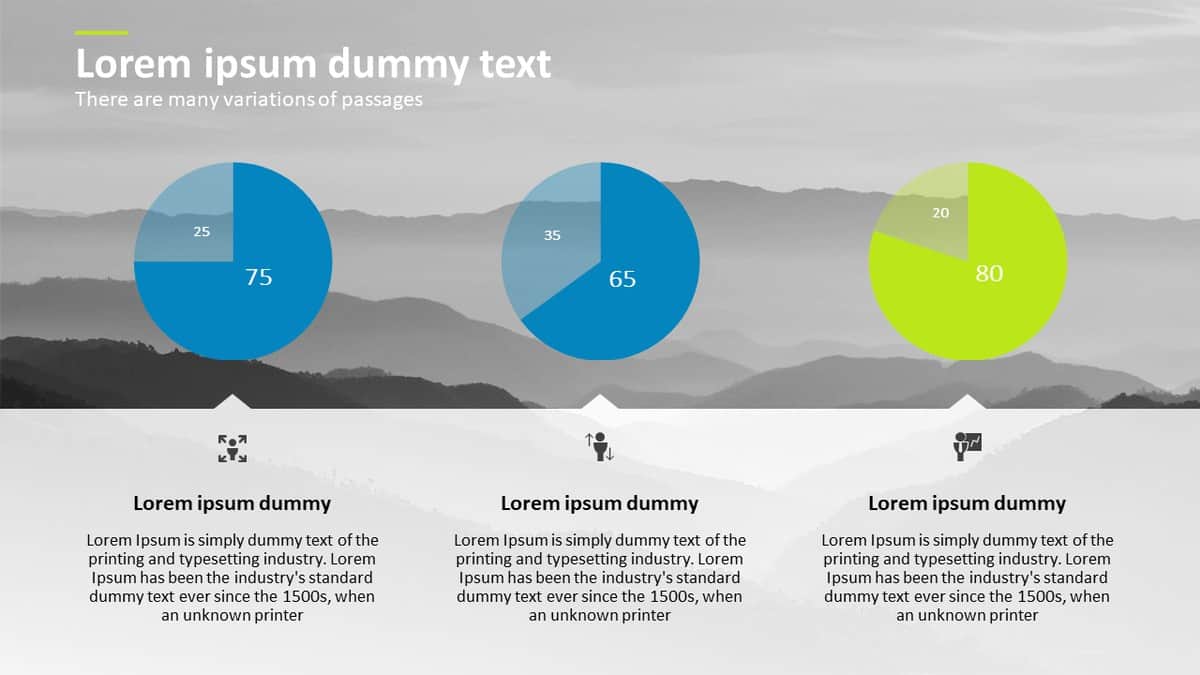 As you can see in the slide above, pie charts are visually simple and incredibly easy to understand. If using this kind of chart makes sense for your data, then by all means, feel free to download and use this slide in your presentation!
Data Sheet Slide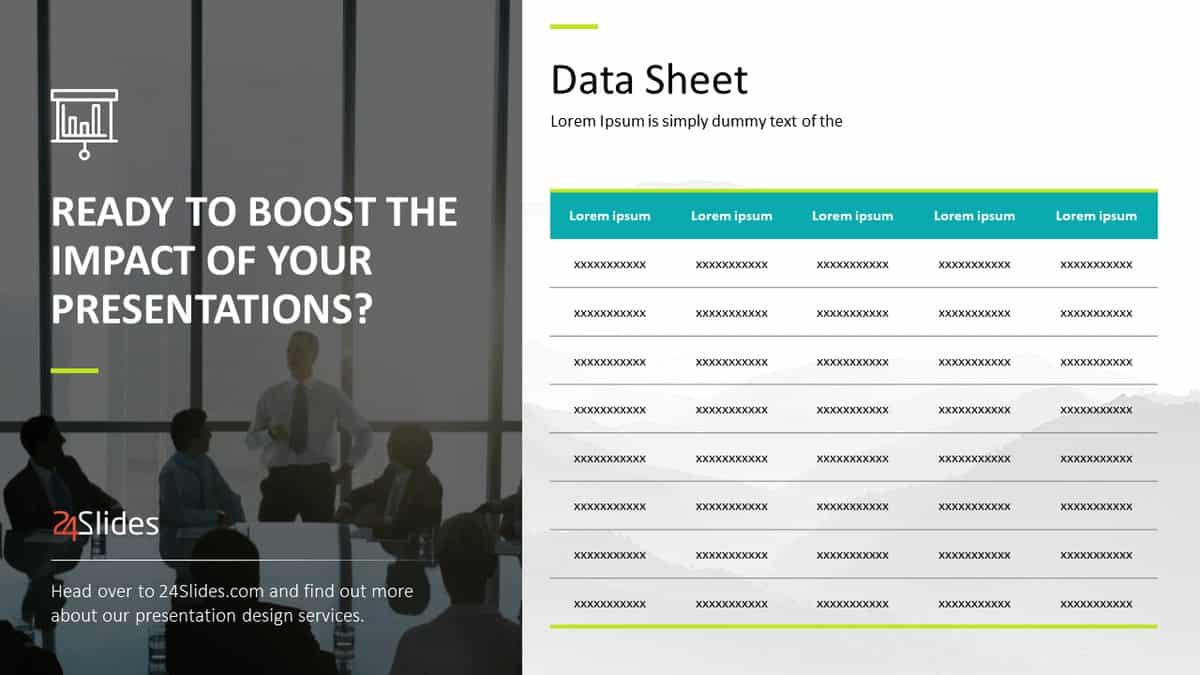 If you absolutely need to show raw data to your audience and not be limited to projecting a boring Excel sheet on the screen, then use this free Data Sheet slide. You can add as many rows and as many columns as you see fit, and even color code or highlight some elements.
If you're in need of a good finance presentation template, then look no further. This 5-slide free template will help you present your personal, team, or business finances to your target audience. Some of the slides included in this pack are the Financial Planning Timeline, Breakdown Slide, and the Quarterly Progress Slide (see below).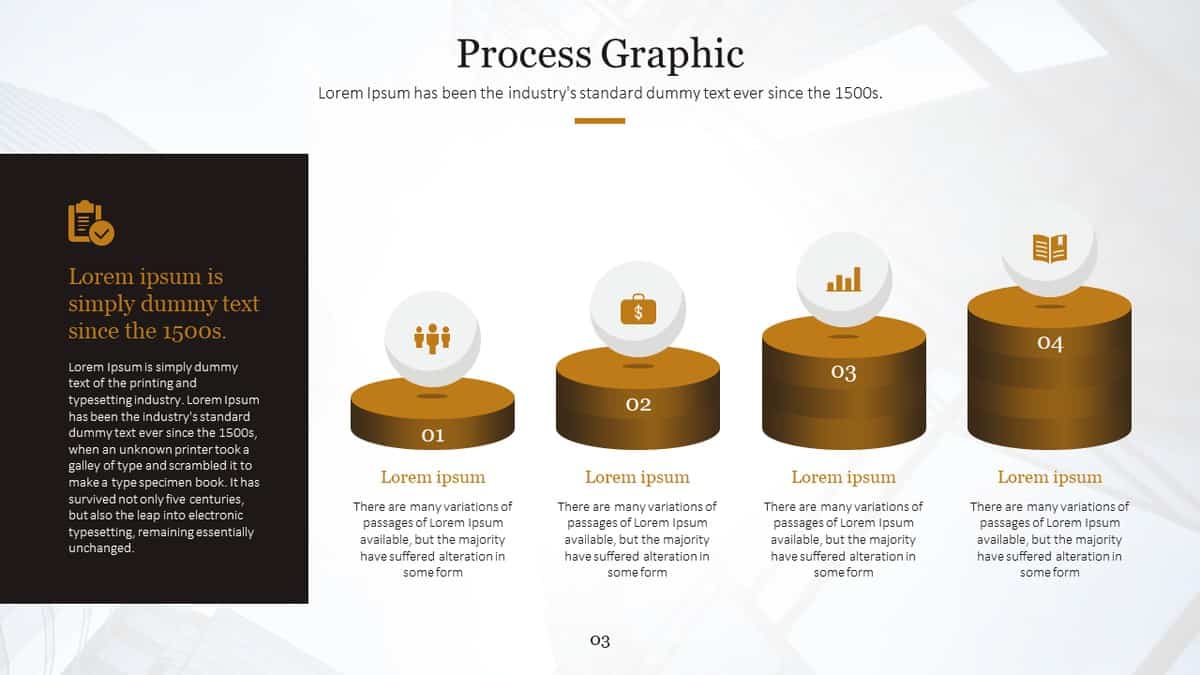 The Quarterly Progress Slide will help you determine if you're still within your financial goals for the quarter or year. You can use the text box on the left to write down things you've learned during the entire period. You can also use it to outline your action plan so you can reach your goals faster.
Whoever said Science presentations are boring? Well, they probably haven't come across this stunning 5-slide template pack! Whether you need to fire up a presentation for your Science project or Chemistry research, then you may find this template very useful. This pack includes progress charts, and some slides which will help you compare results and walk your audience through a step-by-step process. Here are some screenshots:
Results Comparison Slide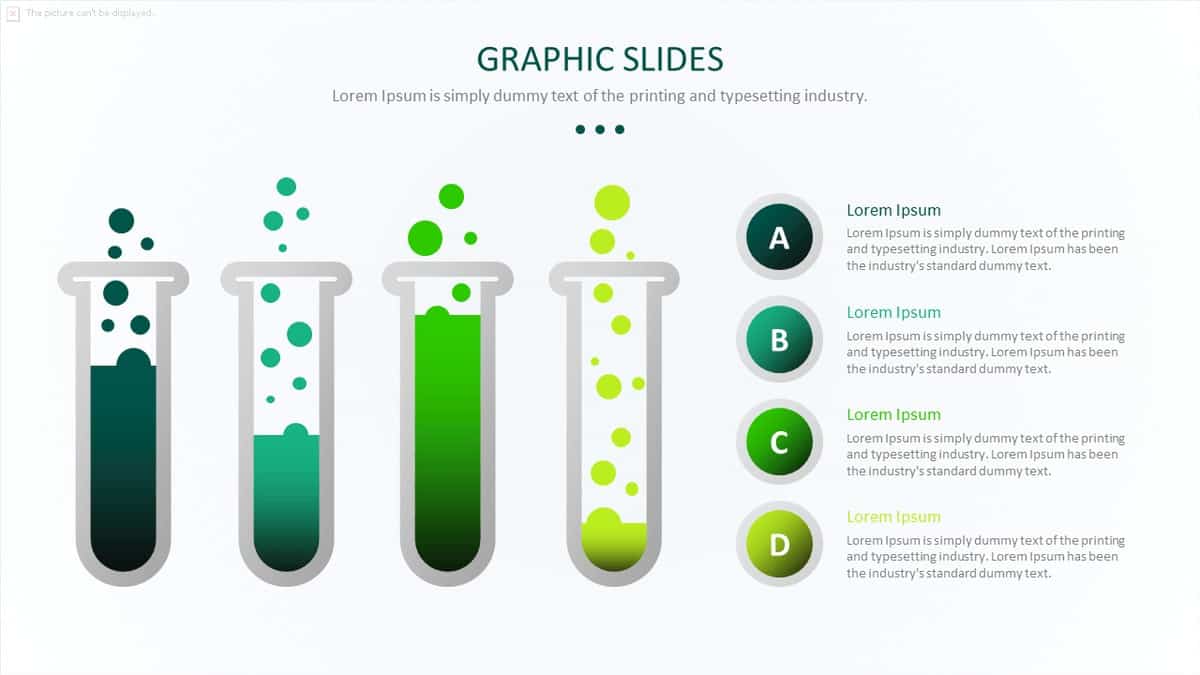 Progress Chart Slide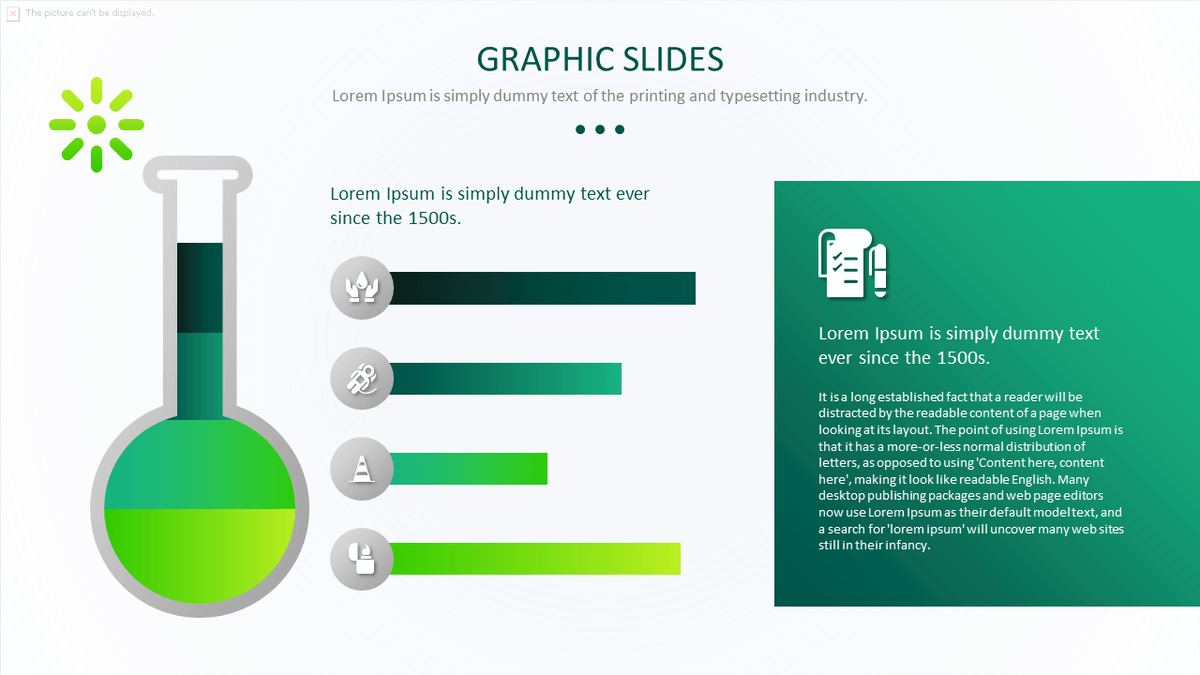 This 10-slide template pack includes a variety of maps – this includes a couple of editable World maps, a USA map, a map of Australia, an Africa map, and even a map of Brazil. Here are some sample slides:
World Map with Market Share Slide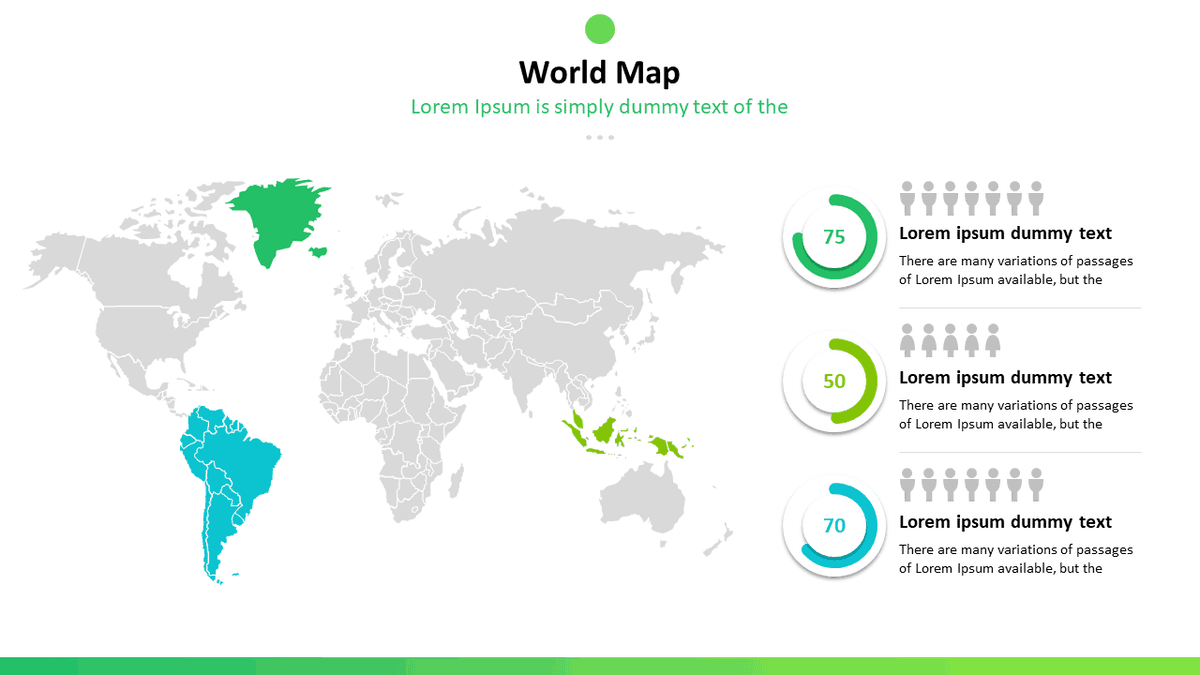 This world map will help you showcase your company's global presence. You can highlight the countries of your choice. On the right side of the slide, you can use pie charts to present each of your favorite country or continent's market share.
Continent Map with Comments Slide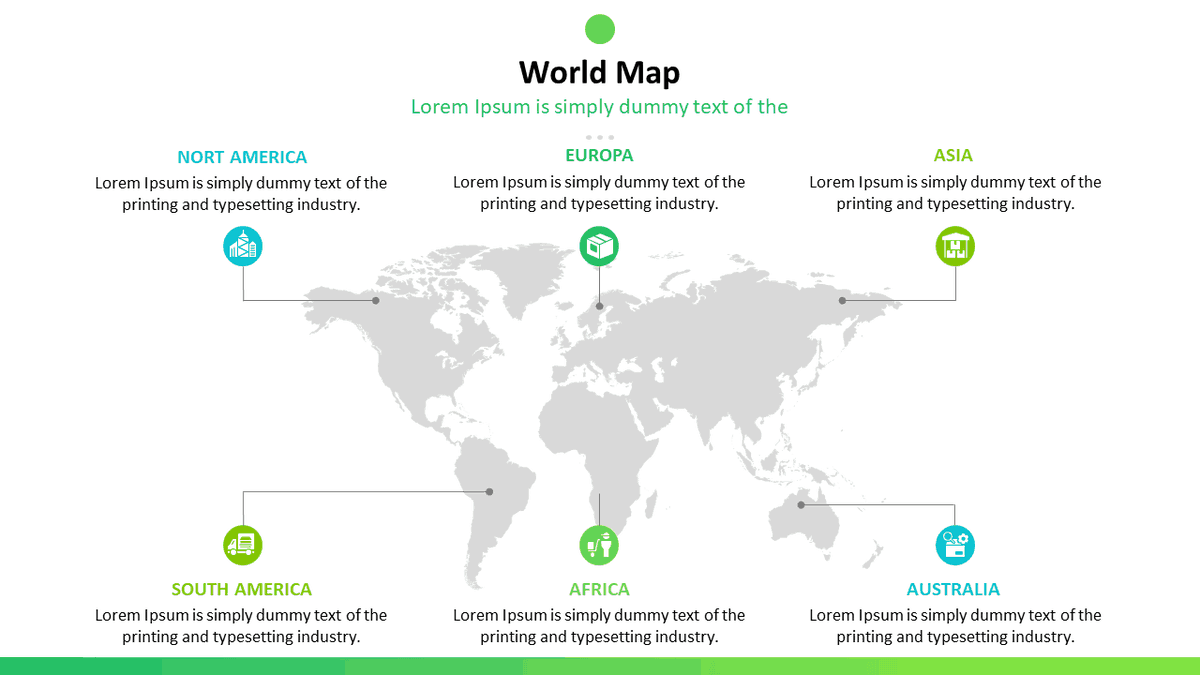 Use this slide to highlight some points about your company's operations in each continent.
This 14-slide corporate template pack is our latest offering in this particular industry. We've already featured a list of free corporate PowerPoint templates, but of course, we're not going to stop there. There'll be more corporate templates in the future, so make sure you check the 24Slides.com Templates Hub regularly. Here are some slides included in this template pack:
Presentation Agenda Slide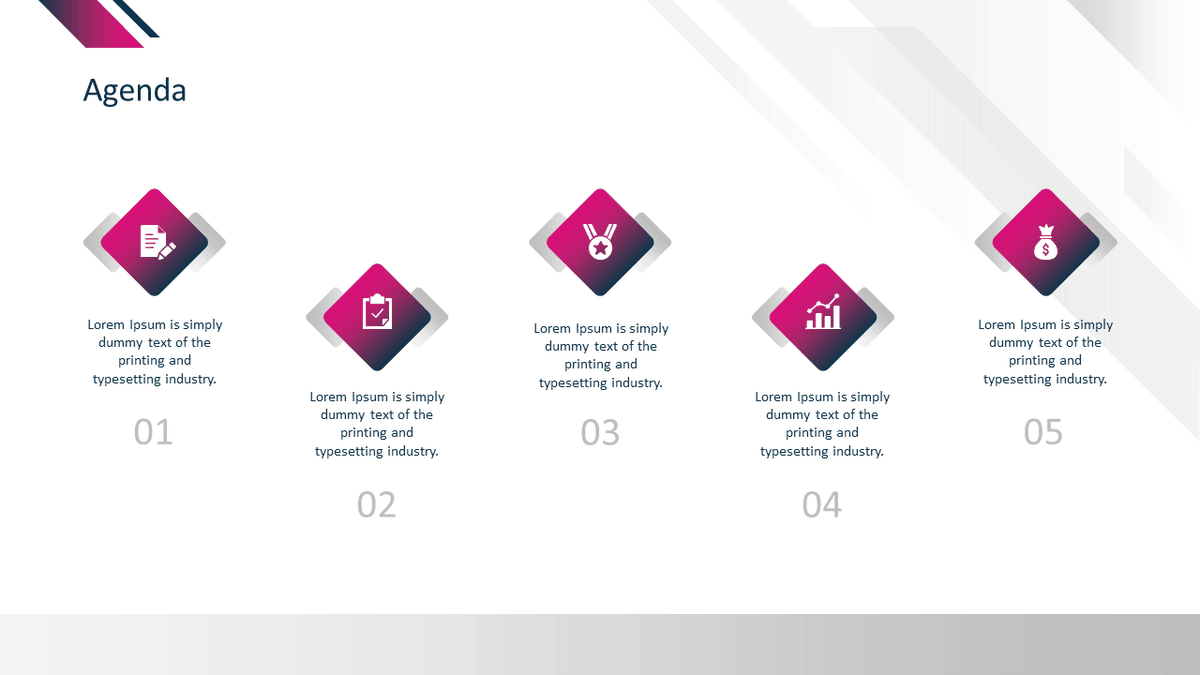 Let your audience know what's in store for them. Briefly go through the main points you're going to be covering in your presentation. Try to project a bit of excitement in your voice so your audience will have something to look forward to!
Growth Infographic Slide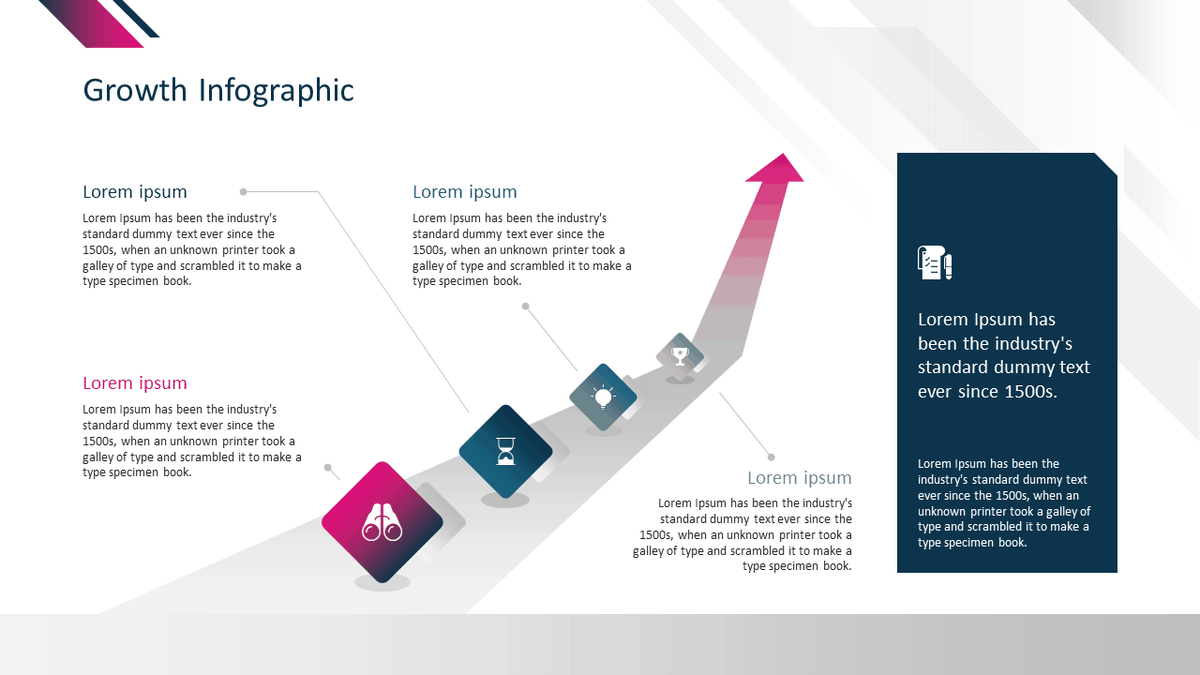 This slide is something everyone's going to love looking at especially if you've reached all your milestones and hit every sales target in the past year or so. Show your audience what your projections for the future are based on your company's recent good performance.
Here's another PPT template pack for corporate presenters. This pack includes 9 slides full of graphs and charts that you can use for presenting data analysis. Here are some sample slides:
Dashboard Data Driven Slide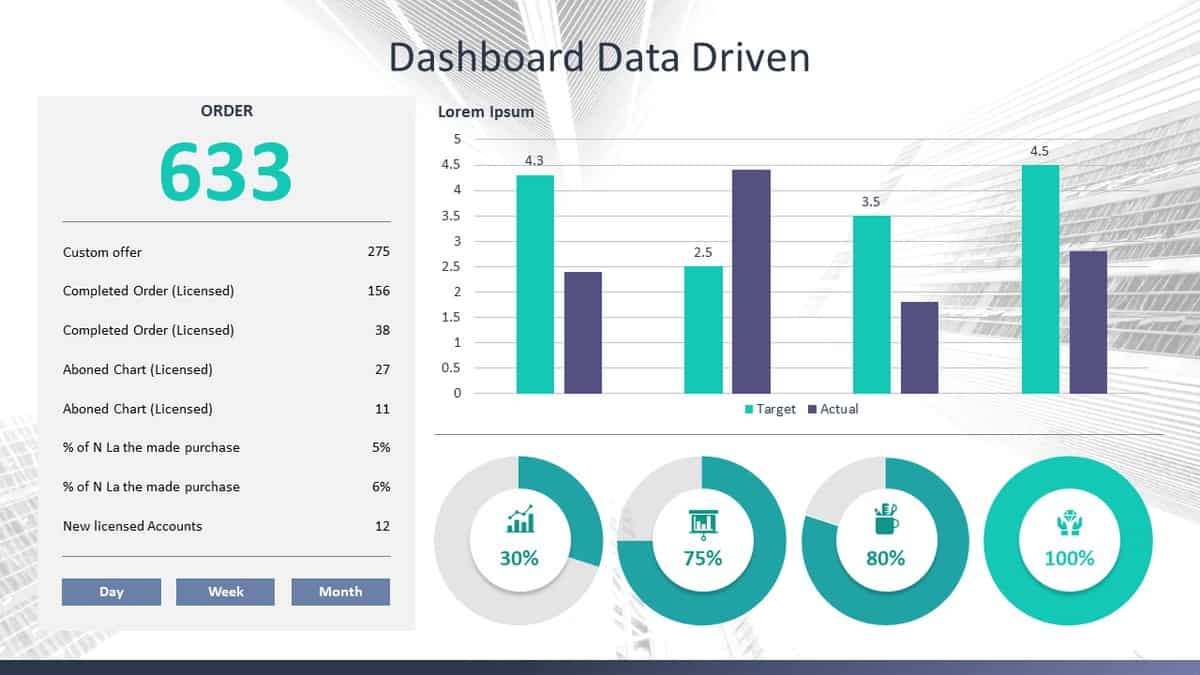 Presenting all relevant information in your presentation need not be complicated. With this template, you can show all the relevant data in just a single slide. For fancy visual effects, use the Morph transition effectto zoom in and out of each graph or chart in the dashboard.
Mix Data Driven Slide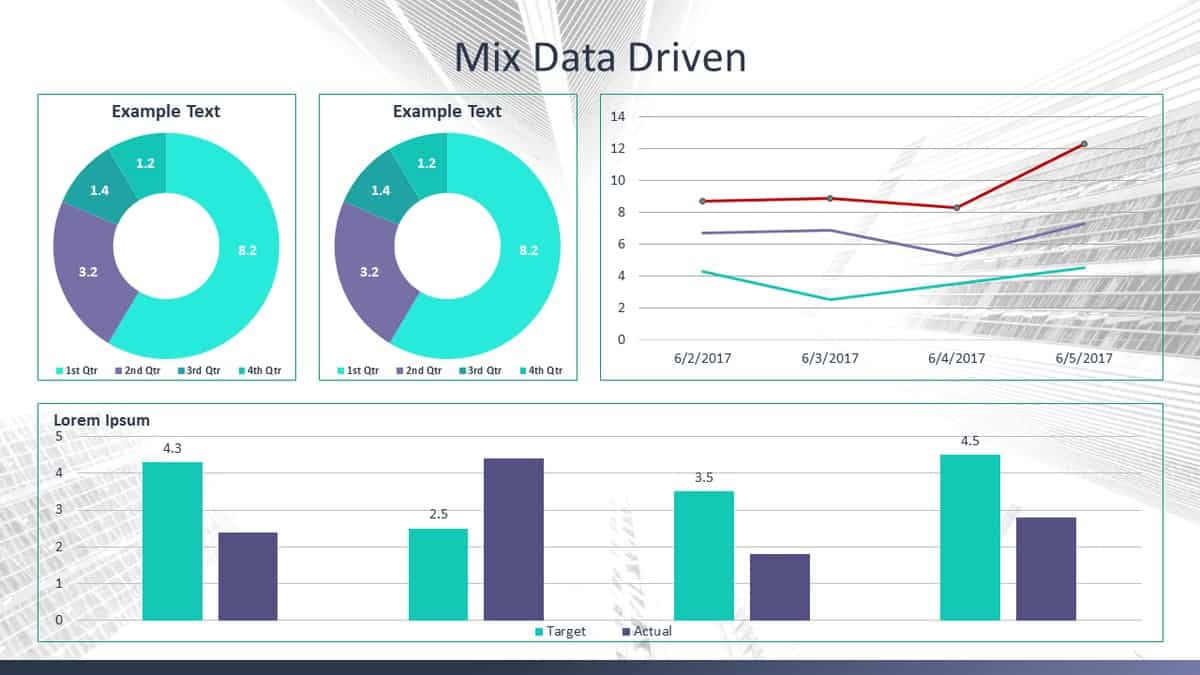 You don't want to confuse your audience with complicated charts and graphs, especially when the stakes are high. Similar to the dashboard slide, this particular template will help you get your point across in a relatively simple manner.
Timelines are often included in presentations. And the truth is there are plenty of free PowerPoint timeline templateson the web. However, if you're looking for unique and well-designed timelines, then you should check out our latest timeline template pack. Here are some screenshots:
Yearly Timeline With Comments Slide
If you're in need of a yearly timeline, then look no further than this template pack. In here, you can customize and add as many years as you want. You can highlight the most important years and even add a blurb for your yearly targets or milestones.
Horizontal Daily Timeline Slide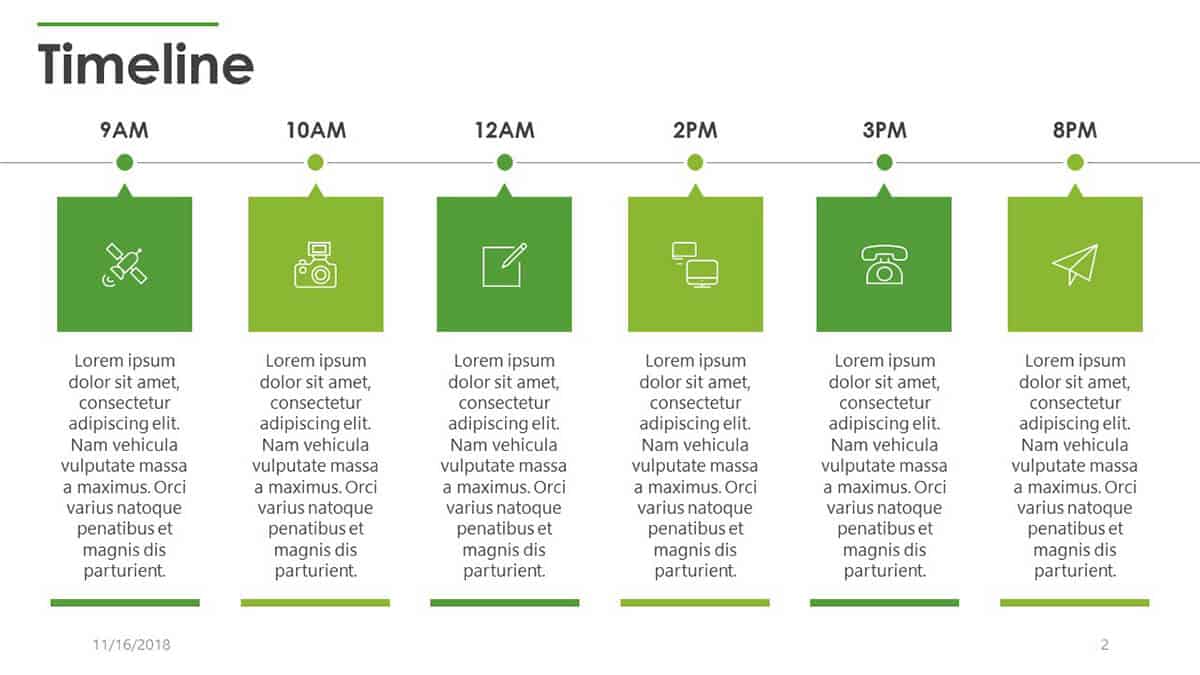 Having a set schedule is often important to ensure maximum productivity during the day. Use this slide to highlight the most important tasks that need to be carried out and ticked off the list during the day.
Presenting your company's 7S framework is now extremely easy thanks to this 10-slide template pack. In addition to the opening and closing slides, this template includes an overview, strategy, structure, skill, staff, system, style, and shared value slides. Here are some screenshots:
Strategy Slide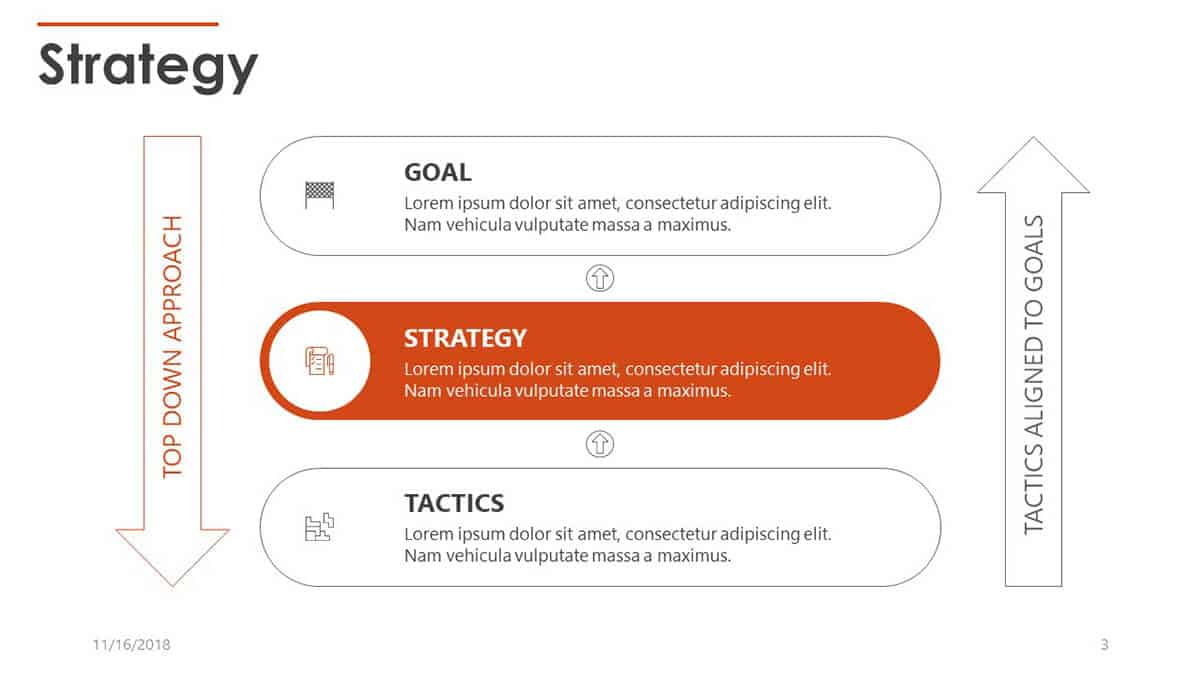 Presenting your company's strategy is essential if you want to attract potential investors. Even if you're only presenting in-house, this strategy slide will help keep everyone in your team on the same page.
Staff Slide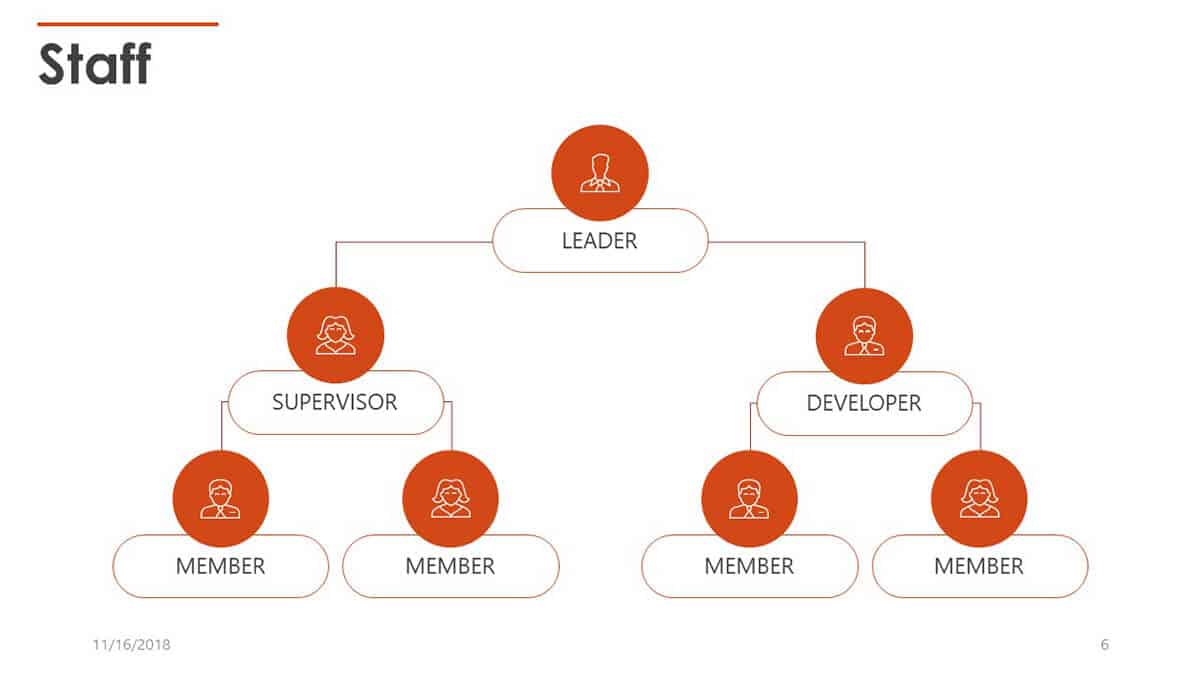 An organization's success depends on the people running it. Without a team of dedicated managers and staff members, you can probably bid adieu to your business. Use this slide to showcase your organizational chart or your team members.
Sharing your company or project's Strengths, Weaknesses, Opportunities, and Threats (SWOT) in a presentation can now be done in a matter of minutes. Use the slides included in this 10-slide template pack and wow your audience with a professionally-designed presentation. Here are some sample slides included in this template:
Situation Matrix Slide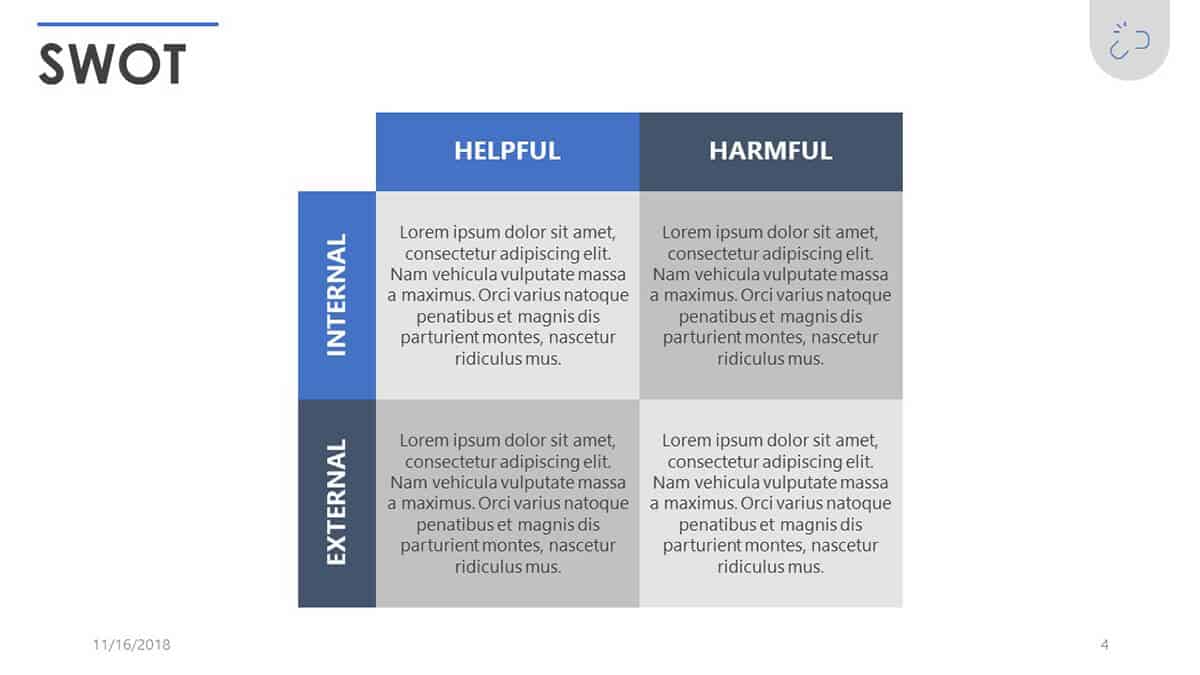 This 2×2 situation matrix makes it easy for you to share your analysis with your audience. With just a single glance, your audience can tell if internal or external factors are helpful or harmful to your goals.
The Opportunities Slide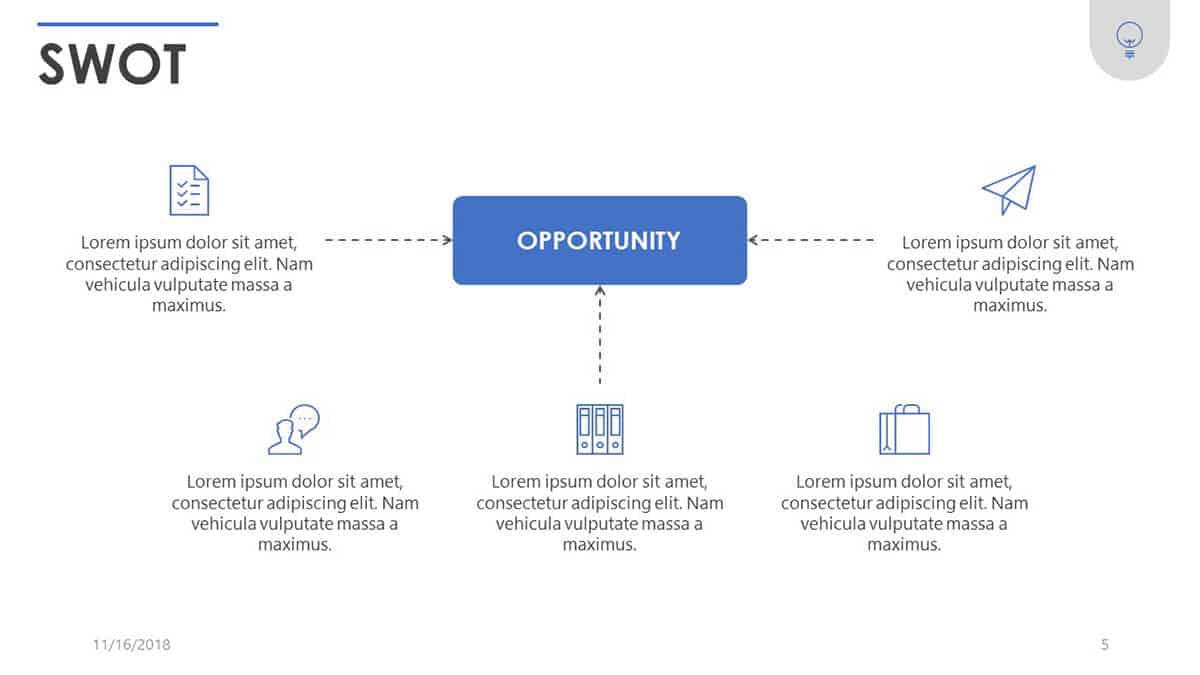 There's opportunity everywhere, but only if you know where to look. Often, opportunity is disguised in various forms, and if you don't look carefully for it, you're going to miss it big time. Use this slide to share your newly discovered opportunities with your audience.
The health care industry is broad, but it doesn't mean that you can't fit all your health care content in this 10-slide template pack. Whether you're presenting to potential investors for your clinic, colleagues, or even patients, you'll find a slide you can use. Here's a sample slide included in this template pack:
Health Care Location Slide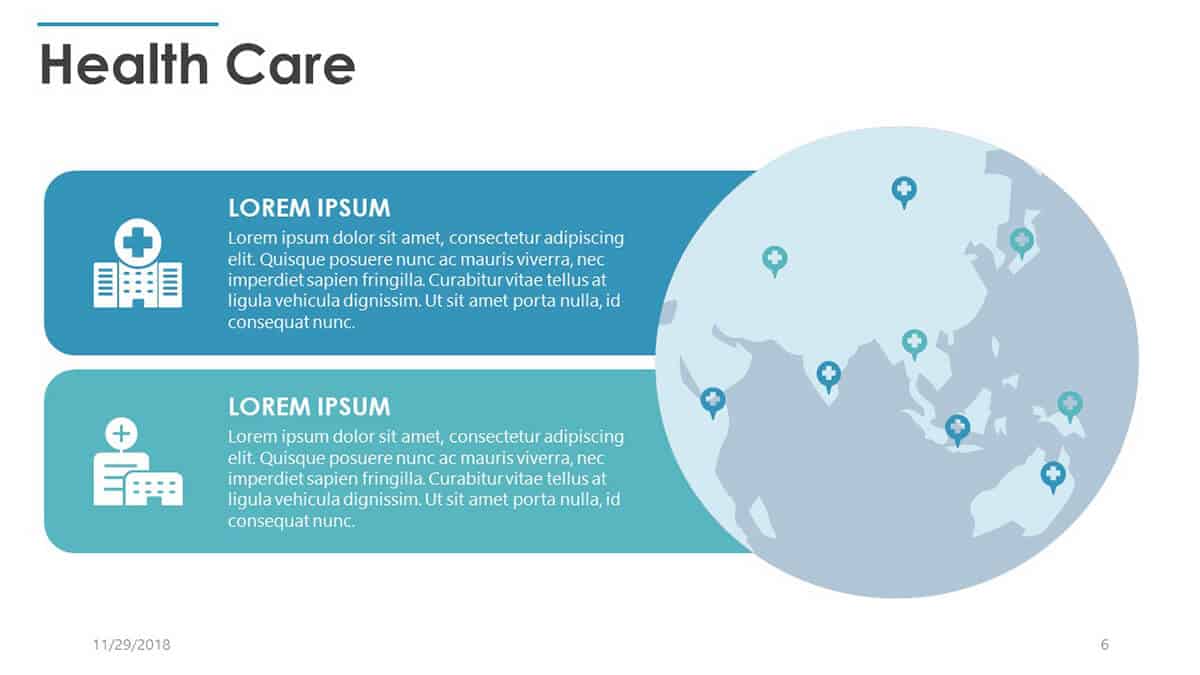 If you work in a health organization that's spread out in various locations, then you should use this slide to pinpoint the places where your clinic operates. There's no need to download a separate maps template too, unless of course, you only want to show a specific country or region.
Start off the new year with a bang and use this 12-slide template pack to set deadlines and milestones, make predictions for the year, and so much more. There are a variety of calendar designs you can choose from in this template. Here are some samples:
Months With Notes Slide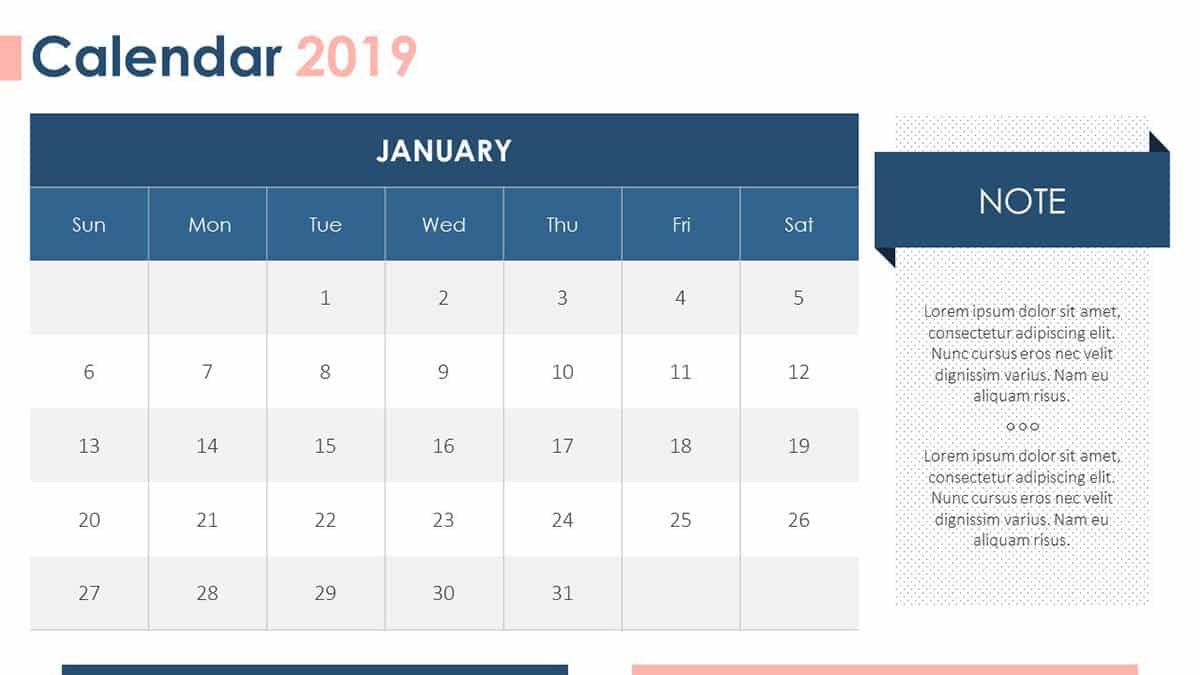 Use this slide to outline your plans and your goals for the month. If you need to highlight a few days or even an entire week, you can easily do this by making a few changes on the slide.
Quarters Slides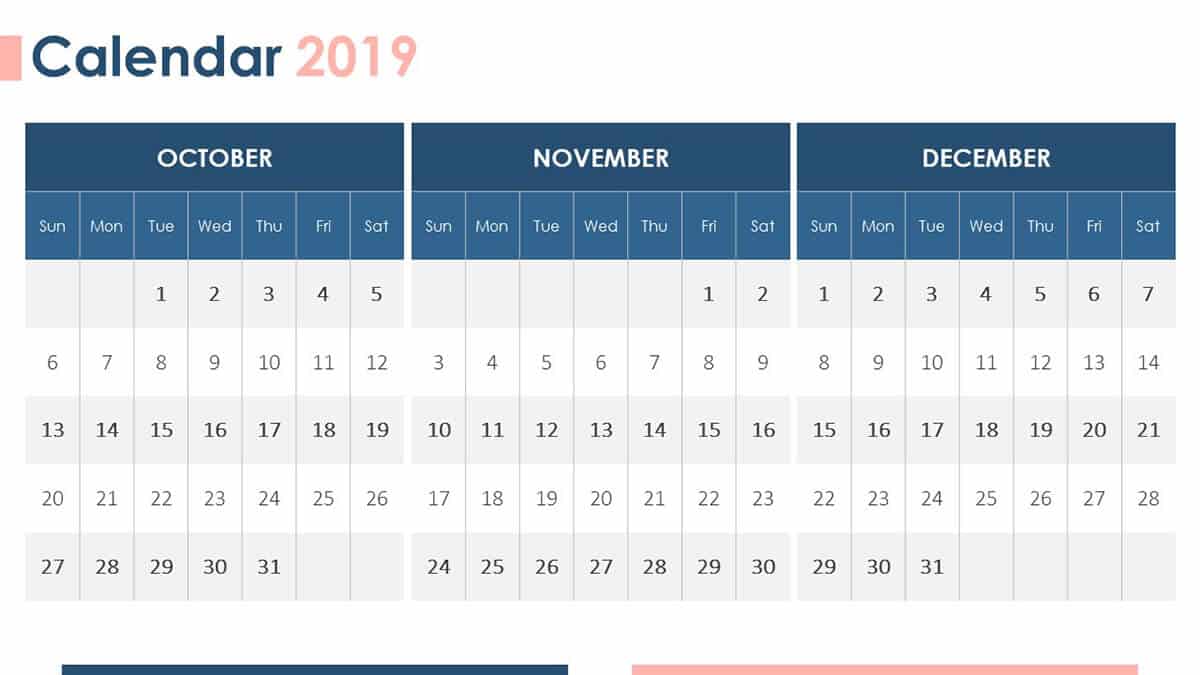 If you don't want to go month to month, you can use this quarters slide instead. You can easily change the slide's appearance and highlight the most important dates in a few seconds.
Conclusion
Your time is valuable, don't waste it creating presentation slides from scratch. To help you become more productive this year, use any (or all) of these free PowerPoint templates for January 2019.