6 Free PowerPoint Templates in July 2019
Our presentation designers worked hard to bring you guys a fresh batch of free PowerPoint templates in July 2019. Check them out right now and download one (or all) of them!
Personal Resume PowerPoint Template Pack cover slide
So, you need to give a presentation to potential employers or clients. Well, designing your slides from scratch is going to take a long time. You don't want to waste all that time nitpicking on everything from fonts, colors, shapes, images, etc. to make the perfect presentation.
Don't get me wrong – looks do matter. But in the world of presentations, content is still king. No matter how awesome the design is, if the content doesn't add up or isn't what the hiring specialists are looking for, then it's a no-go.
This is precisely why you shouldn't spend all your time designing slides. Instead, you can download this free template, do the necessary changes, and then spend the rest of your free time working on your speech!
That being said, here are some slides included in this template pack:
Personal resume portfolio slide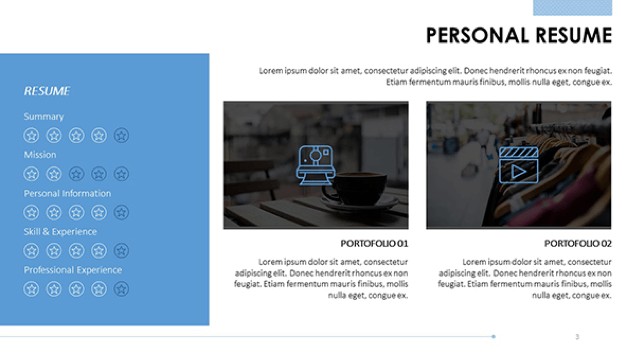 Your portfolio is one of the first things potential clients and employers look for. Why? Because it showcases the most important pieces of work you've done in the past. It highlights your skills and your experience.
Now, it's important to mention here that if you've worked on hundreds of similar projects in the past, you should only share the most relevant ones in your presentation. You don't want to overwhelm your audience. So, cherry-pick the ones you think are similar to the job you're auditioning for, so they can judge if you're the right candidate or not.
You want to make your presentation as succinct as possible. Don't bore them with non-relevant details; this includes showing portfolio items that have nothing to do with the job at hand.
Additionally, you should also pay attention to the resume summary on the left side of the slide. Put it to good use by making an honest assessment of your skills and experience. The summary gives your audience a general overview of who you are as a person.
Idea implementation slide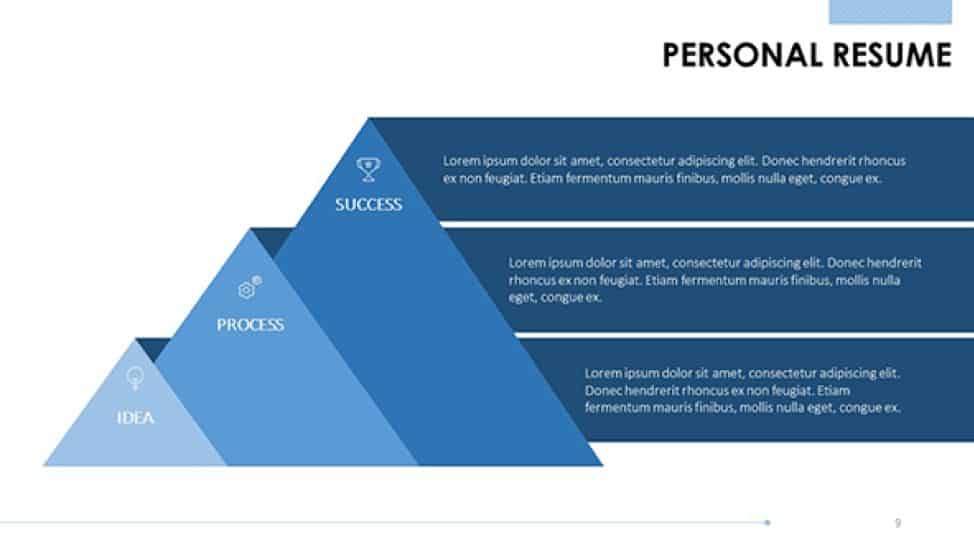 Use this slide if you've done some research on your potential client or employer. Doing so can impress them as it shows you're really interested in the job, and you're already thinking of ways to add value to the company. Most applicants wouldn't think to go this far, so this is a great way to stand out from the applicant pool!
Alternatively, you can also use this slide to show how you've helped solved a similar problem in the past. For instance, if you held a similar position in a previous job, you can say you've solved the same pain point. Then list down the ways you're going to do the same thing for the new company.
Skills slide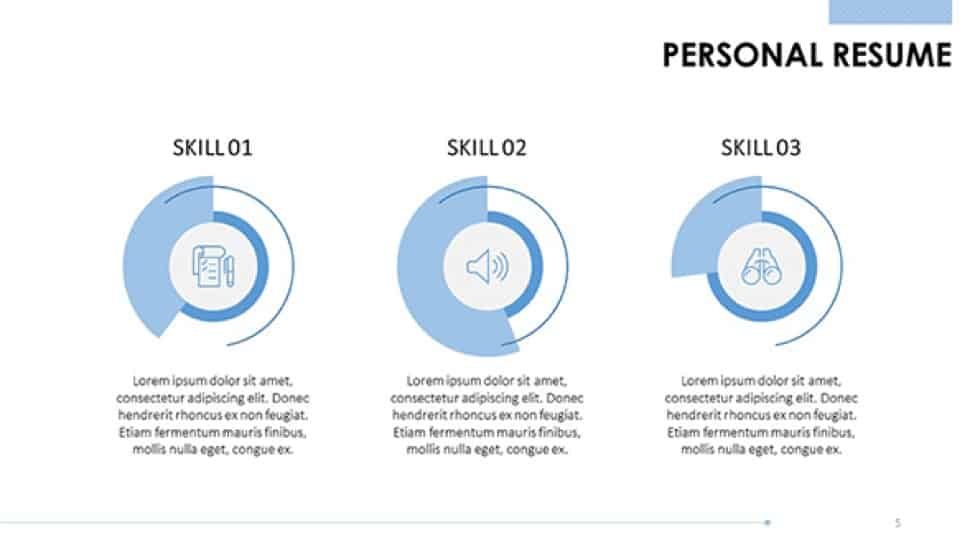 Skills are, of course, something employers and clients look at very carefully. You can be a smooth talker and impress them with big words. But without the right skills, you're probably not going to get hired. If you have skills that put you head and shoulders above the competition, include that in your presentation. Show them they're going to miss out big time if they don't hire you!
Now, you may be a jack-of-all-trades kind of person and be skilled in many different areas. You don't need to go listing each and every skillset you possess. Instead, only list down the skills that are most relevant to the position you're applying for.
Work experience slide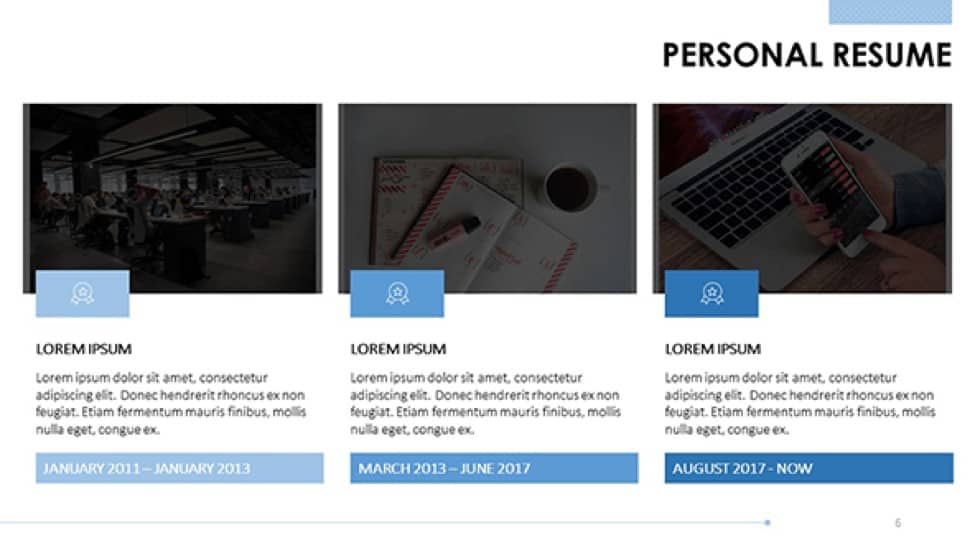 Only use this slide if you've previously worked in a related position or industry. If you're still trying to get your foot in the door in a new industry, then using this slide may be a bit tricky.  But if this is required in the presentation, then recall some jobs, tasks or projects that are closest or similar to the one you're applying for. Don't list totally unrelated jobs in this slide unless you can somehow put a spin on it. Then, try your best to make it appear those past jobs are somehow relevant to the new position.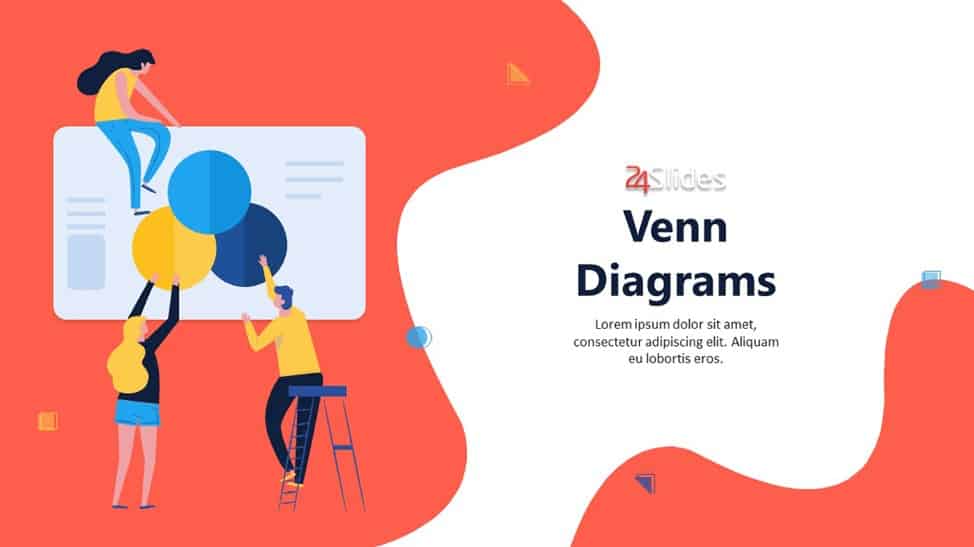 Playful Venn Diagram PowerPoint Template cover slide
Venn diagrams are simple and easy to understand. You can quickly see the relationships between various data sets. Your audience can quickly identify similarities and differences between categories, groups, ideas, and more. Similarities are shown in overlapping circles. Differences, on the other hand, are those data sets which do not overlap in the Venn diagram.
Now, creating a Venn diagram on PowerPoint isn't particularly difficult. You can use SmartArt for this. However, the problem comes when it comes to appearance. SmartArt diagrams have been used in countless presentations worldwide.
If you're presenting in a high-stakes situation, you need to come out on top. Impress the socks off your audience with this visually-appealing Venn diagram – one of the best-looking PowerPoint templates in July 2019!
Check out some of the slides included in this template pack:
Multiple overlaps data set slide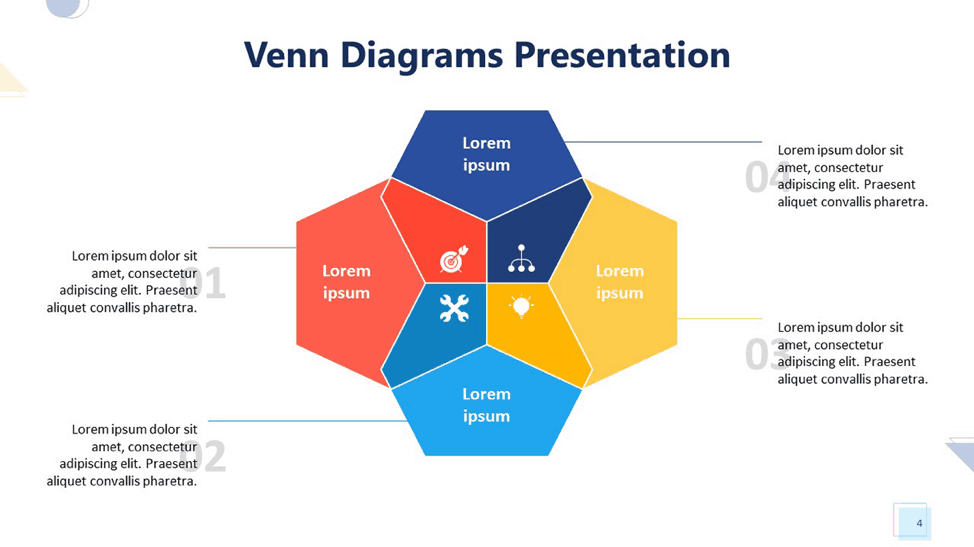 As you can see, this diagram uses 4 colors to differentiate the data sets. You can add your descriptions on the side (just don't make it too long!). The icons within the diagram shows what the overlapping or similar data sets are. Of course, you can quickly replace the icons by using the built-in icon finder in PowerPoint (go to Insert > Icons and choose from hundreds of free icons). Alternatively, you can also check out our free icon PPT templates.
Four data set diagram slide
Analyzing the similarities and differences between 4 data sets need not be complicated. You can use this slide to show the results of your analysis. You can freely move around the circles according to which data sets are overlapping. The good thing is if you need to compare more than 4 data sets, you can do so as well. Just add an extra circle (or two) and add a short description on the side.
Transition period diagram slide
Projects often transition between two phases. Let's say after the production phase, it goes into the delivery phase. This might seem like there's no overlap between these two phases. But the truth is that a lot of things happen in the background to make the transition happen. You can use this slide to present what happens during this transition period. Additionally, this is also helpful in educating your audience about what goes on behind the scenes.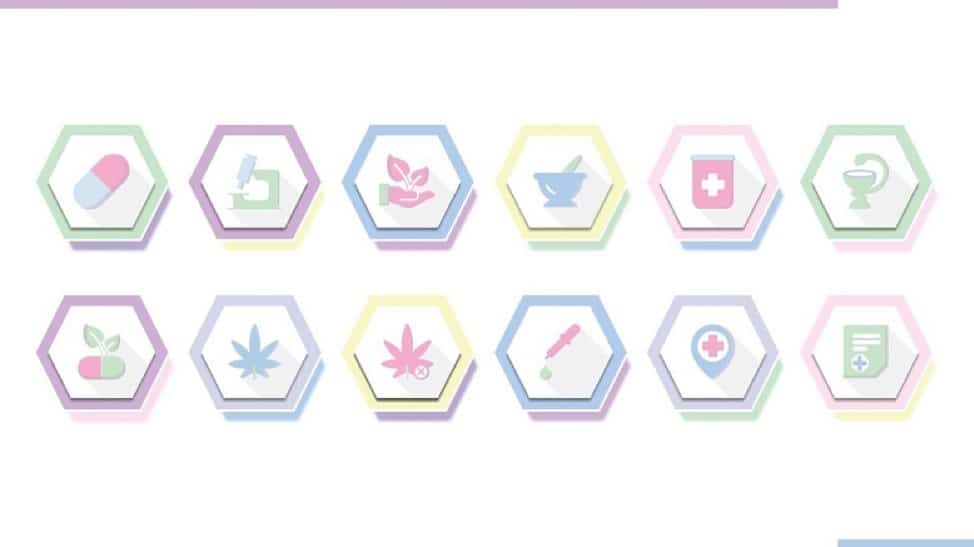 The pharmaceutical industry has a complex drug-naming convention. Did you know each drug has three names? A chemical name, generic name, and brand name. As you can imagine, it can get quite cumbersome to remember everything, even your prescription drugs.
Now, this icon template pack can't quite help with the drug names, but it can help you make your pharma-related presentations a whole lot easier. How? Well, icons are visual elements. And as you can see in the screenshot above, they are easy enough to understand. So, what you can do is instead of writing a description on the slide, you can just use the relevant icons to convey your message to your audience!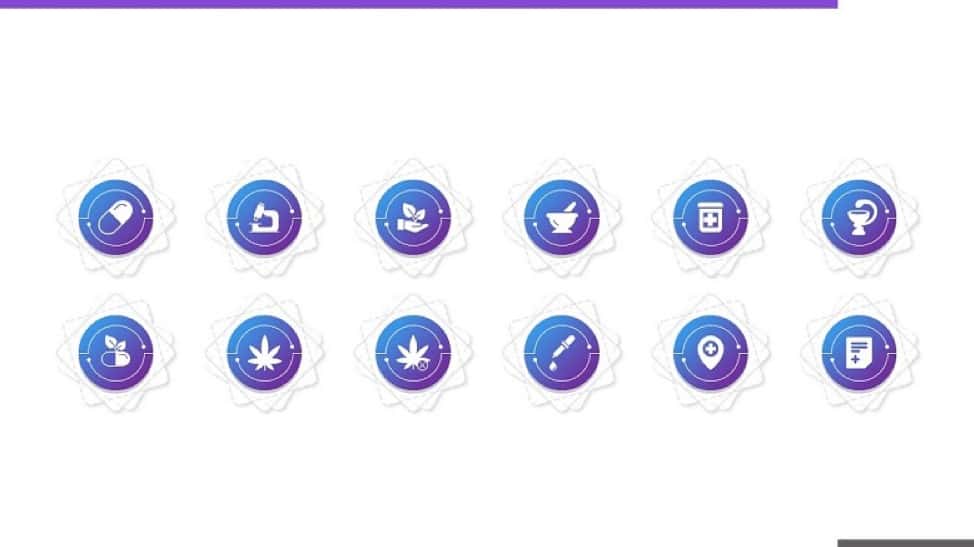 This free PowerPoint icon pack is similar to the 3rd template on this list (the Playful Pharmaceutical Icons pack). Obviously, the borders and color schemes are different, but the icons remain the same. If your presentation uses a theme that matches this icon pack's design, then I highly recommend you download this right away.
The good news is you're not limited to using this icon pack on your presentation. You can use these icons for your website, social media, and other content channels – all for free!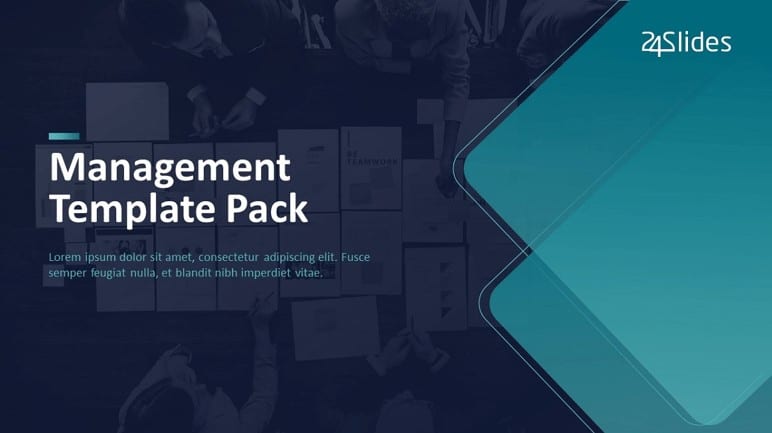 Animated Project Management Template Pack cover slide
A well-managed project is more likely to succeed than an ill-managed one. As a manager, it's crucial that you're able to convey your ideas clearly and without any ambiguity.  Getting your team or audience confused is not going to do you any favors, so make sure you don't inadvertently confuse them.
That being said, it's important to focus on how you're going to frame your presentation. Spend your time determining which data and which update should go into the presentation. Things like designing your slides shouldn't be at the top of your list. Instead, if you want to save time, you should use this template pack for your next project management presentation.
Here are some slides included in this free template pack:
Management process slide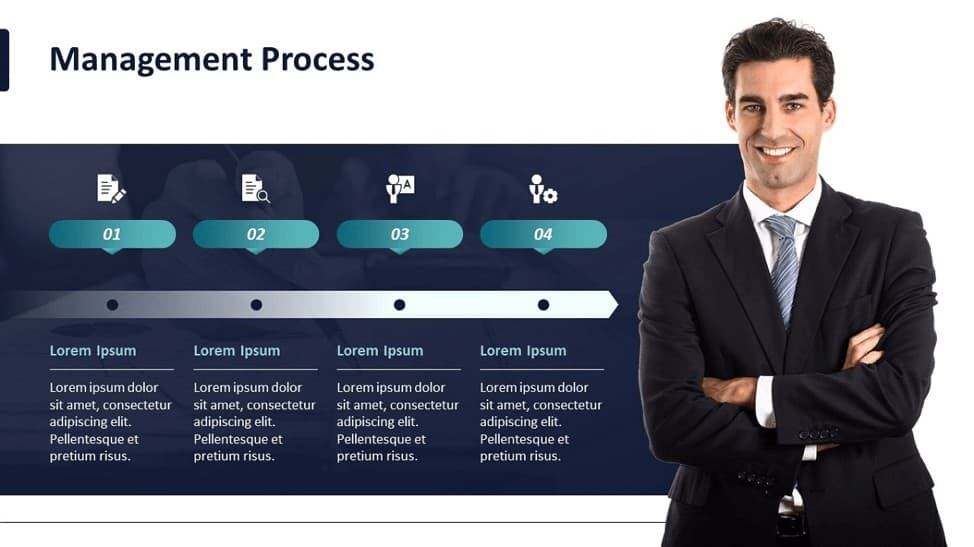 In this slide, you can write down the management process. Like, what are your goals, your plans for executing a project or process, etc. Say, in the first column, you can use that to present your goal. The second column is the execution plan. Third column shows the team responsible for managing the project. And for the fourth column, you can indicate the senior manager responsible for overseeing the project. You can replace the stock photo with the senior manager's to let people know he's the one in charge.
Review and monitoring slide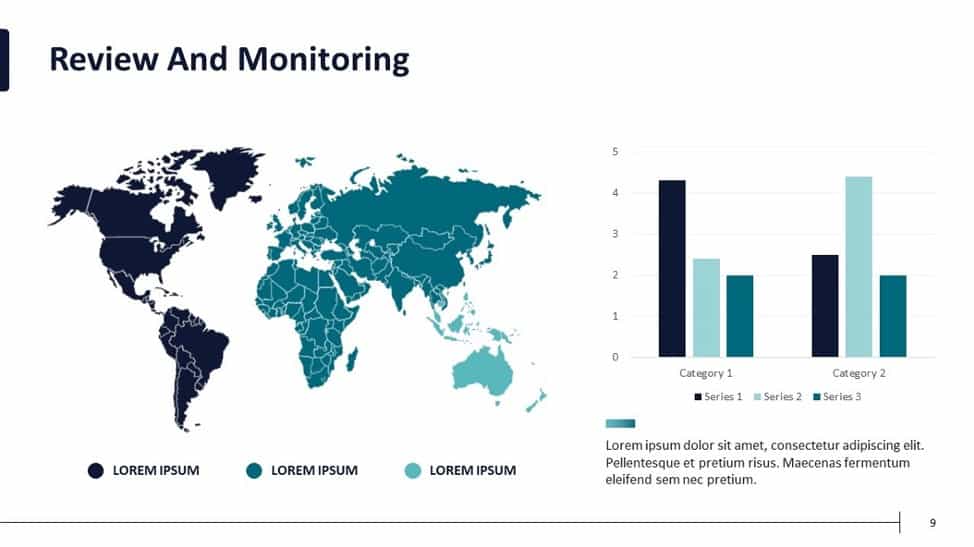 A project – no matter how big or small – needs to be reviewed and monitored regularly. You want the project to finish on time and within budget. Any slight delay can have consequences down the line. A good manager is always up to date on his project's status. So, presenting your findings to stakeholders shouldn't be a problem.
Now, this particular slide is great for projects that cover multiple locations. If your project covers a much more local radius, then you should check out our free template maps and replace the placeholder map shown in this slide.
Management measurement slide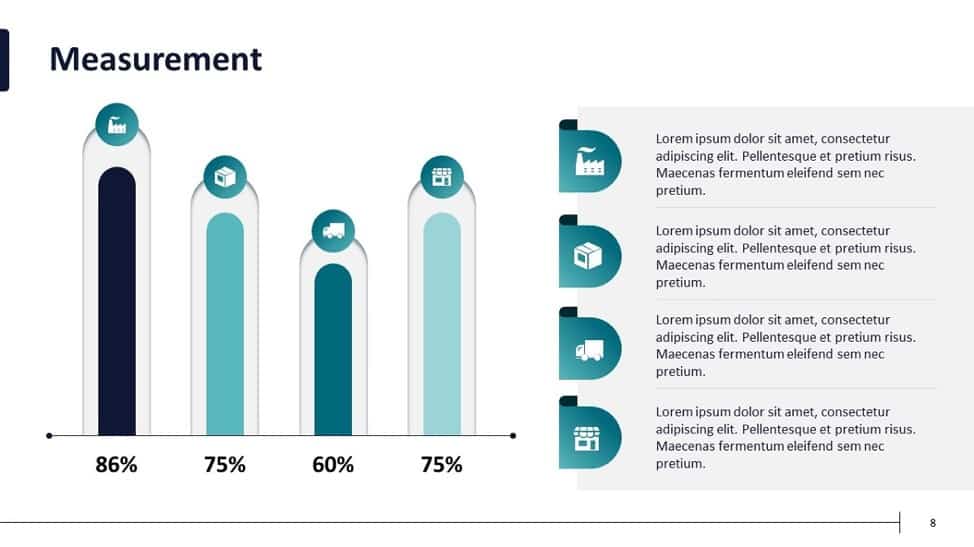 Performance reviews and evaluations are necessary. From individual team members to upper management, performance should be assessed on a regular basis. This ensures everyone is as productive as possible.
However, you may find that some individuals may not be up to par yet. Let them know where they stand in the company, and how they can improve. This presentation slide will help you get your point across.
Where are they failing? Where are they succeeding? And so on. Replace the icons as necessary or do away with it altogether. You can just write a short description on the right side of the slide.
Creative Animated Timeline Presentation Template cover slide
We're on to the last one of our 6 free PowerPoint templates in July 2019. This may come as a surprise to you, but you can never have enough timeline templates for your presentations. Why? Because timelines are used in almost all kinds of presentations.
Whether you're doing a financial, sales, corporate, or academic presentation, a timeline is a great visual tool. You can quickly transform your data or your vision into a visual diagram – one that your audience can easily understand.
This latest timeline template pack stands out from other timeline templates we've featured in the past. It's designed with creativity in mind. Most of the slides use an image background with text overlay. You can change the background, of course, and doing that shouldn't take you more than a couple of minutes if you follow this guide right here.
Check out some of the slides included in this template pack:
Year-on-year timeline slide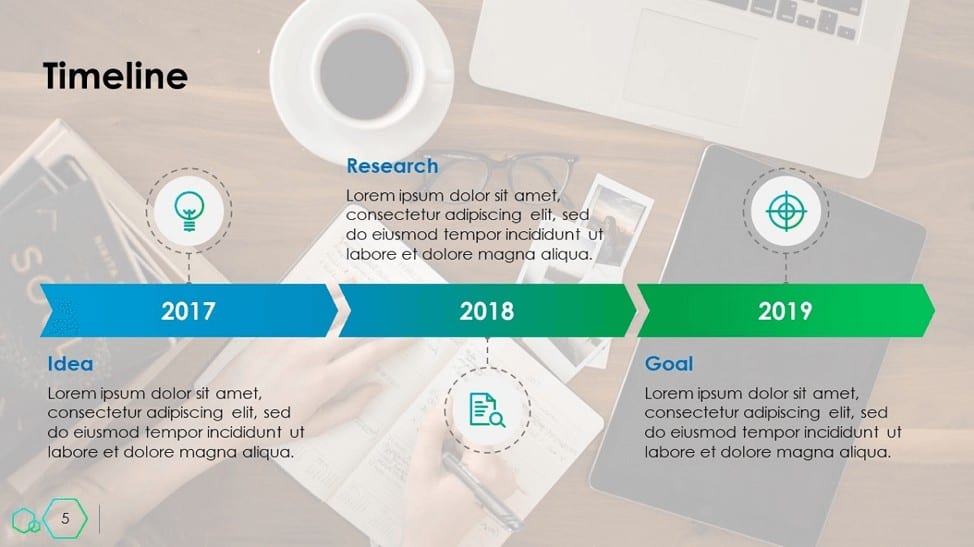 This timeline is great for showing the year-on-year growth of, say, a project or even your business itself. Now, don't think for a minute that you can only use this for 3-year long projects. This is just a template, so you're free to edit it anyway you please!
If your business has been around for a decade, you can start with 2009 as milestone 1, then 2014 as milestone, and finally, 2019 as milestone 3. If you need to show more than 3 milestones, you can edit the graphics and add more timeline shapes to the slide.
Looping timeline slide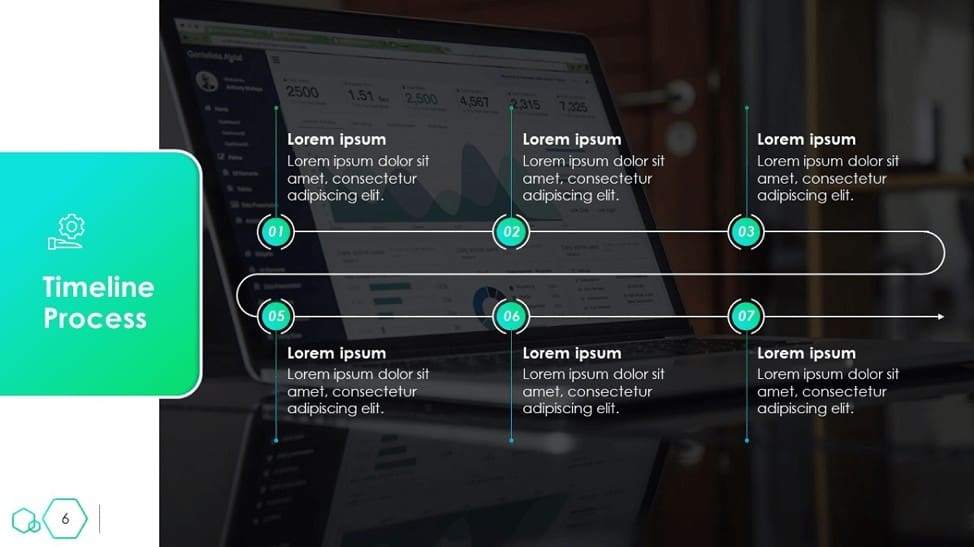 This looping timeline is perfect for those who need to show a lot of milestones (or years) in their timeline. The default slide layout has room for 6 timeline points, but you can add more if you need to.
You can move the timeline higher up on the slide and add more points at the bottom. Or you can leave it as is, and just duplicate it and continue the numbering system used in the first slide. This way you can cover as many years as you like in your timeline!
Quarterly timeline slide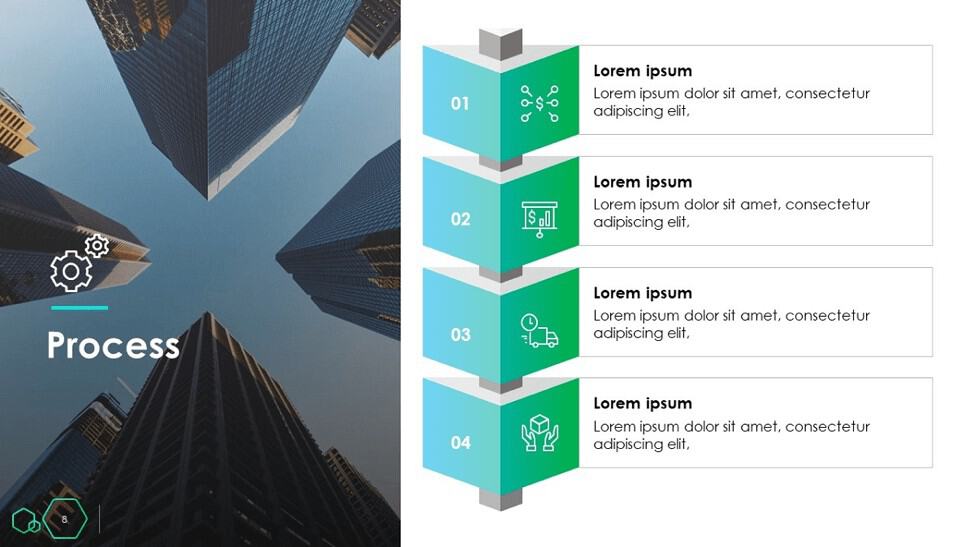 If you want to discuss your project's health or status over the past year, you can use this slide. Our designers have added 4 milestones in the slide – each one represents a quarter. You can write down the most notable achievements in each quarter. If you need to move or replace the icons to better represent each quarter, feel free to do so. You can also make the placeholder image smaller, so you can make more room for the timeline itself.
Decade timeline slide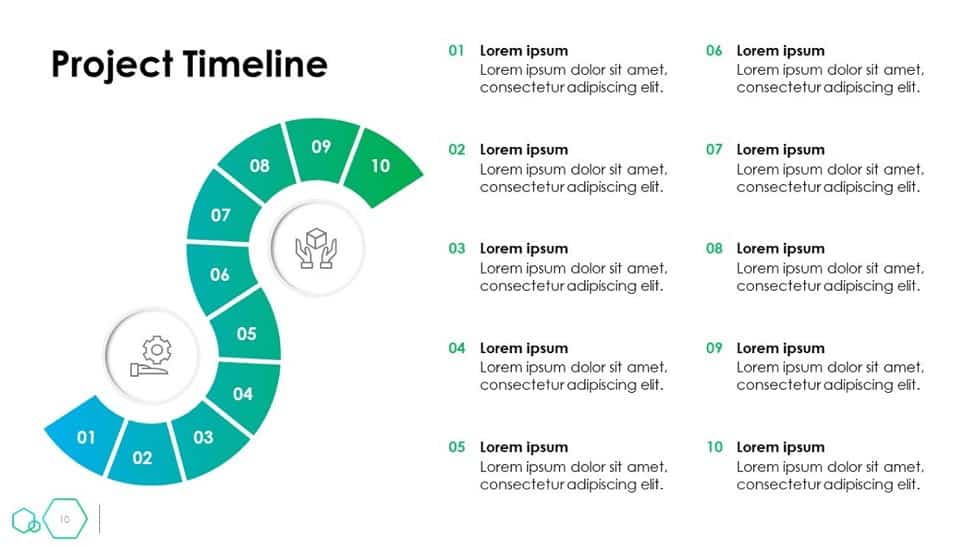 This slide has 10 components in it. This means you can use this to highlight the biggest milestones achieved over the past 10 years. As you can imagine, this will be great for long-term projects, or even businesses who have been active for the past decade or so.
Now, if you're working on a short-term project but really want to use this slide, you certainly can! Feel free to edit the slide as you see fit. You can edit the timeline to represent any 10-point activity or project.
For instance, if you've been working on a project for 20 months, you can assign point 01 for months 1-2. For point 02, you can assign it to months 3-4, and so on. The sky's the limit when it comes to editing templates!
Final words
These free PowerPoint templates in July 2019 have been designed from scratch. You're not going to find them anywhere else on the web. We promise there are no strings attached to download and use any of these in your presentations. You simply need to register a free account and you're off to the races… errr, your next presentation!