The 7 Best Free PowerPoint Templates in March 2019
You can never have enough free PowerPoint templates in your collection. If you're looking to add more, then check out what our creative designers have come up with. Check out this round-up article of the best free PowerPoint templates in March 2019. Let's begin!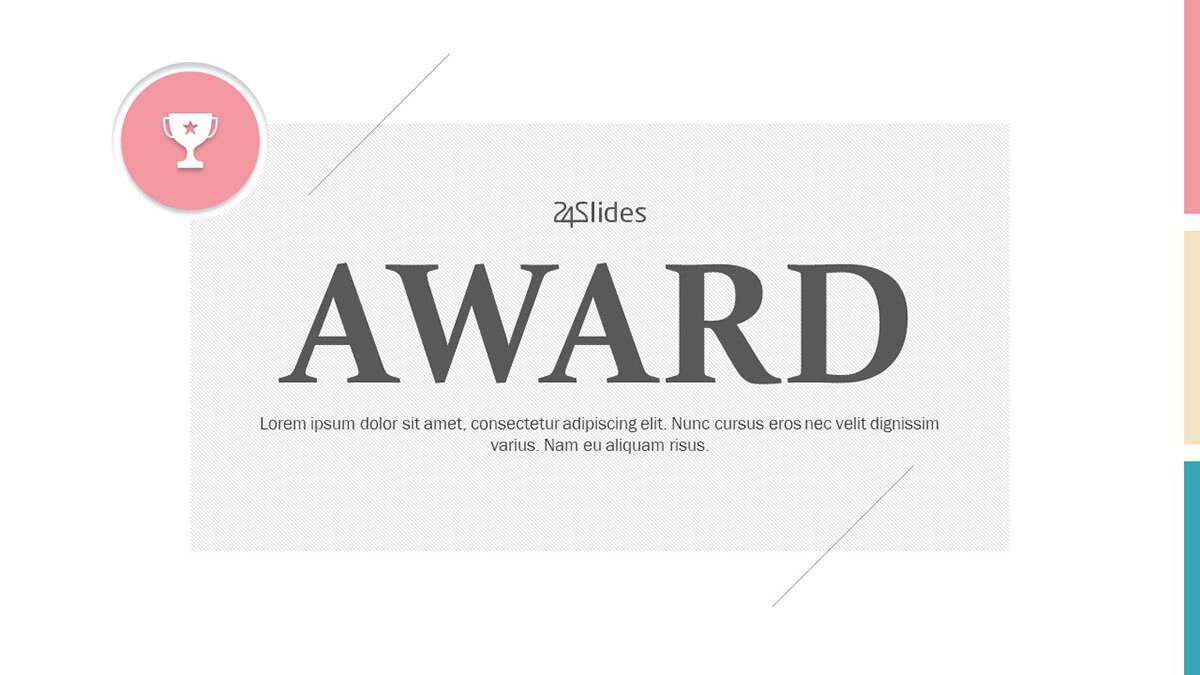 For many people, jobs are nothing more than a means to an end. Their jobs provide food on the table, a roof over their heads, and clothes on their back. But, sometimes, employment is not just about how much money you bring home each month. The truth is that many employees crave recognition and appreciation for their hard work, too.
Make your employees and team members feel appreciated by recognizing their contributions to a project's success or the company's overall growth. Doing so will help improve their productivity and enjoyment in the workplace. Make your teammates and employees feel like a valued member of the team.
In your next team or company meeting, use the Award PowerPoint Template to recognize the most talented, most skilled and most hardworking people on your team. Take a look at some of the slides included in this 10-slide template pack:
List of awards to be handed out slide: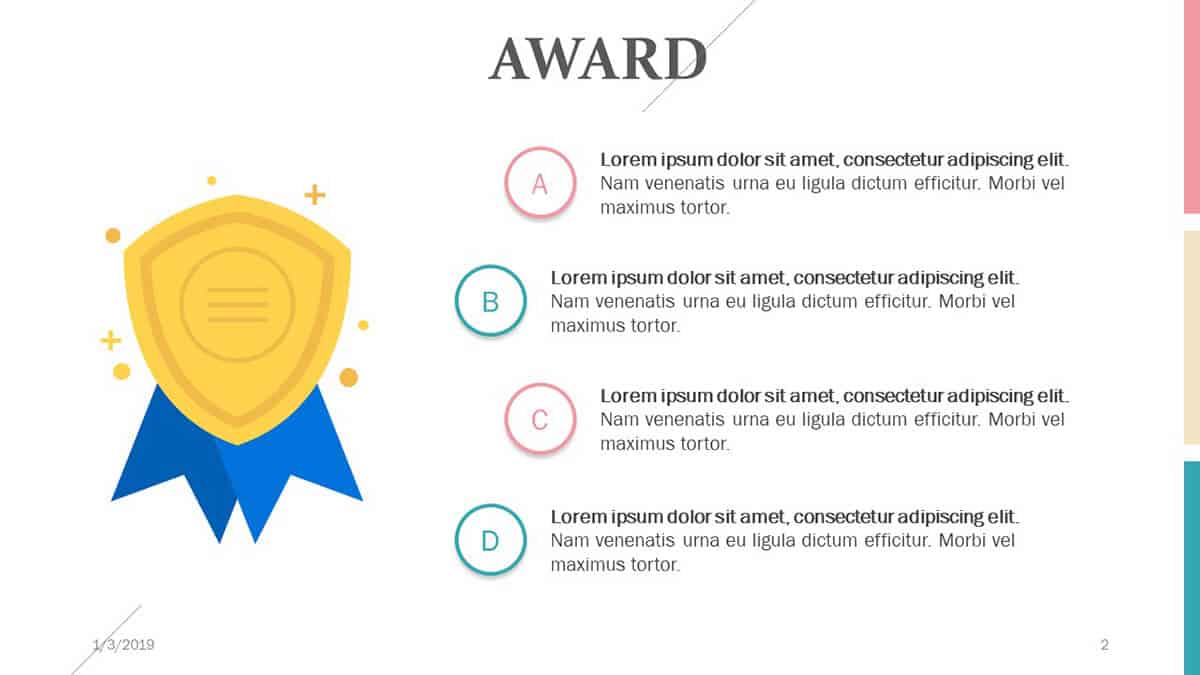 Use this slide to present the different categories for your awards. For example, you can say that Award A is for the top Customer Service agent. Award B is for the best salesman of the year. Award C goes to the employee with a perfect attendance record, and so on. Feel free to duplicate the slide and add as many awards as necessary!
The Awards slide: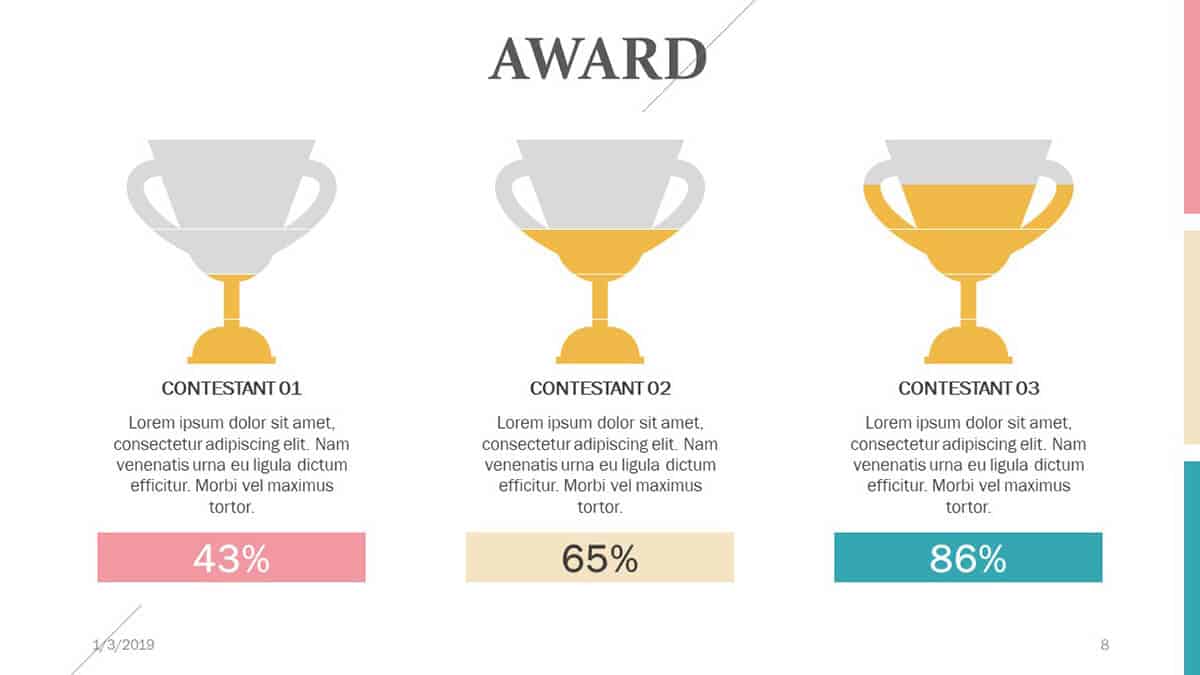 Use this slide to announce the winners in each award category. This means you can use one slide per award. And in each slide, you can list down the top 3 contestants. As you can see on the bottom, you can list percentages for each contestant. You don't have to announce the winner right away – this will add to the suspense. Instead, you can use object animations to reveal the contestants' identities a bit later on during your presentation!
Main performance practices slide: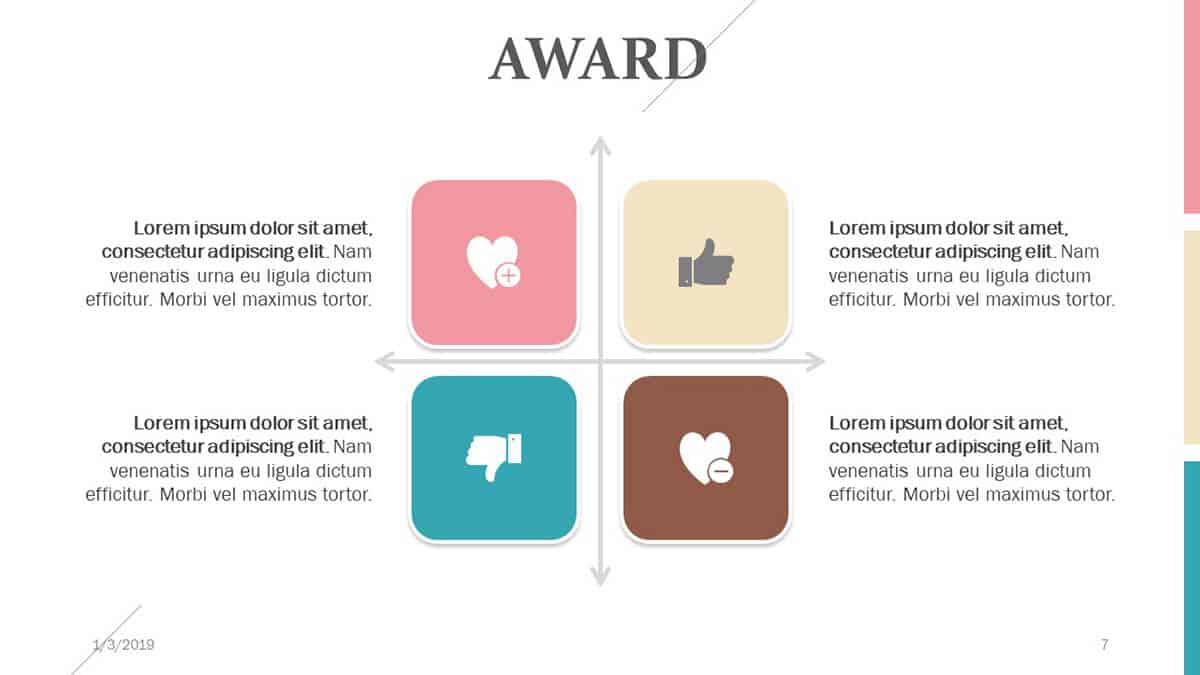 Use this slide to let everyone know your criteria for judging. For instance, for the best salesman award, you can say the winner will obviously need to have the most sales within a certain period. But besides that, they should also have low refund rates and high customer satisfaction scores. These criteria will hopefully prevent anyone from trying to cheat the system, so they can get the award next time!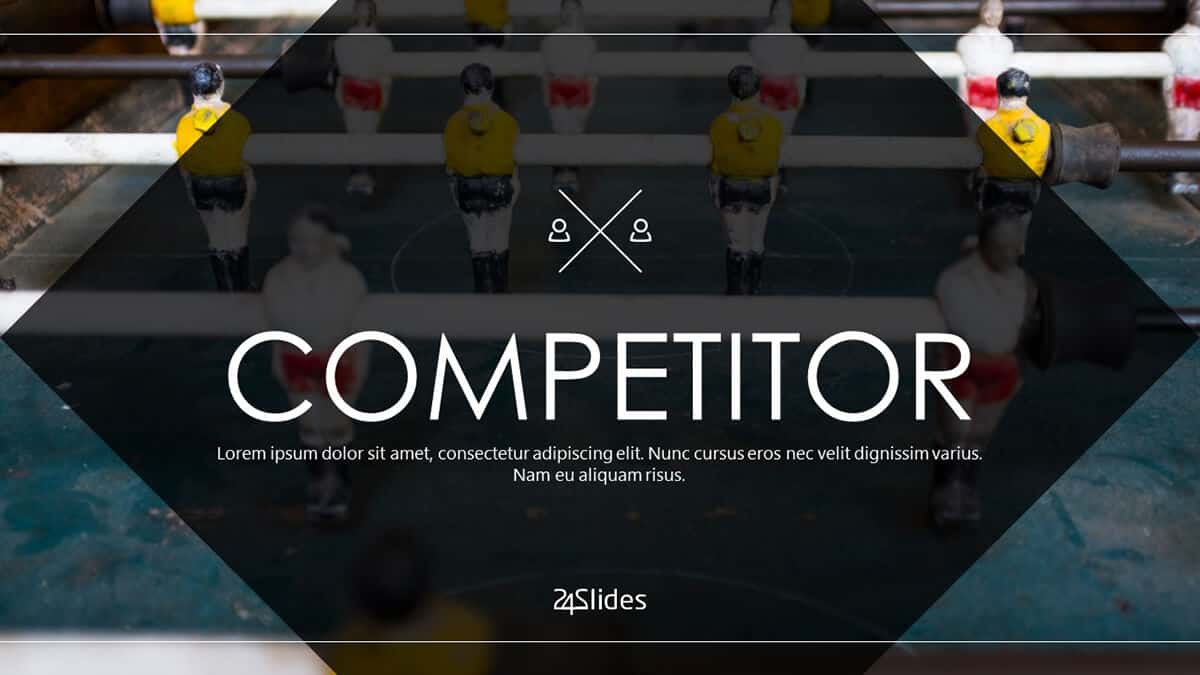 Every business needs to conduct a competitor analysis at one point or another. Why? Because you simply can't exist in your own bubble and think you can succeed without checking out what others in the same industry are doing.
You may think you're doing well financially, but how long do you think it will last? A month? A year? Two years? An article published on Inc.com says '96 percent of businesses fail within 10 years.' I'm sure you'd rather your business last more than a single decade.
One of the best ways to make sure you come out ahead of the competition is by knowing everything you can possibly know about them. What are their products? Who are their target customers? What makes them so special? What can you do to make their customers switch over to your brand?
When you're ready to share your findings with your team, managers, and other stakeholders, use the Competitor PowerPoint Template to present your analysis. Here are some slides included in this 10-slide template pack:
The Competitor Profile slide: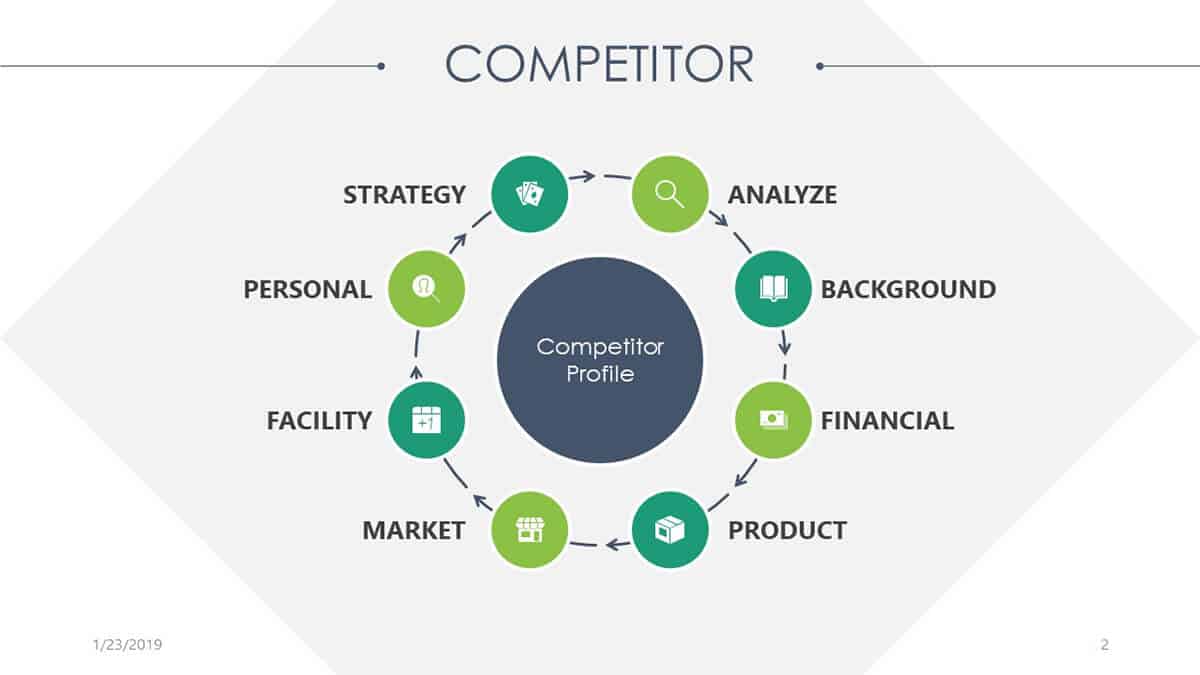 Use this slide to summarize everything you know about your competitor. What's their background, their main products, their target market, their offices and stores, etc. For best results, use one slide per competitor. You can also try changing up the colors to reflect the competitor's branding.
Identify your competition's strengths and weaknesses slide: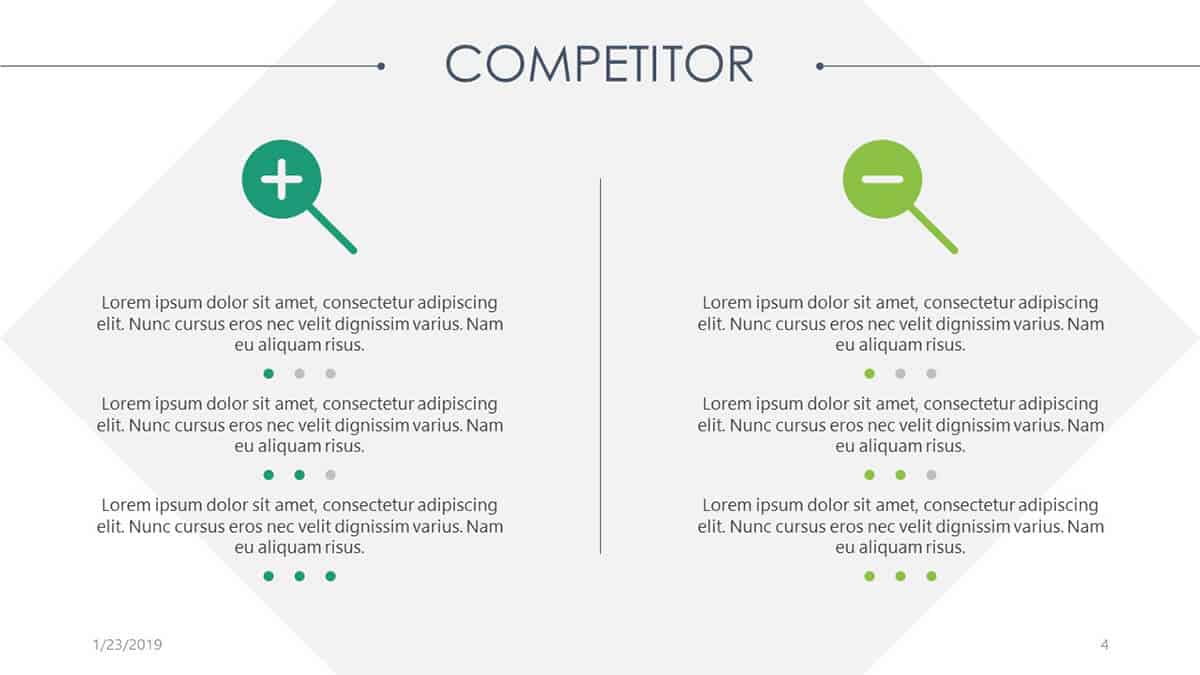 As you can see on the screenshot above, you've got two columns to present your competitor's strengths and weaknesses. On the (+) column, list down all the good things about your competitor. Then on the (-) column, write down the areas they lack or don't cover. Based on this data, you can then come up with some possible solutions to fill in a gap in the market, and make your brand truly stand out from the competition.
Analyze the competition's financial success slide: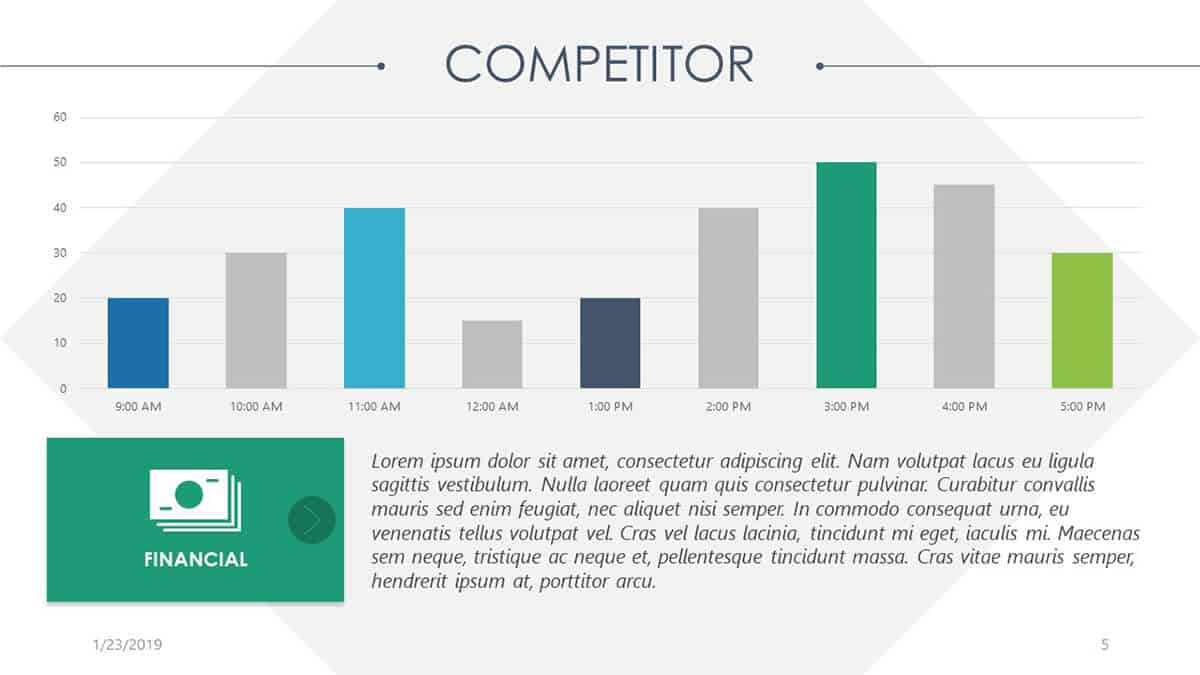 Dig into your competitor's financial history and then use this slide to present your findings. How did they become leaders in your industry? Did they start out small by using the owner's personal money? Did they get a sizeable loan from the bank? Or did they actively seek investors? How long did it take them to become profitable?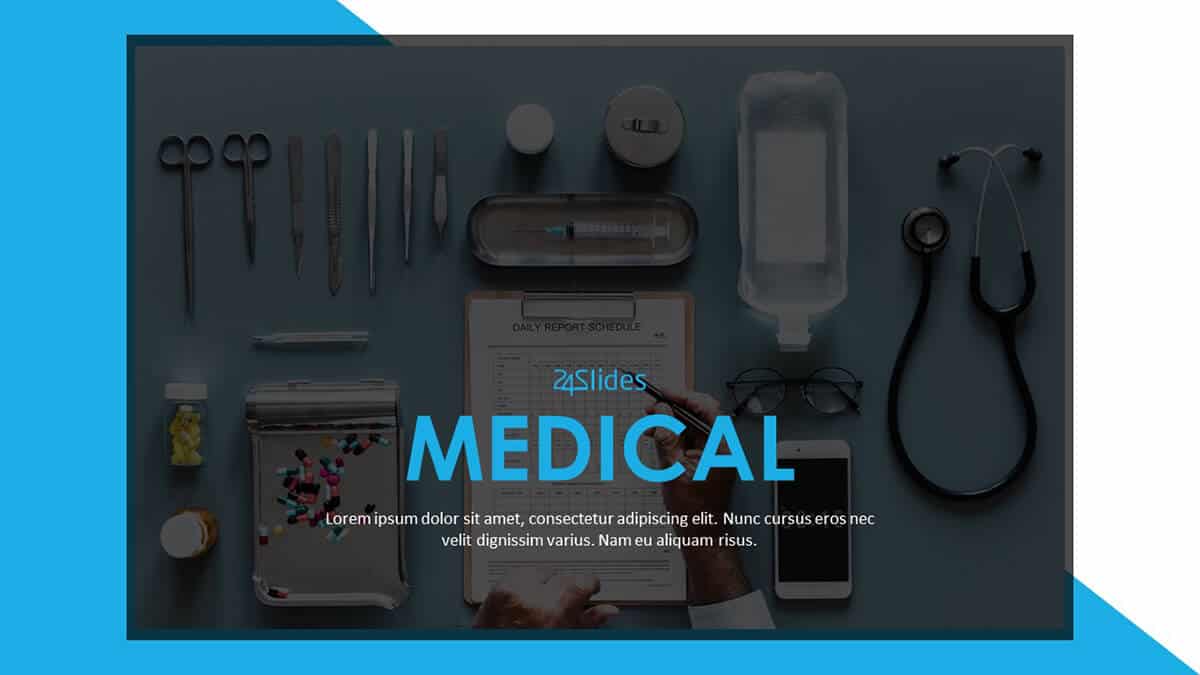 The medical industry is often perceived as complicated and far too technical by those who know nothing about it. Patients may not fully understand the treatment options available to them. Most of the time, it's because the medical professional they're working with is unable to translate complex medical terms into something that their patients can understand.
This is where this powerful PowerPoint template pack comes in. You'll make complex ideas sound simple, and your slides will serve as your visual aid. This will help your patients easily understand what you're trying to say.
Here are some sample slides included in this 10-slide template pack:
The Medical Process slide: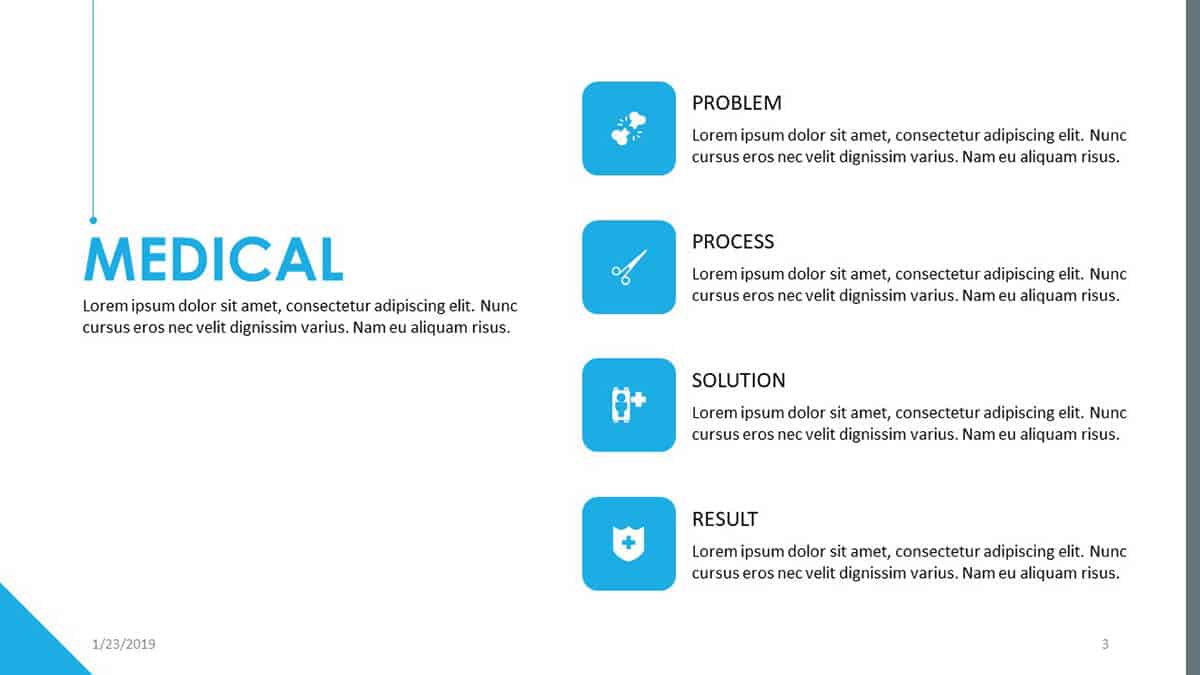 Use this slide to outline how you will help tackle the patient's medical complaints. First, identify the problem. Then write down how you intend to make the patient feel better. The third step would be to write your exact solution. What drugs to administer, how often they should take it, etc. Then lastly, share the possible outcome of your proposed solution.
The Treatment Options slide: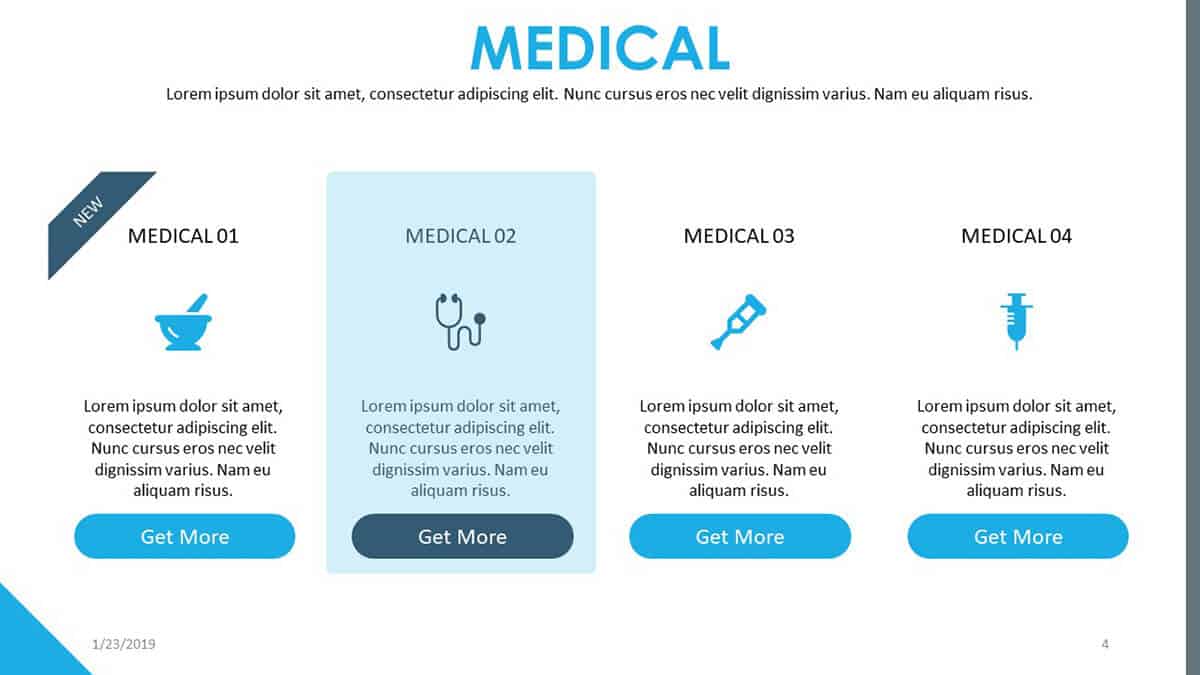 Depending on the patient's condition, there may be more than one way to treat it. For instance, you can suggest the patient try out some non-invasive treatment first. This can be in the form of medication or even alternative medicine. For more aggressive or advanced medical conditions, surgery may be the only viable option left. List down the pros and cons of each option, so your patient can make a well-informed decision.
Outline a step-by-step treatment plan slide: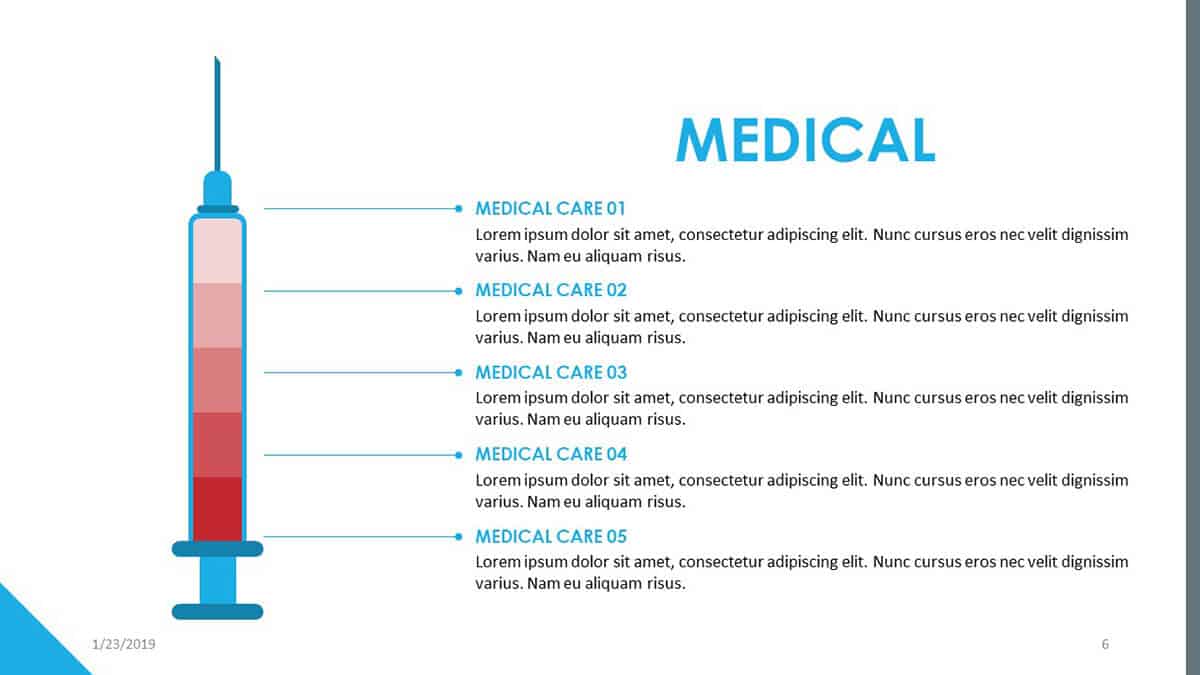 In the previous slide, you've given the patient some possible treatment options. Once they've chosen an option, you can then use this slide to describe the detailed step-by-step plan they need to follow for their treatment to take effect.
PowerPoint's default background is white. It's a safe color, but if you want to truly stand out and make an impact, then you should consider changing your slide background. There are many presentation backgrounds you can use. For instance, you can use a plain color, a gradient fill, a pattern fill, an image background, or even a video background. However, if you're on the lookout for something new and exciting, then you should definitely check out this 31-slide PowerPoint template pack. Here are some of the slides included:
Bokeh background slide: Blurred backgrounds and bokeh effects are all the rage nowadays. It brings the foreground into focus. So, when you use the slide above, you can easily make your content stand out. If you want to change the background colors, simply follow the instructions on this tutorial article.
Colorful background slide: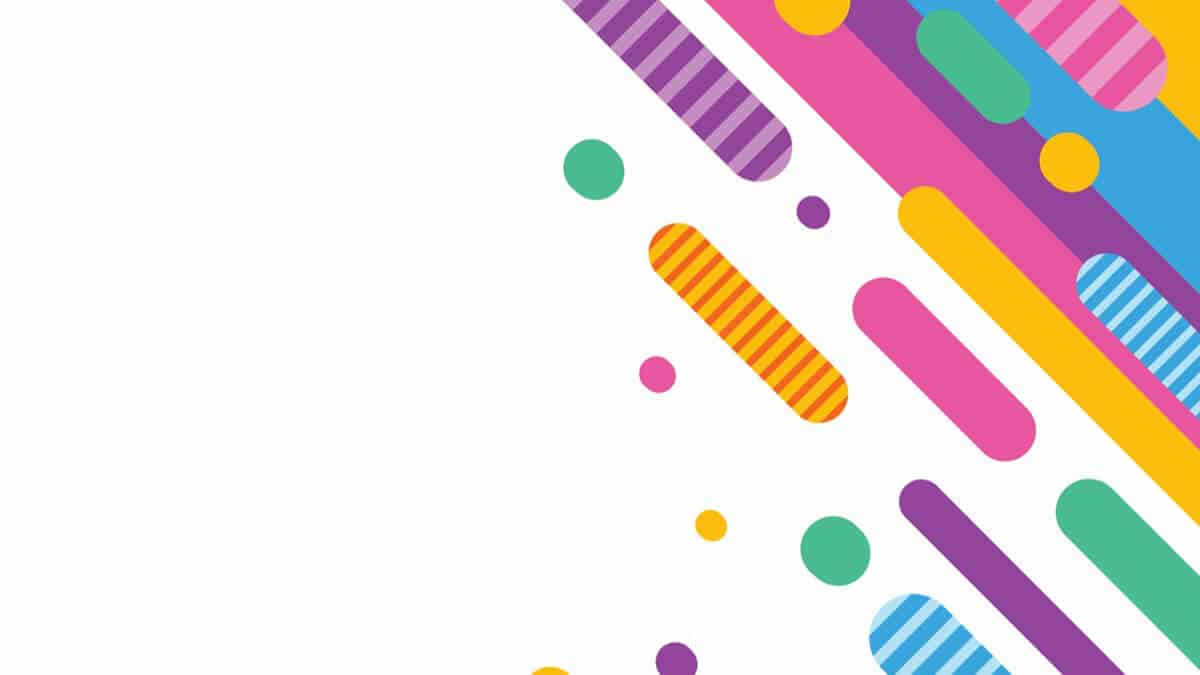 Use this slide if you want a colorful background. This is especially useful if your presentation is on a fun subject matter, or you want to bring your audience's attention to something exciting. Or, you can use this as a transition slide to break up different sections of your presentation.
Colorful top and bottom border background slide: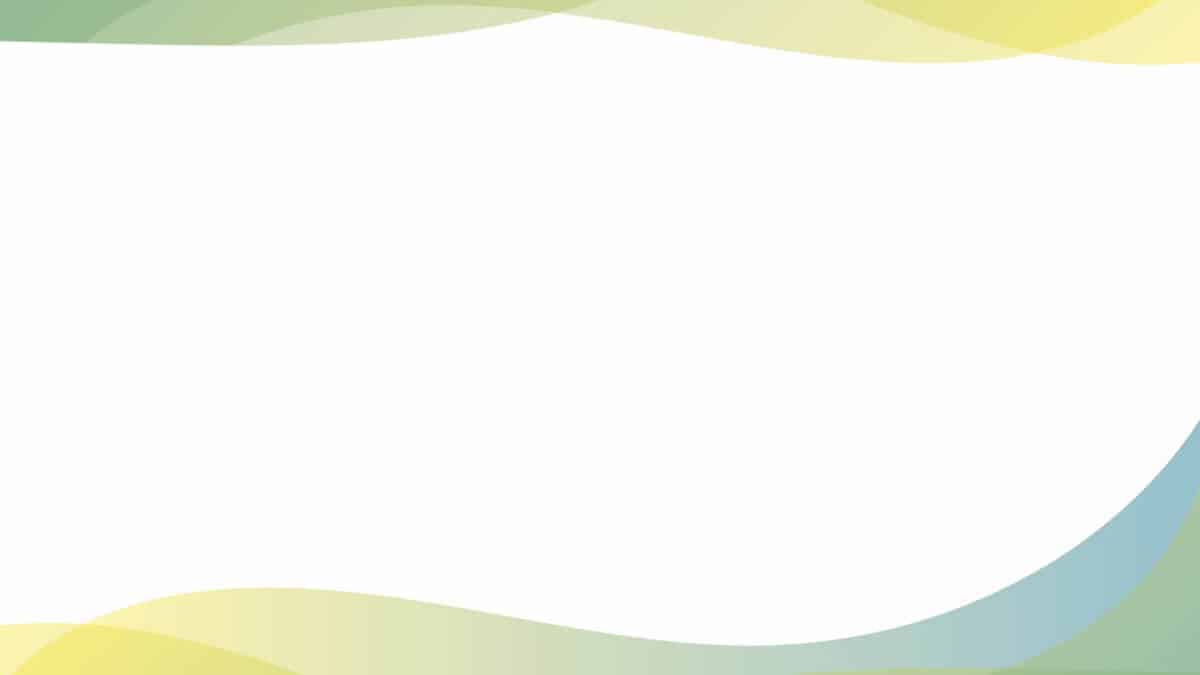 The light and pastel colors on this background will help your audience focus on the content at hand. As you can see, there's plenty of space for your content as well. If you want to use your corporate colors, feel free to do so. You can easily change the colors on all slides by editing your PowerPoint file's master slide.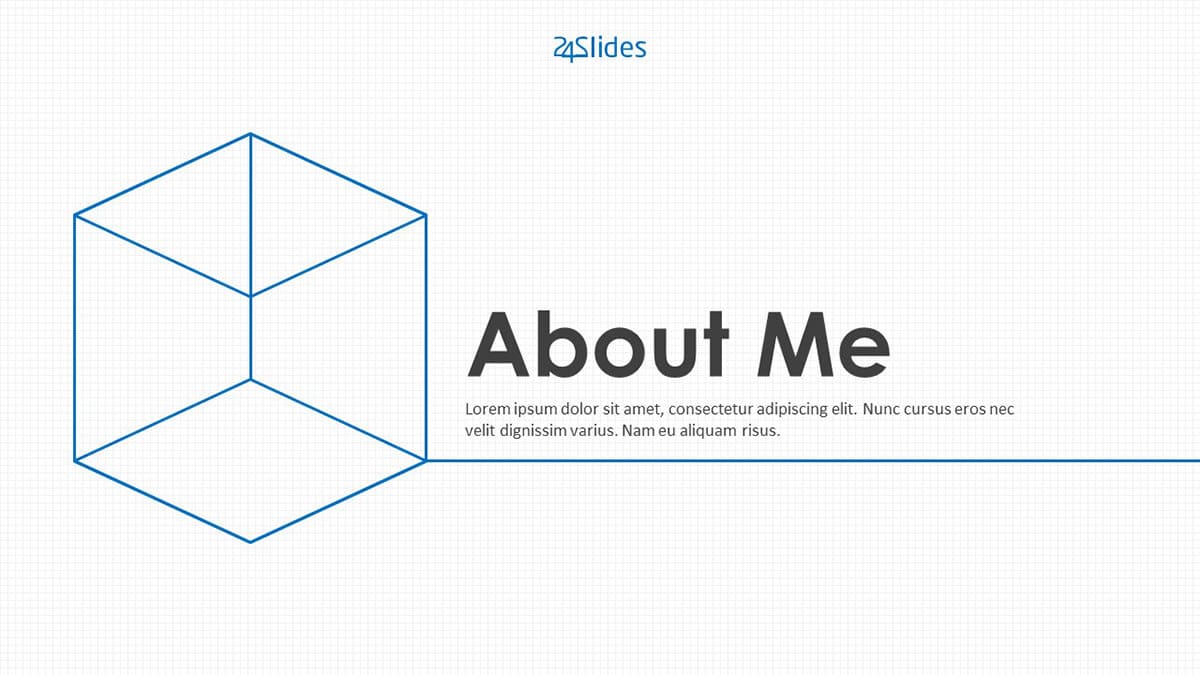 Does your new job require you to make a quick introduction about yourself? Instead of doing it the old-fashioned way, do something different to impress your new teammates. Use this versatile template pack on introduction day. Show your new co-workers you came prepared and are confident about taking on the new job!
Alternatively, if you're trying to sell your services to potential clients, this template pack will also help you do a good job. Of course, when selling a service, you don't want to spend the entire time talking about yourself. Rather, focus on how you can use your skills to help solve your potential client's problems.
Either way, this template pack may come in handy for your needs. So, here are some slides included in this 10-slide template pack:
The Introduction slide: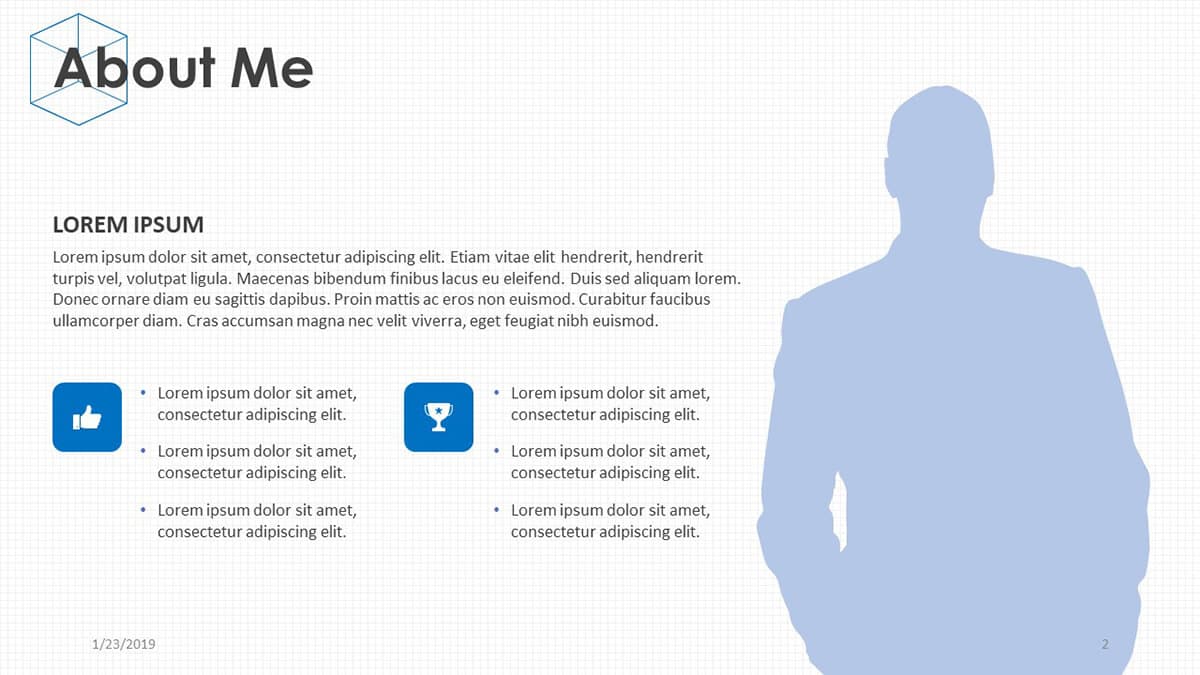 Use this slide to introduce yourself to your audience. You can summarize your education, skills, and relevant work experiences on this slide. And don't forget to add a professional photo to this slide as well!
The Experience slide: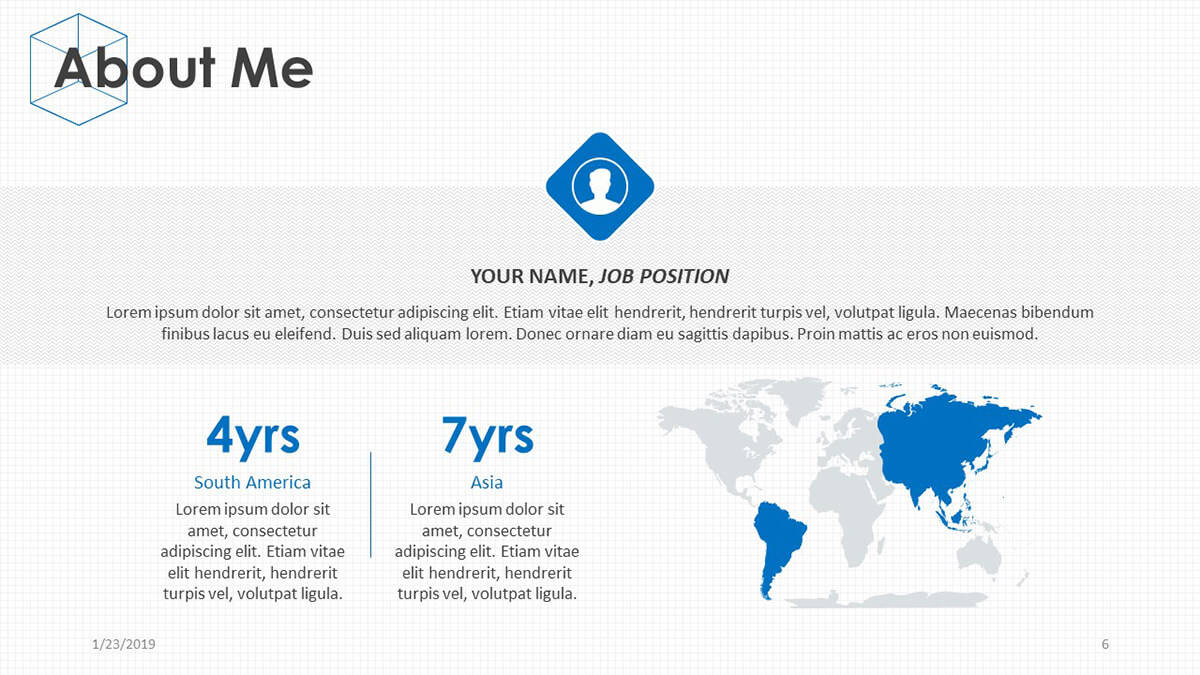 If you've worked in multiple locations across the globe, then this slide will be useful for you. You can highlight the countries you've worked in, and then state how many months or years you've worked in that location. If you've only worked in a single country or continent, then you can replace the world map with some of our other free map templates.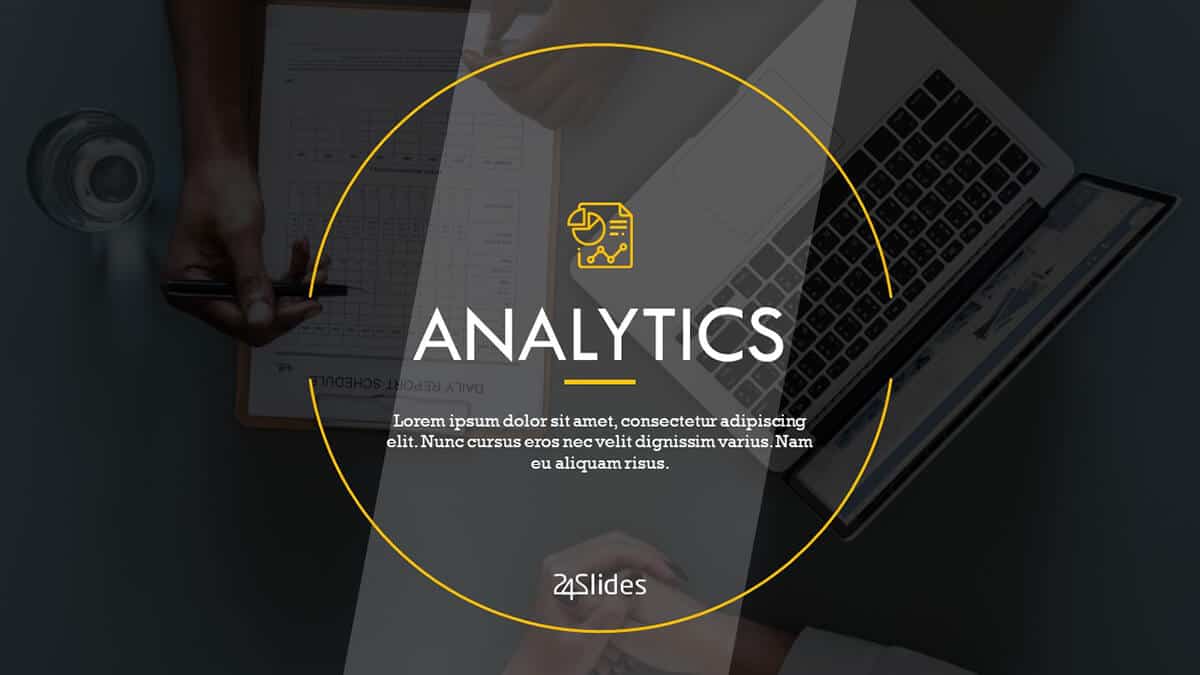 One of the best ways to help your organization grow is by collecting and analyzing data. Over time, you'll notice patterns and correlations which can give you tons of invaluable insight. Data analytics can help you answer questions like what happened in the past and why it's happening now. It can also help predict or forecast what's likely to happen in the future.
When sharing your analytics report with your stakeholders, use this free PowerPoint template. Here are some slides included in this 10-slide PPT template pack:
The Metric Description slide: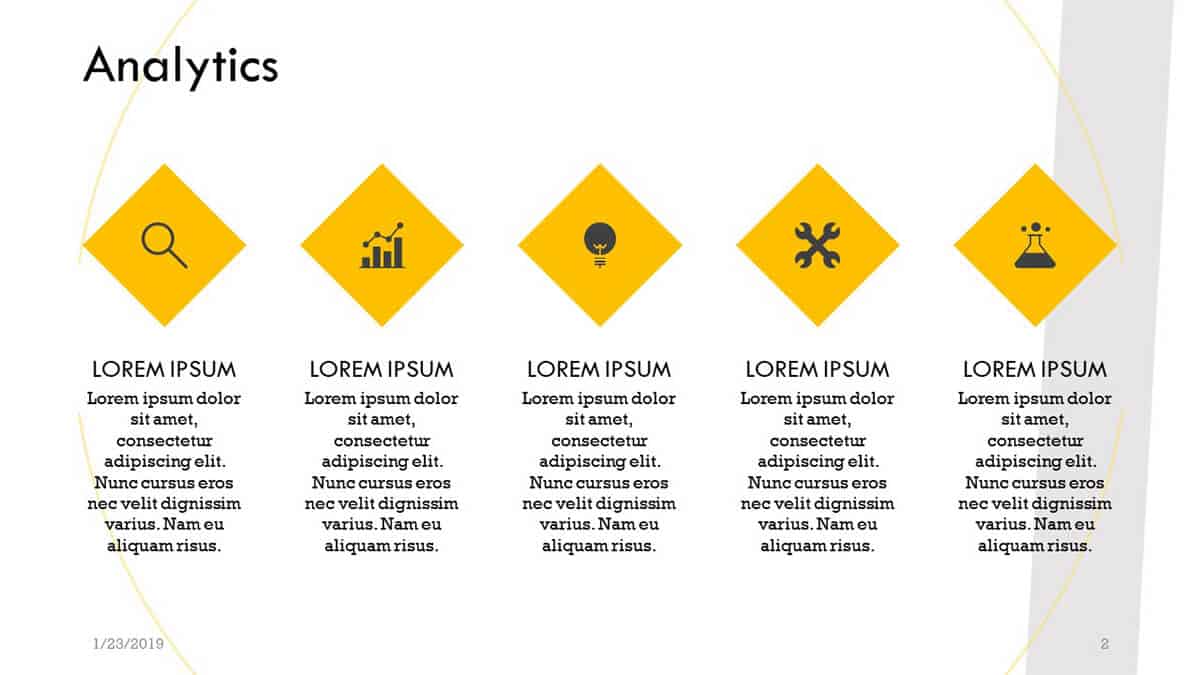 Use this slide to let your audience know what your metrics are. You can also add a short description about what each metric stands for, so there's no ambiguity and everyone is on the same page.
The Category Performance slide: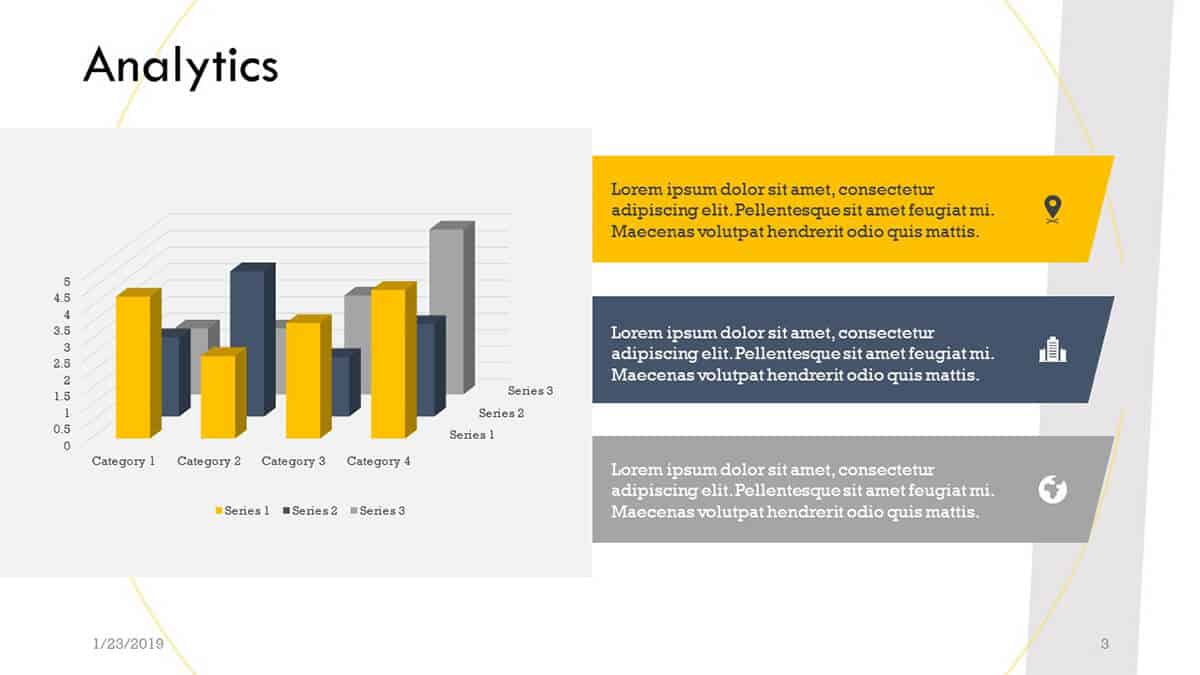 When comparing different categories, you can use this slide to showcase how these categories perform over time. You can then identify the factors that affected the change in numbers. For instance, it could be because you launched a successful marketing campaign, or your customers reported some issues with your product.
The Region Comparison slide: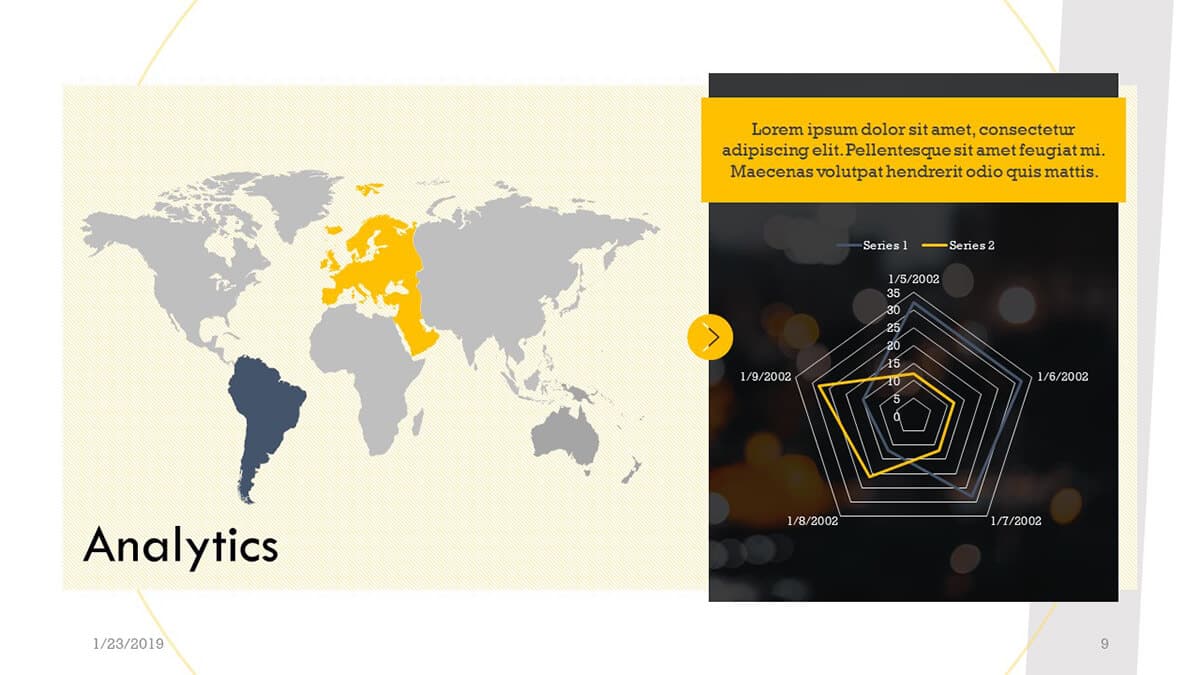 If your company operates on a global scale, then you've most likely got a lot more data to work with. Use this slide to make regional comparisons and figure out what makes one region more profitable than another. You can highlight the similarities and differences between regions as well.
Unless you've been living under a rock in the last decade or so, then I assume you know just how important social media is nowadays. Companies pay tons of money for social media management services. They know how much the possible upside is when investing in such a service.
Whether you're offering a social media service or you simply want to use some free social media icons for your presentation, then you should definitely check out this template pack. We've made 3 different variations for each of the 10 free icons included. These are basic black and white line icons, gradient line icons, and white icons with background color. Here's a screenshot: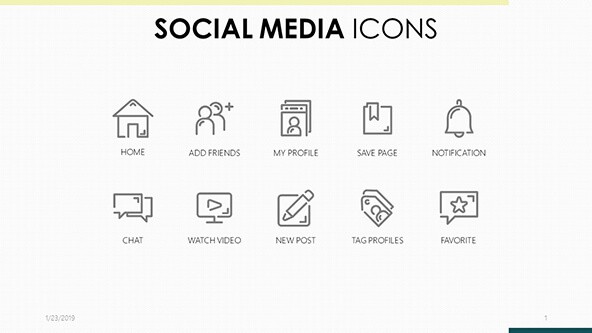 Have you downloaded your favorite Powerpoint templates in March 2019?
There you have it – seven of the best free PowerPoint templates in March 2019. Download all the templates and don't forget to let all your friends know about it as well!