The 4 Best Free PowerPoint Templates in May 2019
Our presentation designers have been extra busy with client orders these past few weeks. Thankfully, they still found the time to work on and publish 4 of the best free PowerPoint templates in May 2019. Let's begin!
Playful Budget PowerPoint Template (10 slides)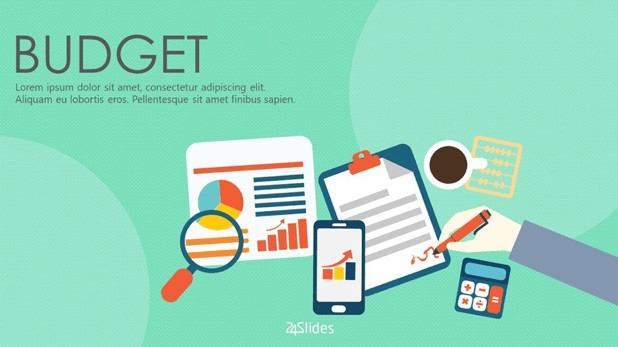 If you're looking for a good PPT template to present your personal or corporate budget, then you're in the right place. This 10-slide free template pack will help you educate and inform your audience about the state of your financial affairs. Whether you're presenting a master budget, an operating budget, a financial budget, or a cash flow budget, this template pack will surely help you out.
Our designers specifically chose green as the primary color for this template. Why? Because green is usually associated with money. So, it's only right that this color is prominent in such a template.
There is plenty of white space on all slides, so your audience can focus on the most important elements of your presentation. The graphics and icons match nicely with the overall design as well.
Here are some slides included in this template pack:
Budget categories slide
If your business has been around for quite some time, then you probably already know what your biggest expenses are. If so, it should be easy for you to replace the slide's dummy text with your budget categories. Should you need to add more categories, you can copy and paste the circles to a new row. Alternatively, you can just duplicate the slide and add the other categories there.
Budget funnel slide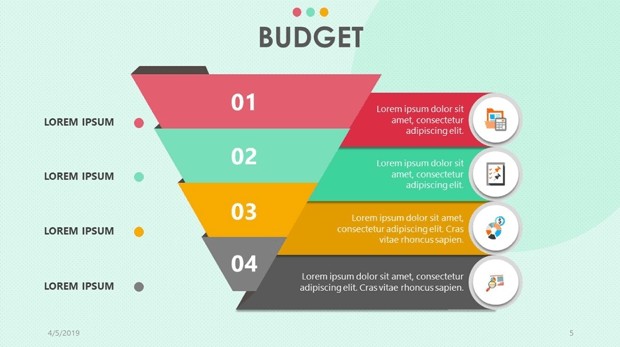 Put a spotlight on your budgeting skills and use this budget funnel slide in your presentation. Show your audience how you've saved the company some serious cash over the years.
At the top of the funnel, you can discuss the biggest expenses incurred a few years or months ago. Then as you go down the funnel, show how you've eliminated some unnecessary expenses. At the very bottom of the funnel, tell them that what's left are only the most essential expenses for your business.
Startups can certainly make good use of this slide. This will help convince potential investors that you will not be wasting money on unnecessary stuff. In short, this is a nice visual way of showing them their money is in good hands.
Budget tracking slide
Having the right budget for the right department is important. You don't want to miscalculate and allocate fewer dollars to the team that needs it the most. This is why tracking everyone's expenses is a must. You can answer questions like:
Is the money going to the right places? Is it being used for its allocated purpose? Why or why not?
In this slide, you can indicate how much of the budget has been used up. And with this information in mind, you can then recommend which departments can benefit from a higher budget. Likewise, those that don't need as much can have their budget cut down.
Playful SWOT Powerful Template (10 slides)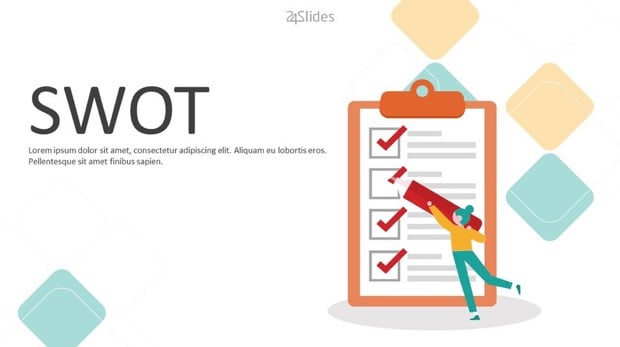 We have other SWOT templates in our Template Hub. However, I have to say this is one of the best-looking ones our designers have published so far. The design is playful, and at the same time, professional.
The most common style used to present SWOT analysis in presentations is in matrix format. But for this template pack, our designers have added a couple of creative slides that will definitely set you apart from the crowd. Check out these slides:
SWOT overview slides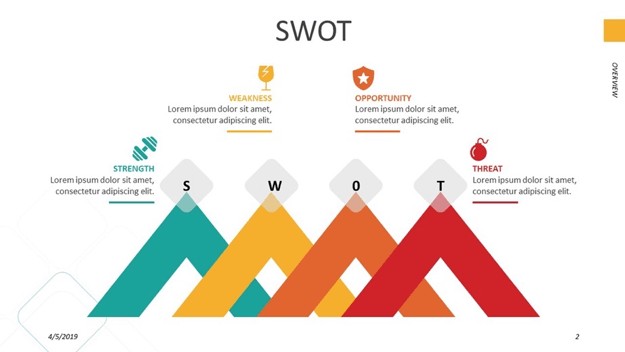 These overview slides will help you present your key strengths, weaknesses, opportunities, and threats in a visually pleasing manner. Slide 1 is certainly a creative way of displaying the SWOT factors, while Slide 2 is a more traditional matrix-style graphic. Pick one or use both in your presentation – you can't go wrong with any of these!
SWOT strengths slide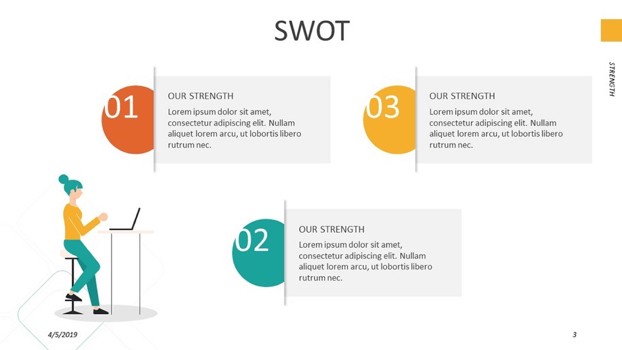 Knowing your company's strengths is one of the keys to long-term success. In this slide, you can list down 3 of the most important strengths that will help increase your company's profits and contribute to its overall growth. If you would like to add more than 3, I highly recommend duplicating the slide so as not to make it look crowded.
SWOT weaknesses slide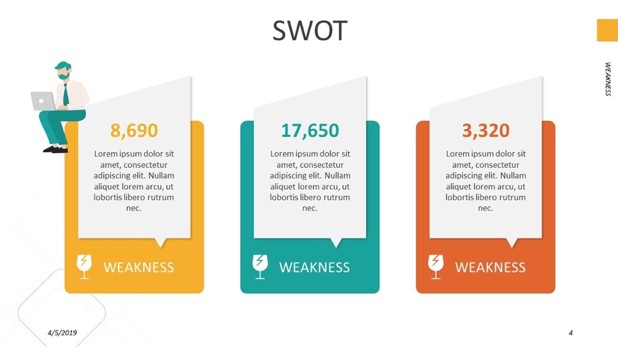 Knowing your strengths is important, but so is knowing your weaknesses. It's important to be self-aware, so you and your team should evaluate your performance. Figure out where you're lagging behind, so you can improve. It's important to be critical during this part of the analysis.
If you're spending far too much money on marketing and advertising, but your ROI or return on investment isn't too good, then it could be a critical weakness. Perhaps you need to hire better people or train current staff on modern techniques that work. Brainstorm and figure out how you can turn your weaknesses into strengths.
SWOT opportunity slide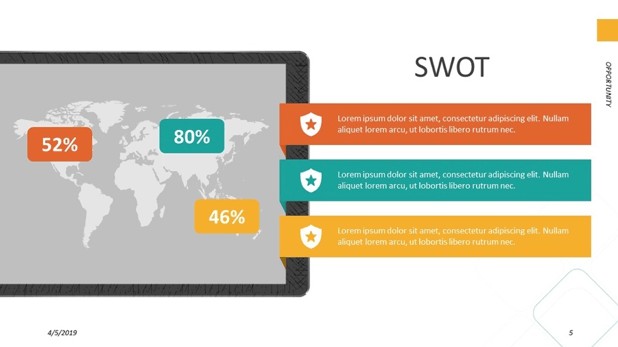 One reason why businesses conduct SWOT analysis is to discover new opportunities. This can include looking for new branches or locations for your business, servicing another client demographic, developing new products and services, and so much more. If you care about your company's growth, a though analysis is a must.
SWOT threats slide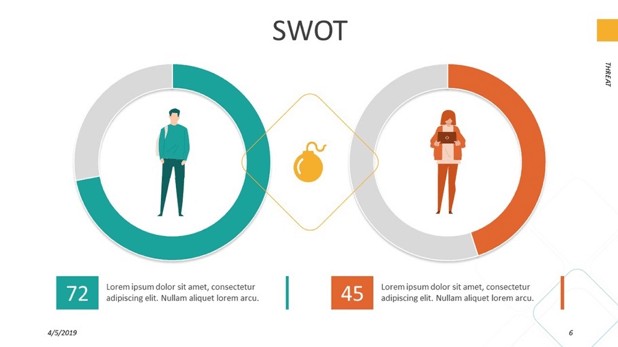 Every business goes through difficulties and challenges. But by assessing external threats properly, you can prepare well in advance and deal with the challenges that will come your way. Look for threats in all directions and take the time to list everything you can think of. Even if it sounds ludicrous, add it to your list. After all, it's better to be safe than sorry later on.
SWOT actionable strategies slide
Now that you've presented the different SWOT factors, it's time to share the strategies you've come up with based on your SWOT analysis. In this particular slide, you can list up to 5 strategies (feel free to add more though). Note that these strategies will form part of your roadmap to success. If you're presenting to stakeholders, make sure everyone's on the same page, so you're all working towards the same goals!
Creative 30 Slide Mega Pack PowerPoint Template (30 slides)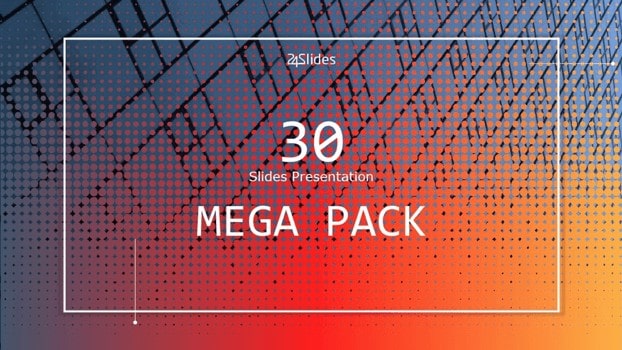 If you're looking for an all-in-one template pack, then this is for you. With 30 slides included, this is one of the best free PowerPoint templates in May 2019 (and beyond)! It literally has all the slides you need for your business or corporate PowerPoint presentation.
This template pack is also graphics-heavy which means it's great for impressing a discerning, professional crowd. From the introduction to your conclusion, you'll have them hooked visually!
That being said, here are some of the slides included in this massive template pack:
Overview slide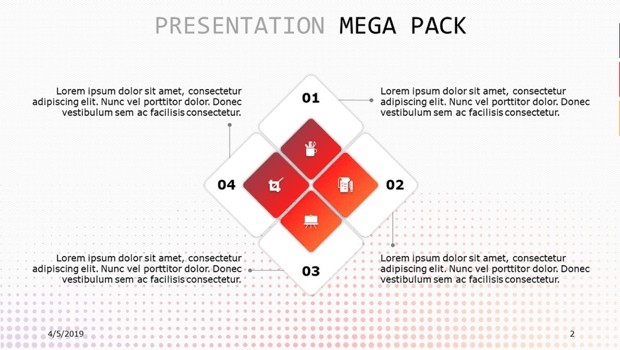 You can use this slide to present your most popular products and services. There are many different ways you can use this slide. For instance, if you're presenting to stakeholders, then you can perhaps add a short description on why these products or services are so popular. If you're speaking in front of prospective clients, then you can present your most relevant products (those that will benefit them the most).
Product snapshot slide
This slide is great for giving more detail on your top offerings. In here you can add a product image, a short description as well as the price. This will also work great for product packages. You can include a breakdown of what's included in the package.
Basic timeline slide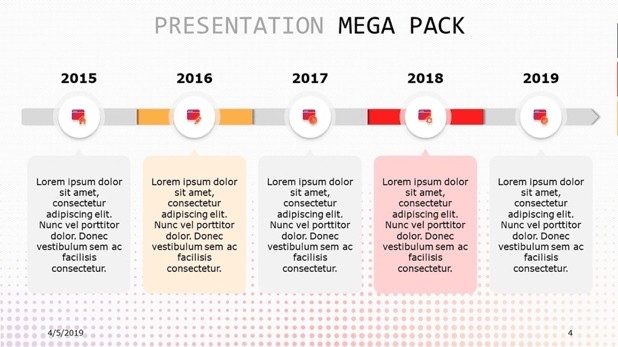 If your product has been around for a few years, this slide will certainly come in handy. You can use this to showcase the growth and development of the product over the past few years. Alternatively, you can also use the description box to highlight some of the most notable milestones achieved each year.
List slide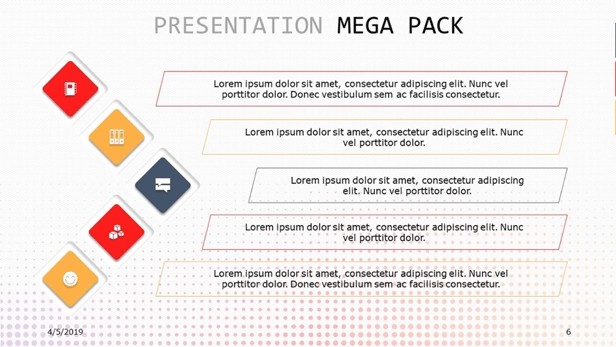 Instead of the usual bullet points, you can use this slide to present your list in a more attractive fashion. Each icon corresponds to an item on the list. Use this slide to present your to-do list or checklist. For a more engaging presentation, don't present all points at once. Instead, use a simple entrance animation effect where one point appears after another.
Stacked horizontal bar chart slide
This chart is pretty useful if you're looking to compare sub-categories in addition to the main categories. As you can see on the slide, you can compare up to 4 categories and 3 sub-categories. The colors used make it easy for you to spot which categories can be called winners, and which are losers.
Person slide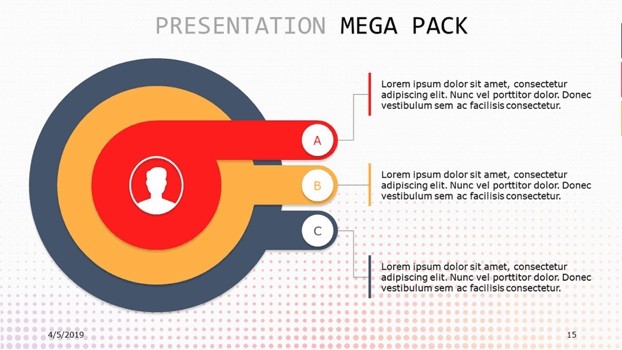 This slide is definitely not your run-of-the-mill organizational chart . You can use this to give more information about a specific individual in your organization. If you're trying to sell your personal services, then by all means, use the slide to tell people how you can help them out (focus on their needs, not yours).
If you're looking to introduce your company's CEO or team leader in charge of a specific product, you can use this slide as well. Likewise, if you're onboarding or training new team members, you can use this to educate them about your target client persona.
Product comparison slide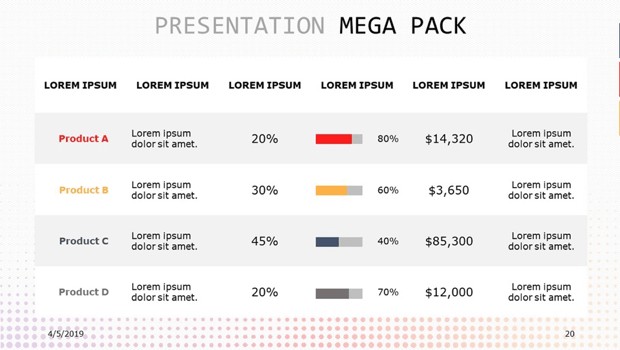 There are so many possible uses for this slide. Whether you're trying to compare and contrast your own products and services, or your competitors, you'll surely find some valuable insights. Know the top deciding or purchasing factors, and use it as the columns in your slide. This way, your audience will know which product will work best for their needs.  Feel free to highlight the top product in your slide as well!
Timeline slide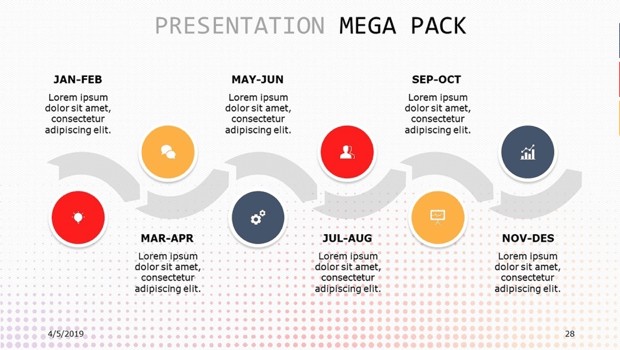 Timelines are used in a wide variety of presentations. You can use it to present historical data as well as events that are set to happen in the future. Whatever your use case maybe, you can easily edit the template to suit your presentation needs. It's been designed for a bi-monthly timeline, but if you need to make the timeline a bit shorter or longer, you can quickly edit the text boxes on the slide.
Playful Scrum Process PowerPoint Template (10 slides)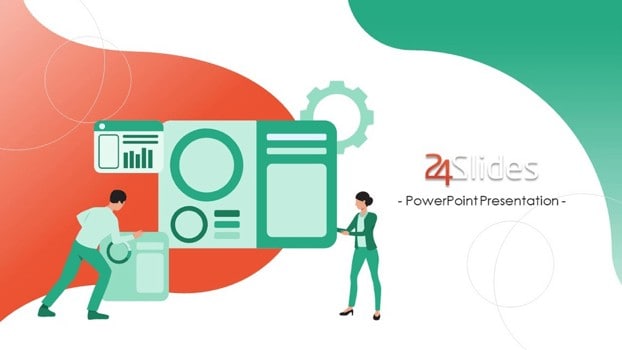 Teamwork is essential for an entire organization's success. For maximum efficiency and effectivity, the scrum framework is one of the best ways to go forward. It will not only help your team get the work done, but also ensure that you're continuously giving tons of value to your clients and customers. Scrum makes complex projects more manageable by breaking it down into bite-size deliverables.
With that said, you want to make sure that when you present your scrum framework to your team, everybody is on the same page. This template pack will help you lay out the scrum framework and its various elements.
Here are some slides included in this template pack:
Scrum development methodology slide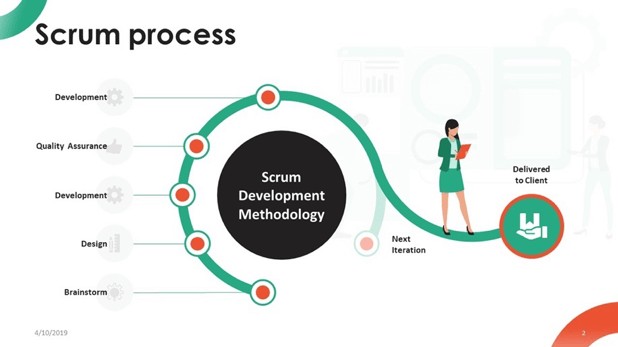 Time is essential in scrum. You can use this slide to share the scrum development methodology with your audience. You want to minimize mistakes and errors as much as possible. Make sure everyone understands their roles and responsibilities in the project. If possible, discuss each step of the methodology.
Scrum distribution of tasks slide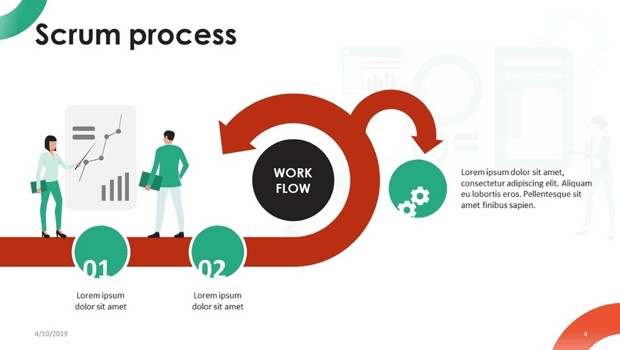 Scrum is all about the details. It's therefore imperative that everyone on the team knows their tasks like the back of their hand. They will be responsible and accountable for those tasks, after all.
Scrum retrospective slide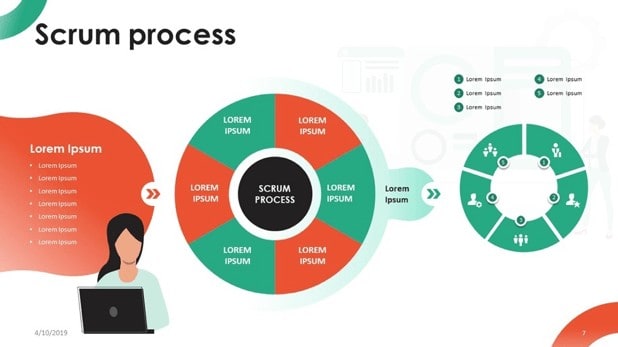 Retrospection is an important aspect of the scrum framework. In between sprints, your team must reflect on past failures and successes to continuously improve your products. Getting feedback for each team member is essential as well so everyone can improve on an individual level.
Did you find any of the free PowerPoint templates in May 2019 useful?
These templates were designed with you – our readers – in mind. We're in the business of making the world of presentation a much better place. With every free template we publish in our Template Hub, we hope to make your lives easier.