Stand out with these 5 unique pastel PowerPoint templates
Bright, vibrant colors are great for catching your audience's attention. But a pastel themed PowerPoint also has a lot of potential for creating unique presentations. Using pastel colors on a PowerPoint is not very common. But that's precisely what can make your presentation stand out from the crowd. Learn how to work with this type of color scheme and create the perfect slides with these free pastel themed PowerPoint templates.
Mauve, baby pink, mint, peach, periwinkle, lavender. All these are a pretty common part of the pastel color palette. In truth, pastel colors are pale tints of a specific hue. In short, any color mixed with white to achieve high luminance and low saturation.
Pastel colors have been traditionally associated with all things "feminine". But pastel color schemes are actually incredibly versatile and can become a great tool to create a truly unique and eye-catching product design. Pastel colors have become a huge trend in design in the last few years. For example, Pantone's Color of the Year for 2016 was not one but two pastel tones: Rose Quartz and Serenity. Pastel tones help you get outside the box and stand out.
Create the perfect pastel themed PowerPoint presentation
While bright colors are great to command attention from the get-go, they can become too obtrusive. Bright colors can easily become tiring to the eyes, especially if they're too noisy and bold. Pastel colors offer the perfect alternative for people who still want to make an impression in your audience but keep a much more relaxed, approachable look.
Pastel colors are naturally associated with a "soothing" feeling. They represent calm and are great for creating more "ethereal" looks. These types of colors are outstanding for brand design because they can help you create a very colorful, festive design, without it being gaudy or noisy.
Because of their "relaxing" nature, they're usually used in products and services that are all about optimism and comfort. Color pastels are very commonly found in brands covering things like desserts and sweets, skincare and cosmetics, perfumes, weddings and baby products, and so on. Luxury, innocence, daintiness… These are all things that pastel colors excel at conveying!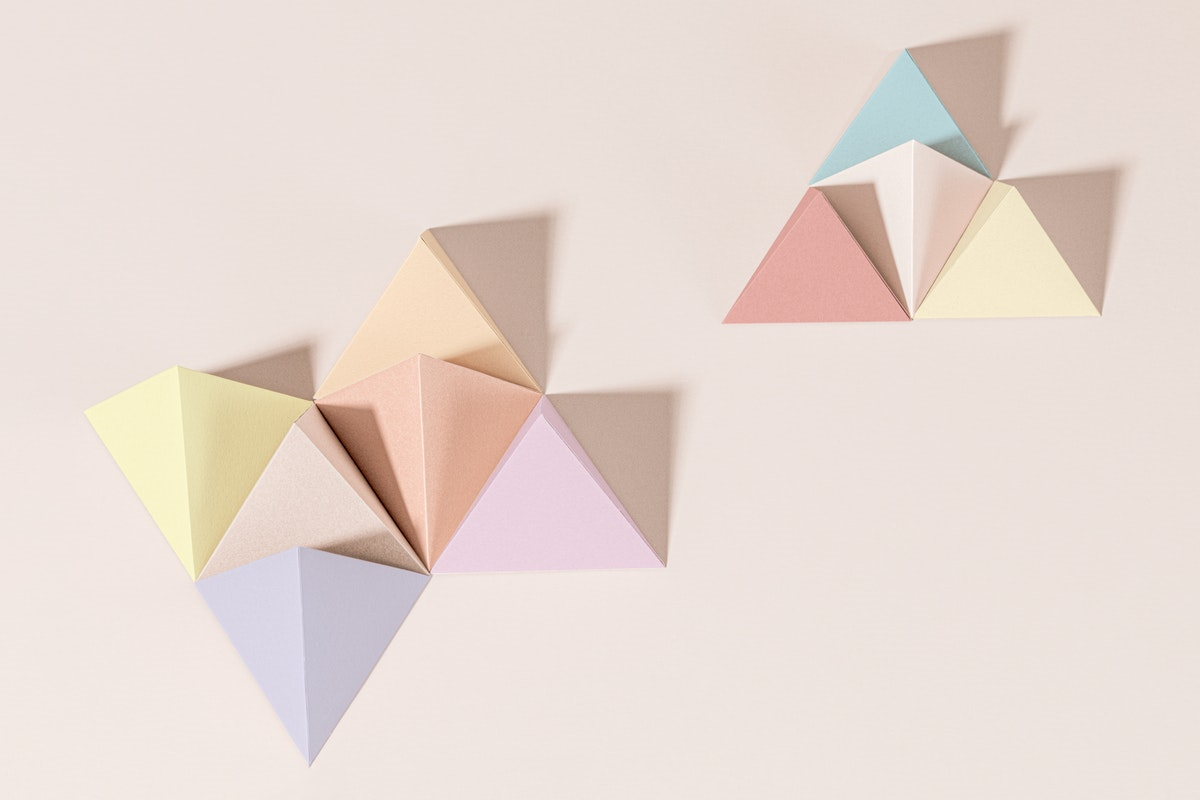 How to use a pastel themed color scheme in PowerPoint
While pastel colors are great, it can be kind of tricky to learn to use them like a pro. Using pastel colors in a PowerPoint is great for creating unique looks and selling to your audience and specific feeling or idea beyond the product itself. Here are 3 easy tricks to take into consideration if you're thinking of creating a pastel themed PowerPoint presentation.
1. Avoid single pastel hues.
Because of their low color saturation, they can fail at creating an impact when on their own. A single pastel hue will probably not be enough to catch your audience's eye and to convey this "relaxed, ethereal feeling" you're probably going for.
2. Use the color wheel.
Pastel colors work the best with other pastel colors! Don't be afraid to mix them! Follow the same rules of how complementary, analogous, and triadic color palettes usually work in the color wheel and change the tint! For example, pastel blue and orange can work wonders together.
3. Mix pastel tones with a neutral hue.
If you're feeling your presentation is looking too pastel, then you might want to try to mix them up! A neutral hue can work as an anchor between all your other pastel tones in your presentation. Navy blue and black are great options that usually work well with all kinds of color palettes.
One of the best features of PowerPoint is that you can create your very own customized color palette! If you have not yet found the perfect pastel color scheme, why not create your own?
Free pastel themed PowerPoint Templates
If making your own color palette is more work than what you signed up for, don't worry! In our Templates by 24Slides platform, you'll find incredible, completely free PowerPoint templates. You can download any (or all) of them and start working on your presentation straight away. And of course, if you're looking for some pastel themed PowerPoint templates, here are some pretty amazing ones that you might want to check out!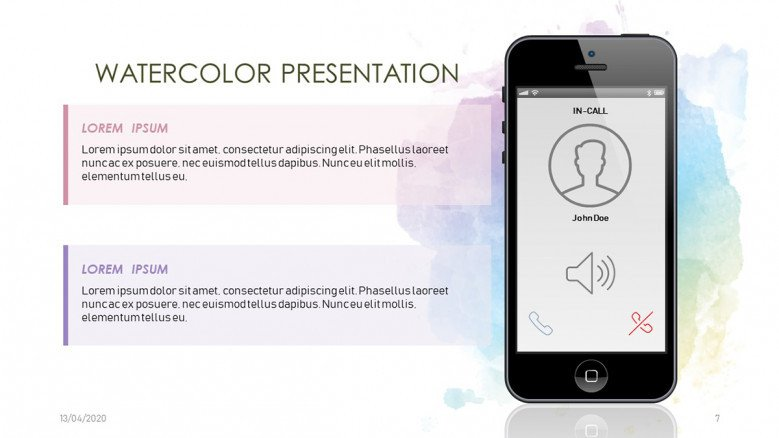 Watercolors are a classic association when thinking about pastel tones. So why not take advantage of this and unleash a more artistic side of yourself? This pastel themed PowerPoint template is great because not only its colors convey a calm and soothing feeling, but the watercolor-like texture makes for a truly unique presentation design. You can rest assured that your slides will definitely stand out from the crowd!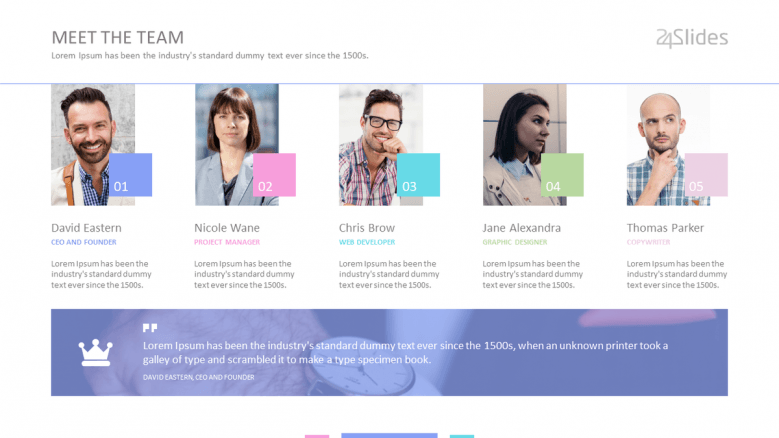 Soothing pastel tones can also fit business presentations. And pastel themed PowerPoint template is the perfect example of this! These slides will help you insert color and life into your presentation without it being too bright and noisy. And if you're looking for another heavy-business related pastel themed PowerPoint template, you might also want to take a look at this great CSR Analysis Template.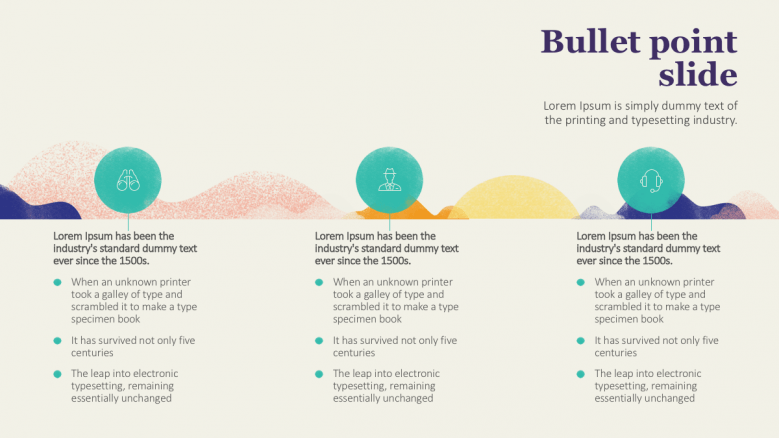 This presentation is the perfect example of mixing pastel tones with a more neutral tone to create the perfect slides. This design uses custom illustrations and texture to create an amazing pastel themed PowerPoint template. It's the perfect combination to display all your creativity and uniqueness to your audience!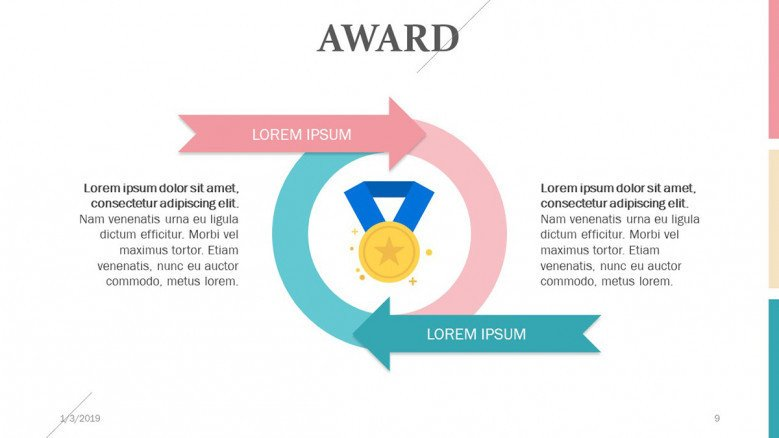 Talking about complementary pastel tones, here's the perfect example! Recognizing your team's effort and giving credit where credit is due can be key to motivate your employees to keep improving and growing. This pastel themed PowerPoint template has all the tools you might need to highlight their achievements. And its unique color scheme will help you convey optimism and encouragement!
Planning ahead and setting goals for the future can be pretty stressful. That's why the pastel pink design of this PowerPoint template is the perfect pick! Use this soothing design to showcase upcoming events and ease your audience. It offers 3 different calendar design you can easily edit to fit any month and any year!
Get your own custom PowerPoint presentation design
Investing some time into your presentation design is worth it. You might actually be surprised how much it can pay off! Your presentation is your introduction card to your audience, it can convey so much more than just the information written in the slides. It can highlight how professional and trustworthy you are, showcase your creative side, and help you stand out from the competition.
However, presentation design can be tricky too! And it can end up taking a lot of time and effort before achieving a professional look that will make your business justice. So why not let professionals do what they do best? 24Slides offers a slideshow design service that is highly recommended by some of the biggest companies all around the world. Just send us your slides and let our designers work their magic and create the perfect pastel themed PowerPoint presentation for you. You will most certainly be surprised at the results! If you liked our templates, then you're going to love our custom professional PowerPoint design!