18 Green PowerPoint Templates for Your Next Presentation
Green: the color of nature, good luck, and hope. But also the color of jealousy and money. Green is a fairly common color when talking business. Maybe your company's color palette has green tones on it. Or maybe you're trying to make a presentation that conveys the fresh and calming effect of this color. Either way, these 18 Green PowerPoint Templates are worth taking a look at!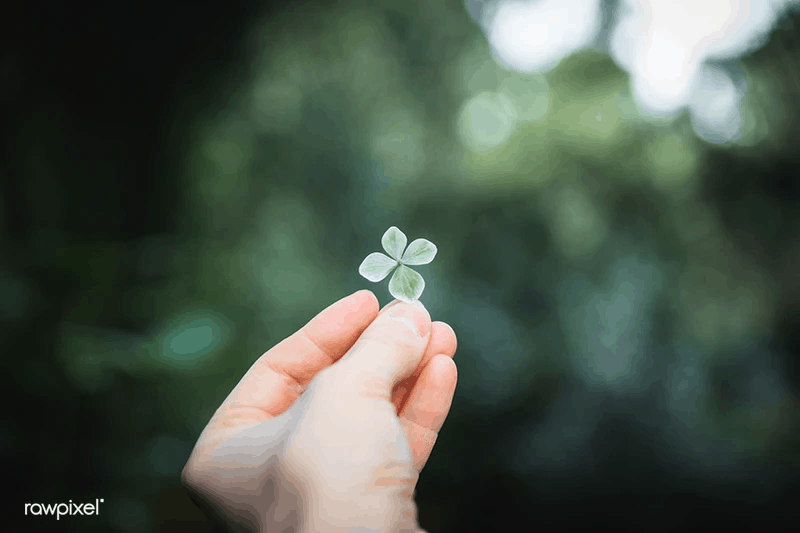 Color: An Amazing Ally for PowerPoint Presentations
Many people think color choice is a minor detail when working on a PowerPoint presentation. But you might be surprised at how much colors can influence your presentation's image. Culturally, colors have different meanings and effects on people. Red, for example, is commonly used to represent passion and intensity. Yellow is usually connected to happiness and sunshine. And blue is a most serious color, that conveys coolness and sobriety.
Picking carefully the colors for your next presentation can really help you convey your message more effectively. An all-white presentation gets boring pretty quickly. Whether it is to showcase the colors of your company or to transmit your audience a specific feeling or mood, colors are definitely a great tool to take into consideration when designing a presentation.
Why make a green PowerPoint presentation
When we think about the color green, we usually think of nature. Grass, trees, all kind of plants and landscapes is usually what this color brings to mind. That's probably why it is usually associated with peace and tranquility. Precisely because it's a color that reminds us of nature, green is also usually connected to ideas of growth and health. That's also why in many places in Europe, pharmacies are easily identified by a green cross at their doors.
Probably because of their relation to outdoors, many times we connect the color green with tranquility and refreshing. Many people say that green has a "calming effect", and that helps concentration and relaxation. In the business world, where you need to take risks and put yourself on the line, tranquility and calm is certainly a thing that can be useful to convey when doing a presentation.
Even more, green is also connected to money and good luck. Four leaved clovers, for example, is one of the most well-known signs of abundance and luck, and one of the things that first come to mind when thinking about the color green. And who wouldn't want some good luck in their business?
Green PowerPoint Templates for your Next Presentation
Are you ready to start using green in your presentations? Here you'll find some of the very best green PowerPoint templates you can download for free. As it has been said, many times the color green is related to nature and the environment, so you'll definitely find some of those themes here. And, since it's related to health, there are also some great green PowerPoint templates concerning topics like pharmaceutic and science.
But green can be a great color for business too. This green PowerPoint templates will help you give your presentation a fresh and vibrant look. There are several business model templates that you'll be able to find here. But even more important, you'll find green PowerPoint resources to really take your presentation to the next level. Maps, graphs, icons… You'll find all these and more right here.
Green Business Models PowerPoint Templates
Facing your competition is an essential part of doing business. In order to keep growing, each company must be aware of what other options are out there for their clients. This free PowerPoint template will help you showcase not only who are your competitors, but also concrete data on them.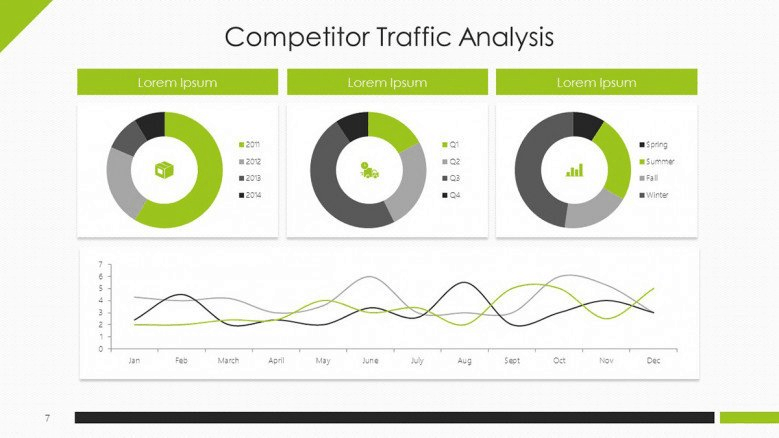 It has a lot of charts and graphs that will allow you to compare them to each other and to yourself. It has a vibrant green design, that will help you keep your audience's attention without being too aggressive. The white, grey, and black scheme will make your presentation maintain the professional feel despite the brightness of the green details. In short, the perfect balance!
This PowerPoint presentation template will allow you to share your complete market strategy, step by step. From your product lifecycle to the customer's experience, this template will help you give a 360 overview of your business.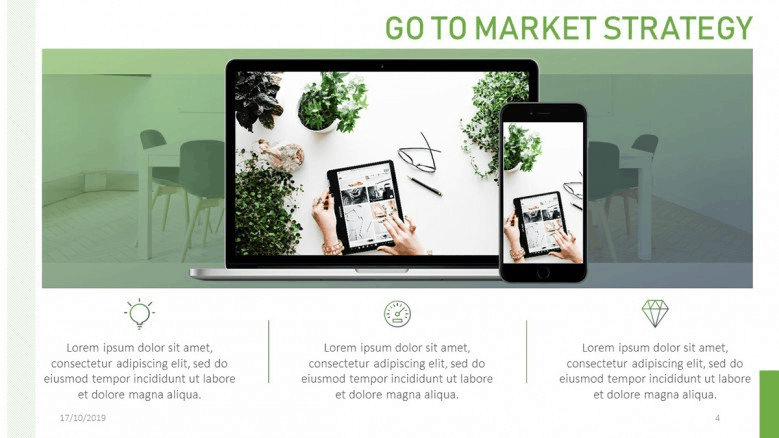 Blue is great to show professionalism and sobriety, but it can get a little boring after a while. But, just like in this template, you can mix it with other colors with amazing results. This green and blue PowerPoint template has the perfect color palette to present yourself business-like without being dull. Blue and green are both calming colors. And while blue will help you convey trustworthiness and reliability, green will give your presentation a more vital, bright feel.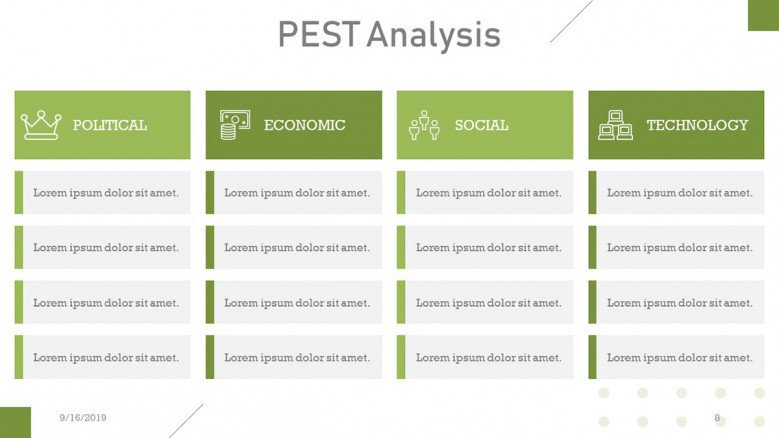 PEST analyses are one of the most useful tools out there. It's a very straight forward way to identify external factors that can affect your business and work on how to face them and exploit them. This 10-slides template will allow you to showcase each of these 4 factors in detail. It has a simple fern green color scheme that will bring more liveliness to your presentation without making it look too loud and distracting.
The Boston Consulting Group is a world-class reference in terms of business and management. Its growth-share matrix, that divides the market into 4 categories depending on how much potential and how much risk there is. This free PowerPoint template is inspired by the Boston Consulting Group for different data, timelines, and chart slides. It also takes inspiration in the green of the company's logo for a bright and vibrant color scheme. It's 20 slides (twice as more than most of the templates) will help you make an outstanding and comprehensive presentation for your business.
To make smart decisions, it's important to stay informed and be aware of the general context. With this presentation template, you'll be able to give your audience a complete overview of the economic changes that might affect your business.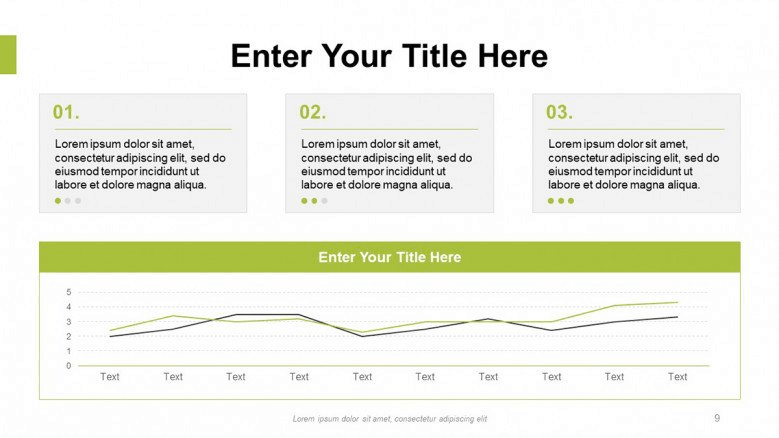 This template is all about data, so it has some really amazing charts and graphs. This way, you'll be able to share quantitative information in the most effective, straightforward way. The bright lime green color scheme of this PowerPoint template is perfect to bring some life into a topic as dense as macroeconomics.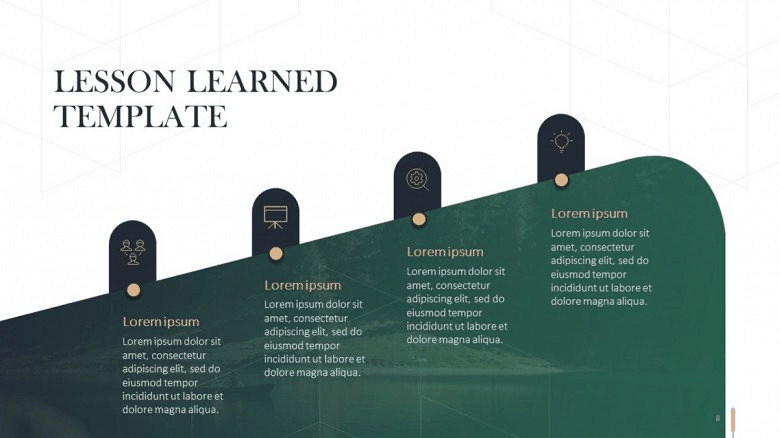 Whether the outcome of a project was good or bad, the most important thing is to be able to learn from it. This way, every single experience will be a growing one. This green PowerPoint template will help you give an overview of any project, and convey to your audience what you can take out from it to keep improving. It has a beautiful dark green palette that transmits calmness. It'll help you convey how important it's to learn from your mistakes and to move forward.
Green Science and Environment PowerPoint Templates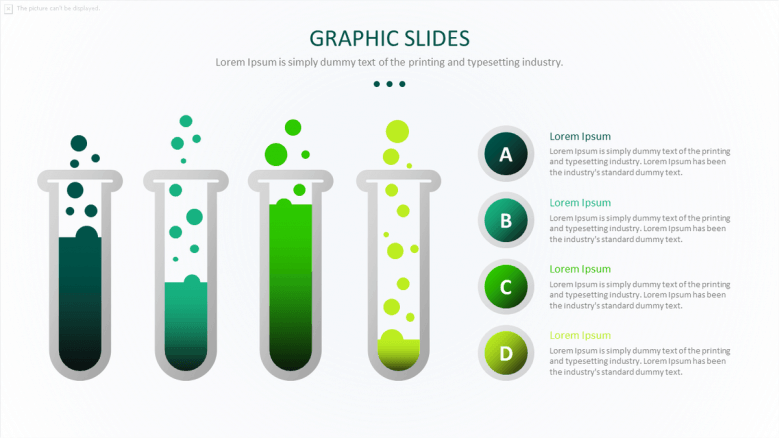 Science is one of those topics that are connected to the color green pretty much automatically. Probably because of its relation to nature, green seems to just fit. This science-themed PowerPoint offers you 5 slides with different graphs. Its slides use a palette of different tones of green, from lime to jade and teal. This makes up for a really fun and vibrant presentation, that will really help you bring out your information in a fun way.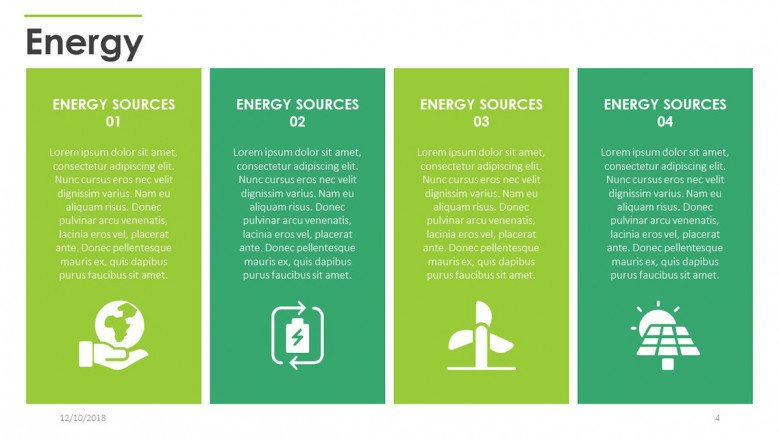 This green PowerPoint template covers a topic that's related to both nature and environmental issues: energy. It has lots of graphs and visual aids that will help you convey your information in the most attractive way possible. An even more, its bright green color palette will give it a more vital and interesting look. It has detailed slides concerning every possible topic concerning energy, with amazing icons and illustrations. It's really worth a look if you're working on an energy themed presentation!
Since health is so commonly related to the color green, a Pharmaceutical green PowerPoint template is a no-brainer. This presentation, however, uses a light and mint green mix that gives it a friendly and refreshing feel. All the presentation is filled with detailed, unique icons concerning different topics. This template would be a great complement to any presentation about the pharmaceutic or health businesses.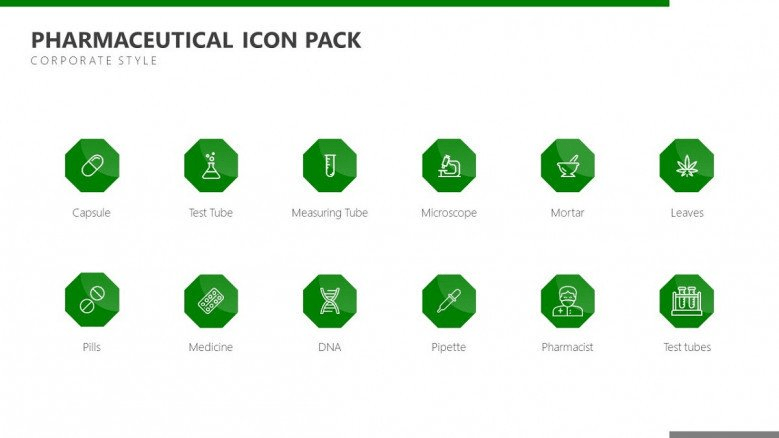 If you're planning to do a Pharmaceutical-related PowerPoint, then this template is for you! These amazing icons will complement any pharmaceutical presentation perfectly. They'll help you customized any generic template and bring it to the next level. Icons can help you make your presentation more memorable, so these are a great option for making a truly unique presentation. Their lively emerald green design will catch your audience's attention instantly.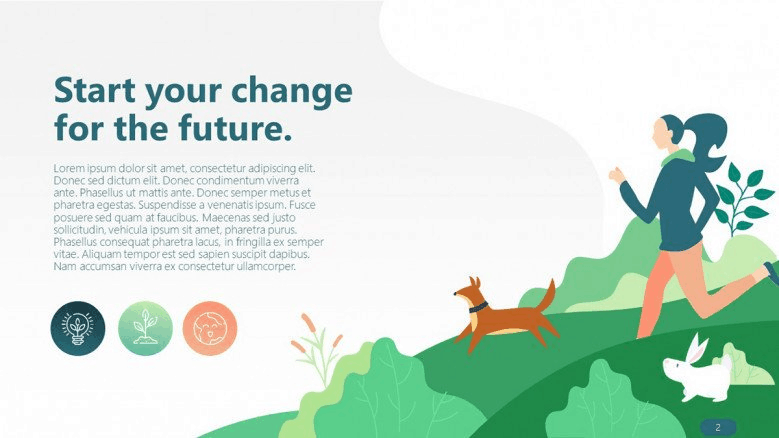 The environment is one of the topics most commonly connected to the color green. After all, green is the color of nature and health. This PowerPoint template has a beautiful green-based color palette that represents the topic at hand. It also has unique vector illustrations in every slide, that will help you get your point across and make your presentation more enjoyable.
If you're planning to make a more business-like presentation concerning environmental issues, the last one might have been too casual. If you want to introduce to you audience to environmental issues in a less playful and more serious tone, then you definitely should check out this green PowerPoint template. It slides have a green monochromatic design that makes then more sober and straight to the point.
Maybe both of the previous environmental templates were leaning too much to either extreme. If you're looking for a presentation that doesn't look too playful and light-hearted, but you don't want one that looks too business-like and sober either, you might want to consider this one. This green PowerPoint template keeps it minimal and stylish without being boring. It includes images and details in green to remind the audience of the topic, but it mixes it with a more interesting layout. It also includes graphs and a timeline so you can showcase all your information in a more eye-catching way.
Green PowerPoint Resources Templates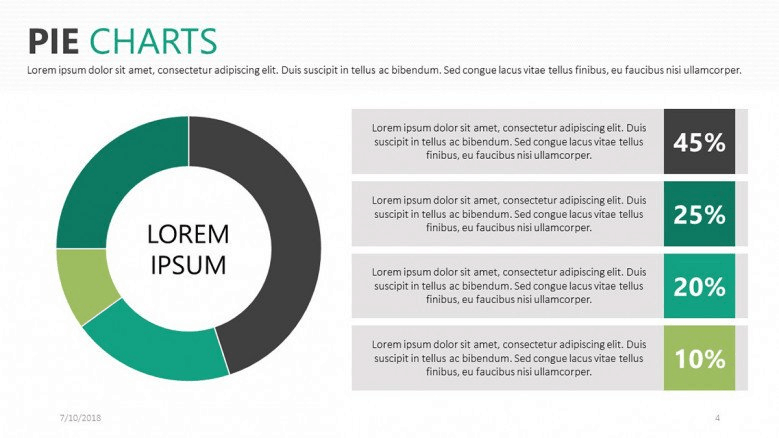 This template is one of our most popular ones, and it's easy to see why! It has 8 different types of pie charts for you to choose, according to your needs and your presentation. There are slides for you to compare between two or three different pie charts. Its green and teal color scheme helps to distinguish easily between each section without the colors clashing.
In this slides pack, you'll find all kinds of timelines templates. Timelines are one of the most useful tools out there because they're the best possible way to showcase visually a chronology of events. Years, months, hours, you chose! Here you'll find 8 different timelines models that would be a great addition to any presentation.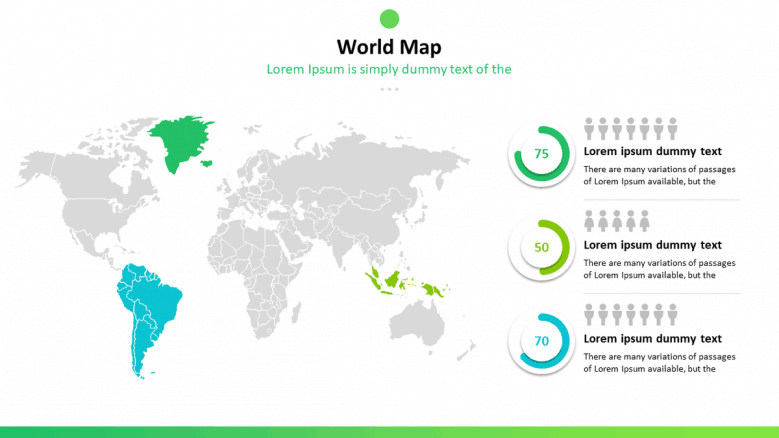 Maps can be an outstanding tool to show a lot of information in a really straight forward way. The maps templates in this deck have a green and blue color palette that will assure you to convey all your information clearly to your audience. In this green PowerPoint template, you'll find maps of the whole world, America, Australia, and Brazil. They're easily editable, so you can take what's useful to you and customize it according to your needs.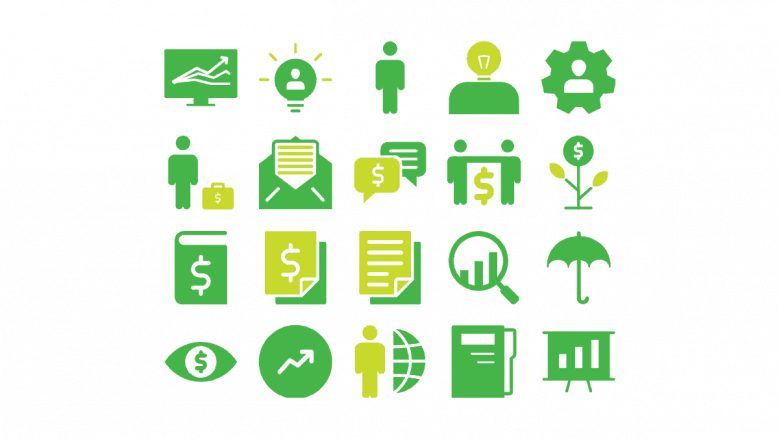 Icons are a great way to turn a plain presentation into something really special and unique. They will give your presentation a more professional look with almost no effort at all. These bright green icons will definitely bring your presentation to the next level.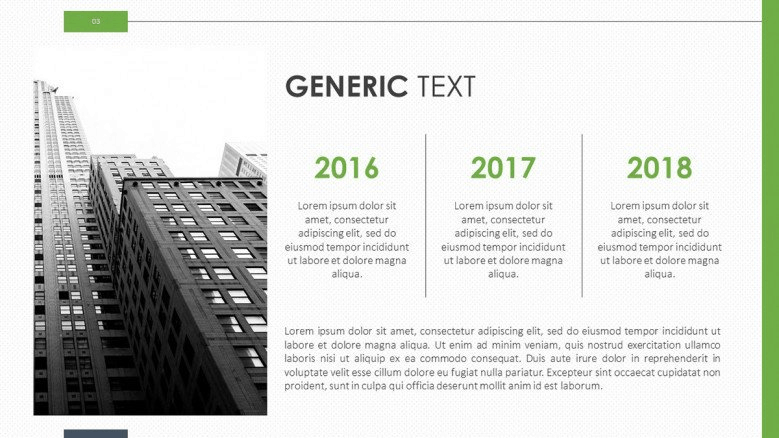 Sometimes you don't need something too complex. Sometimes, what you need is something clear and straight forward. This generic text PowerPoint template is the perfect example of this. It's simple but elegant, and its green details make it everything but boring. If you have a lot of text to add to your presentation, you might want to consider checking out some of these slides!
Are you ready to use any of these PowerPoint templates and leave your competition green with envy? You can download any of these completely free, just by clicking on them and registering on our Templates by 24Slides platform.
If templates are just not making it for you, and you're looking for something really unique, you can check out our design services at 24Slides. Our designers will be happy to work on a completely tailor-made presentation just for you!