How to Create a Flowchart in PowerPoint
A flowchart is a great way to visually capture an idea or process in a simple and concise way. That's why it's such a useful tool to add to your presentation slides!
In this post, I'll provide a step-by-step guide to creating a flowchart in PowerPoint. We'll go from the different options you have, from creating one from scratch on your own to using PowerPoint's SmartArt tool.
And in case you want to use content from another source, I'll also cover how to insert and edit a PowerPoint flowchart.
For all the visual learners out there, I'll also include screenshots and gif examples along the way. So keep reading to learn how to create the perfect flowchart for your PowerPoint presentation!

What is a Flowchart?
A flowchart is a type of diagram that shows the arrangement of steps, information, or processes. They are used to help visualize the structure of a process or concept.
Flowcharts are often used in complex processes and can be found in process management and project management disciplines. However, you can use a flowchart for pretty much anything that requires following steps in chronological order.

How to Create a Flowchart in PowerPoint
To create a flowchart in PowerPoint, you have 2 main options: Either you create from scratch by using shapes and arrows, or you can use the SmartArt tool.  
Option A: Create a flowchart using the PowerPoint SmartArt tool
This is the easiest way to create a flowchart in PowerPoint. The SmartArt tool allows you to insert a pre-made flowchart into your slides and customize it.
-Step #1: Go to the Insert tab and pick the SmartArt option. This will open the SmartArt Graphic pop-up window.
-Step #2: Go to the Process option to get flowchart options. Here you'll get options like Staggered Process, Gear, and Circular Bending Process. There are over 45 options for you to choose from!
You can also check out the  Cycle option for circular o repeating processes.
-Step #3: Select your flowchart. Once you click on any of the options, you'll get a diagram preview on the right side of the window, plus a small description of it.
Go through all you need until you find one that fits your needs!
-Step #4: Once you have picked one, click on it to see the graph preview. Then, click OK to insert it into your slides.
-Step #5: Add your content. You can type it in by clicking on the text you want to replace or use the Text Pane option to write it in a bullet list format. It will immediately transfer your text into the flowchart!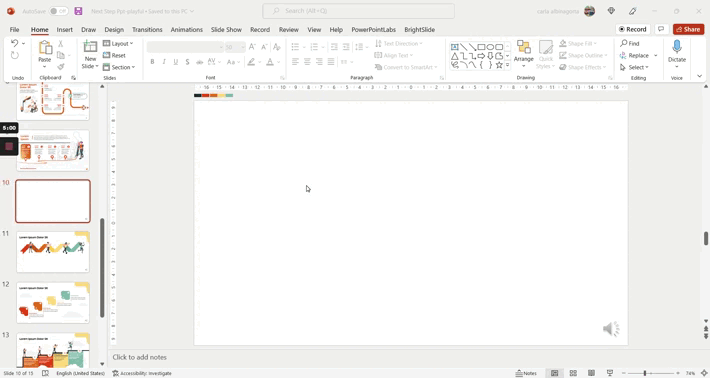 -Step #6: Edit your SmartArt flowchart. You can use the anchor points to adjust the size of the flowchart overall or select specific shapes to edit them individually.
Once you've clicked on the chart, you'll get the SmartArt tab, where you will find more options for editing your flowchart. For example, you can use the Change Colors option or use the SmartArt Styles to give shadows and depth to the shapes.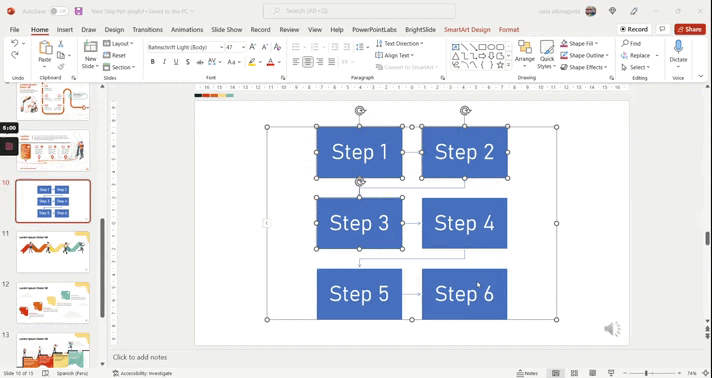 At the end of this article, you'll find more options for editing and customizing your PowerPoint flowchart!

Option B: Create a flowchart from scratch using PowerPoint
The other option for creating a flowchart in PowerPoint is using shapes and arrows to build it from scratch. It is the best option for those that need a custom or very specific flowchart design.
If you're making a flowchart from scratch, having a hand-drawn draft of a sketch can make the process easier, as it'll give you a general of what your flowchart should look like.

-Step #1: Go to the Insert tab and click on the Shapes option. This will give you a dropdown menu where you can see all the different shapes you can use for your flowchart.
-Step #2: Pick a shape and double-click it to insert it into your slide. Type in your content to add it automatically to the shape.

-Step #3: Keep adding all the necessary shapes and typing in the content. The best thing about creating a flowchart from scratch is that you can mix and match different shapes according to your needs.

-Step #4: Arrange the shapes in the correct order to create your flowchart. You can drag and drop any shape by clicking on it to select it and then moving it around.
To organize your shapes, you can also use the Align option in the Arrange dropdown menu in the Shape Format tab. This will give different options, like Distribute Horizontally or Distribute Vertically, to make sure your shapes are equally spaced from each other.
-Step #5: Add the connecting arrows or lines to your flowchart. Go to the Insert tab >Shapes and pick an arrow to start drawing.
Hover your mouse over any shape, and you'll get anchor points from where to begin drawing your arrow. Drag it all the way to another shape, and you'll get new anchor points to where your arrow will end.
Do this as many times as you need to create all the connections in your flowchart.

-Step #6: Edit your flowchart. You can change the colors of each shape, customize the lines around them and even choose design styles for the arrows. You can even add icons to make your flowchart more visually appealing.
Make sure your presentation has a unified style, and a color scheme, as this can make all the difference for your presentation to look more polished and put together.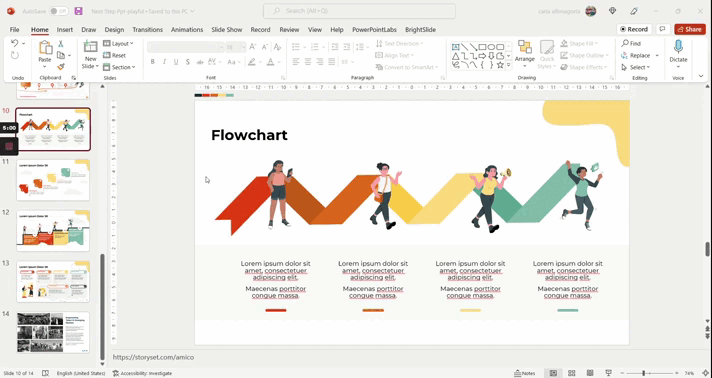 At the end of this article, you'll find more options for editing and customizing your PowerPoint flowchart's design!

How to Insert a Flowchart in PowerPoint
Maybe you don't need to create a flowchart in PowerPoint from scratch. There are hundreds of free templates available that you can use and add to your presentations.
If you've got a PowerPoint flowchart that you'd like to use, it's very easy! Just left-click on the slide you want and Copy it.
Then, go to your presentation and left-click on it. You can pick between different Paste options. "Keep Souce Formatting" will make it look exactly as you copied it from the original presentation. And "Use Destination Theme" will make the design blend into your own presentation's style.
And you're all done! You've now got a flowchart in your PowerPoint presentation.
You can check out our Templates by 24Slides platform for hundreds of absolutely free professionally designed flowchart PowerPoint templates.

How to Edit a PowerPoint Flowchart
Once you've got the overall structure of your flowchart, it's very easy to edit it. Here are some useful tips to help you customize your PowerPoint flowchart:
Selecting any shape will enable the "Shape Format" tab. This tab shows extra customize options for you to get your flowchart looking exactly as you want it.
"Shape Fill" allows you to change the color and texture of the shape
"Shape Outline" lets you change the color, but also the style (sketched, dashed, dotted) and width of the line
"Shape Effect" allows you to give depth and shadows to the shape.
For arrows and lines, you have the same options described above in the Shape Outline option.
You can use these tools to edit both flowcharts made through the SmartArt tool and flowcharts you've created from scratch, as well as the ones you've imported from other presentations.
Having an overall design style and color theme will make your presentation look more professional and clean. In the color menu, you'll find colors you've used before, or you can use the Eyedropper tool to make sure you're using the same color scheme.
Adding icons can help you make your PowerPoint flowchart easier to understand at first glance and more memorable for your audience.
You can also add animations to your flowchart design to make it appear step by step or to make your slide more impactful. Just be careful not to go overboard with them!

Hopefully, this will help you create the perfect flowchart for your Powerpoint presentation!
However, if all this seems like too much work, why don't let professionals do it? 24Slides designers will design an amazing custom-made flowchart for just $1.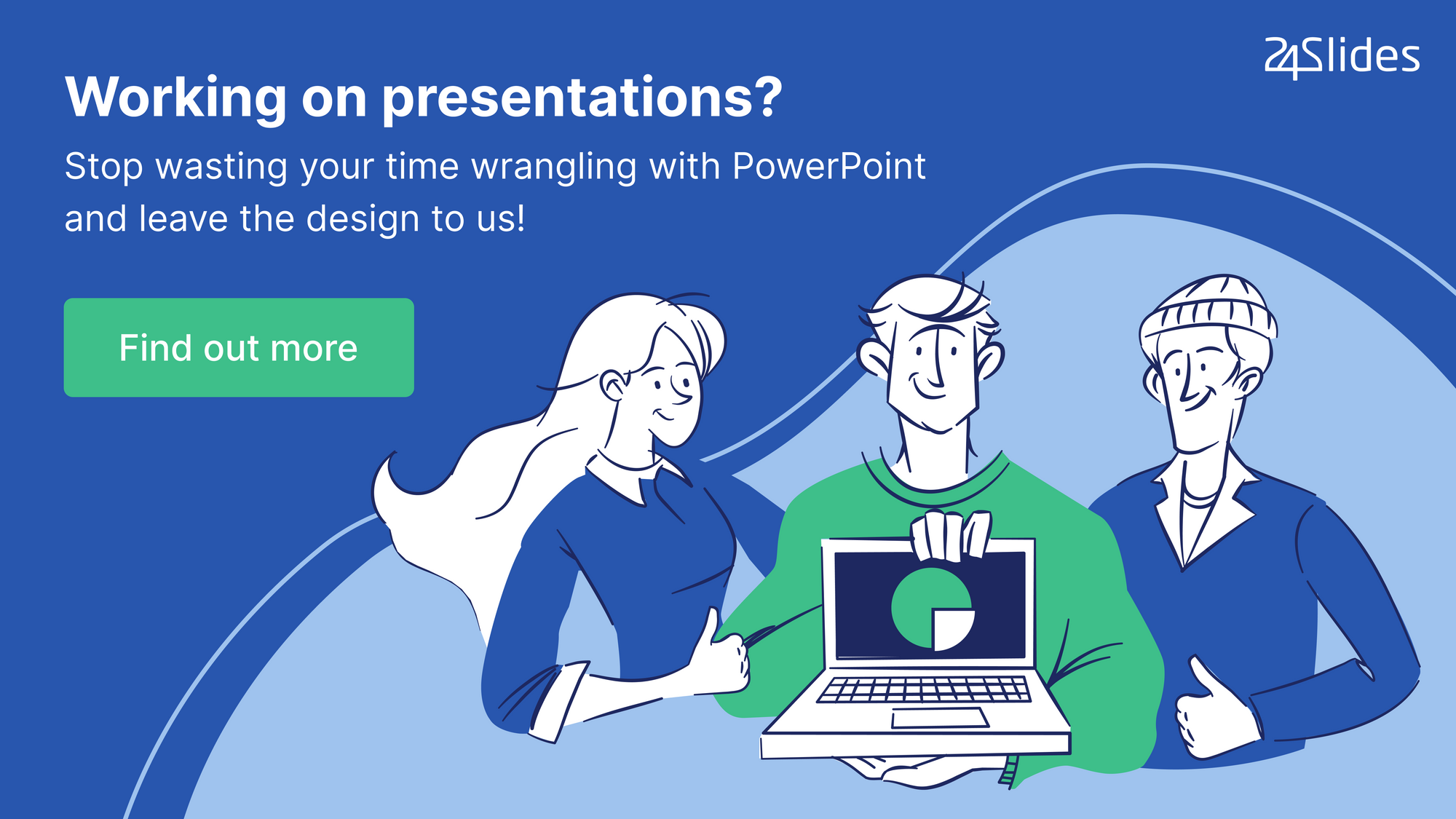 ---
You might also like these articles: