How to Create a Venn Diagram in PowerPoint
Diagrams are incredibly powerful for explaining complex topics at a glance and, if used correctly, they can be an excellent resource for your business presentations. Today, I'll show you how to make Venn diagrams in PowerPoint - the basic and advanced methods. I've also added a cool option in the end to give your Venn diagrams a professional look.
Let's get into it!
What is a Venn Diagram?

A Venn diagram is a visual representation of the relationships between groups or sets. It uses overlapping circles to illustrate what elements belong to each group and which ones are on several sets at the same time. This way, you can easily compare and contrast the similarities and differences of things or groups of things.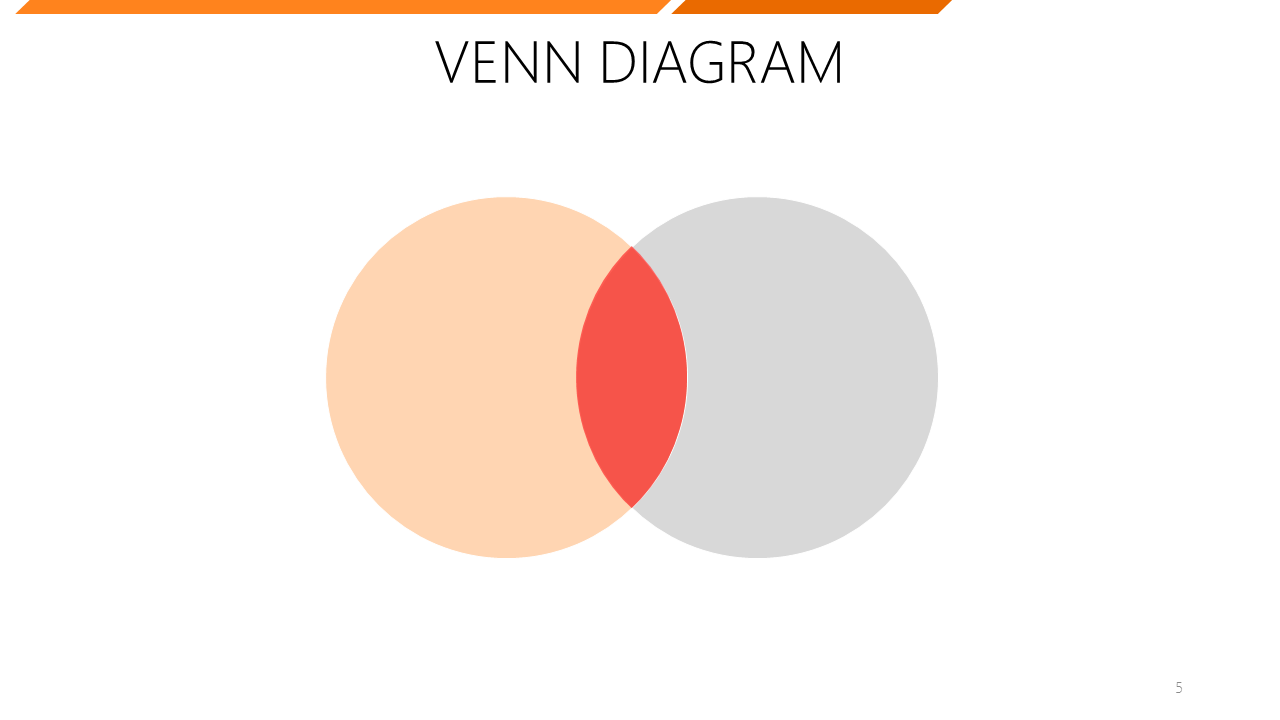 Before going into the making of a Venn diagram, we should become familiar with its structure. Here are the main components of every Venn diagram: Set (a collection of items or things), elements (the items in a set), intersection (all elements shared within two or more sets), and universal set (a grouping of all the elements in the diagram - usually represented by a rectangle around the sets)
So, to recap:
Each circle represents a set of elements.
Each overlapping area identifies relationships between elements of different sets.
How to Create a Venn Diagram in PowerPoint
Now, we're ready for the step-by-step process of making a Venn diagram from scratch. I'm going to show you two methods: The basic one will help you create your diagrams in no time, and while the second one might take a few minutes more, the result will be brilliant!
Method 1) Use the SmartArt diagrams.

To show a Venn diagram in your PowerPoint slides, go to the Insert tab and click on the SmartArt icon.

The SmartArt window will pop up with several graphics to choose from. Go to the Relationship category, and pick the option for a Venn diagram.

With that set, you can easily add your information inside and edit the appearance of your diagram. This option allows up to seven overlapping circles, but that's more than enough to cover all needs of a Venn diagram.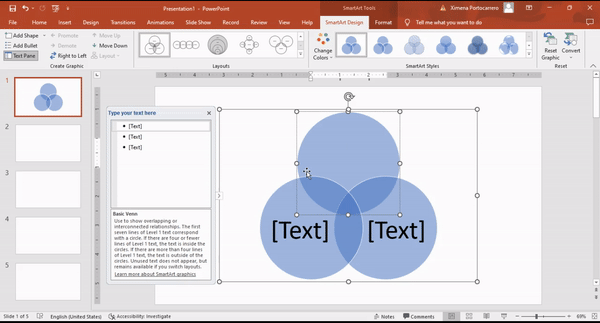 Plus, you can try three other types of Venn diagrams: Linear Venn, Stacked Venn, and Radial Venn. You'll find them all on the same SmartArt window.

The only downside to this method is that SmartArt diagrams are a bit restrictive when it comes to the arrangement of circles and treating each part of the Venn diagram as individual components. It might not sound like a big deal, but you'll see the difference when we get to our second method - the pro one.
Method 2) Make a Venn Diagram like a Pro

While SmartArt gets basic Venn diagrams for PowerPoint done, this method right here takes you further when you need to highlight what happens in the overlapping areas.
This is what professional presentation designers do:
First, go to Insert > Shape, and select the oval (although you can use any geometric shape for your Venn diagram). Holding Shift, draw a symmetrical circle. Then, copy and paste as many as you need for your diagram.
Tip: You can use a visual reference (an image or graphic) to arrange the circles correctly - like the example below.
And here comes the magic. Select all the circles and go to the Shape Format ribbon. Click on Merge Shapes > Fragment.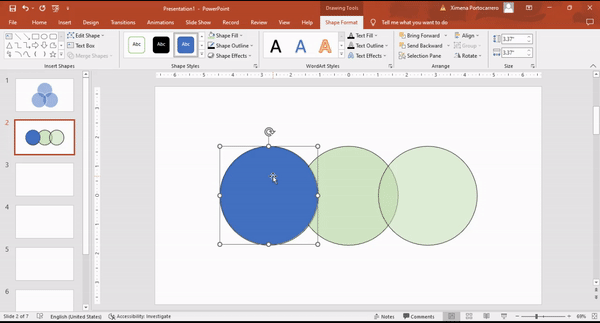 Now, you're able to focus your audience's attention exactly where you want it. By fragmenting the shapes, you can customize each part of your Venn diagram - just like the pros do! Check out some PowerPoint examples by the 24Slides designers:

How to Insert a Venn diagram in PowerPoint
Want to have your Venn diagrams even FASTER? Another great option is to use templates. In 24Slides, we have a template hub where you can download free PowerPoint resources. For this example, we'll use our Playful Venn diagram template.

Once you download it, open your template on PowerPoint and look for the Venn diagram that best fits your needs. You'll find Venn diagrams with 2 circles, 4 circles, in a 3D style, and more.

Select the slide you want in the thumbnail pane and press Ctrl+C (copy). Finally, go to your presentation and paste it. You have the option to "Keep source formatting" so it looks exactly like the original or "Use destination theme" to make it blend into your presentation style.
And that's it! You're ready to make a convincing case with great Venn diagrams.
You might also find these articles helpful: