How to Create the Perfect B2B Sales Presentation in 2021
Creating an excellent B2B sales presentation can be quite a task! In some ways, this kind of presentation is more demanding than business-to-customer presentations, as there is more in the line. Decision-makers in the business you'll be targeting will have their company's best interests in mind, not just their personal preferences. That's why B2B presentations have to be strategic and focused on what you can bring to the table.
These seven tips will help you create the perfect B2B presentation. While it is not one-size-fits-all, this article will give you a comprehensive list of must-haves to make sure your presentation is flawless. You'll also find some examples of the types of slides you can add to your B2B presentation and free templates to create your own pitch deck.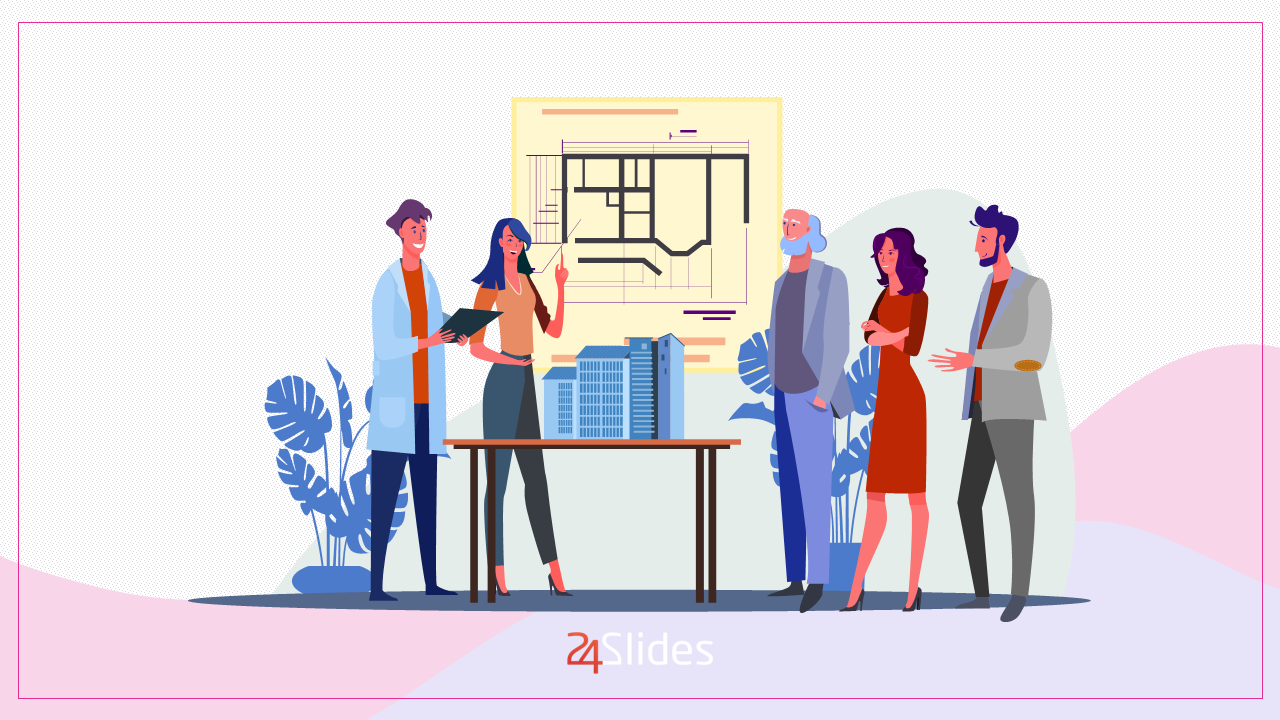 7 fundamental ideas to create the perfect B2B presentation
Getting ready for your B2B sales presentation can be pretty challenging. Here are some essential tips to take into consideration when working on your pitch. No matter the industry or field you're working on, focusing on these will help you get your B2B sales presentation to new heights.  
#1. Know your audience
This might seem like an obvious one, but you might be surprised at how little people actually care about this point! According to Forrester's Buyer Insight study, only 13% of executive buyers believe that the salespeople understand their company's issues.
Companies don't care about your services or product if they don't help make their business better and more efficient. Researching and focusing on the customer's pain points is crucial for a good B2B sales presentation. Only by knowing exactly what they are lacking, you'll be able to present your product as a problem-solver!
In B2B sales presentations, it is critical to focus on differential value. Ask yourself, what does my company provide that the others don't? What makes me better than my competitors? Even more importantly, what makes my services valuable for people who might be satisfied by the status quo? In many cases, you might not even be competing with a specific service or product, but with the way your clients are "used to do things." It's your job to help them see beyond the routine and highlight how it's worth changing.
Focusing on the help your product or service provides to a specific necessity is key to get your potential client's attention.

#2. Customize your presentations
And following the last point, you might want to consider customizing your B2B presentations accordingly! Especially if you're a B2B company that provides to different industries, having presentations that target the specific issues and characteristics is a must! Generic, one-for-all presentations will not do. Tailoring your message to the industry and your potential clients' problems will make your sales presentation much more incisive.
As difficult as this might be, sales representatives should always be ready to engage with potential customers! To help them be ready on-demand, having easily customizable presentations can be a huge aid. Using master templates can help you make sure all your presentations are on-brand while still customer-specific.
Another option many companies have turned to is to outsource their presentation design. This will assure them of having perfect, professional, and custom-made presentations on-demand. Plus, it has the added benefit of freeing salespeople from tedious design tasks and allows them to focus on their target customers.

#3. Include case studies
For B2B sales presentations, gaining your audience's trust is the first step for acquiring a new client. After all, no one will hire your services or buy your product if they don't trust it will make a difference to their business! And the very best way to showcase this is through examples.
Case studies are a great way to gain your audience's trust and illustrate how your product or service can create an actual impact in businesses. It helps you set a precedent for your business as worth investing in. Case studies, especially those in the same industry or field as your potential client, can have a significant influence on their decision-making process.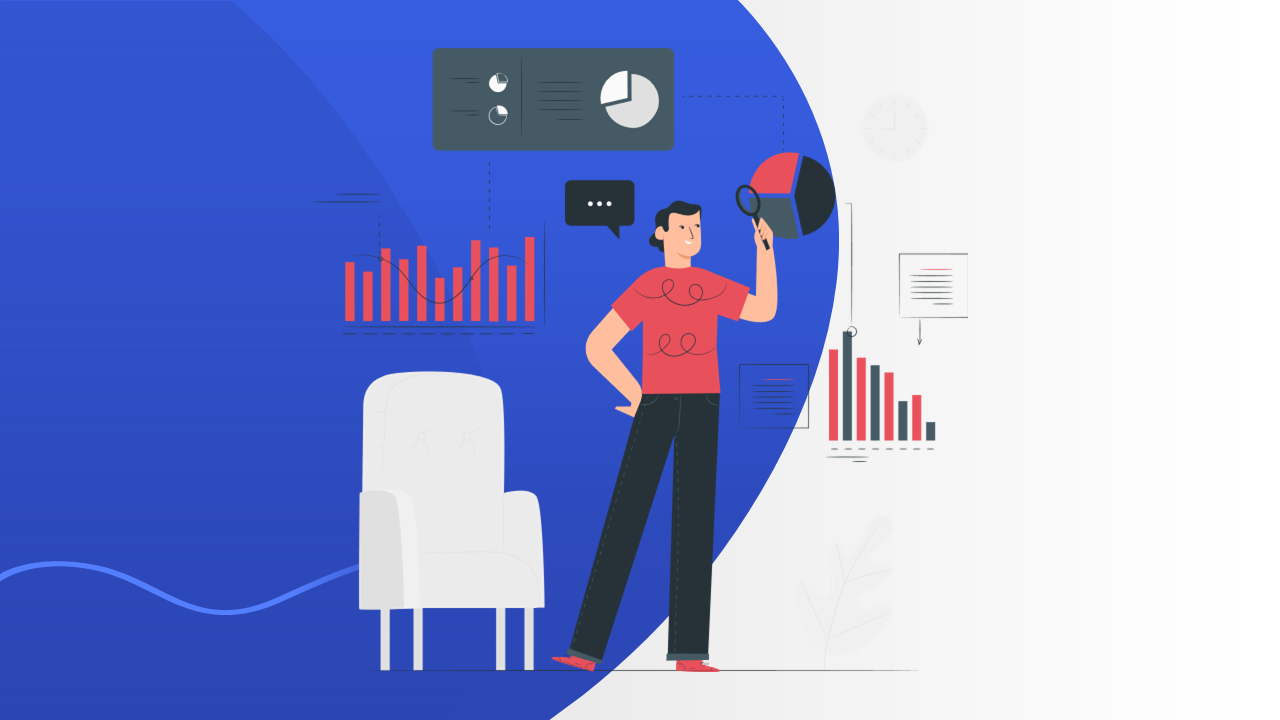 Data and statistics are also crucial aspects of B2B sales presentations. It helps you display without any possible doubt the impact on your customers' businesses. After all, numbers can not lie!
Upgrading the data visualization in your presentations is a must for everyone working on a sales pitch. Your audience might not remember all the numbers on their own. But what they will remember is the trends and patterns that you present. The more shocking and impactful the data you present, the longer your audience will stay thinking about how much they can gain from a partnership!
#4. Tell a story
Storytelling is one of the most effective ways to create an emotional bond with your audience. It has been proven that stories are even more memorable than cold hard data! Many people confuse storytelling with just adding anecdotes into your presentation. While this might be nice every once in a while, it's not what we're talking about!
It means going beyond theoretical and abstract examples and giving them a face and a name your audience can empathize with. It'll help you show the human side of your business and connect on a deeper level with your audience. It'll make your presentation more memorable, and it'll most likely leave your audience thinking about you long after it's over.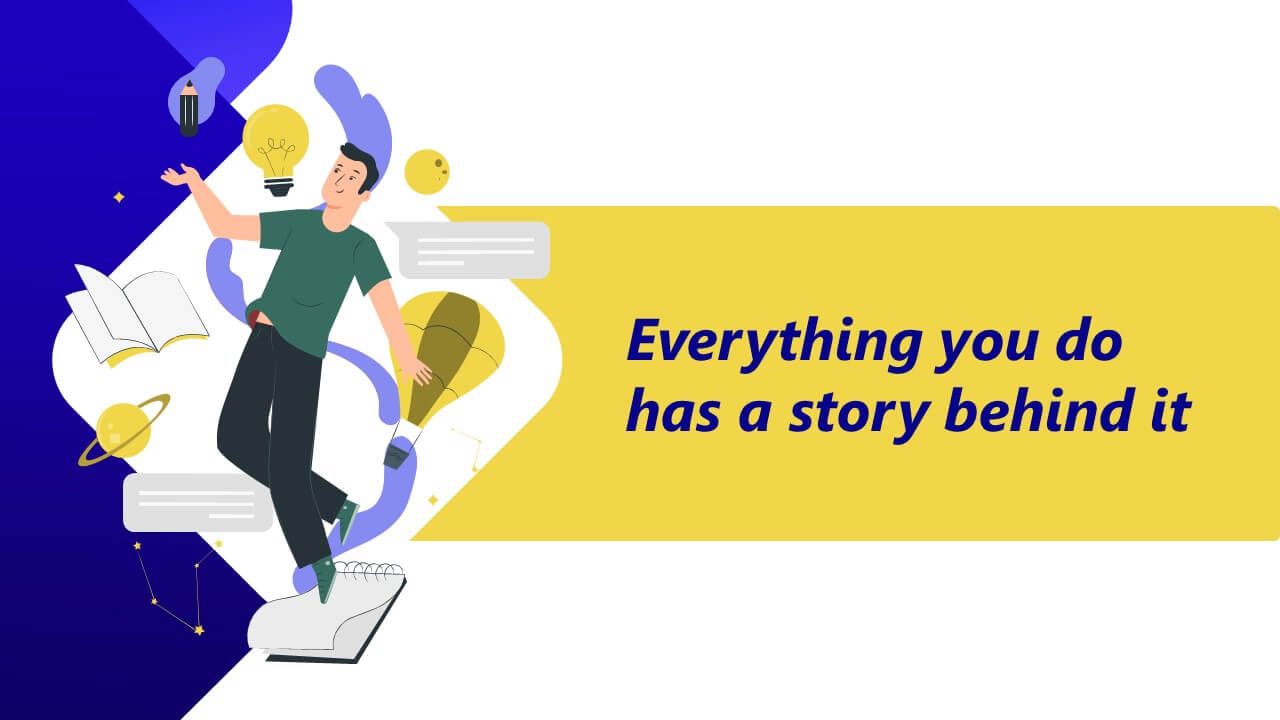 You can learn more about business storytelling techniques here.

#5. Engage with your audience
Just like the last one, this is a tip concerning creating emotional bonds with your audience. Presenting as if you're speaking to a wall it's not going to get you any sales! Engaging with your audience is a crucial aspect of business presentations. This will not only make your presentation more entertaining, but it'll also give your audience the impression that their needs and concerns are really being taken into account.
Listening to your audience is vital not only to make them feel more comfortable but to learn more about them too! Learning to listen is a great skill to have for any salesperson. This way, you'll be able to know more about their concerns and pain points and tailor your presentation accordingly.

#6. Focus on your presentation design
Just like you would care about your personal appearance when giving a presentation, your presentation looks are also important! First impressions do matter, and your presentation design can say a lot about your product, your company, and your overall reliability.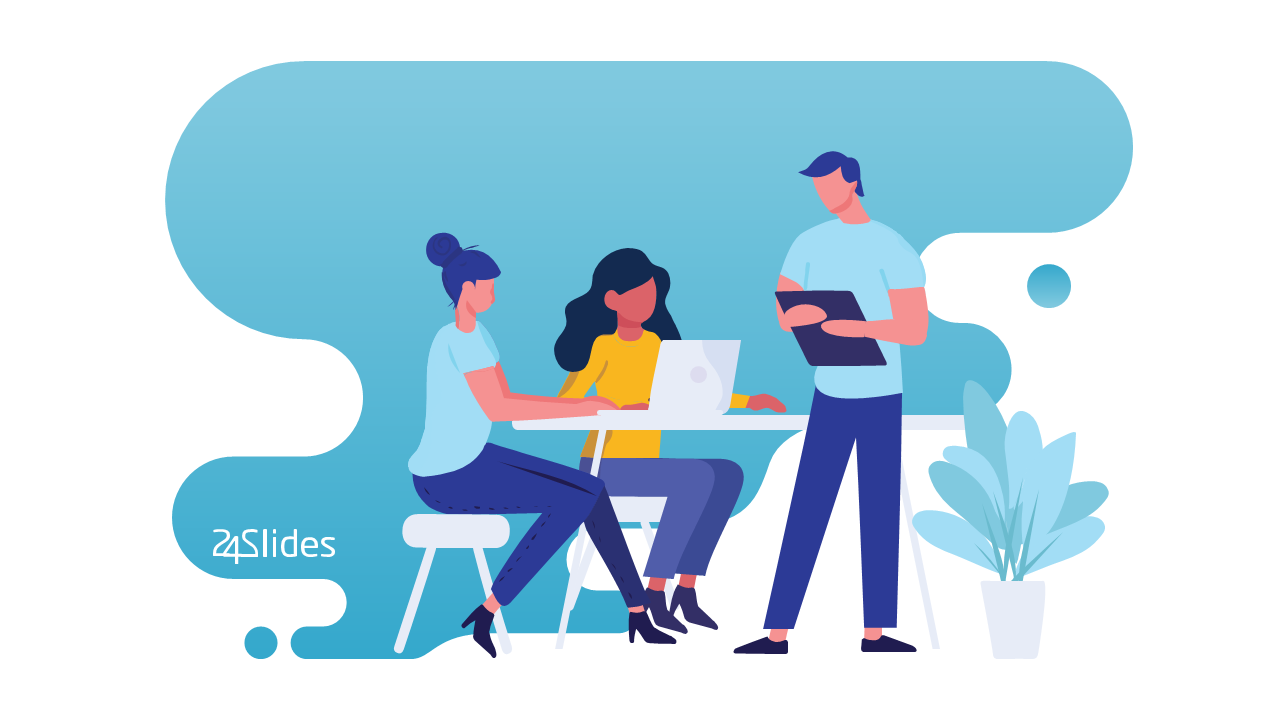 A good presentation design that reflects your brand and values can help you convey more than you think! It can make you look more professional, more trustworthy, more creative… You can show what your brand is all about more memorably and effectively than just talking about it. Professional presentation design is a fantastic option to have in your toolbox to make sure your presentation conveys your message and your brand values perfectly.
Remember that your PowerPoint presentation is a visual aid, not a script. It's meant to complement the speaker, not compete with it. Your slides should help you illustrate and give context to what you're talking out loud. Focus on the visual aspect of your slides and avoid using huge chunks of texts that will be distracting and just plain boring for the audience.
#7.  What next?
In a good B2B sales presentation, it's not enough to present your company and your product. You want to have your audience ready to buy, and that's why you should always add a  Next steps slide.
Your product or service and the benefits it offers might have convinced your audience, but they're unlikely to go through with the process if you don't tell them what to do. Whether it is a follow-up call or what to start and expect from the implementation process, your B2B presentation must always focus on its ultimate goal: sales!
Even if your audience is not ready to buy straight away, it's essential to finish with a solid call to action that wraps up your presentation.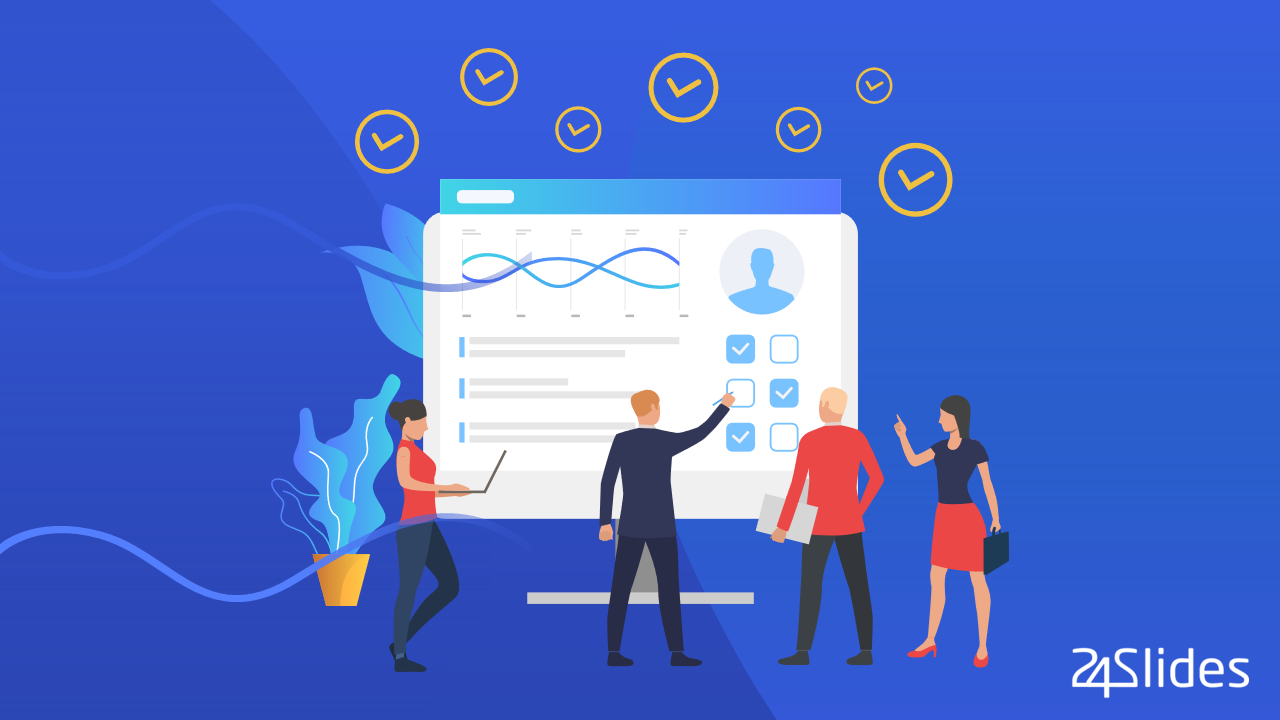 Finally, you must work on your delivery. There's no presentation, business or otherwise, that won't benefit from practice, practice, and more practice! Confidence is vital to give a great B2B sales presentation. Practice will help you get comfortable with your material so you can make the best possible impression.
Don't forget that your slide deck is not a script, and you're not meant to read word by word from it. Practicing is important, but so are spontaneity and authenticity! Your audience doesn't want to hear a robot speak. Believing in the product or service you're presenting and enjoying talking about it is the easiest way to make an impact on your audience.  

What to include in your B2B sales pitch presentation
It can be challenging to start a B2B sales presentation from scratch. Here you'll find some template ideas and inspirations of what you can add to your slide deck to make your B2B sales presentation even better. Of course, not all of these will apply to every single sales pitch out there. You're the one who knows best what your presentation needs to

a) Agenda
A presentation overview can be a great starting point for a B2B sales presentation. It'll help your audience know exactly what to expect from it and where they're standing.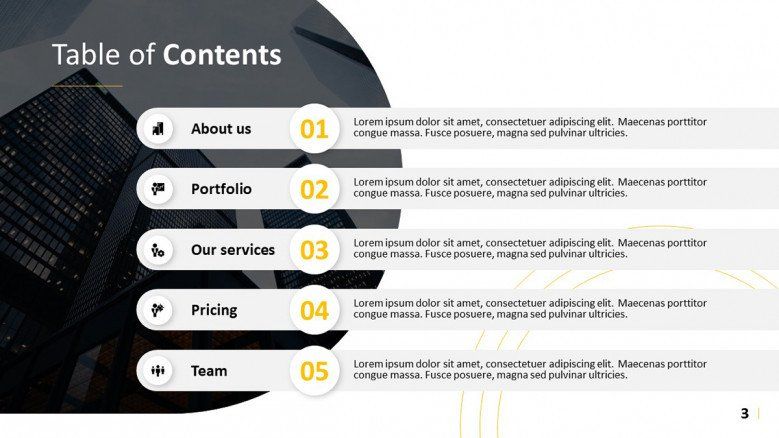 b) Company's history
Introducing yourself and your company can be a great way to gain your audience's trust. You can even add a timeline of your company's history to showcase your growth and how you've helped similar businesses along the way!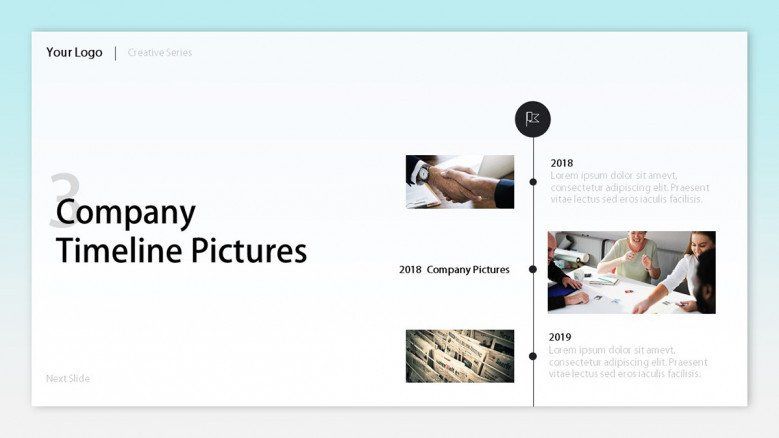 c) Case Studies
As it has been said before, case studies are a must! Make sure that the examples you include are relevant to the client you're targeting. This free PowerPoint template will help you showcase the value you've offered to similar companies, along with statistics and data to support your claims.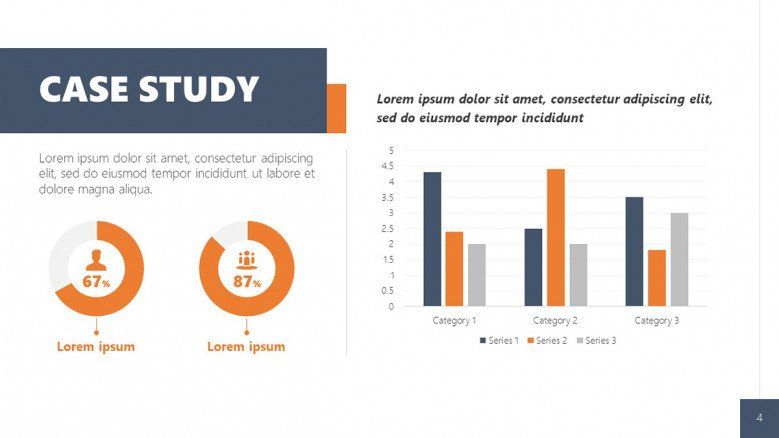 d) Meet the team
A Team slide can also be a great option to include in a B2B sales presentation. You'll get to humanize your company by giving service providers a face. And, you can also highlight your team's expertise and talents and showcase how you're an authority in your business field.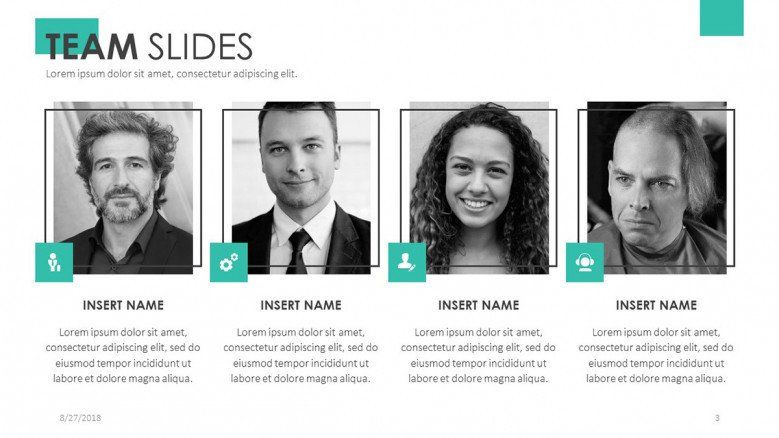 e) Products + prices + implementation
All the previous slides are great options to consider.  But what every single B2B presentation should definitely include is slides dedicated to your products, services, and prices. At the end of the day, THIS is what you're trying to sell! Make sure that you give enough emphasis to your different options and that your audience gets a good overview of what they could expect from any of them.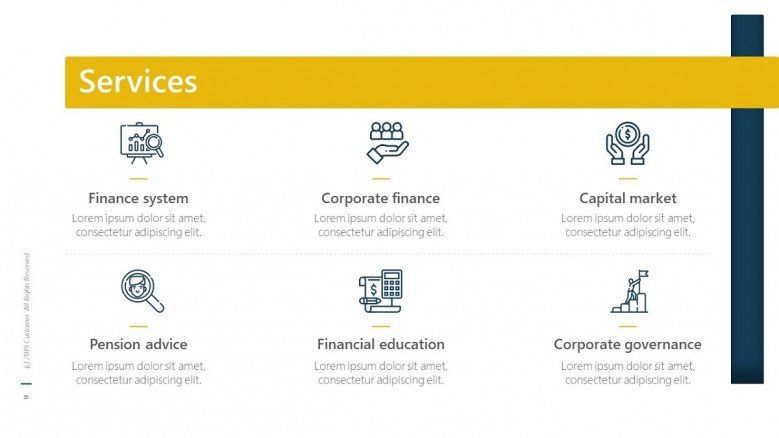 Any of these templates caught your eye? You can use any (or all!) of them completely free of charge. At our Templates by 24Slides platform, you'll find hundreds of free PowerPoint templates that are ready to download and use. All of them are easily editable, and you can even mix-and-match slides from different decks to create your perfect slide deck.
Of course, templates can only help you so much of the way. You'll still have to invest time and effort into putting all your information into your slides. It's also vital to invest time in standardizing your templates. This is the only way you'll make sure they are following the same design and guidelines and make your presentation look cohesive.
If you want a truly outstanding presentation that's completely customized to your needs and your brand, then you must try 24Slides professional presentation design service. Our designers will take your slides from 'okay' to 'incredible' in just 24 hours!