How to Create Your Perfect Webinar Presentation (+Examples)
Whether you're doing webinar slides for the first time or just want to level up an existing deck, here you'll learn how to create the perfect webinar presentation. We'll go through best webinar practices and identify the key slides every webinar presentation should have. Are you ready?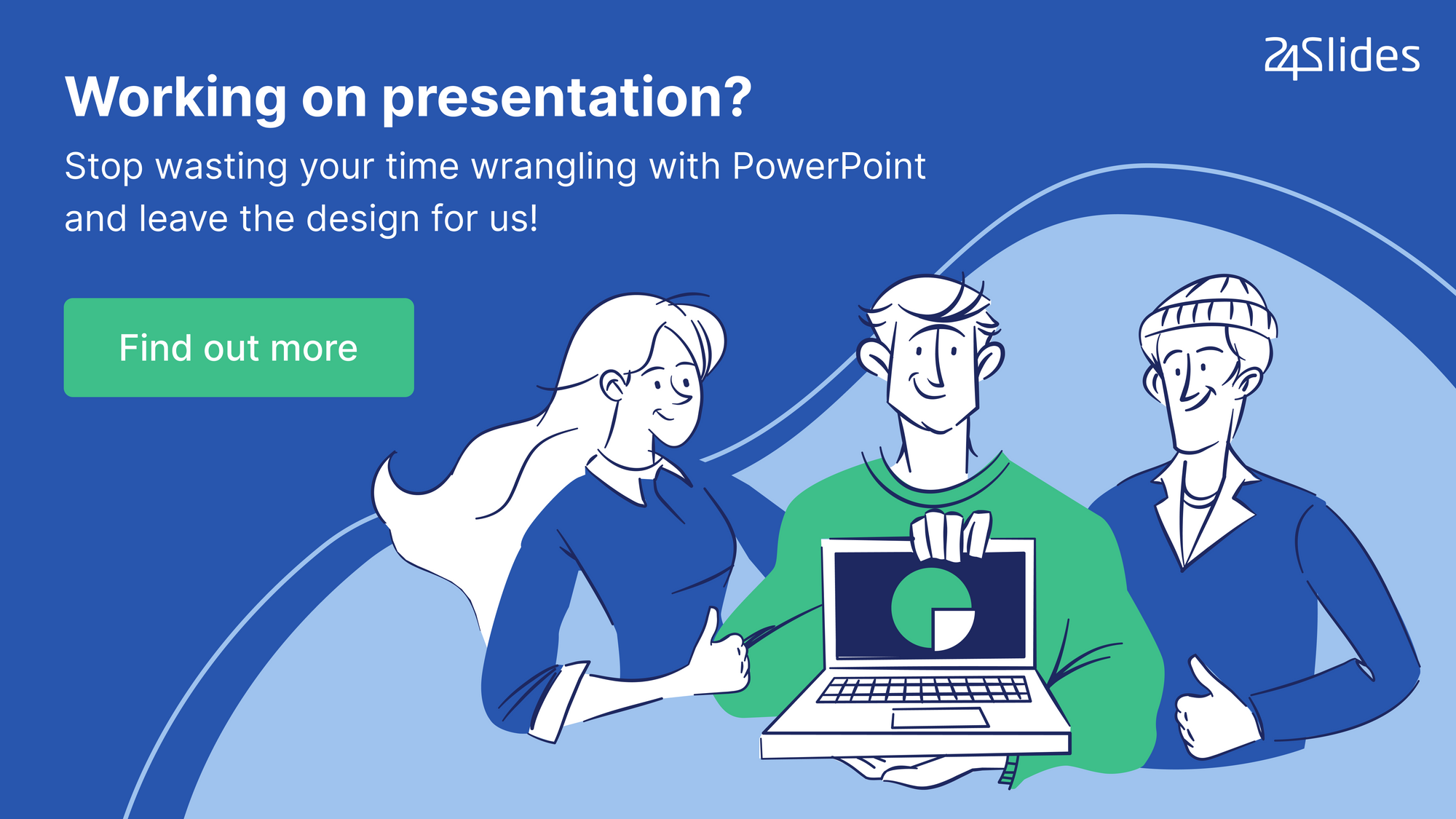 Webinar Best Practices: 6 Things to Consider for a Great Webinar Presentation
First, let's set this straight: Powerful webinars don't just happen. Impressive facts and figures don't do it anymore. Nowadays, you have to be strategic in order to create webinar presentations that convert. So, before getting into the nitty-gritty of this post, I recommend you review these six aspects:

#1 Be clear on your webinar objective
As with all business activities, you need to set a clear objective for your webinars. Ask yourself: What's the main purpose of doing this webinar? What action do you want your audience to take at the end of your presentation?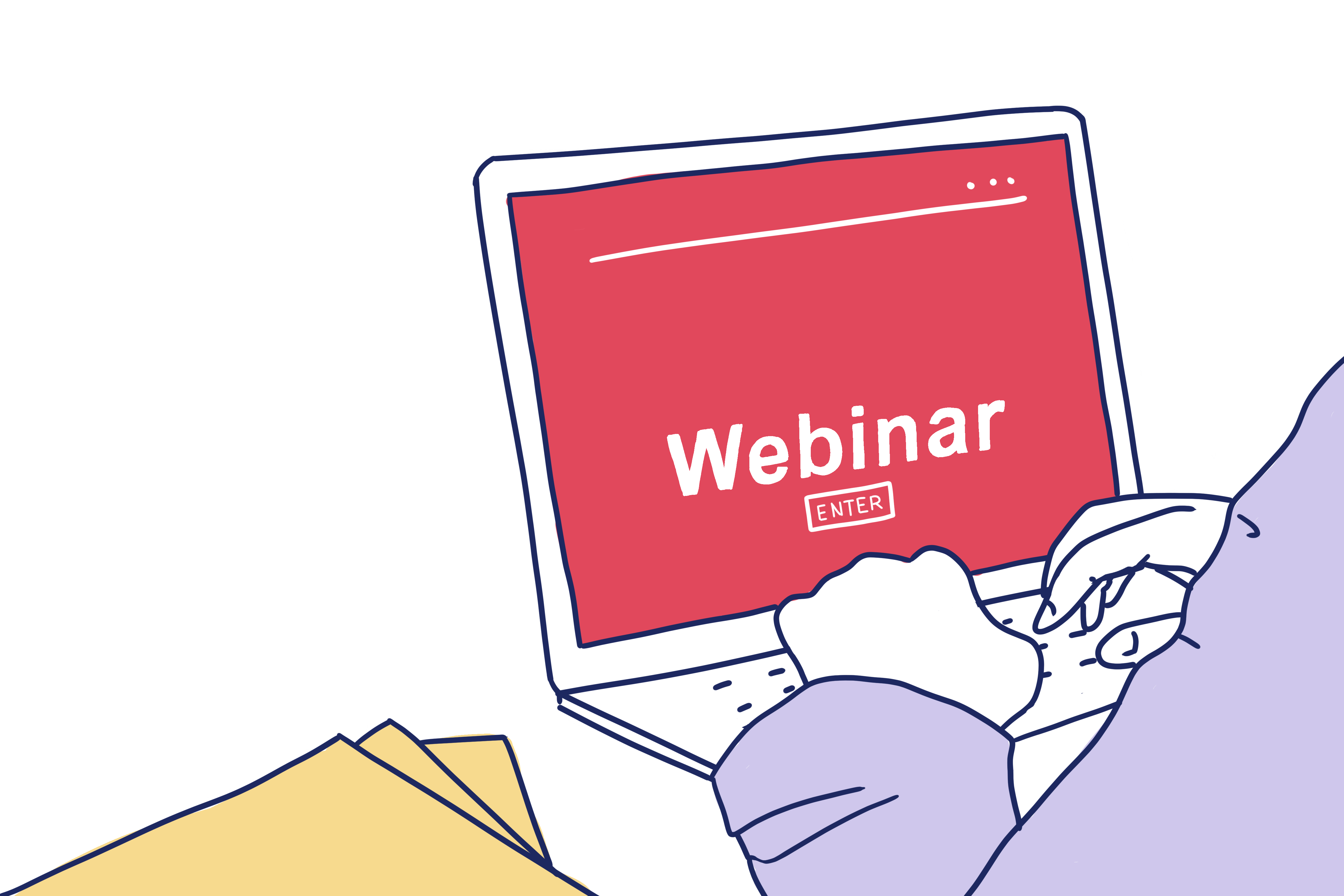 #2 Do your research
I can't emphasize enough how important it is to adjust your content to your audience's needs. The big difference between a perfect webinar and a poor one is how the information you share solves your audience's big questions. There are plenty of social media platforms, forums, and blogs you can review to ensure your webinar presentation covers what potential customers want to know.

#3 Only use high-quality visuals
People engage more with visual content; that's why pictures, graphics, and videos are a must in webinars. However, you need to be careful with the quality of your visuals. Consider that your audience could be looking at your presentation from a laptop, iPad, or mobile phone, so making sure your visuals are top quality is always a smart move.
#4 Brand your Webinar Slides
In the same line, your webinar presentation design is key for a well-rounded delivery. Don't make your work harder by pitching in plain boring PowerPoint slides. Instead, get your presentation on-brand and elevate trust in your business.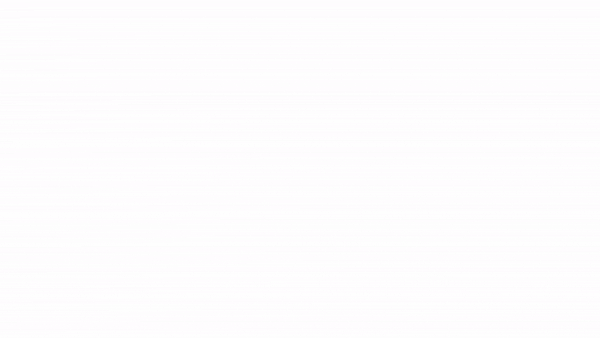 If PowerPoint design is not your strongest suit, consider hiring a presentation designer. Most companies outsource the design of their presentations, and it doesn't cost as much as you think. For reference, you can check the 24Slides pricing table.

#5 Present your own data
Go one step further and conduct your own research. Start by simply sending an online survey to your customers or preparing a trend report around your market. Any finding that you get will only enrich your webinar presentation. And you'll likely position your brand as an authority in your niche.

#6 Cite your sources
And if you happen to use second-hand data, always cite your sources! Just because we find something on the internet doesn't mean it doesn't belong to anyone. This practice also helps to double-check where the information comes from and adds up to your credibility as a speaker.

The Anatomy of the Perfect Webinar Presentation (Key Slides)
Note that the "perfect webinar presentation" looks different for everyone because it depends on the topic and type of information you've got. However, all impactful webinars include a key  set of slides that I'm going to break down for you:

#1 Introduce yourself
One of the reasons webinars are so popular is because they allow you to engage with an audience in real-time. But for people to get comfortable and spark conversations, you have to make the first move.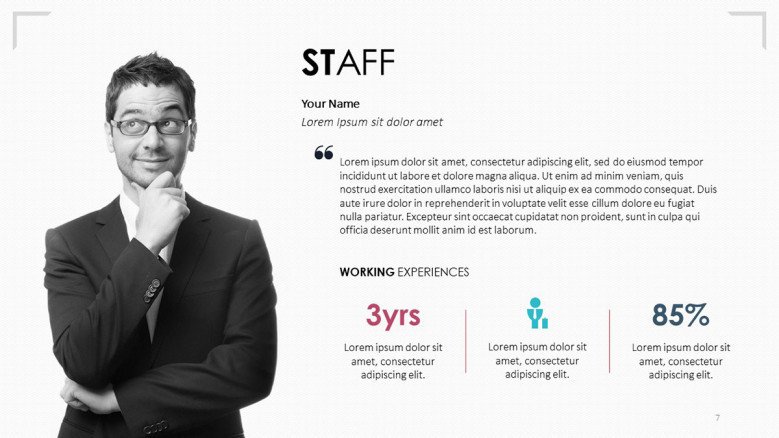 Use an "About me" slide for a quick introduction. You can highlight your credentials as an expert in the field or, even better, share the unique experience you went through that makes you qualified to lead the webinar. This is not about bragging but showing why they should listen to you.

And if you're conducting the webinar with your team, there's a special slide for them as well: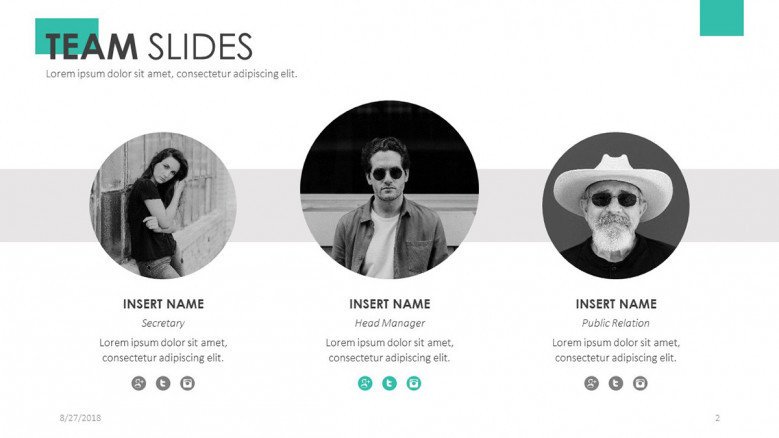 #2 Let your audience know what's coming
Some people think of this slide as obsolete, but they just don't know how to use it the right way. I'm talking about the Table of Contents slide.

Your webinar's first minutes are crucial to building your audience's interest. Provide them with a glimpse of the topics you'll cover using a table of contents. It also serves you to interlink your slides (as a menu) and create an interactive presentation.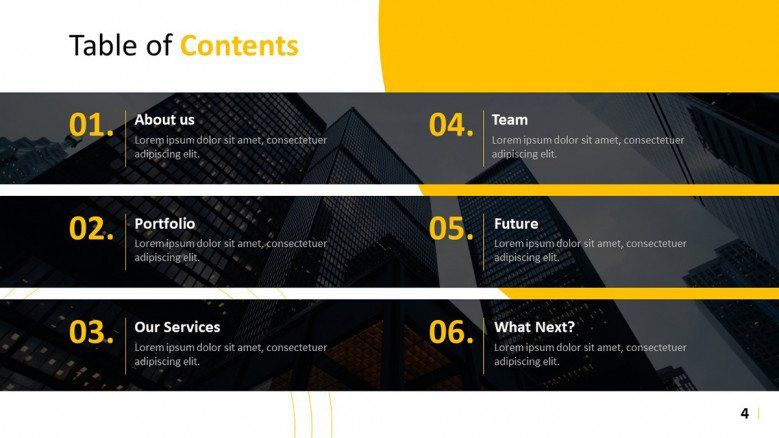 The divider or section header slides also fall under this title. Use them to make strategic transitions between topics. Adding these breaks will make your presentation easier to follow.

#3 Present your content in different formats
We've made it to the meaty part! This is what people came for, and you can't disappoint.
You've already got top-notch information, but what's the best way to present it?

You can go the usual route and use text slides (no judging here!), or… you can channel your audience's attention with fresh alternatives:
Data charts
It's very common to overload your slides when talking about data. But a wall of numbers won't make your findings appealing.

Instead of copying your Excel tables, use data visualization slides. Check out these examples: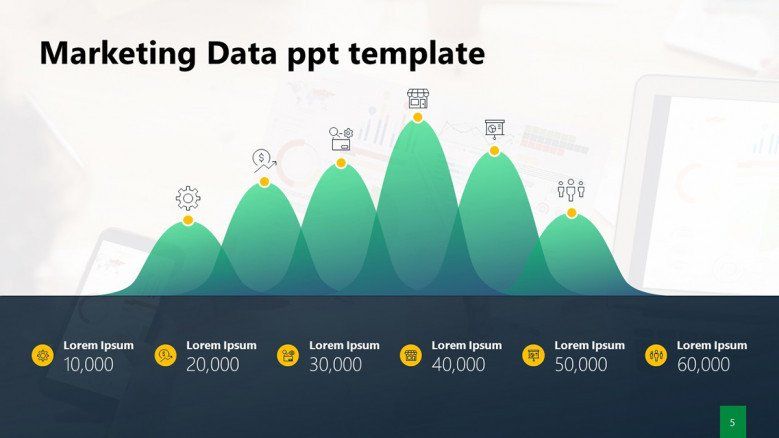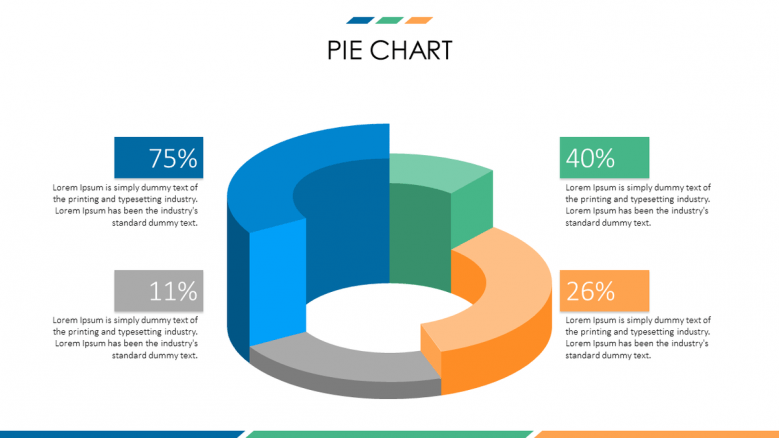 Video
Another great thing about presentations is that you can insert multimedia elements! Use videos to illustrate a point, explain a complex idea, or show a testimonial. Just make sure to keep it short - people are eager to hear you, not to watch a movie.

Here are some webinar slides where you can embed your videos: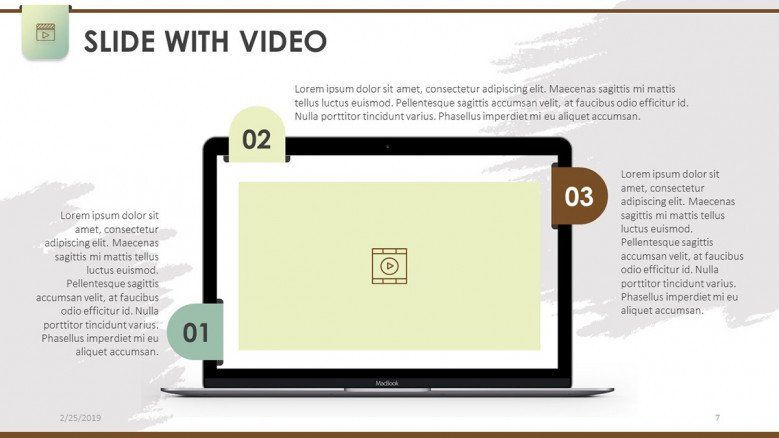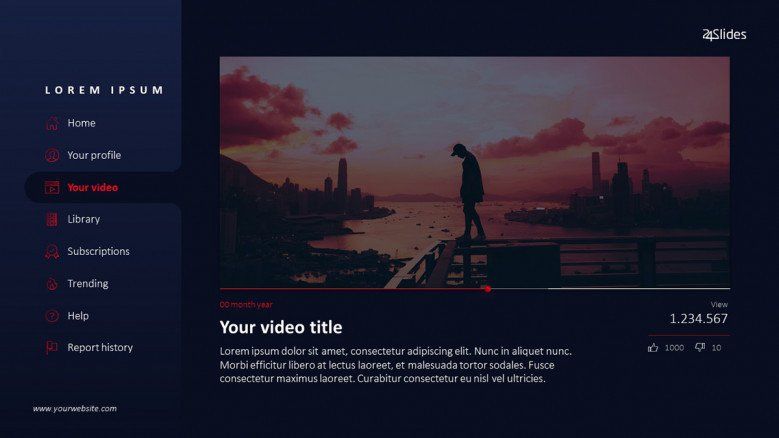 Diagrams
It's not rocket science why people engage with diagrams. They provide a quick visualization of something that otherwise would take several paragraphs to explain. So, as a quick reminder, whenever you face the text-or-visuals dilemma, always choose the latter.

Now, there are so many diagrams that this post won't suffice to show them all. But to give you an idea of what type of diagrams you could pick for your webinar, here are the most popular ones: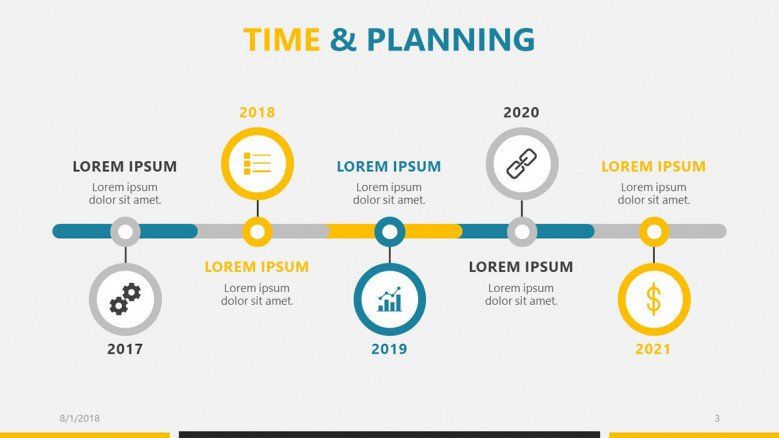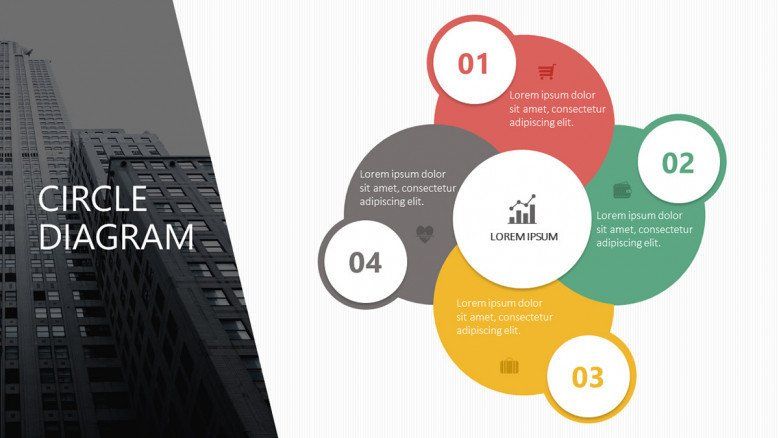 Want to see more options? Visit the 24Slides templates site and download the diagram slides you like the most - for free!
Quotes
Quote slides have gained a bit of a bad reputation. We've seen for so long these random motivational quotes that add little to no value to a presentation and think it's all these slides can do. But I'm here to prove you wrong.
A strategic way to use your quote slides is for social proof. You can showcase product reviews, client testimonials and even collect what people say about your brand on social media.

This is my favorite template for quotes: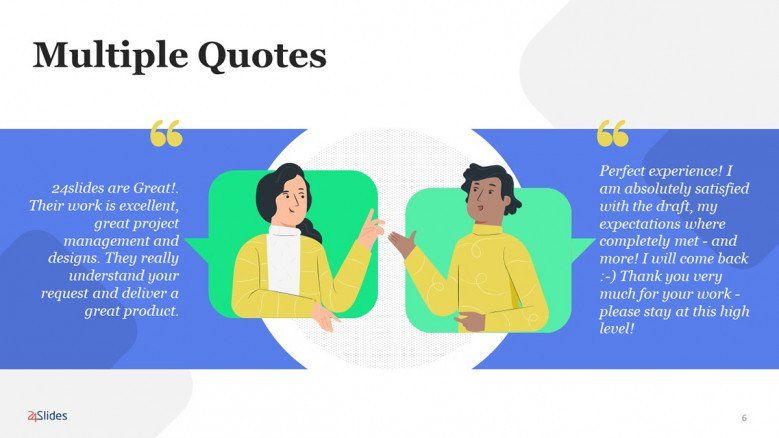 Key takeaways

Help your audience remember the main points of your topic with a slide for key takeaways. Be succinct and sum up your key lessons or conclusions in a few words.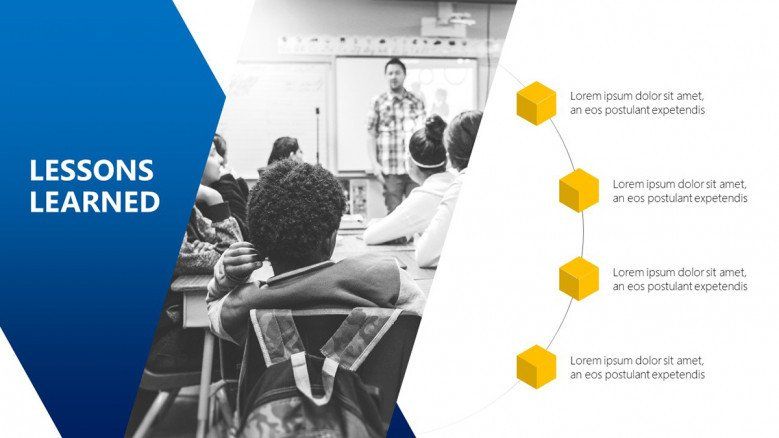 #4 Be open to Questions
As I said before, one of the benefits of doing webinars is that you can start a direct interaction with potential customers, so it makes sense to include a Q&A section.
To break the ice, try to prepare some initial questions for them and get the conversation going. You can use these webinar slides for an interactive session.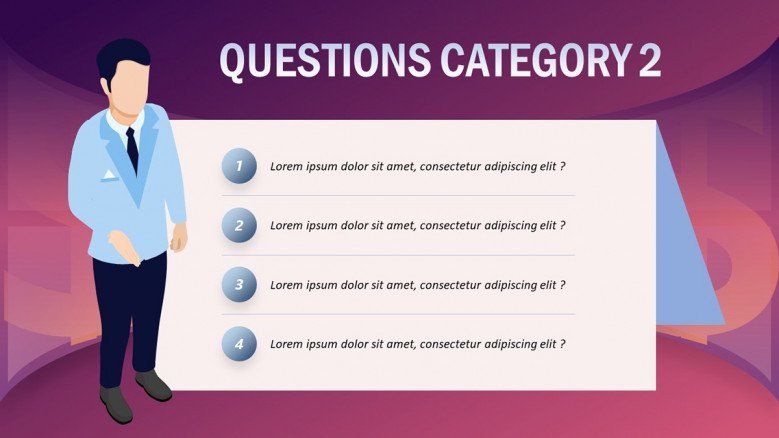 #5 Don't forget your call-to-action

This point is linked to the webinar best practice #1 "Be clear on your webinar objective."

What's the whole purpose of doing this webinar presentation? Maybe you're about to release an online class and want your audience to sign-up. Or perhaps you're looking to increase brand awareness and it'd be cool if they tweet about the webinar. It's all up to you, but you have to tell them. And these are the right slides for it.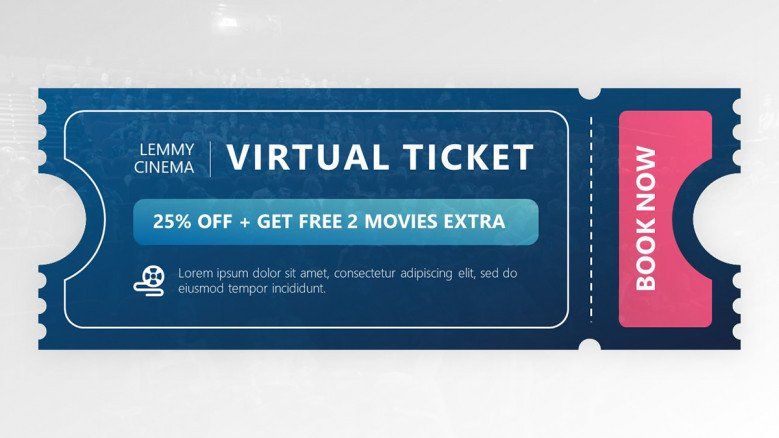 So, to recap, these are the key slides every webinar presentation should have:
About Me Slide (or Meet the Team Slide if there's more than one speaker)
Table of Contents Slide
Header Section Slides
Data charts (to summarize complex information)
Video (for visual engagement)
Diagrams (to present a process)
Quotes (to include social proof)
Key Takeaway Slide (to refresh your audience's memory)
Q&A Slide
Call-to-Action Slide
But we're not done yet. Keep reading to find out how all your hard effort will come together in a perfect webinar slide deck.
Final Step: Your Webinar Presentation Design

Unlike traditional presentations, webinars are highly visual experiences. And to get there, the design of your slides plays a huge role. So, make sure to give your final presentation an eye-catching professional aspect.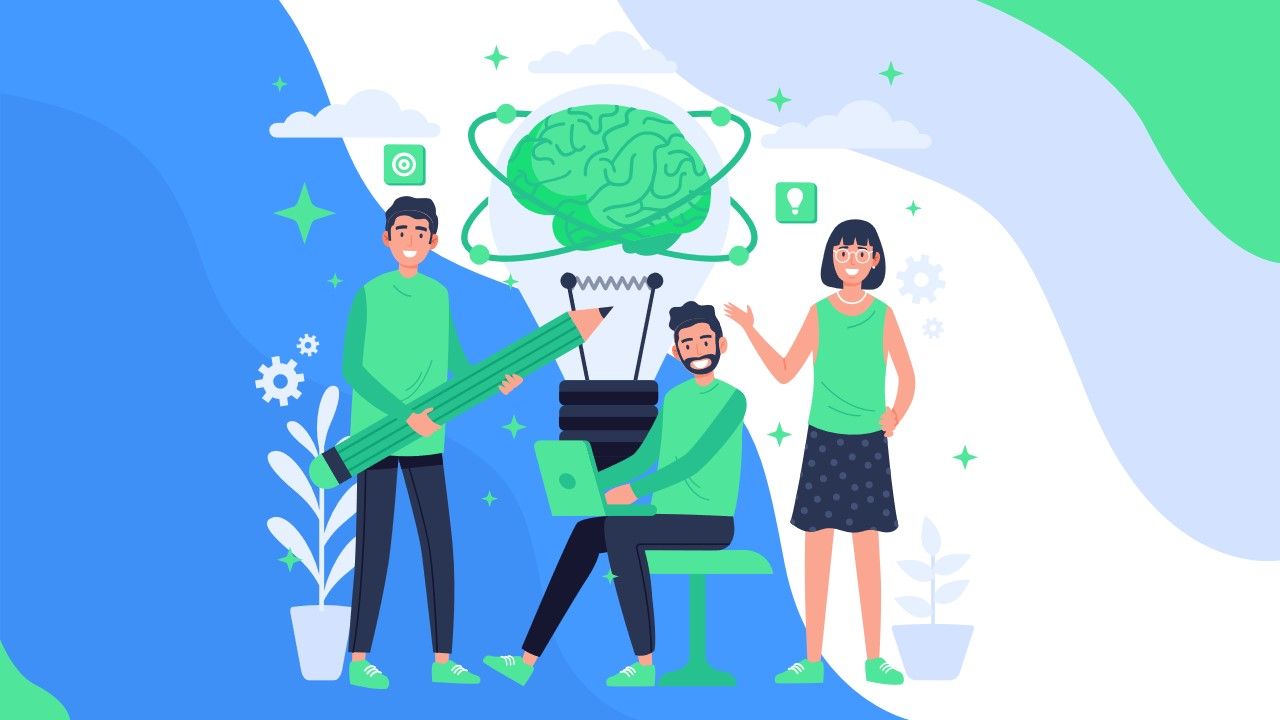 But if PowerPoint design is not really your thing, there are still some alternatives. For instance, you can use a free webinar template like the examples above, or follow the 24Slides PowerPoint designers' secrets to create top presentation. Or even better, you can let them work on your slides! Check out how to get your webinar slides expertly designed from as little as $9 per slide.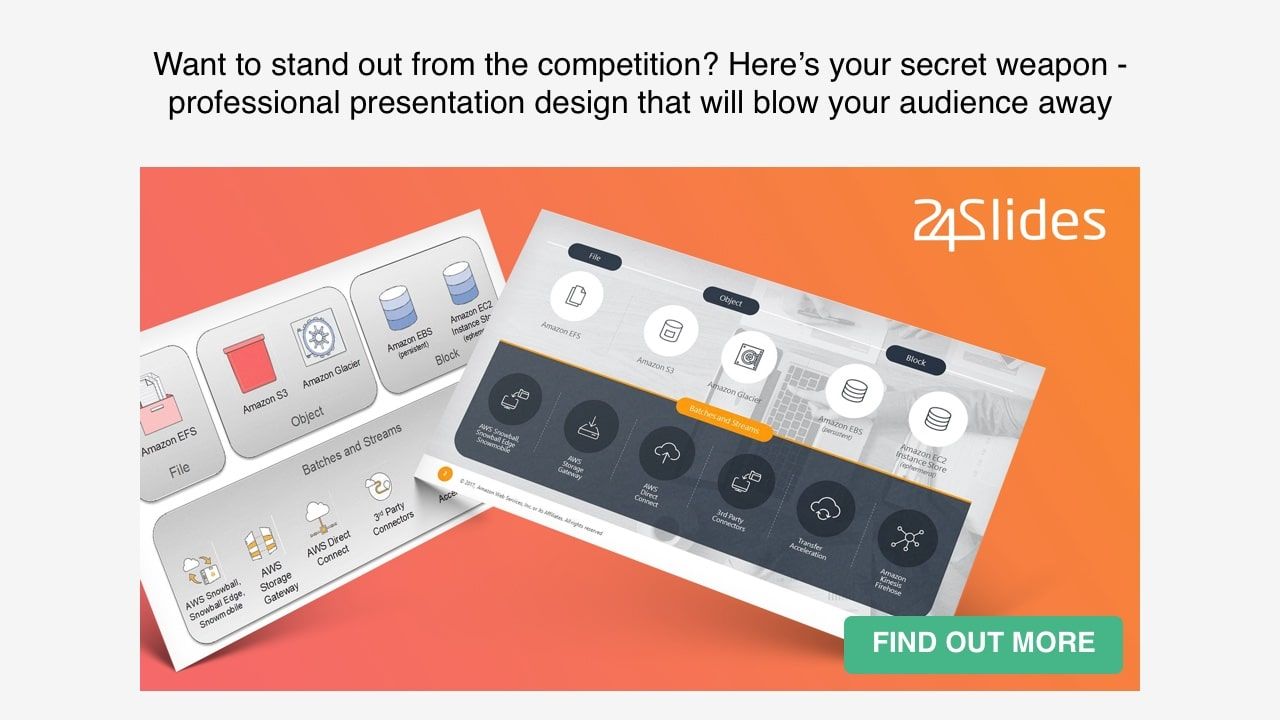 If you've made it here, you're ready to take on your next webinar presentation like a pro. Just remember: Be strategic when it comes to choosing your slides and put the same effort into the design as you do into the content. Happy presenting!