Infographic: A History of Pantone Color of The Year 2001 - 2016
History of Pantone Color of the Year from 24Slides
The most vibrant, colorful town there is, Pan-town is filled with an amazing variety of rich, multi-hued animated characters.
Take Ms. Rose Fox for example. Her sexy, highly feminine demeanour is matched by her soft, striking Fuchsia fur.  It's no wonder she can charm all the men in town and easily capture the hearts of both young and old alike.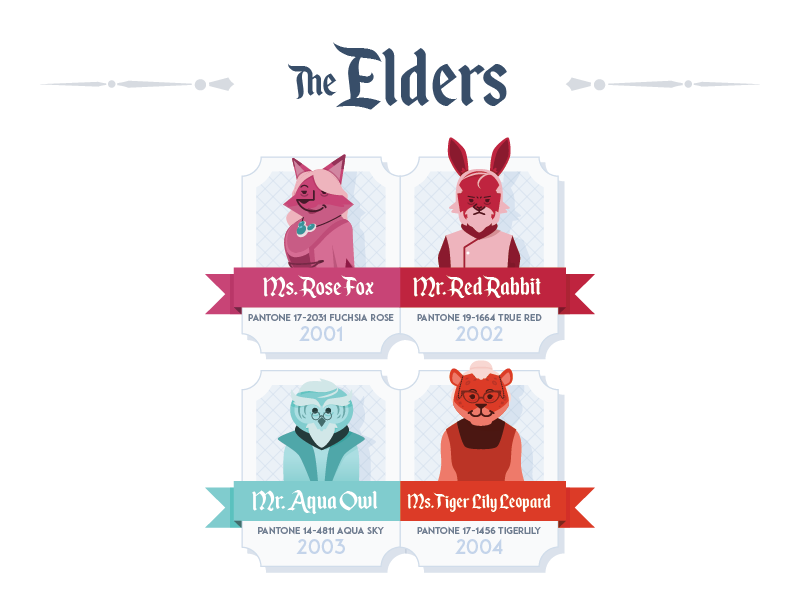 Among these is Mr. Red Rabbit. Bold and energetic, he displays fond affection for Ms. Rose. Some would call it aggressiveness. Others simply see it as being true to himself. But he prefers to look at it as being passionately devoted to everything he desires.
A total opposite of Mr. Red Rabbit is Mr. Aqua Owl. Quiet, serene and calm most of the time, Mr. Owl prefers intimacy over audacity, stillness over boisterous merrymaking. But his greatest asset to woo Ms. Rose Fox and earn the admiration of others is his remarkable intelligence and spontaneous wit.
Falling somewhere in the middle of both personalities is another interesting character, Ms. Tiger Lily Leopard. Being covered in warm orange fur, her character personifies the color she carries: a hint of passionate red combined with a more hopeful and calmer yellow. Unsurprisingly, her exotic look and hip personality is enough to rival that of Ms. Rose Fox.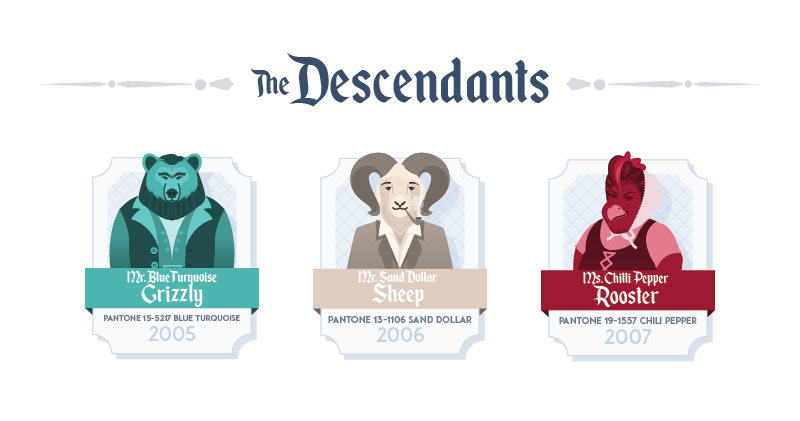 One of the most misunderstood characters in Pan-town is Mr. Blue Turquoise Grizzly. Colossal in size, most would instinctively cower at the sight of him. But those who truly know him also understand that although he appears fearsome on the outside, he is actually gentle and cool on the inside—very much like the color of his fur.
Even gentler in nature is Mr. Sand Dollar Sheep. You can almost always find him either spending quiet moments at home or happily grazing close to where nature is. He is known in Pan-town for his sheer simplicity and down-to earth lifestyle.
On the contrary, if you need to hear about the latest news and gossips, you have Ms. Chili Pepper Rooster to count for that. Even before dawn, Pan-town is already abuzz with the most exciting updates provided by Ms. Chili Pepper Rooster to wake up everyone and spice up their day. No wonder, she is likewise dubbed as Pan-town's "town crier".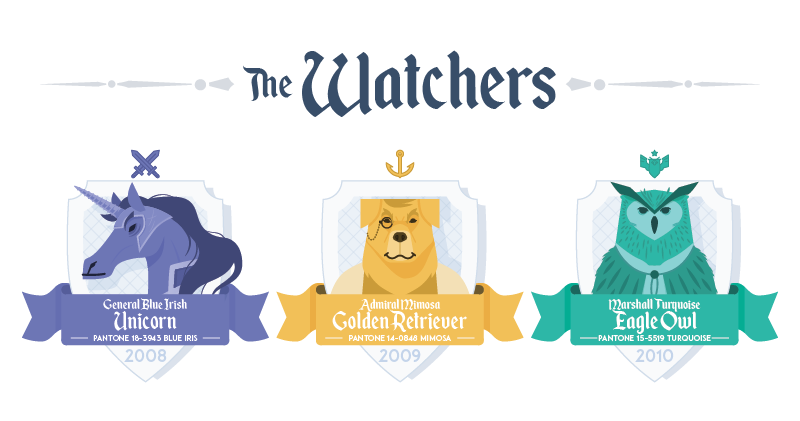 But if you want to get away from all the hustle and bustle, one can seek magical wisdom and spiritual enlightenment from Mr. Blue Iris Unicorn. His mysterious nature might catch one off guard at first but once you look at his deep, meditative eyes, you can easily be transported to a calmer, soul-searching journey.
Alternatively, you can also find comfort with the help of Mr. Mimosa Golden Retriever. His cheerful and vibrant energy is enough to lift anyone's spirits and give them quiet reassurance. On gloomy days, Mr. Mimosa Golden Retriever 's bright and warm nature easily earns him the title of being "everyone's best friend" in Pan-town—and rightfully so.
On the father end of the town is Mr. Turquoise Eagle Owl. Like his fellow Mr.  Aqua Owl, Turquoise Eagle Owl enjoys solitude. Living in seclusion, he is the ideal companion if anyone in Pan-town wants a temporary and comforting escape. Much like the soothing waters that surround where he lives, his deep eyes and aura reveal serene like qualities that possess healing and restorative qualities.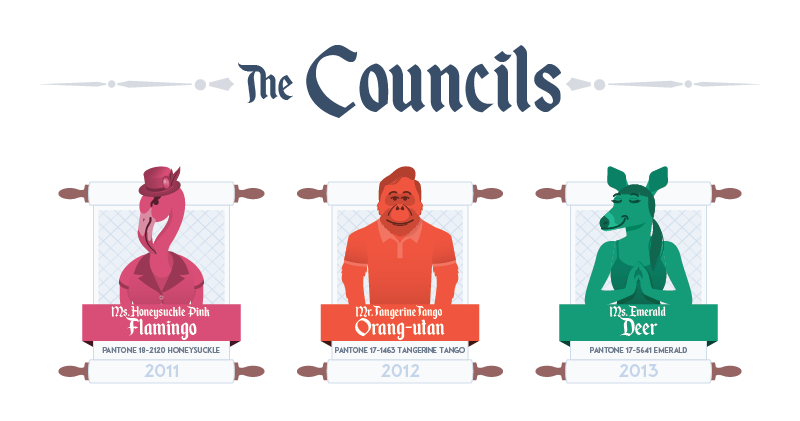 Residing nearer the city is the famous tour guide of Pan-town, Ms. Honeysuckle Pink Flamingo. Her bold, energetic confidence inspires those who find themselves lost or overwhelmed by the challenges of everyday living in Pan-town. Or whenever a newcomer goes astray, he or she would likely find comfort in the uplifting presence of Ms. Honeysuckle Pink Flamingo and effortlessly feel at home again.
A trusted partner of Ms. Honeysuckle Pink Flamingo is Mr. Tangerine Tango Orang-utan. The two have an unmistakable vibrant and adrenalin-filled vigour, making them the perfect couple. When the two mingle, they certainly emanate a powerful hue of heat and energy, warmly drawing others to them as well.
Then there's Ms. Emerald Deer. Quite like the trees and nature enclosing the entire Pan-town, you can feel her striking and radiant presence everywhere. Almost every character in Pan-town has met her at some point who, because of her rejuvenating qualities, promotes balance and harmony to this town. Anyone who has seen her glide across Pan-town will definitely be fascinated by her shapely and toned body.
Formerly the baby of them all is the cute and adorable Radiant Orchid Elephant. Because she is in the pink of health, she never ceases to be creative and explore the world around her. Her beguiling charm and seemingly boundless energy gives others sheer joy and inspiration.
If you happen to pass by the swamps, you'll find yourself face to face with Marsala Hippopotamus. But don't let her mud-coloured body fool you. Despite her youth, you can easily spot her movements due to her smooth confidence and stability. And little Marsala's size tells us that even big can be adorable due to her subtly captivating shade—one that draws you into its embracing warmth.
Now, we have the youngest of all characters by far: a pair of twins! Born just this year, babies Rose Quartz and Serenity are playful kois—considered to be lucky charms in Eastern culture. And indeed they are bearers of good luck for the residents of Pan-town. Baby Rose Quartz emits a persuasive yet gentle expression that conveys compassion. Likewise, looking at her twin brother Baby Serenity gives you a light feeling like the expanse of the blue sky above.  Amidst challenging times ahead for Pan-town, these lucky twins are there to bring feelings of respite and relaxation.
Indeed, Pan-town is never short of interesting characters to meet and get to know further. Anyone who enters into this colourful realm will surely be captivated by the mix of wonderful personalities you can't find elsewhere.
Interested in reading more about design? Check out these articles:
//24slides.com/presentbetter/halloween-themed-presentation-design/
//24slides.com/presentbetter/6-presentation-styles-famous-presenters/