15 June PowerPoint Templates to Transform your Next Presentation
June brings all the colors of summer! And this has greatly inspired our team of designers to create many wonderful June PowerPoint Templates for you.
A great design makes your presentation look good, sure. But, if we look further into it, what design really does is set the spotlight on your message. It's not only about visually appealing slides to grab your audience's attention, a good presentation design makes your ideas easy to understand and connect with. And that's exactly what we aim to achieve in every slide we produce.
With that in mind, I've selected 15 stunning PowerPoint templates that will transform the way you do presentations. From templates for your marketing mix and work plans to minimal slides and summer backgrounds, there's no doubt you will find the right PowerPoint template to convey your ideas (and really stand out). Let's begin!
Business PowerPoint Templates for Planning
2020 is going fast, don't let the second half of the year catch you off guard. Planning is key and June gives you one last chance to sharpen the details of your next strategic moves. Here are five business PowerPoint templates (the best ones of the month!) to help you share the plan with your team.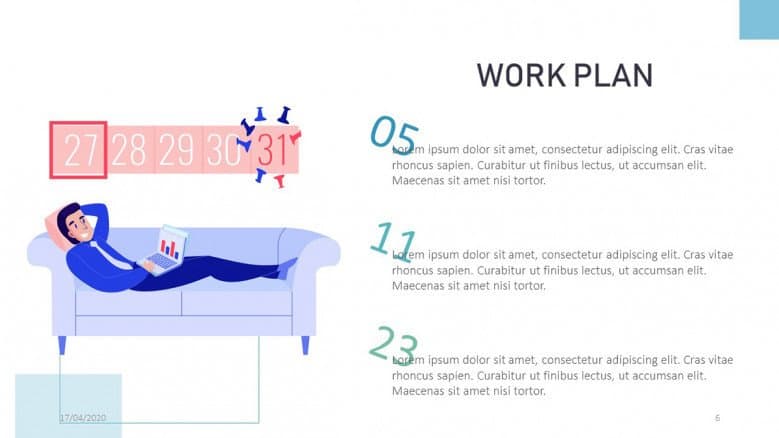 No matter how big or small the project is, you need to have a work plan. This is the most effective way to get your team on the same page and avoid conflicts. That's why I've included a Work plan template for your June projects. Some of the essential elements of a work plan are objectives, tasks, and deadlines. But here you can add as many sections as you want (and need) to keep all things running smoothly and executed on time.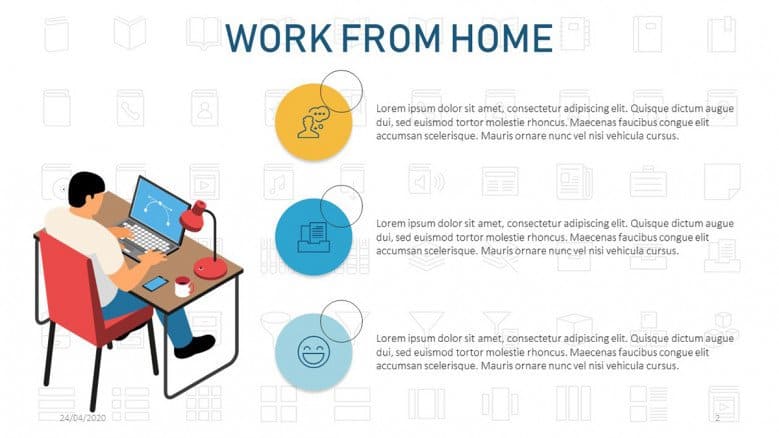 The COVID crisis has affected many aspects of society, including how we work. Some tech companies like Shopify and Twitter have even stated that their staff will have the option to work remotely for the remainder of the year. Then, how can you make this model work for your team? Before anything else, you need to have work from home policies. This June PowerPoint template will help you discuss with your team the best practices for working remotely. From how to have a good home office space to which remote work tools you will use. Share it all here and start making work from home a success in your company.
Has your company jumped on the digital wave already? Digital transformation consists of incorporating digital technologies to improve your company processes. Everything with a customer-focused mindset. And here's our Digital Transformation PowerPoint template just in time to help you present your strategy. You will be able to explain the company goals, showcase every phase of the plan with a roadmap, talk about the new customer experience, and more.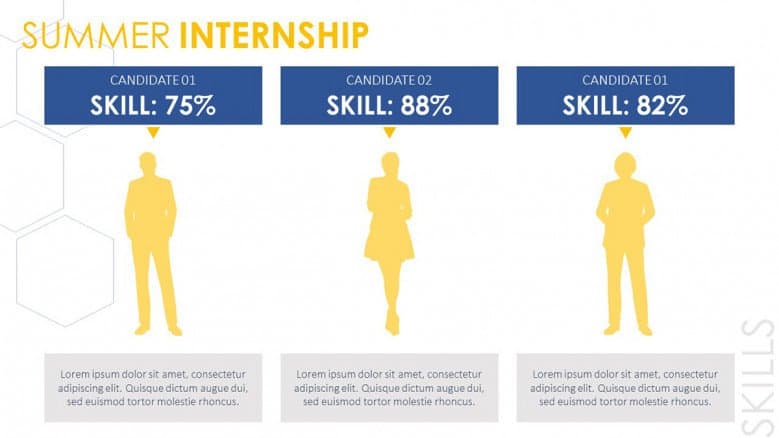 It's that time of the year where qualified students get their foot into the job market. Even though most of the offices remain empty, many companies have decided to go on with their summer internship programs in a virtual mode. And to help you welcome the new interns, I've selected this Summer Internship PowerPoint Template where you can share important information about the program. For example, company benefits, projects for the coming weeks, and skills to be developed in each department. There's so much you can showcase here but remember this important tip: be clear about the objectives and what the company expects from each intern during the program.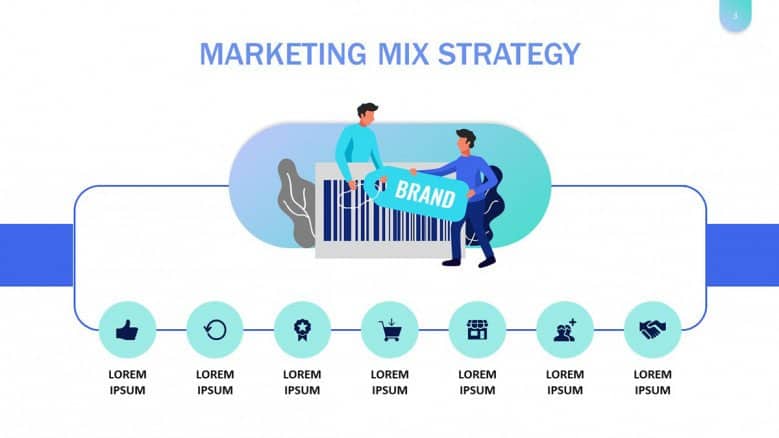 This June PowerPoint template is for all the marketers out there! Whenever you need to present a new strategy, you can rely on our Marketing Mix PowerPoint template. It has highly visual slides (just look at the one above!) to analyze the 4Ps: product, place, price, and promotion. This template also features diagrams, flow charts, illustrations, and icons to convey your marketing initiatives in a straightforward manner.
If you're looking for more options, visit our site Templates by 24Slides. You'll find tons of free PowerPoint templates for business models, charts, maps, text slides, and much more.
Free Healthcare PowerPoint Templates
Today, more than ever, health and wellbeing are important topics to talk with your team. For that reason, I've picked three of the best health PowerPoint templates you can use to promote regular hand washing, encourage a healthy lifestyle and educate on microbiology.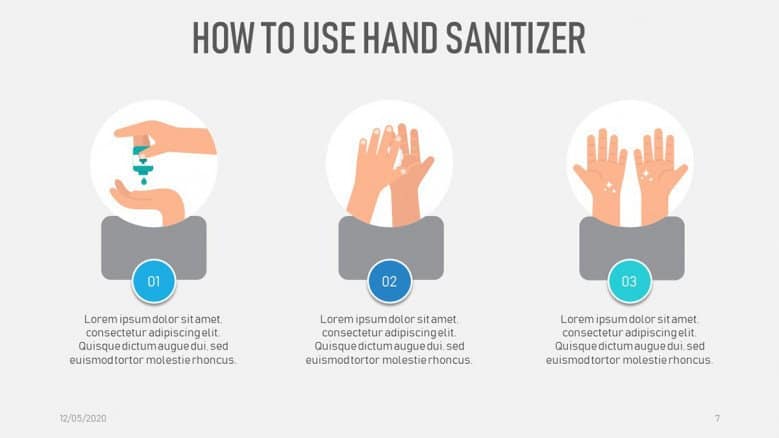 The Coronavirus pandemic has reminded everyone the importance of handwashing. A simple act that can save lives. You don't need to work in a medical center or at a food store to promote this practice among your staff, everyone should wash their hands regularly. (Check out our Coronavirus prevention infographic) So, use this template to showcase a good hand hygiene process step-by-step. You can also talk about the effectiveness of hand sanitizers and keep your staff aware of germ hot spots at the workplace. One of the best PowerPoint templates you'll find to address this current issue, no doubt.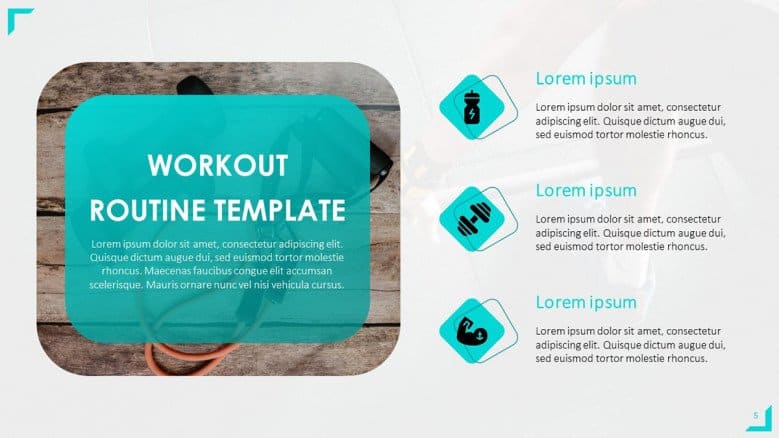 If you are a trainer or your business is involved in the fitness and wellness industry, then this June PowerPoint template is for you. A healthy lifestyle is more than just a diet, doing regular exercise also has a positive impact on your body and mind. And what a better way to make it a habit than with a fitness program? Use these modern-looking slides to work with your clients. Here, you will be able to set fitness goals, describe a workout routine (or even adapt it to be an at-home workout routine), talk about physical fitness, and more.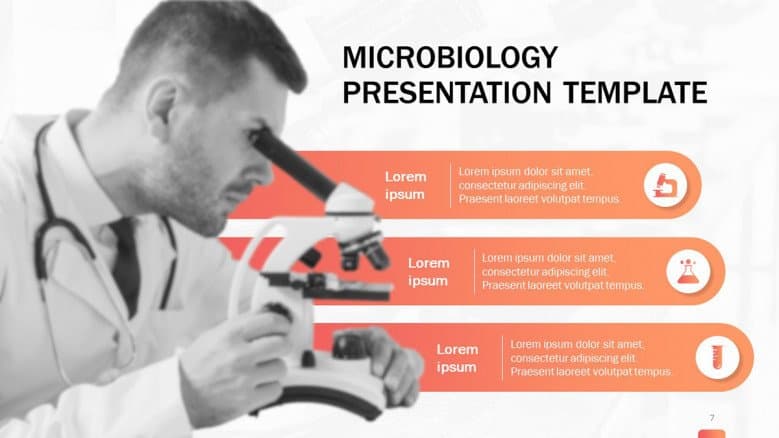 Sharing your findings is as important as the research itself. And given the importance of microbiology in medicine; our designers created this template for your microbiology research. You'll find data-driven charts, a summary slide, laboratory icons and a mind map to deliver a professional presentation. Tired of unappealing slides? We made sure this template has the right balance of text and visual elements so your research can shine without losing its professional aspect.
June PowerPoint Templates for Stylish Presentations
If none of the templates above fit your main theme, here are good options that go well with any presentation. You can talk about your business in minimalist slides or give a new twist to your client presentations with watercolor and summer backgrounds. It is all up to you!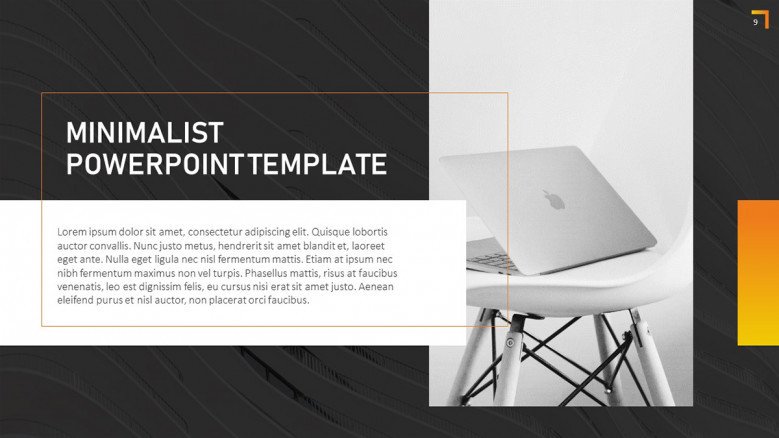 Keep it simple and business-like with Minimalist PowerPoint slides. There's no need to burst in colors to make your presentation stand out. This alternative gives you clean and balanced slides to convey your ideas effectively. The layout keeps a gray and white color scheme, but our designers added some accents of gold, and it looks fantastic. You will be able to use bold titles, make lists, show images and much more.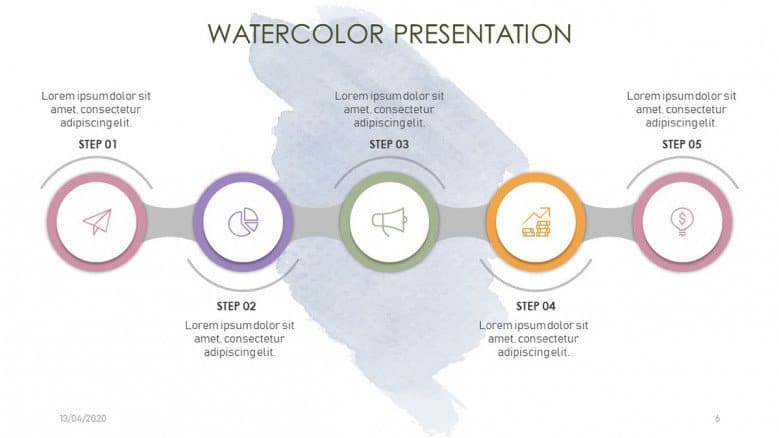 Let's add some soft colors to your presentation! This time, I bring you beautiful slides decorated with watercolor splatter brushes. But this is not just a "pretty" template to look at, it comes with useful elements such as data-driven charts, a timeline, a world map, and icons. Nothing says "stylish" better than this Watercolor template.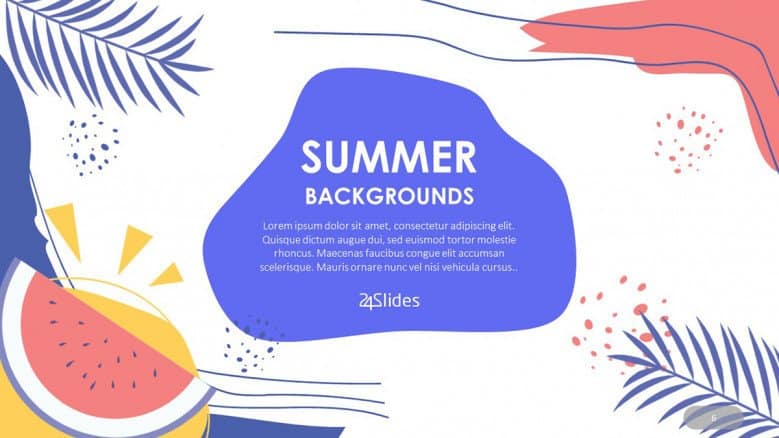 If spring was all about flowers and pastel tones, summer comes with vivid colors and fresh illustrations. Our Summer backgrounds show everything we love about this time of the year: fun vacations, pool parties, tropical beaches. Quite a unique presentation, huh? But don't limit the possibilities of a great design. You can also use these slides to put together a brochure for your summer collection or to promote your next summer sale on the Internet.
Best Themed Presentation Templates for June
We've made it to my favorite section of the list! This is where our team of presentation designers unleash their creativity and surprise us with incredible visuals. Let's find out what they've been working on: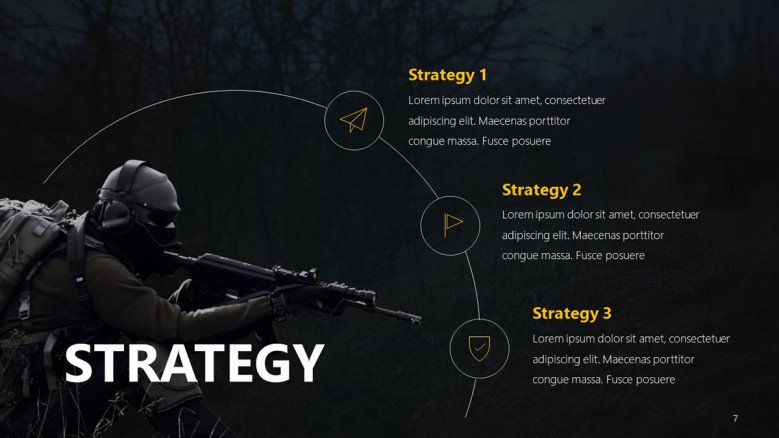 Do Overwatch, Battlefield, and Call of Duty sound to you? These are probably the most popular shooter video games right now. And as the gaming industry keeps growing every year, there's still room in the market for new interesting proposals. That's why our designers created an incredible template for pitching shooter video games. Use these dark-themed slides to show your video game ideas, from the fictional characters to the in-game items. This template has it all!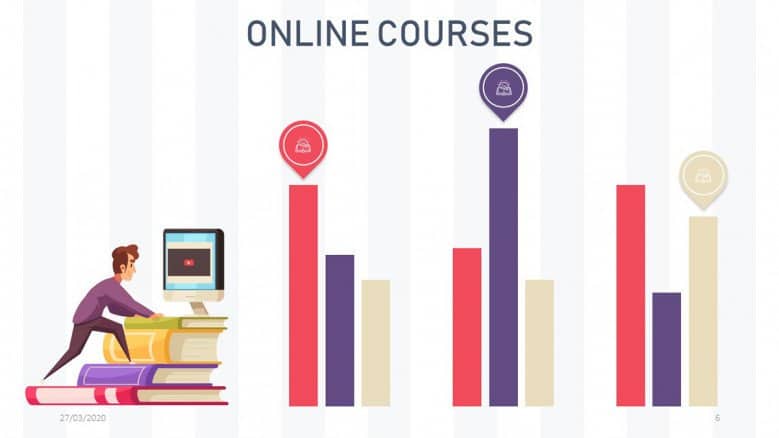 If you plan on creating an online course, this is the presentation template for you. There are tons of courses on the Internet (about all kinds of topics!), so you need to really show the value your online course provides to interested students. You'll find colorful slides to share information about the course modules, material for the sessions, and online certifications. There are also comparison charts, if you want to throw in data and show why your online course is the better option in the market.
This month, our designers decided to showcase their talents into a playful template inspired by the Boy Scouts. As June marks the start for summer camps, leaders from the American organization can use this template to welcome BSA campers. Or to share home-based activities and keep the Scout spirit alive. These illustrated PowerPoint slides come with incredible illustrations of boy and girl scouts and useful elements such as achievement trackers and timelines. A Boy Scout of America presentation like no other!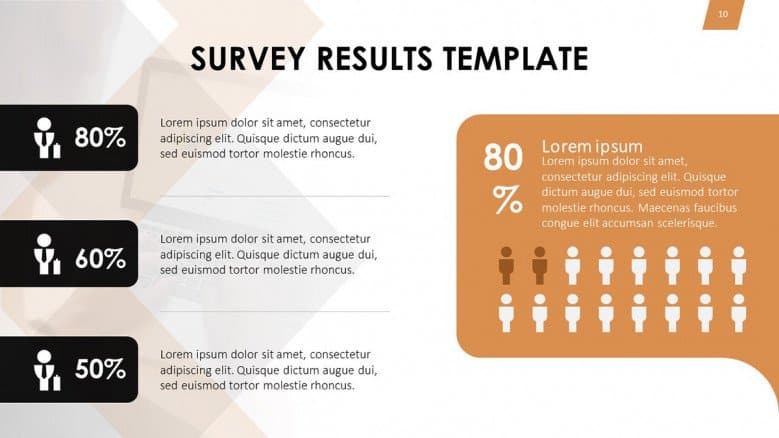 I saved the best for last! This time the highlight of the month is the Survey Results PowerPoint template. It consists of 20 slides full of charts to present a comprehensive survey results report. Have you conducted a market research? You'll find a world map slide to showcase demographic data. Need to display trends and compare scenarios? Use the line charts, circle charts, and bar charts for quick data visualization. There are also little icons you can place strategically to draw the attention to key points and make them easy to understand.
And there you have it: 15 June PowerPoint templates that will definitely transform your next presentation. But if you already have something in mind and came here for some inspiration, I have good news for you. Our team of PowerPoint design experts can work their magic on your slide deck and create one that really showcases your preferred style. Learn more about our presentation design service. And, in case you're still not ready for it, there's an option to try us out for just $1.
I'll see you in July with more free presentation templates to share your work!