Learn How to Use Presentations Effectively for Online Training
If you've ever had to plan an online learning course, you've probably asked yourself if you should use a PowerPoint presentation. Presentations slides have acquired something of a bad reputation in the last years, as they seem boring, tedious, and even distracting. However, you might be surprised at how much a good presentation slide-deck can make a difference and help you upgrade your eLearning programs.

Here at 24Slides, we create hundreds of slides daily for companies all over the world. You wouldn't believe what is one of the most common requests we get. Yes, you guessed it! Online training presentations are some of the most popular services our designers work through. So sit back and let us show you all we know about online training presentations.
What are your options regarding online training?
First thing first. So you're planning to begin a remote training course to upskill your employees. What are your options?
Recorded videos
Recording the instructor and sharing the video is probably one of the easiest, most straightforward options for online training. Just like platforms like Coursera or Udemy, you too can create custom videos to teach your employees about a specific topic and help them develop new skills.
The main benefit of this option is that it is a highly flexible learning model. Your audience will be able to tap in whenever they think it's most convenient for them and will not have to set aside other tasks or responsibilities. It gives the learner more autonomy and allows them to control how and when they learn.
If you're considering this method, take into account that the more bite-sized the videos, the easier it'll be for your audience to stay focused. Since just watching videos is not a very interactive experience, you should go the extra mile to make sure it's engaging and easy to follow. A presentation slide-deck can be a huge asset to improve this aspect of your online training project.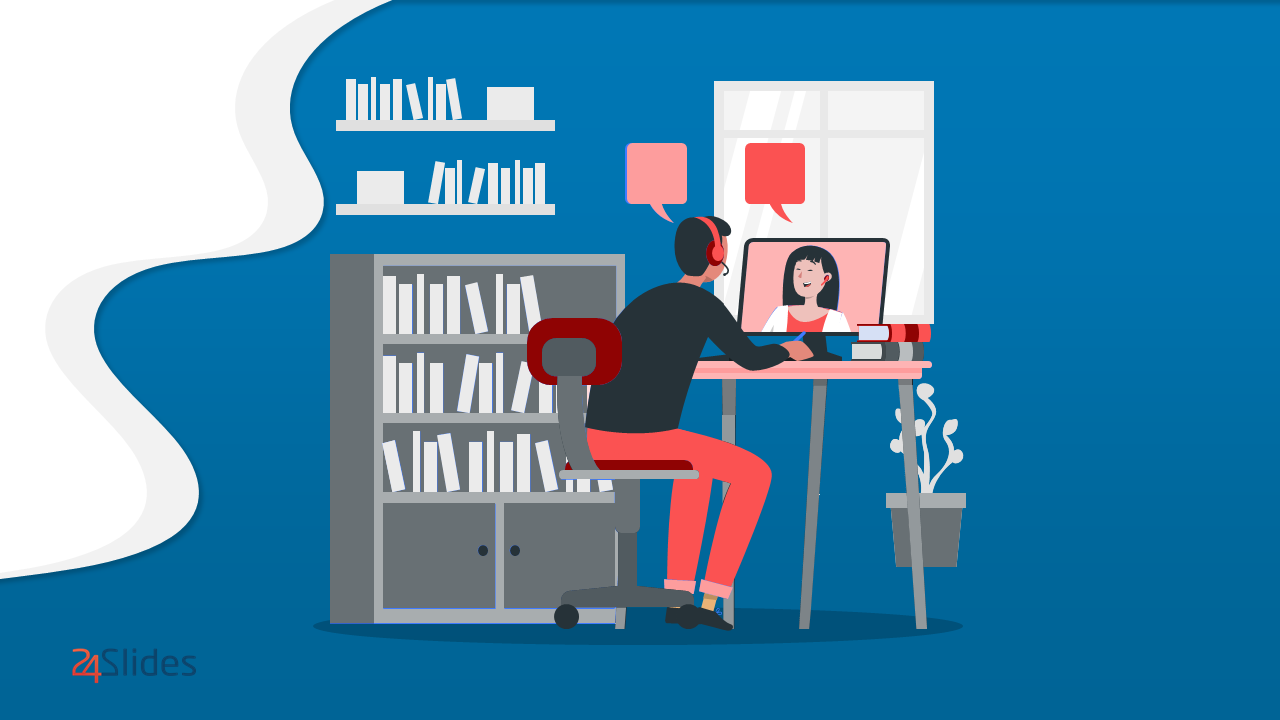 Real-time presentations
Just like an on-site class, remote learning can be executed through online presentations. Platforms like Google Meets, Microsoft Teams, or Zoom all offer options to give courses and webinars to audiences miles away at the click of a button.
The most important element of an online training presentation is that you can truly inject the human component into it! Asking questions, promoting debate, and setting up exercises it's key to making the learning experience more effective.
Presentations can play a huge role in this type of online training. They can help you display information visually and get your point across more easily, which is why so many clients of 24Slides use them.
Virtual training
Finally, some people differentiate between 'online training' and 'virtual training'. If you have a high budget for online training, you might want to consider this option. It consists of using an online platform to create virtual interactive workshops for your remote training programs.
LMS (Learning Management System) Platforms allow you to create fully customizable online training sites that fit your needs. The main benefit, of course, is that they are highly interactive!
Take into consideration, however, that it demands way higher investment, both in time and effort, in order to create a final product that can successfully reach your objectives.

Are slide presentations truly useful for online training?
In short? Yes! Presentation slide decks can be incredibly useful for online training your employees. It's no coincidence that so many companies all around the world still use PowerPoint for both their remote and on-site presentations.
Presentation slides are an excellent tool for making sure you get your point across as clearly as possible. In the case of online training programs, where making sure your audience is following through and actively learning, presentations represent an invaluable learning tool:
It makes for more visually engaging and memorable material.
Helps you guide your audience through your content visually.
Data visualization makes it easier for your audience to remember valuable information.
Slides are easy to reuse, especially for organizations with a high growth rate that need training in security policies or onboarding training constantly.
Can be shared as an extra resource at the end of the lessons that they can keep for future reference.
The key to working with presentations for online training is to mate them interactive. Make the audience engage with the lesson. It has been proven that people learn more effectively when actively participating, instead of just receiving the information passively.

How to make your online training presentations more interactive
So, how to make your online training audience more engaged? Presentations can make or break your online training. Here are some of 24Slides' designers' golden rules to create online presentations that motivate the audience to learn instead of distracting them.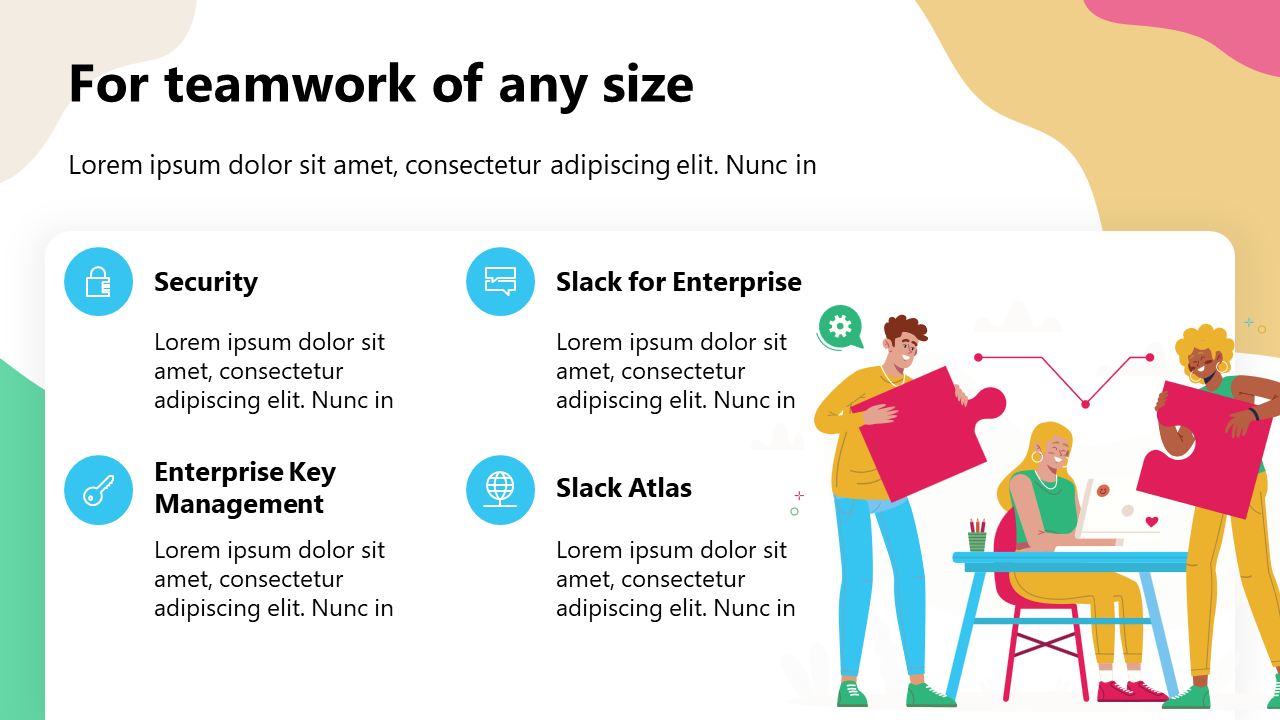 1. Be careful with text
This is the golden rule 24Slides designers swear by, especially for online training presentations. These sorts of slides usually require a lot of text, as there is a lot of specific information to go through. Make sure that text is easily legible and divide them into several slides if need be.
Bullet points are also a big no! They become tedious very fast, and it's for audiences to read through them quickly and disengage from the lesson. Mixing up the layout of the slides and using icons are both tricks that 24Slides designers usually use to accommodate more information while still avoiding cluttering the slides.
2. Make the slide design reflect the key points
The slide design is a key aspect of making an effective online training presentation. Not only because it'll look more professional and put together. But also because a good slide design can help your audience to follow through and make the key points more memorable.
Visual elements like colors, font size and type, icons and images will give your audience a key on what's more relevant on your slides and to what they should pay extra attention to.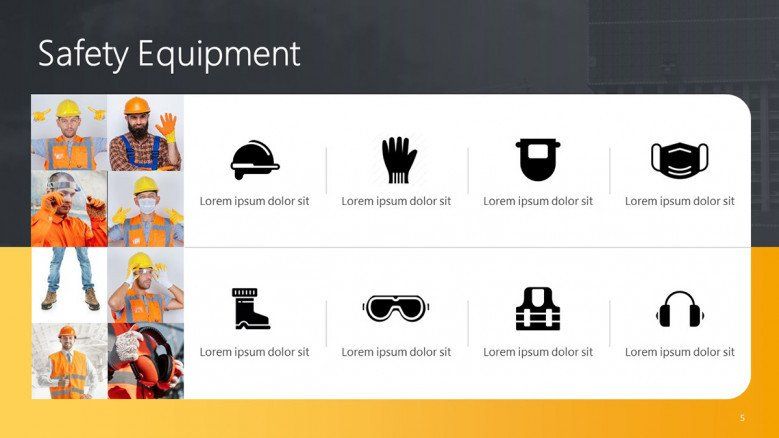 3. Promote participation
Making an online training presentation speaking like a robot is the easiest way to make your audience lose interest in a topic. Introducing yourself, making relatable comments, and including them in the debate is what
The human touch is key in online training presentations! You can use an icebreaker to make your audience more comfortable from the start or get the ball rolling with an opening question.
4. Test your audiences
If you want to make sure your audience is learning from your online training program, test them! There are a lot of options nowadays to add interactive polls and quizzes to your presentation slides, even for real-time results.
Even if you don't want something too complex, a quick "quiz slide" can make a difference to make your audience more engaged and willing to participate.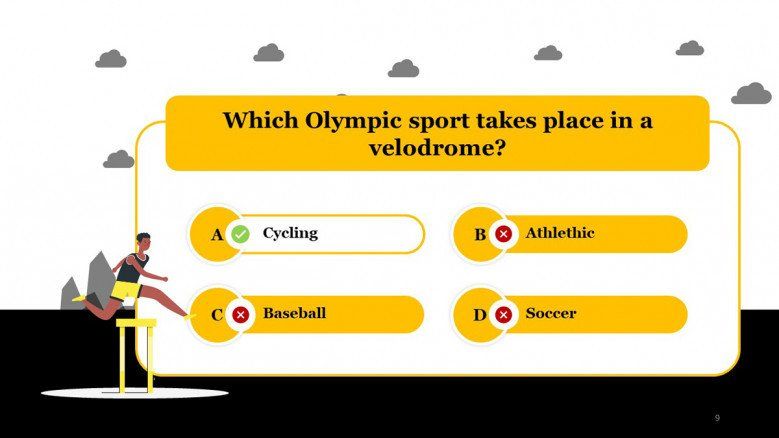 5. Non-linear presentations
Non-linear presentations are a great way to keep an audience on their toes. These are especially useful for topics that are discussion-heavy and that demand high rates of audience participation. Non-linear presentations will allow you to jump from topic to topic following the conversation and your audience's interest organically.
Get your online training presentation ready
Planing your online training programs is hard work. So why not focus all your efforts on your quality content and let us do the heavy lifting deign-wise? 24Slides designers are more than prepared to help you tackle your online training presentation and make a work of art out of it! Just send us your blank slides, and you'll get a complete makeover in 24 hours.