30+ Amazing PowerPoint Templates for March 2020
March has arrived and spring is finally here! This has definitely inspired our designers: They have made over 30 amazing PowerPoint templates for this month. From project development to science-themed, any of these templates will give you a unique design to help you take your presentation to new heights. And, the best part is that you can download for free any of the 36 best March PowerPoint templates!
Are you looking for a specific theme, design, or graph that is not on this list? Templates by 24Slides has the complete library of PowerPoint templates of the past months.
Best Business Models PowerPoint Templates in March
This month has had so many great business PowerPoint templates that it was worth it to divide it according to categories. All these are general business and corporative templates. Thanks to their clean and straight forward design, these templates will fill practically any company out there.
Strategic Planning Free PowerPoint Templates
Whether if you're just starting your business or trying to figure out how to improve a years-old company, these templates got your back! Convey your growth strategies in the most appealing way possible with these amazing designs.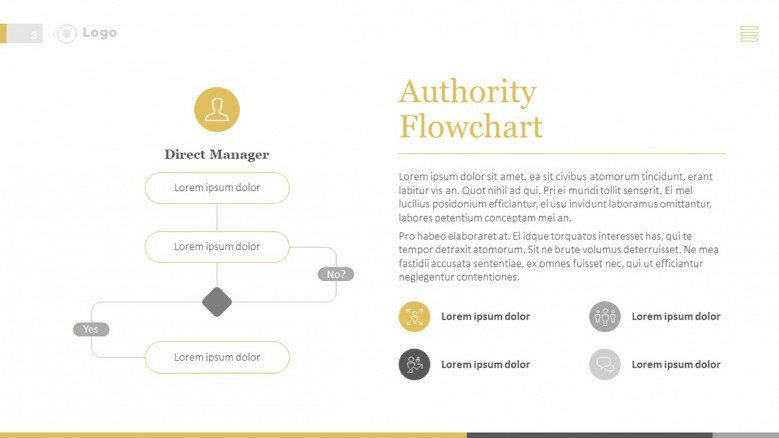 The key to having a highly effective team is to have all members on the same page. And an important part of this is knowing who is responsible for doing what. This free PowerPoint template will allow you to show with complete clarity the responsibilities of every team member. It has great graphs and charts so you can display visually who has authority over different roles and projects. This March PowerPoint template is a must for anyone working on complex teams.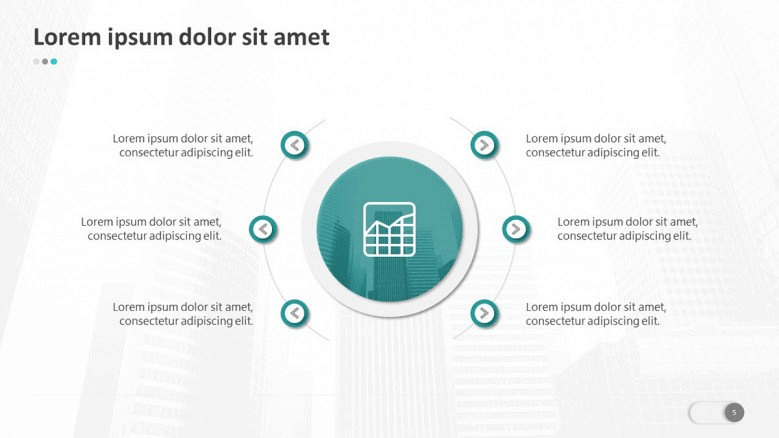 Are you looking for a presentation design that can adapt to anything? This March PowerPoint template is the one for you. It's sober enough to convey a professional and serious image, but with enough color that it doesn't become boring or dull. Being smart and strategic about your business approach is vital in any highly competitive market. This template will give your strategy the extra push when presenting it in front of an audience.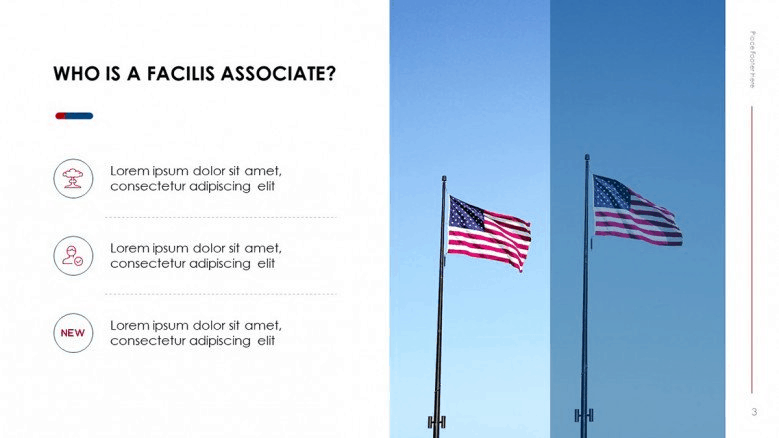 "No man is an island", and that might as well be true for businesses too. Sometimes, the way to keep growing is to establish partnerships and associations. This PowerPoint template will give you all the tools you need to make your partnership presentation a success. Its charts and graphs will allow you to show the market and the economic context. This way, you'll be able to support your propositions with actual data, while still making it in a visually engaging way.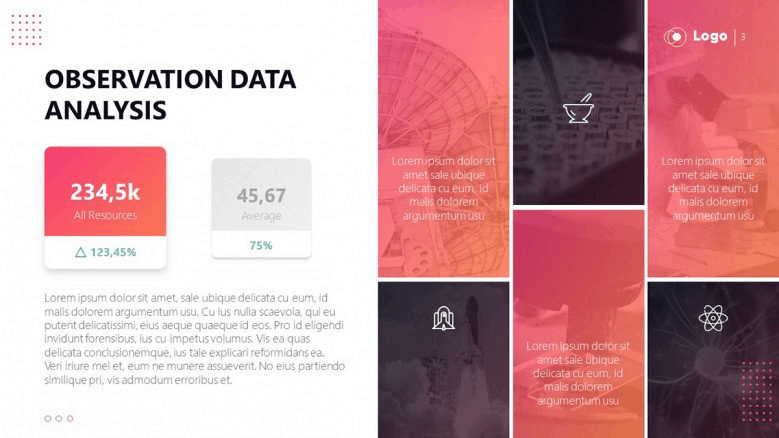 Research is an essential part of improving anything. Before you start any kind of project or enterprise, it's always a good idea to gain some knowledge on things that might affect it. Maybe you should research the market or your competition. Maybe you should research previous versions of a specific project and how they did. This march PowerPoint template is ideal to present all the findings of your research, so you can start working on your own projects.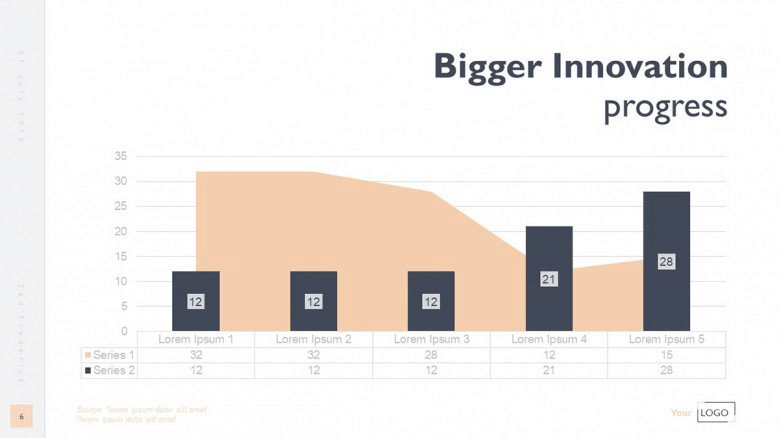 Doing the same thing over and over again is doomed to get outdated eventually. After all, new products and services are constantly appearing in every market. The only way to keep growing and improving is to innovate. Innovation is now a necessity for any business that is planning to stay in the game in the long run. This free PowerPoint template has all you need to show all the changes you've gone through and what you plan to do next.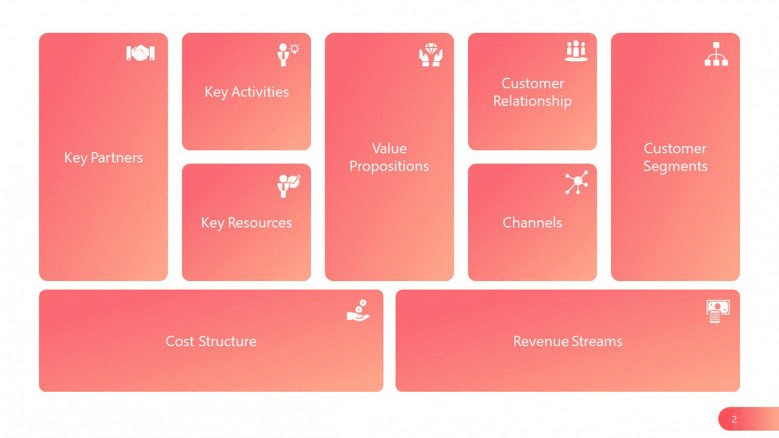 Business Canvas templates are definitely my personal favorite when talking about business models. Being able to see the whole perspective of your business in one simple spread is an incredibly useful tool to have. It's a great method to really grasp all its dimensions. This March PowerPoint template allows you to see the bigger picture while also having slides to work on each specific aspect in detail. It has charts, maps, and graphs that will help you give a complete overall look at your business while still being visually attractive.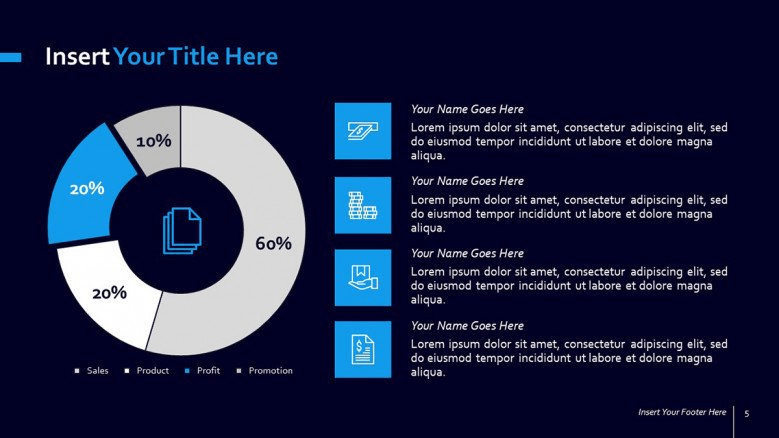 Sharing your strategy is essential to make sure that your whole team is on the same page. This March, our designers have really outdone themselves with this free PowerPoint template. You'll find a goals slide, a team slide, graphs and charts… This template's dark background and blue details really help to convey sobriety and professionalism without being boring. Blue is a great color for serious, business-like presentations, and this template really proves it.
The economic context is a vital factor to take into consideration when working on your business. The way the overall way economics develops around you can offer you great opportunities to make your business grow. Or, on the contrary, it might let you know that it's time to be careful. This free PowerPoint template has all the graphs and charts an economic presentation needs to showcase all the cold, hard data.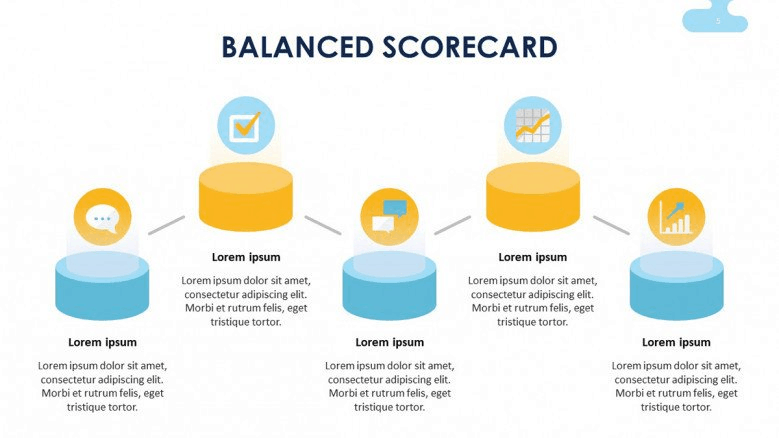 The Balanced Scorecard template is great to translate your results into measurable metrics. This way, you'll be able to convey effectively how close you were to your expectations and help you set better goals for the future. It'll help you set your performance indicators and track your progress. And the yellow and light blue color palette will help your data stand out and keep your audience glued to your presentation.
Project Development Free PowerPoint Templates
If you're looking for templates that can help you showcase a specific project, then these 3 March PowerPoint templates are just for you.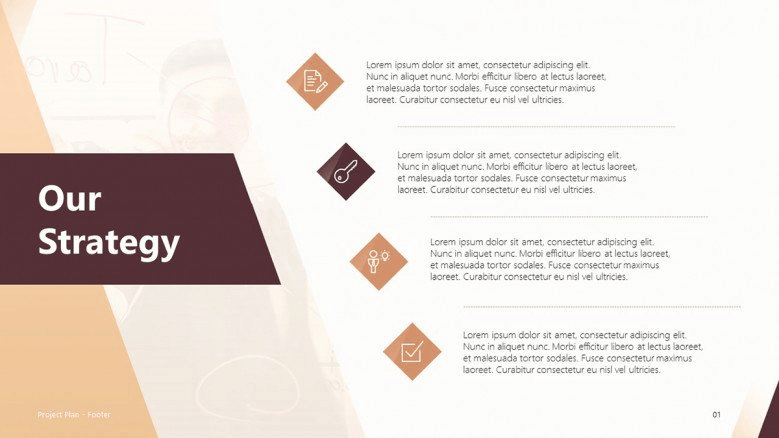 If you're planning to start a new project, then this March PowerPoint template will help you showcase it perfectly. It offers a complete overview of what your project is about, what is your strategy, and what steps you're going to take to put it in motion. It also has several charts and graphs in case you have some data to support your presentations that can be shown visually.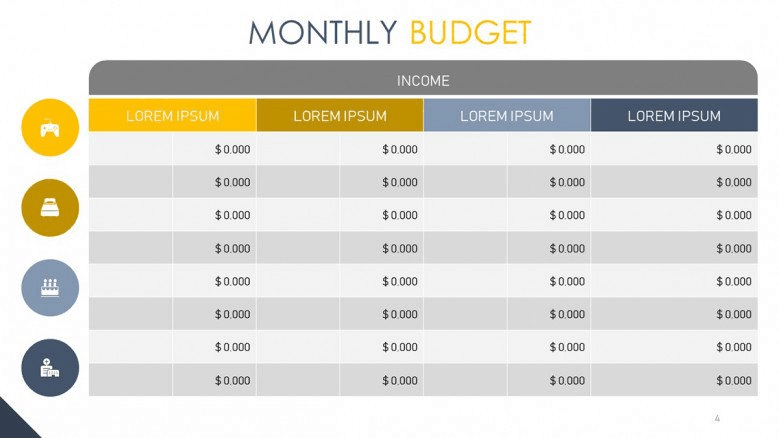 A vital part of planning a new project its organizing and defining its resources. That's why a project's budget deserves it's very own PowerPoint presentation. This template allows you to share a detailed budget plan for any kind of project. You'll be able to showcase how much you're planning to invest month by month. And even better, what are the results that should be expected of such investment. It is vital to stay organized when planning a project, and this PowerPoint template will definitely do the trick.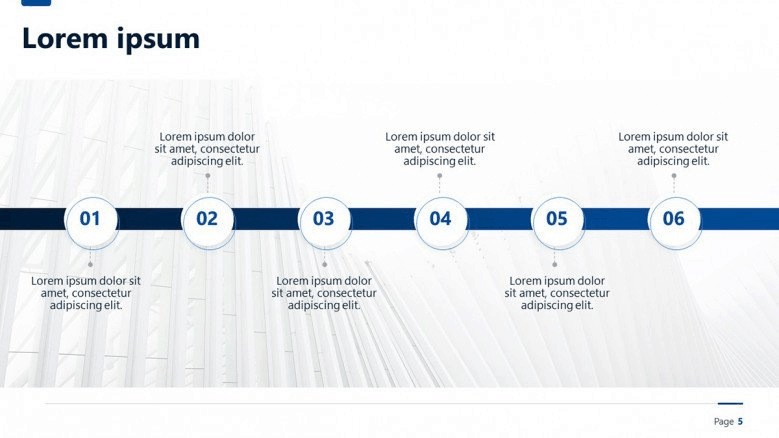 As important as it is to have a good strategy when starting a new project, it is also important to do the follow-up. All the planning is no good if you're not able to evaluate how is the project going and adjust what can be improved. That's why this free PowerPoint template is an invaluable tool for anyone in business entrepreneurship. Show your team how is the project coming around with the data charts, what are the steps that have already been done with the timeline, and use its text slides to suggest adjustments in the strategy.
Free PowerPoint Templates Inspired in Specific Business Models
Famous strategy business tools are famous because of one main reason: they work! Here you will find some free PowerPoint templates based on world-renowned business strategies. If you're using any of these tools, then these presentation templates are the best for you to do them justice and show them in the most complete way.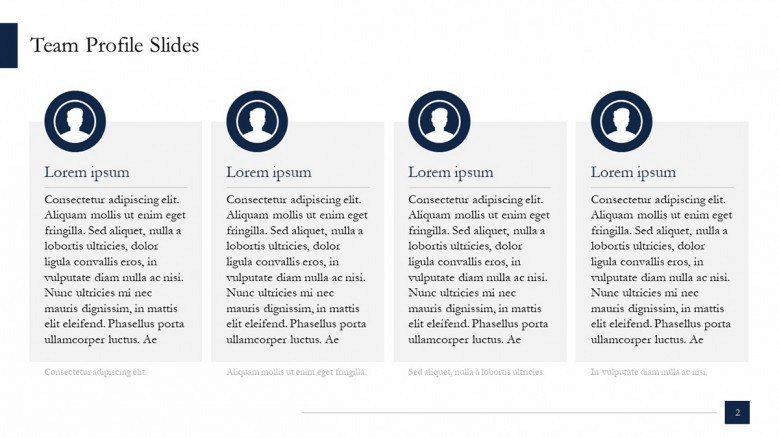 Among the "Big Three" of management consulting agencies, McKinsey is arguably the most renowned. This March PowerPoint templates will allow you to follow the McKinsey model, making your presentation really stand out. Its sober blue design will help you convey professionalism and seriousness. It has different types of text slides (of one, two and three columns) so you can showcase a great amount of information without your slides looking repetitive. It also includes bar charts, that make a great visual complement for any data-based presentation.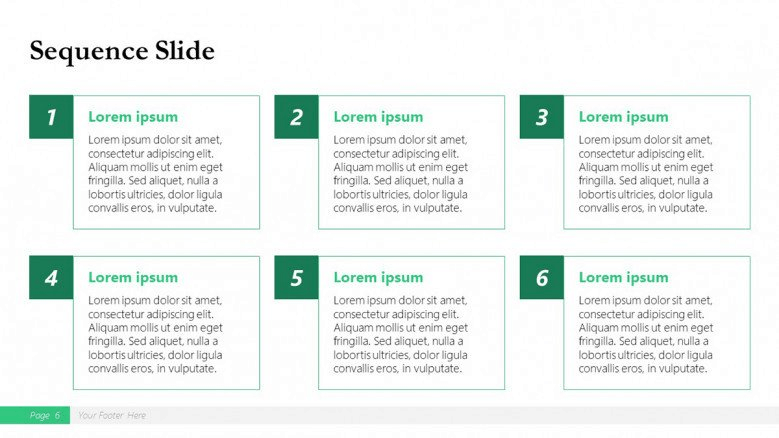 Other of the "Big Three" management consulting agencies, the Boston Consulting Group, is also a great example in which to base a presentation. The 10 slides in this presentation are the perfect base for practically any business presentation out there. Its bright green color palette inspired by the Boston Consulting Group logo will also help you bring some life into your presentations. After all, the fact that it has to be serious doesn't mean that it has to be boring!
Analyzing your competitors and how they might affect your market is a must if you want to reach (and stay at) the top. You'll be able to showcase clearly the threat of new entries and substitutes, the power of suppliers and buyers, and the industry rivalry, all in one PowerPoint template. Its creative layout will allow you to give your audience a complete overview of the market and your competitors.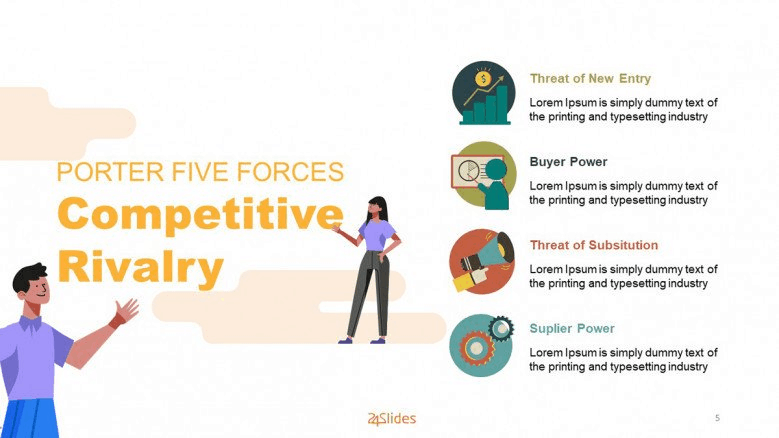 This March PowerPoint template is a more playful take on the Porter's Five Forces model. It has beautiful vector illustrations and customized icons design specifically for the topic at hand. Humans feel naturally more drawn to images to text, so these can really make the difference when trying to catch your audience's attention.
Still not what you were looking for? If you want something more classic and sober, you might like to check out this Corporate Porter's Five Forces PowerPoint Template.
Best Themed PowerPoint Templates for March
In March, our designers have worked non-stop to present you with some really unique themed PowerPoint templates. As always, just remember that even if these do not fit your exact topic, they're all easily editable. If you like the design, changing the background pictures is as easy as a click. And, even if they don't reflect the exact business you're in, there is still a lot of possibilities to use presentations with themes like technology, or even more playful ones like the game-based ones.
Free Technology PowerPoint presentation templates
There has definitely been a boom in technology in the last years. Things that seemed possible only in science fiction stories are now a day-to-day reality. Staying updated with the last technology is a must for those businesses looking to stay for a long time in the market. This free technology-themed presentation templates will help you show everything you want about your company's technology.
Technology is meant to serve people, that's why it's so useful. This playful PowerPoint template is based on customer experience. This way, it'll allow you to convey how will your audience interact with the technology. It's vital that the customers have a good, effortless relationship with the product's technology so they come back for more. This March PowerPoint template is perfect to showcase what is your approach to technology and how you and your team are going to handle it.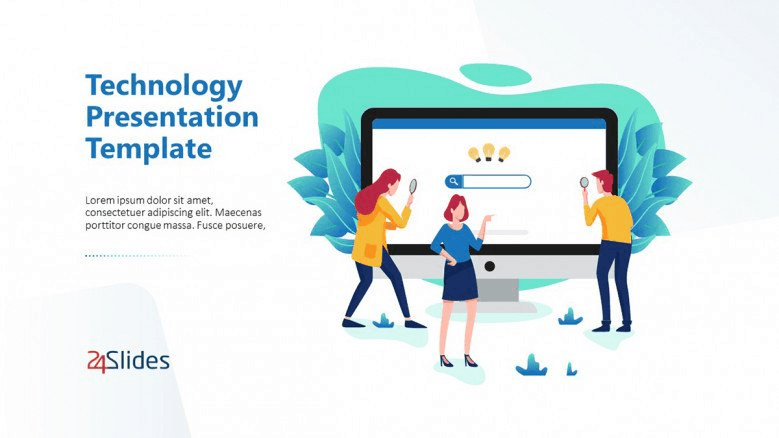 Sometimes, a little data is needed in order to convince your audience of a specific point. A chart or graph can speak louder than words sometimes! If you want to support your arguments in some cold, hard numbers, this is the template for you. It includes charts, maps, and graphs so you can convey all that quantitative information visually. All these, accompanied by great technology-themed vector illustrations that will bring your presentation to life.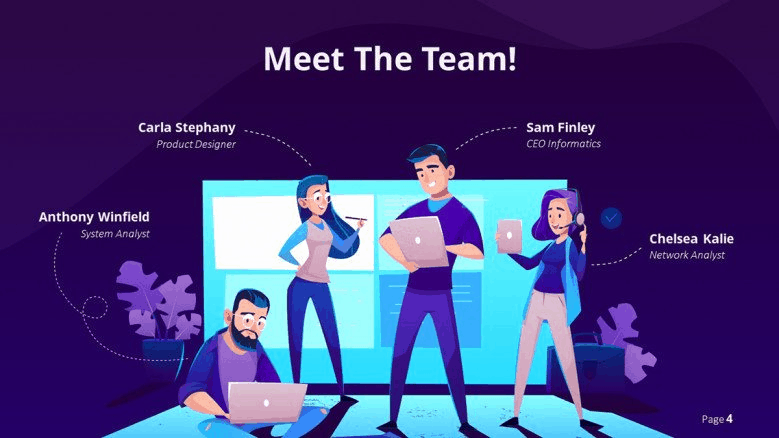 If you're starting a business in the area of technological development, then you'll find no better template! The dark purple background will bring out any information you choose to include. And, just as the two others, it has a playful design style that will make your presentation completely unique. It's the perfect template to present your product to potential customers while still remaining friendly and approachable.
Science and Space PowerPoint templates
Scientific themes can be hard to explain, especially for those who do not have as much knowledge in a topic as you. Make your science presentations more eye-catching and engaging with these amazing free PowerPoint templates.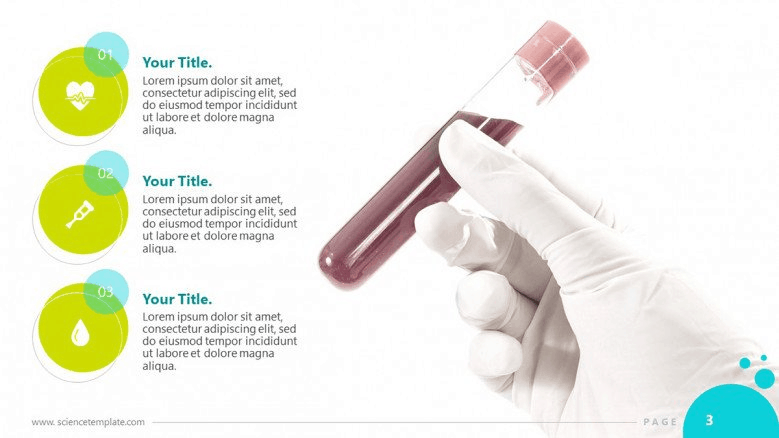 This presentation is perfect for anyone working in medicine or the pharmaceutical industry. It has a bright color palette that will help you bring out your slides. And even better, every slide has amazing, themed icons that will make your presentation really memorable. Whether you need charts, maps, or bar graphs, this template got you covered.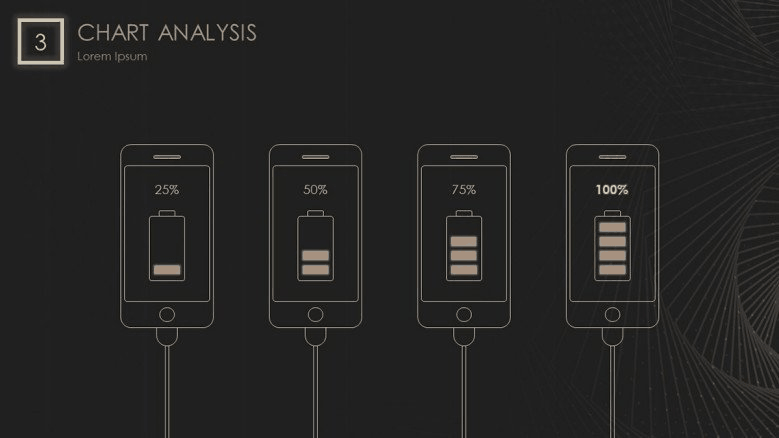 Electric power is one of the most used sources of energy nowadays. I personally love this PowerPoint template because of its unique design. The contrast between the dark background and the light-colored text will make it look like any message you want to convey is really shining in the dark. This is a data-based PowerPoint template, but its layout is really something else. Its graphs and charts are all designed to follow the electric theme. Lampost, charging telephones, light bulbs… These will undoubtedly make your presentation stand out from the rest!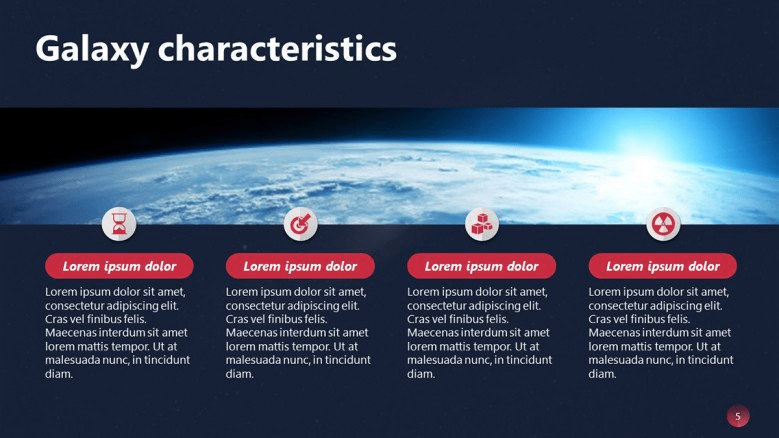 If you're thinking about doing a presentation centered about space, then there are a hundred possibilities to make it a visually stunning one. The galaxy has an inherent beauty that you can definitely exploit. This PowerPoint template will help you showcase all the magic and grandeur of space while still bringing attention to your presentation's message.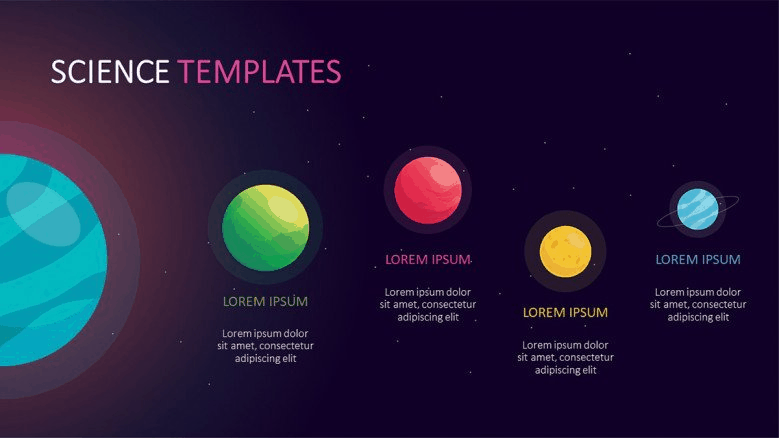 If you want to give a fun twist to your space presentation, then you definitely have to consider this amazing March PowerPoint template. These cool illustrations will completely transform even the most boring of presentations. And, while it still maintains the dark background that resembles space, it has much more color and movement in its slides.
If the last one was too casual, but the first galaxy presentation way too serious, then this PowerPoint template will probably hit the mark. It maintains the sleek design of the first Galaxy PowerPoint template, but it mixed it with more color and pictures to make a more visually striking presentation. It also has some great themed icons that will help you catch your audience's attention and improve the overall look of it all.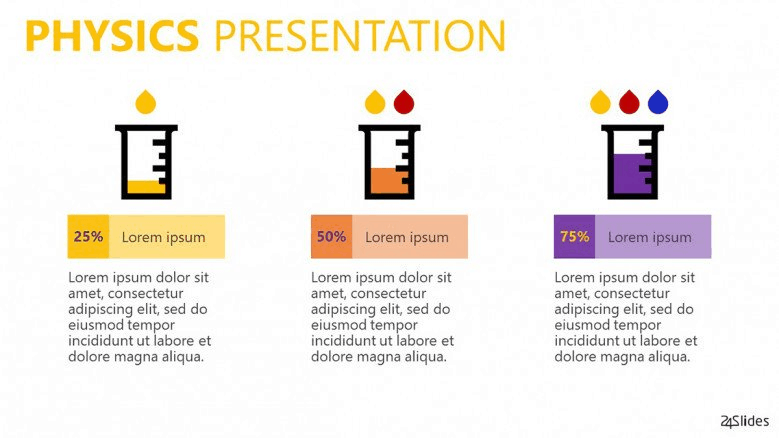 This is pretty much a minimalistic approach to the science-themed design. The neutral tone background will make sure that it's the information that goes forefront. Despite its apparent simplicity, it is anything but boring. It has a great purple and yellow color scheme for the slides' details that will turn your presentation into something way more interesting.
Other themed PowerPoint templates for March 2020
The previous ones didn't catch your eye? Don't worry, there are plenty more themed presentations right here. And if there's a specific topic you're looking for, you should check out the Templates by 24Slides platform. There you'll find hundreds of unique themed PowerPoint templates that you can use completely for free!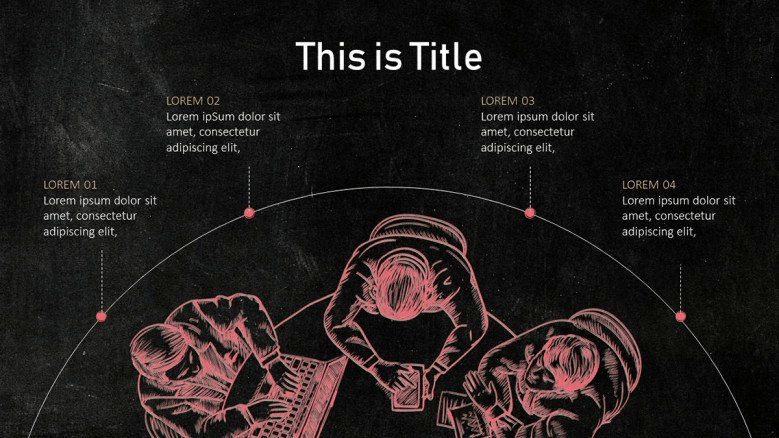 Chalkboard was traditionally the media to do presentations. You can write on it, or draw, or do whatever you need to convey your message clearly. Nowadays, PowerPoint has taken the presentation world by storm, but there's still something about the aesthetics of the chalkboard that makes it special. This presentation takes the best of both worlds into one presentation that imitates the chalkboard style. If you wish to surprise your audience with a unique presentation, then this one will definitely do the trick!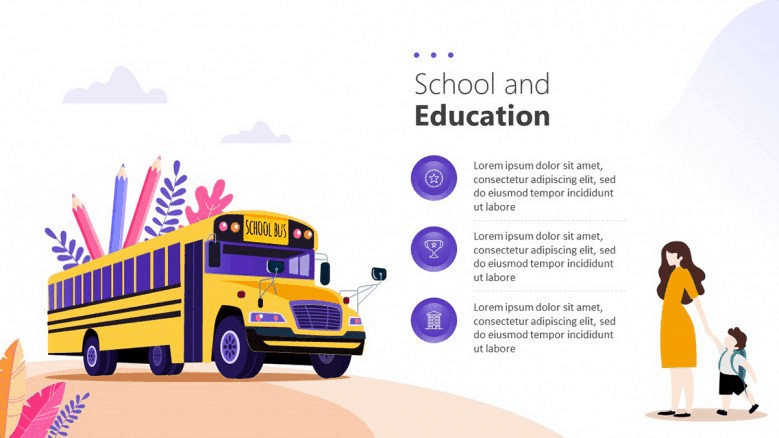 Parenting is definitely not a small task. Many people worry about if they're going to be good parents, or if they'll even able to do it. This March PowerPoint template is ideal for anyone working with children and their parents. It's bright colors and beautifully designed illustrations will give your presentation a friendly and approachable feel.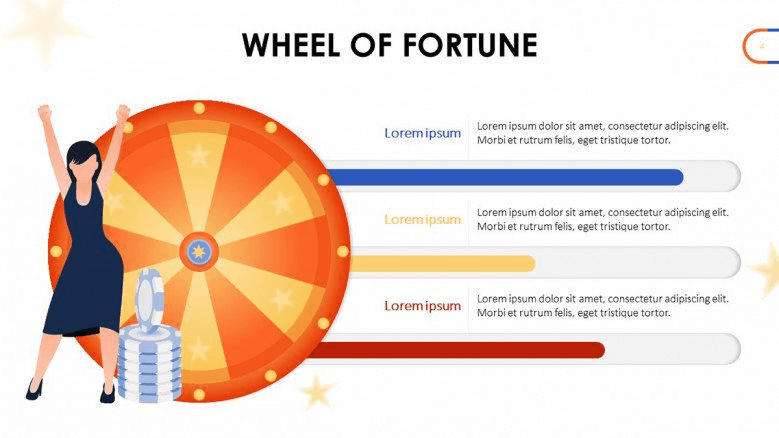 This is your chance to turn an everyday, routine presentation into something really special. For example, you can present your team's achievements as the game's winnings. It's all up to your imagination. This free presentation template has everything you might need, all wrapped up in a wheel of fortune game theme. The wheel of fortune is especially great for showcasing circular graphs in an innovative manner!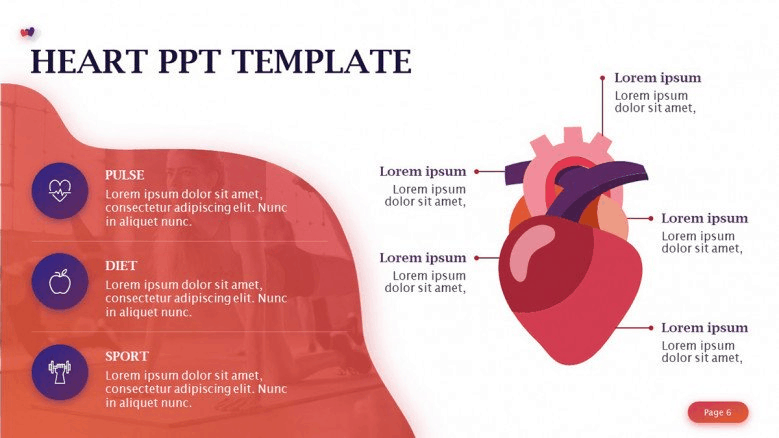 According to the World Heart Federation, over 17.9 million people die every year from cardiovascular diseases. This March PowerPoint template is ideal for those trying to spread awareness about CVS and its risks. Every single slide is customized with the heart theme. This presentation will help you catch your audience's attention with it great illustrations and icons while still conveying the seriousness of the topic.
Autism is a developmental disorder that involves a broad range of characteristics, especially those concerning social skills and communication. The particular conditions of each case can make it a challenge to work with autism, considering not every case is the same. Hopefully, this PowerPoint template can be a useful tool when working on raising understanding about this condition and their inclusion in society.
Just like the other Wheel of Fortune PowerPoint template this presentation is great for anyone with enough imagination! It also includes a map slide, in case you need to divide geographically your information. And, just like the other one, the wheel design offers great layout possibilities for unique and eye-catching slides. Embrace your playful side with this colorful March PowerPoint template!
Best March PowerPoint Templates Resources
These are templates that, even if they're not meant to be a complete presentation on their own, are certainly worth checking out. If you're in a hurry, you can find many other PowerPoint templates that are ready to just fill and get going. But these templates offer you some really amazing resources that will complement any presentation beautifully.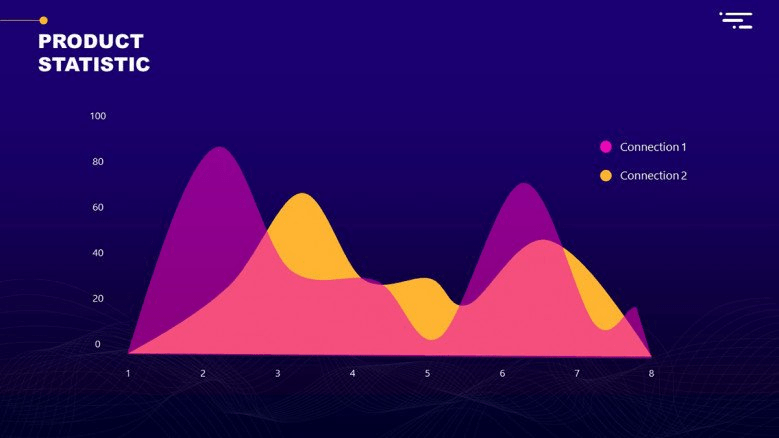 Representing data in a visually engaging manner can be a huge challenge when designing a presentation. Luckily, this free PowerPoint template has all kinds of graphs to help you turn all your quantitative information into visual aids. While it is optimized for IT network presentations, its graphs are definitely useful for any business presentation you might have in mind.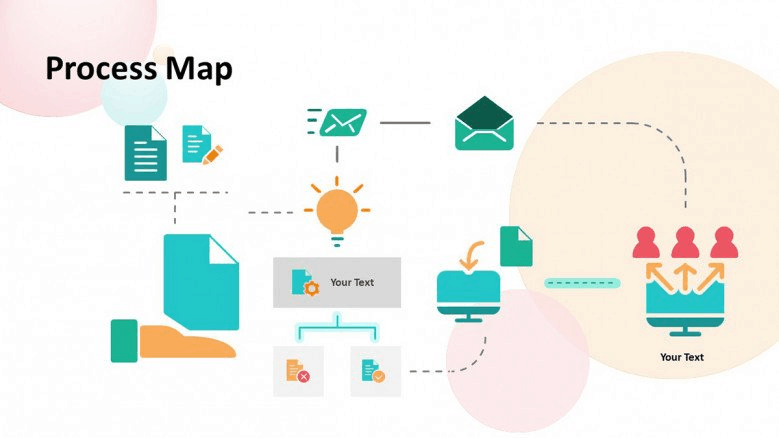 Processes, especially those with many factors and steps, can be difficult to convey to your audience. But when words are not enough, images and pictures are usually a priceless resource. After all, humans can process images way faster than they can process written text. This March PowerPoint template has 9 different process map designs that you can use for free. Its bright colors and eye-catching icons will make sure that every single step of your process is crystal clear for your audience.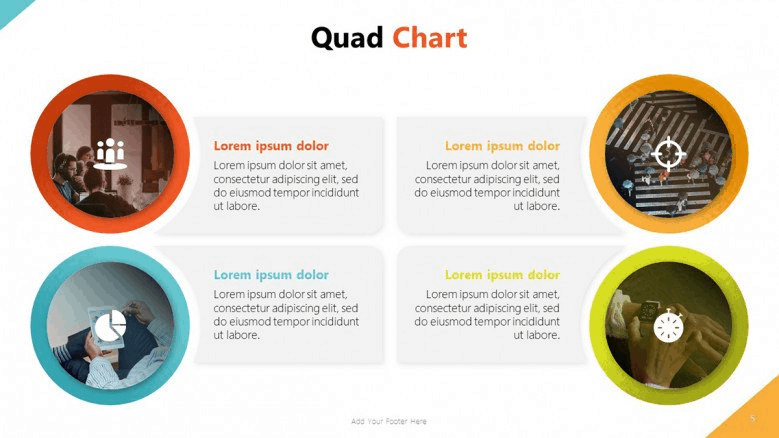 Quad charts are a great way to represent a great amount of information in an easy, straightforward way. All the slides in this PowerPoint template are designed to be divided into 4 quadrants, that can be used according to your own needs. Whether you want to represent 4 different characteristics, or maybe showcase oppositions between different aspects, a quad chart is a tool to be taken into consideration. Quad charts great for representing SWOT matrixes, for example, or a PEST analysis.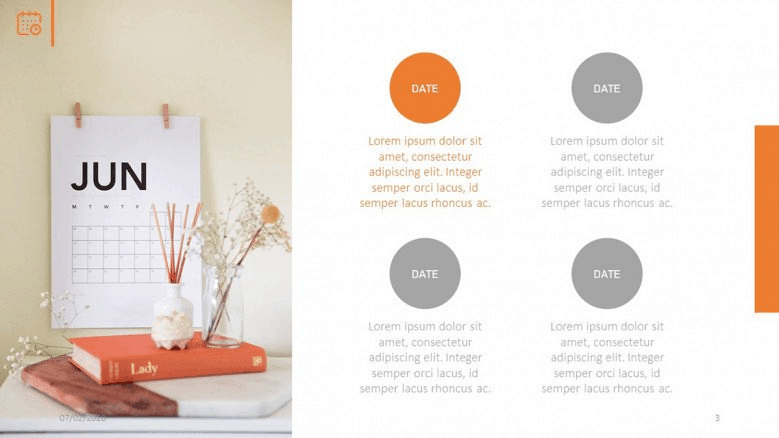 This March PowerPoint template is a great business tool to promote organization inside a company. Whether it's for business meetings, due dates, or social activities to improve team spirit, this template will allow you to show all the important events inside your company. Its slides have different designs, so you can choose if you want to present them one by one, week by week, or monthly.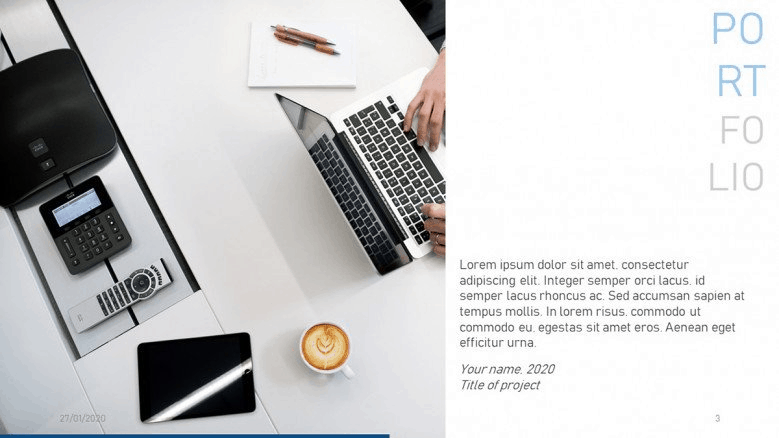 Portfolios are a great way to showcase your work and your strengths. A well-done, nicely looking portfolio, however, can convey more than just work. A clean, sharp-looking portfolio will help you showcase the attention to detail, professionalism, and much more. This PowerPoint template has a minimalistic but elegant design that will make your work really stand out among others.
Templates are a great resource, no doubt. But they still demand time and effort so they can be customized for your presentation. If you're running a little short of time, or simply have other things to do, why not leave your presentation with us? 24Slides' designers will make sure that you have your perfect presentation in 24 hours.