Master Slides 101: How to Create and Use Master Slides in PowerPoint
Get a complete overview of one of the best tools PowerPoint has to offer: Master Slides! The Slide Master in PowerPoint is, in short, an option that allows you to standardize specific visual aspects of your presentation. It's a feature that not many people are aware of. However, it can truly make a difference when you have to work constantly with PowerPoint presentations. Here you'll learn exactly what is the slide master feature and how it is useful, along with how to create your own master slides, and how to edit them.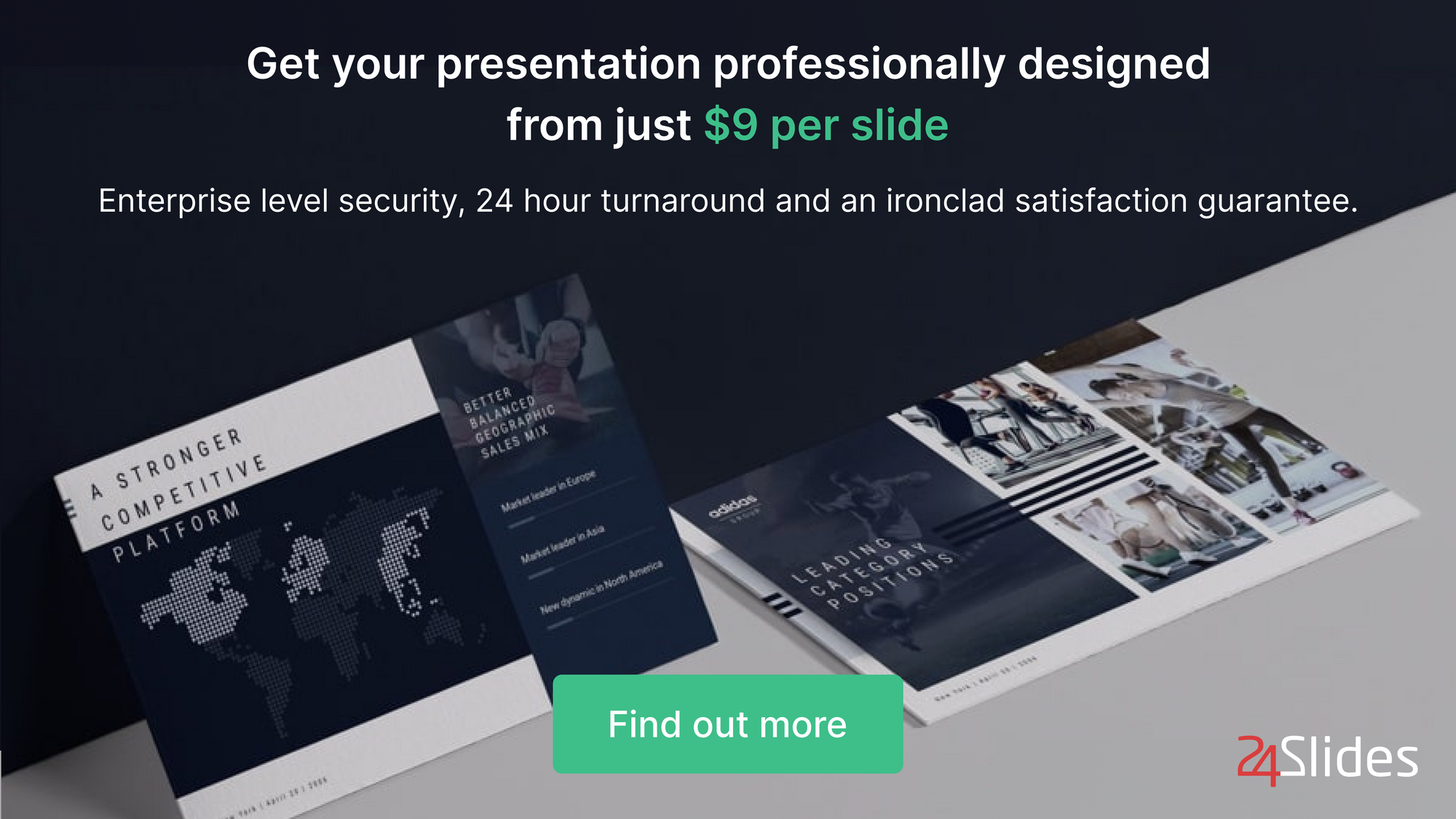 What is a Master Slide in PowerPoint?
Slide Master is a PowerPoint option you can find in the View tab. This feature allows you to create master templates (or master slides). It's a way to add common elements that will be repeated throughout your slides automatically, like a logo.
You can also use the master slide feature to standardize the design of your presentation. For example, you can add a background, typography, color scheme, and so on. The main idea behind this is that anything you add to your master slides, it'll come up automatically when you start working on your presentation! Instead of designing slide by slide, using the slide master feature allows you to add all the style guidelines in one go.

You might understand better what a master template is with a visual example. Open a new presentation and pick any design theme for it. Then, go to the View tab > Slide Master option. You'll then see how this theme has been designed through the slide master! You'll be able to see how this theme has been designed with a specific color palette, typography, and background. Master slides are the reason why, when you create a new slide, it already comes with a pre-made design and layout.
Master Slides glossary
To better understand what the slide master feature is, it might be useful to have some vocabulary explained. All these terms are words many times people use interchangeably. To make the most of this article, however, it'll be useful to know exactly what we're referring to when talking about these terms:
Master Slides:
This is a feature in the view tab that allows you to create master templates. This way, anything you add to your master slides, like a type of font, or background, will automatically be applied to all your other slides too.
Layout:
This refers to the elements and the "order" in which these are in your slide. For example, a Title Slide Layout is what comes up first by default when you open a new presentation. Other common layouts are Comparison Layout and Title and Content Layout. You can see the pre-made types of layout PowerPoint offers in the Home tab (Slides section) > Layout. In short, your slide layout is how it is organized!
Template:
Templates are pre-made presentations, ready to be filled with your own information. They are usually designed slide-by-slide, as this makes them easier to edit in case of need. You can edit a template as much as you can, including changing the color scheme, typography, layouts, and so on.
Templates can often follow specific topics to fit better the user needs. You'll be able to find templates for agendas, diagrams, newsletters, and many, many more. Office offers a wide variety of templates you can use. And, you can even find free PowerPoint templates online, ready for you to download and use.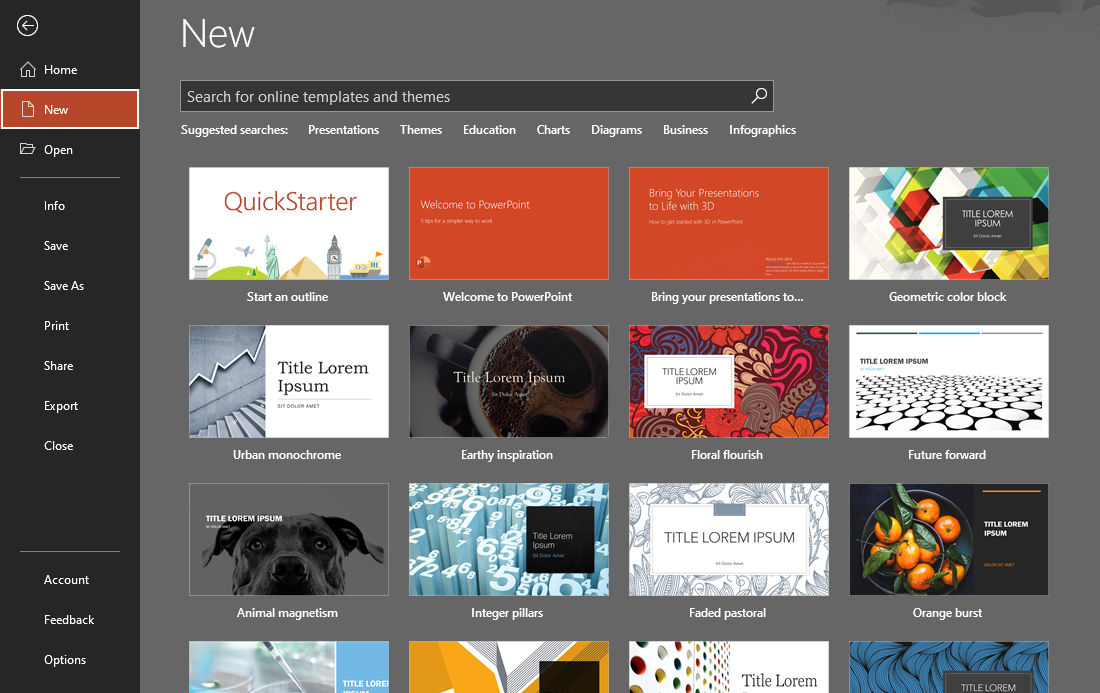 Theme:
Themes are premade sets of visual characteristics you can apply to your slides. Things like backgrounds, color palette, fonts… All these are characteristics that themes include. Themes are excellent options to give your presentation a more polished look and make sure that your design is cohesive throughout the presentation.
You can find the theme options offered by Office in the Design tab. And, if these are not enough, you can always look for more in the Microsoft Office store.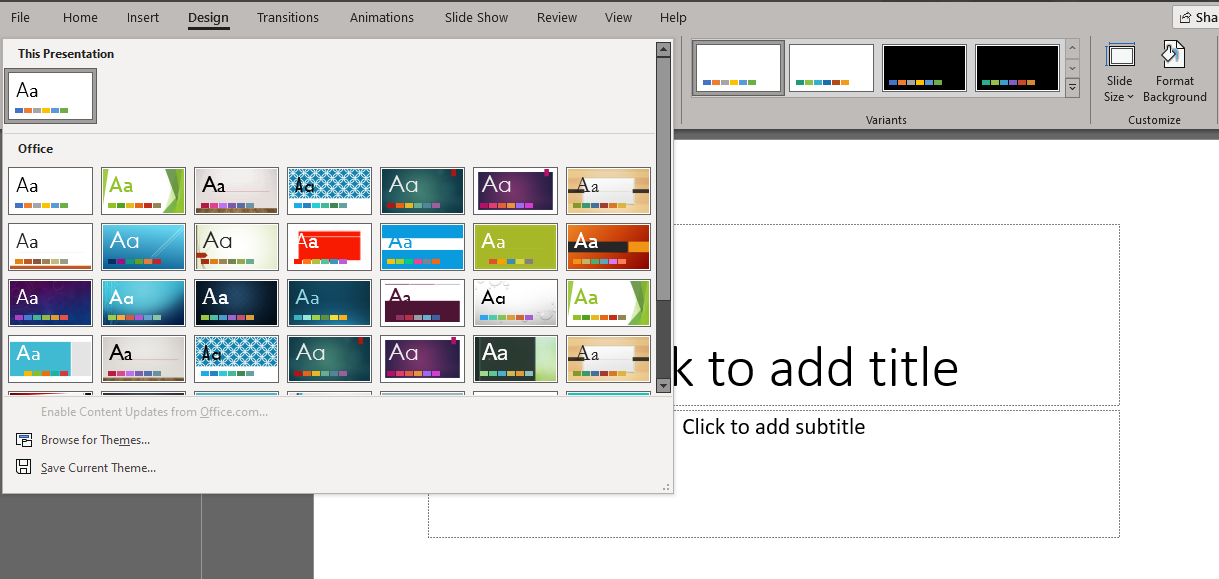 What is the difference between themes, templates, and master slides?
Explaining the difference between themes, templates, and master slides can be a little bit tricky, as some aspects of these intersect with one another. A template is a pre-made presentation, usually content-specific, for example, a template for a business presentation. A theme is a predefined set of design guidelines. For example, color scheme or fonts. By choosing a theme, these design instructions will be applied to all your slides in order to create a unified look.
For example, you can download a template (slides already created by someone else), and apply different themes to it (changing design elements, like color palette, typography, title placement, and so on). How well a template will work with a theme will depend on their specific design!
On the other hand, a master template means creating style guidelines that will be applied to any slide you create on that presentation. In a way, using the Slide Master feature is like creating your own customized theme!
Microsoft Office templates are often designed through master slides. However, most of the templates you can download online will not. They are just presentations you can download and edit to make them your own.
What are PowerPoint Master Slides useful for?
The Slide Master feature in PowerPoint is extremely useful for making your presentation design process more efficient. While it has a steep learning curve, working with a master template can truly change the way you work with presentations forever. Once you learn how to work with master slides, it can mean a significant difference in the time spent on designing your presentation. Especially if you're someone who works with presentations constantly!
PowerPoint Master slides are also a great way to add your brand into your presentations. Making your presentation reflect your brand can be key in making an impact on your audience. Not only will you look more professional and trustworthy, but it also helps make your brand image more memorable. Something as simple as using the color scheme of your brand in your presentation can make all the difference in making slides that are truly unique. And, it can even help you convey values and ideas you want to be associated with your brand, like creativity, luxury, and youthfulness.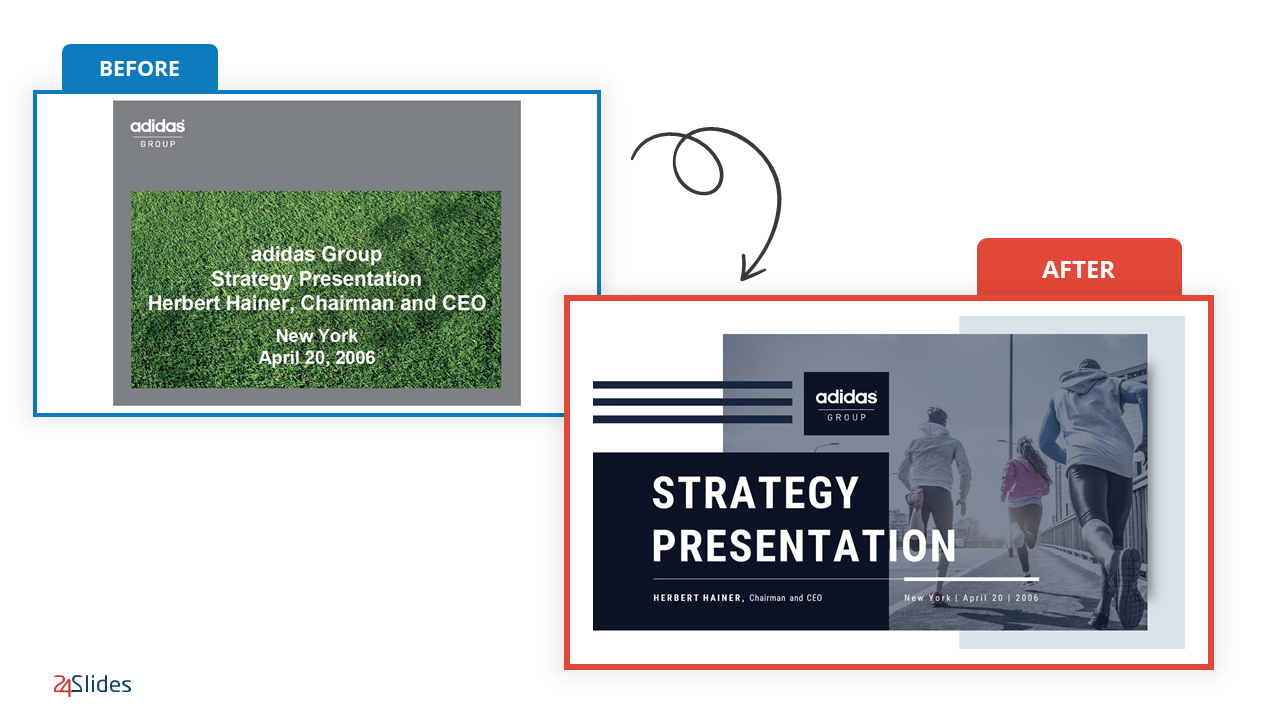 If you plan on reflecting your brand in your PowerPoint, then using master templates is a must. It will help you create a consistent design style that makes your presentation look much more professional and clean. And it'll allow you to have a consistent style not only in one but throughout the many presentations you might work in.
Professional PowerPoint designers can even go a step further and completely customize your master slides. You'll get a completely unified design style for your presentations. You can rest assured that whatever element you add to your presentation, like a chart or a graph, it'll follow your presentation style guidelines.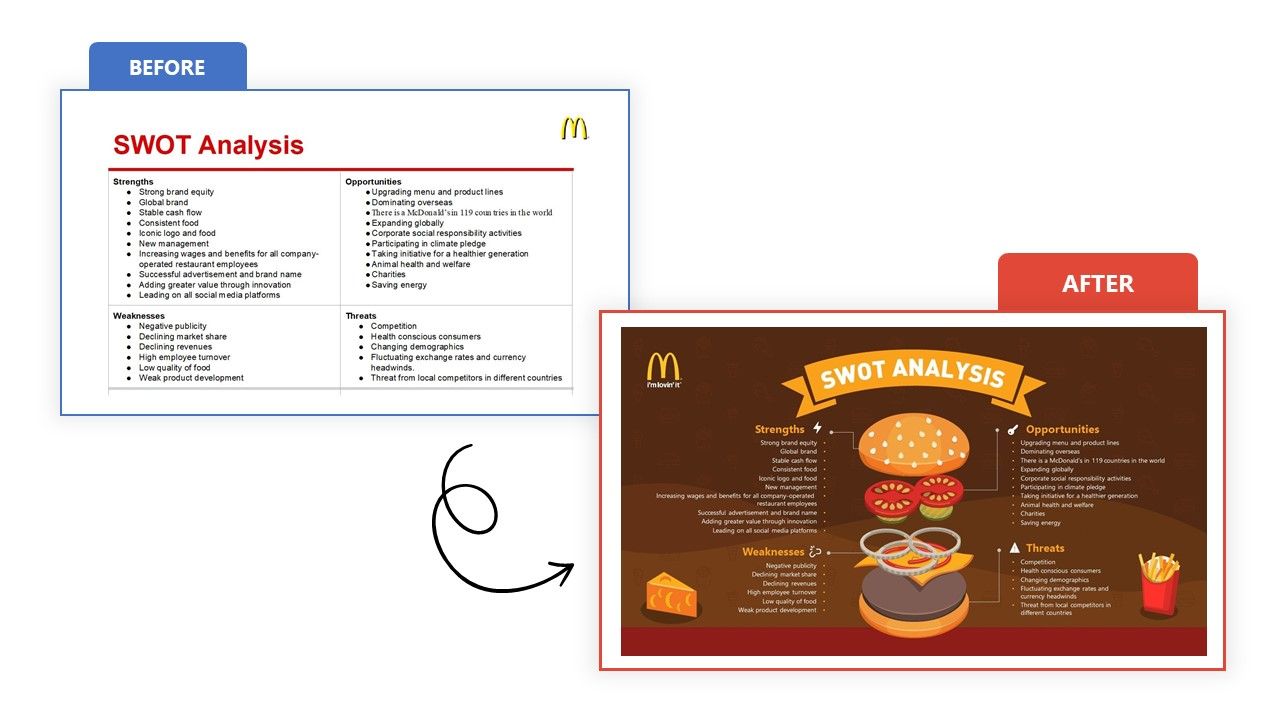 How to create a Master Slide in PowerPoint
To create your own Master template, you just need to go to the View tab > Slide Master. This will allow you to access the Slide Master view. Take into account that anything you do while in this mode will then be reflected in all the rest of your slides. This means that the Master View is for design and visual aspects only. Once you're done with the way your master templates look, it's a must to click on the Close Master View option in the far right of the command ribbon before working on your actual presentation content.
#1. Work on your main Slide Master
Once you are on the Master View, it's time to get to work! Go to the very first slide on the Slides Overview Pane on the left. This is your Master Slide. You'll recognize it because it'll have a number 1 at the side, and it'll be a little bigger than the rest.
Here is where you'll work on the common elements all your slides will share. This is where you should customize your background, and your font style and color. You can also add a custom color palette for your master template. Just go to the Background group and pick the option Colors > Customize colors. Keep reading here how to create your own custom color schemes. This is also the perfect opportunity to add an element you want to be repeated throughout your slides, like for example a logo.
By clicking on the Master Layout option, you'll also be able to customize which layout elements you want in your presentation slides. For example, you can choose to include the date, the slide number, and more.
#2. Work on your Layout slides
Next, it's time to move to the Layout slides. These are the concrete ways in which your master slide design will manifest in your presentation.
PowerPoint offers 11 different default layout settings for you to start to work with. You can edit and alter these layouts as much as you want. Take into consideration that these are meant to make your life easier when designing your presentation. That's why it's important to think through what kind of layouts your presentation will need. Otherwise, you'll end up having to edit slide by slide nonetheless!
If you don't find a layout that fits your needs, you can also create a master layout from scratch. Select any of your layouts and click the option Insert Layout in the Edit Master group. It'll create a new type of slide you can edit and customize as you see fit. Use the option Insert Placeholder to add different kinds of elements to our new layout.  
#3.  Adding a new Slide Master if necessary
If you think just one "theme" is not enough for your presentation, and you want to use several different kinds of styles in a single presentation, you can do it! You just need to add a second Slide Master. Select the option Insert Slide Master in the far left, and you'll get a completely new blank canvas in the same presentation.
After it, you'll need to do exactly the same process with your secondary Slide Master and its layout options. Once you close the Master View, when you try to add a new slide in your presentation, you'll have both options there waiting for you!
Once you're happy with how your master template looks, remember to click the option Close Master View to start adding your actual content to your presentation. Once closed, when you're back at the Home tab, when you insert a new slide, it should follow the same visual guidelines you applied to your master slides.
How to edit and change a PowerPoint master slide
If you've worked with a presentation that's already using a master template, you can edit your slides through Master View. While it's possible to edit them slide by slide, it's still a good option to consider. Especially if there are common elements that you want to get rid of, add or edit on more than one slide!
#1. Access the Master Slide View
Just like for creating a master template, the first thing is to access the master view. Go to View tab > Slide Master to see exactly all the design guidelines your presentation has at the moment.
#2. Edit the Master Slide
If there's a common element that you want to change, the Master Slide is the place to do it! It works great for adding and removing logos, or for changing the background or color scheme.
#3. Edit Specific Layout Slides
If there's a design element you want to change from a specific layout style, you can do so too. Pick the slide layout you want to edit and customize it as you see fit. Remember that, after it, all the slides that use that layout style will also have these changes. So, if you are looking for a one-time change, it's better to avoid the Master Slide view and edit your slides as you normally would.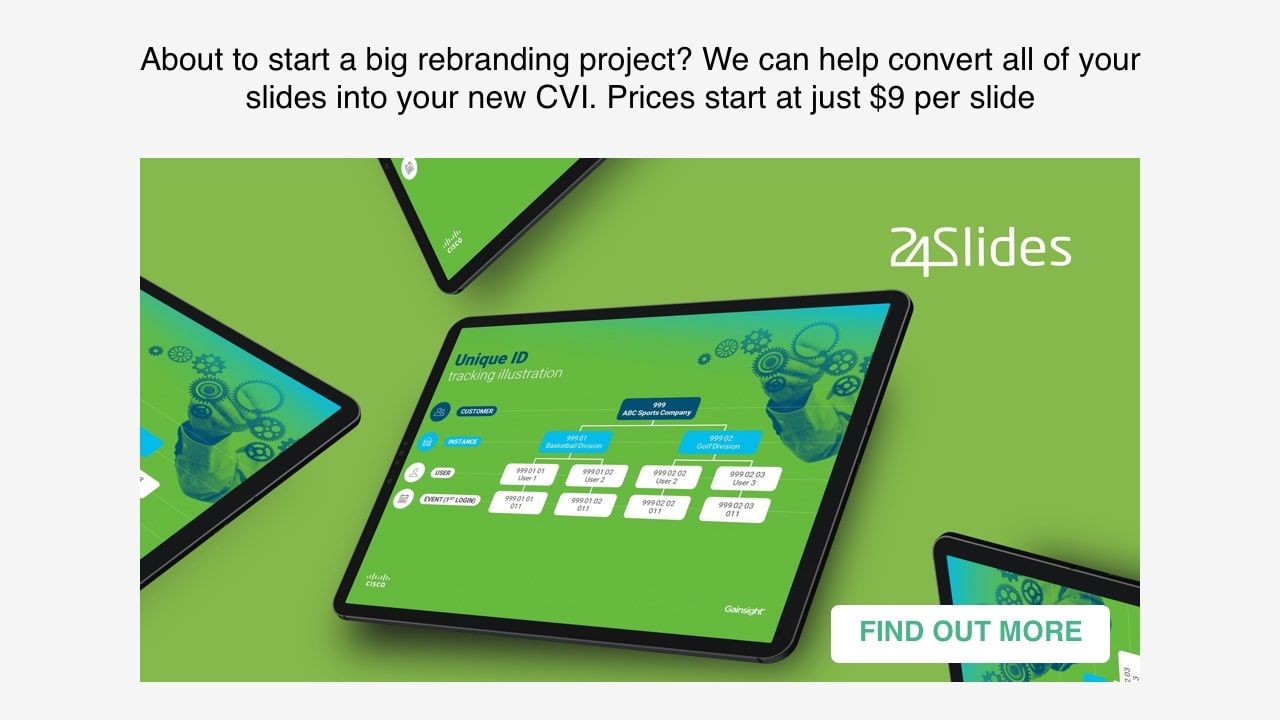 How to apply master slides to an already existing PowerPoint presentation
If you have an already existing presentation, don't worry! You can use the master template from one presentation and apply it to another. This way, your presentation will follow the same design guidelines. This is a great way to increase the design consistency in your presentations and to make sure all your presentations follow the same brand identity design.
#1. Go to the Slide Master View
Just like the last time, go to the Master View through the View tab > Slide Master option. Make sure that your master template is just like you want it to be.
#2. Save as a theme
Once you're happy with how your master template looks, it's time to save it. In the same Master View, got to Themes > Save Current Theme. This will allow you to save your presentation as a PowerPoint template you can use later for other presentations.
#3. Apply your customized theme to a new presentation.
Open the presentation you want to edit. Now that you've saved your Master Slides, you'll be able to see it as a custom theme in the Design tab!

Get professionally customized PowerPoint Master Slides
Master Slides are an outstanding tool to make your presentation creation process more efficient. They can save you precious time, and they can enhance design consistency within your slides. The fact that you can save them as a theme and apply it to other presentations makes the Master Slides feature the perfect tool for those trying to include brand identity and create a recognizable brand voice in their business presentations!
However, using master slides still requires a steep learning curve. Design skills are a must if you truly want to make the most of your master slides. If you want to use PowerPoint Master Slides, but you don't feel you have enough experience or time to create your own master template, don't worry! 24Slides professional designers will be happy to help you create the perfect master slides. You can just sit back and relax, and we'll do all the heavy lifting!
The best thing is that you'll get a completely customized, professional design that you'll be able to apply to all your future projects! You'll no longer have to worry about your slide design or making it reflect your brand! Get an outstanding presentation design that you can apply to your own slides with just one click.