Outsourcing Your Presentation Design with 24Slides
Outsourcing has become a more and more common practice among businesses of all kinds. It allows you to refocus resources, and become more efficient while also getting more professional results. And what better than to outsource presentation design and get rid forever from PowerPoint? Learn the 24Slides presentation services outsourcing process to see how easy and effective outsourcing your PowerPoint presentations can really be.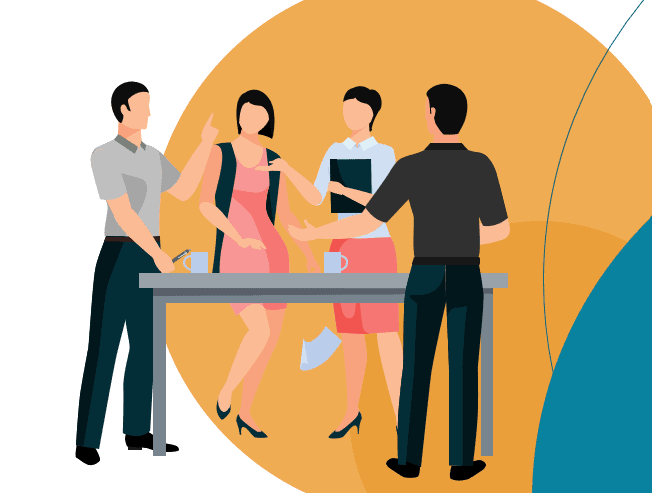 Outsourcing Presentation Design
There's one particular task that is usually overlooked, despite playing a part in pretty much any business. A task that most people find repetitive and off-putting, and a waste of time: Presentation design!
Businesses of all kinds rely on PowerPoint presentations for their meetings, for both internal and external communication. After all, when used correctly, PowerPoint is an outstanding audiovisual tool that can help you convey your ideas clearly and more engagingly. Whether you're pitching to a new investor, making a sales presentation for a potential client, or showing your monthly sales to your team, a PowerPoint presentation can be the perfect complement.
There's this idea that the person doing the presentation must also be the one making the PowerPoint, but this is not necessarily true! While it's vital for the presenter to know and work on the content, the presentation visual aspect can benefit very much from a professional PowerPoint designer.
Why Pick 24Slides' PowerPoint designers?
There are many options when talking about outsourcing presentation design. There are even freelancers you can hire for an hourly fee. So what makes 24Slides so special?
For starters, few graphic designers and freelancers will have experience working with designs exclusively for PowerPoint. Usually, most designers work with software like Photoshop, or Illustrator. But at 24Slides, you'll find designers that have specialized at making amazing designs in and for PowerPoint. 24Slides' amazing team of designers is prepared to make any presentation into a masterpiece that reflects perfectly your brand and conveys all your ideas in the best possible way.
24Slides has customers from over 65 countries, and among them, some of the biggest companies in the world. You can rest assured that your information is completely private and secure with our data protection protocols. And, of course, this means hundreds of satisfied customers that can vouch for our designs!
Save Time and Money with 24Slides' Presentation Design
But the best thing about 24Slides is that you control the times and prices. Prices are set depending on how much effort and how urgently you want your presentation to be delivered. You decide what treatment you want your slides to be given, so the budget is completely in your hands!
The average executive spends around 4 hours a week working on PowerPoint presentations. And while this might not sound like much, that sums up to 188 hours a year – roughly around $2858! Whether you know it or not, you're already paying for a presentation design service, just… not a very good one. Employees who are no experts on PowerPoint design will have to invest a lot of time and effort in making a mediocre presentation. In short, valuable resources like time and money are being completely wasted on a task they aren't even good at! It can be hard to believe, but can try our PowerPoint cost calculator for yourself!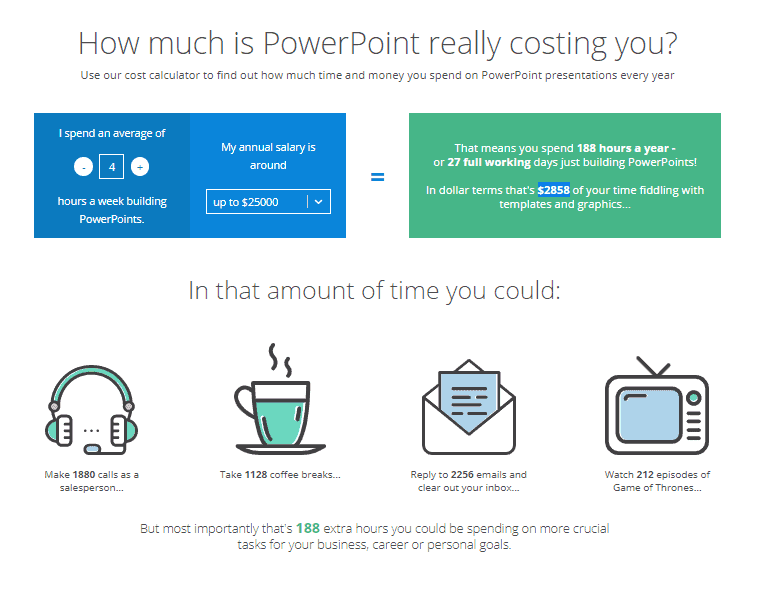 By choosing to outsource presentation design with 24Slides, you'll not only receive beautiful, outstanding presentations. You'll also save time and money, as your employees will have more time to focus on relevant tasks that increase the company's productivity.
Outsourcing Process for Presentation Design
Deciding to outsource your presentation design might be a little daunting at first. If it has caught your attention, but you're still thinking if it might be for you, taking a look at the outsourcing presentation design process might help you decide! You'll see that it's a pretty easy and straightforward process: all you need to do is leave it in our hands!
1. Have Your Content Ready
As much as our designers love to help customers, the presentation content is on you! After all, you're the one who knows all the information on it and that will present it in front of an audience. Even just a default-blank PowerPoint slides will do the trick. All our designers need to know is what goes in which slide, so they can make their design accordingly.
If you have a design specific idea in mind, that's useful to have too! Our designers will work their hardest to bring your vision to life, so anything that might help them is a great idea. If you want your presentation to follow a certain color palette, or maybe add your company's logo, you can send it, and they'll make your design accordingly to your requests. So save any examples of designs that you like and extra design requests to make sure the final product is completely tailored to your tastes.
2. Submitting Your Presentation Design Order
Great! Now you're really ready to begin your presentation outsourcing process. This begins by submitting your order.

The first step is to pick your presentation treatment, as this will influence the overall price. You can choose from 3 different treatments: Fix-up (just a quick polish), Redesign (complete slides makeover), and Redraw (making your slides from scratch). If you're not sure what option is best for you, you can pick the "Let us decide" option! A project manager will evaluate your presentation and give each slide the treatment they feel will work best.
The second step is to pick the design style. In order to make sure the design fits your tastes, 24Slides designers work with 3 different style guidelines. Corporate is soberer and business-like. Creative is eye-catching and professional. And Playful has brighter colors and illustrations. Here you can see more examples of these styles.
The third step is to pick the due date. Select how many slides you need and how urgent it is in order to get your budget.
24Slides also offers extra services of proofreading and editing, so you can be sure your presentation is as polished as possible. Of course, this is just optional. If you don't need the service, you can just press 'Skip'.
Finally, upload your presentation and give them your brief! Add any documents you might want to be included, like pictures or your company's logo. In the brief, you can add as many details and specific requests as you want for your presentation.
After all that, all that is left is to register your personal and billing information. A Project Manager will contact you when your order is processed, around 12 hours later. Don't worry, 24Slides doesn't charge anything until you're completely satisfied with the final product!
3. The Design Process
After you have submitted your order, the next step in the process of outsourcing is all about the design! Within 12 hours after your order is submitted, customer support will get in contact with you, and you'll be assigned a project manager. In case they need any extra specifications or details concerning your order, they'll ask you everything they need. In the case that you've chosen the "Let us decide" treatment, this first contact will also give you the suggested treatment of each of your slides and your budget. Don't worry, they'll wait for your confirmation to make sure everything is clear!
Presentation Design Platform
As communication is vital in order for a good presentation design outsourcing process, 24Slides has its own platform. Here's where you'll get all the updates concerning your order. You'll get a personal order page where you can see an overview of your presentation, and even upload more documents and specifications for it. You'll be able to see the number of slides, the treatment, the due date, and so on.
The project manager assigned to you'll use this platform to make any extra questions they need for your order. You can also use this channel to communicate with them and to give instructions concerning your presentation. Once it's all decided, the project manager will take your presentation to the "In Progress" stage, and the designers will start working straight away. All you need to do now is to relax and leave it all in their capable hands!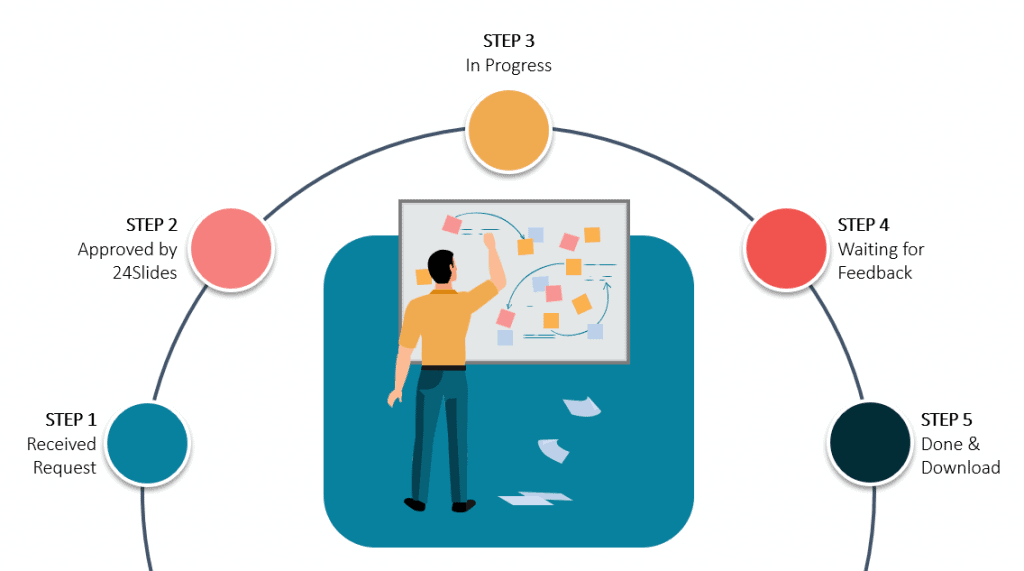 Feedback For Your Presentation Design
Once the designers have worked their magic on your slides, you'll get a notification that they're ready for your feedback. 24Slides presentation design outsourcing process is pretty straightforward, so you'll see all your slides in the platform itself. You can click wherever you want to make a change or a comment, and you can do as many as you want! The designers will work on them until you're completely satisfied with everything on the presentation design.
Review and Download!
Once the project manager and designers have dealt with your comments and you're happy with the final product, you only have to select the "Approve All Slides" option on your order page. Only then the payment will proceed. This means that closing the order is completely in your hands, and it's a way to assure your complete satisfaction.
Once the order is closed, you'll be redirected to the final order page. Here you'll be able to download your complete new presentation design and leave a review. 24Slides designers are great, so we can bet it's going to be a positive one!
Try 24Slides Presentation Design Services!
If you've made it all this way down, you're probably interested in outsourcing your presentation design. But if you're still not convinced about it, there's nothing better than a practical example! 24Slides offers a try-out option for just $1. Upload whatever slide you want and our designers will give it an outstanding makeover!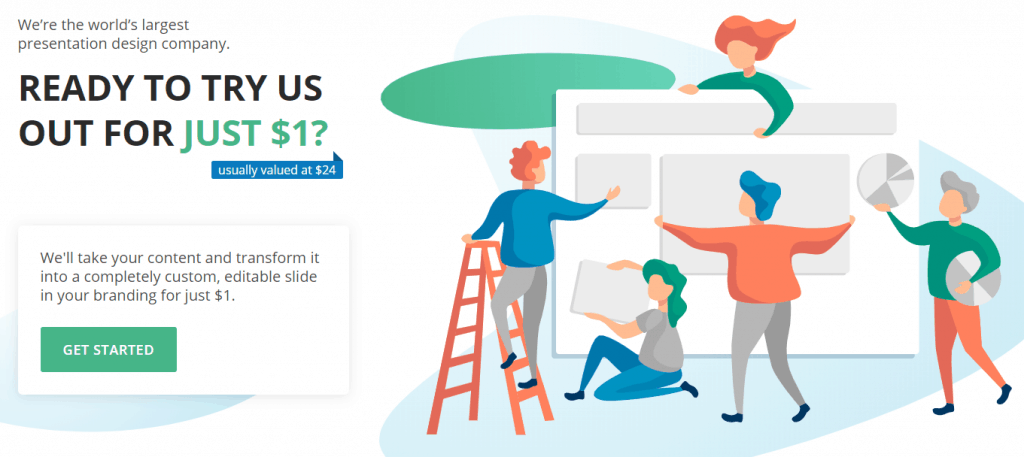 You can rest assured that you'll be convinced to outsource your presentation design quickly after that!