PowerPoint 101: The Ultimate Tutorial for Beginners
You haven't worked before with PowerPoint? Don't worry, you have nothing to be ashamed of. Maybe you have been worried about other things. Or maybe you just need a little refreshment on your PowerPoint basics. Either way, it's always wise to look for help when you're not sure about something. You'll get everything you need to know for making a simple presentation in this PowerPoint tutorial for beginners. It is a pretty intuitive software, so you won't have much problem getting the hang of it. So, are you ready for a quick PowerPoint 101 class?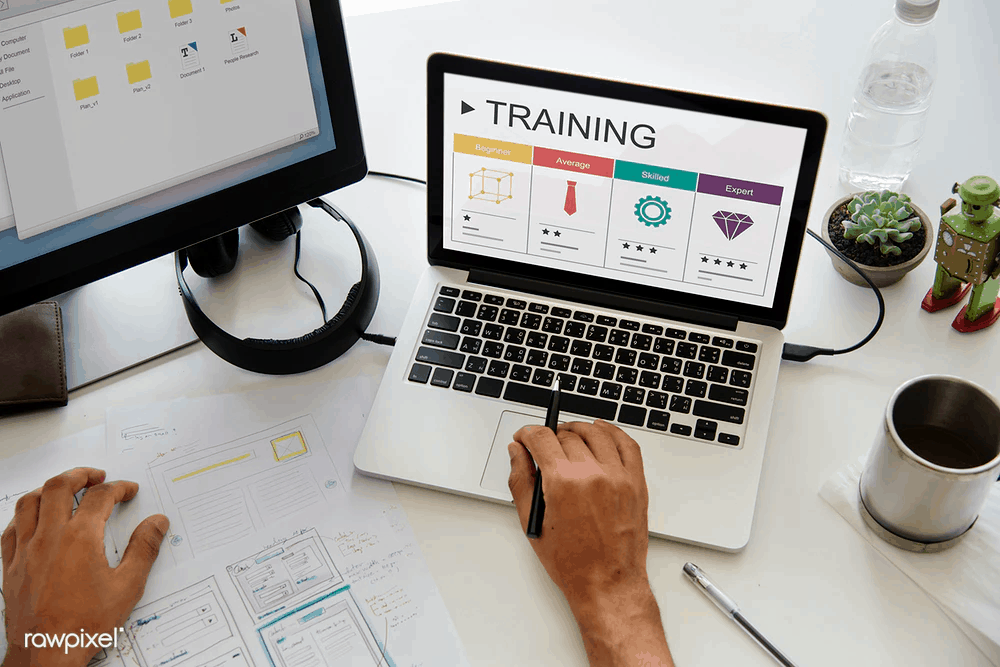 Although this article will be focused on the basics of the basics, you'll find links here and there on how to improve certain specific aspects. Just keep on reading!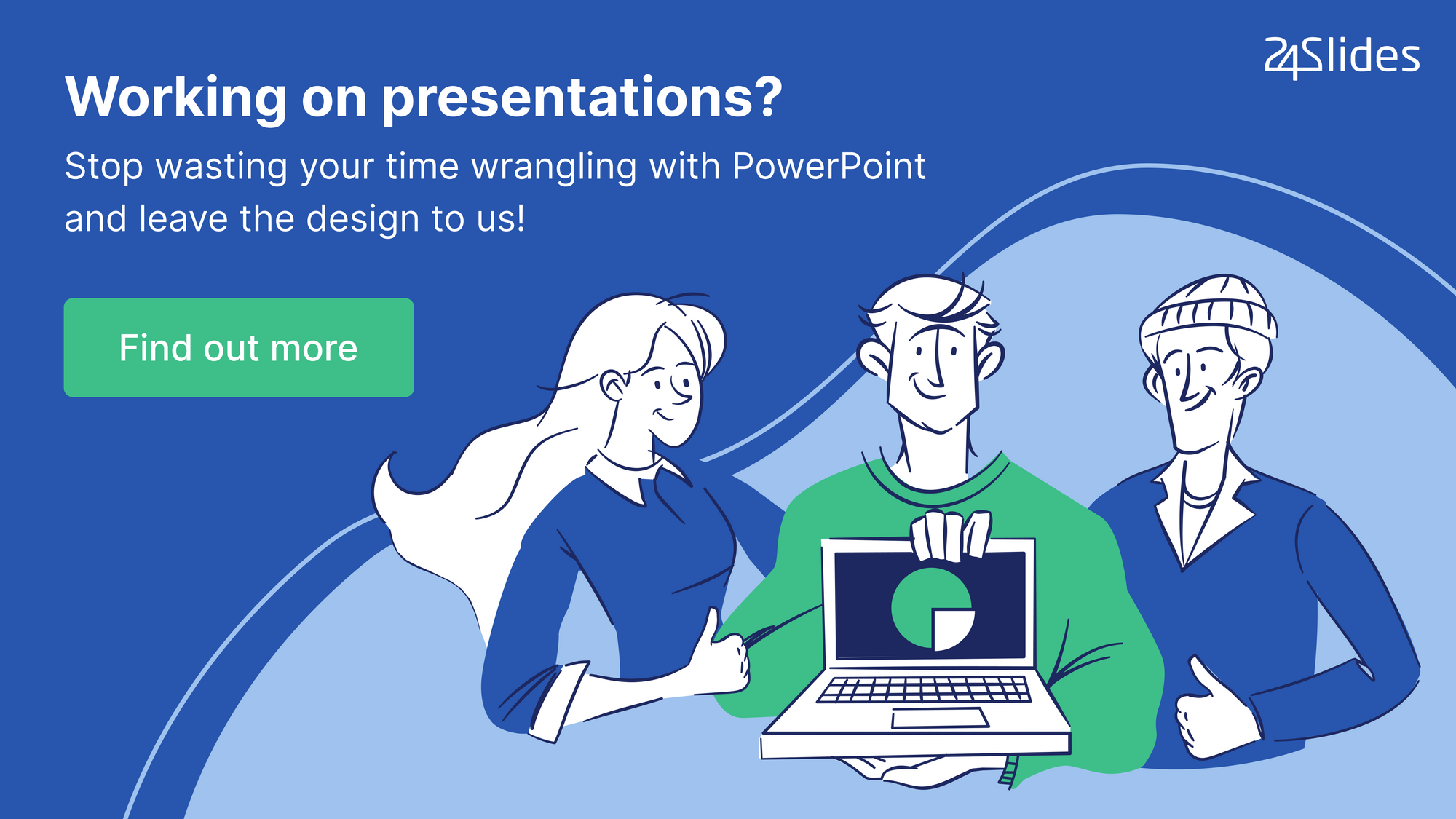 What is PowerPoint?
First things first. PowerPoint is a presentation software that is part of the Microsoft Office suite. Chances are that you probably already have PowerPoint installed on your computer, even if you have never used it before. So why not take advantage of it?
PowerPoint is an incredible tool to design not only presentations but many other things. Infographics, videos, business cards, you name it! However, it's most extended use is definitely to create presentations. Whether it is for your client, your boss, or your team, PowerPoint allows you to create a customized audiovisual aid to accompany you while you're speaking in public. What you want to include in your PowerPoint slides it's up to you. Images? Graphs, diagrams, charts? A summary? A bullet-point checklist? There are unlimited options, and it's up to you and your imagination to figure out what you can do.
Precisely because there are so many options it can be hard to know where to start. But that is what this article is all about!
Just a quick note before we start with the PowerPoint basics. In this tutorial, I'll be using PowerPoint 2016 as an example. However, this 101 guide is useful for both older and newer versions. While certain elements might not be in the exact same order, everything has remained pretty much the same, so don't worry about it. Even if you're using PowerPoint for Mac, all the features are still the same.
PowerPoint 101: starting your presentations
Once you open up PowerPoint, you'll see the Home Menu. If you have ever used any of the other Microsoft Office software, like Word or Excel, you'll probably find this familiar. In short, this is the main page where you can select to create a new presentation or open an older one.
On the lower side of the screen, you'll find your recently opened PowerPoint files. This option is great for saving some time. If you don't find the presentation you're looking for, you can click on the Open option at the left bar of the screen. There you'll find even older files, and if you still can not find it, you can open the File Explorer with "browse".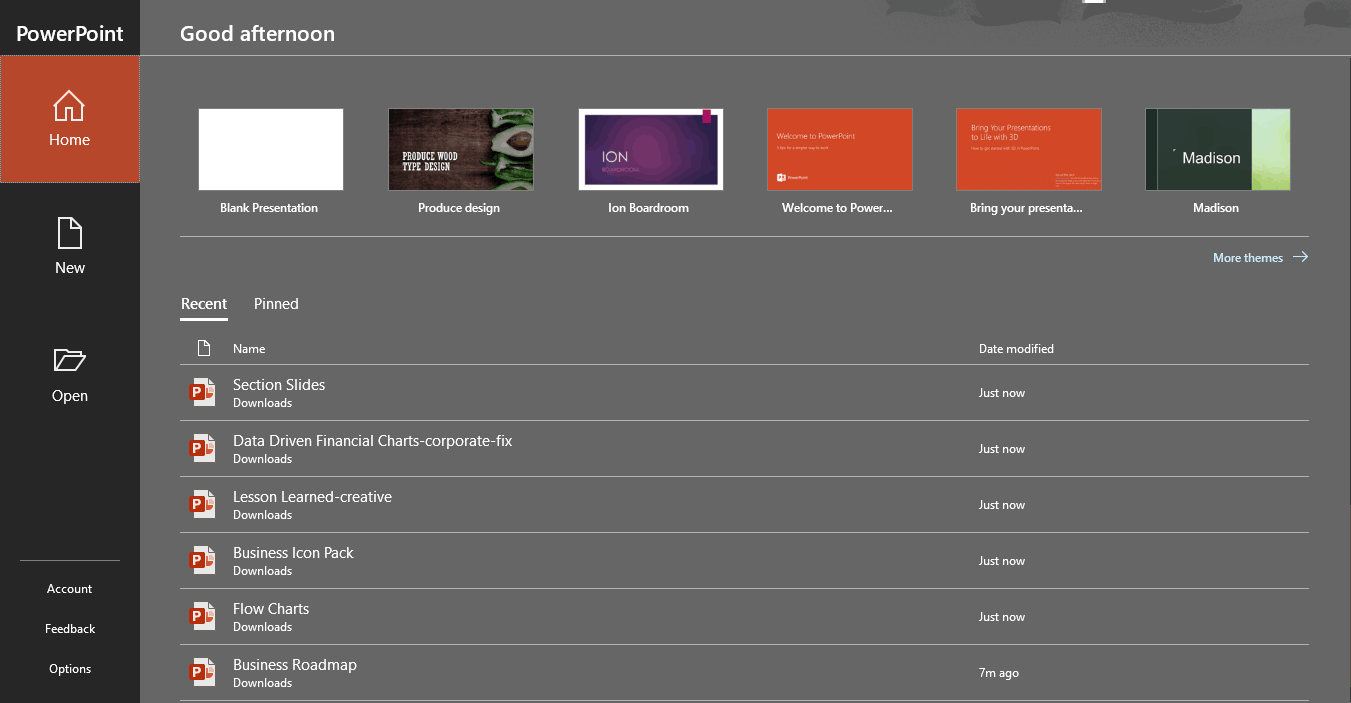 If you want to start a completely new presentation, you have two options. You can create a blank presentation and design it from scratch. This is great if you need something very specific. Or if your brand or company has a really strict visual line or color palette that you need to stick to. This option definitely takes more time, but it's not impossible either. If you know the basic rules of design, everyone can make a good PowerPoint deck.
The other option is to use a template. This is a great option for those looking for something quick but that still has a clean look. Templates are a whole world on their own, so let's get into PowerPoint templates basics.
What is a template and how to use them
A template is a pre-made design that you can use for your own means. Templates can be incredibly specific. For example, templates for a SWOT analysis, or a marketing report. But they can also be very general, like having several slides with a similar design. General templates are meant to fit the necessities of many, so you can organize your information in them how you see fit. Templates are great because all the design work is already done, and you only have to update the content.
Templates are not exclusive to just PowerPoint. Word, Excel, and thousands of other softwares use templates too. However, since PowerPoint's main function is to present something in front of an audience, it's no surprise that is the one that uses templates the most. When doing a presentation, you need to catch your audience's attention and engage them. An aesthetically pleasing presentation not only helps you make sure you'll get everyone's attention. A well-designed presentation helps convey the information in more efficient ways, and can even showcase an image of yourself or your brand.
By using a template you'll be sure that, even if it's not a tailor-made presentation design, your presentation still has a clean look. There are thousands of presentation templates completely at your disposal. If you click the "More templates" option, you'll be redirected to the whole Microsoft office library. You can use the search bar to look for more specific and better-suited templates for your presentations. If you click on any of them, you'll get a preview of what the template is about. Once you have picked the one you want, you just need to click on the "Create" icon, and you're ready to go!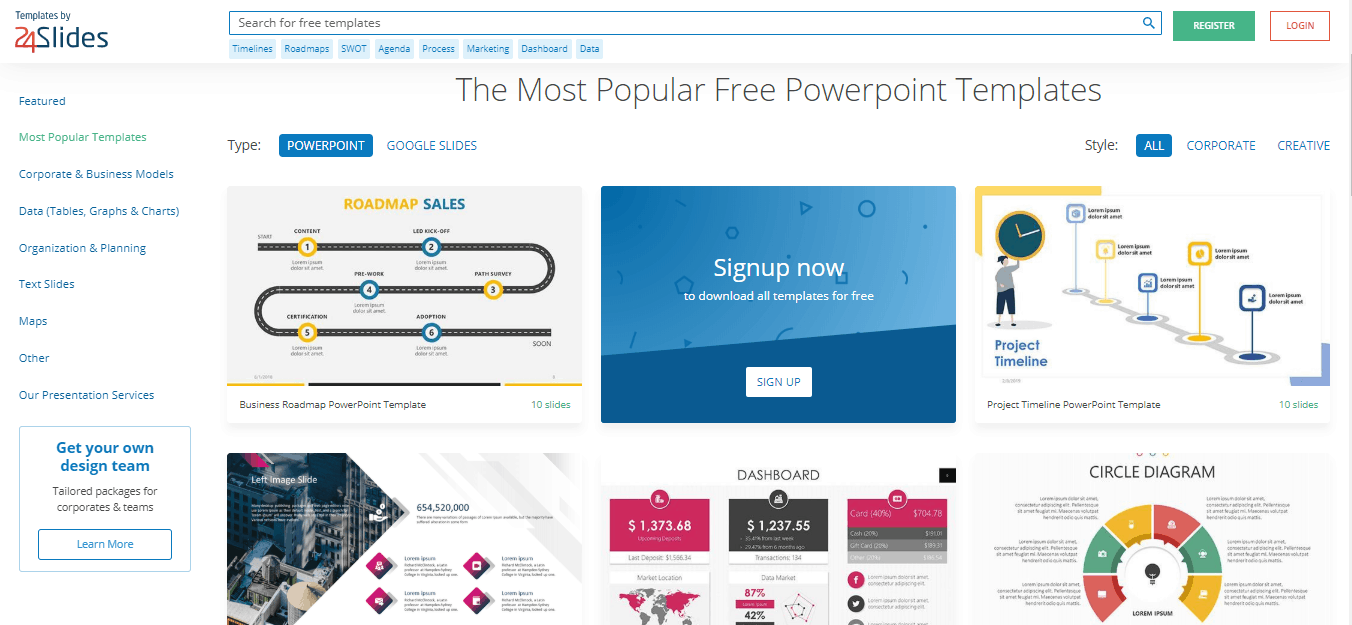 If even with that you don't find a template that you like, don't worry! There are many places online exclusively dedicated to PowerPoint templates. Our Templates by 24Slides site, for example, has thousands of templates ready for you to use. Our designers specialize in business and corporate PowerPoints, so you will find a much bigger catalog for specific business models and reports. You just need to register, and you'll be ready to download freely every single template you want.
PowerPoint 101: the Workspace
Once you have selected your template (or the blank presentation) you'll be redirected to PowerPoint main workspace. You may feel overwhelmed by all the options and icons, but it's actually fairly easy. If you follow this quick PowerPoint 101 tutorial, you'll be able to identify and use the basic ones.
PowerPoint's main screen is divided into three big parts. The first one, and the bigger one, is the Slide Editor. Here it is where you'll make any changes to the slide you're currently working on. You can add text, images, graphics, videos, and so on.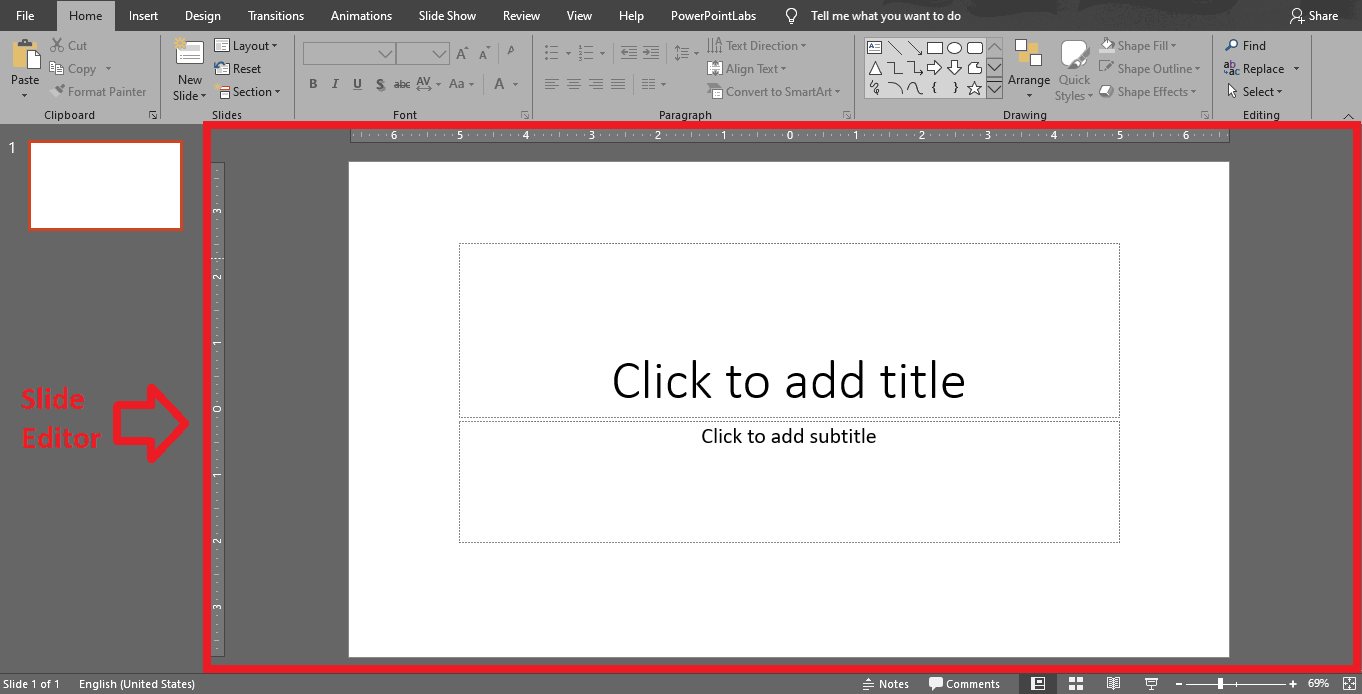 The second part is the one on the left side of the screen: the Slide Thumbnail View. These small images are a representation of all the slides you currently have in your presentation. It would be uncomfortable to have all of them opened at the same time. This is why the thumbnail view option exists. When you click on any of them, the selected slide will be the one appearing at the Slide Editor area. You can go back and forward between slides as you wish by clicking on the thumbnail view.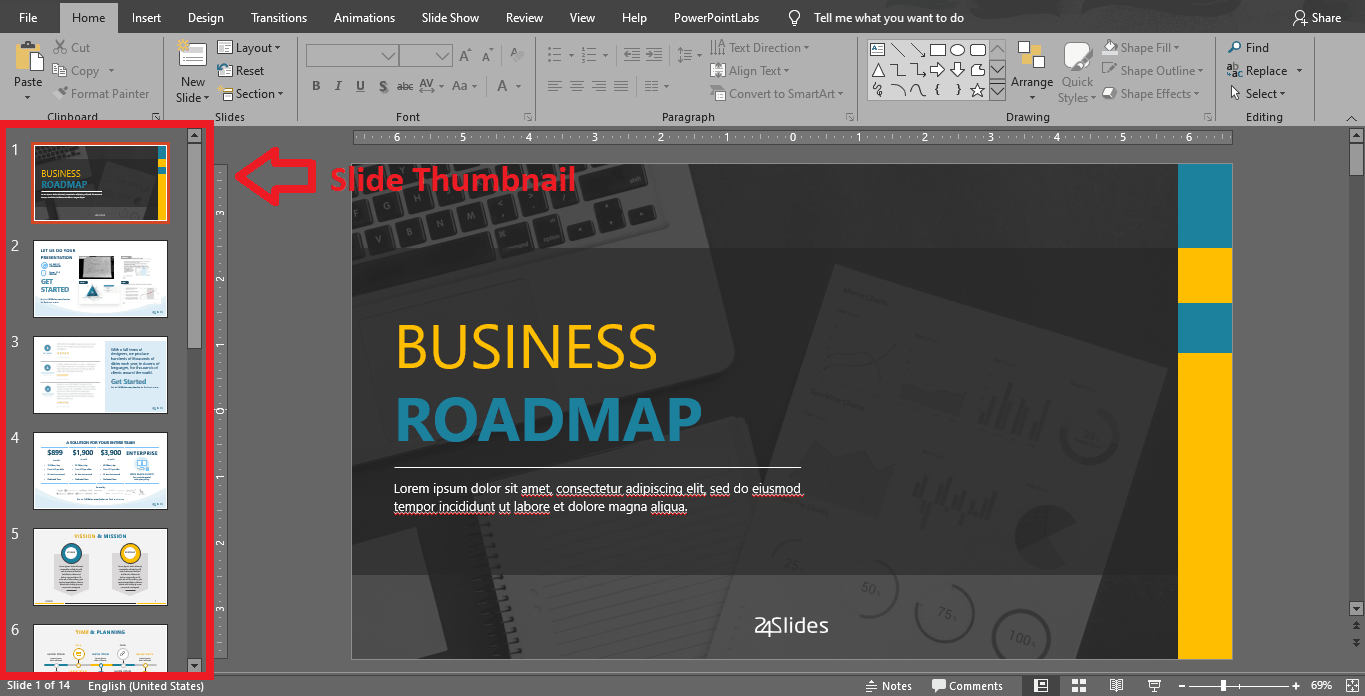 You can also add, delete, and duplicate slides in the Thumbnail View. If you right-click any of your thumbnail slides, you'll get a menu with these options.
Finally, the third part of the screen is the Tabs and Ribbons. You'll find this in the upper part of your screen, right on top of the Slide Editor and the Thumbnail View. Each of the tabs (Home, Insert, Design, Transitions, Animations, Slide Show, Review, View and Help) opens its own ribbon. And in the ribbon, you'll find different options concerning its topic.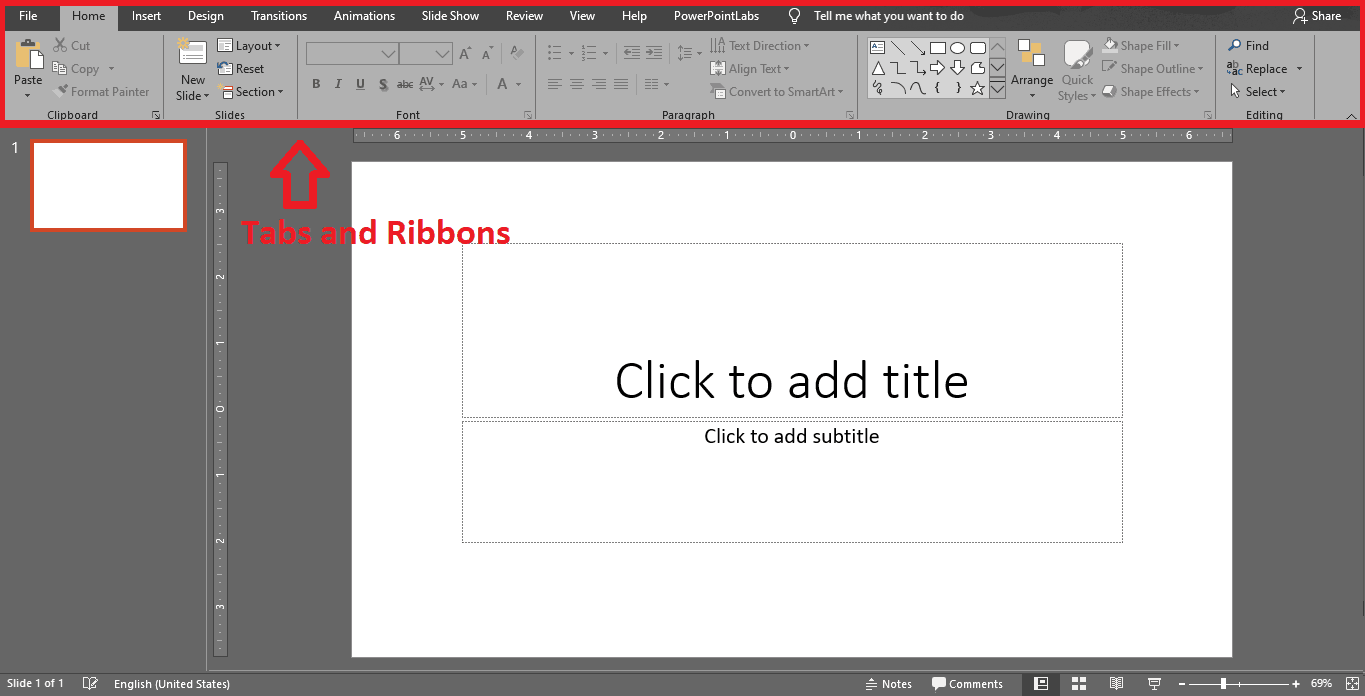 PowerPoint basic commands: the Tabs
The PowerPoint tabs are the control desk of your presentation. The changes and addition that appear in your Slide Editor will be thanks to a command from this area. Since PowerPoint functions are too many, they're organized in Tabs. These tabs group together similar functions so it's easy for you to find exactly what you're trying to do easier. In short, they group PowerPoint commands into categories.
You can come a go between tabs as you please and according to your needs. Once you click on a Tab, it will open its ribbon, and there you'll be able to see all the functions related to that particular category.
In this PowerPoint tutorial for beginners you will have an overview of all the tabs. But, we will only go through the most basic commands. PowerPoint is great precisely because it's so versatile and has so many design options. But going through all of them would take years. Still, here you'll find a general overview of what you can find in each ribbon.
Home
The Home Tab has the most common and basic commands of PowerPoint. This is the tab you'll probably be using the most if you're designing your own presentation from scratch. It allows you to add new slides and change the text characteristics (font, size, boldness, etc., ust like in Microsoft Office Word).

In short, what you'll find in this ribbon is all about how you want to show your written content. How big do you want your text to be? What color? How do you wish it is arranged in the slide?
Insert
This tab is exactly what its name says it is. In this ribbon you'll find all options concerning adding a new element to your slide. It can be a picture you have store in your PC, or one you've found online. Maybe you want to add geometric shapes to your presentation, or WordArt lettering so your title stands out. If you have a lot of data, you might want to add a chart or diagram to show it in a more visual way. You can also add videos or audio. There are many options, so it all depends on how much time you spend tinkering with it.

One important footnote: To be able to write text to your slides, you need a text box. So if you're designing your presentation from scratch, remember to go first to this tab and add a text box to start writing! Most pre-made slides layout that you can pick already have text boxes, but it's always good to know how to add more in case you need it.
If you want to know more about how working with these elements in your presentation, you can check out this Ultimate Guide To Using Images, Videos, And SmartArt Graphics In PowerPoint.
Design
This is the tab you want to go to if you want to customize the look of your presentation. It offers you a wide range of pre-made designs so you can give your presentation look more polished. Even better, you can tune the color palette and overall style (fonts, effect, etc.) the design you chose.

If you're doing your own background, this one is also the tab for you. Just go to Design > Variants > Background Styles > Format Background. With this, a background menu will appear that will help you customize your background to make it exactly as you want it to be.
Making a background on your own can be very time consuming, though. Check out these background templates you can download for free. Or if you are sure about doing it all on your own, this great article on how to work with PowerPoint backgrounds.
Transitions
Transitions refer to the way it looks when you go from one slide to another. By default, the next slide will simply "appear". But PowerPoint offers you so many options to change slides. Some are really classic, like wiping the old slide to present the new one. Others are really over the top, like the origami effect. If you click on any of the transitions, you'll see a preview on how it would look when presenting.

Animations
This ribbon controls the way the elements of your slide appear (or disappear). By default, all elements will appear all together as soon as you change slides. But PowerPoint gives you many options in case you want to highlight something, go point by point, or any other thing you want to showcase.

Animations and transitions can seem exciting at first, but be careful with them! It can make a presentation slow and unprofessional if there are too many on them. For PowerPoint beginners following this 101 tutorial, the best advice is probably to keep it as clean and simple as possible. But if you want to know more on how to use animations on your presentation, check out this article on how to work with animations in PowerPoint.
Slide Show
As its name says, this tab is about presenting you PowerPoint. It gives you several options to customize your presentation. As a beginner, however, you're not very likely to use this tab much.

Review
This one is another tab that is not used very much by beginners. It has useful options, like checking the slide's spelling. It also gives you the option to add comments, in case you want to set a note of some specific element, for example.

View
This one is another pretty advanced tab for PowerPoint. It gives the option to change the view of the slides and make handouts from them, among other things.

Help
Finally, there's the "Help" tab. If you have any problem or question concerning how to use PowerPoint, you may go to this tab to look for a solution. The best thing about it is that in the latest versions, Windows has added a "Show Training" option. You can click on this option to practice your PowerPoint skills. It will download training templates you can work on to improve your PowerPoint basics.

A quick note before going any further. When opening PowerPoint, some of the commands in the ribbons might seem unavailable or unresponsive. Their icons will look grey-ish and they will not highlight themselves when you hover the mouse over them.
This is because some functions need something to be selected in order to function. For example, if you want to change the color of a text, you first need to select it. Once you have selected whatever it is you wish to change, the unavailable functions will function normally. It depends on each function, so don't worry much about it. Just remember that if something isn't working, try first selecting what you're planning to change.
Presenting your PowerPoint
After you have work on your PowerPoint, you are now set to give your presentation! But wait. Before you even think about presenting in front of the audience there is one vital thing you should do first. You should always try out your presentation. And the way you do this is to look at the presentation from the exact same perspective your audience will look at it.
You probably don't want your audience to be distracted by the thumbnails, or the ribbons, or your comments, Those are only for when you're editing. For the actual presentation, you should always put it on the SlideShow mode. This will make your presentation appear in full screen. You can go through the slides by using the keyboard's arrows to go forward and backwards. Or you can use your mouse. Each left click will bring the next element, whether it is a picture, an animation or the next slide.
You can access the Slide Show mode though different ways. You can pick the Slide Show tab and pick the first option "From the Beginning". Or you can pick at the Slide Show Icon at the lower right corner of your screen, right next to the zoom. This one will put in presentation mode which ever you slide are currently working on, so be careful with that!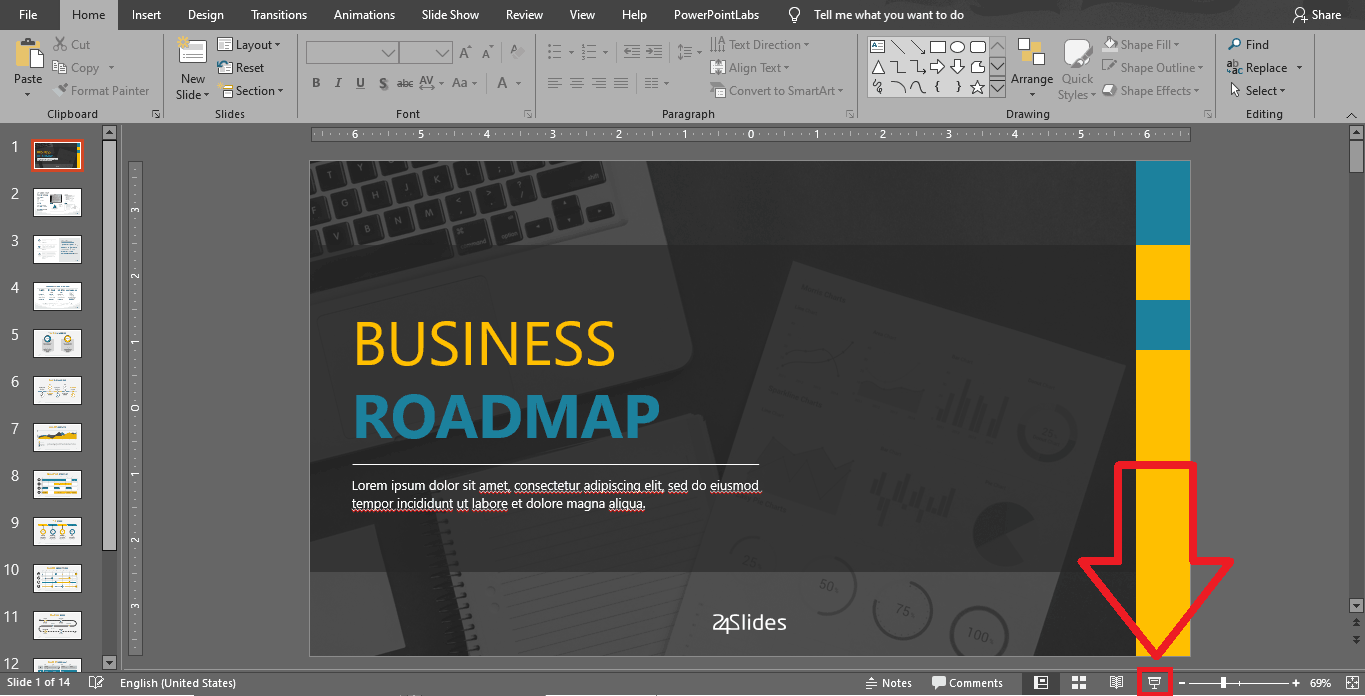 To go out from the Slide Show mode, you just have to press the ESC key. Or, you can go all the way through your presentation. After it's over, it will automatically bring you back to the Slide Editor.
Improve your PowerPoint basics
I hope this PowerPoint tutorial for beginners was useful to you. PowerPoint is such a versatile tool and has so many options that it can be quite intimidating if you don't know where to begin. It might seem pretty difficult and a slow process at first. But the true lesson of this PowerPoint 101 class is that practice makes perfect. The more you work with it, the more used you'll get to all the options PowerPoint has to offer.

It's true that designing a presentation takes time and effort. And while it's always useful to know the PowerPoint basics in case you need them, it'll take a long, long time before they look professionally designed. So why not hire a professional? If you don't think you can invest the time and dedication necessary to make a good PowerPoint demands, 24Slides have the very best PowerPoint designers that will turn your presentation into a unique, outstanding PowerPoint.