21 Free PowerPoint Templates in August 2019
Last month was definitely one of our busiest and most productive months ever. Our talented, in-house designers have managed to come up with over 20 templates – all in a span of 31 days! For this monthly update, I've decided to break this down into two sections: regular templates and icon templates. This will make it easier for you to browse the kind of templates you like best. That said, here are your free PowerPoint templates in August 2019.
Section I: Regular PowerPoint Templates (15)
In this section, I've listed 15 of our latest (regular) PowerPoint templates. Some of them are for similar industries but comes in a variety of designs (corporate vs playful design).
Creative Kanban Board PowerPoint Template (10 slides)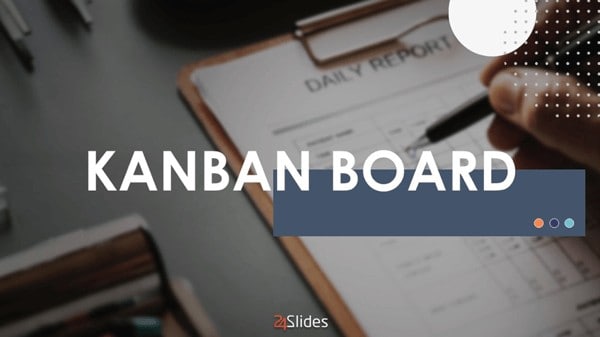 Kanban boards have grown in popularity in recent years. Teams in various industries use both physical and digital Kanban boards to keep everyone on the same page. It's simple enough to implement and the benefits can be truly phenomenal.
For presentations, Kanban boards are great for sharing to-do lists as well as giving out status updates on a project. With just a single slide, you can let everyone know what the whole team is working on.
Here are some slides included in this template pack:
To-do – Doing – Done Slide
This slide is quite self-explanatory. As you can see, each column pertains to a specific group of tasks. There are many different ways you can edit this slide. You can list the tasks or the people responsible for completing the task. Or, you can also do both at the same time, if you're up for it.
Kanban Agile Slide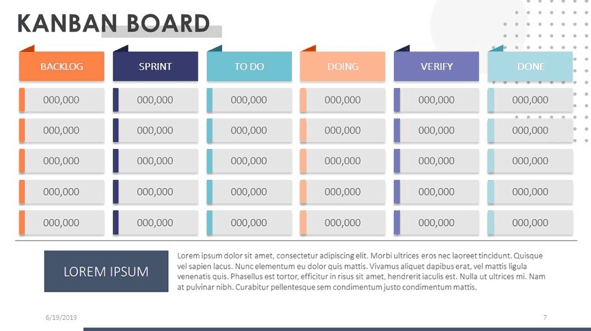 You can use this slide in conjunction with the Scrum Process PowerPoint Template. This particular slide combines both the Scrum and Kanban frameworks. If executed properly, this will maximize the team's productivity. Everyone should work together to move all the items in the Backlog column to the Done column as quickly as possible.
Kanban Reporting Slide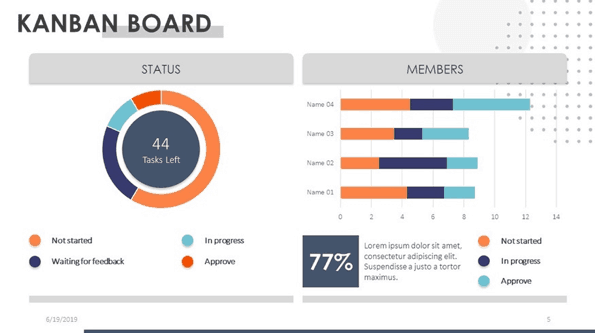 The Kanban framework may be a great tool, but it does not guarantee productivity (you can't control people 100%). It's therefore a good idea to use this particular slide in your presentation. The graph and chart will let everyone know how the entire team has performed and what should be the next steps to further improve productivity.
Creative Process Slides PowerPoint Template (10 slides)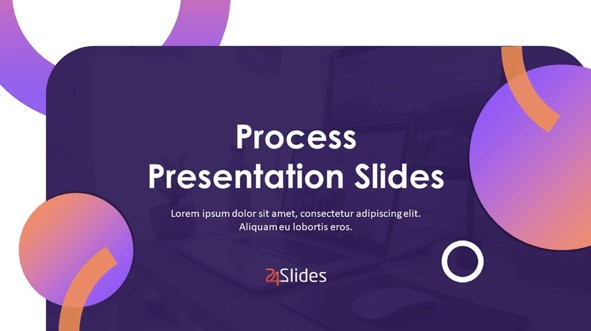 When giving instructions on how certain processes work, a visual aid is highly preferable. Verbal instructions can only do so much. As humans, we're highly visual creatures. When we see something laid out nicely in front of us, it makes us understand the message a whole lot quicker than if we had to read a few hundred words.
With this 10-slide presentation template, you can now present your plans and processes in a more effective manner. You don't need to draw up your processes from scratch. You can just replace the placeholder content in these slides, and you're ready to make your case!
Check out these slides included in the template pack:
Process Implementation Slide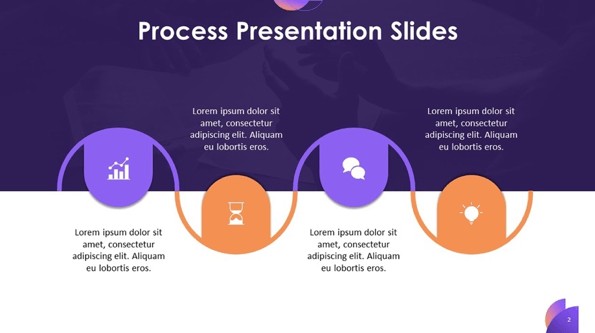 Use this slide to share how the new process will be implemented. Right now, there are 4 points or steps on the slide. If your process goes beyond 4 steps, then you can duplicate the slide and continue the rest of the process steps on the duplicate.
Process Reporting Slide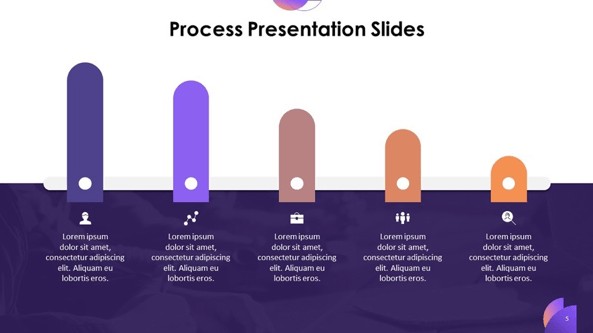 Use this slide to report the efficiency of the new process. You can adjust the height of the graphics according to each step's fulfillment and execution. You can also add percentage points to make the report more transparent.
Process Execution Slide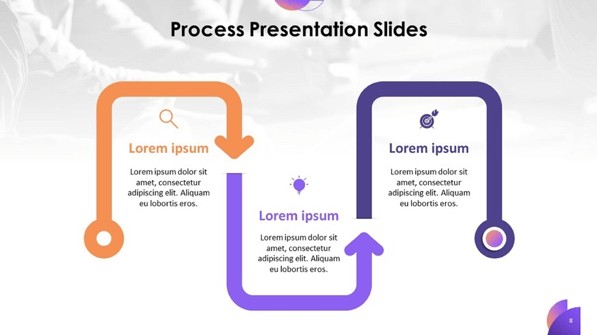 This slide makes it easy for you to demonstrate step-by-step instructions. The arrows indicate which step is supposed to be done next. And it greatly reduces any ambiguities or confusion that may arise from the presentation.
Creative Animated Finance Template Pack (10 slides)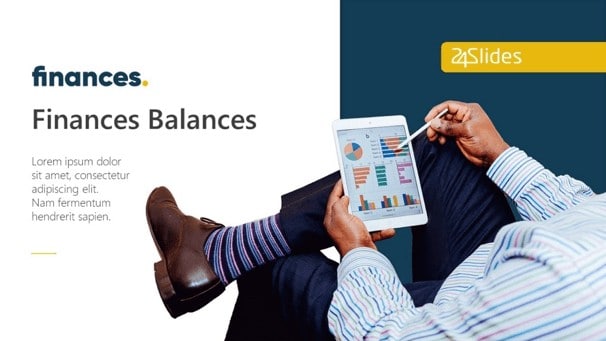 I think you'll agree with me when I say this finance template is one of the best-looking PowerPoint templates in August 2019. And if you're on the lookout for a good template which will help you present your financial services company to potential clients, then this 10-slide corporate style template may be exactly what you need.
The yellow and dark-green color theme gives off a professional vibe. There's plenty of white space on the slides as well which makes it very easy on the eyes. Gaining your audience's trust can't be done with a set of slides, however. You'd still need to do your job and convince everyone that your company can help solve their financial issues. That being said, here are some slides included in this template pack:
Financial Service Slides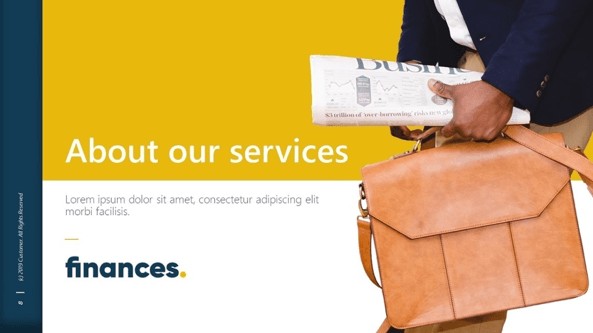 Use the first slide to give an introduction to your services. Then list those services down on the second slide. You can use the free icons included in the slide or you can use the financial icons in this template pack.
Management Team Slide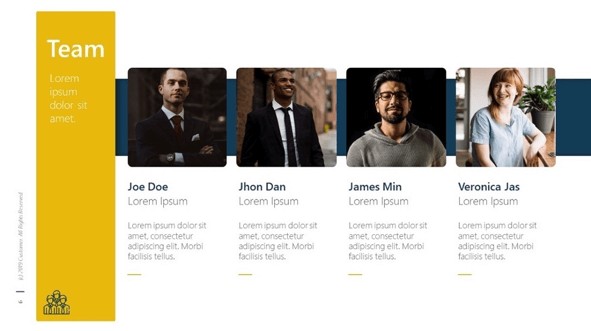 People like dealing with people, not with companies. It's therefore important to make sure there's a face that goes with every name you mention, especially the management team. You can put the CEO and key managers in the slide. Or, you can introduce the account managers who will potentially be their direct point of contact in the company.
Creative Animated Marketing PowerPoint Template (10 slides)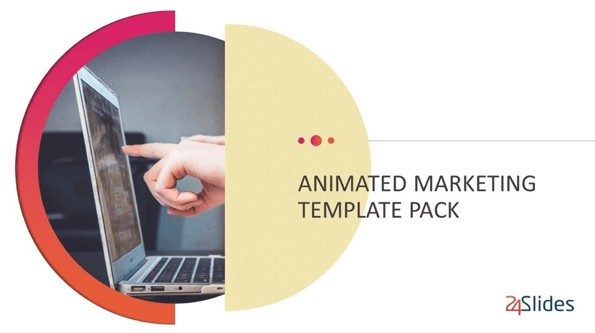 The marketing department plays a key role in a company's success. They are responsible for promoting or marketing the company to the target audience. Maximizing each dollar spent on various marketing strategies is an important goal. You want to make sure the whole team is onboard with this goal.
When presenting your marketing plan to your team or other stakeholders, you want everyone to be on the same page. But designing slides that will convey your message isn't an easy thing to do. Instead of designing slides from scratch, you should check out this template pack.
Here are some slides included in this pack:
Traffic Building Slide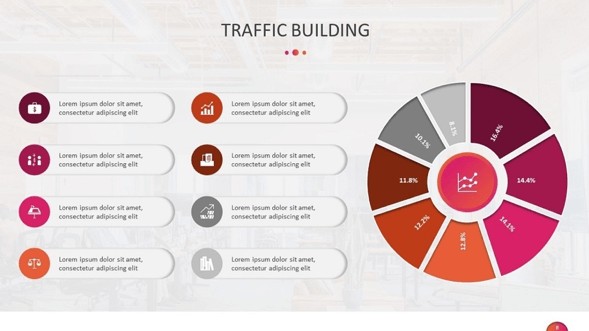 Letting your stakeholders know where your traffic is coming from is easy thanks to this slide. You can quickly edit the pie chart and have it reflect the different traffic sources. You can also add a short description on the left side.
Social Media Campaigns Slide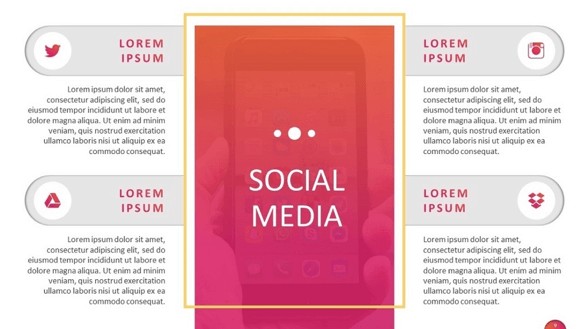 If your company isn't actively promoting on social media, you're potentially leaving a lot of money on the table. Use this slide to list down the top social media platforms where your target demographic hangs out. And then share your marketing strategies on how you intend to conquer each platform!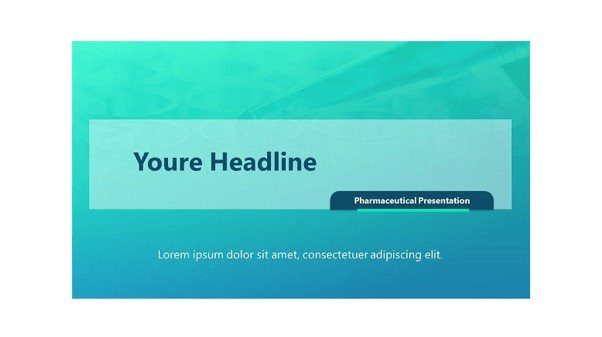 Pharmaceutical sales is a billion-dollar industry. It's highly competitive, so if you want your target audience to pay attention to the drug or medicine you're promoting, you need to have all the right tools.
One of the most powerful tools you can have in your presentation toolbox is the right pharmaceutical PPT template. Now, this template pack has all the slides you need to have a successful career in pharmaceutical sales.
Check out some of the slides included:
Pharmaceutical Sales Slides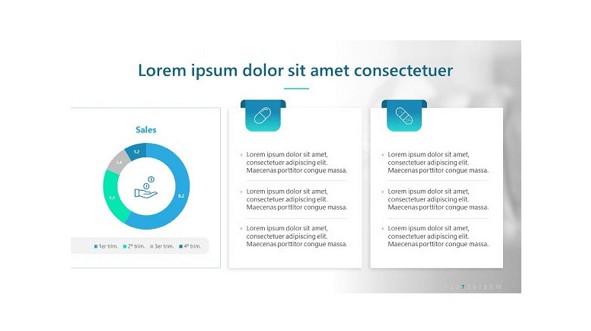 Use this slide to share your personal, team or regional sales with your intended audience. You can list your top performing products and write a few words on why these are so popular.
Research Summary Slide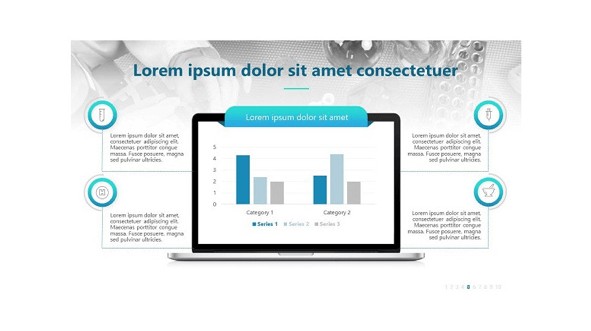 In the pharma world, research is of paramount importance. It can literally be the difference between saving and ending lives. When showing this slide to your audience, make sure you point out that a lot of money has been spent on research to make sure the best product is rolled out to the right people.
Area Chart PowerPoint Template (10 slides)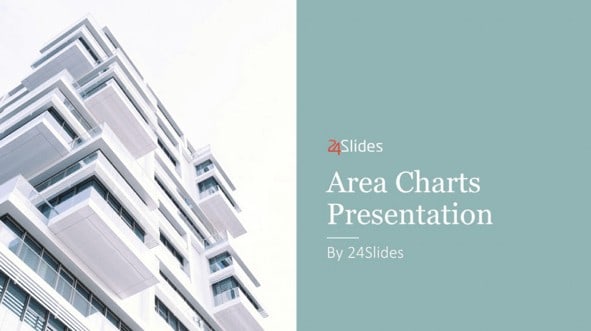 Instead of using text to describe your data, use area charts. Now, this 10-slide template pack is chock-full of area charts, so you've got a lot of slides to choose from. The flat color design also gives the slides a nice, minimalist look. I'm a big fan of minimalism in presentation design, so this pack is actually one of my favorite PowerPoint templates in August 2019. That said, here are some slides included in this pack:
Area Chart Breakdown Slide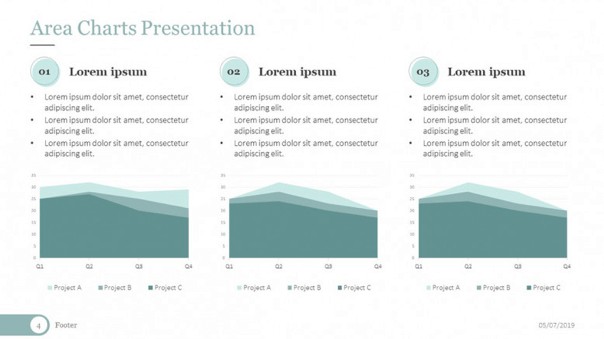 This slide makes it easy for you to understand the individual components and ratios of a general area chart. You should, of course, use a general area chart first and then use the slide above to break down the different components.
Area Chart Comparison Slide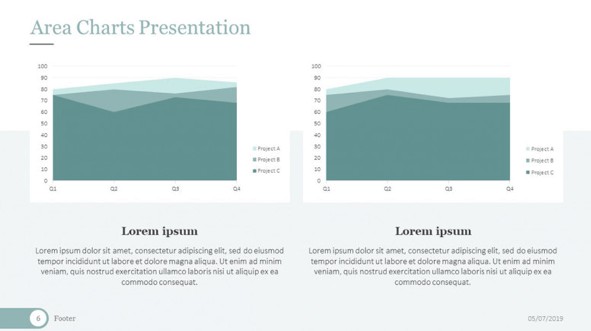 Comparing area charts is now a whole lot easier with this slide. You don't need to go back and forth between two slides, you just need to use this slide and then replace the charts with your own. Describing the similarities and differences between the charts can now be done quickly too.
Spider Chart PowerPoint Template (10 slides)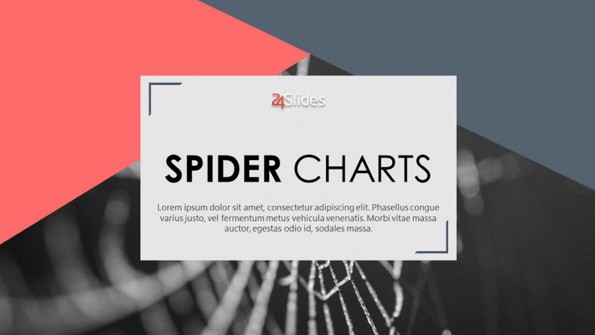 Spider charts are great for displaying multivariate data in an easy to understand graphic. Every slide in this pack has a spider chart on it, so you've truly got a lot of options to choose from. To start using your favorite chart, just download the template and replace the placeholder content with your own. Here are some slides included in this pack:
Spider Chart With Comments Slide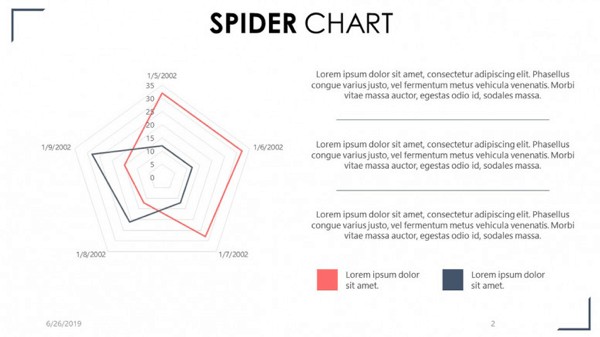 While including some comments on the slide can make it look a bit cramped, it's always helpful to the audience especially if they're taking down notes. The comments make it easy for them to understand what they're looking at and what they're supposed to do with the information.
Spider Chart Comparison Slide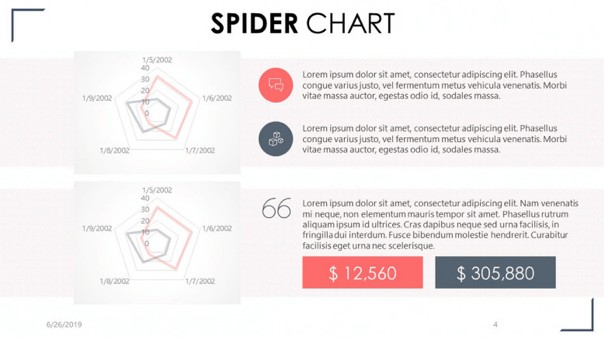 Comparing two spider charts need not be difficult. This slide makes it easy for you to describe two different charts. At the same time, pointing out the similarities and differences between various variables is quicker too.
Spider Chart Area Time Analysis Slide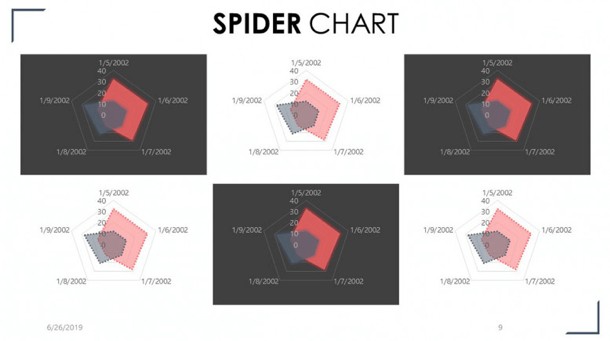 Variables and components can change over time. For instance, the quantity of variable 1 may be at 10 units today, but 5 years ago it was at 50 units. If you're tracking multiple metrics over a number of years, then this is the perfect slide for you to use.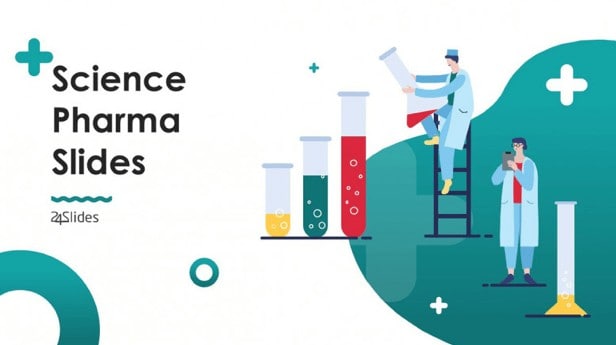 You've already seen the first pharmaceutical template earlier in this article (it's template #5). Now, it's time for the second one. As you can see from the cover slide above, this template uses a much more playful design. Check out some slides included in this version: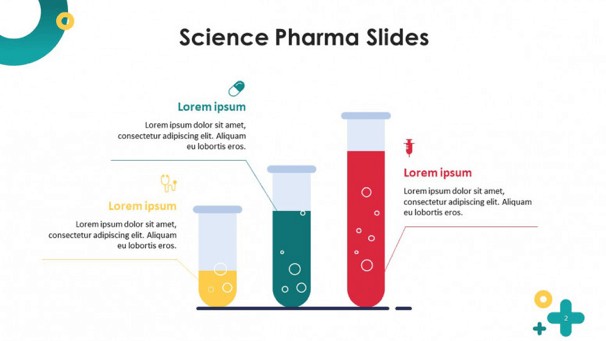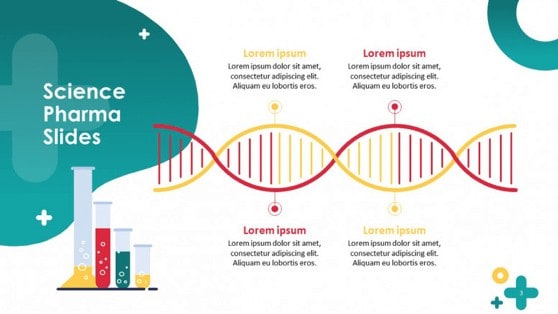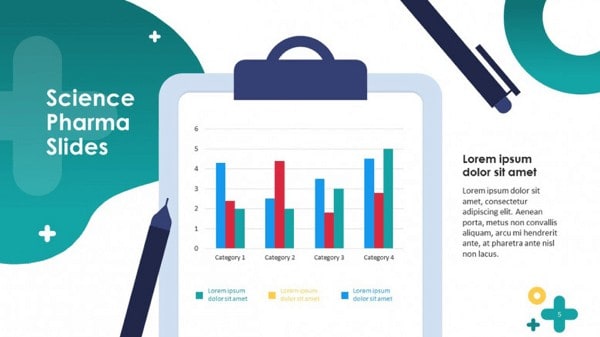 As you can see, these slides look great! And if you're trying to get the attention – and the trust – of highly educated professionals in the medical industry, then you need all the help you can get. As we've mentioned earlier, the pharma industry is one of the most profitable industries in the world. You don't want to be left behind by your peers simply because you're using an outdated template!
Creative Production Process PowerPoint Template (10 slides)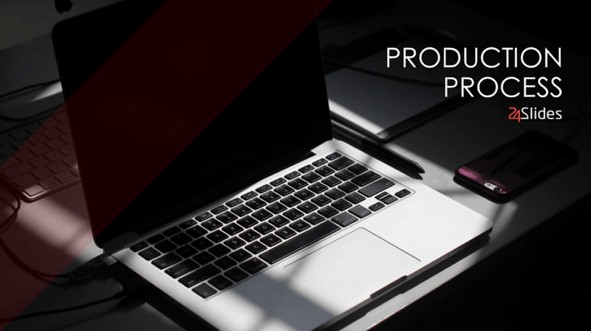 Describing an entire production process without the right visual aid can lead to confusion. For big projects with significant budgets, you want to minimize all kinds of risks. One way to do this is by making sure everyone understands the entire production process from beginning to end.
This is where this template pack comes in. It's got all the essential slides for you to share your production process. So, really, all you have to do is just plug in your content, and you should be good to go!
Here are some slides included in this template:
Production Timeline Slide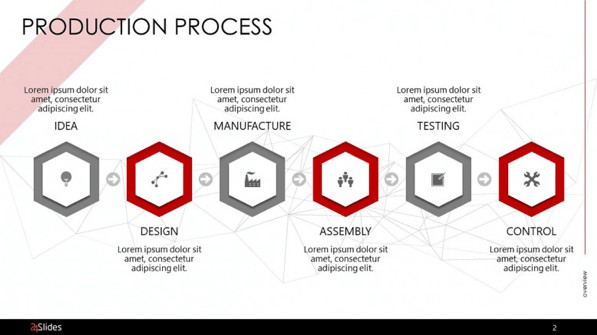 This slide will make your job of describing the entire production process very simple. After you've replaced the placeholder content with your own, you can then try adding some animations to make each step of the process appear one after the other. That is, you don't need to make them show up all at once. Keep your audience engaged by showing one process at a time and then explaining what each step entails.
Production Metrics Slide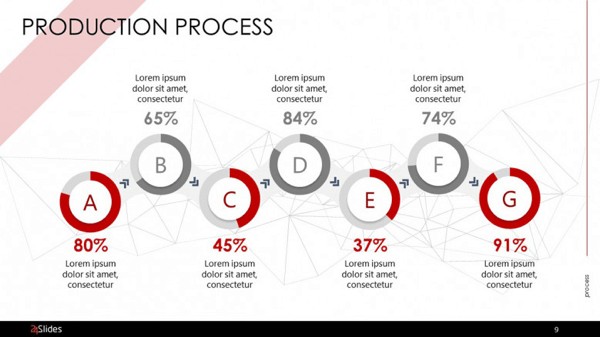 The best production process is one that has been improved upon and optimized for both efficiency and effectivity. This is why you should always track your metrics. You can always find out where the weak spots are so you can improve on it later on. This slide will help you present your findings so you can propose the right solutions to improve the process.
Environment Deck PowerPoint Template (10 slides)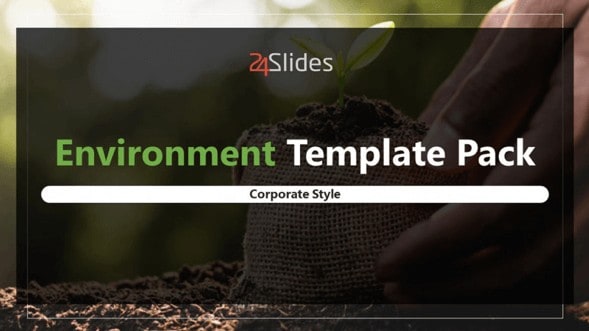 Organizations who embrace their environmental responsibility get a lot more love and appreciation than those who don't. Social media plays a huge role in this. The more impactful your environmental initiatives are, the more positive coverage you get. This is clearly a win-win for both organization and environment. That said, here are some slides included in this template:
Environmental Responsibility Timeline slide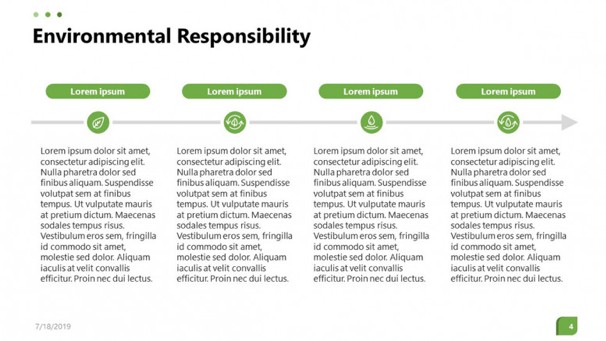 In this slide, you can list down the different roles each department has with regards to your organization's environmental policy. Each department or project gets assigned to a column, along with the different tasks they are responsible for.
Environmental Pollution Slide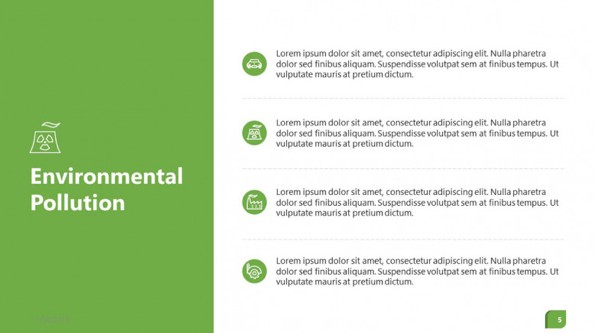 You'll need to do a lot of research for this slide. Figure out which departments or projects or locations are causing the most environmental pollution. Then list down your suggestions on how this can be minimized or eliminated altogether.
Green Energy Slide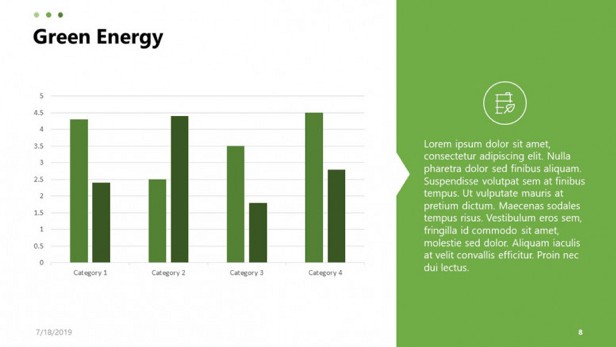 Transitioning to a green energy source needs careful planning, and of course, considerable investment. But all these are worth it when you see just how much you eventually get to save in terms of electricity. In addition, you'll also get to see how much carbon footprint you've reduced!
Creative Area Chart PowerPoint Template (10 slides)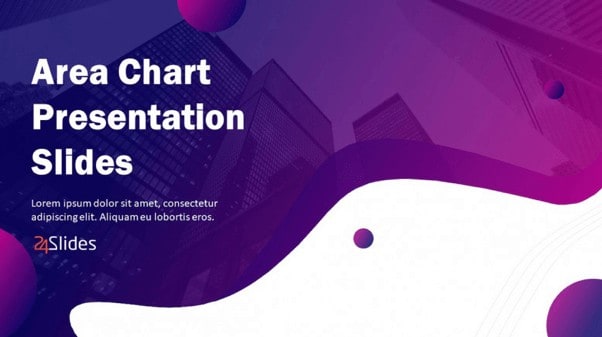 This is the second area chart template on this article (the first is at number 6). As you can see above, this has a more playful and colorful design. Just like the previous one, there's a variety of different area charts included as well. Here are some of them:
Long-term Area Chart Tracking Slide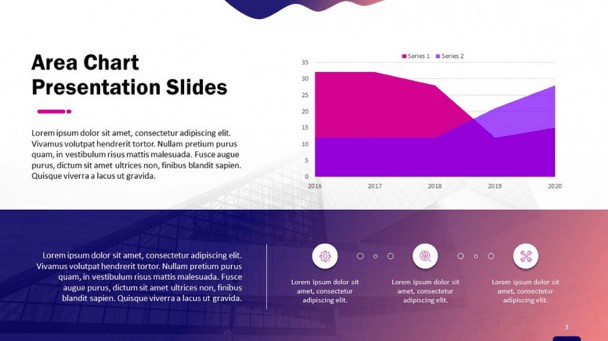 As you can see in the slide above, you can use this graphic to track and monitor your metrics or variables over a long period of time. In the graphic, it shows the starting point as 2016 and the end point as 2020. This graph is perfect for conducting in-depth analysis so you can further improve your organization's processes.
Stacked and Overlapping Area Charts Slide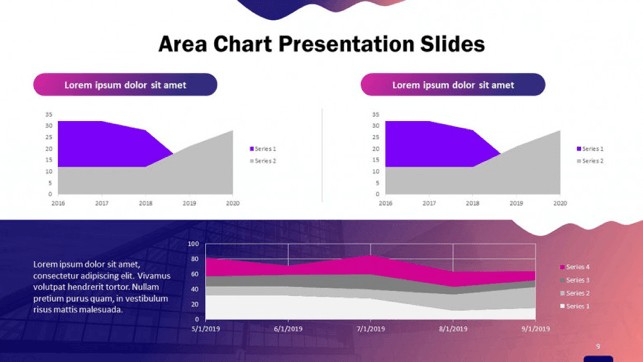 This particular slide will help you present your area chart in both stacked and overlapping formats. This sort of gives you a dashboard feel in that you can see and pinpoint your data all in one slide.
Creative Congratulatory PowerPoint Template (10 slides)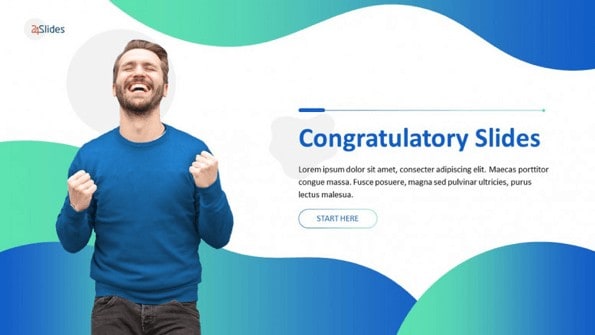 Most of the time, employees quit terrible bosses – not jobs. Good bosses aren't afraid to give out compliments. They congratulate their staff and employees for good performance. A little praise can indeed go a long way and can motivate people to continue working hard. It's a great morale booster as well, so don't be stingy with the praise. That said, check out some of the slides included in this template:
Best Division Slide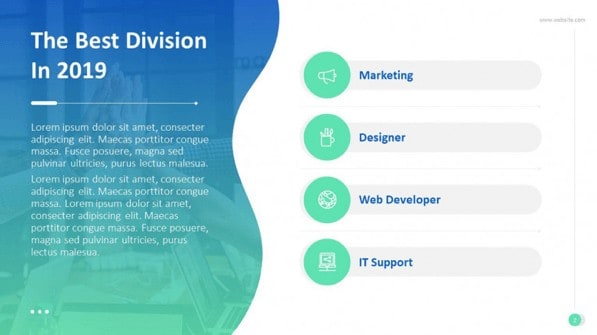 Encourage healthy competition by letting everyone know there'll be a best division award at the end of the year. Lay out the metrics or criteria for judging, and at the end of the business year, use this slide to announce the winner.
Best Team Slide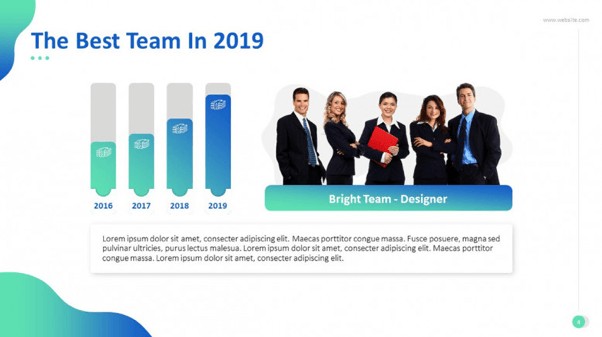 Make sure you get everyone in the team picture. There's nothing quite like knowing the whole organization is finally aware of who you are!
Employee of the Year Slide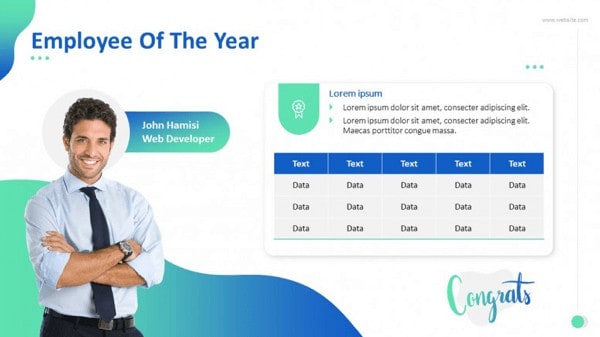 Of course, the best employee gets his own slide. Put his or her metrics up on the slide, so everyone knows this person deserves the award. To make the presentation fun, you can present the metrics first, and let people guess who won it. Then make the big reveal a few seconds later!
Playful Environmental Slides Deck Template (10 slides)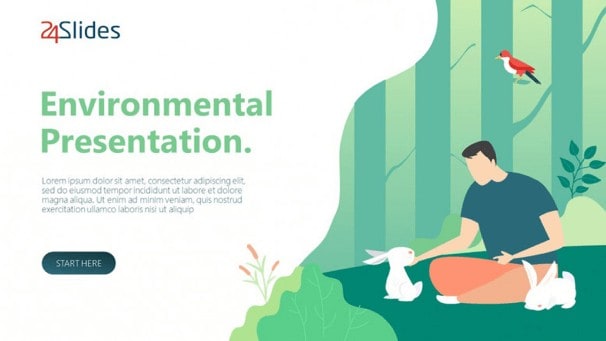 This is the second environmental presentation template on this list (the first one is at number 10). But this particular version was designed with playfulness in mind.
As you can see, the graphics used are cartoony which helps with the impression that you're going to have a fun (not boring!) presentation. The color theme used will also work well with most environment-related presentations. That said, here are some slides included in this template pack:
Environmental Statistics Slide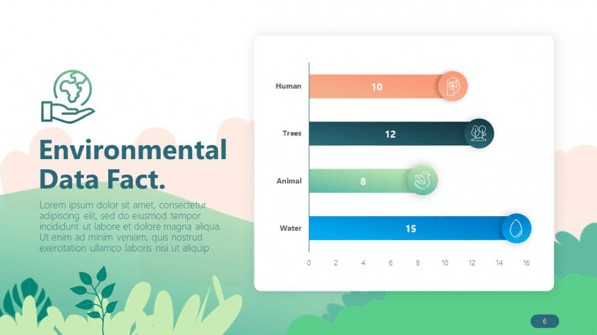 Use this slide to present the statistical facts you want to share with your audience. This is great for setting the tone of your presentation. You can use this to present your premise that the environment needs all the help it can get, and this is why your organization should do its share.
Environmental Timeline Slide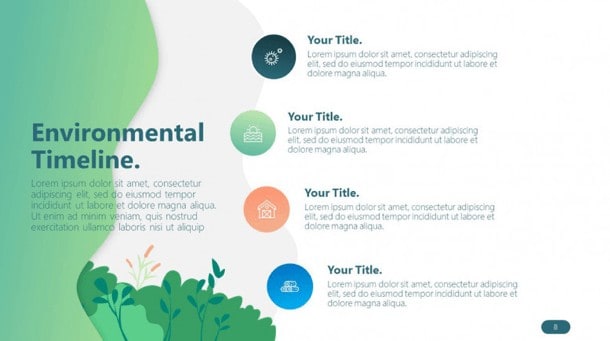 There are many different ways you can use this timeline in your presentation. For instance, you can use this to track the history of a particular environmental metric. Or, you can use this to outline your proposed environmental strategy over the next few years.
Environmental Team Slide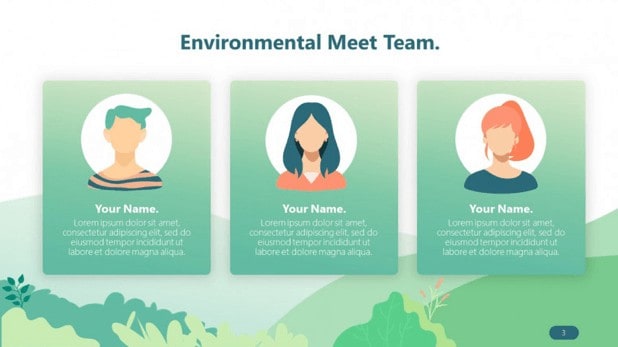 I personally love the look of this slide. It's playful, but at the same time, it's not going to look out of place in a corporate presentation. Because of this versatility, this is another personal favorite of mine in this list of free PowerPoint templates in August 2019. This slide allows you to introduce the team responsible for your organization's environment team. You can add their photos and a short blurb as well.
Aviation Slides PowerPoint Template (10 slides)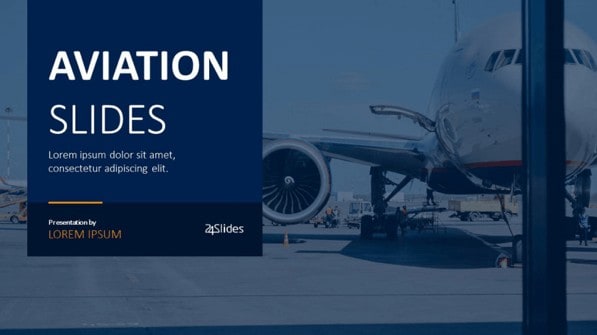 This multi-purpose aviation template can be used in a variety of settings. For instance, you can use this in an academic presentation. Or, you can also use this in high stakes corporate meetings in the aviation industry. Check out some slides included in this template pack:
World Map Slide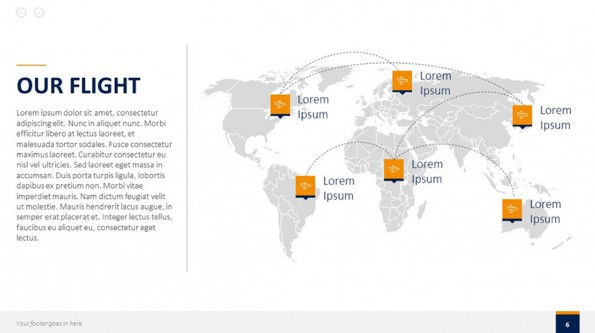 This map is great for presenting your aviation company's routes all over the world. You can also use this to suggest possible destinations in the future. If you need to replace the map with a more local one, check out our free map PowerPoint templates here.
Weekly Team Meeting Slide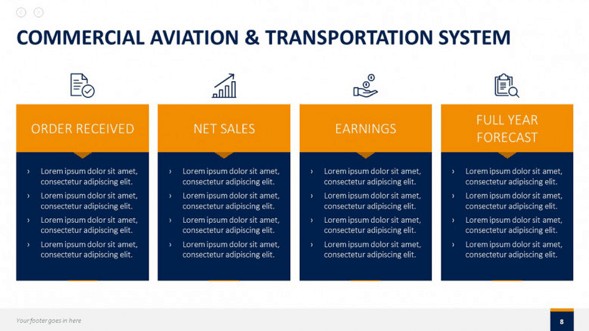 This slide gives everyone on the team a quick glance into the company's orders, sales, earnings, and full year forecast. Of course, if you need to change any of the columns, you can quickly do so by following this guide right here: How to change and edit a template.
Profits Slide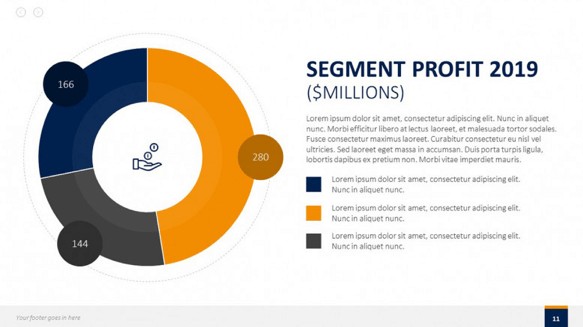 This slide isn't only for displaying last year's profits, you can also use this to forecast future earnings. It's great for sharing the results of your analysis as well so everyone can better understand how the company can further optimize profits.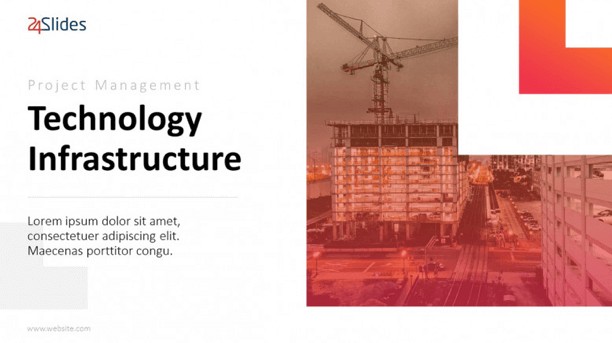 Managing a tech infrastructure project is no joke. And presenting project updates to stakeholders isn't either. You need to focus all your efforts on making sure the project is progressing as scheduled. Thus, you shouldn't need to worry about designing PowerPoint slides from scratch – use this free template pack instead! Check out some of the slides included:
Project Timeline Slide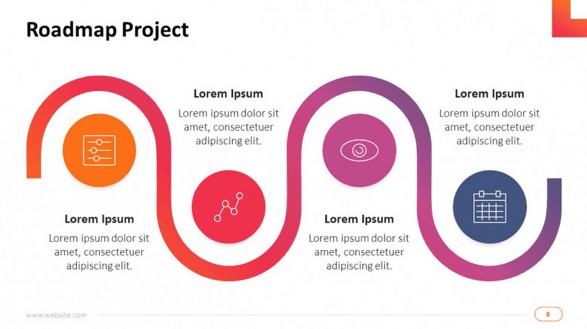 This slide will help you present your tech infrastructure project's timeline to your audience. This will help set their expectations straight as to when specific components or milestones will be completed. Moreover, you can use this as reference point in future meetings when you give them status updates on your project.
Project Team Slide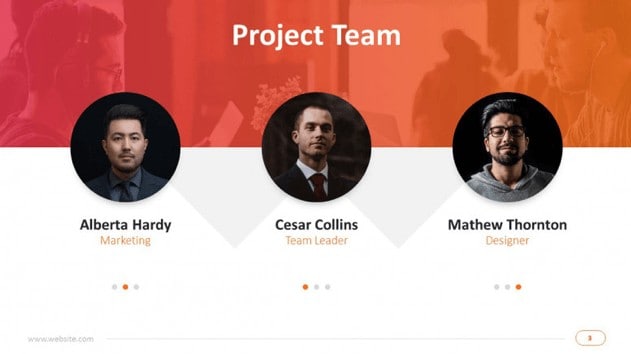 Tech infrastructure projects need to be well managed. Otherwise, the entire project can fail spectacularly. It is therefore in everybody's best interest to hire only the most qualified people for the job. Use this slide to present your team to your stakeholders, so they know who to get in touch with if they have any questions about the project.
Financial Planning Slide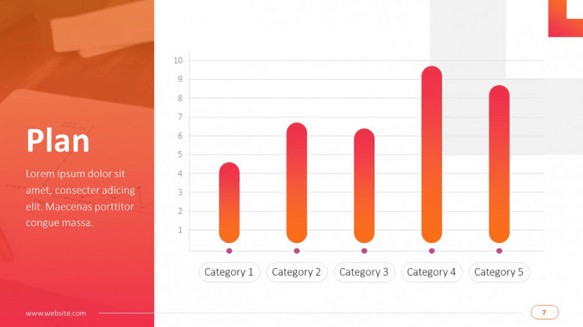 Financial planning is crucial to a tech infrastructure project's success. Use this slide to inform your stakeholders about the finances and budgets required to complete the project within the expected timeframe.
Section II: Icons PowerPoint Templates (6)
Our list of free PowerPoint templates in August 2019 includes a selection of icon templates. In this section, I've listed 6 templates of this kind. Feel free to download and use them for your presentations – or any other project for that matter!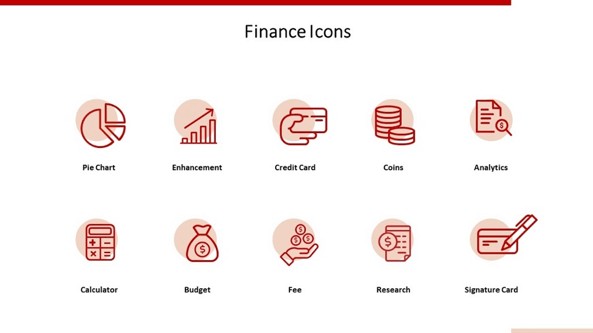 This template pack includes 10 icons which you can use in your financial presentations. Each icon has a label, so you can quickly decide what to use the icons for. As you can see on the slide, the icons include pie chart, enhancement, credit card, coins, analytics, calculator, budget, fee, research and signature card icons.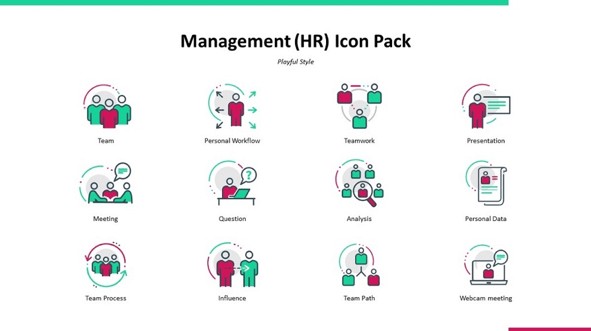 Connecting to people is essentially what every human resource (HR) department does. When presenting HR policies, you want to make a connection with everyone in the room. The 12 icons that are included in this template pack are designed to help you do just that. The icons were designed with playfulness in mind to help make the audience feel more at ease with the HR reps!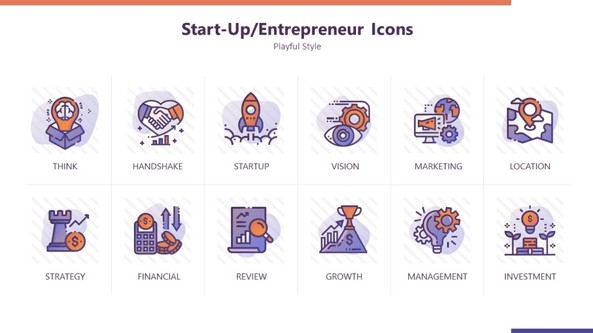 Convincing investors should be your start-up's main focus. You want to work on your message and refine it until it resonates with your target potential investors. With this 12-icon template pack, you can now focus on perfecting your presentation. For best results, use any of these icons with the Product Hunt Pitch Deck Template pack or any of our free pitch decks.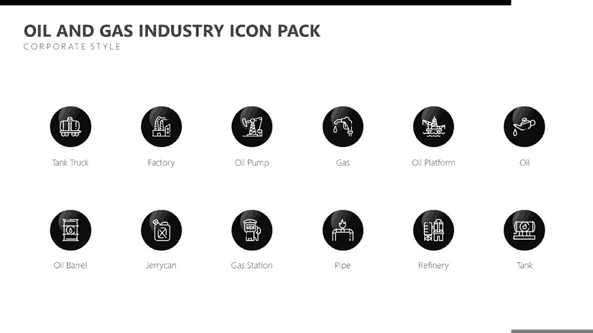 Presentations in the oil and gas industry often requires a lot of preparation. After all, this is one of the most profitable industries right now. And a successful presentation can literally translate to millions of dollars' worth of contracts. You want your presentations to stand out as much as possible. By using any of these 12 white-on-black icons, you'll be one step closer to achieving your presentation goals!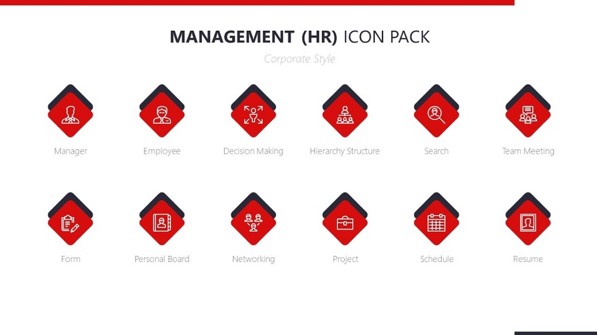 This 12-icon template pack will work well in most corporate style presentations. The white-on-red icon with the black shadow on it gives it a nice 3D look. The good news is you're not limited to using these icons in presentations. You can also use this in your reports, emails, and even your own website!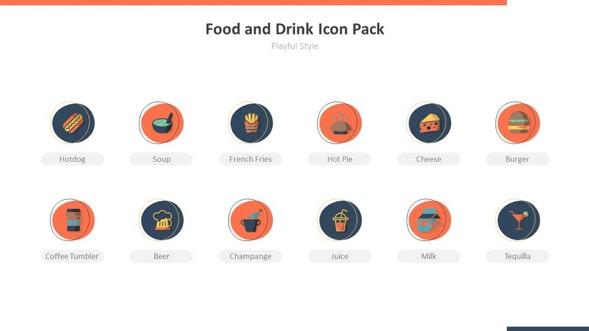 All 12 icons included in this template pack are designed in playful style and will look great on any of these fun-looking and colorful PowerPoint templates. But it doesn't mean that you can't use this in your corporate presentations. If anything, it can add some pizzazz to an otherwise boring slideshow. And if you want to swap the colors around, you can do so. For instance, if you want to use dark-green instead of an orange background, you can ungroup the icons and edit the colors anyway you see fit!
What do you think about our free PowerPoint templates in August 2019?
I hope you enjoy this new batch of free PowerPoint templates. These are 100% free! Just create a free account in our Template Hub, and you'll be able to download your favorite templates right away!