Best PowerPoint Templates for January 2020
New year, new templates! Our designers here at 24Slides have not let the holidays stop them. Here you'll find our selection of the best free PowerPoint templates for January 2020.
Don't forget to check out our themed free PowerPoint templates! Even if they're focused on themes that may not fit exactly your business, they're more versatile than you might think. Use them to make a really unique, memorable presentation that will impress your audience. And, as always, you'll also find a collection of other business resources that will allow you to use PowerPoint for more than just presentations.
January Business and Corporate Processes PowerPoint Templates
These are some of the very best free business PowerPoint templates you'll find online. All of these have either a corporate or creative style that will give your presentation a professional and clean look. These PowerPoint templates are all pretty sober, so they'll fit practically every business and enterprise.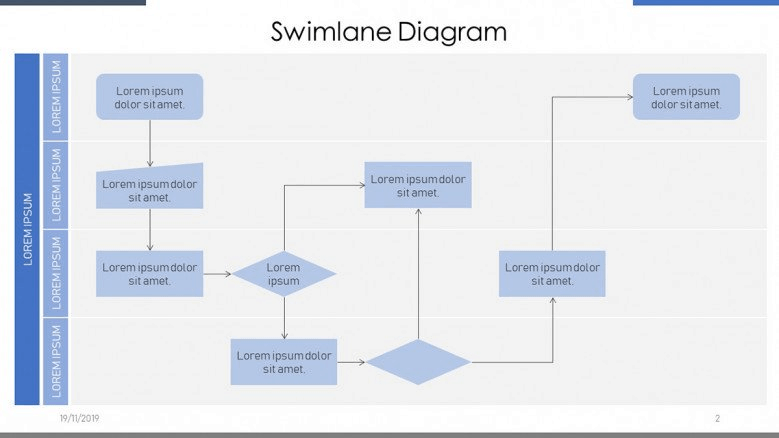 This PowerPoint template is ideal for those looking to convey processes in their presentation. For businesses with complex processes, these diagrams are a must-have tool. Swimlane diagrams are more effective and straight forward than flowcharts. This is because you can add extra information by ordering your steps vertically into the "swimlanes". This will allow you to show visually which step corresponds to which worker, department, or whatever you assign to that specific lane. So if you feel the flowcharts are not doing enough, this is the template for you.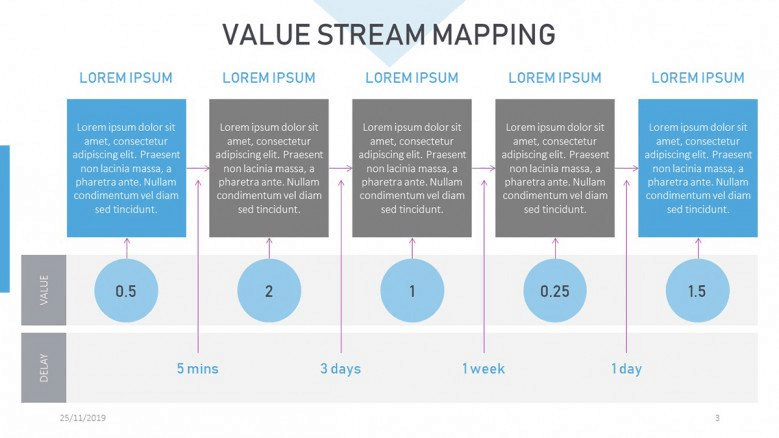 Value Stream Mapping can help you manage your production process and improve it. But unlike other processes analyzing techniques, this one focuses on the client. Value Stream Mapping (VSM) allows you to showcase every step of your business process. With this, you'll be able to pinpoint which steps give value to your product and help you identify which ones don't. You will be able to prune your production process and make it more efficient. This PowerPoint template includes 8 different models for VSM, so you can pick whichever is best for you and your product.
Pitch Decks are the best possible way to introduce your business to a potential investor or customer. They allow you to give a complete overview of your product and to highlight its strengths. This template will help you sell your business to your audience. It has a creative design that will allow you to show a little bit of everything. It has graphs for your quantitative data, a team slide, a SWOT slide, an "About Us" slide…
If you want to know more about pitch decks you can check out this article on how to make an outstanding pitch deck. You'll get a complete guide on what to include in your presentation and more great pitch deck PowerPoint templates.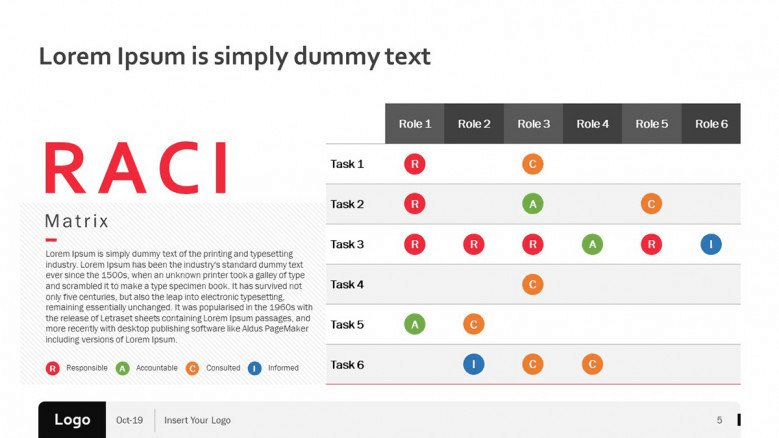 RACI stands for responsible, accountable, consulted and informed. In the RACI Matrix, you'll be able to asign these tags to your collaborators. This makes RACI an invaluable tool for managing big teams and distributing responsibilities. This template will allow you to be crystal clear with your team and make sure everyone is on the same page. It includes slides to introduce your audience to the RACI Matrix. You can explain what each letter means and what these imply in your specific project. The pyramid slide will allow you to showcase visually the responsibility hierarchy. Finally, it has 5 different RACI Matrix to fit your every need. This tool can be a real game-changer when dealing with multiple teams and departments.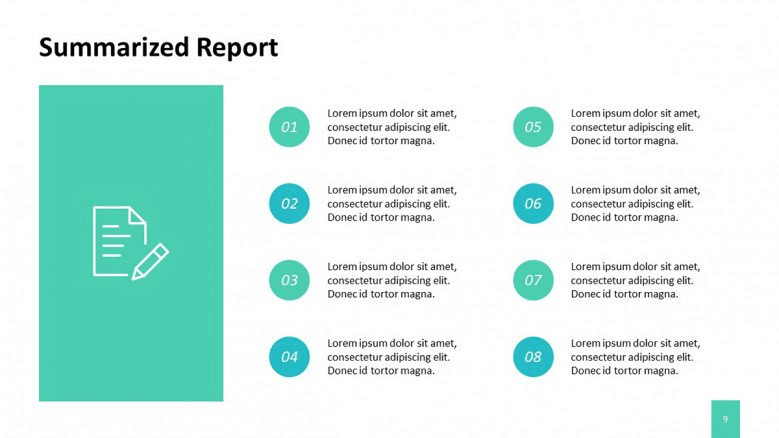 When proposing a new project, it's important to make it attractive to your audience. In order to take your proposal seriously, you must show you're serious and reliable. And that's exactly what this presentation will help you with. Nothing says louder "lazy" than an all-white PowerPoint. And, on the other hand, you don't want to look unprofessional with a badly designed or over the top PowerPoint. This presentation template will give your presentation a sharp, professional look, so your audience can focus on what you have to say.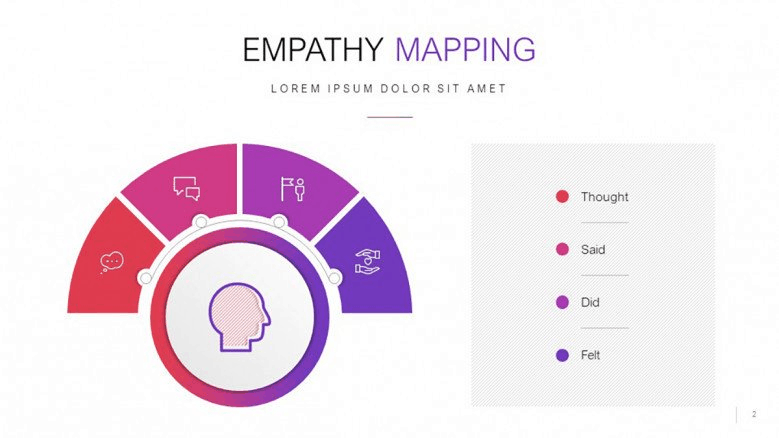 It's easy to focus on the most practical, product-based part of the business. After all, that's what the business is all about. However, every company should also take into consideration the human factor. The team members and collaborators are who make the product possible at the end of the day. This Empathy Mapping PowerPoint template is great for people in HR. But it can also be used to get a better understanding of your customers. It'll help you get in their shoes and work out what they really want.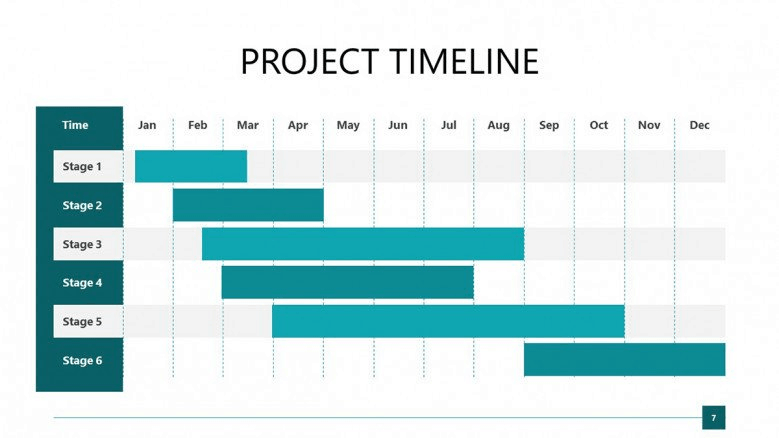 Are you starting a new project now that 2020 has begun? This Project Kickoff PowerPoint template is exactly what you need to start with the right foot. It'll allow you to give your audience a detailed overview of not only your project, but what your goals are and how you're planning to develop it. It includes a client and a project review, a team slide, a map slide, and much more. It also includes two different times of timelines (monthly and general). Are you ready to kick off your new project?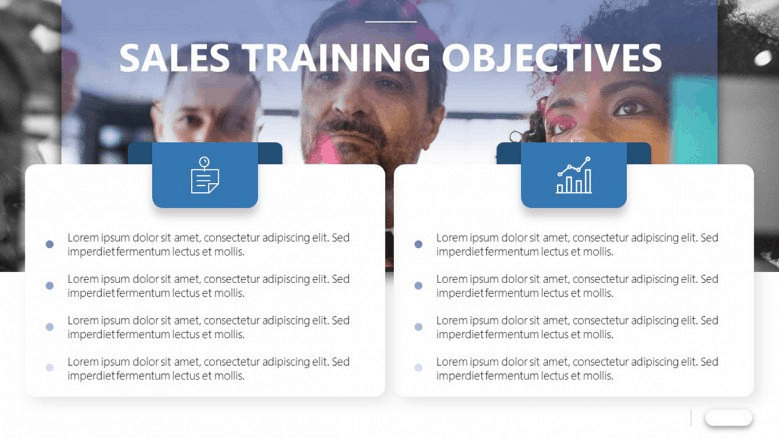 If your sales team plays a big role in your business, this is the template for you! Your sales team must certainly be on the same page and have a complete understanding of the business and the clients. Training the sales team is a vital part to make your business grow. This PowerPoint template will help you plan for how you're going to make this possible. It's a very complete, through and through sales training template. With it, you can be sure you're not letting any detail slip through. From the objectives to the training values, strategy and cost, this template will help you upgrade your sales training project.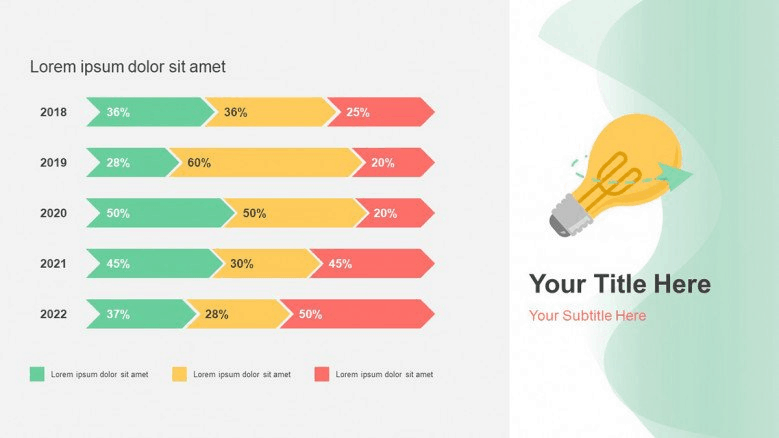 Gant charts are one of the greatest, more versatile tools you could ever wish for. They are great for project managers, since they allow you to keep track of several parallel activities or tasks. Even so, you don't have to be a project manager to make good use of a Gantt Chart. It's a good way to monitor the development of your tasks. Gantt charts are especially good for presentations because they allow you to show a lot of information to your audience in one simple look. This template includes 8 different Gantt Charts that will complement perfectly any presentation.
January Theme PowerPoint Templates for Businesses
Here you'll find January best theme PowerPoint templates. You can download all of these (and much more) completely for free on the Templates by 24Slides platform. These are great for making unique, out of the box presentations. Present your best seller products like a jeopardy game, or your production process as puzzle pieces that fit perfectly. Your imagination is the limit with these theme templates!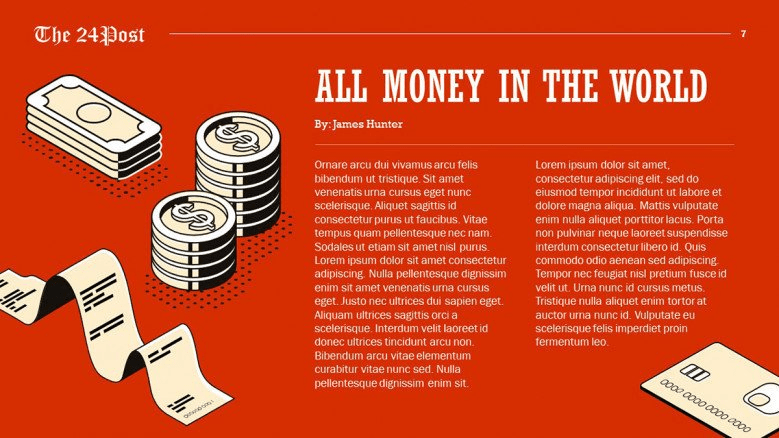 This vintage style template is what you must use if you want to make a presentation with a really unique look. It's filled with beautiful custom illustrations concerning popular topics such as Oil and Gas, Transportation and Production Processes, and Finances. It has an overall "classic newspaper" style, with fonts and layout to match. You can use it to give your presentation a "breaking news" look. It also has a bright-colored background that will catch your audience's eye. In short, everything you could need for a one of a kind presentation.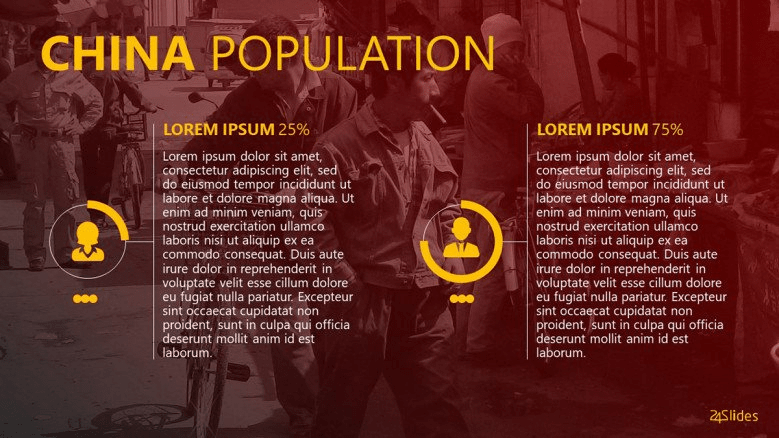 The China market is among the ones with the fastest growth in the last decades. Nowadays, it's the world's second largest economy. If you're thinking of maybe expanding to China or investing in its market, this PowerPoint template is for you. It'll allow you to show the opportunities that you've found and your market study. You have slides for China's culture, map and population to analyze your market. But it also has slides for market predictions, your marketing strategy, and your team. This way, you'll be able to show how you will face this market and what your strategy will be.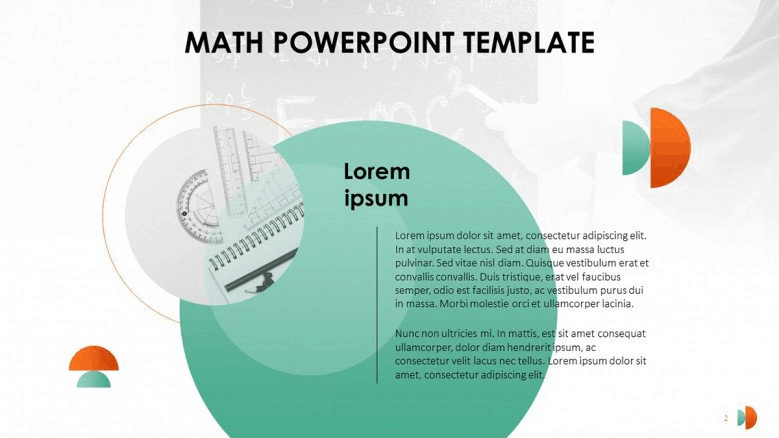 Math is probably not the most liked subject in school. However, it doesn't have to be as dull and boring as everybody seems to think. You can show math's practical uses with this template's slides. It has a bright-colored palette that makes it eye-catching, while still being stylish. The custom math-themed icons are a great detail to remind your audience of your topic on every slide.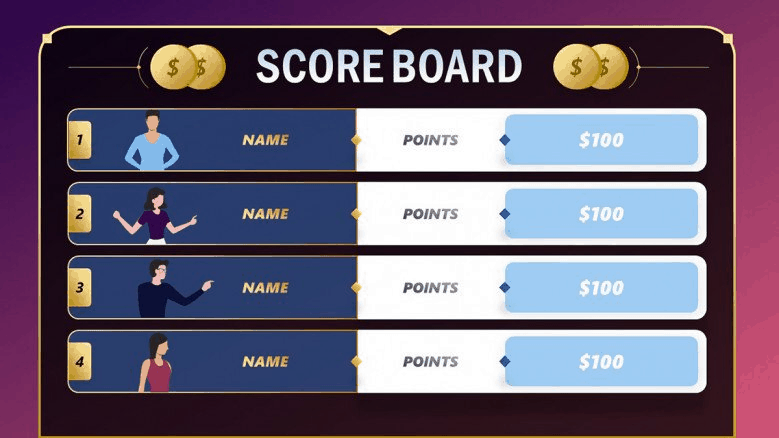 Jeopardy has been a popular show since the 60s, so why not use it in your favor? Embrace your playful side with this free PowerPoint template and make a unique presentation for your business in the form of a game. Not everything has to be dead serious, and this presentation is the perfect opportunity to show that.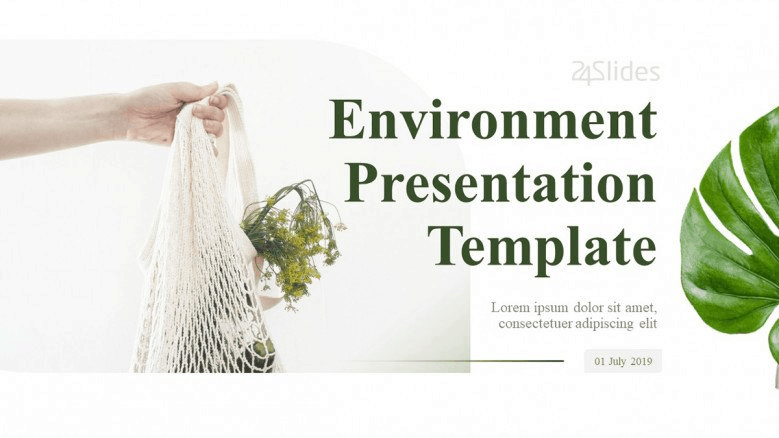 Environmental issues have become more and more of a concern for businesses all around the world. This PowerPoint template will allow you to showcase your business' main concerns. It has slides for processes, your team, charts and graphs, and much more.
If you need a PowerPoint template about the environment but you're not really into this one, don't worry! Our designers have other options for you. This Environment Deck Pack is more sober and business-like. And, on the other hand, you have this great Playful Environmental template, for a more easy-going presentation.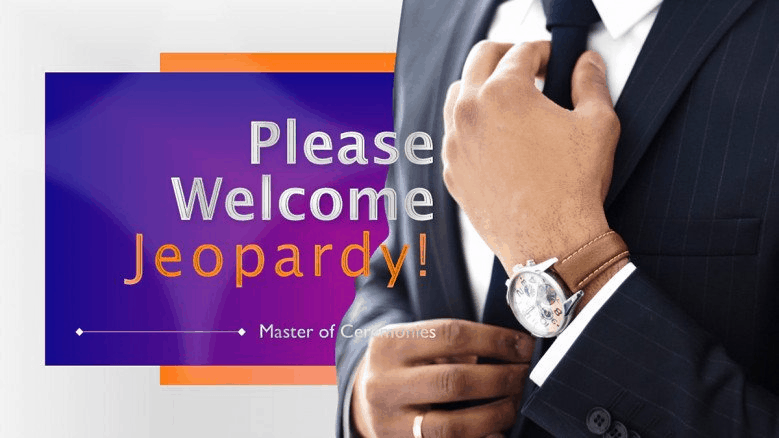 This template is another option for the Jeopardy PowerPoint template. It maintains the playfulness of the game theme, but with a different approach to the design style. But it still has questions slides, rules of the game slides and all the Jeopardy-themed slides. It includes an interlude slide that is perfect to give your audience a small break or to invite them to do a round of questions. This unique PowerPoint template is the perfect start for a truly unforgettable presentation.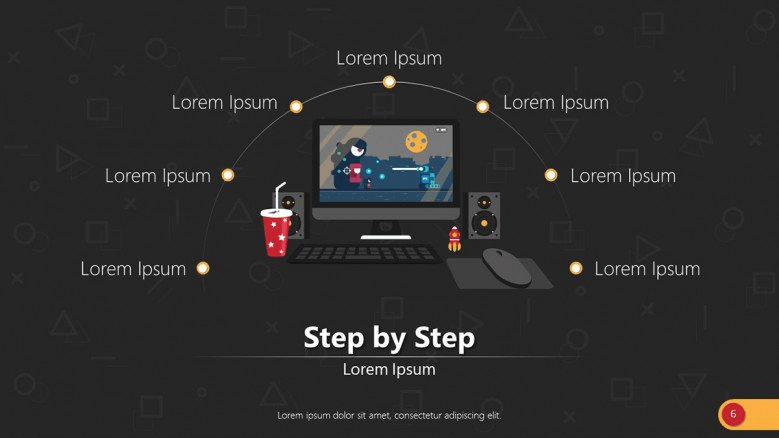 The video game industry is one that keeps on growing. According to Business Insider, there are now over 2 billion gamers around the world. It's a booming market inside the entertainment industry, and many people have seen its potential. That's why getting inside it can be pretty challenging. This Video Game-themed PowerPoint template will allow you to showcase your ideas for business in an original, fun way, while still keeping the focus on your product.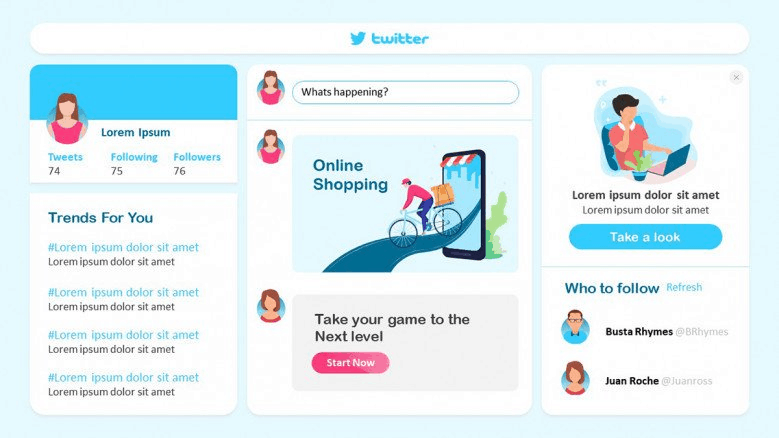 Social Media is a vital part of marketing nowadays, and Twitter is one of the biggest. Use this free PowerPoint template to share with your audience your marketing strategy, goals and reach in this platform. The design imitates Twitter's real layout, making it a fun and unique presentation that your audience won't' forget.
If Twitter doesn't do much for you and you are more focused on other social media, we got you covered. You can check out the Facebook PowerPoint template, or the more general Social Media presentation template.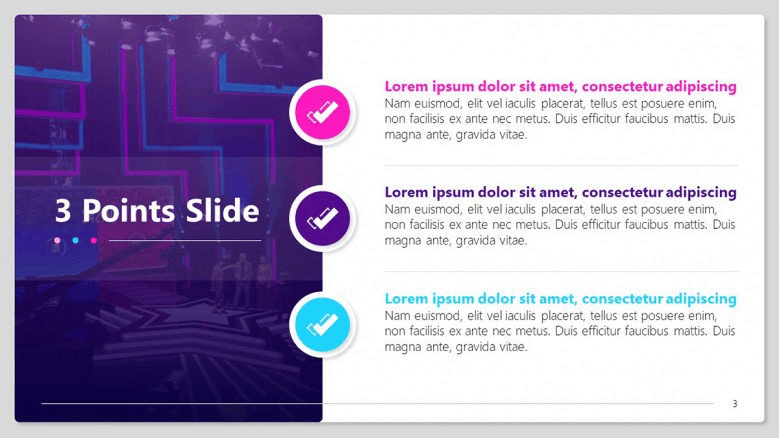 Quizzes are an easy way to make sure your audience is taking with them the most important points of your presentation. With this template, you can quickly make a quiz and test your audience on their knowledge. There are slides for multiple option questions, fill in the blanks, graphs and charts and many more!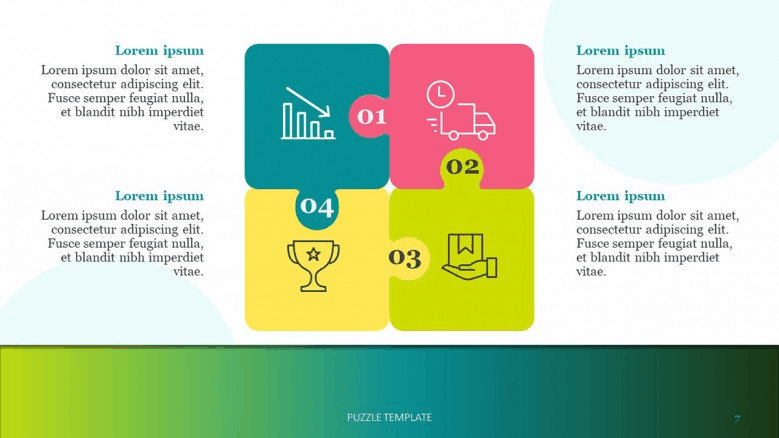 Puzzles are the perfect metaphor for connecting pieces and building together. This PowerPoint presentation template will allow you to use the imagery of the puzzle pieces for your business. You can show how your ideas connect to each other, or how your production process steps are all part of a perfectly integrated whole. This PowerPoint presentation template includes charts, graphs, and maps so you can share with your audience all kinds of information in a compelling way.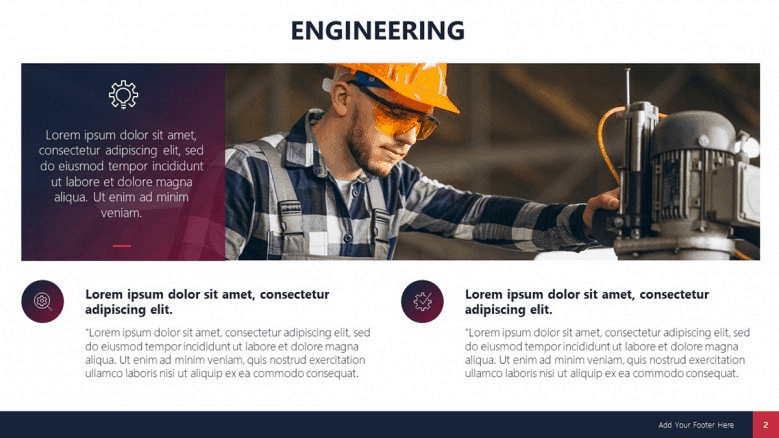 For those working in engineering, this is the presentation template for you. This industry usually has complex processes and tasks, and managing Engineering projects can be quite a challenge. This PowerPoint template will allow you to showcase your business in a compelling way. The cogwheel design and icons will make your presentation eye-catching and unique while still maintaining professionalism. It includes a timeline slide, so you can show your processes chronologically. It also has charts, a team slide, a contact slide, all of them with the engineering theme design.
Other Resources and PowerPoint Templates for January 2020
PowerPoint can be used for so much more than just traditional presentations. However, it's difficult to exploit all its design potential when you're not a designer yourself. That's why our designers here at 24Slides have included this January PowerPoint templates for other useful resources. From infographics to certificates, these templates will offer you some really unique possibilities, so check them out!
Infographics are a great way to show information in an attractive way. It has been proven that the human brain processes images way faster than just text. This template has amazing graphic designs and illustrations. This way you can just fill it with your information and data, and you're ready to go.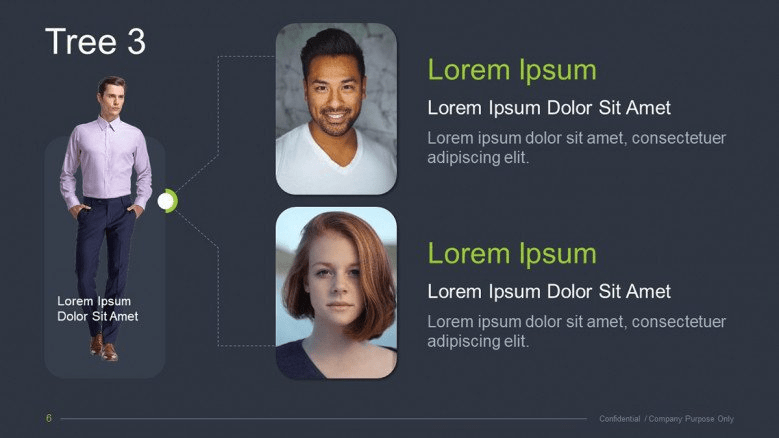 Family trees are a great way to show relationships and connections. They can be used not only for families, but for teams, departments, projects… This PowerPoint template includes 6 different family tree models. Any of these would be great for any presentation where you're trying to introduce your team or your company's hierarchy.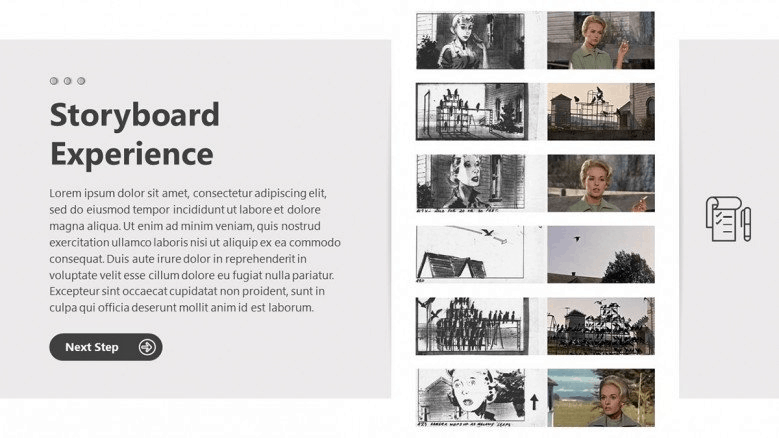 Storyboards are graphic organizers that help you preview chronologically a visual media. For example, movies and comic books usually use storyboards as part of their development process. If you want to follow the Storyboard model, this is the template for you. Show off your work with its beautiful and stylish black and white design.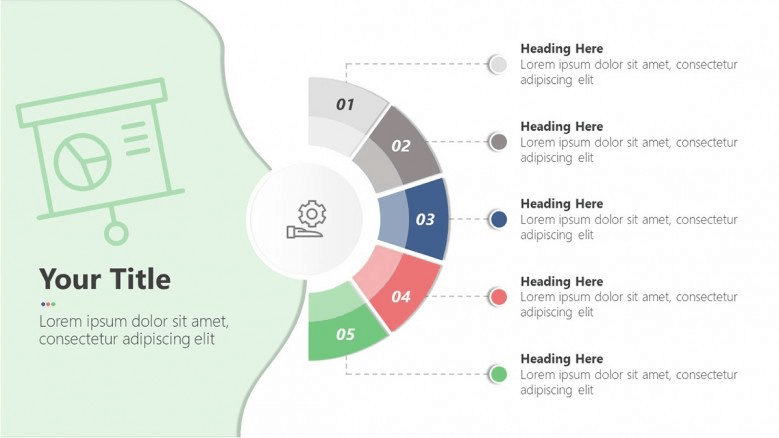 This infographic PowerPoint template is ideal for those looking to convey quantitative data in a compelling, easy to digest way. It collects several different types of graphs and charts so you can pick the one that fits you better. It includes several circle and donut graphs, a pyramid graph, a timeline… All with a beautiful eye-catching color palette so it really stands out in your presentation.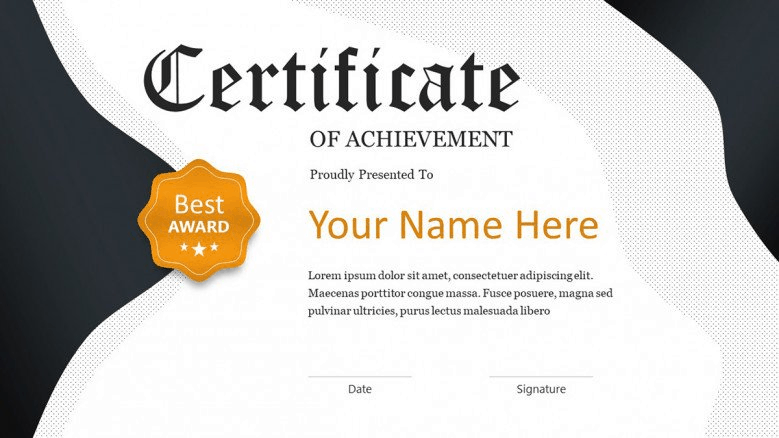 It's important to recognize the achievements and accomplishments of your team. If you happen to make a workshop or a training session, giving the participants a certificate can boost the satisfaction of having learned something new. This PowerPoint template has 10 different certificate designs you can use completely for free.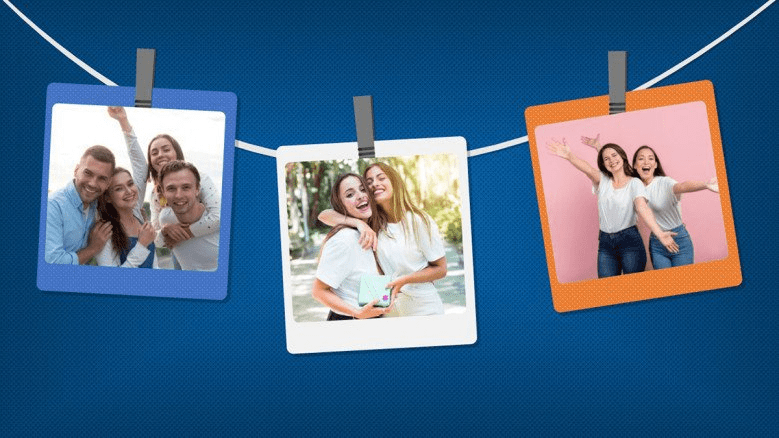 Photos are a great way to remember happy moments. However, they are not much good when they're stored away with no one to see them. Showcase your photos and special moments with this PowerPoint template. It has unique layouts for your photos that will really make them stand out and shine.
All these January PowerPoint templates will turn any presentation into a really outstanding, unique one. As always, you can download all of them on the Templates by 24Slides platform, completely free.
If templates aren't making the cut, however, and you wish for a more unique, tailor-made presentation, you can always contact our team at 24Slides. Our designers will be delighted to help you transform your presentation into an amazing, custom made PowerPoint just for you.