How Much Does Professional PowerPoint Design Cost?
Presentations are a pretty common part of almost any kind of business. Whether it is a report to your boss, introducing a new campaign to your team, or pitching an idea to a potential investor, presentations play a vital role in the business world. Thousands of hours are constantly being spent by all kinds of workers in all types of companies. You might not even realize it, but all this effort and time invested means the PowerPoint design cost is incredibly high, professional or not. Are you ready to know how much presentation design is really costing you?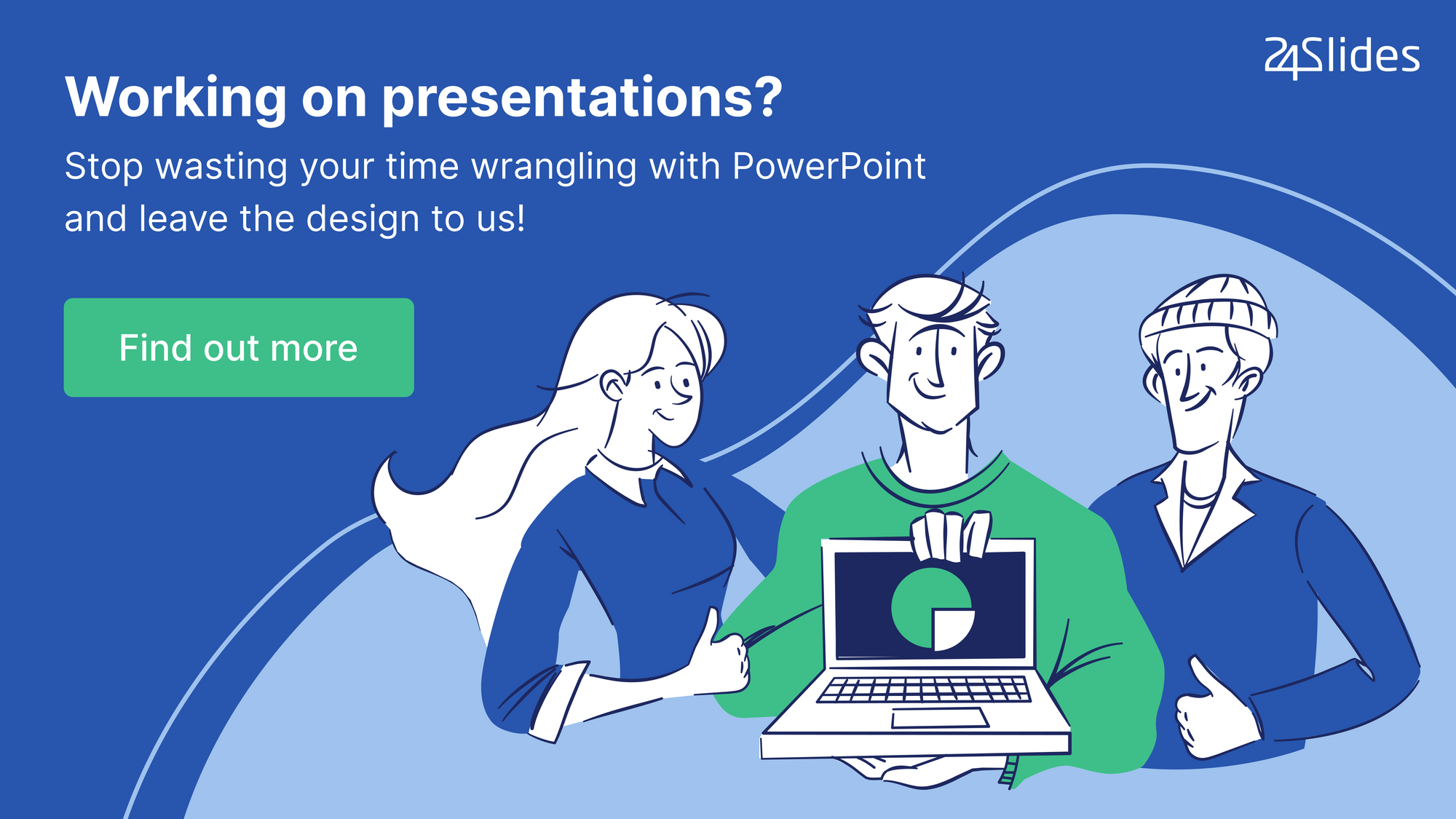 How Much PowerPoint Design Is Costing You Right Now
Making PowerPoint presentations is one of those secondary tasks that everyone does, but very few actually enjoy it. Ever since the Microsoft Office software was first invented, PowerPoint has quickly become the equivalent for "presentation". In schools, higher education, and business, it's uncommon to think about making a presentation without a PowerPoint accompanying it.
It has become so common, that it has actually gained a pretty bad reputation. The "Death by PowerPoint" phenomenon is a fun way of calling out all those horrible presentations we have all experienced, where text-filled slides add absolutely nothing to the speaker and (even worse) seem to have no end. But despite all the accusations of PowerPoint making audiences "stupid" and speakers "boring", we're all still using it. Why?
We use PowerPoint because, when used correctly, it is an incredible tool for creating visual aids for our presentations. The key to using it correctly is precisely that: creating visual aids. PowerPoint is meant to complement your presentation. It can show photos and images so your audience can picture clearly what you're talking about. You can add charts and graphs so your audience can see trends in the data and numbers you're conveying. You can add illustrations, videos, icons… The human brain processes images 60,000 times faster than text. And that's why PowerPoint is such an outstanding tool for complementing presentations.
However, many people have taken the easy route and let PowerPoint become its entire presentation. I'm sure we've all been to a presentation where every single word the speaker says is written down in the PowerPoint. It becomes tedious incredibly fast. When the PowerPoint presentations start to compete with their own speakers for the audience's attention, that's when it becomes a hindrance rather than an aid.
PowerPoint Design Is Never Easy!
But making a good presentation takes effort. PowerPoint is just a complement to your presentation, that's true. But it doesn't mean that it can be done easily, or last-minute. For it to actually complement the speaker, it has to be carefully thought through and through. In order to convey the message you want, elements like layout, color palette, and graphic complements must be taken into consideration.
A PowerPoint can make or break a presentation. You can have the most interesting information in the world. But if all you do is read slide after slide, chances are your audience will rather escape from the room than keep hearing about it. Or you can have a very data-heavy presentation, but with graphs and charts that convey visually all your information, you can make it more engaging and interesting for your audience.
The problem is that many people think about PowerPoint as the last thing to do before a presentation. Making a presentation takes time, and since many of the employees working on the presentation are focused on the content (as they should be!), the design part is relegated to the very end. That's how many well-thought presentations end up with PowerPoint that are not that good or added just for the sake of it.
And the worst part is that, unless your company focuses on design, chances are your employees are not very well-learned in elements like layout, color theory, or creating digital illustrations. At the end of the day, creating a decent-looking presentation is way more difficult than you might think at first glance.
The Real Cost of PowerPoint Design
PowerPoint design costs time and effort from your employees. It means following the learning curve demanded in order to get used to PowerPoint design tools. Maybe experimenting with graphic elements, like seeing which color fits better. It means investing the energy and effort of your workers in a secondary, complementary task. And even worse, all that time and effort means less time in other, more important tasks, tasks that contribute to the company's production. So, at the end of the day, expending time and effort in PowerPoint design also cost actual money.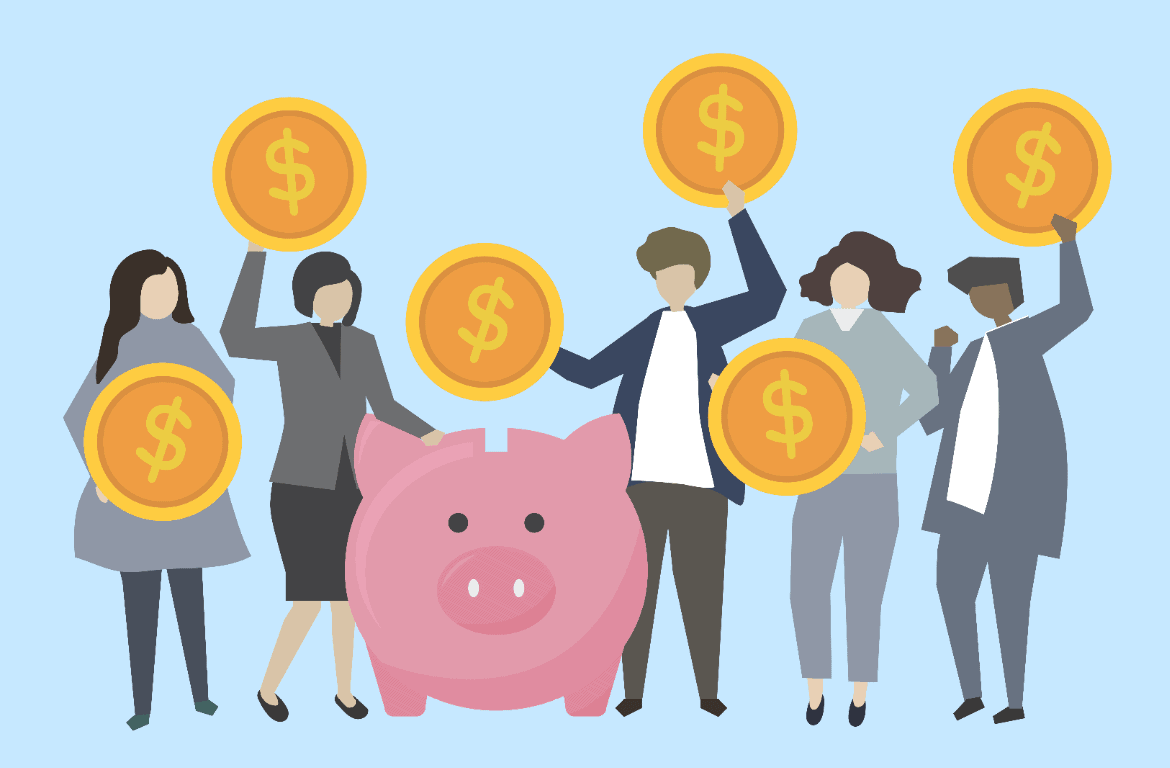 Calculate Your Current PowerPoint Design Cost
You might think that because your employees are doing their own presentations, you're not spending any money on PowerPoint design. But this is completely false. Hundreds and thousands of dollars are spent constantly in PowerPoint design, whether it's professional or not.
Think about it this way. You're paying an employee to do a certain type of work. Whether it's accounting, human resources, law, or anything else, they are being paid because of the specialized job they can do. When any of those employees leave their main task to work on a PowerPoint presentation, you're still paying them. Despite them not working in the actual job you hired them for, they're still working in order to grow the business. But they're spending their time and effort in doing things someone else can do (like PowerPoint design).
You might be thinking "But it's only every once in a while! How bad can it really be?" Well, according to our studies, more than 80% of the workers interviewed spend over one hour a week doing PowerPoint presentations. And an average executive will spend around 4 hours a week designing and formatting them. This might not sound like much, but let's take a look at our PowerPoint design cost calculator.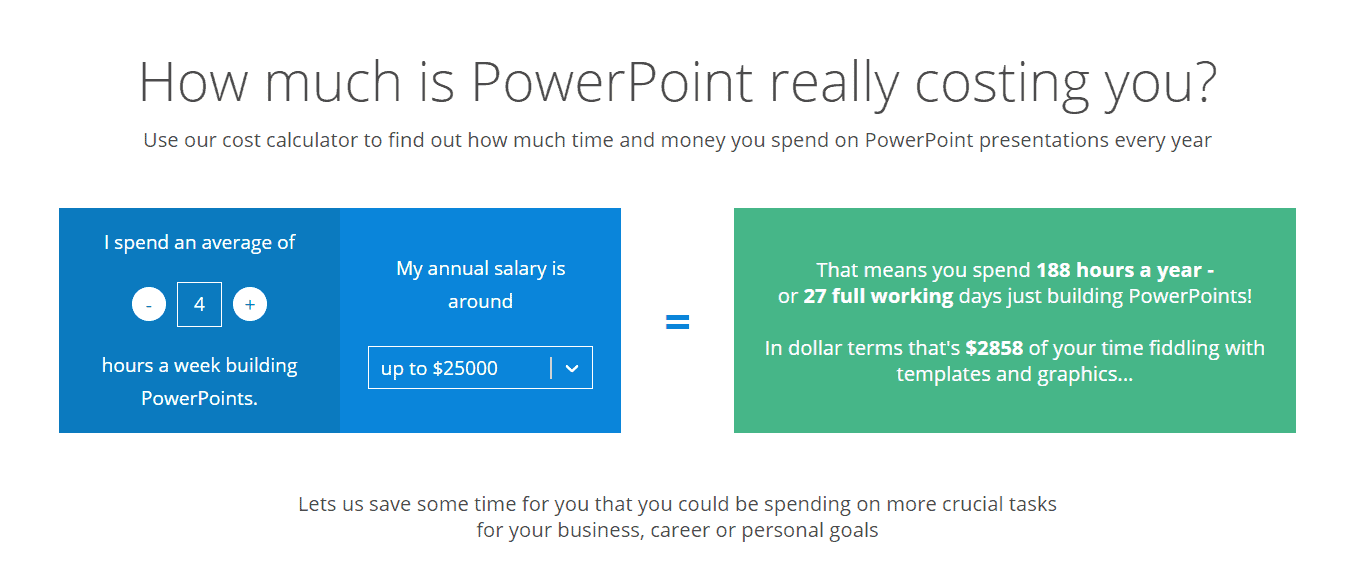 With an annual salary of $2500, 4 hours a week of PowerPoint design work means $2858 lost. All that money, being paid to do work that's not even their specialty!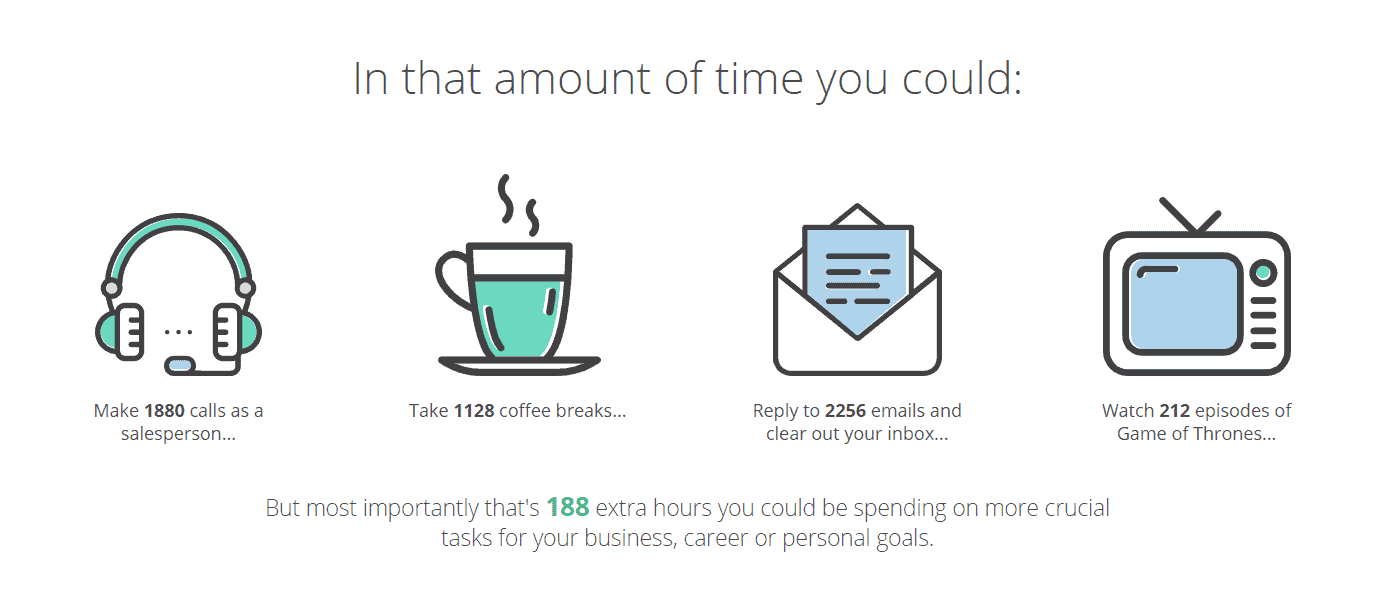 Even in the best-case scenario of investing only 1 hour a week to PowerPoint design, it still adds up to 47 hours a year – that means $715!
If you're still not convinced, you can check out your own hidden PowerPoint design costs with the calculator right here.
Outsourcing Professional PowerPoint Design Services
Many people assume that making PowerPoint presentations is just one of those secondary tasks you must go through every once in a while. It is that irksome task that takes you a little time each week, but someone must do it. But what if there was another option? What if you didn't have to do your PowerPoint presentations at all?
Outsourcing is a business practice that has taken hold in the last years. In short, it consists of referring secondary tasks to third party providers. Almost every business, in whichever field it operates in, has a series of "secondary" tasks that are not related to their actual product. Many companies require legal counseling, marketing and advertising services, or transportation (in the case of physical products). Creating in-house departments for these secondary tasks would mean investing in hiring fees, but also equipment, office costs, and training.
Outsourcing allows you to focus all your time and resources on creating outstanding products and services. You'll be able to rest assured that the third-party you hired is doing their very best, probably better than you could on your own. In short, professionals doing professional work.
Outsource your PowerPoint Design!
As Peter Drucker said, "Do your best and outsource the rest". And let's be honest: Professional PowerPoint design is not the best of any company that doesn't specialize in design. Outsourcing PowerPoint design allows you to get rid of the really bothersome problem of working on presentations, and gets you even better results than what you could've achieved on your own.
Even more, chances are that outsourcing presentation design will even help you save money. As you can see in the hidden cost calculator, all those hours and dollars spent in PowerPoint can instead be put in good use for your actual product. You'll probably spend less by hiring a professional PowerPoint designer, than what you spend paying your employees working on their own presentations!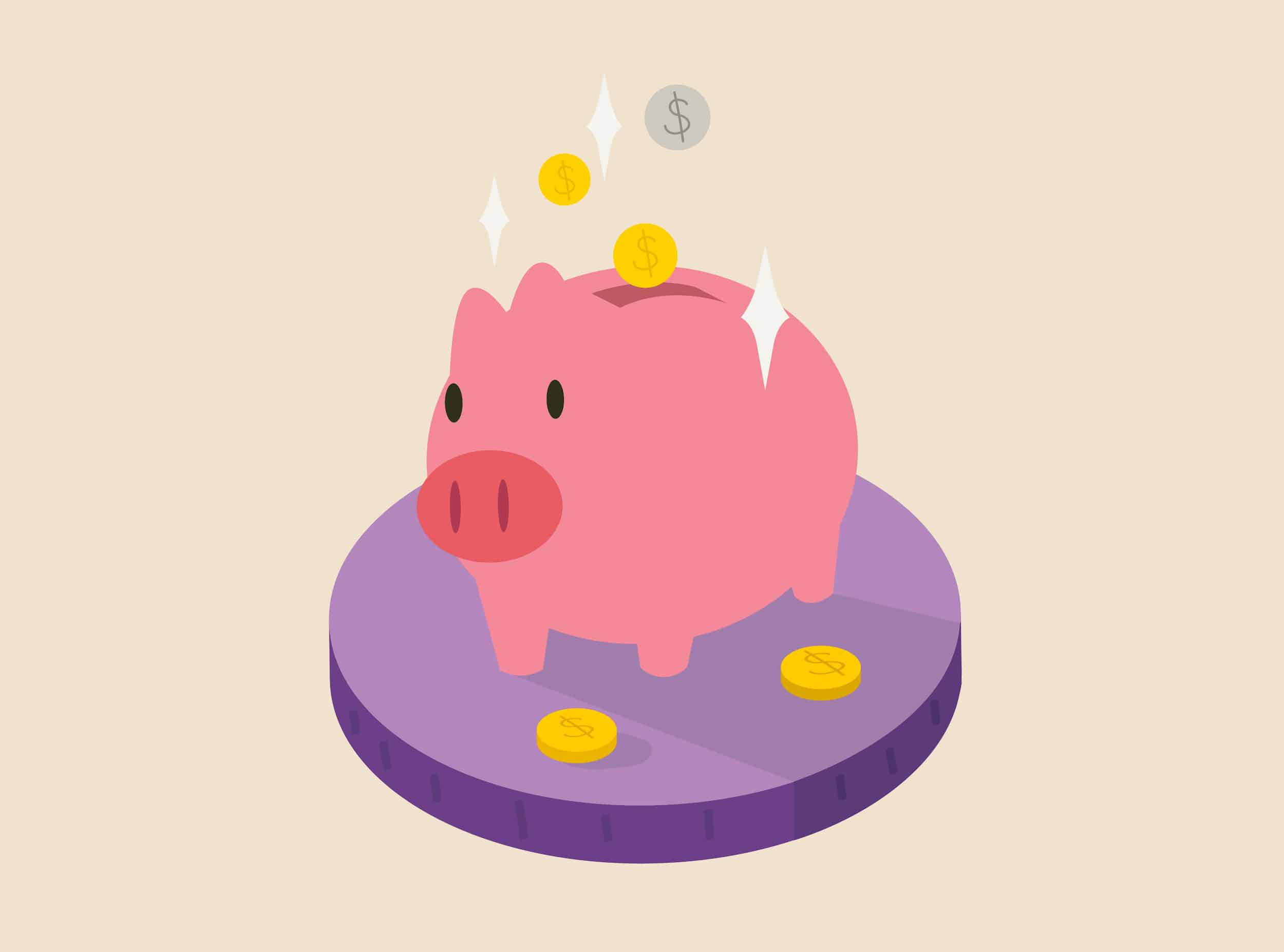 How Does 24Slides Calculate PowerPoint Design Costs
Saying that professional PowerPoint design is cheaper might sound like a stretch, but it's the truth! Outsourcing PowerPoint design is more cost-efficient than doing mediocre presentations by yourself, not to talk about infinitely easier. All you need to do is upload the presentation content, tell your designer what you're expecting of it, and you're done!
Don't believe it? Here at 24Slides, there is no fixed price. PowerPoint design cost is determined according to how much effort you ask for in your presentation, and how soon you want the final product delivered. So, in the end, how much your professional PowerPoint design will cost is completely in your hands!
Keep reading to get an approximate idea of how much a presentation would cost you. Then compare it to your actual hidden PowerPoint design cost. You'll be able to compare it and decide for yourself if outsourcing your PowerPoint presentation design is worth it (spoiler alert: it is!).
PowerPoint Design Price Based in Urgency
24Slides offers 3 turnaround options. The sooner you're expecting your presentation to be delivered, the more costly it'll be (but it'll be more cost-efficient than working on it yourself!).
The 24-hour turnaround is perfect for those with a tight schedule. 24Slides designers will make sure you have an outstanding presentation for the very next day. The prices for this start at $12.
48-hour turnaround is the next one, starting at $11. If you have a close due date, but it's not that urgent, then this one is the perfect option.
Finally, there's the 72-hour turnaround. Prices start as low at $9. If you can afford to wait a few days, you'll see that professional PowerPoint design can be extremely low-cost!
PowerPoint Design Price based in Effort
Aside from the turnaround time, PowerPoint design cost is also calculated depending on how much work you want to be invested in your presentation. In 24Slides, this is divided in 3 categories: fix-up, redesign, and redraw.
Fix-up is exactly what its name says: a quick fix-up. Our designers will make sure to make any slide you send up clean and sharp by adjusting fonts and letter sizes, fixing spacing and layout, and adding any images and icons you provide. In short, it "cleans up" your slides. Fix-up is the base price, so all the costs seen above belong to fix-up designs.
The next option is Redesign, the most popular one. It includes everything that fix-up does, but our designers will also add stock images to make your presentation pop up, and even create customized icons and illustrations just for you. Powerpoint design costs for this option start at $24 (72-hour turnaround).
Redraw is the most comprehensive of them all. This means you can send us absolutely anything and our designers will turn it into an amazing presentation! You can send a pdf document, a photo, or even a hand-drawn sketch. Since it means creating the presentation from scratch, prices start at $37 (72-hour turnaround).
If you're not sure which one is best for you, you can also pick the "Let us decide" option. Our designers will go through your slides and pick whichever option will work better for you. Then one of our project managers will contact you to show the designers' proposal and final budget. Rest assured that we'll always confirm the final price with you.
If you're feeling confused about all these turnarounds and design options, check out our PowerPoint design prices. You'll also find visual examples of the differences between fix-up, redesign, and redraw!
Professional PowerPoint Design Subscription
If you are someone who makes a lot of presentations monthly, or even weekly, a great option to lower your PowerPoint design costs is to subscribe for a monthly basis. This includes a pack of slides, starting at 50-100 slides per month. Even better, you'll get a dedicated team that can learn all your brand specifications and work on customized designs, just for you. You can invite team members, and unused capacity will roll over to the next month.
If you're someone who needs new slides done constantly, professional Powerpoint design subscriptions can help you save up to 85% of your slides cost!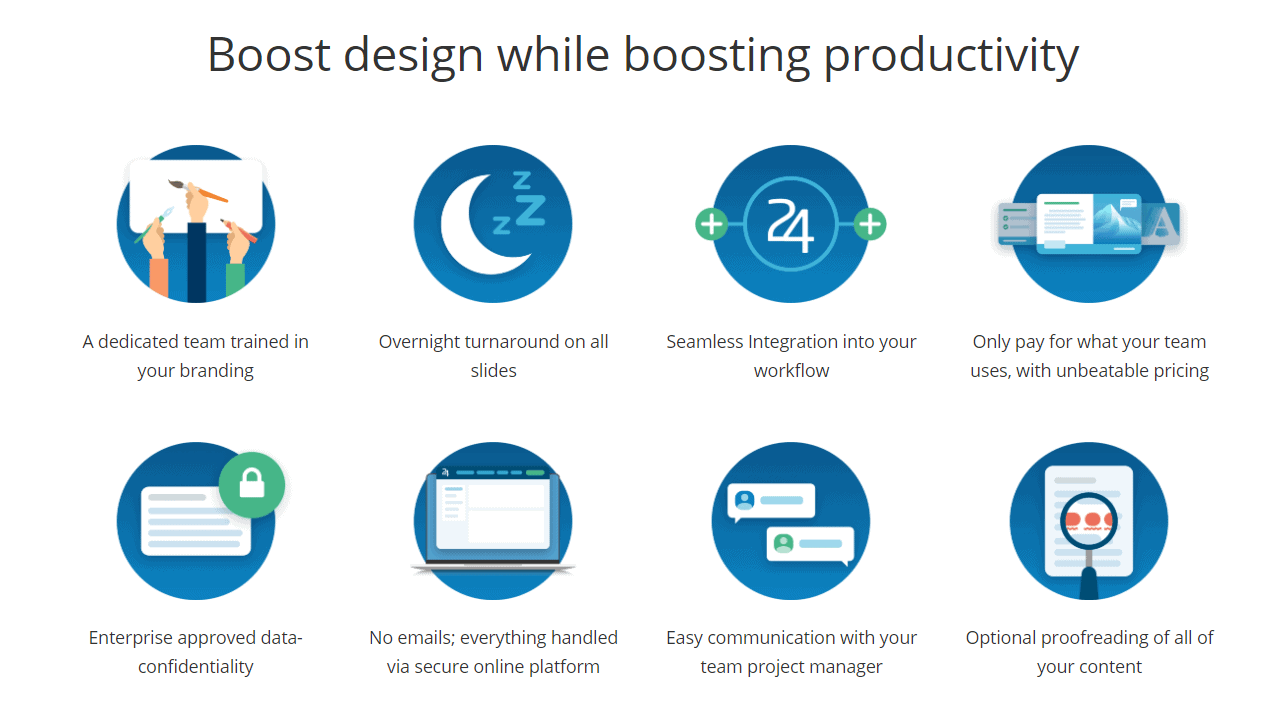 Are You Ready to Lower Your PowerPoint Design Costs?
PowerPoint design costs way more than you might think at first glance. It demands time and effort for employees that have to learn how to make clean-looking presentations for themselves. Even worse, constantly working on presentations means there is much time and energy taken from primary tasks that actually make the business grow.

Thankfully, outsourcing presentation design is a great way to lower costs. Companies of every size and field can benefit from hiring third-party service providers that will turn their presentations into Professional-looking PowerPoint designs. 24Slides offers all these options so you know the final cost is in your hands. You decide how soon you need it, and how much work your slides need!