20 Free PowerPoint and Google Slides Templates for Data Presentations
Presenting the results of your data analysis need not be a hair pulling experience. These 20 free PowerPoint and Google Slides templates for data presentations will help you cut down your preparation time significantly. You'll be able to focus on what matters most – ensuring the integrity of your data and its analysis. We'll take care of the design end for you!
That said, I've divided this article into 2 sections. In the first part, I'll share the PowerPoint templates. And in the second part, the Google Slides templates. Oh, and in case you're wondering, yes, you can use a PowerPoint template in Google Slides and vice versa.
PowerPoint Templates For Your Data Presentations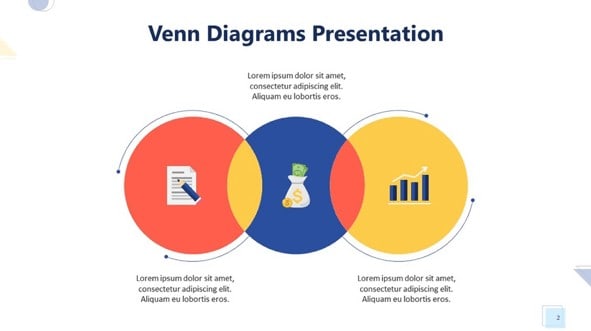 Venn diagrams are great when it comes to showing the similarities and differences between 2 or more data sets. Just by looking at the diagram, your audience can tell if there's anything common between data sets A and B. Or if there's a relationship between data sets B and C.
Likewise, if you want to emphasize the differences between data sets, Venn diagrams are great for that purpose, too. Now, for this template pack, you've got 10 slides to choose from. You don't need to use all of them for your presentation, simply pick one or two that does the job for you.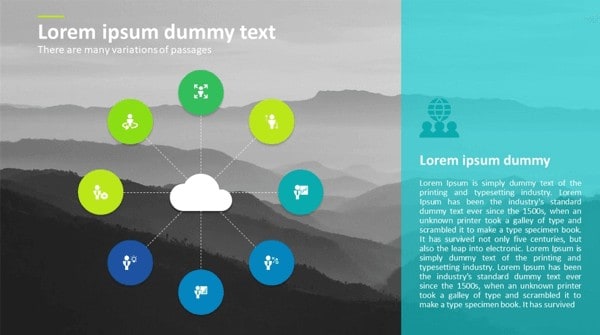 There's a reason why graphs and diagrams are so important in presentations. It's because they make complex data look so much more understandable. Can you imagine copy and pasting all 1,000 rows of data on your slides? And then expecting your audience to understand what all those numbers mean?
Some geeks in your audience may love the challenge, but for the most part, normal people are going to hate your presentation. Fortunately, this 6-slide template pack will help simplify your job. And make it so much easier for your audience to understand the results of your data analysis!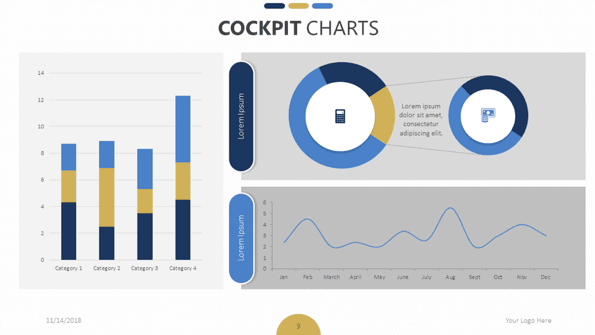 If you're giving a high-level presentation to decision-makers who need hard data and proper analysis, then this free template pack may be what you're looking for. Each of the 9 slides included in this pack all include a number of charts and diagrams.
By default, text has been kept to a minimum, so there's nothing to read off the slides. You can verbally explain what the graphs and diagrams mean. And perhaps, if the situation calls for it, you can share your recommended or suggested course of action for your stakeholders and decision-makers.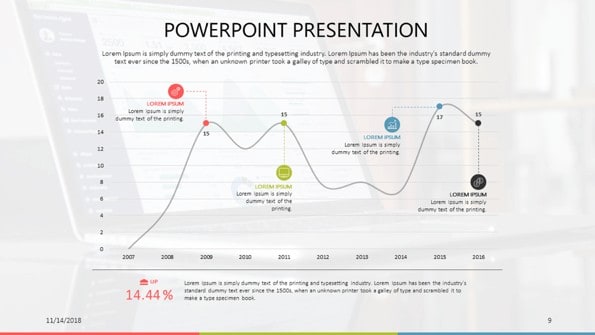 The best templates for data presentations will make your data come to life. This is where this 6-slide template pack comes in. It's not only designed to make your data more understandable. But the good thing is, you can use this template for many different kinds of presentations. Whether you're doing a presentation for a job interview, or a sales presentation, or even an academic one, this template can do the job.
If you want to make the slides look even more unique, you can quickly replace the background photo of the laptop. Then try using something that is more relevant to the type of presentation you're doing. Slides include a pie chart slide, line chart with comments slide (this is the one in the screenshot above), and an overall statistics slide.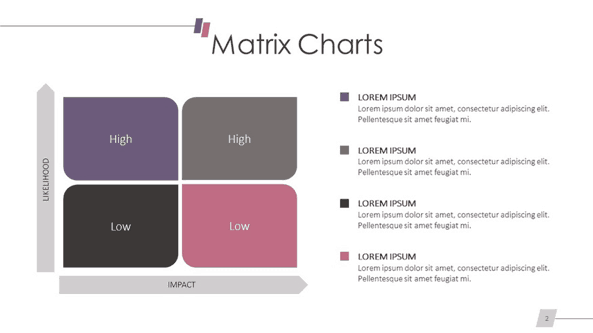 The matrix chart looks simple enough. You've got rows and columns, pretty much like any regular table. But it's more than just a table. A matrix chart allows you to compare and analyze different sets of data. You can use it to prove certain data sets are related. Plus, you can even show the strength of that relationship.
This template pack comes in 10 slides. In addition to the basic matrix slide shown above, this pack also include slides like the probability and impact matrix chart slide as well as the table-like matrix chart slide.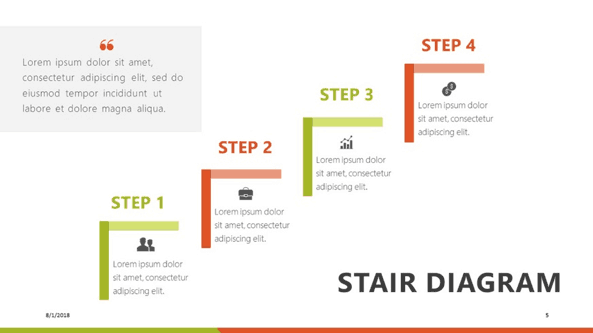 Just like its namesake, stair diagrams are great for showing a series of steps or progression. You can use good, old-fashioned bullet points, but it's not going to be much fun. You've got 10 different stair diagrams to choose from in this template; the screenshot above shows a steps stair diagram.
Now, most of the diagrams we've designed have room for 4 or 5 steps. So, if you need more you can always add an extra step on the same slide. Or you can copy and paste to a new slide and just update the numbers.
Stair diagrams are pretty versatile. You can use them to present how certain processes work, describe a project workflow for maximum productivity, or use it to showcase certain structures in the company.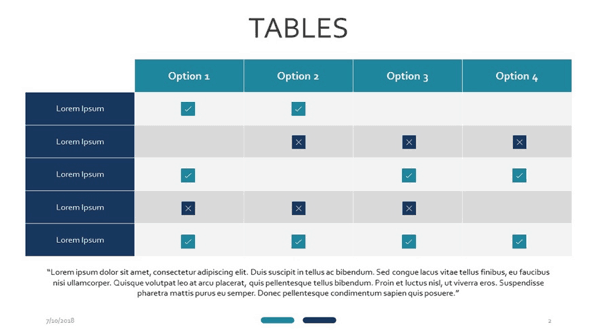 Tables have been around for a long time. And it doesn't look like it's going to go out of 'fashion' soon. Quite the opposite, in fact. As you may have noticed, many of the charts and diagrams included in various templates in this article are based off of tables.
That said, this template pack is also quite unique as well. In addition to the normal-looking table slide shown above, our designers have also made it a point to come up with innovative ways to display tables for your presentations.
For instance, sample slides include a subscription slide, table with symbols slide, and a matrix organization structure table slide. Check out this template right away and see which table slides will look best for your presentation!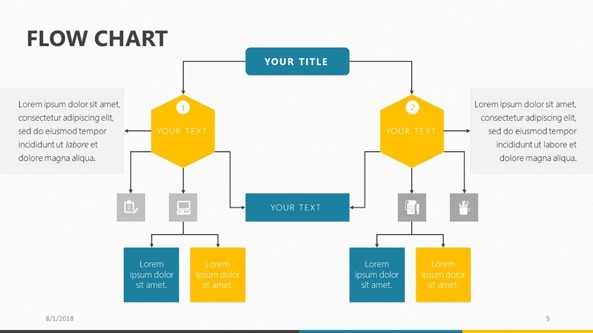 Flowcharts are extremely useful for documenting certain company procedures. You can even use it to present the hierarchy in the company, and who's responsible for certain tasks. Instead of verbally discussing processes, why not try using a flowchart? You don't need to design one from scratch either. You can just download this template pack and customize it according to your needs.
The good news is you have 10 different flowchart slides to choose from. Now, if you need to change the shapes to indicate certain steps and decisions, you can quickly do so in PowerPoint.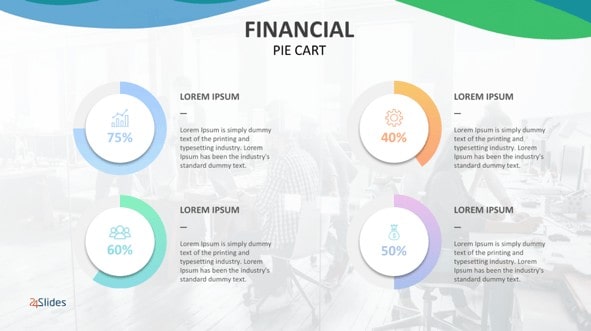 Whether you're presenting in front of the higher-ups in your company or potential investors for your startup, these financial pie charts will help you get your point across. With a few clicks you can customize these pie charts and make it your own.
Your audience can quickly analyze the charts and see which departments or products are profitable. In addition to the percentages shown on the slide, you can also add a short description about your financial metrics.
This template pack has 3 slides included. These are ring pie chart slide, financial pie charts for comparison slide (shown above), and the doughnut pie chart slide.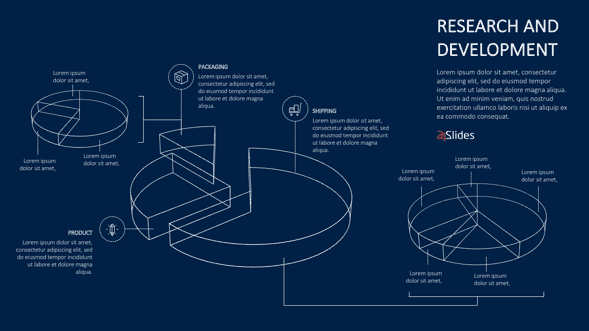 Any startup worth their salt will have a research and development process or team in place. These things are no joke – product development can take years and cost millions of dollars! External funding is often needed to sustain the R&D process.
This is where this template pack comes in. When you present to potential investors, you want to make it as succinct as possible. So, get directly to the point and show them the slides in this template pack.
Now, design is just a small part of the overall presentation. It's your passion in the product and your ability to persuade potential investors that will ultimately lead you to success!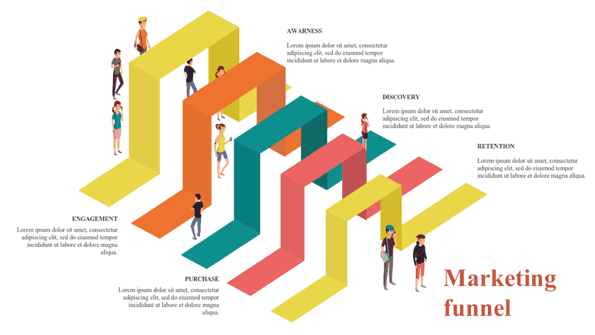 Our list of templates for data presentations won't be complete without a sales report template. As you can see, this template is great for in-house sales reports. This pack includes a vertical bar chart slide, marketing funnel slide (pictured), and a sales associate slide.
The vertical bar chart slide is great for keeping track of your team's sales or cash flow. The marketing funnel slide, on the other hand, can help educate the team on how a marketing funnel works and which stages they should focus on.
Lastly, the sales associate slide can be used to introduce the most successful person in the team. This will definitely help boost his or her self-esteem and encourage others to do better next time!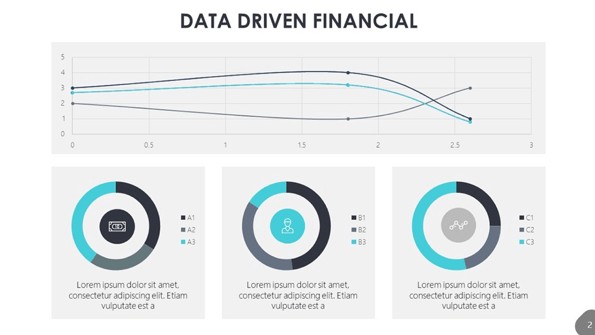 This 11-slide template pack is chock-full of charts and diagrams. The slides have been designed this way because it's targeted for high-stakes financial presentations. For presentations that talk about money, you need to support your statements with cold, hard facts. And you need to do that in a professional manner.
This template will not let you down. From the design to the types of graphs we've included in the slides, this will suffice for most financial presentations. So, what are you waiting for? Check out the template pack right away!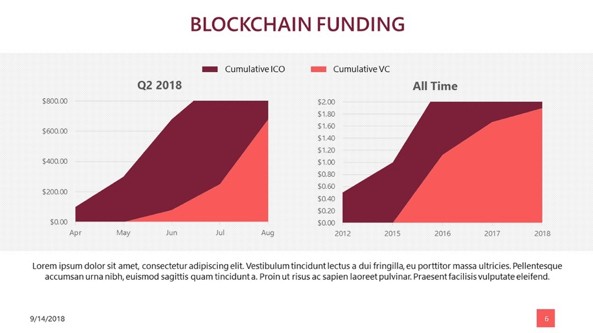 Cryptocurrency and blockchain are all the rage nowadays. A lot of people became millionaires – literally – overnight, but many more gambled and lost their entire life savings!
Blockchain technology is practically still in infancy. Sharing what you know about it isn't exactly a walk in the park either. To help your audience understand the complexities of blockchain technology, use this template pack. It's got all the slides you need to inform and educate your audience about the wonderful world of blockchain technology.
Google Slides Templates For Your Data Presentations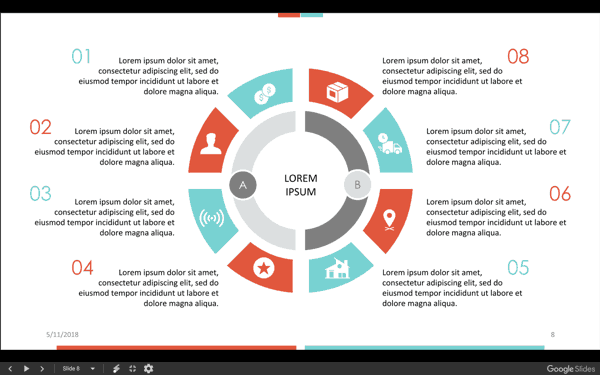 A product's life cycle is predictable. It starts with the introduction to the market, to product growth and maturity, and eventually, its decline. And it's important to identify these stages because each has a direct influence on the company's marketing activities and pricing.
This template pack will not only help you identify the stages. It will also help you assure your stakeholders and potential investors that you've done your research. And you'll do whatever it takes to ensure the product's success and, of course, profitability.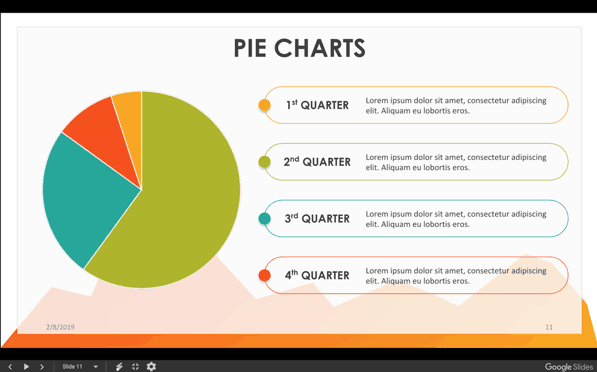 Unlike the other pie charts I've featured in this article, this one is going to be easy to use. First of all, there's no need to download the template to your computer. All you have to do is just register an account on our Template Hub, and then create a copy of the template in Google Slides. As you can imagine, editing it is going to be a breeze as well. You've got 10 pie chart slides to choose from. Pick the ones that will help you get your message across, edit, and present (or publish)!
As you can see in the screenshot above, a dashboard slide will basically tell your audience everything they need to know in just a single slide. You can stretch the content out, and use one slide for each chart. But it's not going to be dashboard style anymore if you do this.
Dashboard template slides are great for elevator pitches. Your prospects most likely don't have a lot of free time. And you certainly don't want to waste their time as doing so will leave a bad taste in their mouth. A dashboard-style presentation, however, will pique their curiosity and improve the likelihood that they'll agree to a second meeting with you!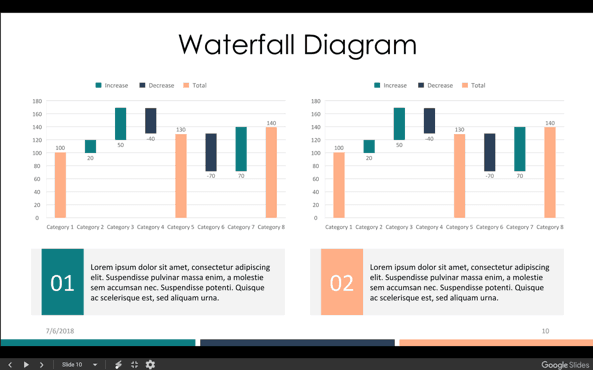 Waterfall charts are great for financial presentations. You can easily show which elements or categories gained or lost over a certain period of time. It can even be used to demonstrate changes in cash flow or your company's performance in the stock market. This template pack has a total of 10 slides. This includes the waterfall performance comparison slide (pictured), waterfall flowchart diagram, and the project timeline slide.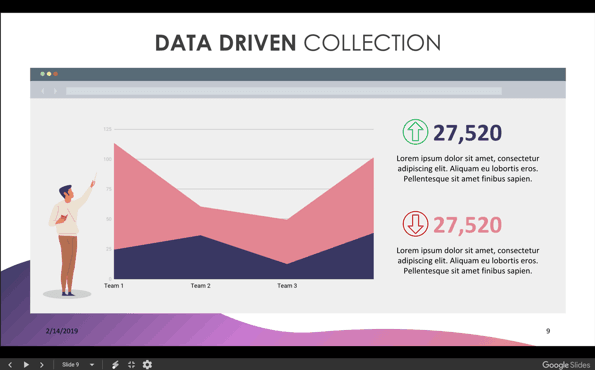 You may be thinking that templates for data presentations should be serious-looking. Well, that may be the norm, but it doesn't mean your audience won't appreciate a change of scenery!
This 10-slide playful-looking template packs a lot of punch. You can use this for a wide variety of presentations as it includes a lot of different charts and graphs you can use to share the results of your data analysis. There's a bar graph, radar chart, waterfall statistics chart, a treemap, and more! Login to your Template Hub account to use this free Google Slides template!
The circle diagram template pack features 10 different kinds of circle charts. From pie charts, timelines, and cyclical processes to Venn diagrams, this versatile template can be used in all types of presentations. The color theme used is playful, and at the same time, professional, so you can be sure it will appeal to a wide audience. Some of the slides include a circle tracker diagram, project management chart, and a life cycle slide.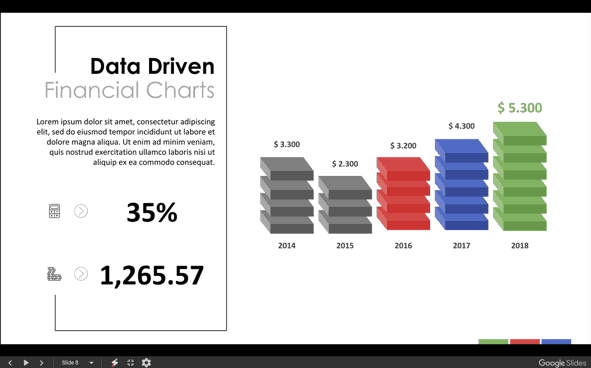 Number crunchers will love the clean design on this 9-slide template pack. Getting your audience to understand your financial presentation is going to be a breeze using this template. There's plenty of white space, and the graphics themselves are easy on the eyes. It's your job as presenter, however, to explain what all these charts mean. So, once you've replaced the placeholder content with your own, you better start practicing your presentation speech!
What are your favorites templates so far?
I hope these 20 free PowerPoint and Google Slides template for data presentations have helped you out. Presentation design is important, but it pales in comparison to the message you want to share with your audience. As visual aids, we've designed these templates to be attractive while still maintaining a professional and trustworthy design. So, go ahead and download your favorite templates for your next data presentation!