The 6 Best Dedicated Teams for Design Work
The decision to hire dedicated designers comes after identifying a lack of resources in your team. And while the good news is that the business is growing and has exciting projects, finding the right dedicated team is not so easy.

For starters, design is a rich field that covers several services, so you'll need to dig in to get to the type of design you need. Also, the dedicated model is just catching up with graphic designers, which means you have to spot experienced providers for a higher chance of success. On top of that, they need to sync with your business or internal design team structure. But breathe easy as today the job is halfway done. This article is packed with the best options in the market for you to evaluate and decide on.

First, we'll go over what exactly means a dedicated design team. Then, we'll confirm if this model is what your business needs, and finally, you'll get the full list of top providers. As an extra, I've added some filter questions that will help you assess your final picks and guide you in the right direction. Ready to get your next dedicated designers?
What's exactly a dedicated design team?
A dedicated design team is a remote team of designers that work for your company full-time and generally on a long-term basis. As an outsourced provider, they can partner up with your internal design team or directly support the creative tasks of the whole company. Plus, the number of dedicated designers can be adjusted anytime, depending on the project and business needs.
In a few words, a dedicated design team works as a remote design department structured to tackle your company's design challenges.
Some of the benefits of hiring an external design team include:

Stable and defined budget.
Complete control over their management.
Fully engaged designers in your projects.
Agile processes and fast delivery times
Increased productivity for your in-house team

When should you hire a dedicated design team?
Dedicated design teams are particularly suitable for a company in the following situations:
The business's design needs exceed your in-house team's capacity

When in-house designers find it hard to take on new tasks or struggle to complete them on time, it's a sign that they're overbooked. Having a dedicated design team helps manage the excess workload and gives your internal team the freedom to focus on high-value tasks.

Whether it's bringing in specific skills on a project or handling repetitive tasks like formatting documents, dedicated designers can be the helping hands your in-house team can turn to when dealing with too many requests.
You need to save design costs but still get a professional outcome.

One of the best things about hiring a dedicated design team is that they don't incur extra charges as a full-time employee might do. For example, you don't have to worry about looking for every single team member as the design provider will take care of giving you the best talents.

You also forget about training resources, PTO, and other costs that only add up to the design budget. Instead, you get a dedicated team of professional designers ready to get the work done.
Your business has an ongoing demand for design work.

Perhaps it's a long-term project you're about to start, like a rebranding of collaterals, or maybe the business operations demand high-quality designs on a regular basis. Whatever the challenge, a dedicated team gives in-house designers valuable support while keeping all departments happy with the results - even in unexpected workload peaks.

If any of these situations sound familiar, we're about to fix that. Keep reading to discover the top dedicated designers in the market.
The Best Dedicated Teams for Design Work: From Specialists to Generalists.

In this section, you'll find 6 of the best dedicated design teams, including service details and examples of their work. I put together relevant information from their websites and online reviews, so we can get a better idea of what they offer. Stop drowning in your browser tabs; it's all right here: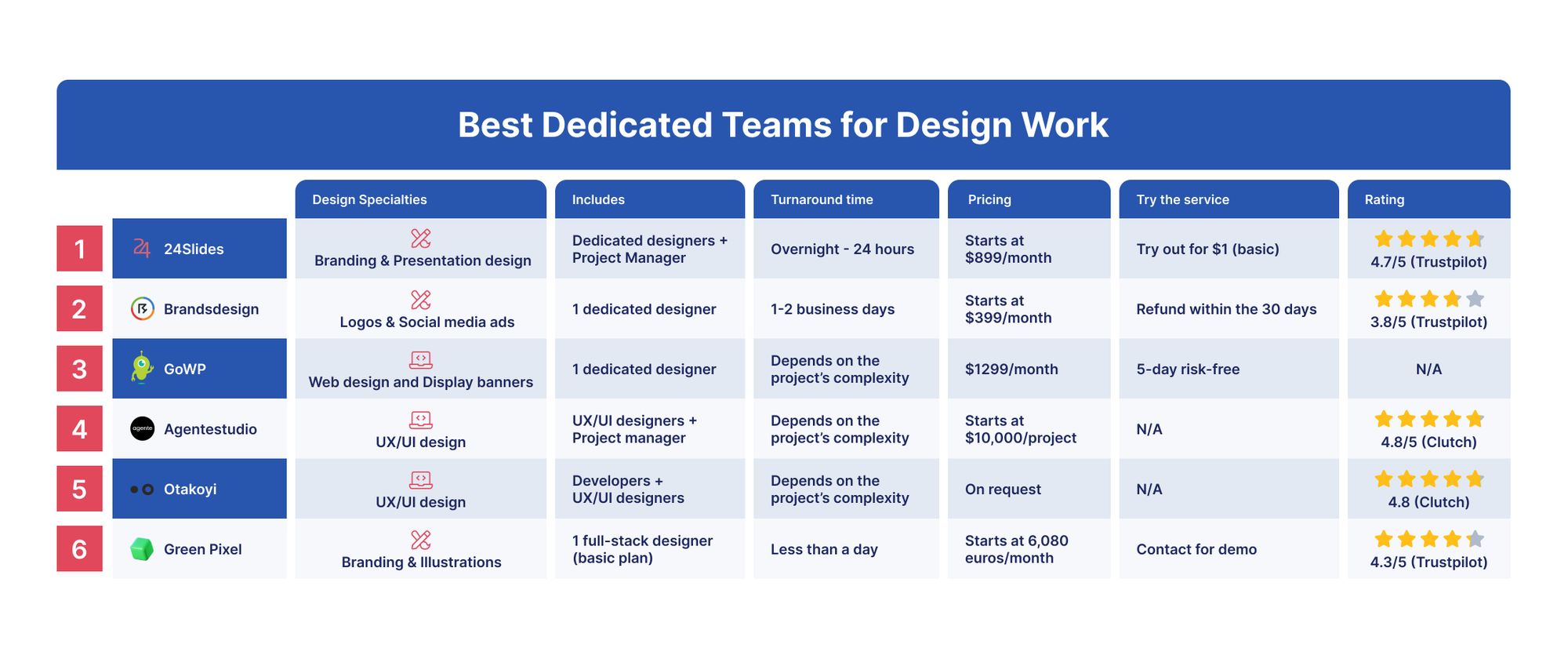 24Slides: Experts at maximizing your presentation's impact.

Does your team have regular monthly presentations or require design support to create amazing slides? Let presentation designers do the job. 24Slides gives you a team of dedicated designers that work on all PowerPoint slides you send their way. From formatting business decks to injecting your brand into old slides, they ensure all your presentations stand out so your internal team can focus on the higher-value tasks.

And if you're wondering how good a design in PowerPoint could be, check out these 24Slides examples:


The 24Slides dedicated team includes:

Professional presentation designers trained in your brand guidelines
A dedicated project manager
Easy online platform to handle your design orders
Seamless integration into your team workflow
Full data protection

Design Specialty: Branding and Presentation design.
Timing: 24 hours - Overnight turn around on all your slides.
Pricing: Starts at $899 per month.
Rating: 4.7/5 (Trustpilot)
Brandsdesign: Branding & Social media designers

Especially suitable for small businesses and solopreneurs, Brandsdesign allows you to work with a dedicated designer who can handle basic graphic designs, animations, and videography. Whether it's to give your social media ads an astounding look, create your first logo, or update your product packaging, Brandsdesign offers monthly and annual packages to fulfill your design needs.

The standard package includes:
One dedicated graphic designer
Unlimited requests and revisions
24/7 Live chat support
Marketing materials for print

Design Specialty: Logo Design & Identity / Banner Ads
Timing: Within 1-2 business days turnaround
Pricing: Starting from $399 / month
Rating: 3.8/5 (Trustpilot)

GoWP: Dedicated designer for digital agencies

Growing digital agencies are constantly on the lookout for qualified talent but finding the right skills, experience, and attitude in a candidate seems a tall order. That's where GoWP comes in with its pool of vetted designers. You can outsource logos, landing pages, social media ads, and other digital resources to your dedicated designer while allowing your agency to take on more projects.
GoWP offers:
One dedicated designer
Freedom to switch designers as needed
Availability up to 40 hours weekly.
Adding more GoWP Pros at a discounted rate

Design Specialty: Digital design / Web design / Display banners
Timing: Depends on the project's complexity
Pricing: $ 1299 / month
Rating: N/A
Agentestudio: Dedicated Team of UX/UI designers

For businesses that need to scale up their design and product teams, Agentestudio offers dedicated teams of UX designers. They can deliver a full cycle of UX/UI design services to create or improve websites and mobile apps. They've worked with industries from e-learning and e-commerce to healthcare and proptech. So whether you lack in-house knowledge or need UX expertise on your team, Agentestudio's dedicated designers are ready to exclusively engage in your projects.

Agentestudio's dedicated team of designers includes:
Team Selection
Team Augmentation
UX Research
UX/UI Design
Project Management

Design Specialty: Digital design and UX/UI Design.
Timing: Depends on the project's complexity.
Pricing: Starting from $10,000 / project
Rating: 4.8/5 (Clutch)

OTAKOYI: Dedicated Software Development Team + Mobile and Web designers

Otakoyi recognizes the value of good design and includes skillful UX/UI designers in their dedicated development teams. This combo assures you get web pages and apps with great user experience and brand consistency.

They have worked with real estate, education, healthcare, media, and eCommerce businesses. And ultimately, Otakoyi prides itself in never sacrificing usability for functionality as they can offer both with a first-class software development team.

Design Specialty: Web and mobile app development / UX/UI Design.
Timing: Depends on the project's complexity.
Pricing: On request
Rating: 4.8/5 (Clutch)
GreenPixel: Dedicated full-stack designers

Green Pixel's dedicated designers can work as an extension of your creative team or be your remote design department. With deep integration into your workflow, they'll be able to deliver any design assets you need, from icons and business cards to infographics and packaging—a great fit for SMBs and enterprises.

Their dedicated team includes:
Full-stack designers
A project manager
Onboarding in 24-48 hours
Full integration into your systems
Design Specialty: Branding / Illustrations and Icons / Social Media Design
Timing: Turn arounds in less than a day
Pricing: Starting from 6,080 euros / month
Rating: 4.3/5 (Trustpilot)

4 things to consider when hiring a dedicated design team
It's ok if you still need some time to deliberate. It can be a bit overwhelming to decide between the best providers in the market, so here are four filters to help you narrow down your options and identify the right dedicated design team for you.
Do they offer the type of graphic design you need?

Graphic design is more than captivating Instagram ads or elegant business cards. We're talking about a field that includes a wide range of services and skills, so make sure they cover the design areas you need help with.

The most demanded ones are branding, UI design, presentation design, editorial design, and infographics.

Also, are you looking for a dedicated team that works on all graphic design stuff? Or do you prefer designers with specialized skills to fulfill your creative tasks? This point can make all the difference in your budget and the quality of your final pieces.
Can they keep up with your in-house team's work pace?

When considering a new design provider, it is essential to check if they can adapt to your in-house team's workflow and delivery times. For instance, many list turnaround times that tell you if they're suitable for fast-paced projects or if they can complete your team's design requests with proper lead time.
What do previous clients say about their experience with them?

You can usually read customer testimonials on the design provider's website, but to get a complete view of what it's like to work with them, you can look them up on online review sites such as Trustpilot or Clutch. There you'll find in-depth customer reviews that will help you make decisions considering the pros and cons.

Plus, getting to know other companies they've worked with tells you about their know-how on design projects from your industry or if they have experience partnering up with a business like yours. So it's always a good idea to explore their portfolio or examples pages.
How do they protect your business information?

Finally, this point is a must - especially if your projects involve internal business information. To confirm your files will be in good hands, look for the provider's security policy or privacy protocols. You should only work with a dedicated team that can prove your data is safe with them.
Grow your team with expert, dedicated designers!
If you made it here, you must already have your best option in sight or at least your favorite picks.
To come to the final decision, I invite you to revisit the summary table up there and consider which are the non-negotiables for you. Maybe it's a matter of budget, so the best value for money is the way to go, or perhaps your business manages sensible information and needs full data security. Think about the essential requirements for a safe and friendly collaboration between your new provider and internal team.  
Another smart thing you can do to not jump into the unknown is to try the service first. Some providers manage days risk-free, with money-back guarantees in their packages. Others have try-out options like 24Slides, where you experience the basics of the service and understand how your team can get the best out of it.
Hopefully, these recommendations and tips have pulled you closer to your next dedicated designers. Growing your in-house team with external design experts will only elevate the quality of your pieces and make everyone prouder of what you put in front of your clients. Welcome to the future of design work!