The secret to great presentations
Helping people give memorable presentations is what we are here for. From data visualization, to the do's and don't's of giving presentations, to tips on how to make powerful cover slides, we make sure that you know all the secrets to great presentations, while we do the rest. Here's another secret to great presentations revealed.
---
Once upon a time, in the 19th century, a German novelist named Gustav Freytag noticed a pattern in ancient Greek and Shakespearean drama.
"EUREKA! It's a pyramid!" he exclaimed, and proceeded to use this discovery as a diagram to analyze plots of stories.
No, Gustav Freytag did not really say that —and this pattern has been discovered by Aristotle centuries before he did. But Freytag was the first to visually illustrate the pattern in the shape of a pyramid. Known as Freytag's pyramid or the dramatic structure, it represents the sequence of events commonly found in dramas: introduction, rising action, climax, falling action, and resolution. In a nutshell, stories are said to progressively build up to a climax and then progressively slow down to a conclusion.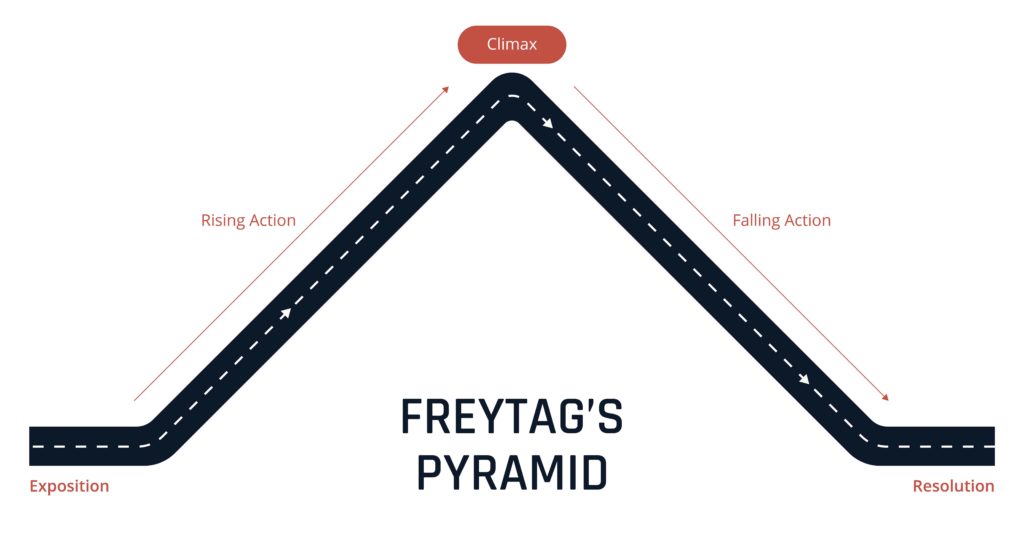 Most presentations, on the other hand, flatline like a boring lecture on a sunny afternoon from beginning to end — unless you're Steve Jobs or Martin Luther King, of course.
The secret is in the structure
The way that ideas are conveyed most effectively is through story. What do Martin Luther King's "I have a dream" and Steve Job's 2007 iPhone launch speech have in common? Their shape — how they are structured. And no, it's not a pyramid.
Gustav Freytag is to ancient Greek and Shakespearean drama as presentation extraordinaire Nancy Duarte is to presentations. In one of her her TED talks, Nancy Duarte discovered that great presentations that manage to grip their audience from beginning to end are structured like this: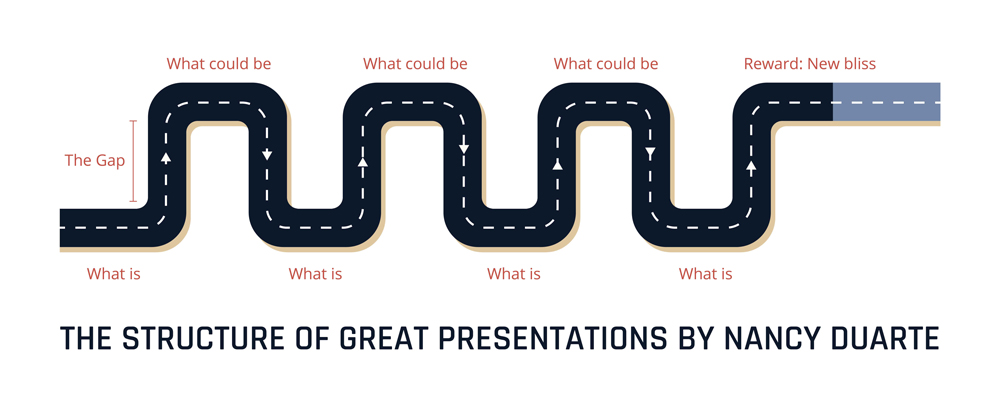 Unlike a pyramid that builds up to a climax and falls back down, the secret to great presentations is that they constantly go up and down in climax — going back and forth between what is and what could be.
How to structure your presentations like a pro
Make the status quo look unappealing.
In his 2007 iPhone launch speech, Steve Jobs effectively painted an image of a stale world of PDAs and incapable mobile phones, before talking about the new iPhone's new features. When he talked about the iPhone for the first time in 2007 he went back and forth between: "Here's this new phone —  here are the sucky competitors -— here's this new phone — here are the sucky competitors".
If your presentation is about a new product, or a new strategy, a different approach to solve a problem, make sure to paint a picture of how ineffective or even problematic the current state of things are, so you can highlight how great your idea is.
Emphasize the gap between what is and what could be.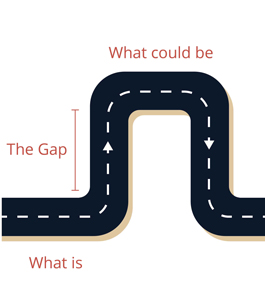 In a presentation that goes up and down in intensity, the key is to make the gap between the highs (your idea) and the lows (what you are trying to change) as wide as possible, to establish a stark contrast between what is and what could be.
In his famous "I have a dream" speech, Martin Luther King went back and forth between terrible images African Americans are faced with, quickly followed by what his dream was for them. Apply the same principle to your presentation: Here is a problem BUT THEN here is a solution. You want your audience to stop and think, "Wow do I really want to be a part of that problem?"
At the end of the presentation, you need to establish your idea as a new bliss.
So you have taken your audience on a rollercoaster ride — a riveting tale of highs and lows, problems and solutions. Time to give them a happy ending. It's time to hold their hand and tell them that it is going to be okay, because of your new idea: "This is how the awesome the world is going to be once we join forces."
Steve Jobs ended his 2007 iPhone launch speech, reassuring the audience that "Apple will always skate to where 'the puck is going to be', not where it has been" and "Martin Luther King ended his speech with: "Free at last! Free at last!". Make sure you give your audience the same sense of reassuring bliss.