The Top 29 Presentation Resources On The Web
At long last! Your search for the top presentation resources on the Internet has now come to an end. In this article, we've scoured the web for the best and most valuable resources you can use to improve your presentations!
Templates
Templates are popular for a reason. Instead of spending hours getting frustrated on the intricacies of slide design (so true if you don't have a 'creative' bone in your body), templates will help free up your time. This means you can focus on perfecting your speech and your presentation!
With hundreds of free slides to choose from (and more added every single week), our very own template hub seeks to provide professionally-designed templates to PowerPoint users of all levels. All our templates are 100% free and are created by our in-house team of professional presentation designers. To get started, simply create a free account and you'll have access to our free templates in seconds!
Graphic River is one of the most popular marketplaces for premium PowerPoint, Keynote and Google Slides templates. The great news is most of the templates aren't all that expensive to begin with,  but they sure pack a lot of value. The bestselling templates include hundreds of slides with a variety of color themes, slide sizes, free icon packs, and so much more!
Behance is more than just a site where you can download free PowerPoint templates. It's also a great site to get design ideas and design inspiration. After all, it's a popular hub for all kinds of designers. Have a look at their offerings and see if you find anything you like!
Jimena Catalina is the sole designer behind all the free templates on Slides Carnival. Over the years, she's amassed a large collection of free templates, and this site is now one of the top sources for high-quality templates. Her templates are categorized into the following: formal, inspirational, creative, simple, startup, elegant, playful, and business.
Images, Icons And Videos For Your Slides
If you want your presentation slides to come alive, you need to use graphics and eye-catching multimedia. If you don't have original multimedia, feel free to browse these sites for something you can use. Check out our in-depth guide on using images, videos, and graphics in PowerPoint.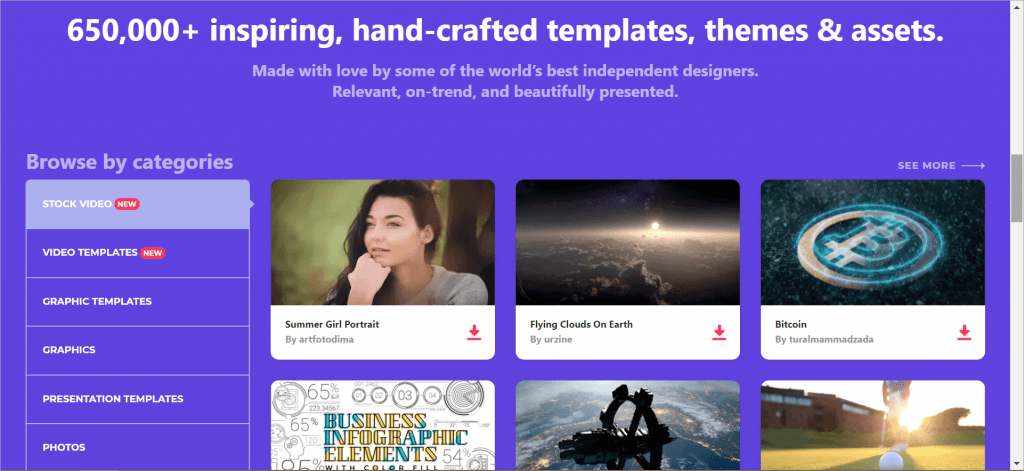 Envato Elements is a premium membership site, but you get so much out of your membership. This is really one of the best sites for all things related to presentations. For only $19/mo, you get access to hundreds of thousands of design assets like images, templates, icons, and so much more! You also get access to Envato Tuts+ which has thousands of video courses and eBooks.
Unsplash has grown to become one of the biggest free-image sites in the world. Currently, the site has over 550,000 free and high-resolution images that you can use any which way you want (yes, you can even use their images on commercial projects)! Whether you're looking for a great background image, or you want to use a relevant image to highlight a point you're making, chances are Unsplash will have the right image you're looking for!
If you don't want to spend money on Photoshop just so you can edit the graphics and images you want to use in your slides, then Canva is one of the better, free options out there. Creating eye-catching graphics is quick and easy on their web-based drag and drop editor. If you want to know more about designing slides, and design in general, click on Learn on their homepage menu.
Icons are powerful because they help grab your audience's attention and save a lot of space on your slides. Instead of typing out words or phrases on your slides, you can simply replace them with icons. Just make sure that when you do use icons, choose those that will be universally recognizable. Otherwise, you're going to cause confusion among your audience.
Video backgrounds can add a lot of pizzazz to your presentation. If you're in need of free, high-quality videos you can use as your slide background, then check out Coverr. You can subscribe to their mailing list if you want to receive updates when they upload new videos to the site.
Blogs and Websites
The blogs and sites listed in this section will not only help you get your design game on point, but you'll also learn plenty of actionable tips to help build your public speaking skills.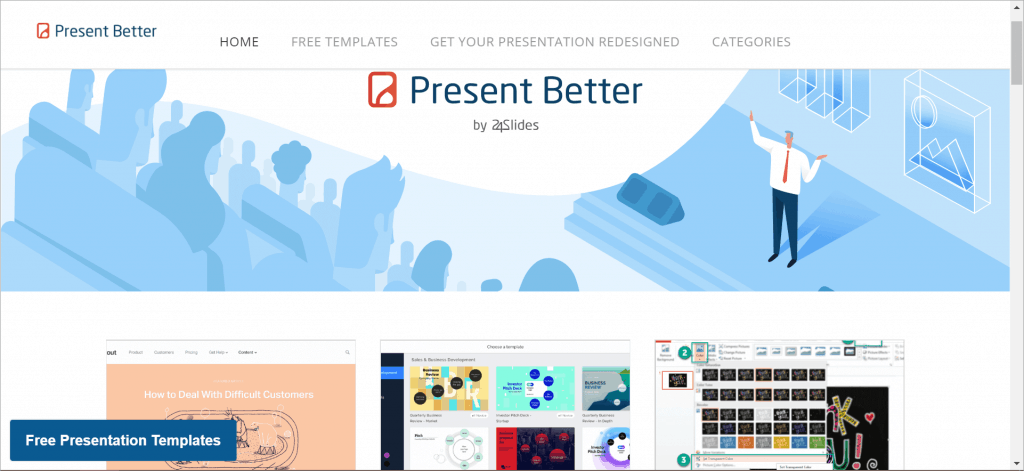 We've invested a lot of resources into making the Present Better blogs one of the top blogs on Presentation Design and Tips, Presentation Resources, PowerPoint Tutorials, Sales and Productivity, and so much more. We don't just rehash information found on the Internet. We strive to provide original and well-researched content not found anywhere else on the web!
The Ethos3 blog provides a ton of useful presentation tips and tricks. They write about presentation hacks, presentation science, conferences and technology, persona spotlights, and presentation design. They also have a podcast so feel free to go check it out as well.
Garr Reynolds is a best-selling author and speaker, so he's one of the guys who actually walk the talk. While Presentation Zen is not as updated frequently as other blogs on this list, you'll still find a lot of valuable information on this blog. His posts on giving presentations are still very much relevant, so do head over to his site and check out his words of wisdom.
Duarte Design offers premium services which all aim to help improve and transform people's presentations. If you're not looking to invest in their services, you can check out their Resources section for presentation guides and tools, webinars and videos, and books. Their blog also has hundreds of blog posts in presentation delivery, presentation design, strategy, tips, and more.
If you want to see how other brands and businesses are designing their slides, then you should head on over to SlideShare. Explore presentations in many different categories like business, design, economy and finance, environment, health, presentations and public speaking, and so much more.
There are thousands of videos on the TED website. You not only get inspired and entertained, but you also learn new things. You can get ideas on how other people present their ideas to the world. Study their body language and see how they hook their audience to engage with them in their presentations.
Podcasts
If you want to make the most of your commute or your drive to the office, or you want to listen to something other than music while you're working out, then check out these presentation podcasts.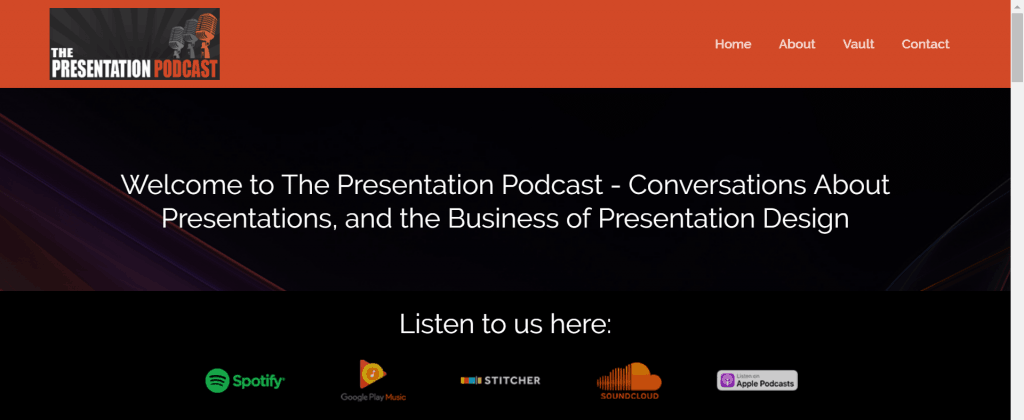 The hosts of the bi-weekly Presentation Podcast (Troy Chollar, Nolan Haims, and Sandra Johnson), mainly talk about the business of presentation design. They also interview presentation design studio owners and get their input on presentation design, tools, tips, and more.
Hosted by Fred Miller, author, speaker, and international coach, the No Sweat Public Speaking podcast, will give you ideas on how you can overcome your fear of public speaking. His episodes will give you plenty of actionable ideas to help ensure you'll knock your next presentations out of the park!
Hosted by Carma Spence, the Public Speaking Super Powers podcast will help you unleash your inner speaking superhero. She's got 80 episodes up on her site so far. These will be more than enough to get you started on learning how to communicate your message with confidence!
Public speaking seems to be the Achilles heel for many people. Let Oscar Santolalla's Time To Shine Podcast help you get over your fear. He's brought in the big guns and has interviewed amazing speakers from all over the world. His show covers not just public speaking, but also storytelling, presentations, communication skills, and more.
Books
Many a presenter has learned to improve their presentation skills thanks to these top-selling books in this subject area.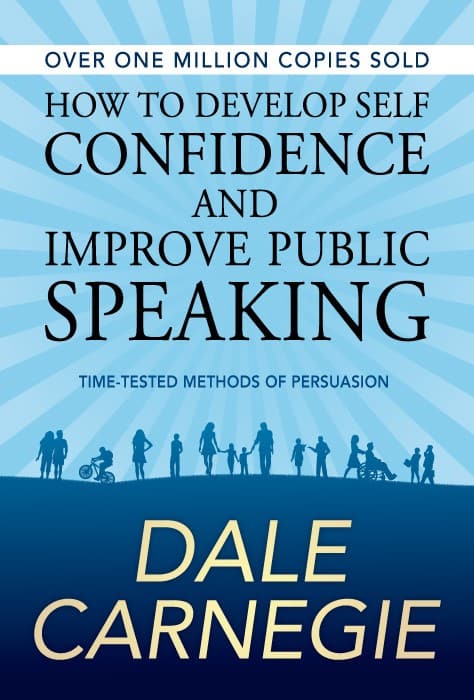 This book may have been published decades ago, but the topics written about still hold true to this day. In addition to helping you improve your self-confidence, this book will also teach you how you can improve your memory, how you can charm your audience, how to begin and end a presentation effectively, and so much more!
Designing visually stunning slides don't come naturally to most people. If you want to learn how you can develop your presentation visually, then this book is a must-read. You'll not only learn how to effectively design your slides, but you'll also learn how you can use your presentation to connect and engage with your audience.
Storytelling is an important aspect of giving presentations. Do check out this book if you want to know how you can develop your presentation's storyline. The key takeaway is your content and your message should be clear if you want your audience to pay attention to your presentation.
This book is geared towards those who are well versed in giving presentations, but still feel like they can improve. If you've mastered 'presentation 101' and now want to embrace the big leagues, then this book will help you out! (Don't worry if you're a beginner presenter, the other books on this list will help you a lot).
Courses
Choose from any of these platforms to look for a suitable presentation and/or  design course to help knock your audience off their seats.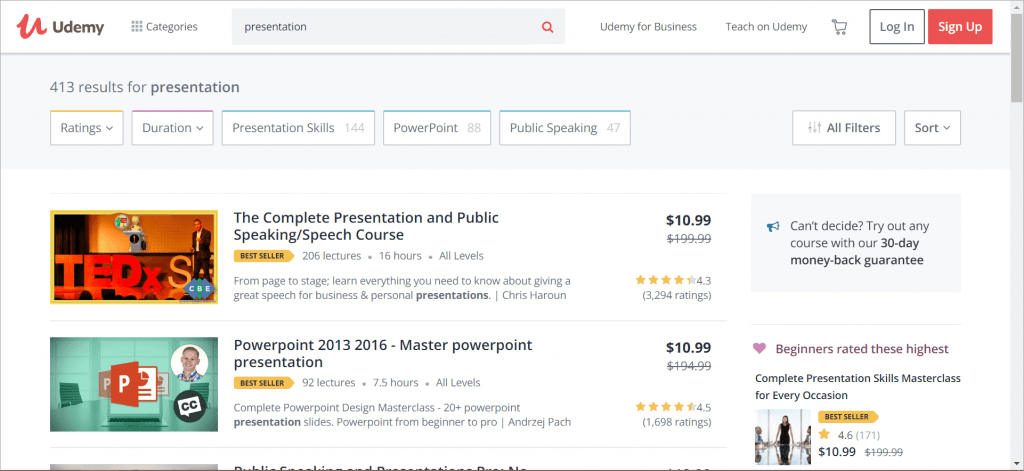 There are over 400 courses about presentations on Udemy. This includes presentation skills, PowerPoint, and public speaking. Have a look and sign up for courses that appeal to you. Udemy runs promotions all the time so you may be able to grab a course for as low as $10 each!
There are over 2,000 courses about business presentations on LinkedIn Learning (formerly Lynda.com). What's great about their pricing structure is that you can sign up for any course and pay only a flat monthly fee (only $24.99/mo if you pay annually or $29.99 if you pay month-to-month).
SkillShare has the same pricing model as LinkedIn Learning in that you only pay a flat monthly fee (as low as $8.25/mo if you pay annually and $15/mo for the regular monthly membership). This is obviously ideal if you plan on consuming a lot of content. Currently, there are over 700 presentation courses on the platform.
YouTube Channels
These YouTube channels are all about helping people improve their presentations. Check it out and subscribe to channels you like best, so you get notified with every fresh content they publish!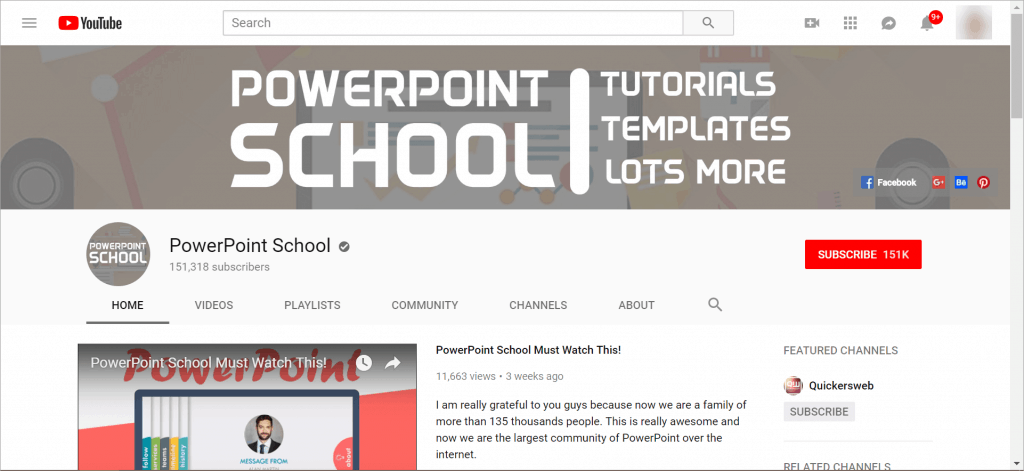 If you want to learn how you can make fun and unique graphics and designs on your slides, then you need to check out the PowerPoint School's YouTube channel. You'll learn that PowerPoint is not just a boring presentation software, but it's also a powerful, stand-alone graphics software. Watch a few videos, and you'll be able to make motion graphics and various animations on PowerPoint in no time at all!
Don't feel too sad if you don't have a Toastmasters' club in your vicinity. You can watch videos on the Toastmasters YouTube channel to find out how you too can improve your public speaking skills – all from the comfort of your home!
As an in-demand speaker and author, you'll surely find a lot of public speaking gold nuggets in Craig Valentine's YouTube channel. He's also the 1999 World Champion of Public Speaking for Toastmasters International, so you're literally learning from a master!
Final Words
Giving successful presentations will entail a lot of work. Use the resources we've compiled in this article to help you become a much better presenter. Let your slide design dazzle your audience, and use your charm and newfound confidence to build rapport with everyone!