Executives, PowerPoint & Time – Set Your Priorities
We call it "death by PowerPoint" in our office. You have seen these presentations too. So many words on one page, boring inadequate designs, more slides than you can actually present in an hour, a monotone look, a monotone voice and a guaranteed nap time for many in the room. This is not putting your best foot forward.
No doubt there are companies, large and small, all around the world that use any personnel that has heard of PowerPoint to put together their next presentation. From the receptionist to the engineer, these staff members are required to do this task – a task so far out of their skill set and comfort zone. Many corporations offer the dreaded corporate template, but that is nothing more than a slide with a logo and maybe a colour bar on it. Typically those who put together the presentations have little to no training with PowerPoint, much less any sort of training with design concepts. Often, the same template and the same presentation is used over and over for years with just a few minor changes now and then. Even the presenter is perceived as bored with the content. The customer is not blind to this situation.
Using untrained staff or worse yet, the top-paid CEO, to put together PowerPoint presentations is a waste of time, money and resources. Not many companies have dedicated staff to focus solely on PowerPoint and other graphic needs. In the same token, not many companies can spare their CEO to do presentations when their decision making and management skills are more in demand. There is a high cost for misused executive time.
There needs to be more discipline and focus at the executive level to save valuable time and money. Here are some key points from a recent Harvard Business Review article.
Handle operations separately from strategy
Focus on decisions and not discussions (presentations)
Measure the value of every agenda item
Move issues off the agenda quickly
Put real choices on the table
Adopt best practices when it comes to decision making processes and standards
Make decisions stick
Read the full article here.
The Statistics Tell the Story
PowerPoint has been around for some 20+ years and brings in over $100 billion in sales annually. Microsoft owns 95% of the market share of presentation software. Here are a few more PowerPoint statistics you may find interesting.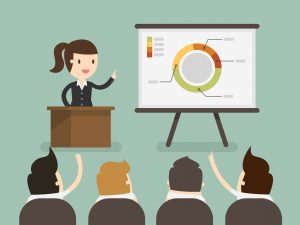 PowerPoint is used by over 500 million people. If you use stock templates (which are easy to use) most likely there will be someone in the world, in your industry, in your city that is using the same design as you are.
About 300 million PowerPoint presentations are made every day. What are you going to do to make your presentation outshine the rest? Colours, images, words, shading, a lot of design elements will go into making a presentation. Do you or someone you work with have the necessary skill sets?
Over 6 million teachers use PowerPoint every day. As a teacher, are you creative enough to be able to engage your students just using a PowerPoint presentation?
The average PowerPoint presentation lasts about 4 hours! Wow! In what universe would anyone want to sit through a presentation that long? These lengthy presentations are not designed by professionals.
The average PowerPoint slide has 40 words – too many to follow. Visual data is processed 60,000 times faster in your brain than text. Use more images than words.
Finally, Microsoft estimates that over $250 million is wasted per day due to poor PowerPoint presentations. This included the personnel wages, time spent in ineffective meetings and the time to prepare the presentation itself. It makes me wonder how much money my company is wasting.
Here is a cool infographic about PowerPoint followed by a text version. Which is more appealing to you?
Advantages & Disadvantages
Many people love PowerPoint, but there are also many who do not like it at all. Here are a few advantages and disadvantages to consider.
| | |
| --- | --- |
| Advantages | Disadvantages |
| Easy to use and modify | Excessive presentations – use it as a crutch instead of having real substance |
| Colourful design elements built it | Prop for poor speakers |
| Visual impact | Complex subjects need to be reduced to a few bullets subsequently compromising the real meat of the presentation |
| Powerful, flexible software with many features | Presenters get carried away with animations and sound effects |
| Integrated with other popular software | Requires a basic set of equipment: computer, projector, screen |
| Easy to deliver | Abused as more than just a tool to enhance a presentation |
How Do We Communicate Better?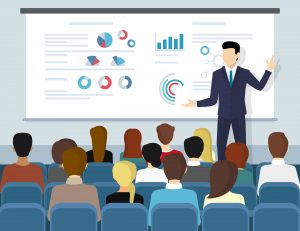 Designing a crackerjack presentation takes much forethought, planning and execution. Does the top executive of the company have the time to be developing the presentation? S/he may be presenting the information but they do not have to be the ones designing and preparing it.
Actually, some of the best presentations are stories designed to communicate the message in a positive, engaging way. Back up the story with a few slides with infographics and engage the audience is a lively discussion.
Powerful PowerPoint Do's & Don'ts
If you search the Internet you will find a variety of do's and don'ts concerning PowerPoint presentations. By following some of these items, you could save some valuable time.
Use compelling material: When it is all said and done, you still have to present, PowerPoint only really supports.
Keep it simple: PowerPoint has a lot of bells and whistles, but don't go overboard.
Limit the number of slides: Follow the old cliché "less is more". This is a time saver!
People can read so you don't have to: Be able to summarize the information on the slide in an engaging manner.
Time yourself: Do not consume all the time available with just your voice; allow others to have a chance to share as well.
Take a breather: It is okay to step away from the PowerPoint screen and allow for relevant sidebar discussions. It gives the audience a break from the visual focus.
Use a few select vibrant colours: Your test and graphics should stand apart from each other.
Use a variety of images, graphics, videos and audios: You are not limited to what comes in the box with PowerPoint. Be creative and use some of your own ideas. Change it up and liven it up.
Wait until the end to distribute any handouts: If you handout papers before the presentation, you have already lost them. The audience will tune you out to read what you have given them.
Edit, edit, and edit: Editing is not just to find typos. It is also to help you streamline the presentation and to have the message firmly cemented in your mind so it flows freely.
Save Time, Money & Headaches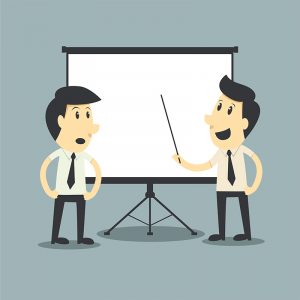 Sometimes people dread making PowerPoint presentations as much as they dread giving them. Building a great PowerPoint deck takes a lot of time and research. It also takes creative juices, skills and experience. An option is to offload this task to a professional group that yields you better presentations, more time, overall money savings, and less demand on resources. Focus on what you do best, managing your company, team or staff and let 24slides focus on what they do best, design unique, interactive presentations that will engage your audience and communicate your message.
CEO, Staffer or Professional
It is clear the PowerPoint statistics prove a point. PowerPoint is here to stay, at least until the next revolutionary technology appears on the scene. Most companies use Microsoft PowerPoint so you will be compatible with your business partners, customers, and others. The best method is to tell a story to communicate your message and back it up with a handful of PowerPoint slides.
Once we have established those facts, the next and final question is whether you and a staffer are going to struggle through building a slide presentation or are you going to outsource it to a professional who can save you time, money and resources. Let the executive level focus on executive strategic decisions and leave the operations tactical details to someone else.
There is no need to stop using PowerPoint. There is a great need to let a professional help craft your story with just the right amount of text, images, graphics and pizzazz. The results may astound you on many fronts. Besides, you will receive one of the best presentations you have ever seen.