The Top 10 Free Presentation Tools For Corporate Presenters
If you're looking for the best PowerPoint alternatives (both desktop and web-based), then you're reading the right article. You're going to learn what the top 10 free presentation tools for corporate presenters are!
PowerPoint is seemingly ubiquitous – you see it practically everywhere. On most Windows computers, you expect to see Microsoft Office (and PowerPoint) already pre-installed. However, this is not always the case.
Consider yourself lucky if your new computer comes with a full version of Office with a lifetime license. (As of this writing the Office Home and Student 2016 for PC is available for one-time purchase for only $119.99.)
What usually happens when you buy a brand-new Windows computer is you often only get a trial version of Microsoft Office. When the trial period expires, you're basically left with two legitimate options – buy a subscription or look for an alternative.
The good news is there's no shortage of PowerPoint (and Microsoft Office) alternatives. But going through all the different options can make your head spin. I've done the hard work of researching the top alternatives, so you don't have to. In this article, I'll cover 10 of the best open source, desktop-based, and web-based presentation software you'll find online.
Best Open Source Presentation Tools
Open source software has come a long way. In the old days, open software couldn't compete with proprietary or closed software (Microsoft Office is one such example of closed software).
The user interface usually left a lot to be desired, the features were so-so, and support was virtually non-existent. But, as more and more people joined the open source initiative, both open source software features and support gradually improved.
Today, even non-technically inclined users may have heard of these popular open source software at one time or another –  WordPress, Firefox, Thunderbird, Open Office and VLC. These software packages are all priced competitively (100% free!) and give their proprietary counterparts a run for their money.
So, there's your quick background on open source software and why using these is not only great for your needs, but also for your budget!
Here are the best free and open source presentation tools you should consider installing on your computer:
Apache OpenOffice, formerly known as OpenOffice.org, is one of the most well-known Microsoft Office alternatives. You're not limited to installing the software on a Windows computer, it will run just fine on Linux, Mac, and even lesser-known operating systems.  Just like its popular counterpart (Microsoft Office), Apache OpenOffice also includes a presentation software called Impress.
Impress may not be the most visually-appealing software on this list, but for the price you're paying for (a nice $0), you certainly can't complain. There's a bit of a learning curve involved, but once you get over this hurdle, you'll be making presentations in a jiffy.
Here's what a blank Impress workspace looks like:
With Impress, you can make multimedia presentations. You can insert images, videos, and sounds. You can also use 2D and 3D clip art, animation, special effects, and so much more.
Another awesome feature is that you can open PowerPoint files on this software. So, if you need to edit a PowerPoint file, you can use Impress to edit it and then save it again as a .PPT file. Of course, you're not going to get the flexibility and extensiveness of features that PowerPoint offers, but if you're in a rush, then know that this free software is certainly a handy option.
If you don't want to work off of a blank Impress file, then you can download free templates here. They've got a few hundred templates you can browse. If you see something you like, simply click on the green download button like you see in the screenshot below.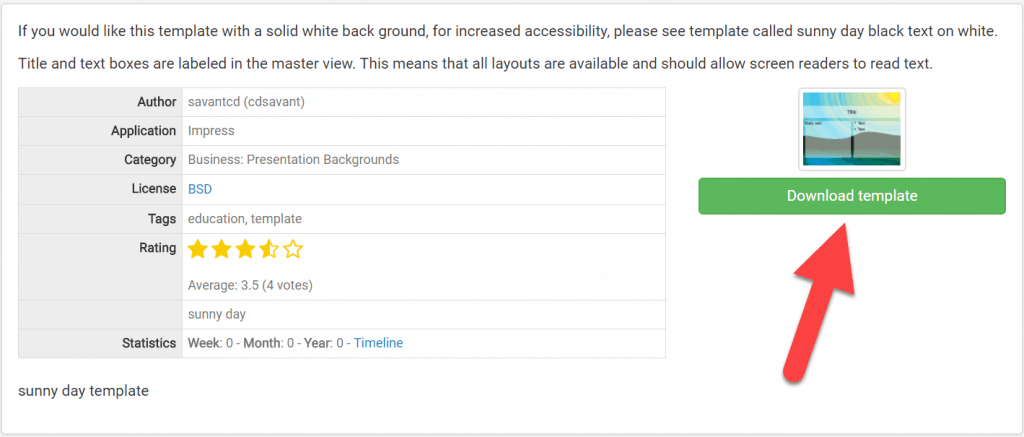 Additionally, you can also extend the software's basic features by downloading extensions. Once you've downloaded your Impress extension, you need to go to Tools > Extension Manager and choose Add (see arrow in screenshot) to install your extension(s).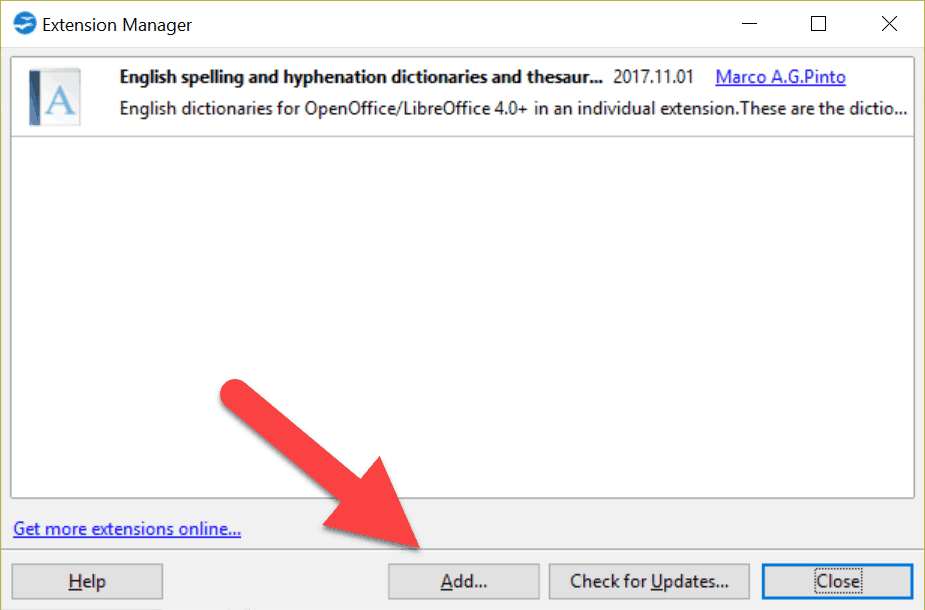 When you're done creating your presentation, you can save your file as standard .ODP or .PPT. Here's what the 'Save As' file options look like:

Additionally, if you want to export your presentation to other file formats like PDF and SWF (Macromedia Flash), simply go to File > Export, and you'll see all these options: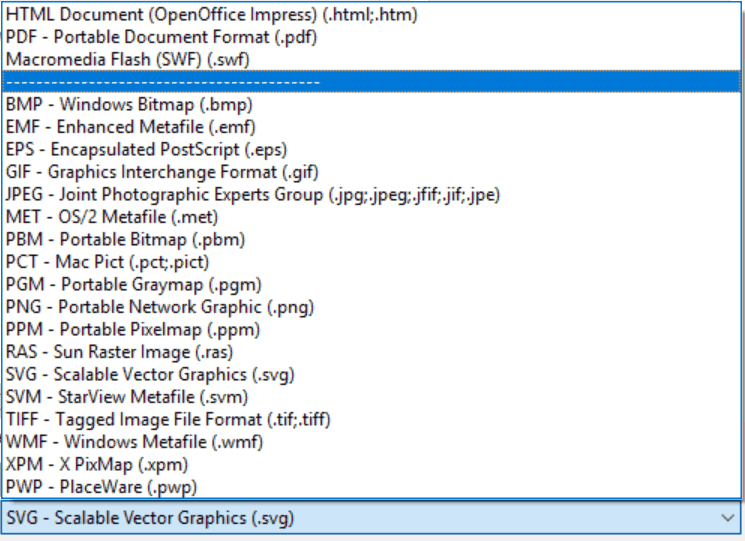 The Apache OpenOffice's Impress interface may not be visually impressive at first glance, but there's a reason why it's one of the top free PowerPoint alternatives. It's robust, it's got plenty of powerful features, it plays well with PowerPoint, and best of all, it's free.
Don't be surprised if LibreOffice's presentation software is also named Impress. It's quite literally Apache OpenOffice's cousin – both LibreOffice and Apache OpenOffice were built on the discontinued OpenOffice.org source code. Both remain quite similar to each other, however, LibreOffice is more frequently updated than Apache OpenOffice.
Take, for instance, it's appearance. I may be a bit subjective here, but wouldn't you agree with me when I say LibreOffice's version of Impress is easier on the eyes (see screenshot below)?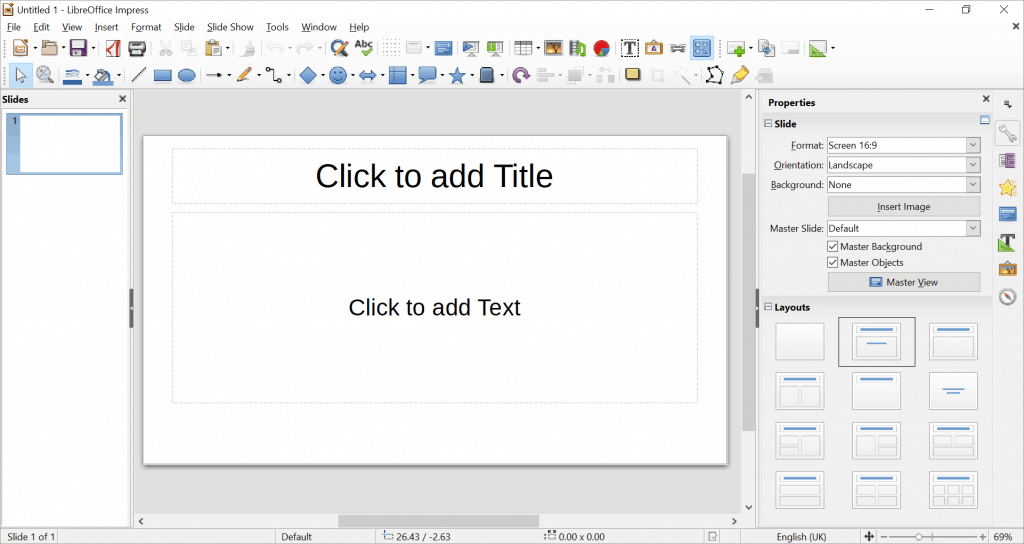 Similar to its Apache cousin, LibreOffice's Impress works on Windows, Mac, and Linux. It also supports more file types than Apache's Impress. For instance, you can save your presentation in .PPTX format which often translates well on PowerPoint.
Just a word of caution though – just because you can save the file as .PPTX doesn't mean all your Impress settings, that is, the themes, transition effects, animations, etc. are going to carry over to PowerPoint as well).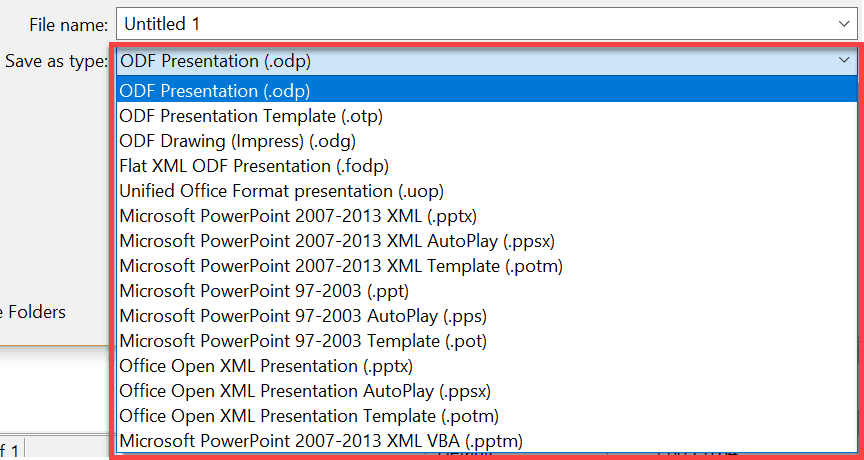 If you're creating your presentation on Impress, but you plan to present it on PowerPoint, then you may opt instead to install the portable version of LibreOffice on a USB stick. This way all your Impress settings will be saved, and you'll have a presentation exactly as you planned and designed (lesser risk of formatting or technical issues).
Another benefit to using LibreOffice's version of Impress is that you can embed your fonts in your presentation. This means that if you're using special and not-so-common fonts in your Impress file, then you don't need to worry about losing all that when you open your file using PowerPoint.
To embed your fonts, go to File > Properties > Font. Then tick the box that says "Embed fonts in the document." Click OK.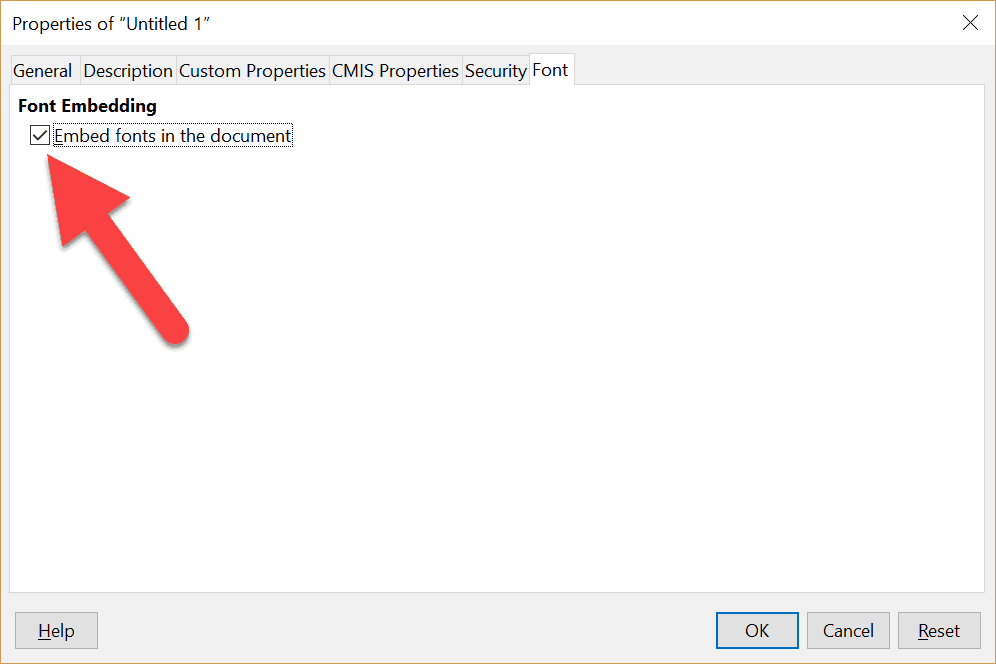 With regard to Export options, Apache's Impress offers more choices than LibreOffice's. The good thing is you can still export to HTML, PDF, Flash (.SWF), and a host of other popular file types.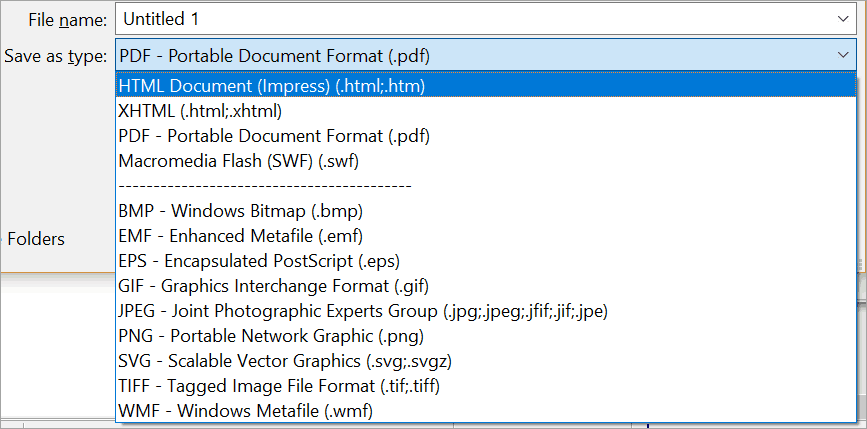 LibreOffice's Impress presentation software is mighty good. It has a global community of talented developers who work together to create open source software that can compete with PowerPoint, and Microsoft Office in general. They may still have a long way to go, but they're definitely headed in the right direction!
Best Free Desktop-Based Presentation Tools (Non-open source)
In this section, I will be discussing 4 amazing software that aren't open source but are free nonetheless. Since these are all desktop-based, you'll need to download the software first into your computer before you can use it.
WPS Presentation is part of the WPS Office 2016 Free suite. It's touted as the best Microsoft Office alternative with its relatively affordable rates for its premium packages. An annual subscription for premium costs only $29.99/year while the professional version will only cost you $79.99 one-time!
The free suite consists of three programs – Writer (Word alternative), Presentation (PowerPoint alternative), and Spreadsheets (Excel alternative). It also includes free PDF suites as well as 1GB of cloud storage. Since it's freeware, it's not going to cost you anything.
The awesome thing is WPS Presentation offer better compatibility to PowerPoint than the two open-source software I discussed in the previous section. It supports both .PPT and .PPTX files (LibreOffice does too), but WPS Presentation does a better job for the most part. Many tech reviewers describe WPS Office as being the next best thing to Microsoft Office!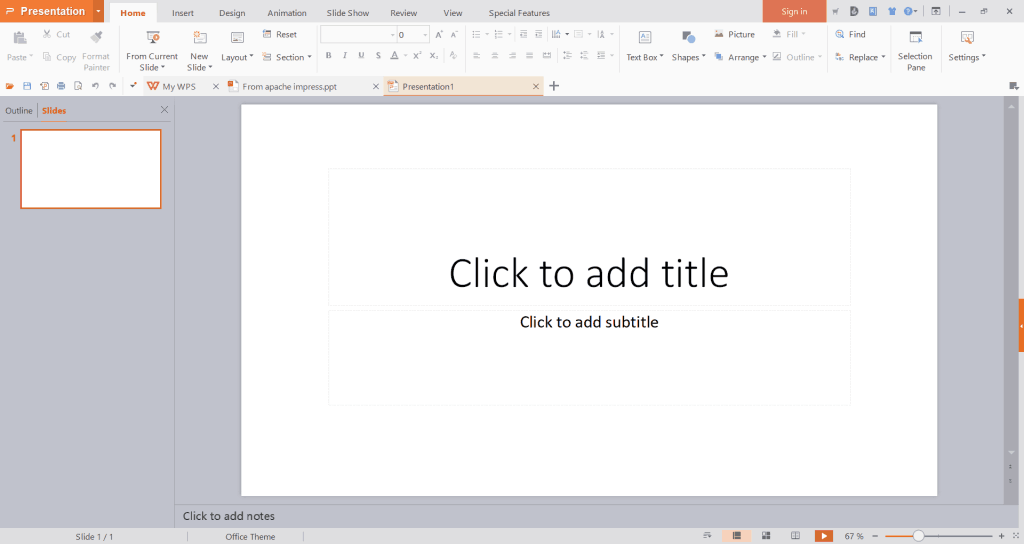 At first glance, Presentation looks a lot like PowerPoint. If you don't look too closely, you might even think it is PowerPoint itself. That in itself is a good thing because if you're coming from PowerPoint, then you're not going to feel lost. Instead, you'll appreciate the familiar interface without having to worry about steep learning curves!
If you hate opening up multiple PowerPoint files, then you're going to love WPS Presentation's tabbed view. Now, you don't need to have several windows open – you can view your presentation files side by side. It's mighty convenient!
You can also view all templates in the My WPS tab. You can choose from hundreds of recommended templates, latest updated and top downloads.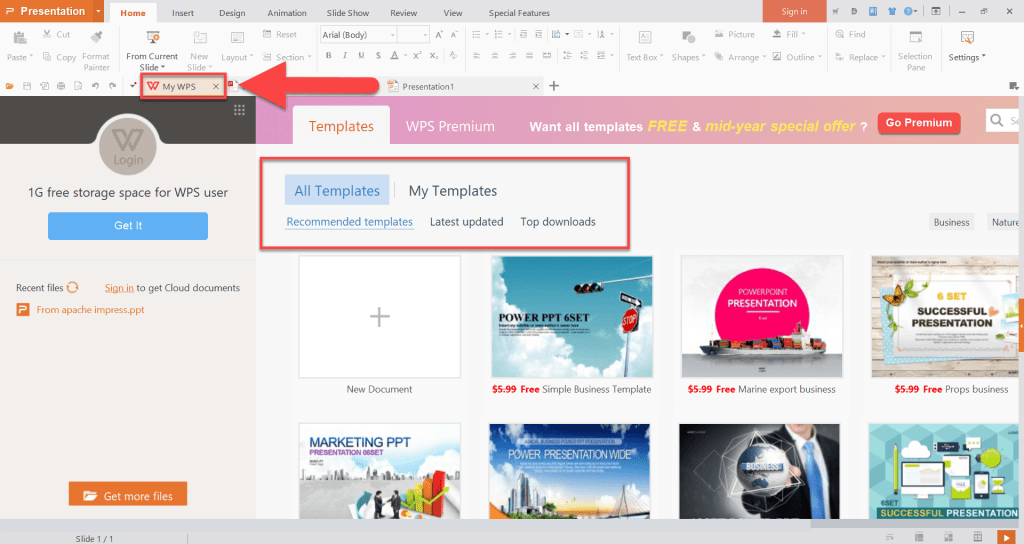 With regard to file types, the default is .DPS. However, you can also save your file as .PPT and .PPTX if you want to be able to open it in PowerPoint. Here are other 'Save As' options available: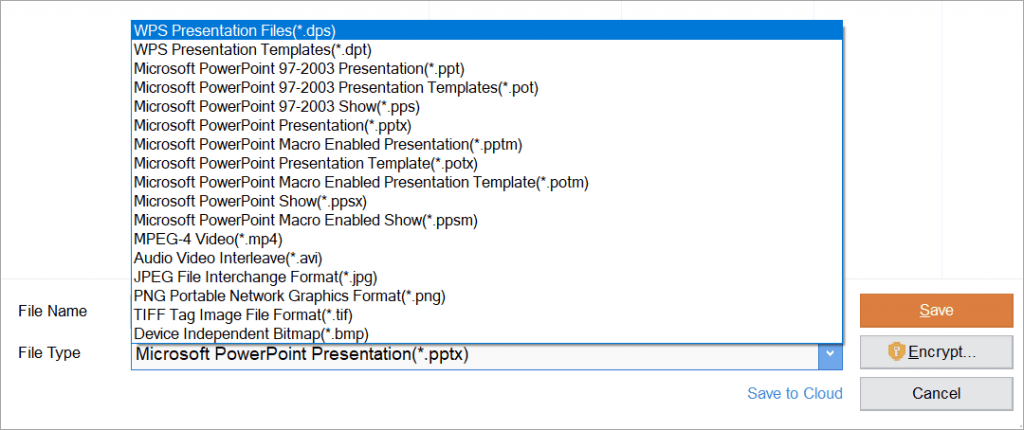 As you can see, it's got quite a number of options available. However, if you're coming from the open source Impress (both Apache and LibreOffice), you may find the options lacking as Presentation does not offer exporting to HTML, SWF, SVG, and more. You can, however, export your presentation to PDF and image file.
If you're looking for software that has the looks and (most) features of PowerPoint without the hefty price tag, then consider downloading the WPS Office 2016.
FreeOffice is basically the freeware version of SoftMaker Office's commercial suite. The program runs on Windows, Linux and Android, so if you're on Mac you're not going to be able to use this software.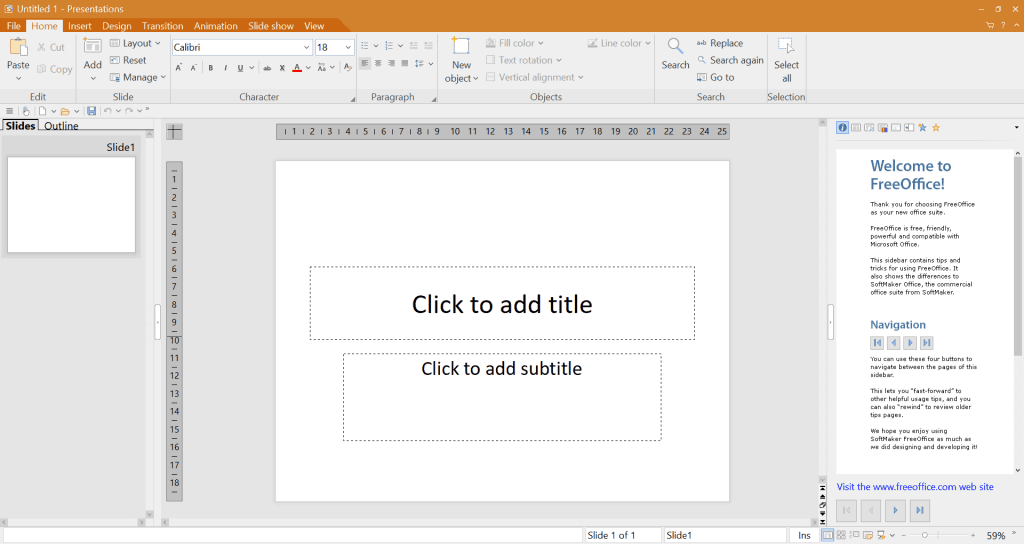 Since it's freeware, it will lack some key features which come standard on the commercial version. However, for the price of zero dollars, you certainly can't complain about the features they did include on this software.
For instance, you can seamlessly save your presentations in the .PPTX format which means you can share your files directly with those who have PowerPoint installed on their computers. Compatibility-wise, it's still not at a hundred percent with PowerPoint – some animations, effects and transitions may not work properly on PowerPoint, and vice versa.
If you're used to working on the classic PowerPoint interface, you can choose to have the same look on the Presentations software. However, if you prefer the new ribbon menu on the more recent versions of PowerPoint, then you can also select this option in Presentations! This is a screenshot of the User Interface choices: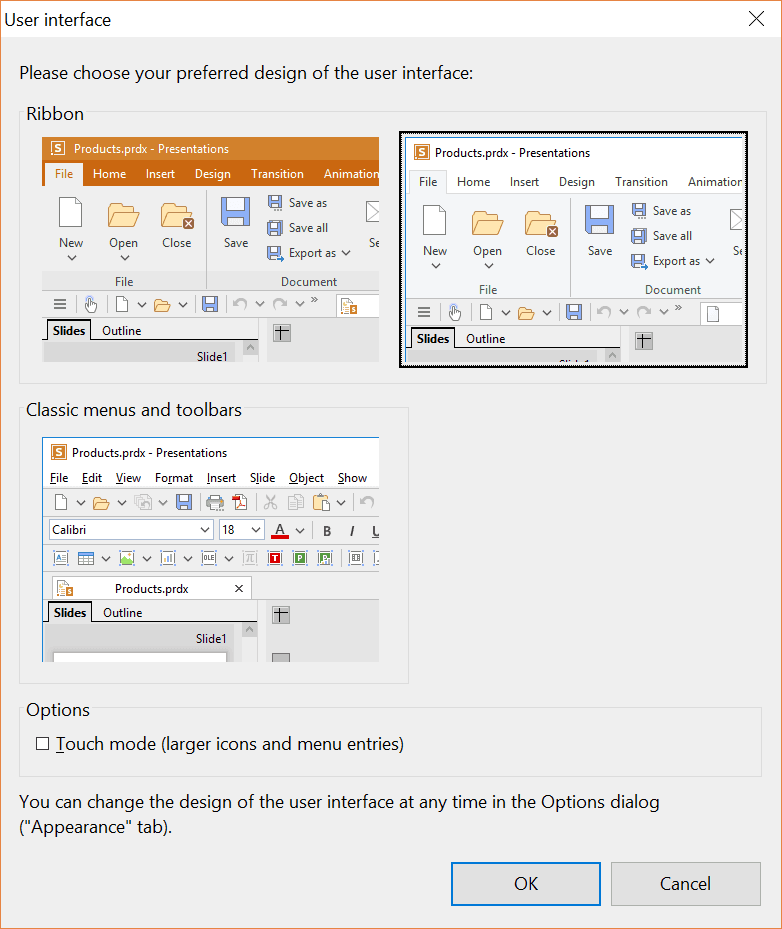 There's also a portable version of FreeOffice. So, if you made your presentation on Presentations software and you're not sure if it's installed on the computer you'll be using to give your actual presentation, then you can bring your own portable FreeOffice on a USB stick. This way you're not going to be scared of potentially presenting a slideshow that's full of errors!
There's a wide range of features that are built into this free program. You've got hundreds of object and text animations options to choose from to make your presentation come alive.
You can also choose from a wide array of design templates, so you don't need to worry about doing everything from scratch. Just like PowerPoint, you can also insert multimedia into your presentations. Plus, it can even spell check your work in 58 different languages!
FreeOffice's Presentation software is absolutely free for personal and, yes, even commercial use. It works seamlessly with PowerPoint files, but if you want to play it safe you can always bring a portable copy of the software wherever you go, so you never have to worry about compatibility issues!
Focusky is a premium PowerPoint alternative, however, it does have a freeware version. As you know, when you're using the free version of a commercial software, you don't get to have access to all the best features which other people pay for.
The good thing is you do get quite a lot out of the free version, if you don't mind the watermark, that is. You can test drive the software first, and if you like it, then you can upgrade to the premium version which costs $9.90/month. With your free account, you get 10GB of cloud storage, 50 uploads per month, 10 animated characters, and more.
When you download and install Focusky, you'll see this on your screen – thousands of online templates to choose from! Simply click on the template you want to use and then edit your presentation as you see fit.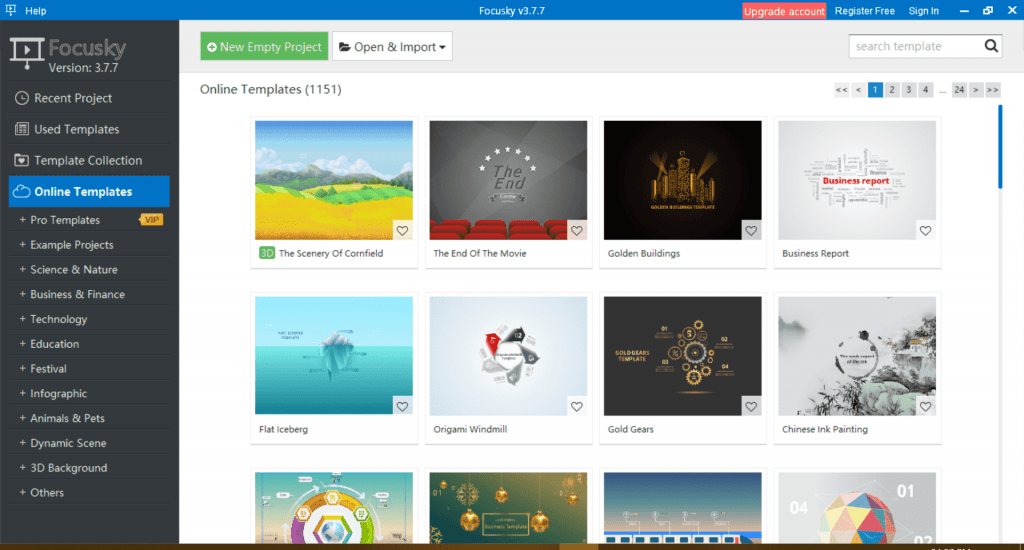 There's a learning curve involved if you're coming from slide-based presentation software. But once you get used to the interface and the options available at your fingertips, you'll eventually find it much easier to use.
Focusky is actually more similar to Prezi (which we'll cover later) than PowerPoint. However, since PowerPoint is quite literally the de facto presentation software, then it also makes sense to call Focusky  a good, free PowerPoint alternative. If you want to edit a PowerPoint file in Focusky, you can do so by importing it over to the software.
Here's what a sample Focusky presentation looks like. Note that this is based on the 'The Scenery of Cornfield' template: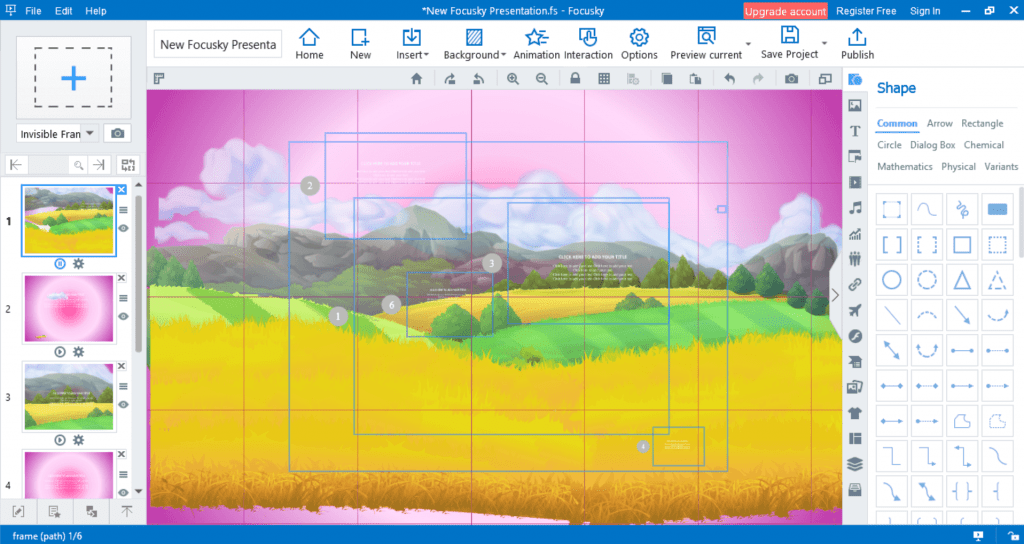 You get a number of backgrounds you can use for your Focusky presentations. You can choose from 3D background, image and video background, and background color.
As you can see in the screenshot above, the background (the color of the sky) is pink. I simply selected a random color from the Background tab and all the slide backgrounds changed automatically.
Download Focusky and take it for a spin. If you find it's a suitable alternative to PowerPoint, then you only need to shell out $9.90 a month to get access to a host of powerful features you're not going to get with the free version.
There may be times when you'd need to present more than one type of file in front of your audience. For instance, in addition to your PowerPoint file, you may need to play a YouTube video, a PDF, images, a Prezi, web pages, Word, Excel, etc. Normally, you'd need to close one file and then open the next one. As you know, this leads to unnecessary delays in your presentation and can definitely bore your audience out.
Well, if this sounds like something you usually do in your presentations, then SlideDog is the kind of software you're looking for. All you basically need to do is create a playlist of the files you want to present and SlideDog will take care of the rest. The transitions from one file to the next is seamless, so there are no delays and no break in your presentation's momentum!
Here's what the user interface looks like: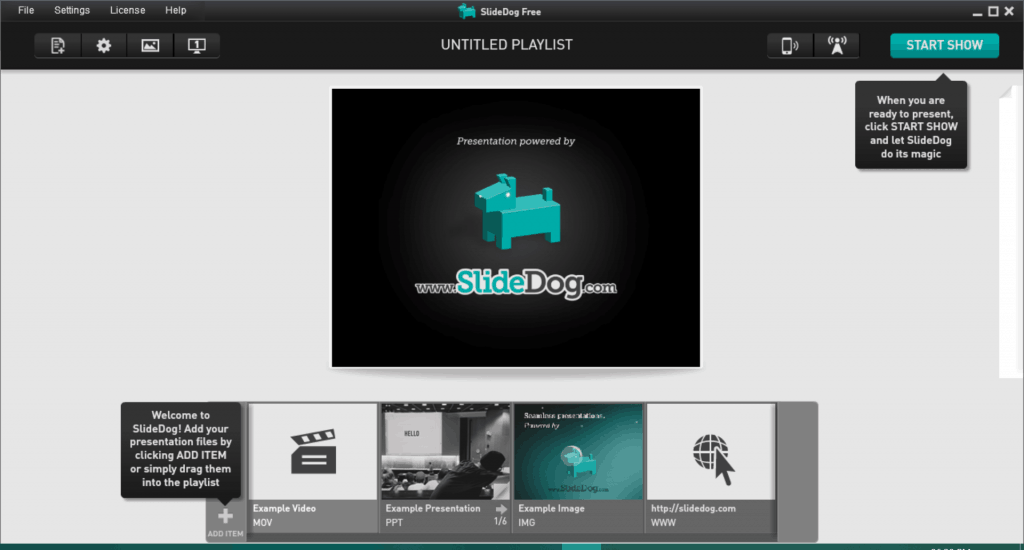 The software is straightforward and it works as advertised. You can even live stream your presentation and control it remotely using the SlideDog Remote App. You can get feedback from your audience, you can add polls, and even chat with them. These interactive options certainly help with SlideDog's popularity among business and corporate presenters!
Best Free Online Presentation Tool
In this section, I'm going to give you the details on the remaining tools that got into our top 10 list. These are all web/browser-based which means you can access these wherever you may be as long as you've got an Internet connection. You don't need to download anything to your computer so you'll be saving those precious MBs on your hard drive.
Everyone on the planet knows what Google is. But not everyone knows what Google Slides is all about. Well, it's Google's answer to Microsoft's PowerPoint. While it's nowhere near the PowerPoint-killer people were making it out to be years ago, it's still great software on its own.
For one, it's integrated with Google Drive which provides you with 15GB of free storage. You can preview PowerPoint files, but if you want to open and make changes to it, then you'll need to click on the button that says 'Open with Google Slides.'
Note that the compatibility between PowerPoint and Slides is not exactly 100% so you may find those animations and transitions you worked on is going to, technically, vanish into thin air.
This is what a blank Slides file looks like. As with most Google products, the interface is somewhat minimalist. It's quite sparse to be honest, but then again, that's the kind of look Google is known for.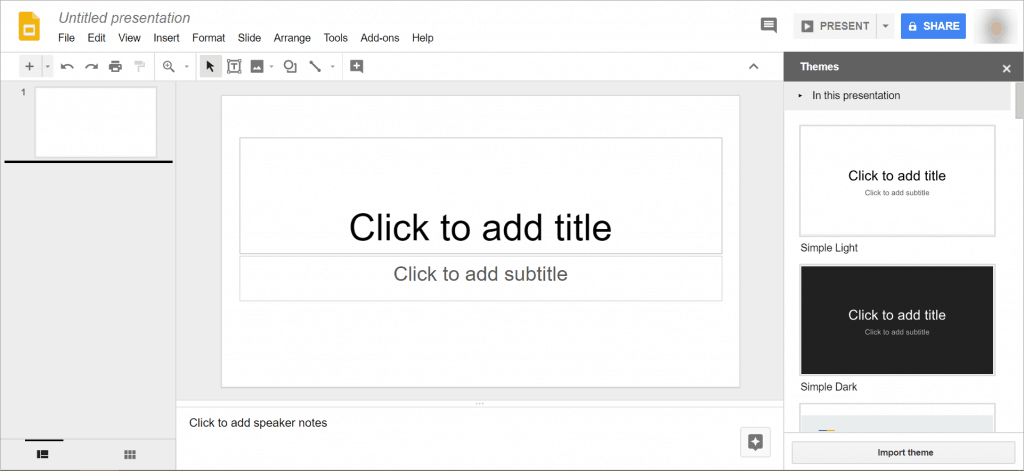 If you're a Google user, then you should be able to find your way around Slides. The learning curve isn't going to be as steep as some of the software listed in this article.
The awesome thing about Slides is that you don't need to worry about forgetting to Save your file. Everything gets saved automatically as long as you've got an active Internet connection.
Slides is, quite simply, one of the best online presentation tools for teams. If you're working with a team, you can easily collaborate on your slides and you'll know who edited something on the file. If you're not happy with what your teammate has done, you can go back to an earlier version, so no harm done!
Of course, Google Slides is no PowerPoint. But it's an excellent, free alternative. Plus you can access your presentations anytime as long as you've got Internet access!
If you find Google Slides to be a bit too bland and minimalist for your taste and your presentation needs, then you may want to consider signing up for a free Zoho Show account. Confirm your new account and you're good to go – you can literally get started in under 2 minutes!
Here's what a blank Zoho Show file looks like. Note that when you create your presentation, you'll be asked to select your font and color schemes.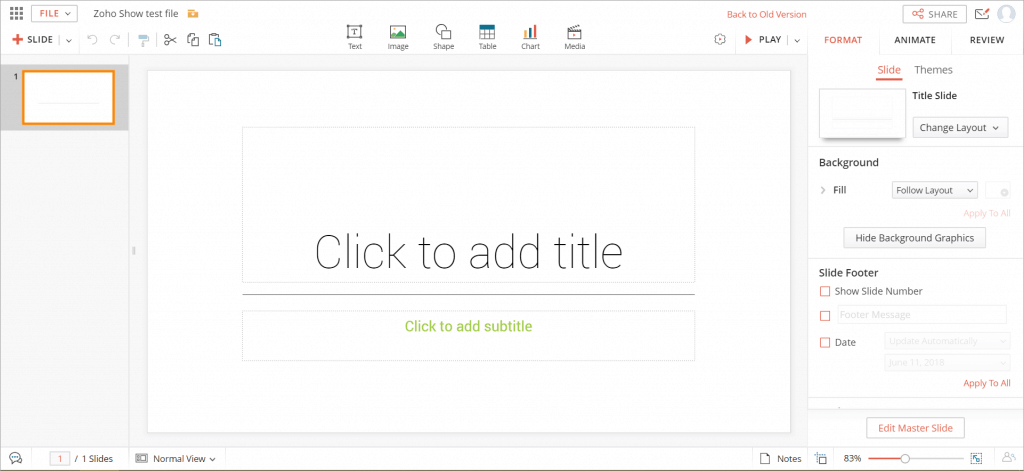 Just like Google Slides, you can create, edit and present your slideshow virtually anywhere you like for as long as you've got an Internet connection. The collaboration feature also works amazingly – you can share with your colleagues and assign viewing/editing rights.
You can also broadcast your presentation to an audience so if you're a teacher, you can use the broadcast function to walk your students through your lecture – even if you're on the other side of the world! Simply copy and paste your broadcast URL or invite people to your show, hit that broadcast button and you're live!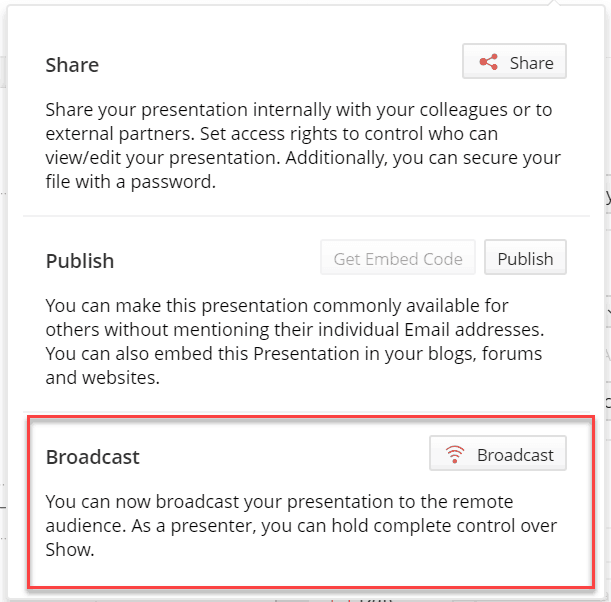 With Zoho Show, you can bring your presentations to life by using cool animations and transitions. You can also search and embed YouTube videos, Flickr images, and tweets to your presentations.
Zoho Show is a free, fast alternative to PowerPoint and Google Slides. It's great for people who are always on the go as well as those who work in location-independent jobs.
In your search for the top PowerPoint alternatives, I'm sure you've heard Prezi mentioned many times over. When it was first released, it was considered a revolutionary piece of software and people loved how easy it was to make powerful presentations on this platform. It wasn't clunky like many presentation software and when you made a presentation on Prezi, no one was going to think it was made on PowerPoint.
While PowerPoint was linear and slide-based, Prezi featured a map-like overview that let users go from one part of the presentation to another. You could zoom in on details, discuss it, pull back, and zoom into another one. In short, it was fun and impressive, and it gave new life to boardroom presentations, class presentations, and more!
To get started with Prezi Basic, you will need to create a free account first. Once you're logged in, you can select from their templates like you see below.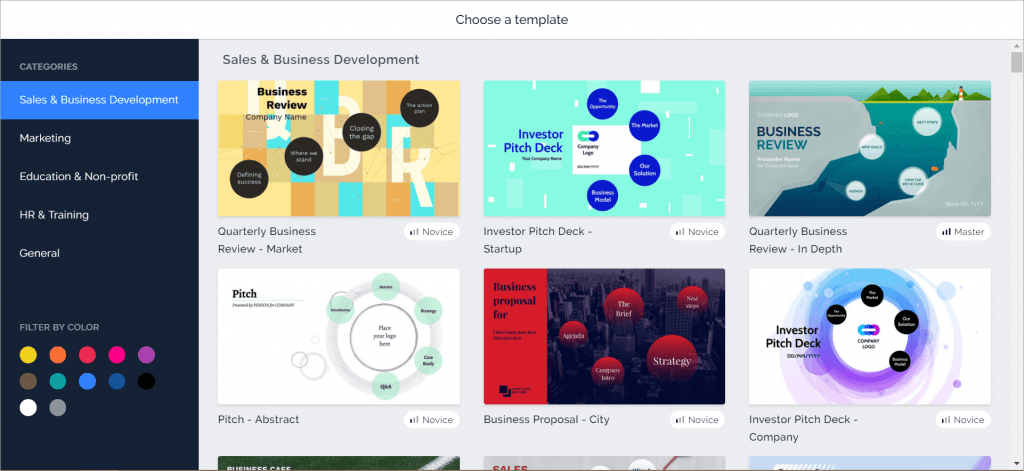 Once you've chosen your template, you'll be asked to give it a name. Since this is the basic version, your presentation will be available for the whole world to see.
So, this is what my test Prezi presentation looks like: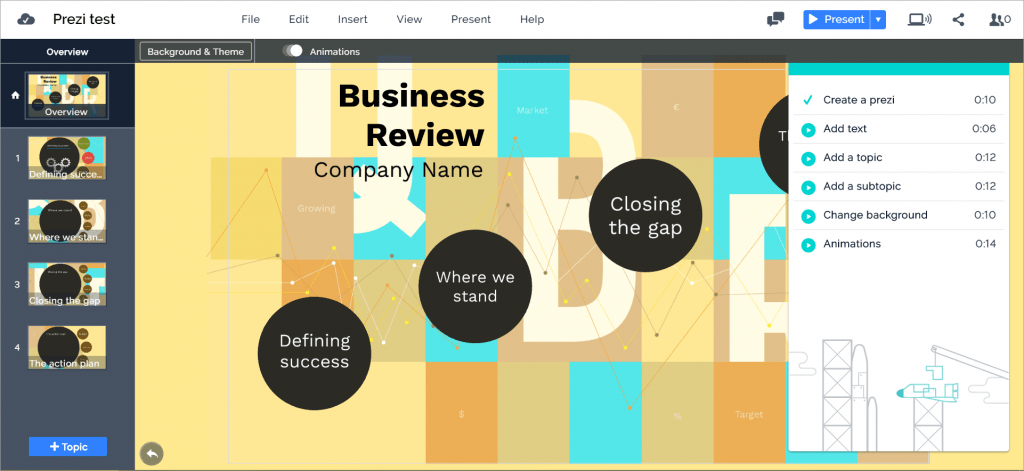 The menu options are quite straightforward and even if you're in a bit of a pickle, you can still create mind-blowing presentations! If you find the web platform clunky, then you may want to consider upgrading to Prezi Plus ($15/mo), so you can use the desktop version.
If you're looking for presentation software that's not like PowerPoint at all, then you need to check out Powtoon. It's pretty well known as an explainer video tool, but nonetheless, it's still an awesome alternative to PowerPoint.
To get started, you simply need to create a Powtoon account, choose a template or create your presentation from scratch, and get to work. As you can see from the screenshot below, the user interface is clean. It's also fast and intuitive, and you'll be able to create an eye-catching video presentation in minutes!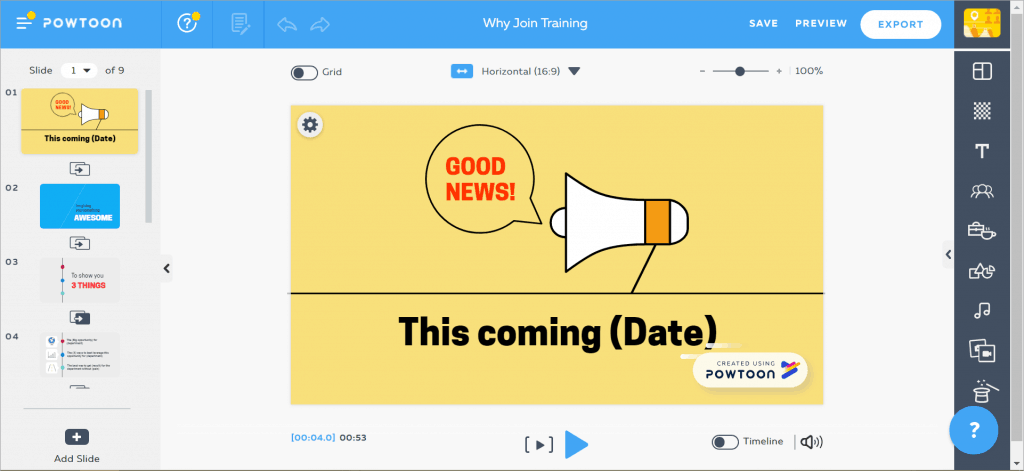 With the free plan, you only get 100MB storage and presentations are only 3 minutes maximum. It's a good starting point if you want to get familiar with the software. But if you want more features, then you're going to shell out $19/mo for the Pro plan, $59/mo for Pro+ or $99/mo for the Agency plan.
And The Best Presentation Tool For Corporate Presenters Is…
Still PowerPoint.
All the free PowerPoint alternatives I've listed in this article will work great for corporate and business presenters. However, the undeniable fact is that PowerPoint is still the leader when it comes to market share for presentation software.
Love it or hate it, PowerPoint is here to stay. Microsoft continues to update this software to keep up with the times. For instance, it recently added the Morph and Zoom feature to PowerPoint 2016 (you need an Office 365 subscription to see this feature in the menu). It's basically an answer to Prezi's popular zooming functionality that was winning a lot of people over to the Prezi platform.
PowerPoint has been the gold standard in presentation software for decades, and it doesn't seem like that's going to change anytime soon.
Best Practices For PowerPoint's Presentation Tools
Here are some best of the best practices you should follow to make sure you maximize your PowerPoint presentation. Following these will help you deliver a presentation that's sure to get your audience's attention.
Use PowerPoint Templates
Some people may say other presentation software are now more advanced than PowerPoint. Whether that's true or not, no one can deny the fact that when it comes to templates, PowerPoint is still the leader of the pack. There are literally thousands upon thousands of templates you can download online (both free and paid).
Admittedly, many free templates aren't visual knockouts (far from it to be exact!), but there are a few companies and designers who offer some of the best, premium-looking, and free templates online.
If you don't have the time to create presentations from scratch, but you don't want to pay for it either, then you should head on over to Templates by 24Slides. There are hundreds of free templates available for download, and new templates are added weekly, too!
Use graphics and multimedia to spice up your presentations
PowerPoint supports a wide variety of graphics and multimedia files. Take advantage of this fact and refrain from copy-and-pasting text on your slides. 'Death by PowerPoint' is a very real phenomenon, so make sure you don't bore your audience to death. Make your presentation interactive and fun, so you'll meet your presentation goals!
Check out the trends
Follow what's popular and what's working in the design and presentation world. Learn from other people. Study the trends in your industry and follow suit. Following corporate presentation trends will help you attract your audience's attention in a good way.
Final Words On PowerPoint vs Free Presentation Tools
PowerPoint is a great software, but it's not everybody's cup of tea. This is why it's always good to have options. When it comes to PowerPoint alternatives, the 10 free presentation tools for corporate presenters I've shared in this article will help you create compelling and engaging presentations. Some will have steeper learning curves while some can help you make powerful presentations in, quite literally, minutes! There's no one-size-fits-all presentation software. So, you've got to narrow down your choices and use what works best for your needs!