How to Make a PowerPoint Template (Tutorial with Pictures!)
PowerPoint templates are the best-kept secret of some of the world's most productive individuals. You probably know a few of them: The highly-efficient superhuman machines who churn out PowerPoint presentations in an hour or so (sometimes even less!).
Templates can also be your time-saving hack if you know how to use them right. Today's article goes to all busy professionals making a PowerPoint template from scratch or working on a pre-made one.
In this tutorial, you'll learn:
Let's pick it up from the start - or skip to your best section using the list above.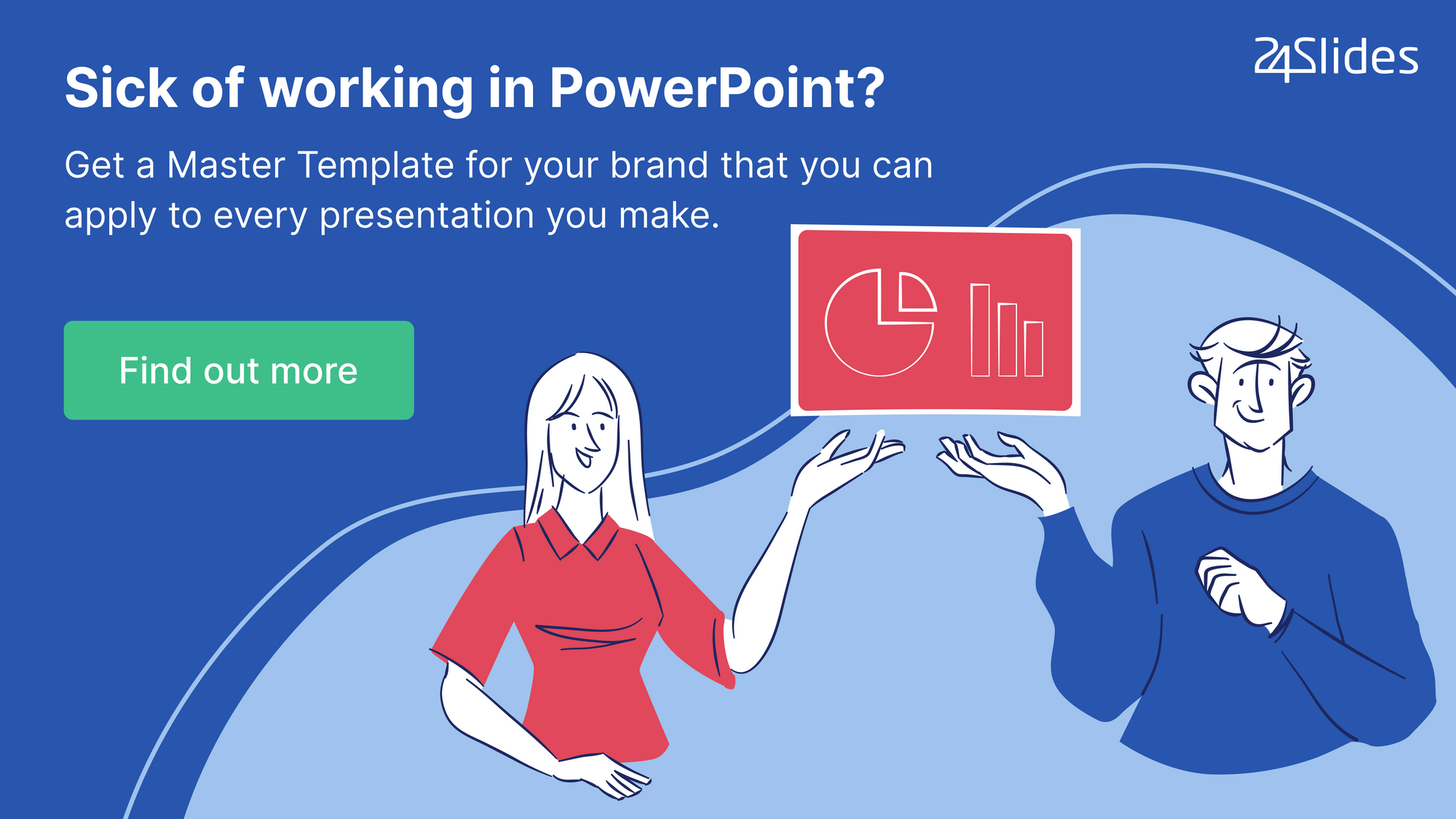 What are PowerPoint templates?

PowerPoint templates are a group of slides with predefined layouts, colors, fonts, and themes that you use as a base or 'starting point' when creating your PowerPoint presentation. Working off a template means you spend less time crafting your designs from scratch.
A good PowerPoint template contains nice layouts with background styles and color combinations. It also has well-placed placeholders for you to drop text, images, videos, charts, or tables.
PowerPoint template vs. Theme

You may have heard the words "theme" and "template" used interchangeably. And while both give your slides a polished look, here's the real difference between a PowerPoint theme and a template.
A PowerPoint theme is a pre-set of fonts, colors, and visual effects you apply to your slides.
You can access the built-in themes by going to Design > Themes.
A template is a set of ready-made PowerPoint slides for you to paste your content.
So with a theme, you build the overall look and feel for the presentation, and with the template, you already have everything set up just to insert your content.
That helps clear up some basic concepts before we get into the making of your PowerPoint template.
Use an Existing PowerPoint Template (The Quick Method)
In a rush?
Creating awesome-looking templates from scratch will take a lot of time, but if you work off of an already well-designed layout, you save countless hours hunched in front of your computer.
You can use an existing PowerPoint from your company or our free corporate templates from "Templates by 24Slides". They are perfect for stand-alone presentations and quick to customize.
We've got two types:
Presentation deck templates

They have a standard presentation structure.
It starts with a cover slide and a table of contents. Then it gives you space to introduce yourself or your project with an About Us slide and a timeline or Text + Image slide.
In the middle, you'll find several slides with diagrams and charts to expand your information. And it ends with a Summary and Thank You/Contact slide. Check out this example:

Individual slides
These templates don't follow a structure, and you can use each slide independently. Most of the time, they're about the same topic and differ only in the layout. Here's an example: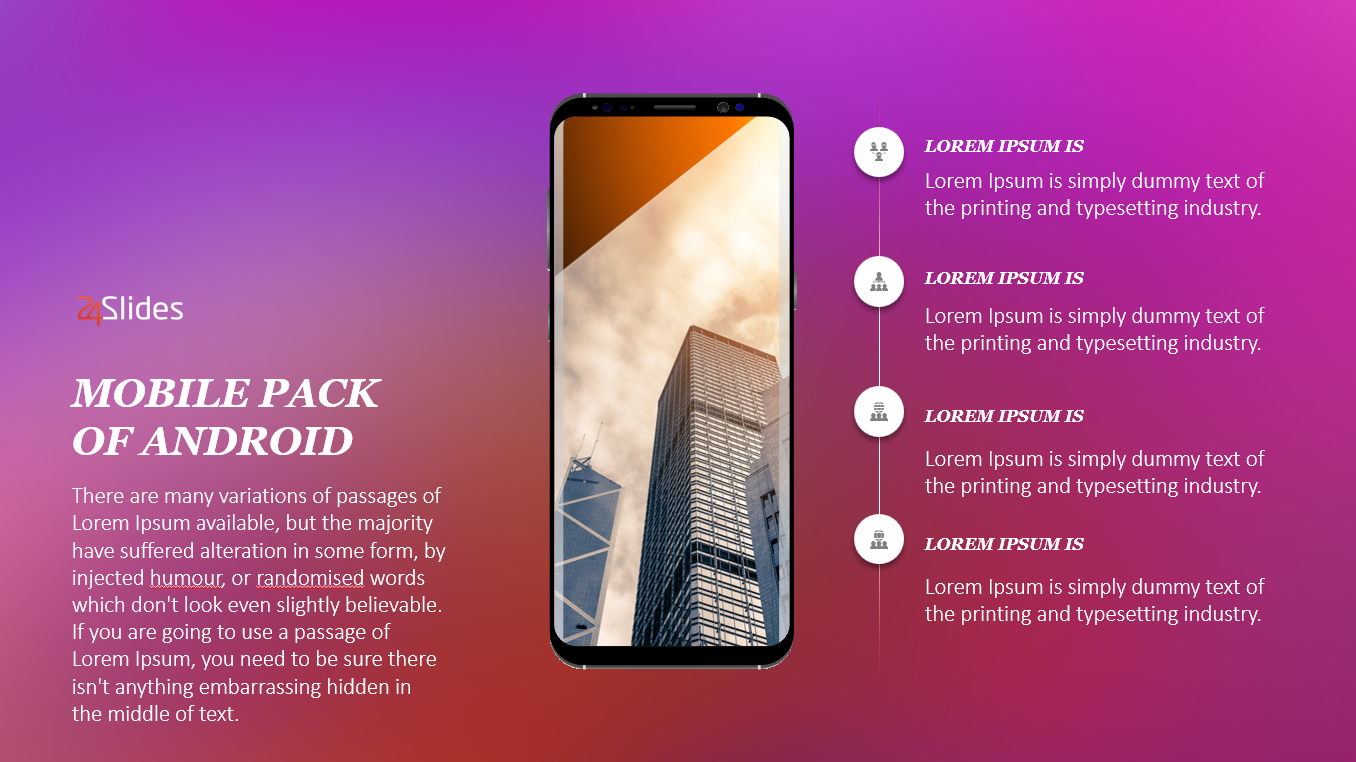 Make them your own by clicking directly on each element - as you would with any presentation. The great pro is that you don't need expert knowledge to customize them on the spot.
You're free to adapt these PowerPoint templates for personal, business, and commercial projects, which means you can use them to promote your brand.
Create a Custom Template in PowerPoint (Step-by-Step Guide)
Now, if you need an impactful template fully customized to your needs, you should create a PowerPoint template from scratch. With this option, you have total control over what goes into your design and how the final result will look.

Important: Our key PowerPoint tool for creating a template will be the Slide Master. We have an article on how to use Master Slides in PowerPoint. But for this step-by-step guide, all you need to know is that whatever elements you add to your slide master will appear in every subsequent slide.
For instance, if you add a logo somewhere in your slide master, all your other slides will have the same logo.
With that clear, let's get started!
Step 1: Set your Slides Size

Changing slide sizes is really easy on a blank PowerPoint file. Just three clicks and you're done!
But it's a different story when you're changing slide sizes with content on it (text, images, tables, graphs, etc.) I will tell you right now that it's no fun at all. And depending on the number of slides, it may take some time to fix your content, so it is readable on the new slide sizes.
That's why we do this right from the start.
To set or change your slide size,
1.- Go to the Design tab
2.- Click on Slide Size
3.- Select Slide Size
You will see three options. Clicking on either Standard (4:3) or Widescreen (16:9) will automatically resize the slide.
Custom Slide Size

Clicking on Custom Slide Size will give you more options. You'll see this pop-up:

By default, the slides are sized for a widescreen presentation. This is because most of the screens we use to view our presentations have a 16:9 aspect ratio. It includes modern projectors like home theater projectors, desktops and laptop computers, or LED and Plasma TVs.
If you don't know the specific width and height of your custom slide, go through the dropdown options on 'Slides sized for' and select the most appropriate to your template.
Step 2: Open Slide Master View

Here's where our special PowerPoint feature comes in.
Go to View > Slide Master.

You will then be presented with the slide master and the different slide layouts. The slide master is the first slide on the left pane, and the layouts are those that come after the slide master. See the image below.

Step 3: Prepare your Slide Master
Apply a Theme

You can choose from any default Office themes or custom themes you have saved on your computer. You will see these options when clicking on the Themes button:

Set your Color Palette

By default, your PowerPoint template will use the built-in Office colors, but if you like, you can use your own set of colors. This hack is especially useful when your template is for a project or any organization with its own brand colors.

1.- Go to Colors in the Slide Master tab
2.- Click on Customize Colors to set your own colors:

Now, you can create your color palette for this template or insert the company's brand colors. Remember to name your color combination and save it.
Select Your Custom Fonts

Like the Colors option, you can use the default fonts or select your own custom fonts. This is ideal if your organization prefers to use a specific font for presentations.

1.- Go to Fonts in the Slide Master tab.

2.- Click on Customize Fonts to open a dialog box where you can set your new Heading and Body fonts.

3.- Type in the Name for this font set and click on Save

Remember that anything you put in the slide master will appear in ALL the layout slides. Take, for example, the fonts and font sizes in the master slide below.

Watch how all the layout slides below inherit the font styles because these are the default fonts in the slide master.

Step 4: Edit your Slide Master

To start making your template look your own, let's dive into how to add your background, placeholders, and company logo.
Apply a Background

1.- Make sure you're on the top slide or the slide master.

2.- Click on Background Styles


This actually depends on the Themes and Colors you've chosen for your slides. PowerPoint will suggest some background styles complementary to your themes/colors. If you don't like the options that PowerPoint gives you, you can choose to format the background.

3.- Click on Format Background, and you will see this side menu on your screen:

Now, you can customize your background with a solid color, a gradient, or even add a picture.
Insert your placeholders

It's time to choose what placeholders will appear in ALL your slides

1.- Go to the Slide Master tab > Click on Master Layout

2.- This dialog box will pop up with the different types of placeholders available:

3.- Depending on what you will be using the template for, you can tick or untick all the placeholders. Here's an overview of where they're placed on your slide:
Add the Company Logo
This is how to make your company logo appear in all your slides:

1.- Go to Insert > Pictures
2.- Select your company logo image with a transparent background
3.- Place the logo on your Master Slide

And voilá!
Rember that all your edits happen in real-time, so you can play around with how you want the formatting for your slides to look.
Step 5: Design your Layout Masters
When you're through with your Slide master, you may go on to the next slides called "Layout masters." These are the individual slides that will contain your information and make your entire presentation.

If you're ok with them looking exactly the same as your Master slides, skip this step. But if you want to make some changes to them, check out the following tips:
Hide Background Graphics in your PowerPoint Slides

Remember how we added a huge logo in the master slide in our example above? And that huge logo appeared in all of our layout slides?
Well, if you want to remove the logo or any other background graphics in some of the layout slides, here's what you have to do:
1.- Click on the layout slide you want to edit
2.- Go to the Slide Master ribbon
3.- Tick the box that says Hide Background Graphics.

Hide Title Or Footers From your Slide Layouts

In addition to hiding background graphics in the layout slides, you can also choose to hide the title or any footers present in the master slide. You can tick the boxes shown in the image below:

Insert Placeholders in PowerPoint

Layouts are truly awesome in that you can customize how you want your slides to look. And to make the template as user-friendly as possible, you can add placeholders in strategic areas on your slides.

Here are the types of placeholders you can place in your layouts: content, text, picture, chart, table, SmartArt, media, and online image.

To edit or format these placeholders, you can click on the placeholder you want to edit and then click on the FORMAT tab. That's it! You will be able to edit these placeholders just like how you edit elements on your PowerPoint slides.
Create a New Slide Layout

What if you don't want a Layout to use some Master slide settings? Well, you can break the rules a bit. Let's say you don't want a slide with the green background from your Master slide. And you'd rather use a white Stencil font for your headings just for a particular layout.
Luckily for us, PowerPoint is flexible enough to make editing layouts an easy and straightforward process. Here's what you need to do:

1. Click on the layout you want to edit. In our example, we will click on the layout immediately below the master slide (its default name is the Title Slide Layout).

Note how the ribbon at the top automatically grays out some of the settings only applicable to the master slide.

2.- For a blue background, right-click on the slide itself and click on Format Background. Or we can just go to Slide Master > Background Styles > Format Background.

3.- To edit the font style and color, just highlight the text and right-click so the formatting options appear.
Alternatively, you can format by going to Home > Font and then editing as you wish.
Here's what the edited layout looks like:

You will see that the first layout has a different background, font style, and font colors than the main slide.
Step 6: Save your custom PowerPoint template
Once you're happy with the element on your slides, it's time to save your new template.
This is the easiest part:
1.- Go to File
2.- Click on 'Save As' > Browse
3.- On the dropdown for 'Save as Type', select 'PowerPoint Template'.

There you go! A custom PowerPoint template you and your team can use for corporate presentations.
Get your on-brand PowerPoint Templates hassle-free
What if I tell you there's a quicker option to have your professional PowerPoint template on-brand? And it has nothing to do with fiddling with PowerPoint shapes and graphics yourself.
Businesses and professionals around the world already outsource their presentation design and get top-notch results from expert designers. Check out 24Slides' most recent examples:

If you're looking for a template you can use again and again for your company decks, get a free quote from us. At 24Slides, our team of presentation designers has created slides for companies like Amazon, IKEA, and Accenture, among others, so rest assured your next presentation is in expert hands.
We've gone through the step-by-step on how to make a corporate template for your brand. And you're ready to save hours of work either by choosing an existing template, building one from scratch, or outsourcing this design task.
If you feel adventurous and want to go further, check out the most asked questions our team gets about creating PowerPoint templates:
Customer Frequently Asked Questions
How to Apply a Slide Layout in PowerPoint?

Okay, so we've done the hard work – we've updated our slide master and designed our layouts. Now we want to use the layouts in our presentation slides. Here's what you need to do:
1. Close the Master View by going to Slide Master > Close Master View.
2. Choose the slide you want to edit (you can either create a new slide or edit an existing one).
3. There are a few ways you can go about changing the layout of your slides. You can go to Home > Layout, or you can right-click on the slide thumbnail or the slide itself to view these options:
You can see in the image above that our layout with the blue background is one of the layout options.

4. Click on the layout you would like to use for that particular slide.
How to delete a Layout slide?

To delete a layout, simply right-click on the layout slide you want to delete and hit the Delete Layout button.
As you can see in the image above, you have the option to insert, duplicate, delete and rename a layout.
How to apply a template to an existing PowerPoint presentation?

You can use your custom template and apply it to an existing presentation in just 3 steps:
1.- First, go to the Slide Master View. Follow this route: Click on View Tab > Slide Master
2.- Then, save your finished template as a Theme. Go to Themes > Save Current Theme
3.- Finally, apply the theme. Open your existing presentation, go to the Design tab, and you'll be able to use your saved template as a theme alternative.